Every parent knows that once you have kids, it's becomes more of a struggle to keep the romance in the relationship alive. Especially when your kids are babies and young. There are so many more obstacles – from babies waking every time you even think about sex to needing a babysitter if you want to go somewhere special. Either we do nothing or it's time to get a little creative so today I'm sharing 12 simple but fun at home date night ideas for parents with you.
During the Covid-19 pandemic, we've experienced lockdown after lockdown and haven't had the privilege of simply being able to book granny over to babysit to go out to dinner or the cinema so the small pool of romance and couple time has dwindled even further. Don't fret though, with this list you'll never have to worry about getting a babysitter again. Why not challenge yourself to pick one a month to do or use them as inspiration to come up with your own?
At home date night ideas for parents
Plan a couples trip for when we can travel again
Whether it's a weekend mini-break trip for when you can next get a sitter or a dream holiday or belated honeymoon when the kids are older why not plan a holiday together. Research where you want to go, what you want to do, where you would like to stay, plan your itinerary and the restaurants you would like to try. Then keep it all on file for when you can use it. Even better – next time one of you has a birthday or celebration you could even surprise the other with the whole trip. Regardless, planning it out together can be a fun way to spend an evening.
Spa day at home
Plan out a spa day (or night) at home together. Plan it all out beforehand by remembering your favourite spa experiences and trying to replicate your favourite bits. Get yourselves some face masks, fancy candles, relaxation music. Set up a mini-spa in your bedroom with cucumber water and canapés and your favourite magazines and robes. Take turns having bubble baths – or even go all out and hire a hot tub for your spa date. Give each other mani-pedis, couples massages with special oils and other treatments. Use your fanciest products. You could even buy some new fancy robes and slippers for the occasion.
Afternoon tea at home
Order in the ingredients to have afternoon tea at home (or order in afternoon tea from your favourite bakery) and one of you can set it up whilst the other gets the kids to bed. Get some cake stands and make sure you have an oh so cute teapot! Make it extra fancy with a glass of champagne or prosecco in champagne flutes. Then once the kids are in bed, pop on some classical music – or do what I did and play the Bridgerton soundtrack covers while you enjoy it all. You could follow it up by watching something like the Crown, Bridgerton or Downton Abbey afterwards. Best of all, you can be in your cosy pjs afterwards with a nice full tummy instead of all stuffed in a dress at a fancy restaurant all full and wanting to lie down.
Come dine with me
Plan a 'come dine with me night' where you plan a menu before hand and each of you cooks a course. Make it a competition. Do drinks parings. Dress up and play some nice ambient 'restaurant' style music. You can even have a prize and grade the meals at the end and declare a winner! Go fancy and have fun making something you wouldn't ordinarily, like cooking lobster tails.
Games night
Plan a couples games night together. You each get to pick a game you want to play and have to prepare everything you need and set aside a night to turn off the TV and battle! You can make it more fun by buying some game night snacks and beers. Make a fight night play list to accompany it! You can make it more interesting by setting a loser forfit or winner prize – who wants to get out of doing the dishes for a week?! No cheating – that goes especially to you Papa Ginge!
Cocktail making
Plan ahead for an evening of cocktail making and canapes. Each of you can be responsible for one or two cocktail recipes each and have to get the ingredients in beforehand and once the kids are in bed pop some music on and teach each other to make them and enjoy over music and conversation.
Wine/Gin/Whisky tasting night at home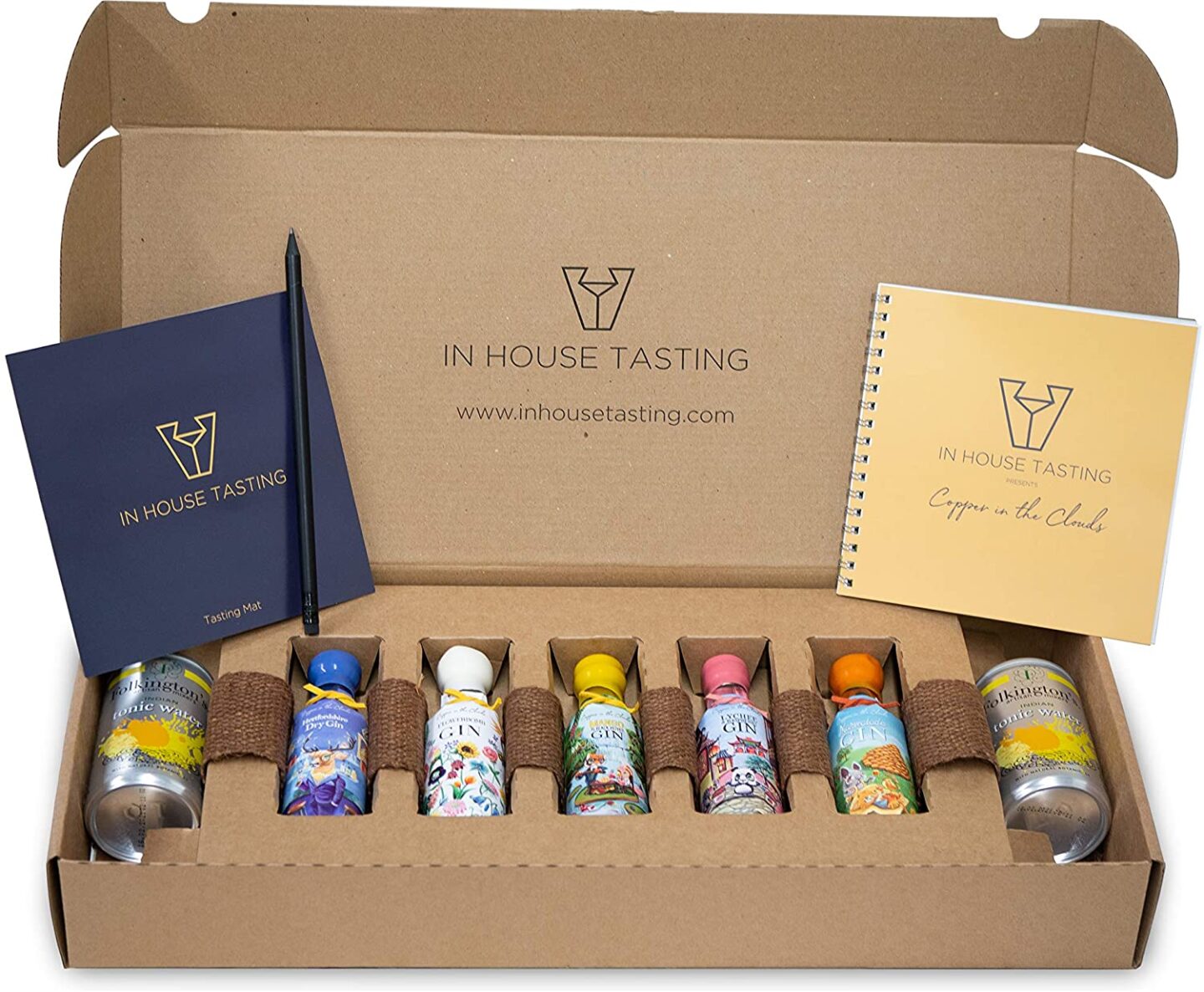 You could either sign up to a virtual tasting class or plan out your own (wine/whisky/gin etc) tasting class. There are box kits you can order online these days like this gin tasting kit (affiliate link) pictured above. Alternatively, you could make it a competition and try and guess what the wines are. You could order some cute burlap bags for hiding the wines like these below.
Breakfast in bed
You could change up the date from the evening to the morning but this is a risky move and depends how early your kids get up. It's something we couldn't do because ours wake too early and even if they didn't they would hear us and get up as soon as we tried to. If you have heavy/late sleeper though you could try getting up an hour earlier than them one morning and making a special breakfast in bed. You could order some papers in and pretend you are in a hotel for the morning. To make this idea even more fun you could make a breakfast room service door hanger the day before so your partner can choose what they want bringing to them. You could make it all the more special by serving it on a special wooden breakfast tray with a small vase containing a flower.
Computer game together
There are so many great computer games these days. Instead of starting a new TV show, you could embark on completing a new game on the computer together. I personally enjoy role playing games (RPG) because they have an overarching plot and puzzles to solve together. My favourites are the Final Fantasy (affiliate link) series.
Movie in bed
This part is crucial – choose a selection of movies you both want to watch before hand so you don't waste time on the night itself arguing over what to watch! Then on the night itself get into cosy clothes or pjs once the kids are in bed. Make a batch of popcorn and cinema style treats and then turn the bedroom into a cinema. You could use one of those new fancy projectors or just watch on the TV. Maybe pop some nice candles or fairy lights on for a nice atmosphere. Just don't get crumbs in the bed! You could even order some of those little cinema style popcorn boxes or some pick n mix (affiliate link) online before hand to make it feel extra special.
Arrange a booty call
Plan a night for sex. You could theme the night to spice things up a bit – sex toy night, porn night, foreplay only, a no-hands sex night, role play etc. One of you could pick the theme and give the other one hints in the run-up to it to build up some excitement, maybe by sending sexts on the days leading up to it.
Living room or garden picnic at sunset
Plan a romantic picnic for 2 but from your own living room or garden at sunset, if it's warm enough (don't forget the baby monitor if you can't hear the kids). Get a proper picnic blanket (and cushions if your bones are ageing like ours!) and a proper picnic basket. Have something fizzy chilling. If it's a nice night and you are doing it outside (the picnic, get your minds out the gutter, though…) then you might want to add some ambient outdoor lighting and throws. You can plan the very best picnic food given you don't have to carry it far! We like to do all the pastries for a picnic!
I hope you've found these at home date night ideas for parents helpful and commit to doing some over the next few months. It's so easy to get lazy in a relationship. We are certainly guilty of it so we'll be trying to do some of these too. If you've done anything unique or that worked well for at home date night ideas then let us know in the comments. I'd love to hear them.
If you liked this post you might also like:
If you have enjoyed this post or found it useful, here are some quick and easy ways that you can support Nomipalony or say thanks:
Disclaimer: This post contains clearly marked affiliate links. If you purchase through an affiliate link you will not be charged any more for your purchase, but I will receive a small fee for referring you. As an Amazon Associate, I earn from qualifying purchases. For my full disclosure policy, please see my about page.