Springtime = time to take the kids to the playground
Today is officially the very first day of Spring! We made it guys, we didn't think Winter would ever end at times but Spring is finally here! We have been to the playground a few times over Winter but let's be honest, it's not the same is it? It's wet and cold and we were just desperately grasping at straws because we couldn't face any more Peppa Pig or Pinterest fail worthy 'arts and nafts'. Any parent worth their salt knows that parenting is way easier in the nicer weather, when you can let the kids loose outside to play (and you don't have to wrap them up in 900 layers first).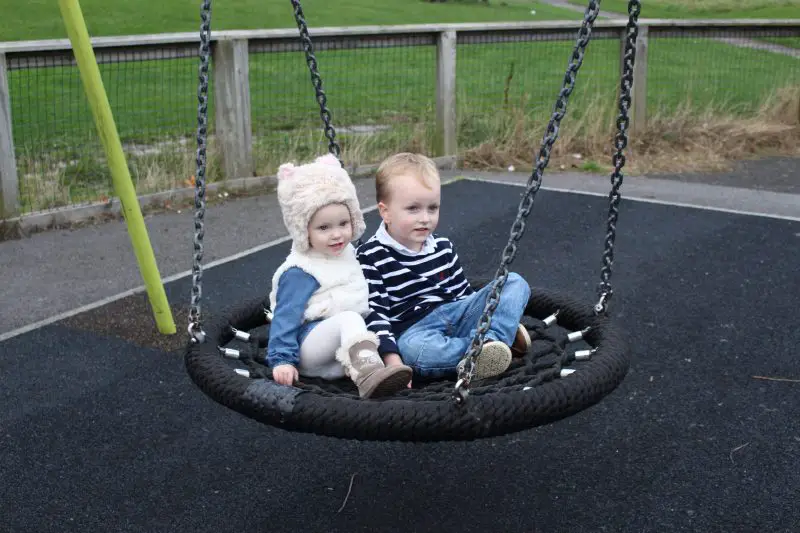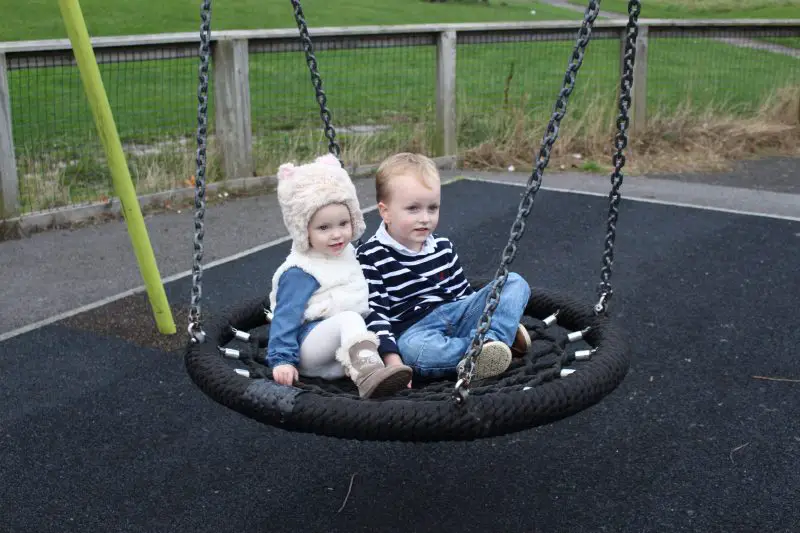 The playground is good for kids
In the spring/summer we head to the playground most days. It's so good for them. Outdoor playground equipment provider ESP Play commissioned Liverpool John Moores University to carry out some independent research and I was shocked by the results. Did you know that 68% of a child's PE lesson is spent stationary? Even more alarming is the statistic that one in three two to ten year olds are now categorised as being overweight. Yikes, so taking your kids to the playground has never been so important. It's such an easy way to get them to do some good physical activity. Kids usually love the playground and most the time it can be a great place to take them.
HOWEVER, it would be remiss of me if I didn't acknowledge the elephant in the room. The playground isn't always idyllic now is it? I've definitely been romanticising it after the long winter because I faintly remember days where I've been a bit fed up of 'the park'. So in case you have forgotten too, here is my tongue in cheek reminder of what to expect as you joyfully bound to the playground this week…

17 things that inevitably happen when you take little kids to the playground
(We aren't quite there yet but it won't be long) Before you get there, you say we can't go until you have your suncream on. With an unruly toddler, this activity is like trying to stuff an octopus in to a string bag and it will almost break your spirit.
When you arrive there will be 15 different activities to play on. There will be one other child in the playground. Your child ONLY wants to go on whatever THAT child is on (usually the swing – what idiot only puts one swing in a playground anyway?!)
The child on the swing (or whatever) takes FOREVER to finish their turn. While your child gets increasingly frustrated and you think FML, why didn't I bring a flask of sangria.
Some child will run up the slide while your kid is trying to go down it
Your child will run up the slide while another kid tries to go down it. You mutter/shout, can every one stop running up the bloody slide already.
Either you, another parent or all of y'all will shout at your children for running in front of the swings. Extra points if you say or hear 'you are lucky you didn't get kicked in the face'
Your child will try to climb up a frame or slide meant for kids three times their age. You will shit yourself that they may fall to their untimely death
Then, said child will realise that they have overestimated their abilities and freeze like a tiny but noisy wailing statue. Usually blocking the way for all the other kids. This means you need to climb up the climbing frame to rescue them like an arthritic out of shape Fireman Sam.
Your arse may get stuck going down the slide but the less we mention that time in 2014 the better. It was embarrassing for all concerned and you still have PTSD.
You will make awkward small talk about the weather or little Jack or whoever with another parent/grandparent.
Your potty trained child will need a wee and you have to take them in the bushes like a hobo. Just pray it's not a deuce.
You will definitely want to play on the swings and your kids probably won't let you. I wish all playgrounds had those nifty swings where you push your kids by sitting on the other end and swinging yourself.
Every child will at one point shout higher, higher when on the swings. Even though they are about as high as the trees and may fly out and die at any moment.
If there is a sandpit, one little turd will have to be told off for throwing it, probably yours.
By the same token, some kid will also cry because they have sand in their eyes. Again probably yours and you have to become a bumbling nurse nightingale with a water bottle to try calm them down.
Your children will not want to leave the playground to go home. This means you either carry them ungainly (kicking and screaming) under your arm, or you are super mam and came prepared and you bribe them out with fun snacks.
Then as you are walking home, the kids will say, 'that was so great, can we go back again tomorrow?', to which you will reply, 'of course', because the smile on their dirty little faces makes it all worth it.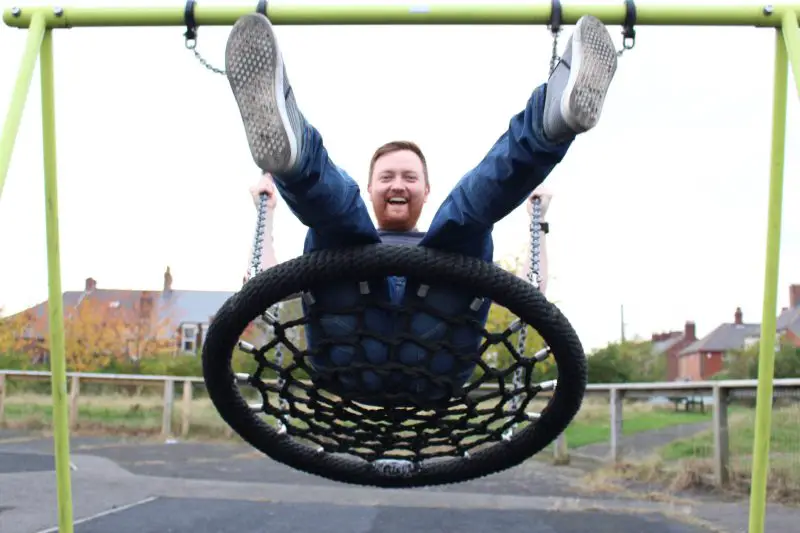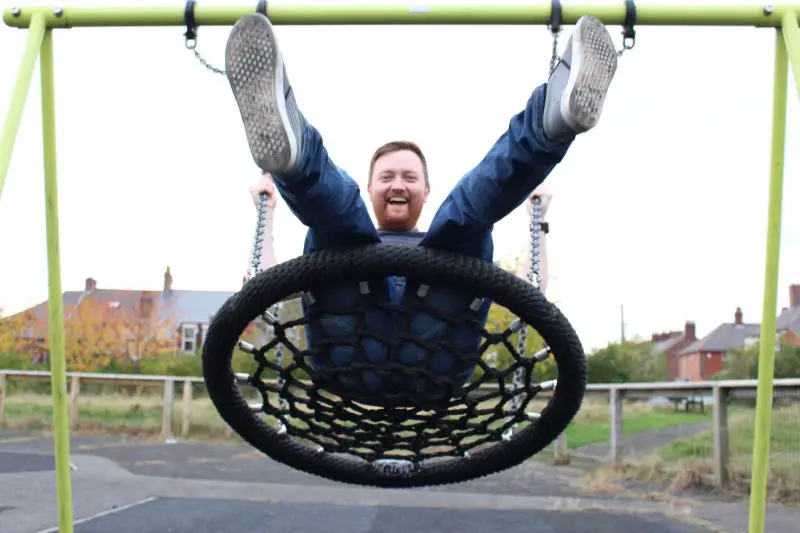 Disclaimer: This is a sponsored post.