We recently got the ferry from Newcastle to Amsterdam with our 7 and 10 year old children. We had previously done the 'party ferry' pre kids and were curious as to how it would feel taking the kids on what many refer to as a 'booze cruise' but that couldn't have been further from our experience. In this blog post I tell you all about our experience of taking children on a Newcastle to Amsterdam mini-cruise.
Disclaimer: We were provided with our DFDS mini cruise free of charge as part of an Instagram promotional campaign. This blog post was not part of the campaign but I'm writing it as so many of my Instagram followers asked me to write it after seeing our trip.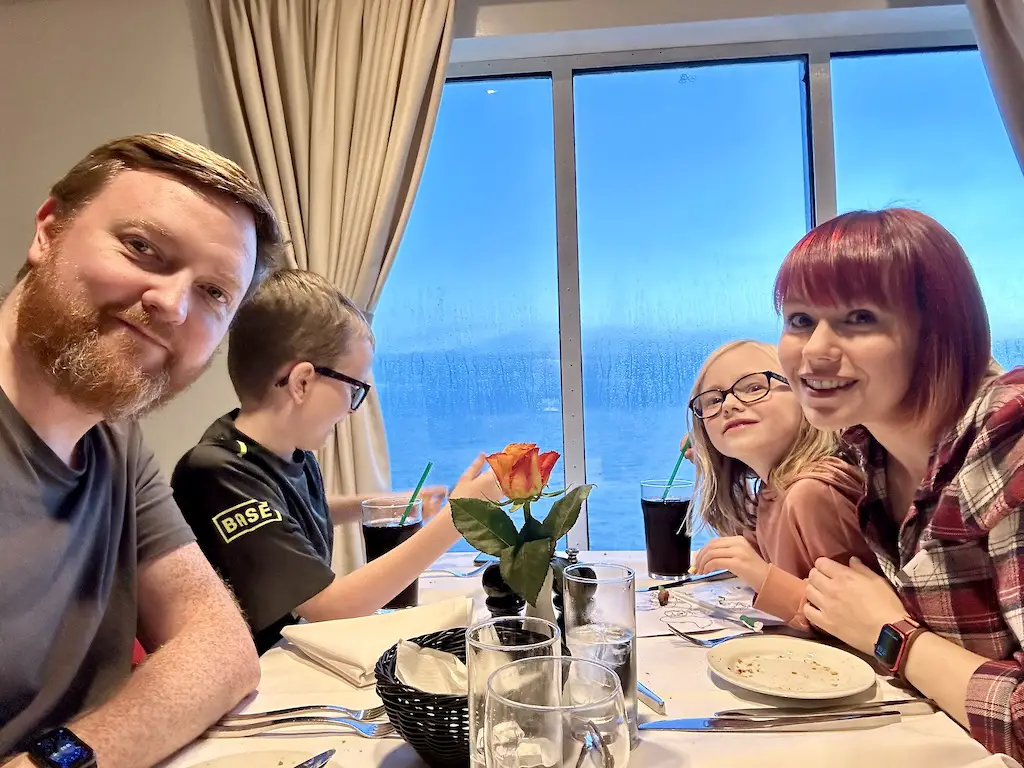 Commodore suite on the DFDS ferry from Newcastle to Amsterdam
When we went on the Newcastle to Amsterdam ferry (affiliate link) before we had kids we stayed in their regular cabins. As we were taking our kids this time we thought we would give their upgraded rooms a try. We stayed in their Commodore suites.
In the commodore cabins there was a large comfortable double bed and a bunk bed made of 2 singles. There was a desk area, a tv, a small table and chairs. There is a bathroom with a toilet, sink, shower and toiletries.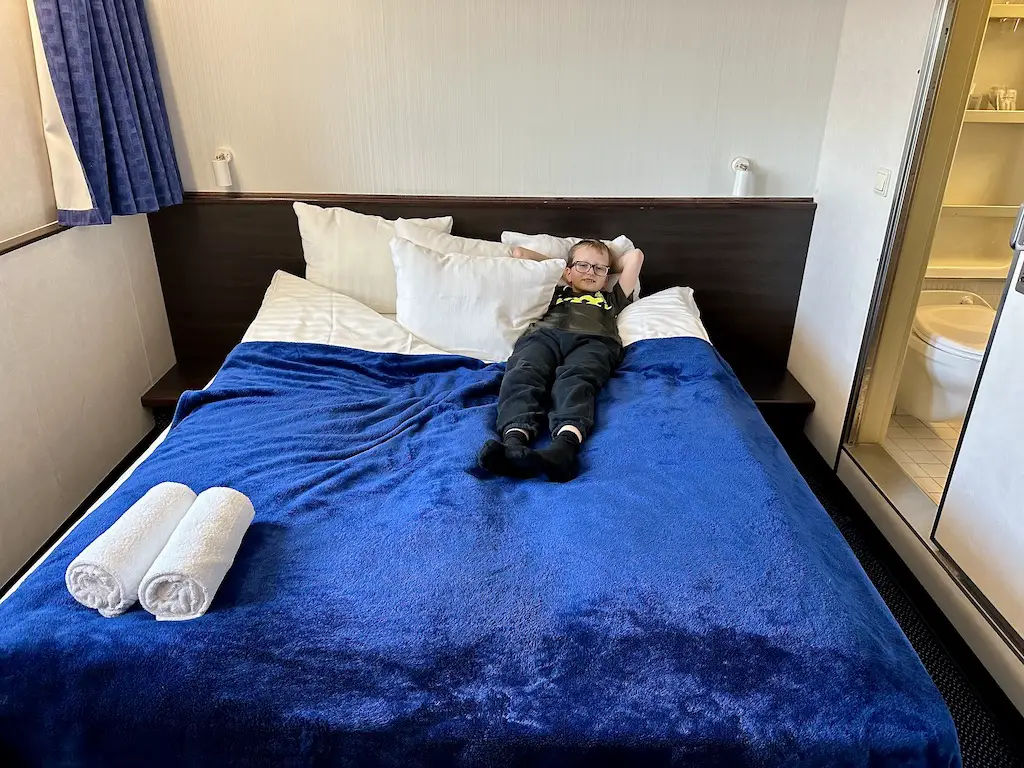 We had a sea view room that had 2 large windows which my daughter enjoyed climbing up on the ledge and watching the sea from.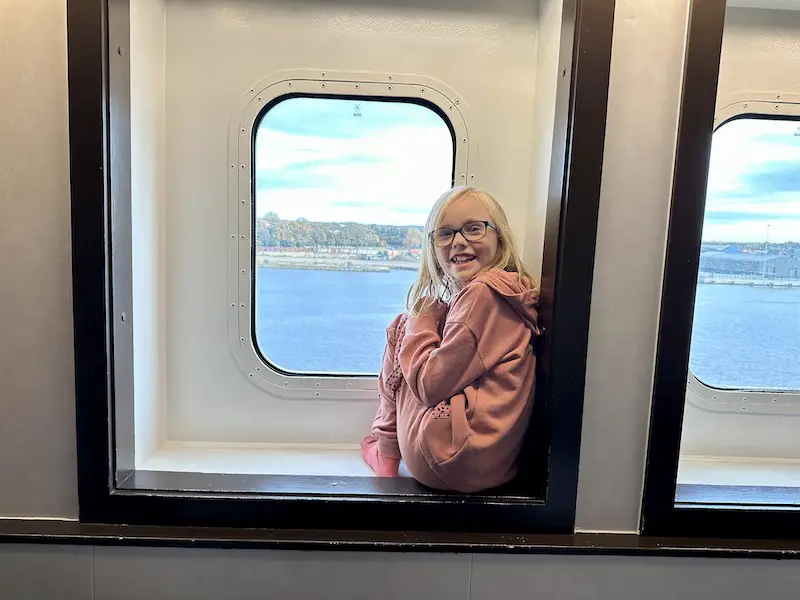 Our room had a mini fridge that was filled with wine, water (both still and sparkling), beers and fizzy pops included in the room price. This was refilled again on the return leg of the trip too and was a lovely treat.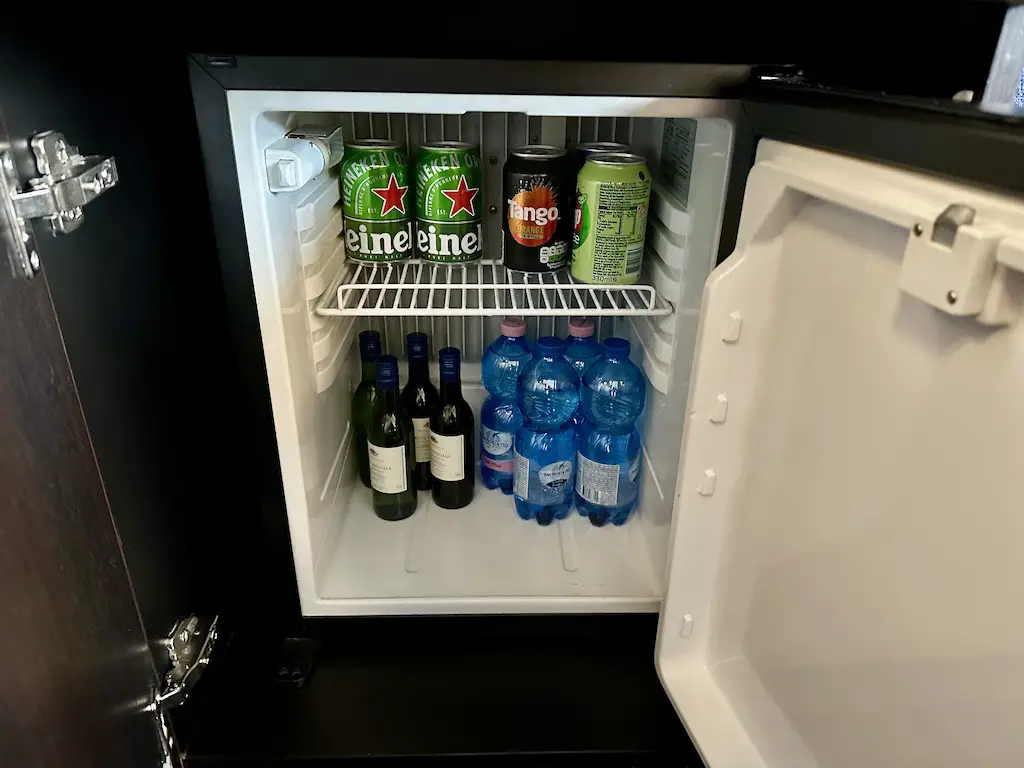 If you have the cash to splash the Commodore de Luxe cabins also include access to an exclusive lounge where there is free snacks and drinks – including prosecco which might work out to be great value for money if you will use it a lot.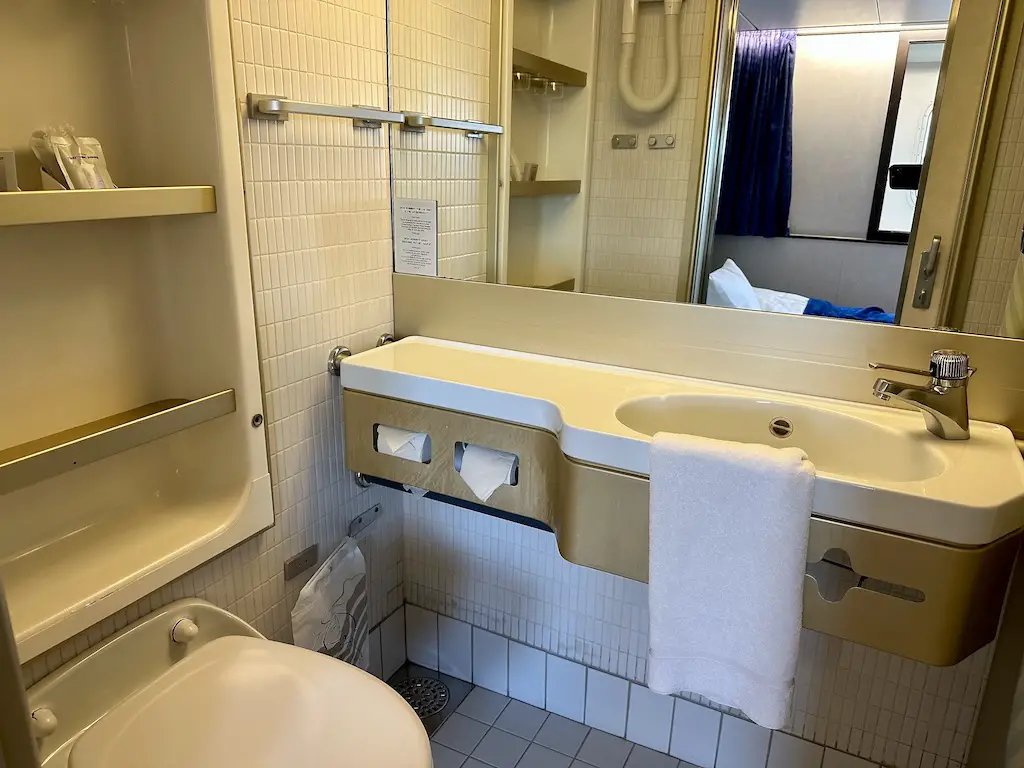 Were there drunk people on the DFDS Ijmuiden Newcastle ferry?
When we last did this Newcastle to Amsterdam ferry pre kids it was a different experience for us. We spent most of our time in the ferry bars drinking, doing karaoke. When we got into Amsterdam we spent our time again in pubs/coffee houses. There were times on the night that it was quite loud.
I was a little concerned that is how it might be for most of the other cruise goers but it didn't feel like that at all. I don't know if that's partly because we went mid-week in the October half term holidays or whether they place the family rooms together but it was really quiet on a night. We didn't get woken at all.
I didn't see anyone drunk. We didn't spend much time in the bars other than to walk through them a couple of times to have a quick look at the entertainment but they didn't feel raucous and there were plenty of families in them.
There were tonnes of families and kids on board. Lots of kids were running round in their socks and pjs. It felt very family friendly and safe.
I wouldn't hesitate to take my kids on a DFDS ferry again.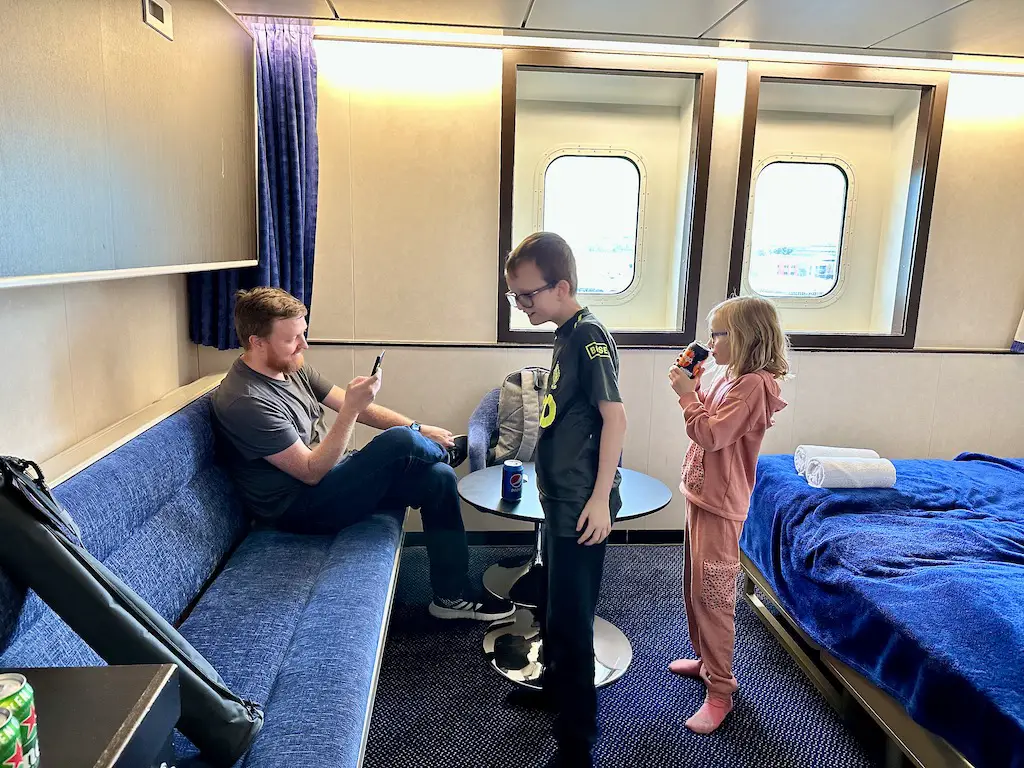 Was the Newcastle to Amsterdam ferry choppy? Did you get sea sick?
Now this is obviously very weather dependent. For us, going from Newcastle to Amsterdam was pretty calm and didn't feel choppy at all.
On the way home from Amsterdam to Newcastle it felt a bit choppy in the evening. That said we had drinks in our room and they didn't spill or anything. Nothing fell over.
The boys felt a bit queasy but I think they had eaten to much at the all you can eat buffet and it was warm in our room so I think that was partially why.
We all slept well both nights.
What is there for children on the Newcastle to Amsterdam ferry?
The first thing I'd say is that for children, being on the ferry itself is part of the adventure. It's not like a plane or train where they are strapped to their seats. They can move around and explore and ours loved this.
The DFDS Newcastle to Amsterdam mini cruise had a treasure hunt kids could do. There were posters with clues around the ferry that they had to find which I saw lots of children doing.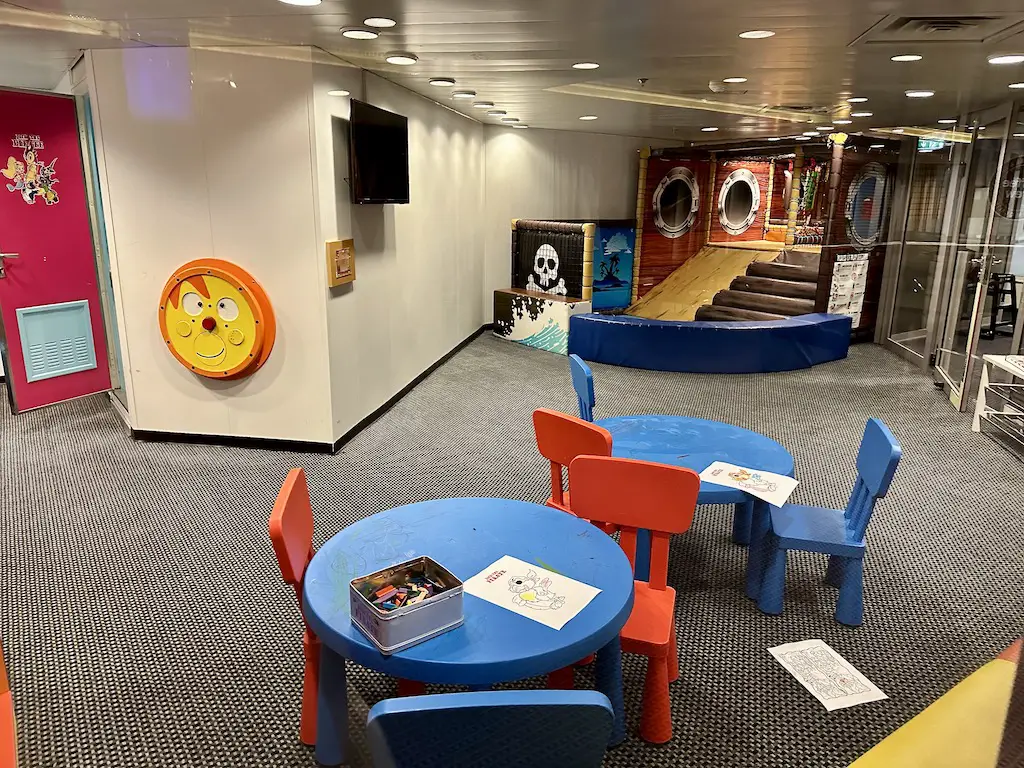 For under 6s there is a whole dedicated area with a children's toilet and changing area, soft play, colours materials and some toys.
At certain times there was children's entertainment in this area too.
There is also an arcade area that had stuff like air hockey that older kids could enjoy.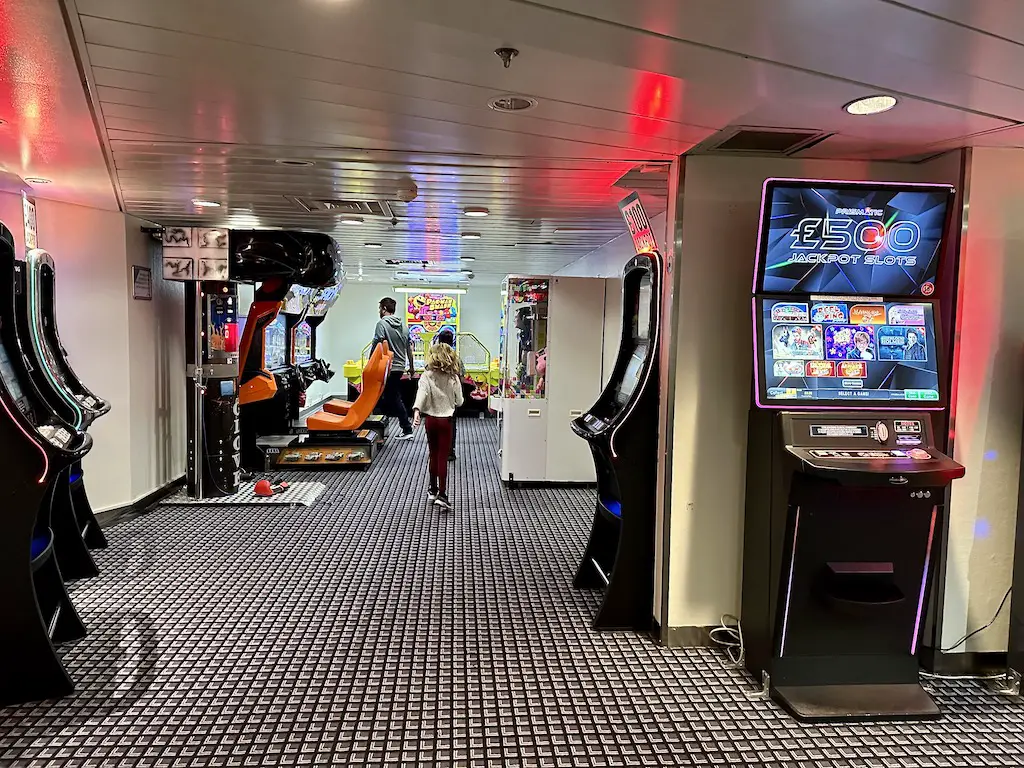 My children also enjoyed the live singers and eating in the restaurants.
Going out on deck and waving at people at take off and landing was one of our highlights of the trip. Some of the views of the sea from the deck were stunning.
My kids also enjoyed the large duty free shop where we allowed them to buy something each.
What is the food like on the DFDS Newcastle to Amsterdam mini cruise?
Explorers Kitchen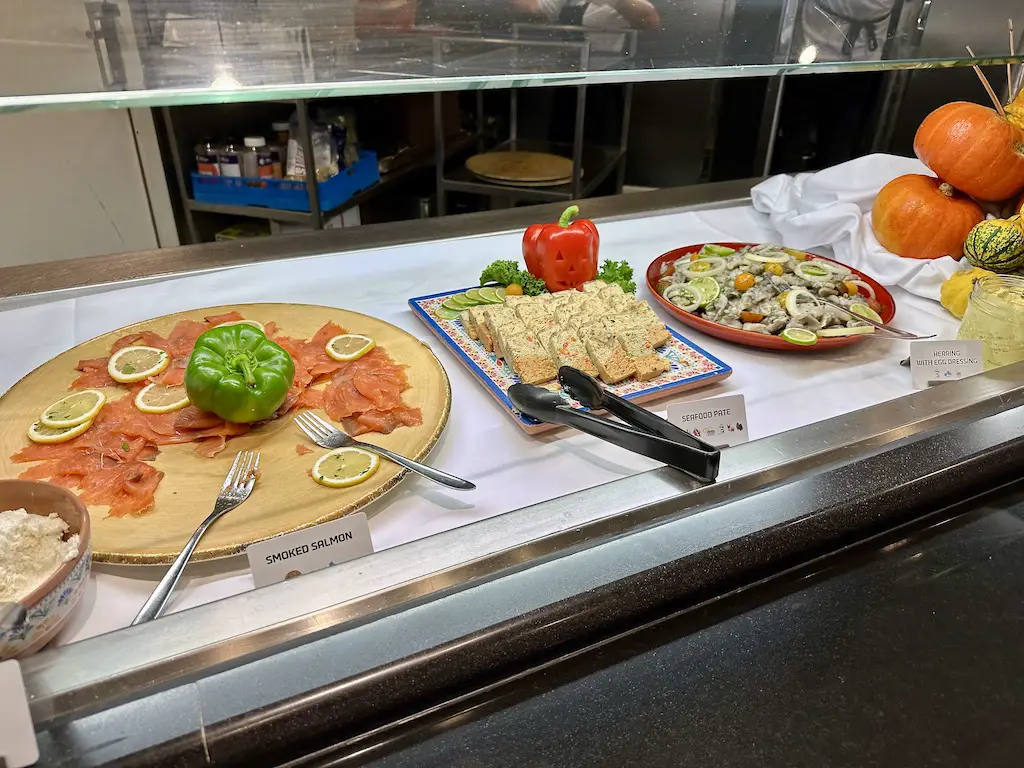 The food on board is of a high standard. I would liken it to the kind of 4* all inclusive hotels we tend to stay in at Spain etc.
In particular Explorers Kitchen (affiliate link) was very much like an all inclusive hotel eating experience. You get your seat and then have a period of time you can go and help yourself as much as you want.
Our children loved being able to choose their own food. There was a huge variation of choices, including nutritious options.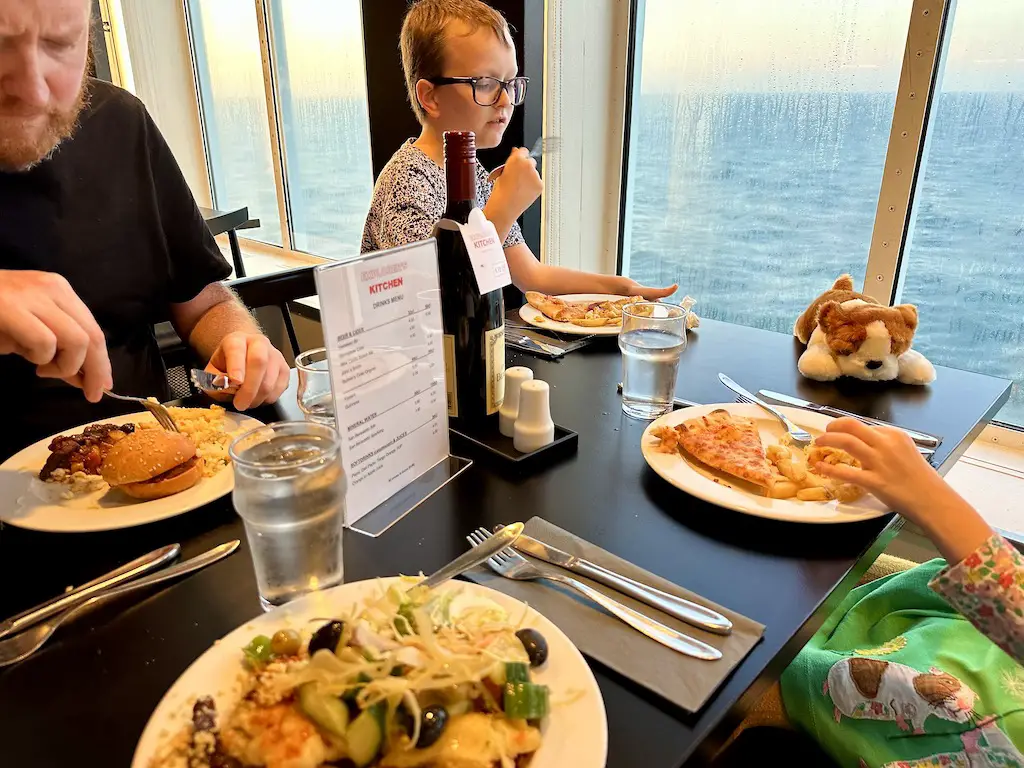 North Sea Bistro
We also ate at the North Sea Bistro (affiliate link) on our first night. This is the DFDS more 'up market' a la carte restaurant but it is child friendly.
They had children's colouring menus. The kids both enjoyed burgers there.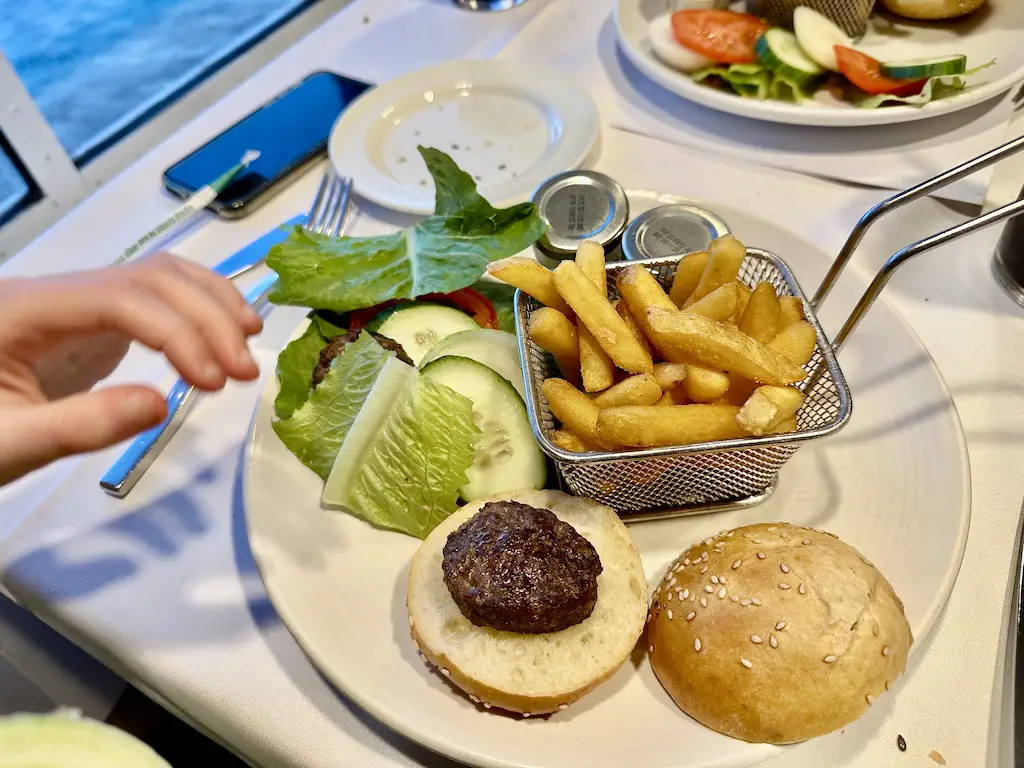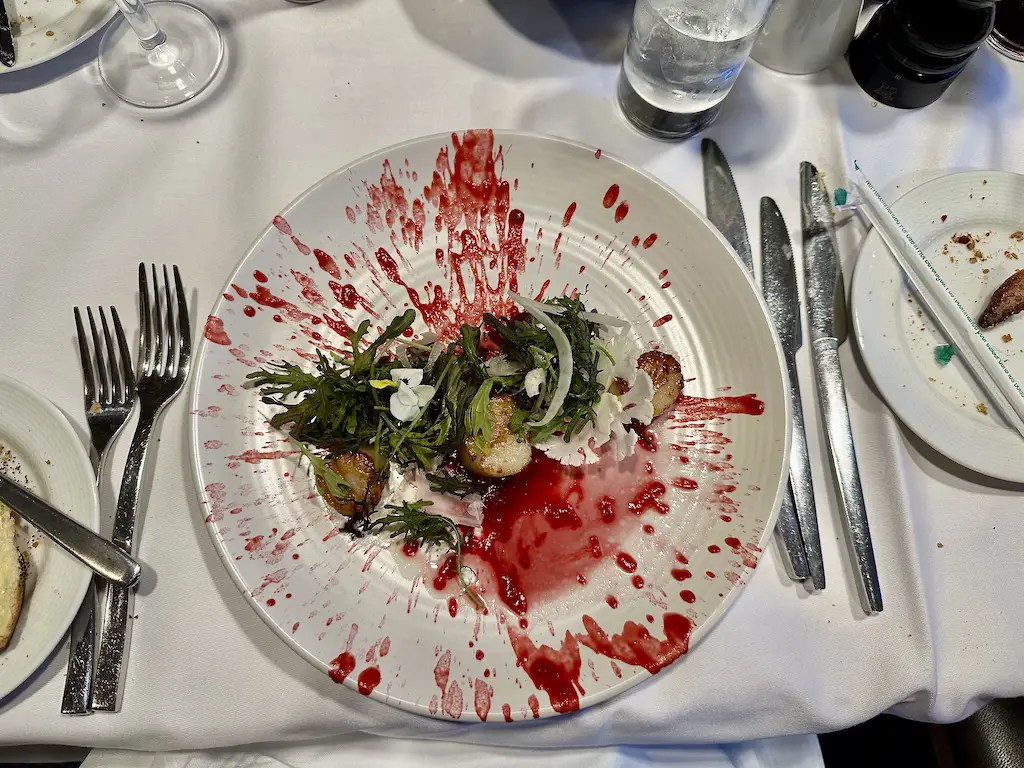 Breakfast buffet in the Blue Riband
We also had a hearty breakfast buffet each morning we were on the ferry in the Blue Riband restaurant on deck 8 which was available from 7.30am.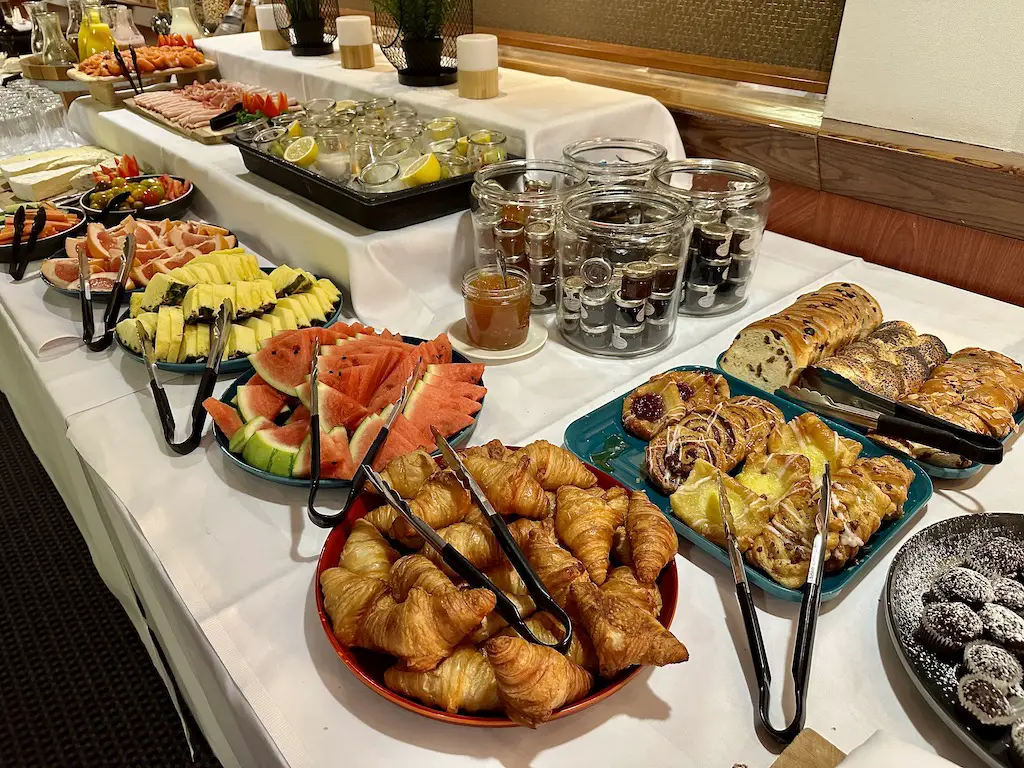 How long do you get in Amsterdam on mini cruise?
On the DFDS Newcastle to Amsterdam mini cruise you only get about 5 hours in Amsterdam itself so you have to spend it wisely.
There are other cruise options where you can stay overnight in Amsterdam too which give you some more time to explore the city.
What did we do in Amsterdam?
Personally I wouldn't plan too much as the time goes really fast. It's quite nice to just wander around the city going into the shops that take your fancy and then have some food and drinks at a pub or restaurant.
It's a beautiful city and it's easy to get around by foot taking in the views of the canals. Be careful where you walk with kids though, my 10 year old accidentally got an eyeful of a woman in lingerie as we passed one window!
We pre-booked a Lovers canal tour package. We booked it for noon to allow us enough time to get the shuttle bus from the ferry in IJmuiden to Amsterdam.
The bus drops you off very close by where you need to go for the tour, probably a 5-10 minutes depending how fast you walk. You walk down towards the train station and then you can walk through the train station or alongside it and then you go left through the tunnel and you are at the canals.
Be warned, although we had booked for the 12 canal tour, ours actually departed 10 minutes early so I'd get their ahead of time! They do seem to go very frequently though and seemed quite popular/booked up.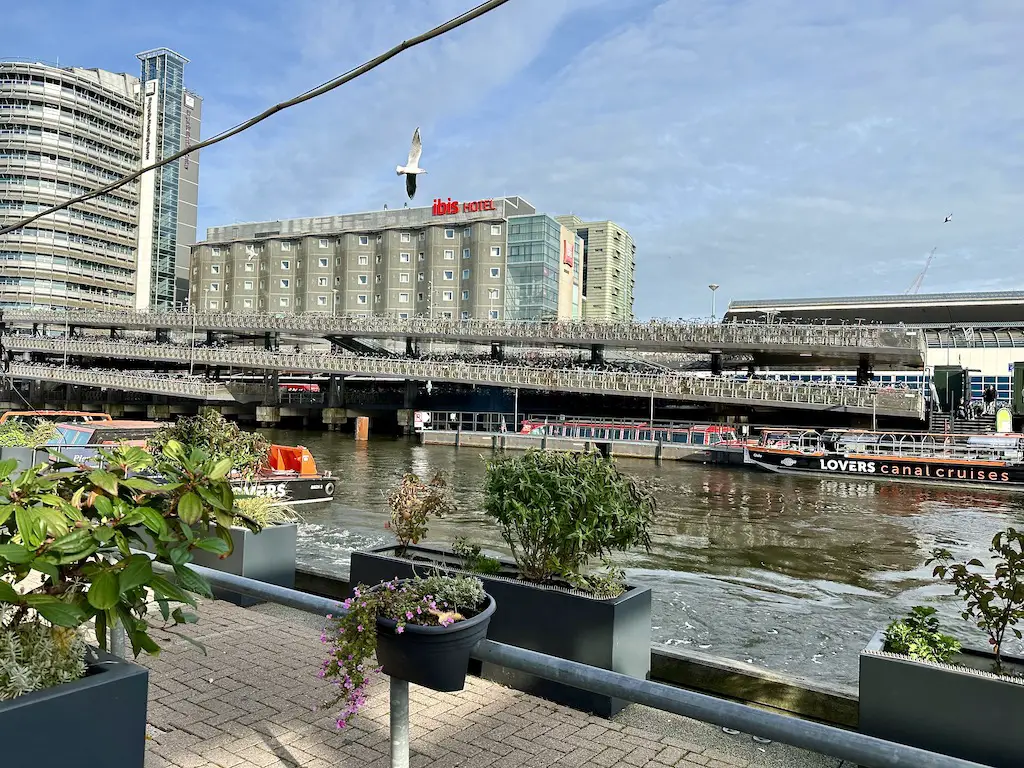 Our canal tour took around an hour and was 15 euros per adult and 8 euros per child. The guide was very funny and it was really interesting learning about the area from him.
Our children started to get bored the second half though so that's worth bearing in mind if you have kids like mine.
The rest of the time in Amsterdam we had an explore of the city. We went to Van Wonderen Stroopwafels and spent an extortionate amount on Stroopwafels. They were nice but I don;t think they were nice enough to justify the cost.
Then we went to the oldest pub in Amsterdam and got a platter of cheese and sausages, some beers and a hot dog for the kids.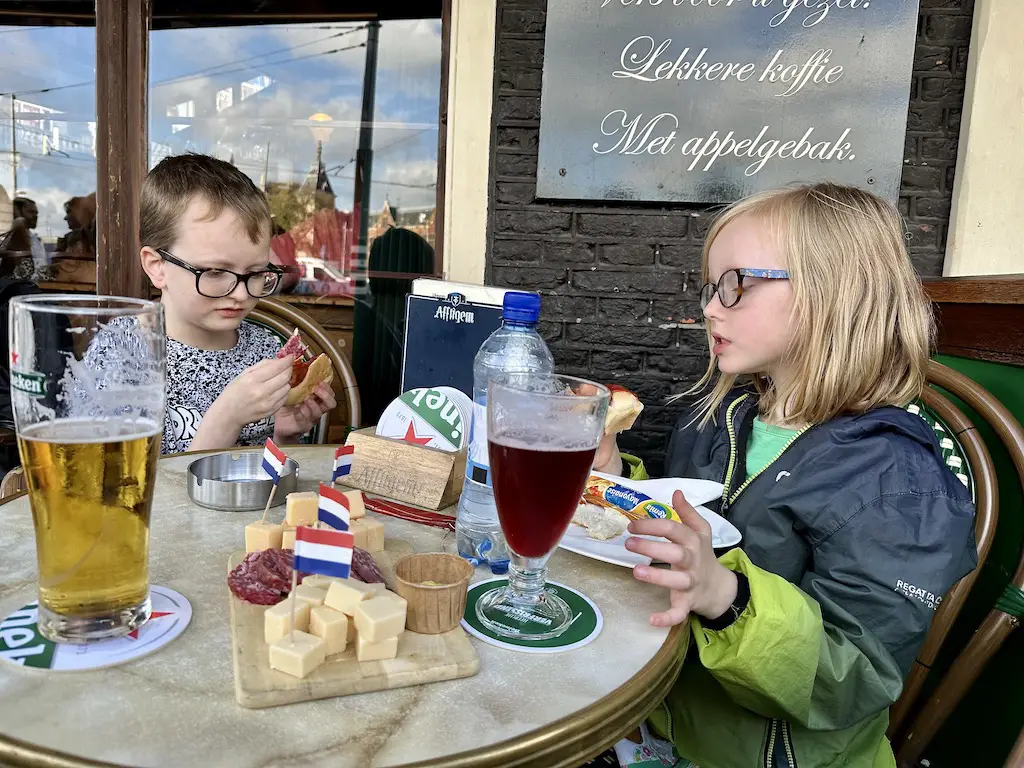 DFDS Newcastle to Amsterdam COVID
Our trip on the DFDS ferry was October 2022 so most COVID 19 measures were gone. There was hand sanitiser dotted around that you could use but that was about it.
As we travelled during school holidays, the ship was very busy and some areas got a little congested. Some travellers wore face coverings but they were definitely in the minority.
If you are vulnerable, worried or just taking sensible precautions then I would recommend taking a face covering that you can use if you feel its too busy for your comfort at any point.
if you have a change of plans? DFDS does offer a Travel Guarantee that offers free rebooking on travel taken before 30 September 2023.
How long does the ferry from Newcastle to Amsterdam take?
The ferry from Newcastle to Amsterdam takes around 15.5-16 hours but this is scheduled overnight meaning much of the journey you will be asleep in your cabin.
How often does the ferry from Newcastle to Amsterdam go?
The ferry from Newcastle to Amsterdam is very popular and as such goes overnight daily!
DFDS Newcastle port
DFDS Seaway's ferries sail from the International Ferry Terminal, near Royal Quays in North Shields. This is about 8 miles east of Newcastle City Centre.
How much does Newcastle ferry cost?
As with all travel, how much the Newcastle to Amsterdam ferry costs varies on a number of factors – when you travel, what deals might be on at the time, what kind of room you choose etc.
At the time of writing this (November 2022), the Newcastle to Amsterdam mini cruise is from £74 per person (affiliate link).
Newcastle to Amsterdam ferry deals
As I write this, DFDS currently have a Black Friday deal of 40% off their mini cruises from Newcastle to Amsterdam meaning they are from £39 per person at the moment. This offer ends Wednesday 30th November 2022 so book fast (affiliate link).
Newcastle to Amsterdam ferry 2 for 1
I can't currently find any 2 4 1 offers for the Newcastle to Amsterdam ferry.
DFDS is currently offering 20% off (affiliate link) Newcastle to Amsterdam ferry bookings for 2023 though which you can secure with a 15% deposit and make use of their travel guarantee if you need to change your dates.
Book DFDS mini cruise deals
You can book the Newcastle to Amsterdam mini cruise direct with DFDS here (affiliate link) for the best deals.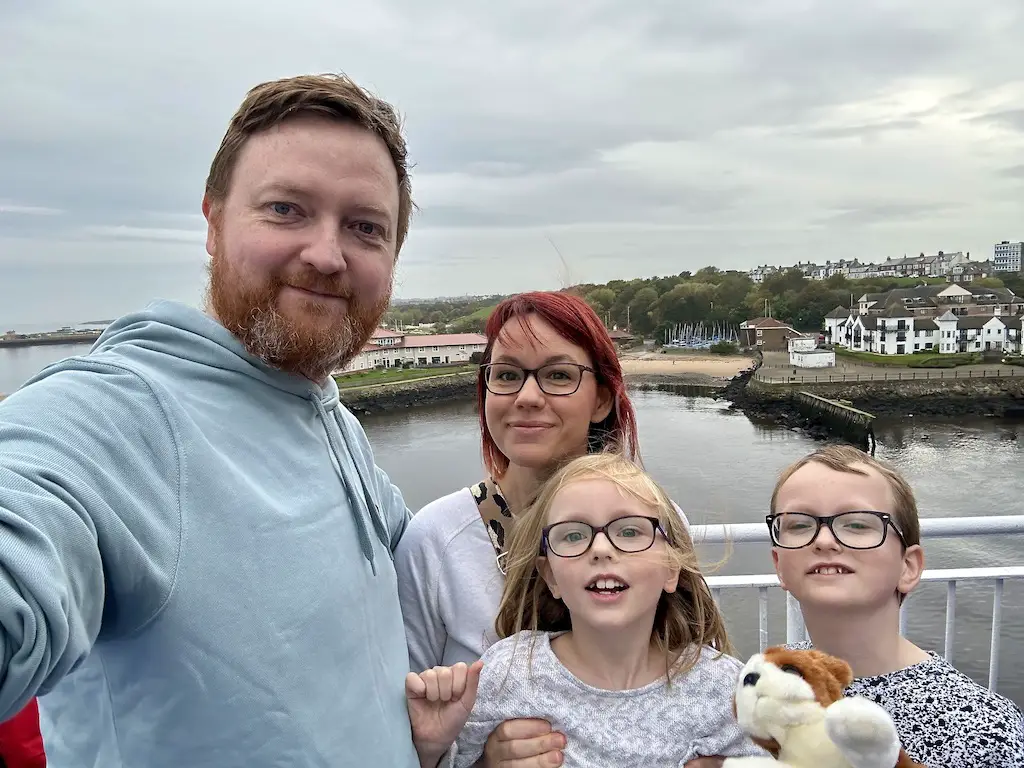 Our 5 top tips for the DFDS Newcastle to Amsterdam mini cruise
On arrival at Amsterdam head to queue for the shuttle buses early. If the ferry is full then there will be a lot of people to get through customs and onto the shuttle buses into Amsterdam. If you are at the back of the queue then you'll waste some of your precious time in the city itself.
On the way back if you aren't in a rush enjoy the boat and your room until the last tannoy call or you will just be waiting in a long queue.
Take some sea sickness tablets just in case. We ordered these from Amazon (affiliate link).
Pre book some of the restaurants on the boat. Personally we liked the all inclusive style Explorers Kitchen which had a wide range of fantastic tasting food. The restaurants are cheaper if you book them in advance.
We paid for WiFi on the ferry but it wasn't very good so download what you want onto devices before travel or go old school and pack some cards and travel games.
Where do ferries from Newcastle go to?
Now we are planning where else we can go to from Newcastle via ferry. Apparently from Newcastle you can also travel by ferry to:
Gothenburg, Sweden
Kristiansand, Norway
Bergen, Norway
We would love to do one of these ferry trips next!
If you have any other questions about our experience of taking children on the DFDS Newcastle to Amsterdam mini cruise then do pop them in the comments, I always respond!
If you liked this post you might also like:
If you have enjoyed this post or found it useful, here are some quick and easy ways that you can support Nomipalony or say thanks: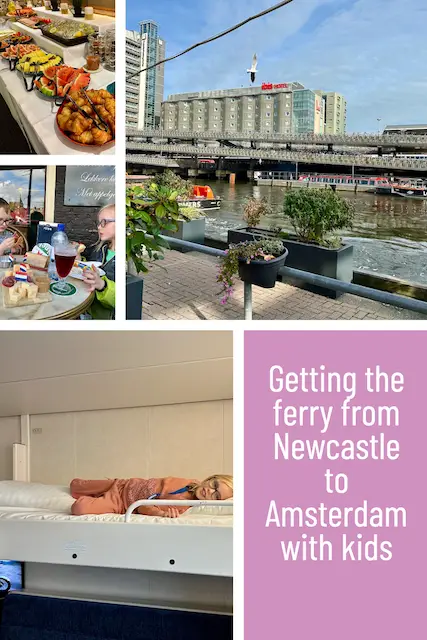 Disclaimer: This is a sponsored advertorial post. This post contains affiliate links. If you purchase through an affiliate link you will not be charged more for your purchase, but I will receive a small fee for referring you. For my full disclosure policy, please see my about page.