Oliver's Travels is currently running a blogger competition where bloggers post about their funny travel stories to be in with a chance of winning a three day break at their new range of beautiful villas in Portugal. It looks gorgeous and I would love to go there and blog/vlog about it for you guys. Well you've got to be in it to win it so here is my punt!  
Whilst I'm not the most travelled person, I do have lots of embarrassing stories to share (I'm one of those people who attracts catastrophe like a magnet, and I'm also obscenely clumsy), many of which I should not be sharing on the Internet! It was hard to narrow down which story to share and I'm sure once I've finished with this post I'll remember a better story! Stories that almost made the short cut was the time I went on a business trip with a male colleague and a double room was booked for us and my colleague was HORRIFIED. Or the time I took a trip to London and ended up getting a grade 3 sprain to my ankle from getting drunk, starting a can-can train round the streets of Camden and falling off a curb. 
But the story I've chosen, is more embarrassing for a friend of mine than me, so I'll go with that one and just not name them – my friends on trip all know who it is though and they'll never let him live it down.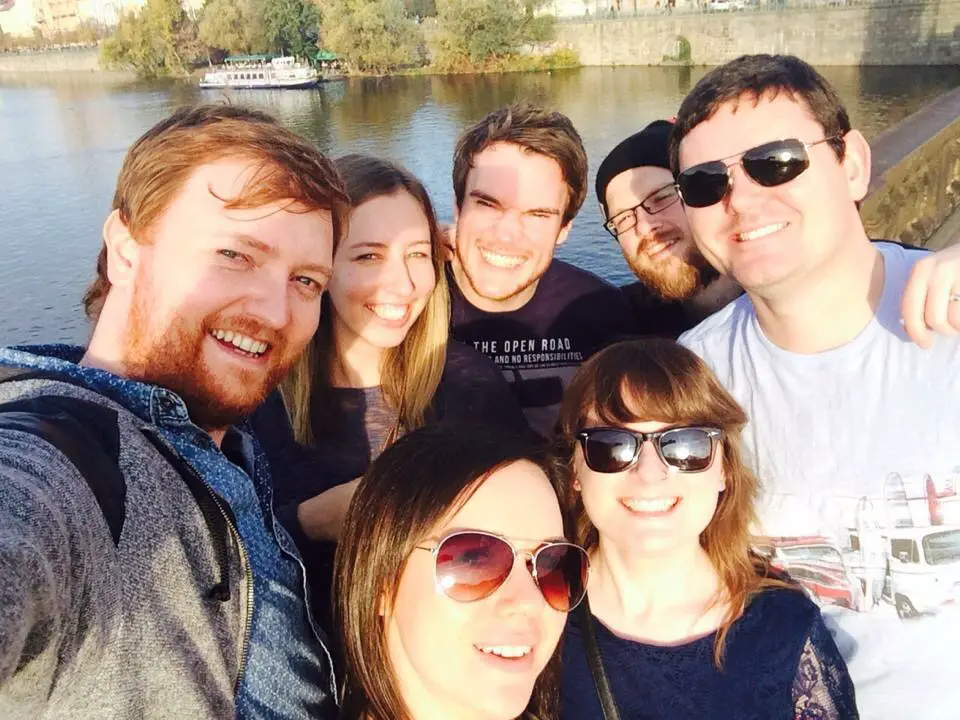 Mine and Papa Ginge's birthdays are only a day apart so when it came to our 30th birthdays we decided to do something special and go on a long weekend to Prague. We invited our group of close friends to make it extra special and rented a large apartment that we could all stay in. It was so much fun and I'll always look back on it fondly. I'm so pleased we did it. 
We arrived in Prague on a Thursday evening, checked in to our apartment which was lovely. The owner Vladimir (couldn't have hoped for a more 'authentic'name) recommended a local bar/restaurant called Hybernia for dinner that according to him was loved by locals. When we arrived there I was a little put off as it was packed and full of smokers, the air was heavy with smoke which I hate. However we got a table and best of all there was a beer pump in the middle of our table and it was pour your own beer. The beer was good too, I should have realised right there that this would have been a recipe for an amusing story or two.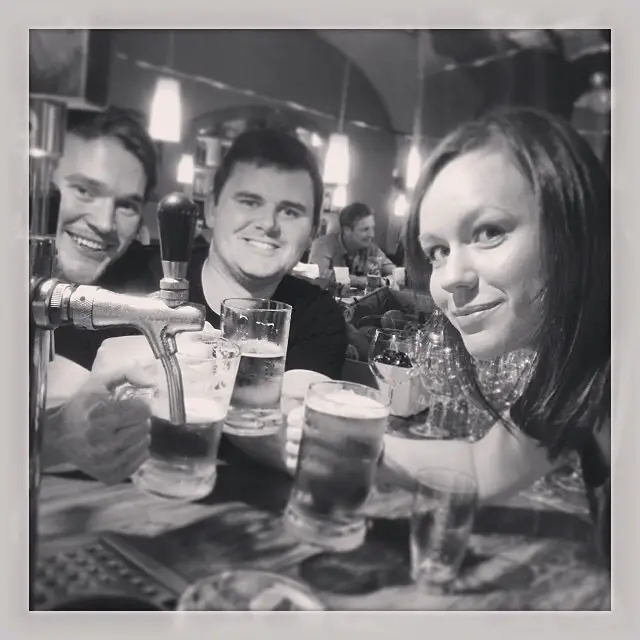 Not only was the beer great but the food was amazing! The best of our trip (and the standard was high). The beer pump had a digital display that showed how much beer you had drank ready for paying and some of our group became a bit obsessed with getting the number to be level (like at a petrol pump) so we kept drinking more and more. The beer and food was really really cheap too so no one was worried about the bill! When we were finished and paid the bill they also brought us shots. Some of us were pretty drunk after that!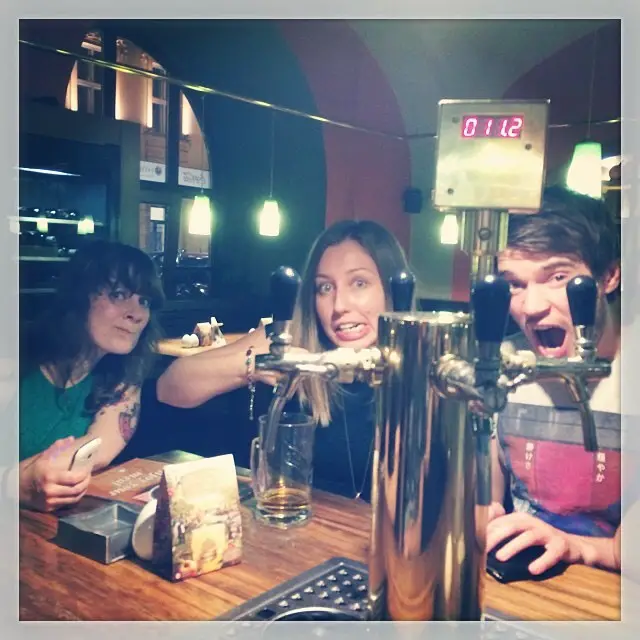 We set off back to our apartment but as it was our first night and we were too drunk for effective map reading we got a bit lost. We kept thinking we were on the right track and the apartment would be just around the corner but we were going round in circles. One of the lads (I'll not name names for his dignity) needed the loo but was trying to hold on as he thought we were near 'home' and we couldn't find a toilet. Then I heard Papa Ginge ask him, his best mate (and they are true bloke best mates, the kind that delights in teasing each other) 'have you pissed yourself'. Low and behold our poor friend could no longer hold on in his inebriated state and had in fact peed his pants in Prague, 29 years years of age. As the rest of us were merry from the copious induldgement of the beer pumps we found this hilarious (he did not – I won't repeat the names he called us!). 
What was funniest about this story came the next day as we walked back through Old Town near the 'scene of the crime'. As we all teased our unfortunate friend about what happened the night before, we came upon the place where it happened and low and behold, he had only pissed his pants right outside the public toilet! Right in front of the sign. He couldn't believe it and was mortified and we found it even more hilarious. So hilarious I took a photo of the spot and whenever we get together he gets teased anew. Luckily he's got a great sense of humour so it's all in good fun! Sometimes it's the things that go wrong that make great memories!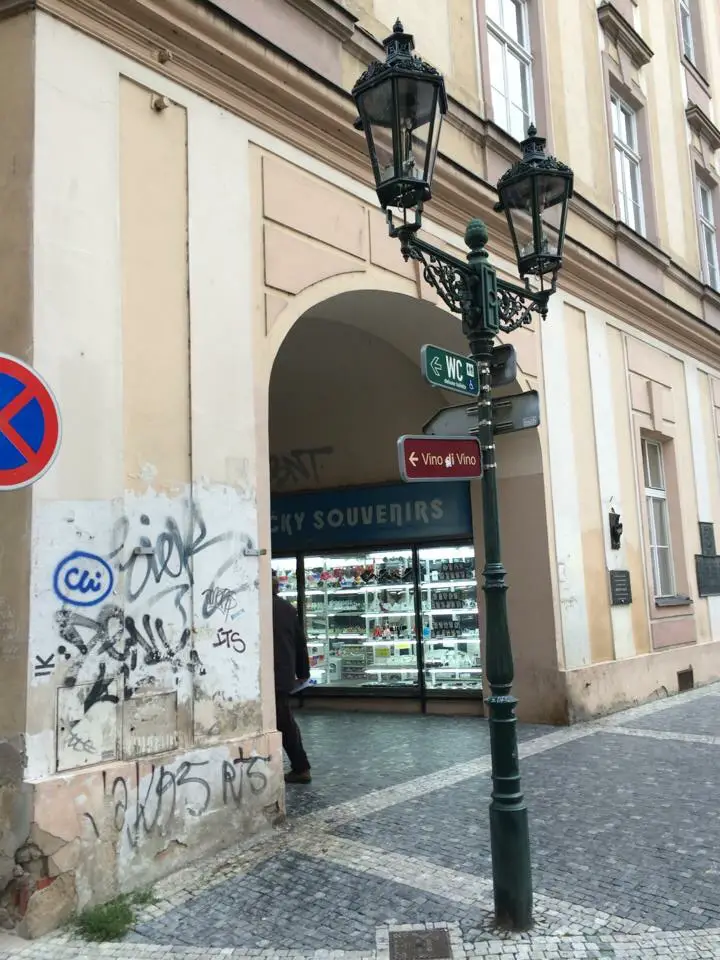 Do any of you have any funny travel stories? I'd love to hear about them in the comments!