Our favourite Christmas tradition is 'Christmas tree day'. Growing up, my parents always used to make a huge fuss of putting up our Christmas tree (you can read more of our old Christmas memories from the 80s and 90s here). There would always be lots of treats to eat and we would decorate the house together as a family whilst we sang along to the Doris Day Christmas album. As traditions often go, this is something I have continued with my own family. After Christmas Day itself, it's the highlight of our Christmas calendar. In today's blog post, I'm going to tell you all about how we make Christmas tree day magical in our house and how to make your own Christmas tree day box…
Why do we do a Christmas tree day box?
These days Christmas Eve boxes have become very popular. However, I never liked the fact that if you put lots of 'Christmassy' things in them, you don't get much time to use them afterwards, before Christmas is over. Also, my son's birthday is 23rd December so there is a lot going on in our house between 23-26th December so I like Christmas Eve to be a bit more chilled and a day off from present opening. Even if you don't have a birthday to deal with, most parents are quite busy on Christmas Eve without needing another thing to do.
What is a Christmas tree day box?
I do like the idea of Christmas Eve boxes in general thought so a couple of years ago I introduced our Christmas tree day box. It's basically like a Christmas Eve box but when you put your tree up. It means that you can fill it full of exciting festive things and they get all of December to make the most of them. It really starts the season off with a bang for us. I'll go through ideas of what you can fill your Christmas tree day box with in detail below but what we usually put in ours are Christmas clothes (maybe a jumper), Christmas PJS, a Christmas book, festive toys and treats and importantly the advent calendars.
The other big advantage of the Christmas tree day box is if you have little tots who bore of the decorating before it's finished, or who just drive you to distraction getting into everything, then they have exciting new stuff to play with to give you a minutes peace to get the job done.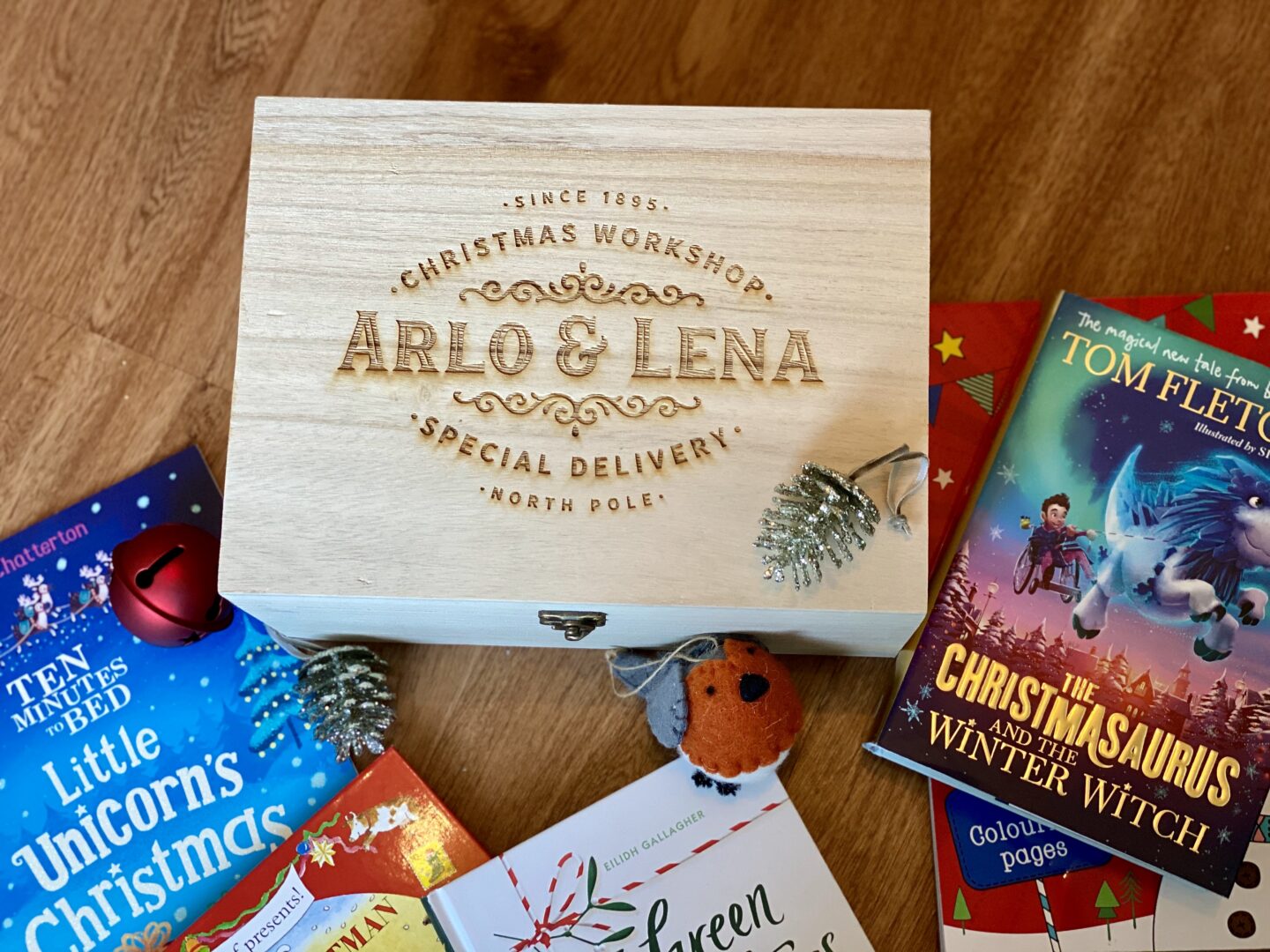 How we structure the day we put up our Christmas tree to make it magical
We usually put our tree up around December 1st (or whatever weekend falls closest to it). Then we start the day by putting on the Christmas music to get us all in the mood and have a festive 'North Pole breakfast' and then we open the Christmas tree day box. We get dressed in Christmas clothes to put up the tree and go get the decorations in from the garage. Then we all decorate together while dancing and singing. When the house is decorated we make sure it's all tidied back up, then we all cuddle up to watch the a Christmas movie (see my ultimate guide to the best Christmas films for families with young kids here) with a hot chocolate. I'm getting excited just writing about it!
Where to buy your Christmas tree day box?
I found it was a challenge to find a nice wooden Christmas box that didn't also say 'Christmas Eve box' but I found ours at the Handmade Christmas Co. It's currently available for £17 but do keep an eye out as they often have deals on. I wish I had bought my kids one each though. I just realised that when they eventually move out, one will be left out from taking it with them!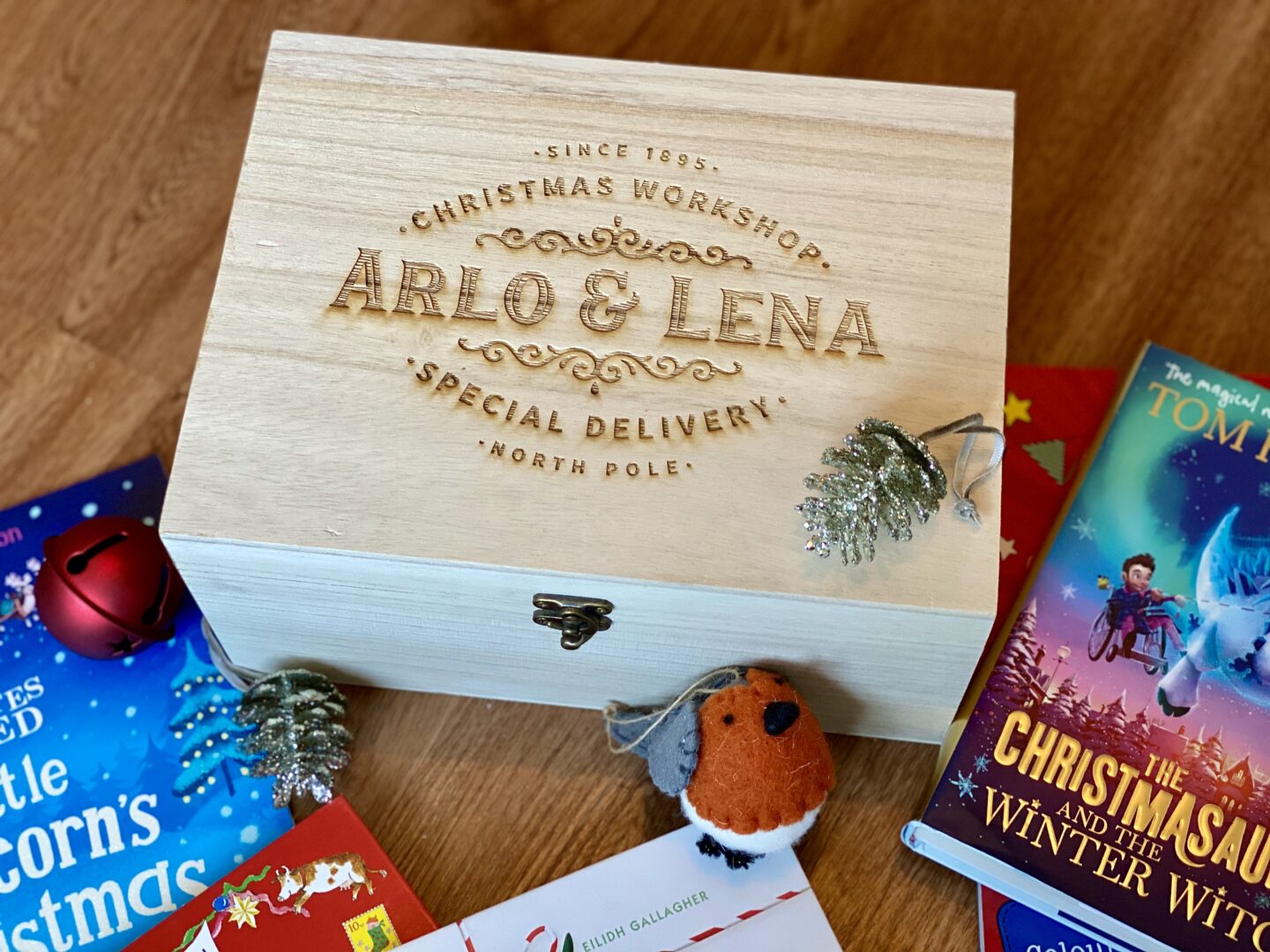 Ideas of what to put in your Christmas tree day box
Matching family Christmas PJs
I like to get us a pair of matching family Christmas PJs each year. I always size up on the kids PJs so they get at least a couple of years out of them. This year I'm after a pair of classic red tartan button up PJs for us all.
These from M&S (affiliate link) are currently at the top of my list. Although I would much prefer it if the top on the men's also matched!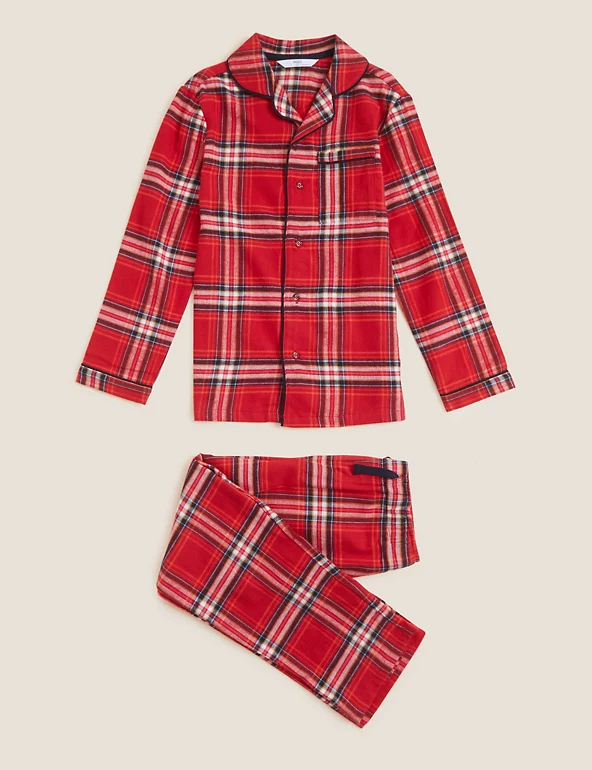 I also really like this set from M&S (affiliate link). Who doesn't love polar bears (apart from seals of course).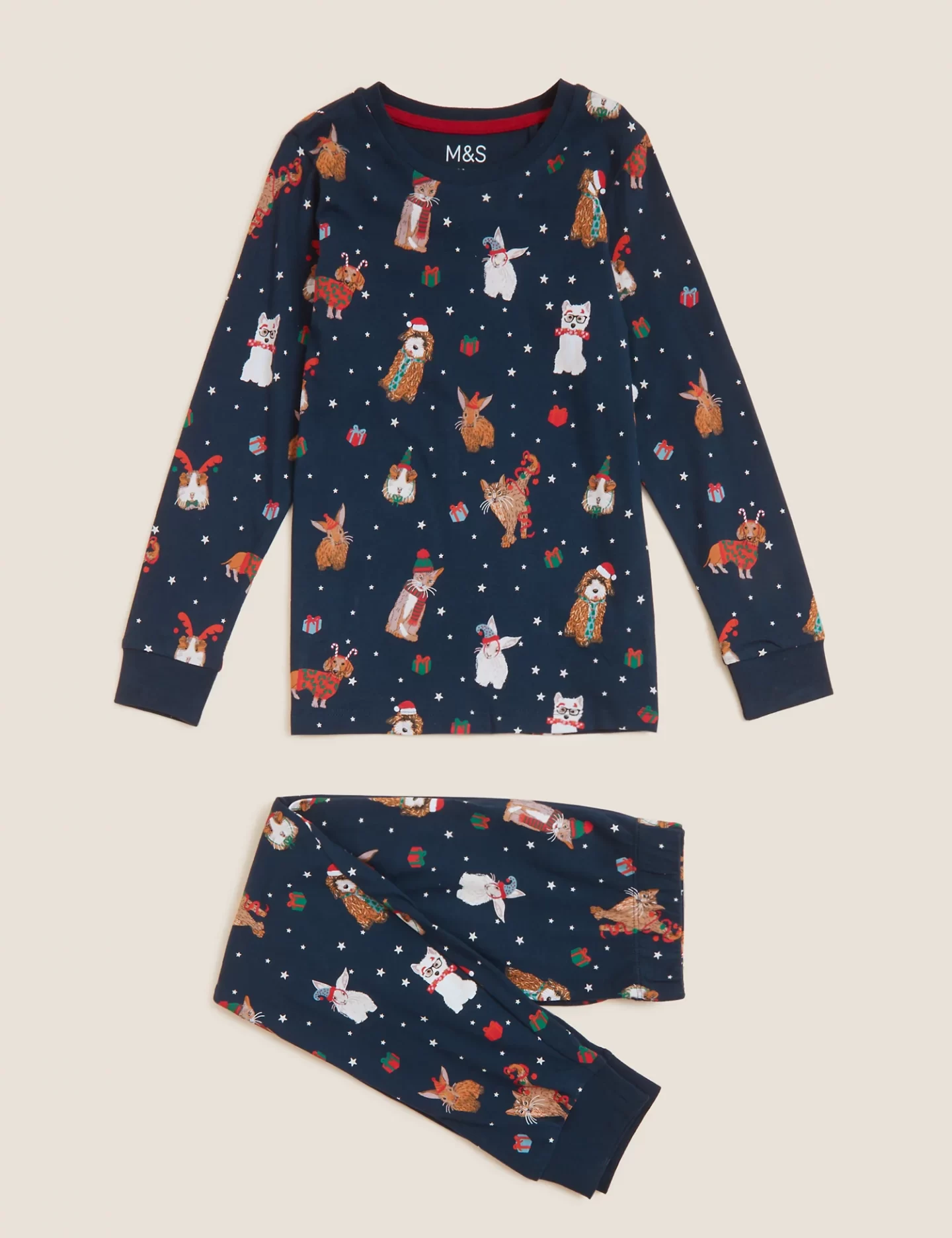 Books
Our favourite books to read at Christmas with the kids are the Christmasaurus series by Tom Fletcher. These stories are just so fun and exciting. We've had those in our Christmas tree day box the past couple of years and there is a new one out this year – The Christmasaurus and the Naughty List (affiliate link). You can buy the Christmasaurus books pretty cheaply via amazon below and we really enjoyed reading them as a family. I'm dying for them to be made into films!
Last year we enjoyed A Boy Called Christmas (affiliate link) and this year it's being released as a family Christmas film so definitely read that if you can – maybe one for older kids as there are some dark bits in it.
Another one we have enjoyed over the years is the Bear stays up for Christmas: 'Bear's friends are determined to keep Bear awake for Christmas! So they wake Bear up and have him help them find a Christmas tree, bake cakes, hang up stockings, and sing Christmas songs. Bear stays up–by discovering that giving is one of the best Christmas presents of all!'
The Jolly Christmas Postman is a classic: 'It's Christmas Eve and the Jolly Postman is delivering greetings to everyone's favourite fairy-tale characters. He has a card for Baby Bear, a game for Red Riding Hood, a get-well jigsaw for poor Humpty Dumpty and lots more packages to deliver! The Jolly Postman keeps on peddling his bicycle up hill and down dale. . . and into everybody's hearts.'
One year the kids were given this book below by a family member and it's beautiful with a sparkling cover just like snow and it's magical to read. 'Every child loves a snow day – no school and snowball fights galore! But Sam has to wait for his Grandad. Trying to hurry him up, Sam tells Grandad all the other kids have gone to the park… and all the local dogs… and all the zoo animals! Only when they finally arrive does Grandad see Sam was telling the truth – and both of them get stuck in having fun on their snow day!'
For the littlest tots there is 'Dear Santa'. Toddlers will love lifting the flaps to open the presents and find out what Santa has sent – and finding the perfect present at the end. 
A new one I have purchased this year for my unicorn loving daughter is 'Ten minutes to bed little unicorn's Christmas'. Lena loves the ten minutes to bed series and I know she will adore this.
For myself, I'm intent on having a greener Christmas this year so I've got Eilidh Gallagher's book, Green Christmas which is all about little changes you can make at Christmas to not only help the planet but bring joy. It's such a nice little hard back book!
For more recommendations for books check out my children's Christmas books blog posts with over 30 recommendations of festive reads.
Elves and North Pole magic
Local North East company Elf for Christmas (affiliate link) has gorgeous Elf products and advent letters that inject some magic into Christmas for reasonable prices. We've been using their advent letters for years now and this year we've got the kids some of their personalised advent letters.
For every day of December, they get a letter from their elf (Pip McJingles) who tells them what's been going on the day before in the North Pole as they get ready for Christmas. The stories are so fun and always have the children laughing.
Elf for Christmas (affiliate link) has kindly given my readers 10% off with the code NOMITEN (on one product per customer).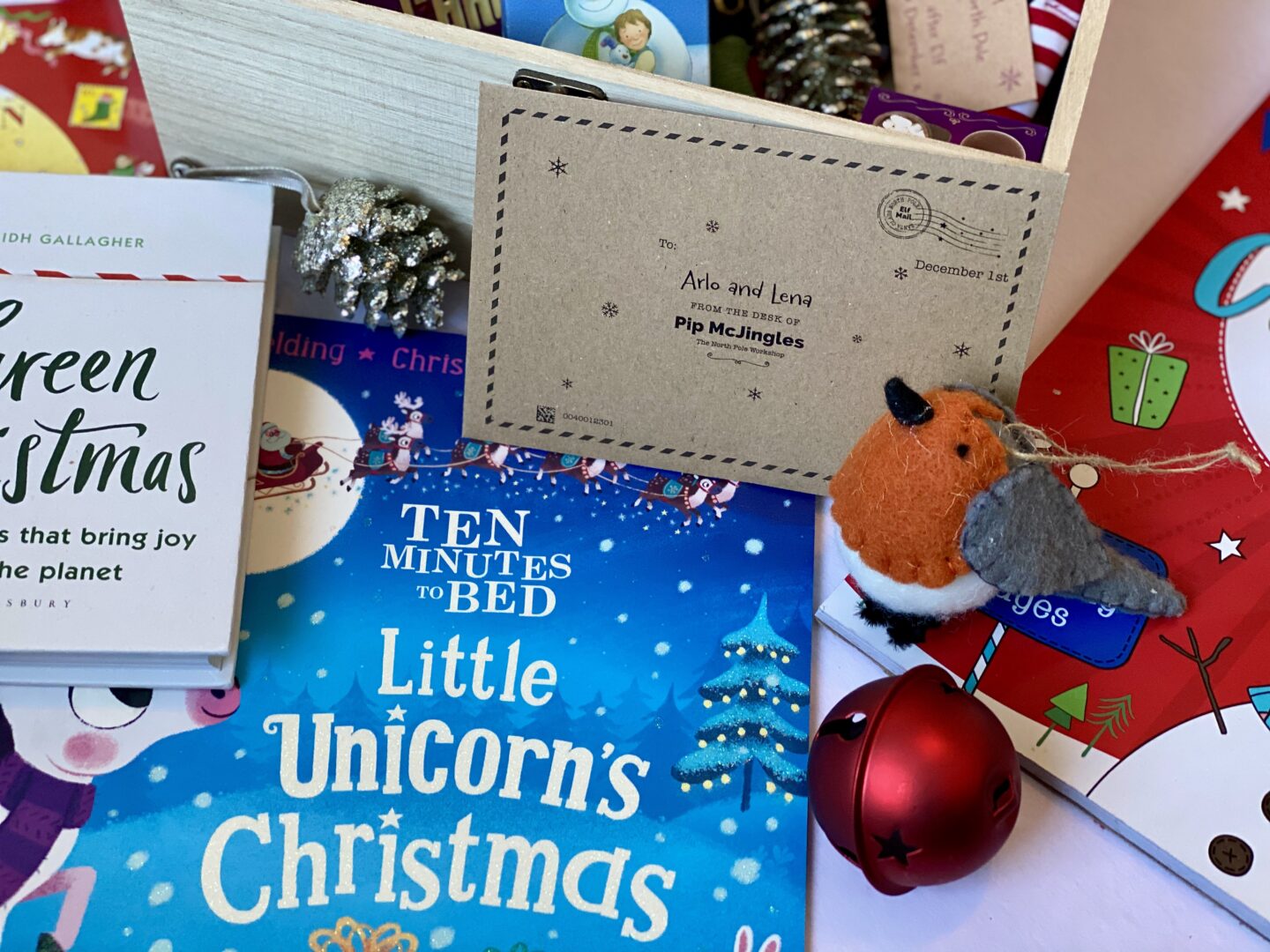 For us it was an easy way to get involved with a daily dose of magic without having to set up an elaborate elf prank every day. We've also got them an elf toy this year for their box.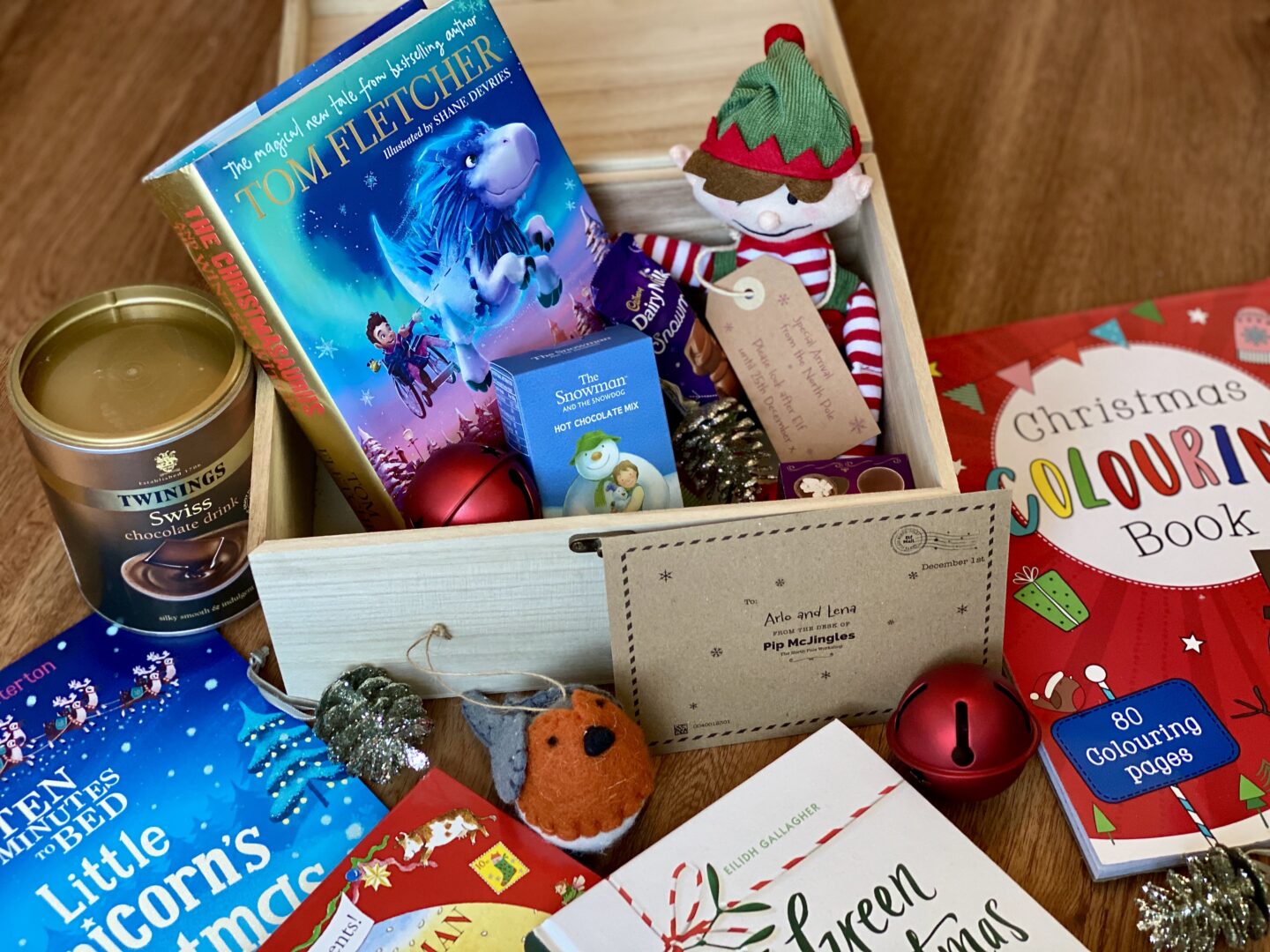 Chocolate and treats
I'll buy a few Christmas themed treats for the box – just little things like a chocolate Santa or bag of chocolate coins. This year we have some Haribo Christmas trees (basically the big strawberries shaped like trees) and Dairy Milk Snowmen.
Hot chocolate
After we have set up the tree and we cosy on down to watch a Christmas movie together I make us all hot chocolate so I pop in some hot chocolate bits and bobs – like cocoa powder and marshmallows and sprinkles.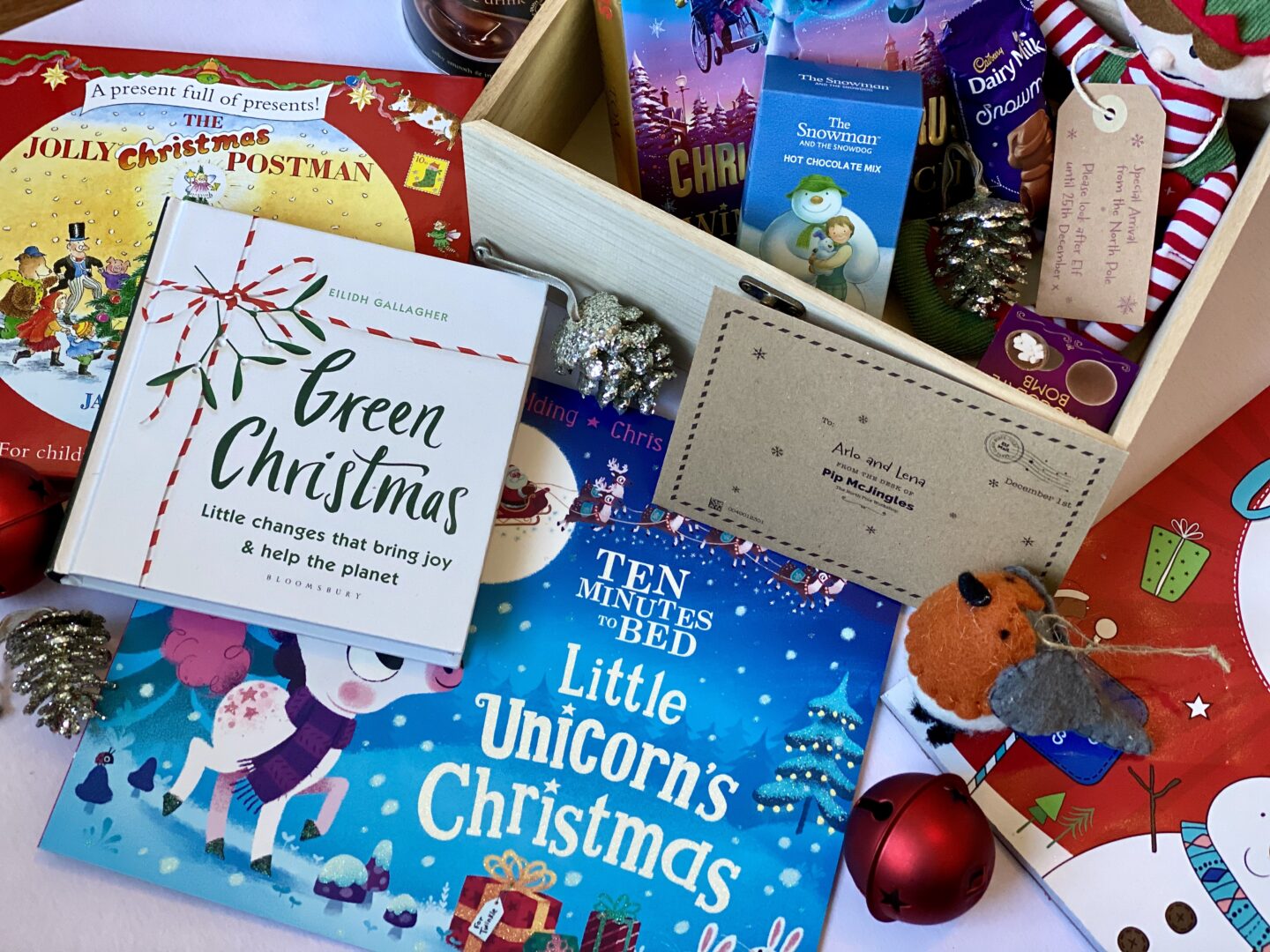 Advent calendar
Our whole family will get an advent calendar for December. I refuse to believe they are just for children. Why do we have to grow up! The advent calendars go into (or next to if they are too big) the Christmas tree day box. These are the ones we are getting this year:
Lena (6)has chosen the Playmobil Knights of Novelmore calendar and Arlo (10) has chosen the Panini Premier League 2021/22 Adrenalyn XL Countdown Calendar:
I will say if you haven't already started buying the expensive toy advent calendars yet then be careful as once you start it, it's hard to go back to the cheap chocolate ones and somehow we have ended up doing both like absolute fools!
I get a beauty advent calendar for my November birthday each year – you can see my top picks in these posts:
And there are some more ideas for advent calendars for men in this post.
Activity book
I like to go to a 'cheapy shop' (like Home Bargains or B&M etc) and grab one of those £1 Christmas activity books or packs. Just a little bit of tat that the kids will enjoy but doesn't cost much to bulk it out. We got these ones for £1 from B&M this year. This will keep them going in the quiet moments all festive season.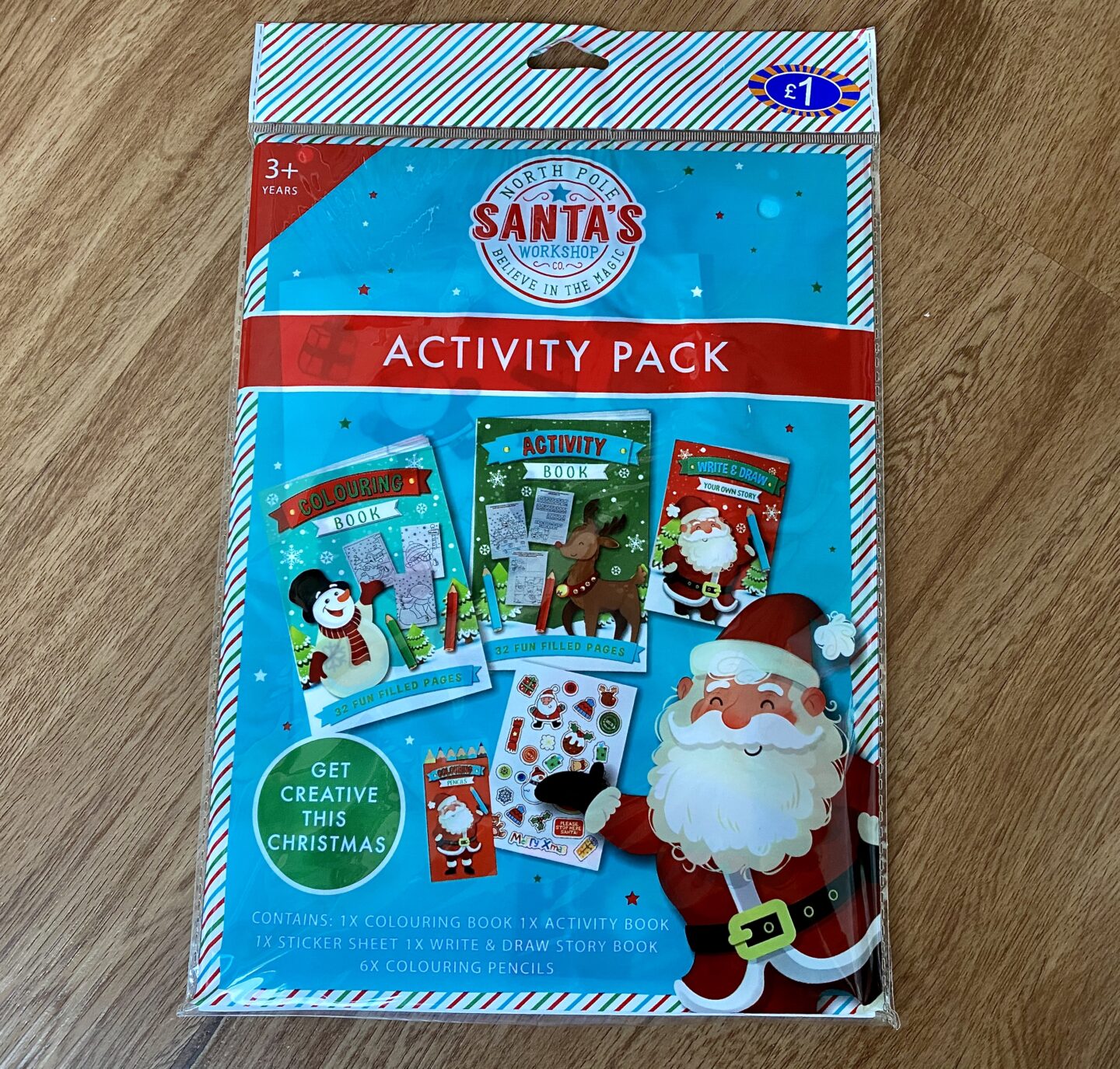 Christmas clothing
If I am going to buy some Christmas clothes then I do it now and put it in the box so that we have all of December to wear them. Perhaps a Christmas jumper or some socks! You could even put in some Christmas bedding!
So that's how we create a magical family Christmas tree day box and why we think it makes more sense than a Christmas Eve box for our family. I hope it's given you some ideas to do your own or for your Christmas Eve box if that's what you do.
And if this post stresses you out just thinking about it then remember, you don't have to do things like this for a great Christmas. And you might like my post about making Christmas less stressful.
If you liked this post you might also like some of my other Christmas gift guides:
Looking for Christmas films to watch with your children? Then check out my popular post – Ultimate guide to the best Christmas films for families with young children with over 50 great U and PG rated films to watch as a family this year.
If you have enjoyed this post or found it useful, here are some quick and easy ways that you can support Nomipalony or say thanks:
Share this post with your friends  
Pop over to my Amazon Storefront to see what products I have been buying and loving from there recently, including my health and fitness products list.
Sign up to my mailing list 
Women can join my feminist Facebook group – the Nomipalony Freehouse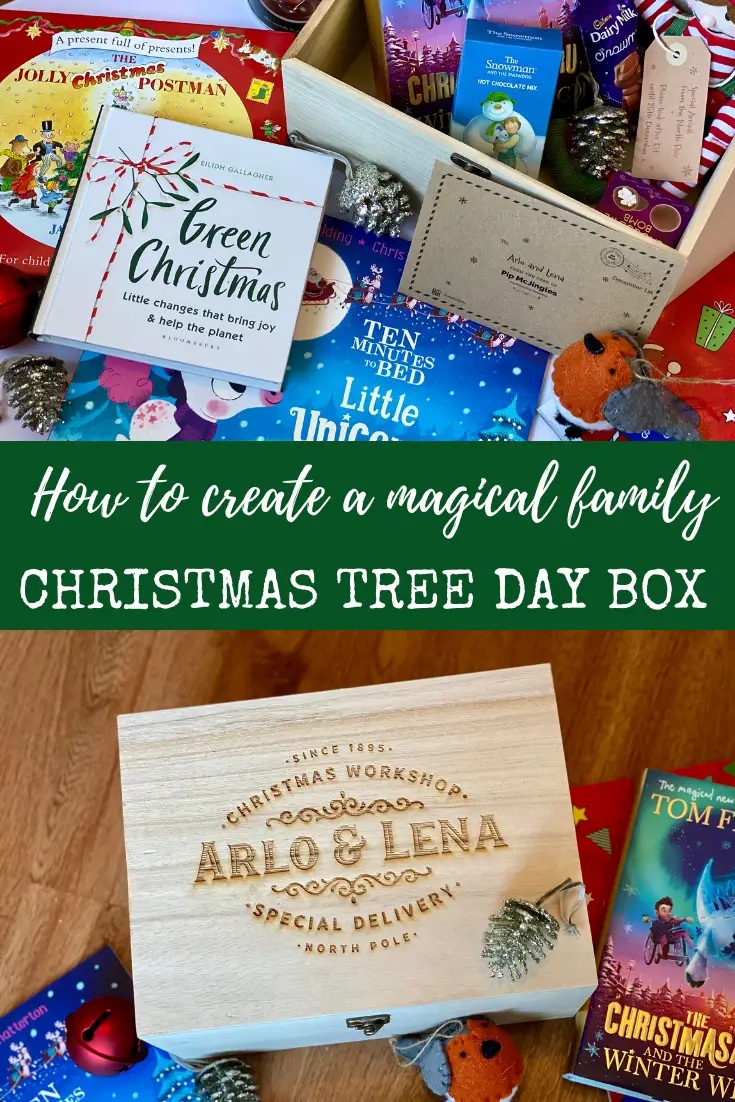 Disclaimer: This is post contains some gifted items. This post also contains affiliate links. If you buy an item through an affiliate link you won't pay any more for that item but I will receive a small referral fee. As an Amazon Associate, I earn from qualifying purchases. For my full disclosure please see my about page.