During the current lockdown and in this terrible weather we are currently having in the UK we are stuck in the house all of the time and I don't know about you but it's giving me major home renovation vibes. One of the easiest and most affordable ways to give your home a little facelift is through wall art. In today's blog post I'm going to talk you through how to make a gallery wall to brighten up your home.
How to make a gallery wall
Gallery walls are all the rage these days as a simple but affordable way to upgrade your interiors without having to go to the effort of painting or wallpapering. It can be quite tricky to line them up in a way that looks cool though so read on for my tips.
You can approach a gallery wall in several ways.
Regimented gallery wall
The simplest option for how to make a gallery wall is to choose all the wall art in the same style, size and colour and line them up perfectly. This is a classic approach to a gallery wall and one that looks incredible in black and white with black and white frames.
I really like this collection of black and white rock royalty wall art you can buy from Fine Art America.
Eclectic gallery wall
We decided to do it in a non-regimented, modern style in our living room where we used different styles and colours but lined the art prints up with one another in a quirky way.
One way to do this is to line up each print with the print next to it or above it but keep the same gap sizes between them.
A tip for how to do this is to test out the best way to line up the pictures on the floor first before attempting to replicate it on the wall. It helps to find some edges of the frames that you want to line up with each other. Have a play and see what looks best. Then take a photo of the layout before replicating it on the wall.
Another tip is to hang the prints with 3M command picture hanging strips (affiliate link) which makes hanging the wall art a lot easier in our experience.
Popular places to put a gallery wall
You can put your gallery wall anywhere you would like, however there are a few places that tend to be on trend for placing gallery walls…
Wall next to a dining table
Wall next to a desk
One wall of a room
Down a staircase
Behind/above a bed
Above/behind a sofa in the living room
In a hallway
Using a theme for your gallery wall
There are so many themes that you can use to make your gallery wall. You can choose a colour theme or a wider colour palette that you like. For example, our living room is predominately grey with accents of yellow so I like to choose some of my wall art with yellow in it.
Or you could choose a non-colour based theme. Your theme could be things that make you happy, your family, travel, places you've travelled and many more. The possibilities are endless. Just choose whatever makes your heart sing.
Office wall art
With more people working from home than ever before and people having to set up home working spaces on the fly, adding some prints to the wall next to your desk is a great way to brighten up your work from home space.
You might want to choose some relaxing colours for those stressful days or maybe something bright for the dull days where you need some help being creative. Inspirational quotes are perfect for a home working space. Adding a plant finishes the look off perfectly.
Switch up your gallery walls for the seasons
Don't forget that you can switch up your gallery wall depending on the season. Pinterest has loads of free printables that look great in gallery walls. I sometimes switch up some seasonal ones to keep my gallery wall fresh. You can follow me on Pinterest here where I have a free printables board.
Another great option if a gallery wall feels too overwhelming is to go for a wall mural. You can have your own photos, or choose from a selection and have those turned into a large wallpaper. Something unusual and unique to consider!
I hope that you liked my tips for how to make a gallery wall. If you have any tips I didn't include please let me know in the comments!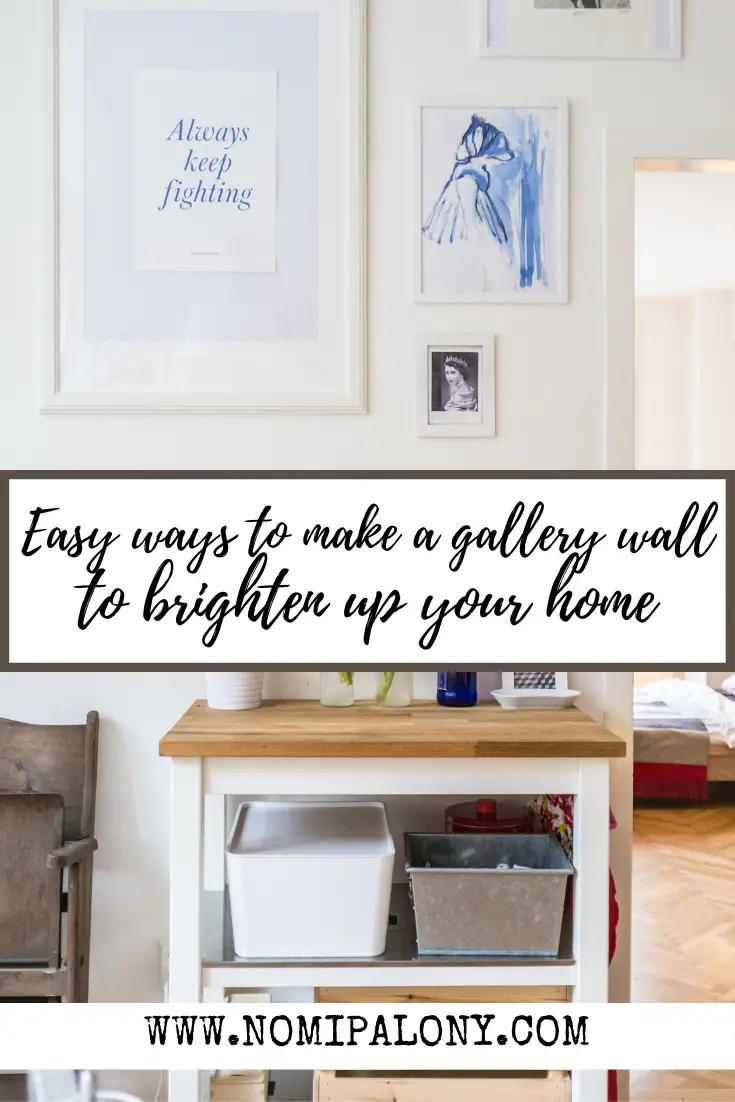 Disclosure: This is a sponsored advertorial post. For my full disclosure policy please see my about page.