We have just got back from a wonderful 37 hour stay in Northumberland at the Otterburn lodges on the Otterburn Hall Estate. In this post, I'm going to tell you all about what we thought of the lodge we stayed in, The Snug and what we did in the local area during our stay.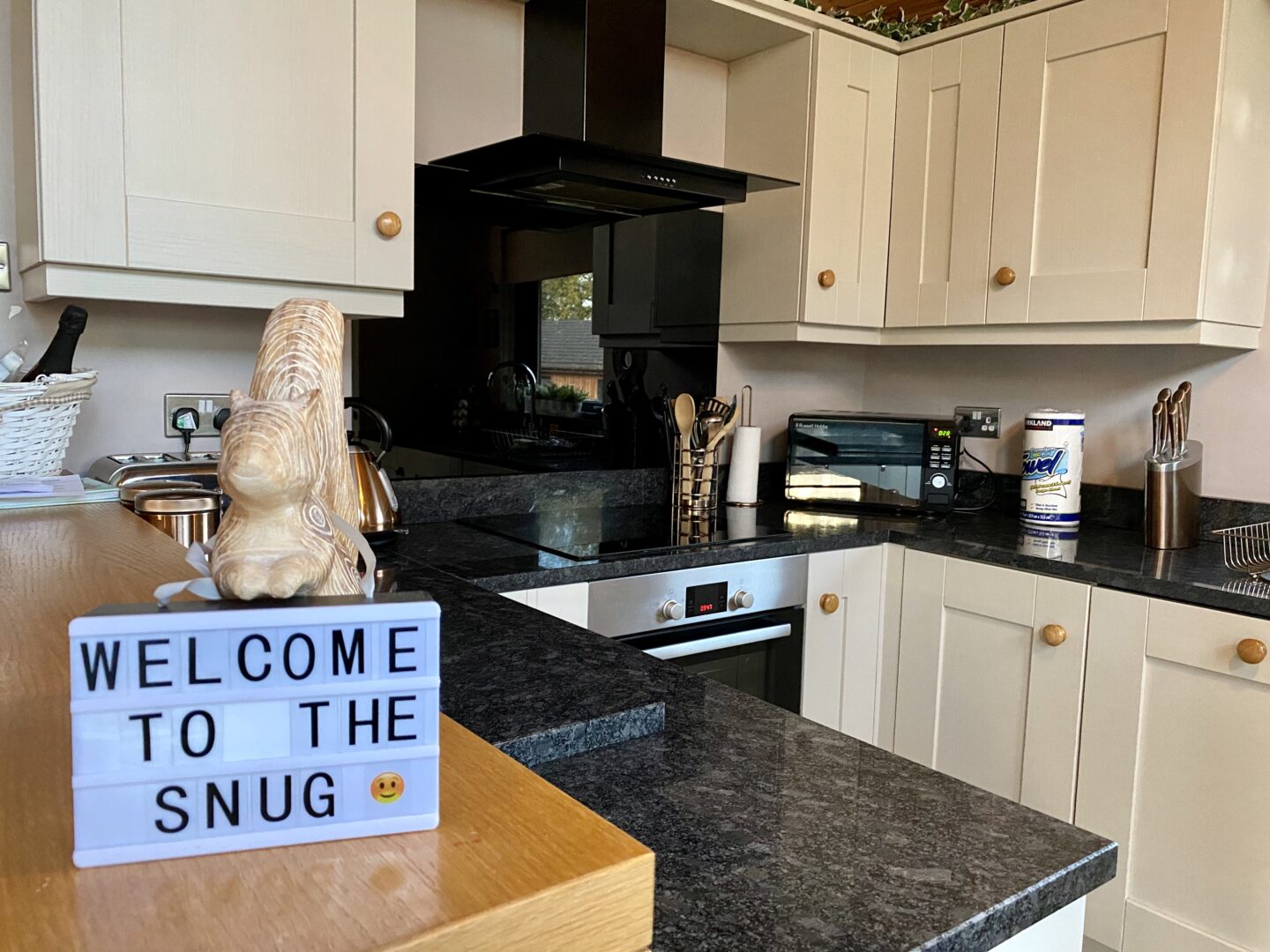 Otterburn Lodges
The Otterburn lodges are a bunch of privately owned lodges on the Otterburn Hall Estate in Northumberland. They are situated in 500 acres of deer park and woodland in the Northumberland National Park.
Otterburn Hall itself was constructed in 1870. Both Otterburn Hall and Otterburn Castle have been seats of landed gentry. The hall is Grade-II listed with English Heritage. However, we could see on our visit that it is now very run down and is sadly in a state of disrepair.
This isn't the kind of lodge complex where you have a reception and everything is centrally ran. All the lodges have independent private owners and you are left to your own devices.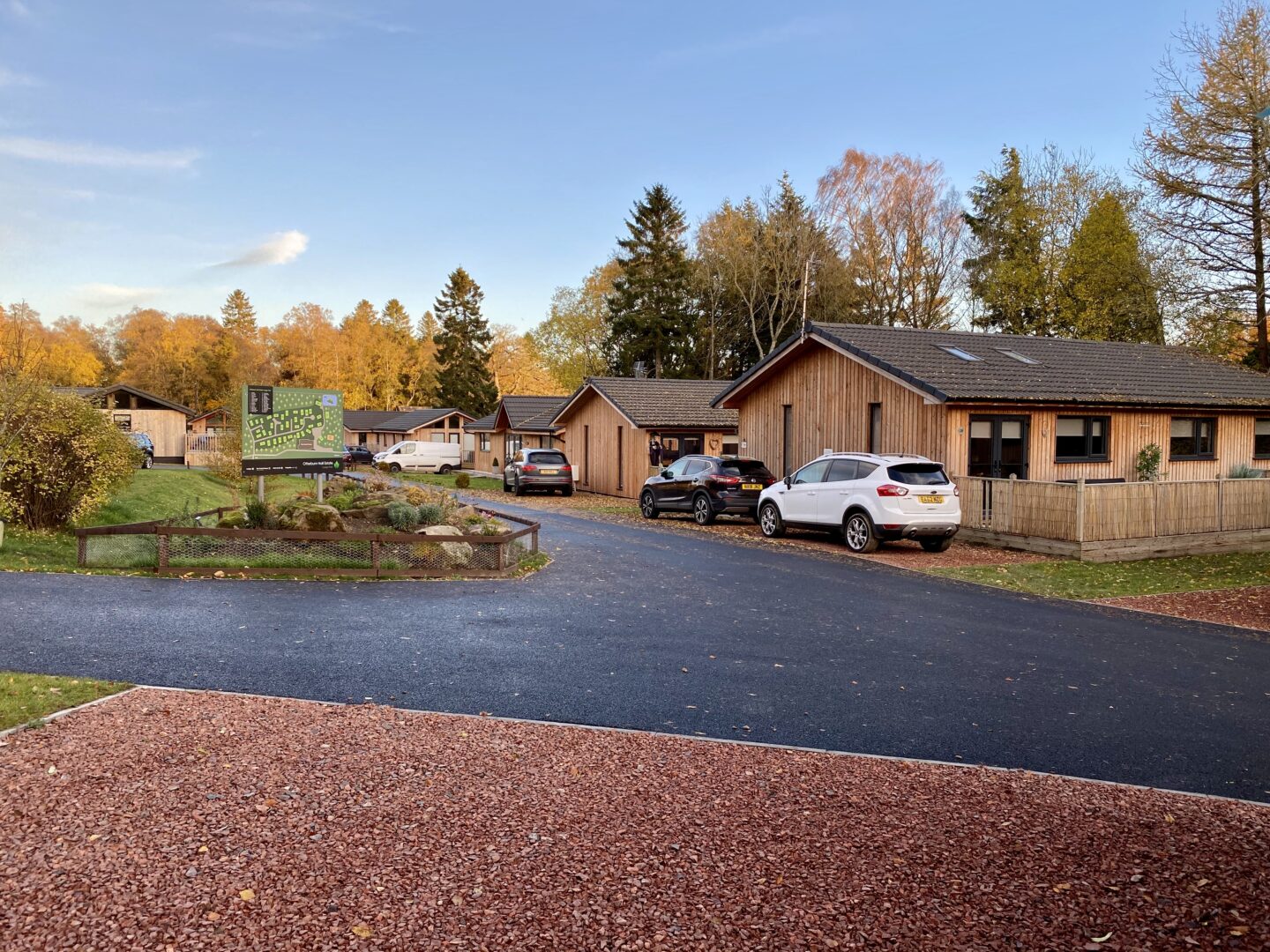 Where are the Otterburn Lodges?
Otterburn is a small village in Northumberland, England, 31 miles northwest of Newcastle on the banks of the River Rede, near the confluence of the Otter Burn, from which the village derives its name. It lies within the Cheviot Hills about 16 miles from the Scottish border. We had no problem finding it using our sat nav though if you are staying at the Snug do pay attention to the directions that they send you so you know which entrance of the village is best to go in to get to the lodge.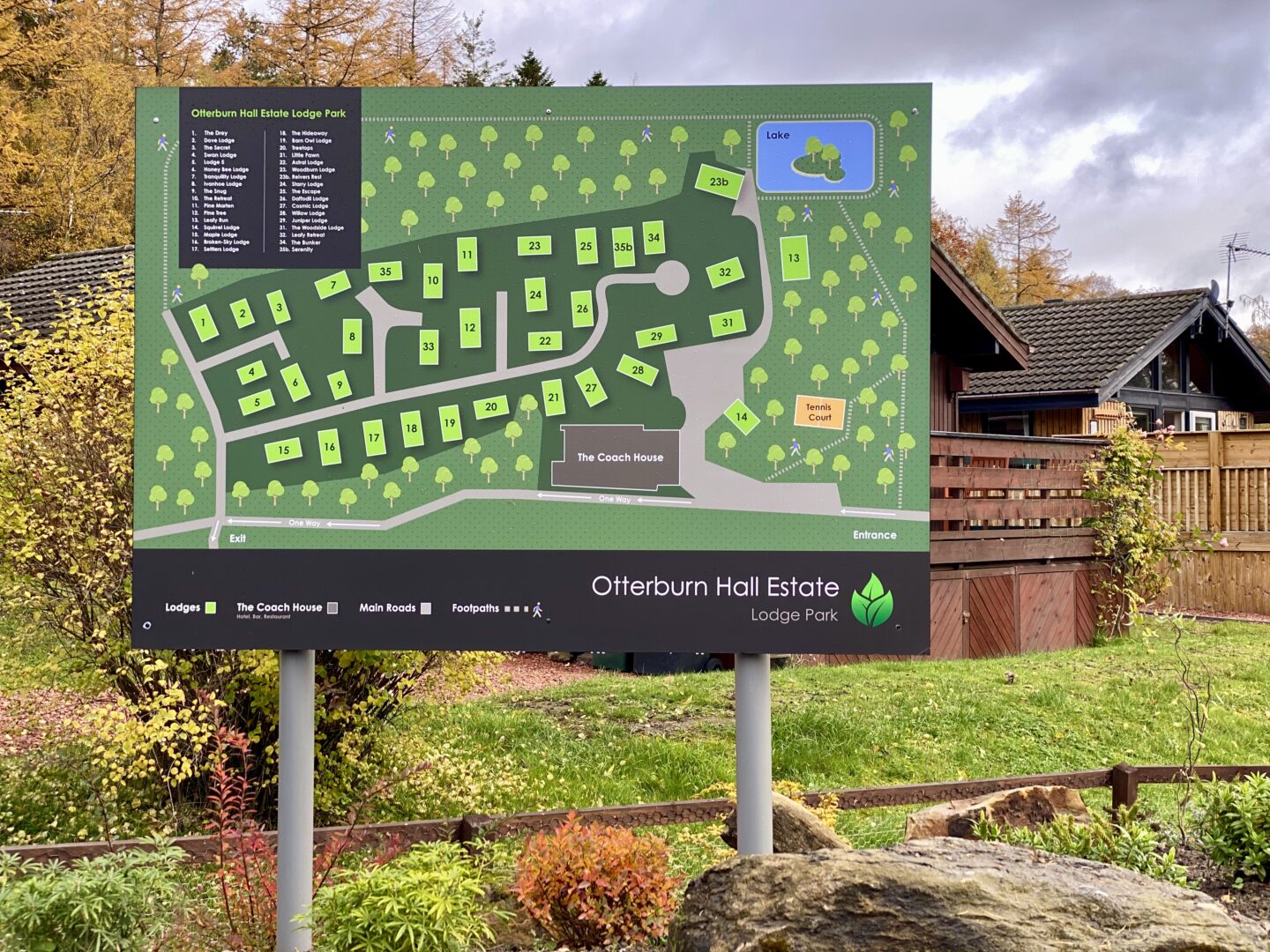 Otterburn Hall Estate
The woodland the Otterburn lodges estate is situated within is stunning and perfect for those who want to get out in the fresh countryside air but not have to travel too far.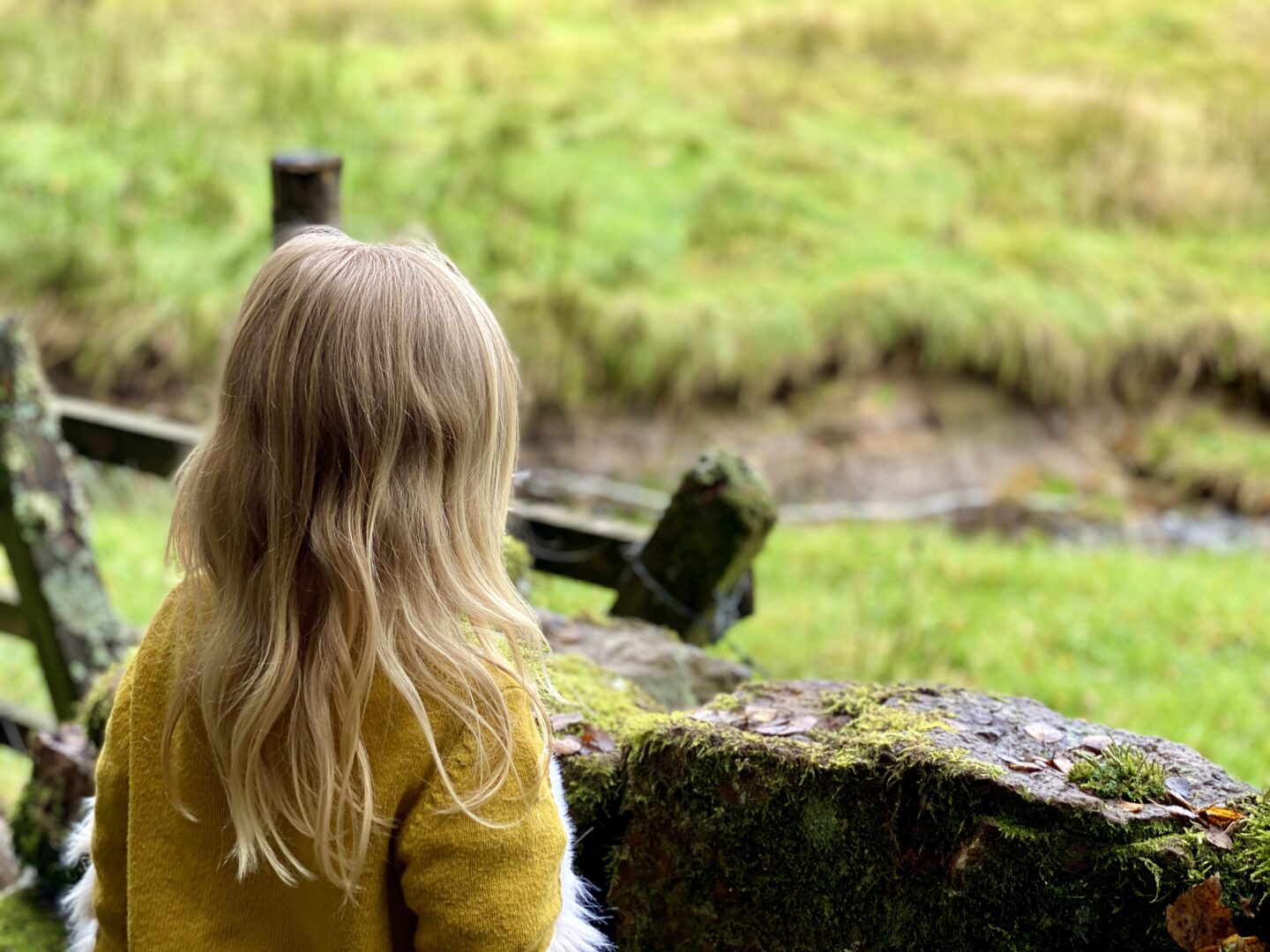 There is a lovely short circular walk of the estate that goes through the woodland and past a small lake.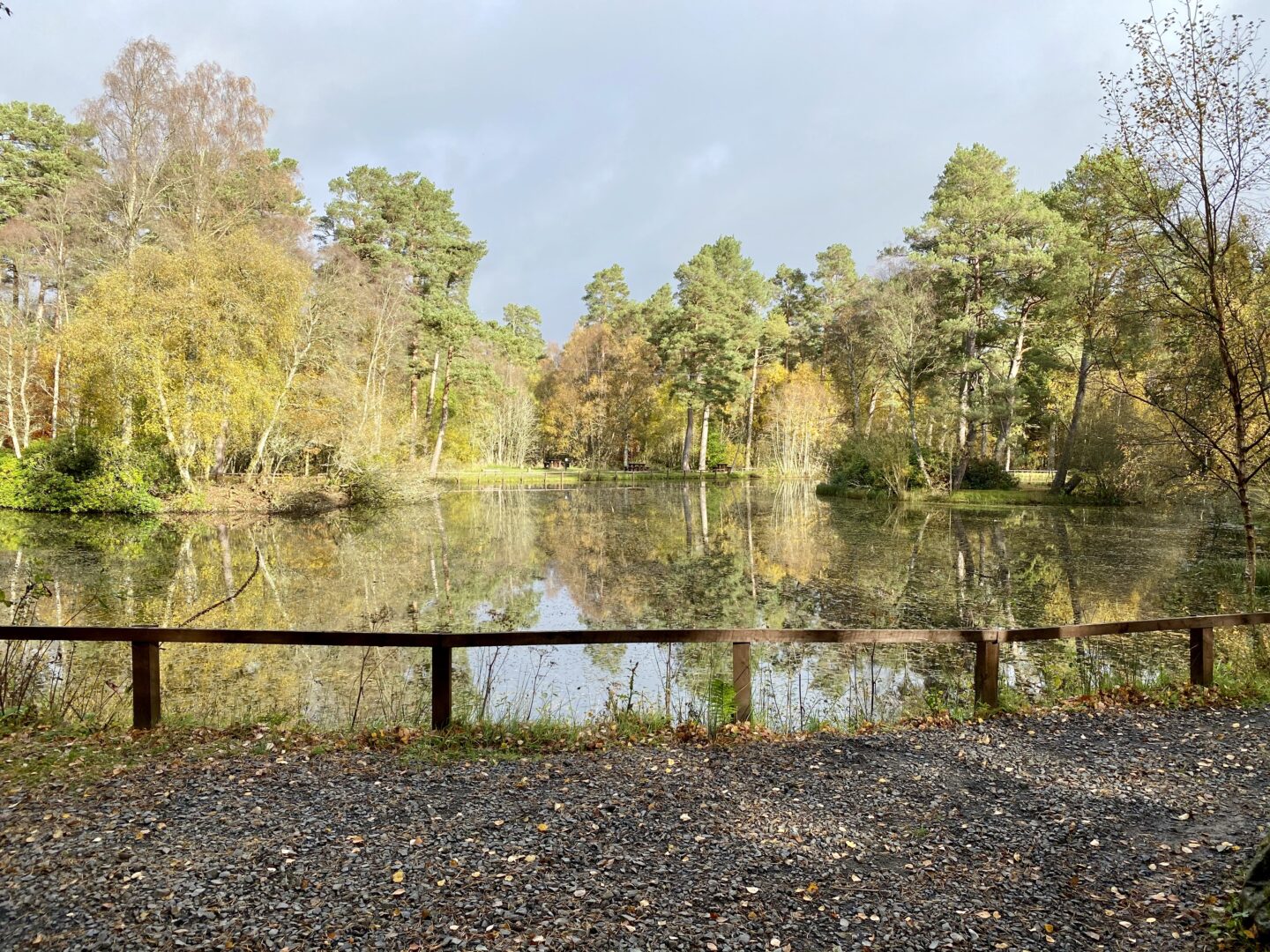 The estate owners have added a number of swings for kids to play on and there is a scenic picnic area right next to the lake.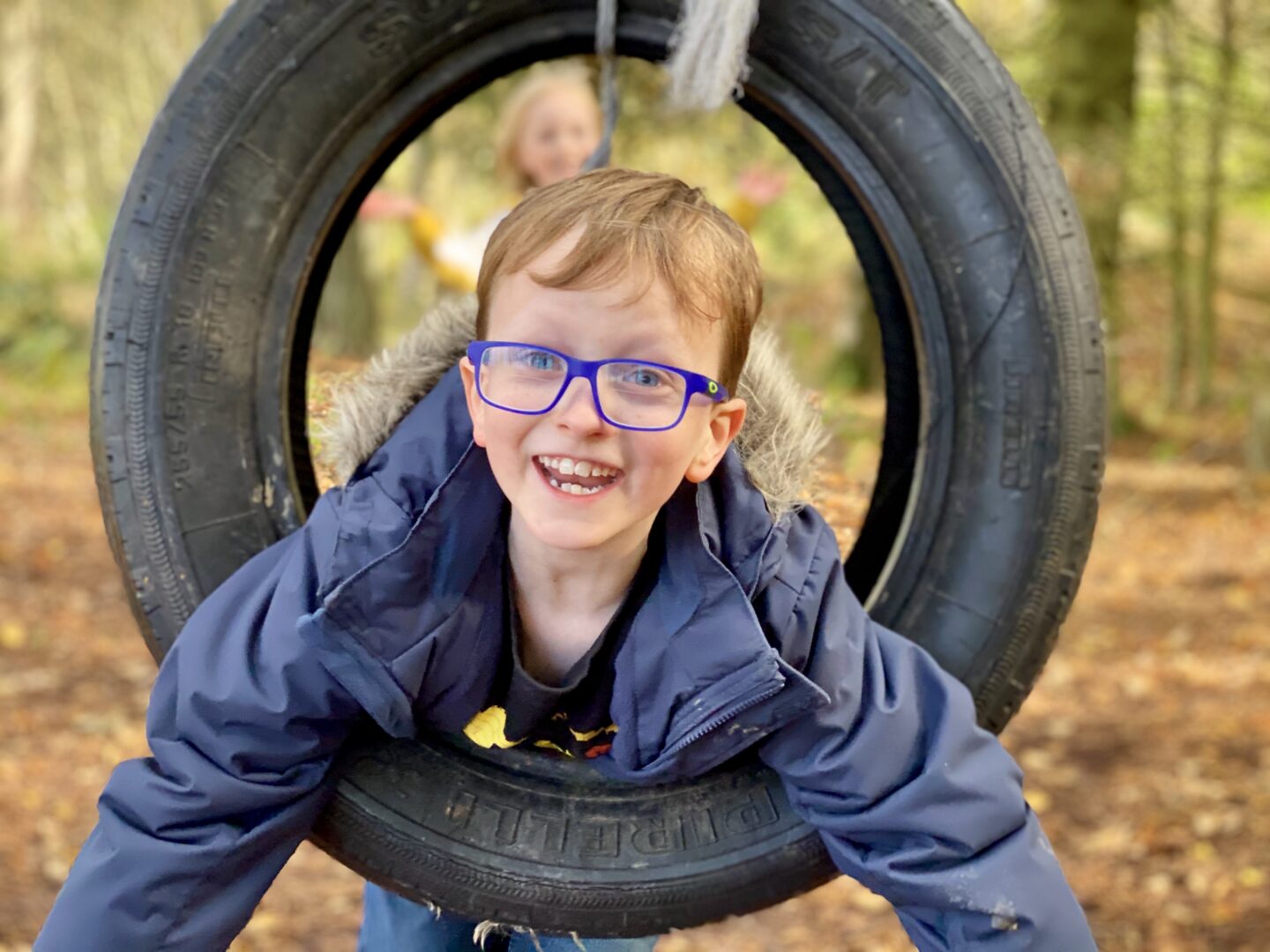 If you go off the circular route there is some steps down to the beautiful fast flowing Otter-Burn (from which the village gets its namesake) with a great bridge for playing pooh sticks.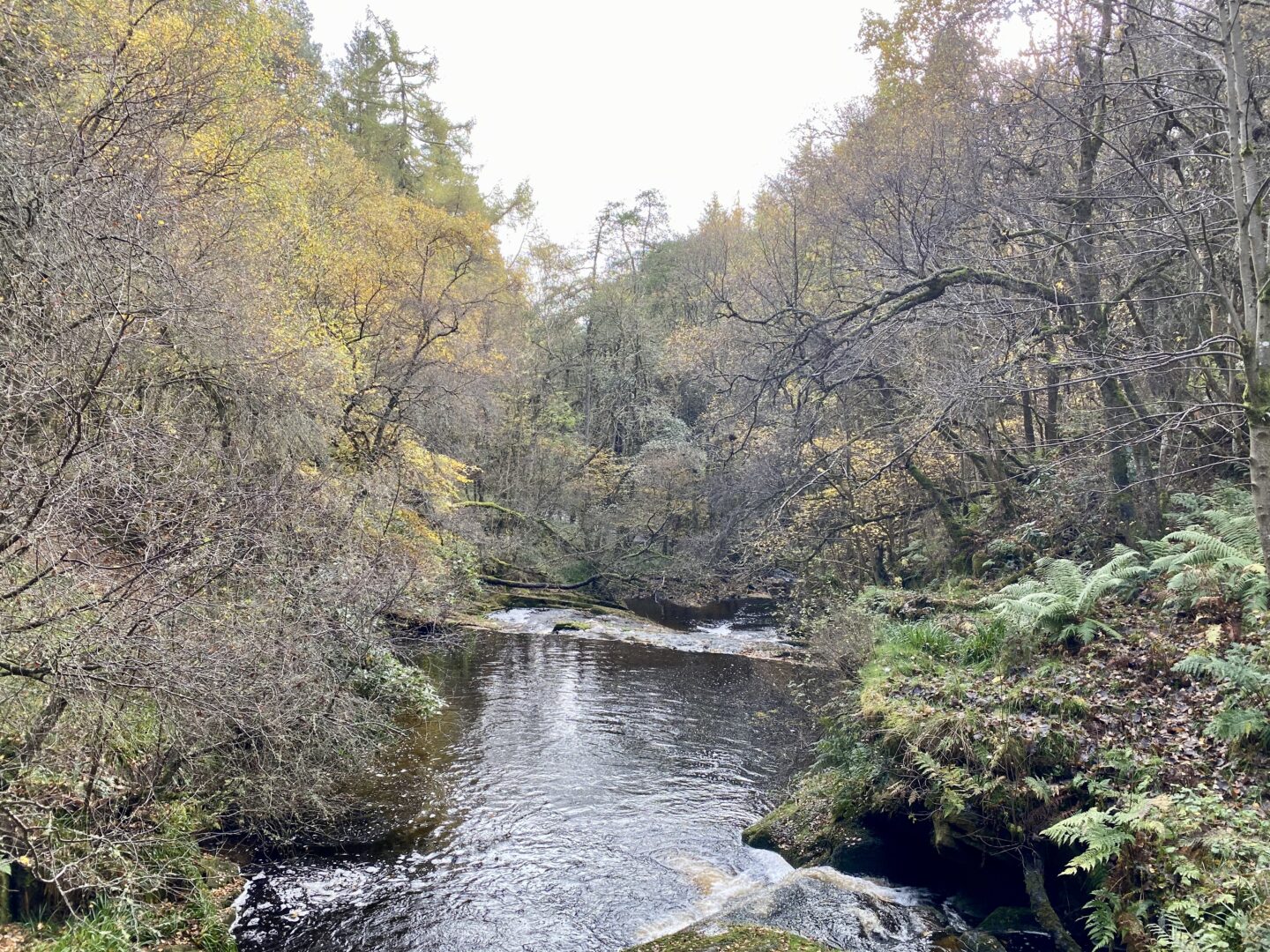 We had been planning to drive to Kielder Forest to go for a forest walk but I'm so pleased we went exploring on the site as it was gorgeous and we had no idea that it was there! I don't think many did know that it was there either as we were the only people there that day. The fields around the walk have horses, sheep and cows in them too. Apparently, there are wild deer on the grounds but sadly we didn't see any. Probably because my children are so loud!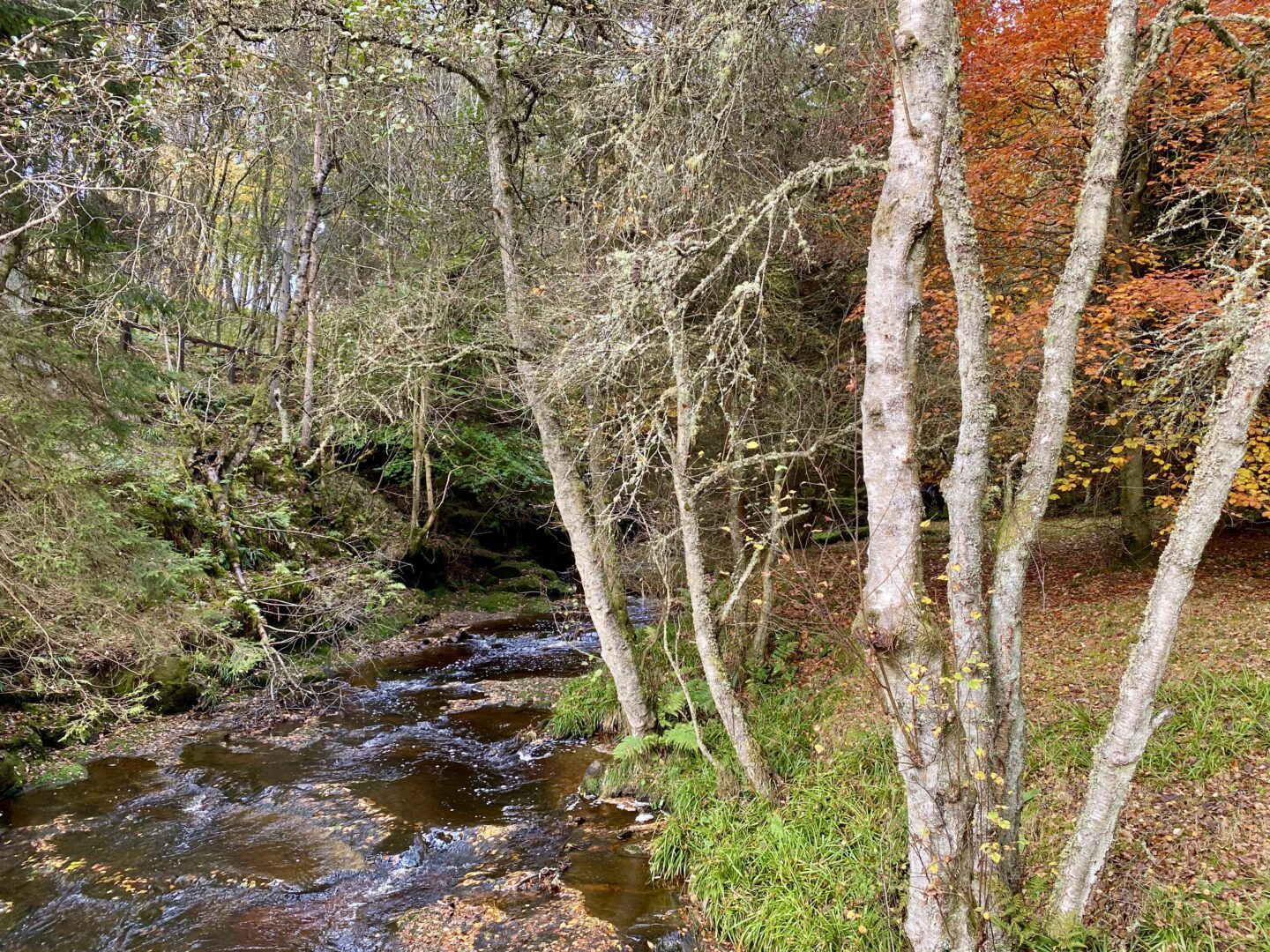 There are also tennis courts on site.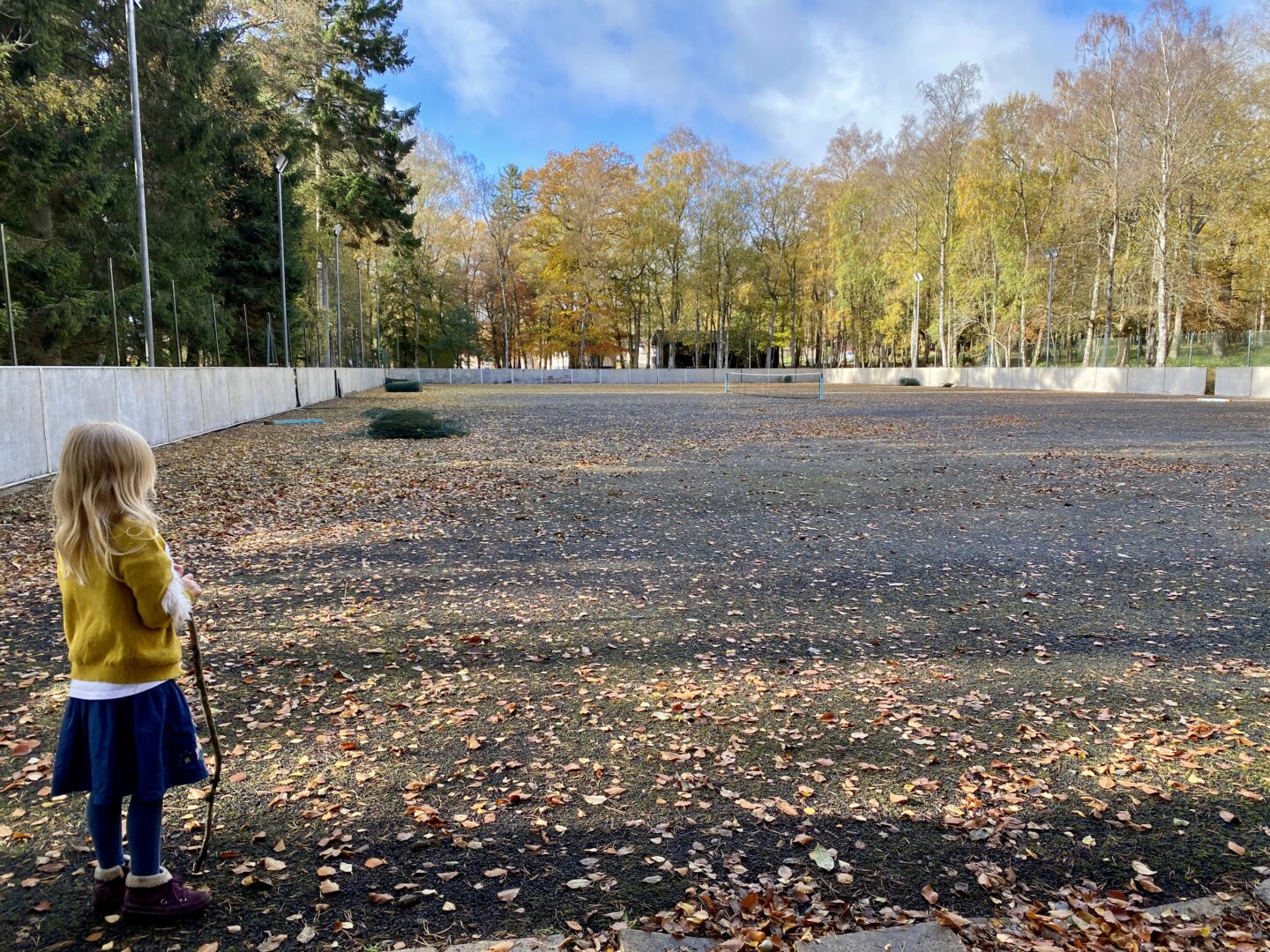 The Snug, Otterburn
We stayed in Otterburn Lodge number 9, the Snug. A 3 bedroomed pet-friendly detached lodge with a hot tub.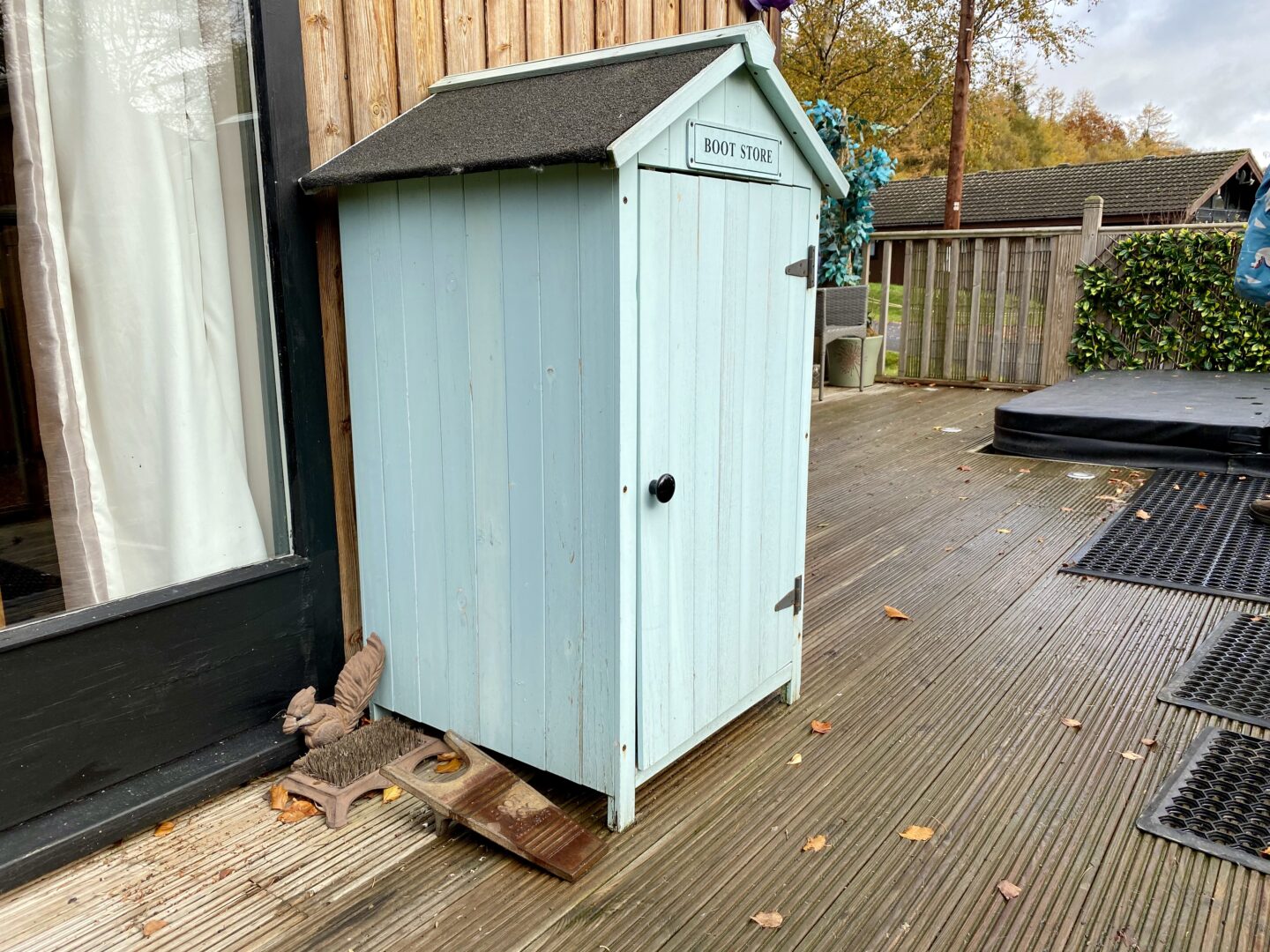 Bedrooms
The Snug has a master bedroom with a king bed and large fitted wardrobes, a bedroom with two single beds and a final room with bunk beds. The beds were comfortable, I slept in one of the singles and it was more comfortable than my king at home (which probably says a lot about my mattress, to be honest). The mattresses were on the softer side.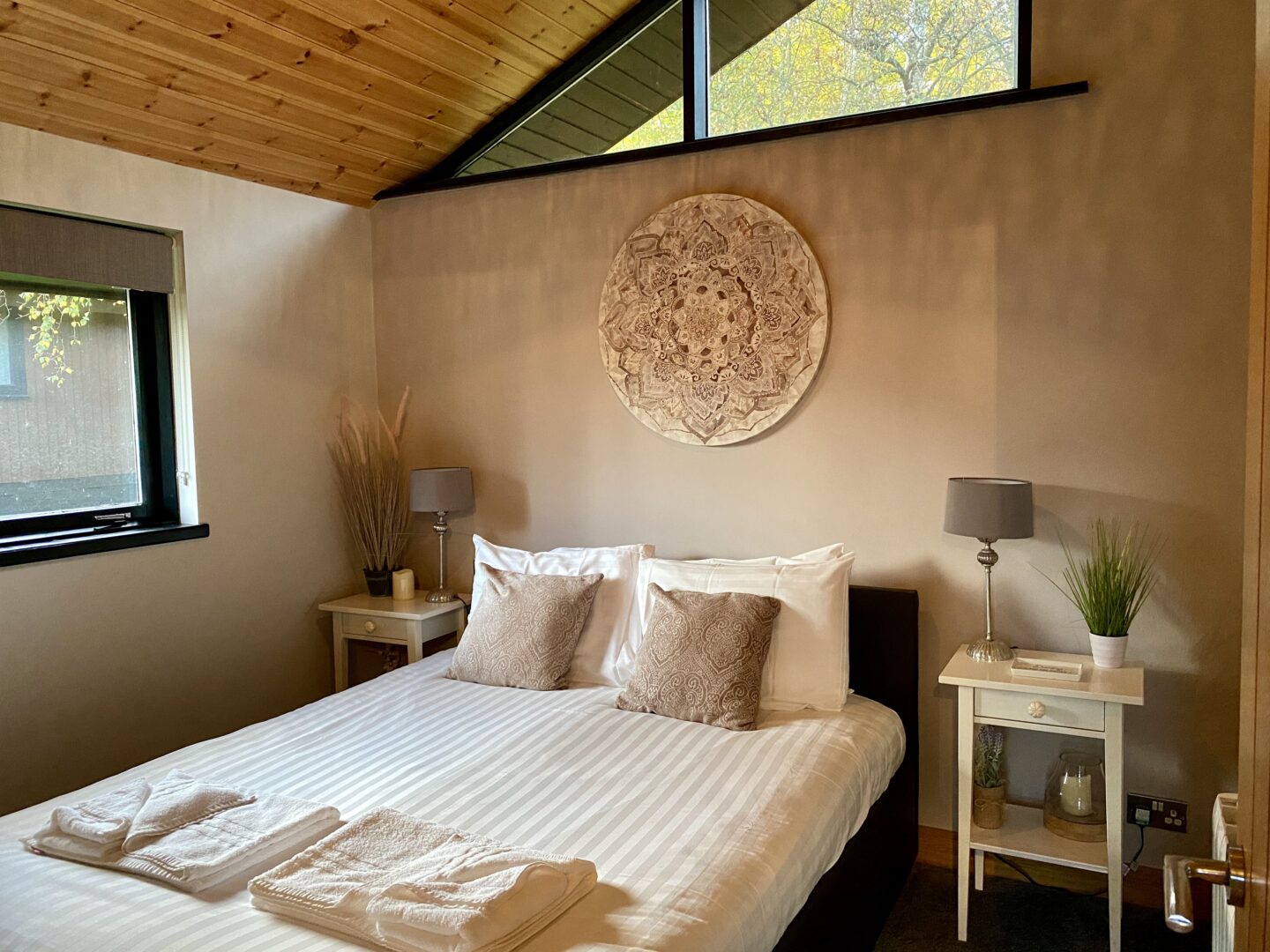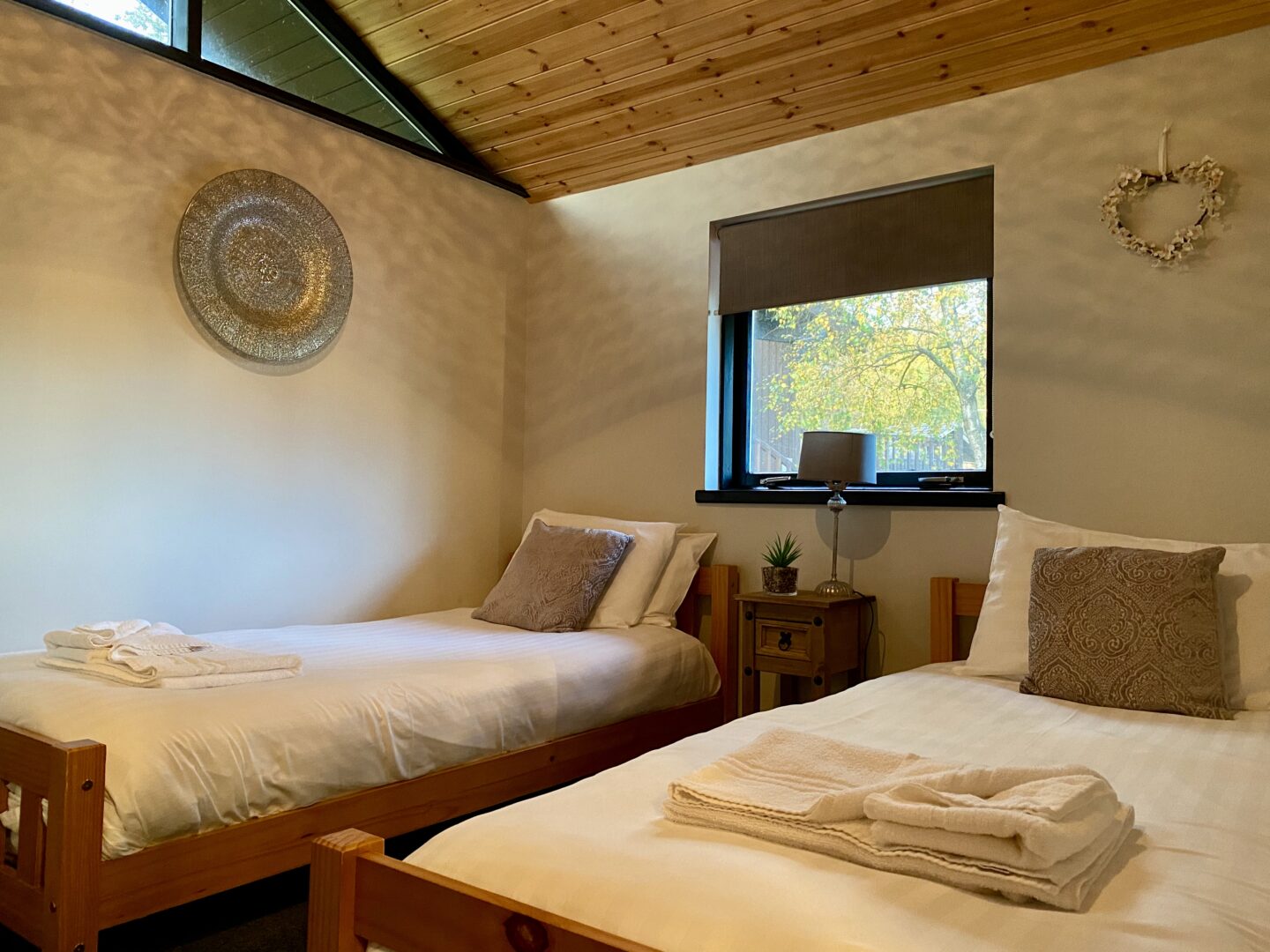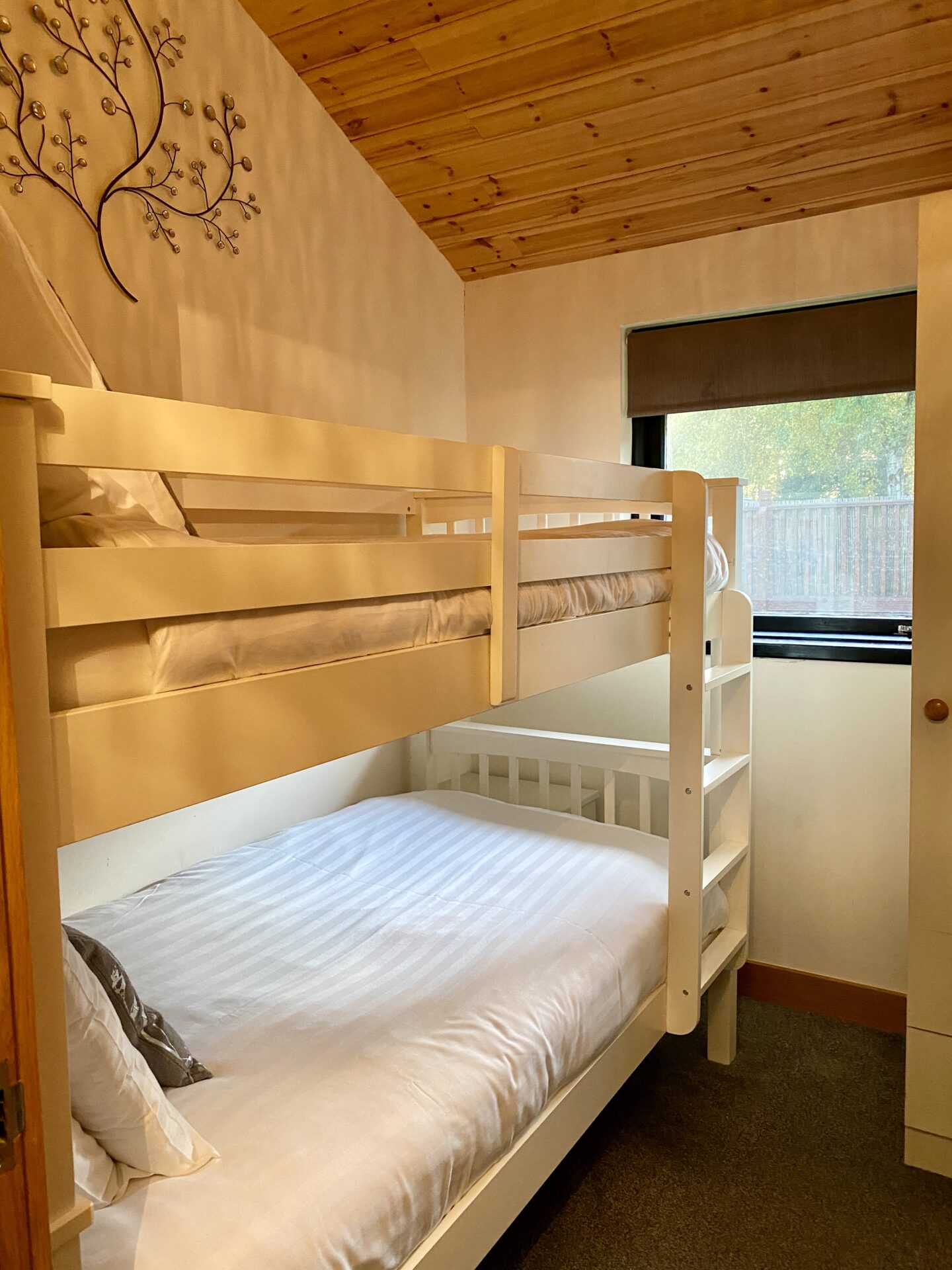 The Snug bathroom
The bathroom is designed and decorated to a modern standard with a shower over a bath and a heated towel rail. It was very clean.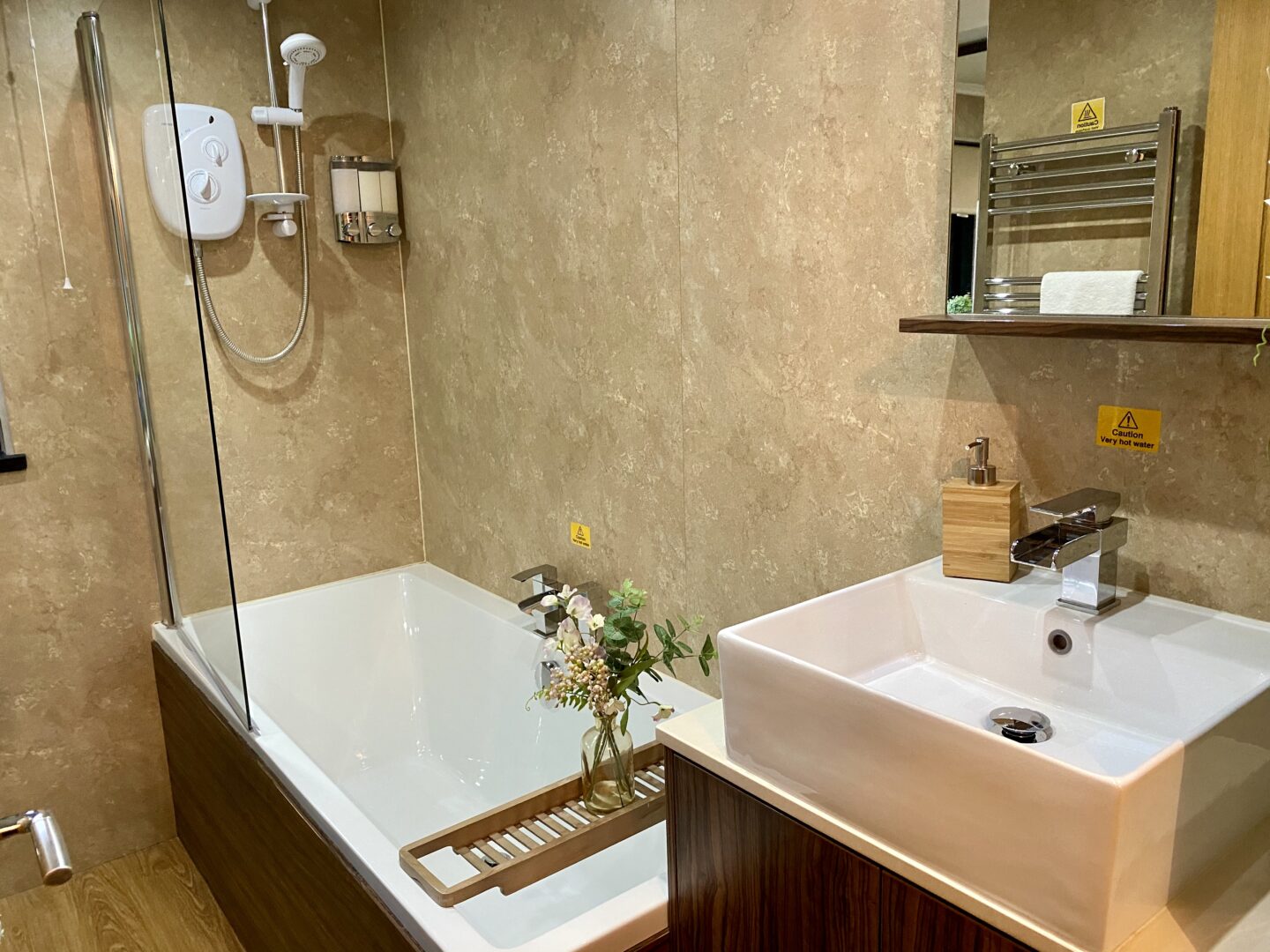 There were small touches that made it that little bit better – like a wooden tray for the bath for those who wanted to take a soak, motion detected lights on the bathroom mirror for those middle of the night toilet trips and sanitary products for those who needed them.
If you are like me, you'll want to know this – the hairdryer is actually a good one, not one of those piffly ones that can't actually dry your hair without making it frizzy. You can leave your hair dryer at home.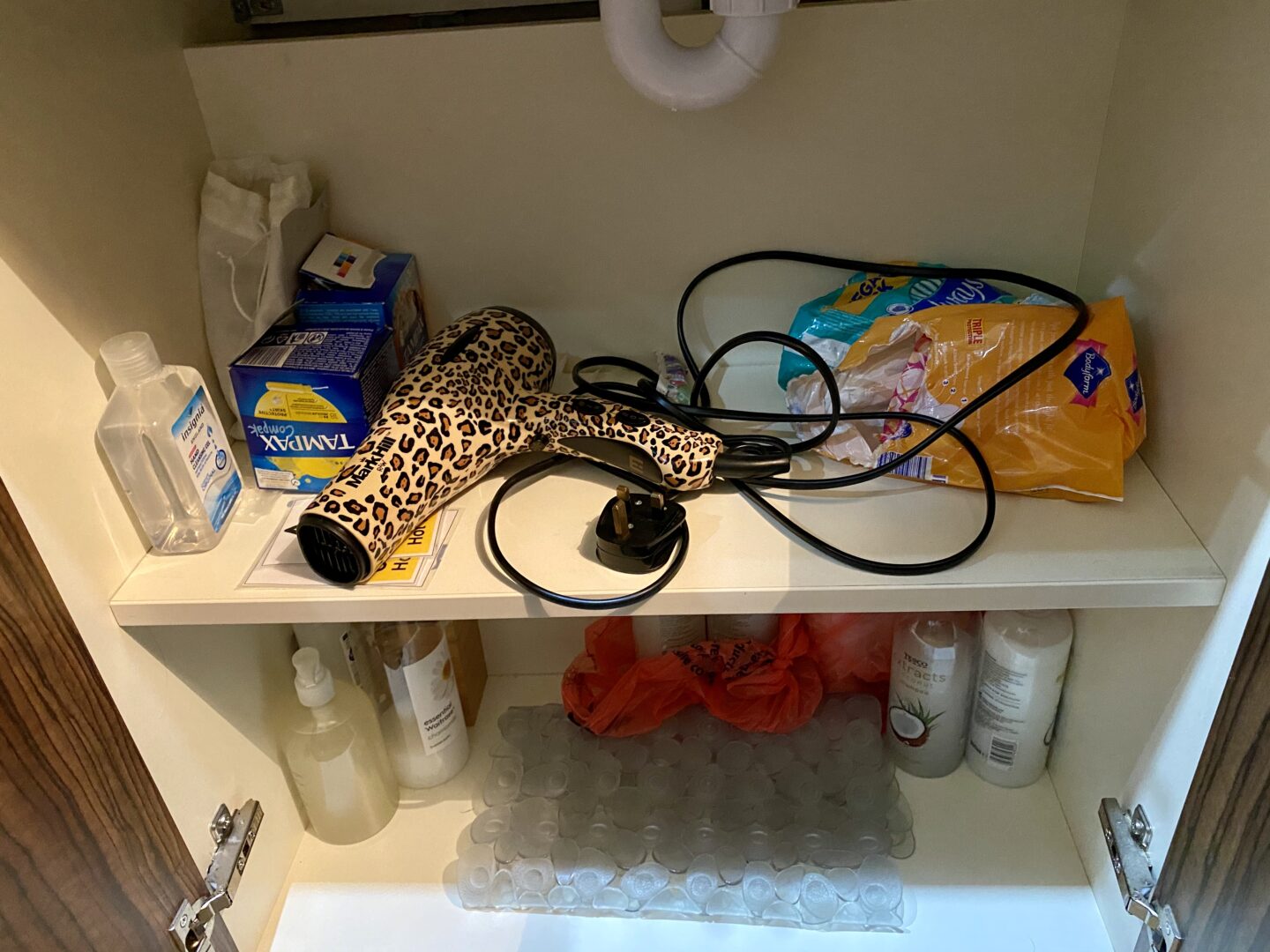 I even appreciated that the toilet paper was Cushelle (the best toilet paper, don't @ me) rather than that tracing paper stuff most places seem to want to use! All linen and towels are provided.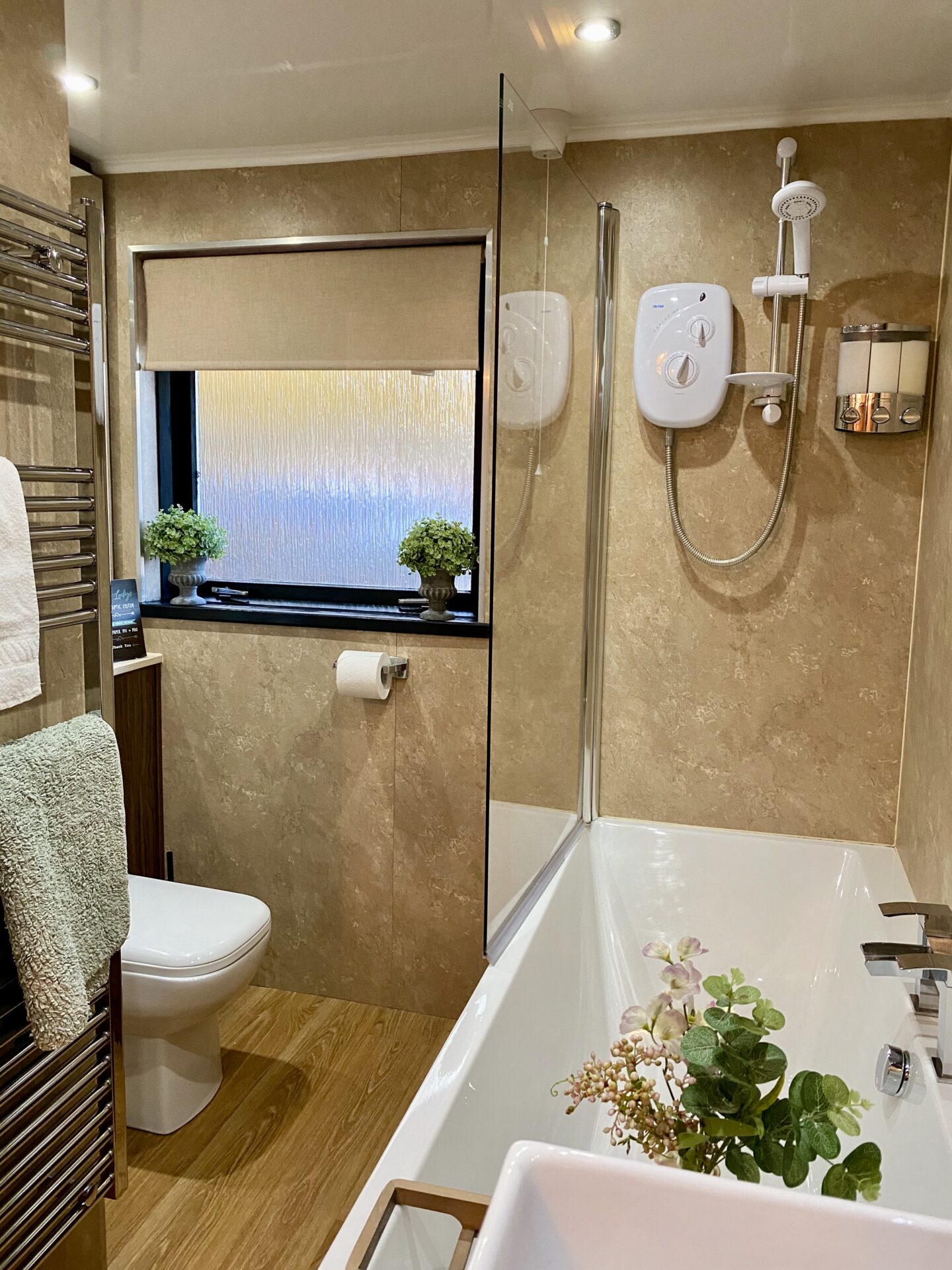 The Snug is really well equipped
It had everything you could want including all your cleaning products, washing up liquid, rubbish bags etc. There is a washing machine, a dishwasher, a microwave, a fridge and a freezer. It has everything we needed to cook with. It's also great for those of you with young kids with a potty, toilet seat, toddler cutlery, high chair and cot bed.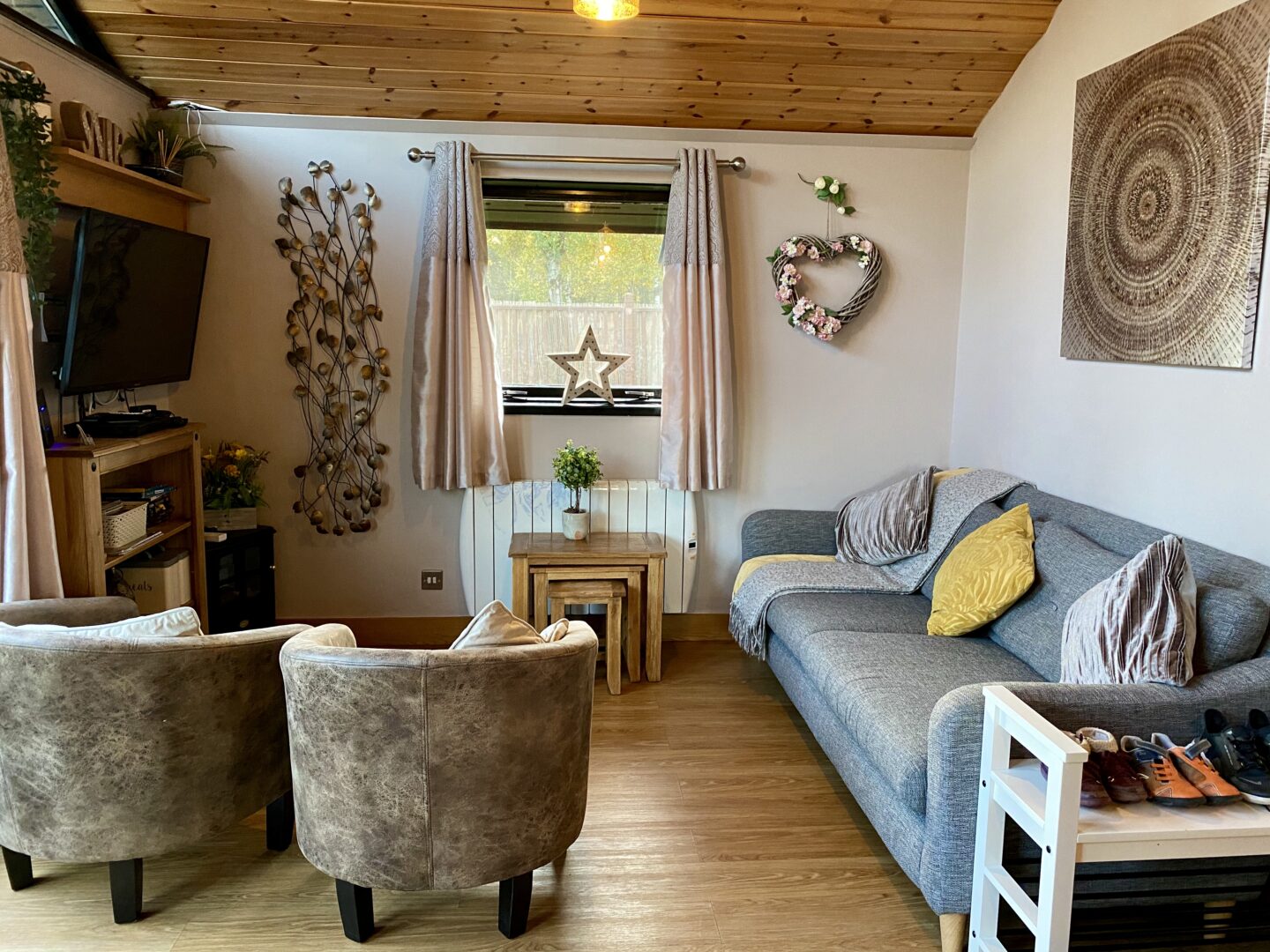 There were a number of games at the Snug including Monopoly. They have a 42 inch flat screen TV on the wall. The phone reception and (free) wifi was excellent, we were able to stream Netflix no problem.
It was the little touches that made the Snug stay extra special. There was a welcome hamper with teas, coffees, cookies, prosecco and chocolates with little hand written labels.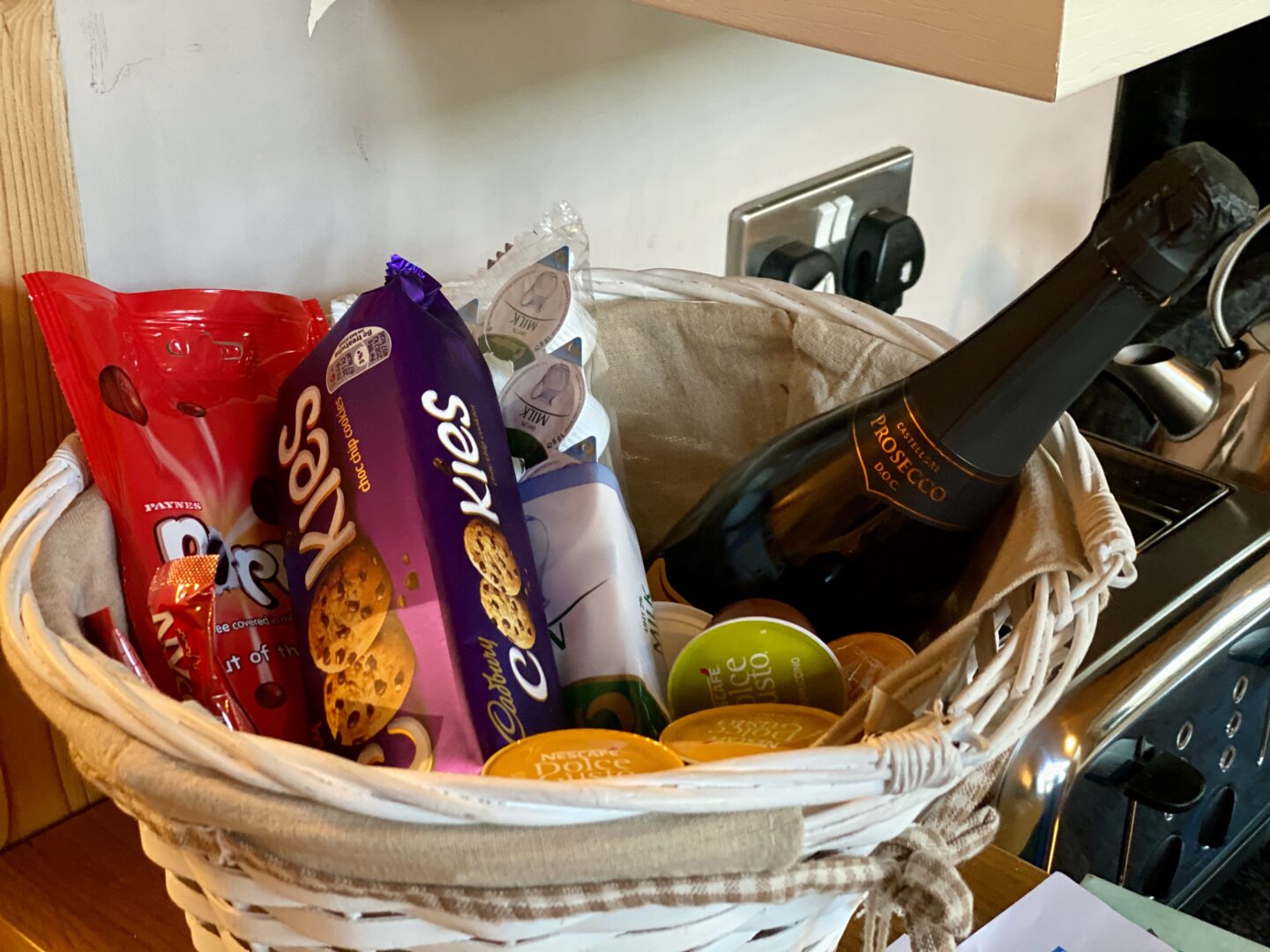 They have a tin of bird feed and squirrel feed and feeders on the decking.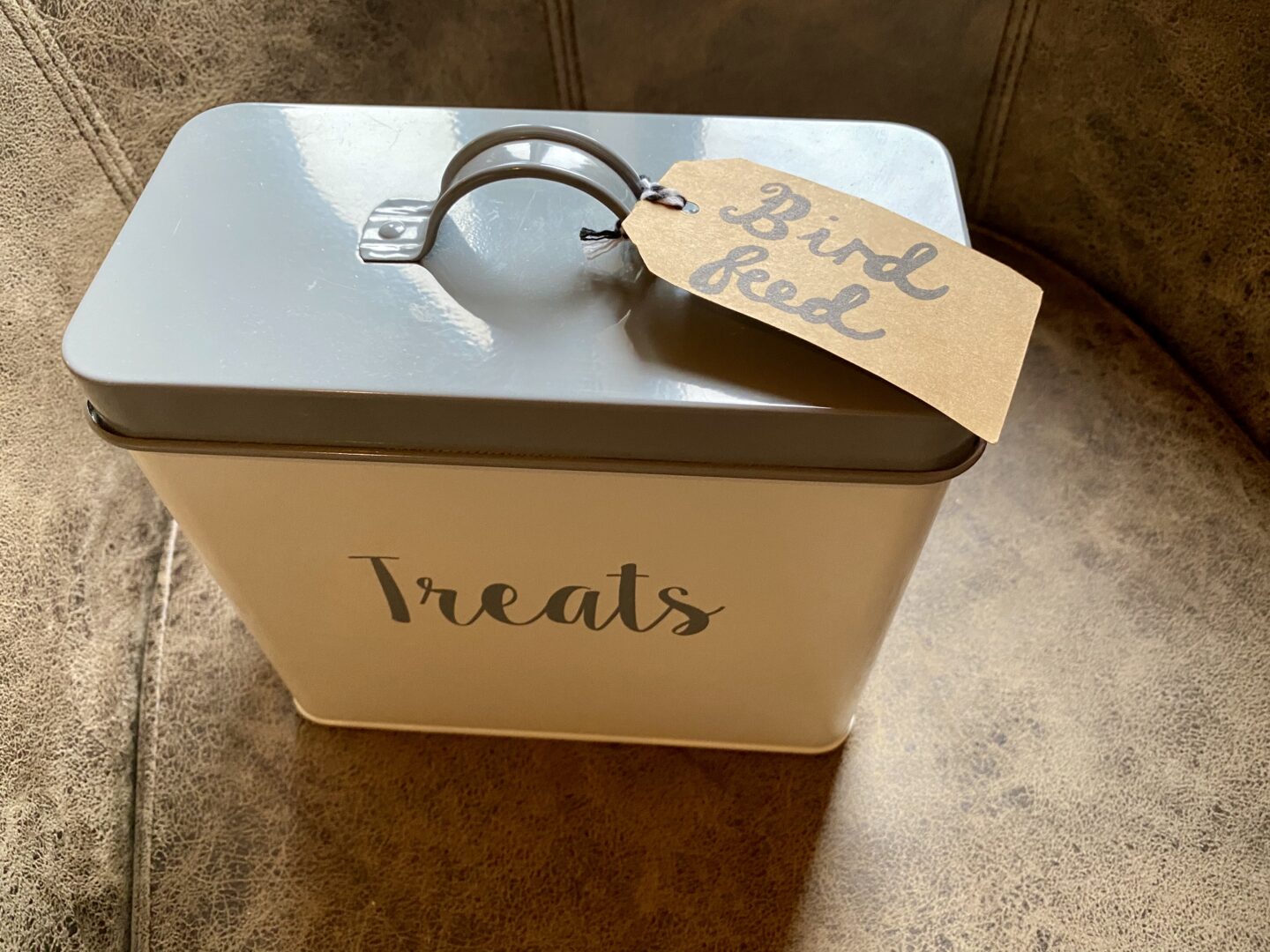 My 5 year old loved putting feed out and then watching to see the animals come. We saw some red squirrels and a load of birds, including red robins and tits. There was a basket of pamphlets for local attractions and menus for local eateries/takeaways.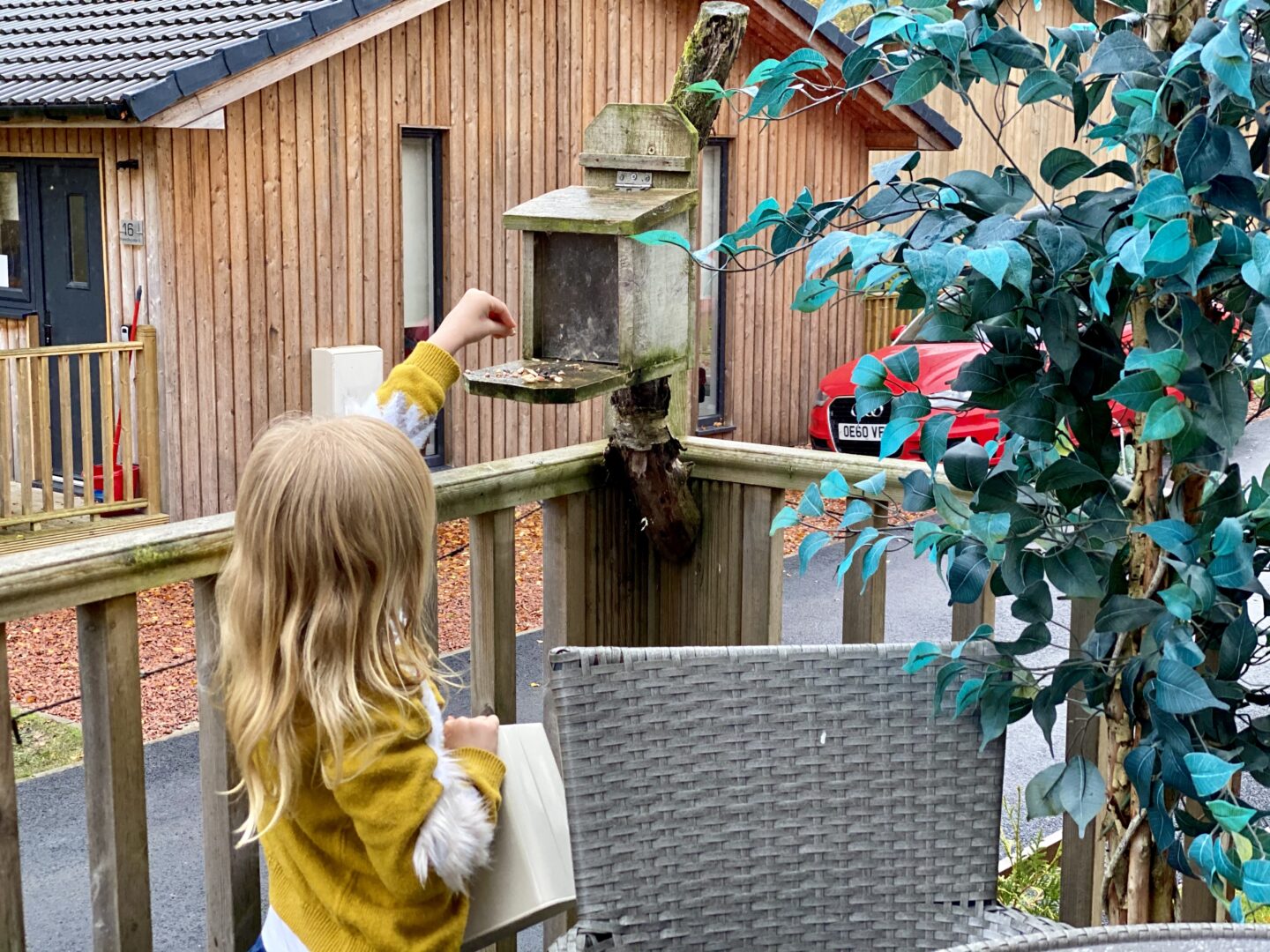 The Snug also has the most comprehensive welcome booklet I've ever encountered with helpful detailed instructions on how to find and work everything in the lodge.
The Snug hot tub
This was our first ever hot tub lodge break and we are now hooked. My 5 year old was practically raisin like because I couldn't get her out. We loved it. The jet function worked wonders massaging my injured back. It was pure luxury and made our trip for us. We went in 4 times during our brief 37 hour stay.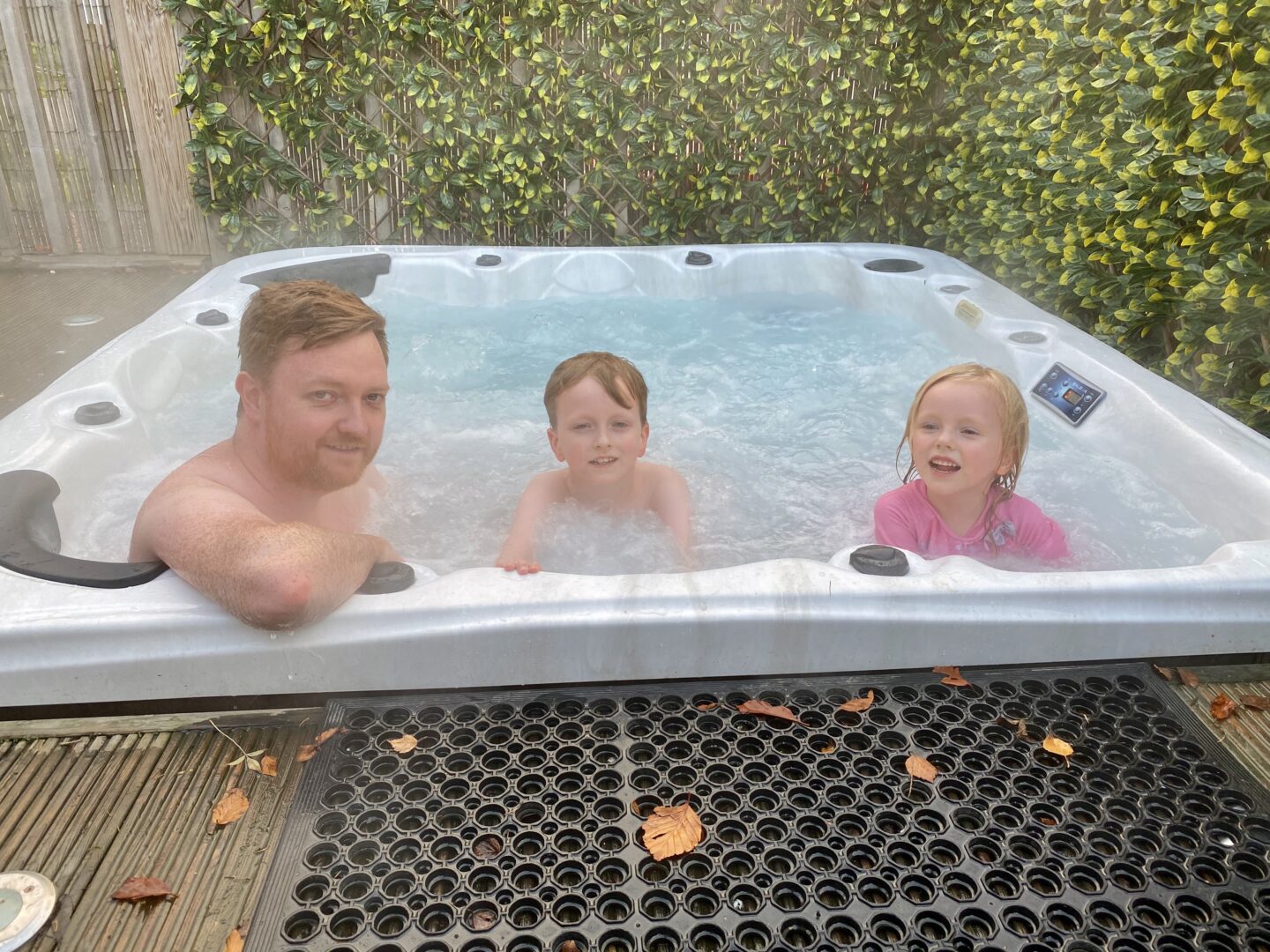 On our first night we went in it after dinner when it was dark and the kids marvelled looking at the stars in the clear night sky from it. Northumberland National Park, where Otterburn lodges are housed is a dark skies area and Papa Ginge and I were saying that you don't see stars like that often these days where we live. We realised just how much light pollution there is where we live in the suburbs of Newcastle. I'm so pleased we got to enjoy stargazing again.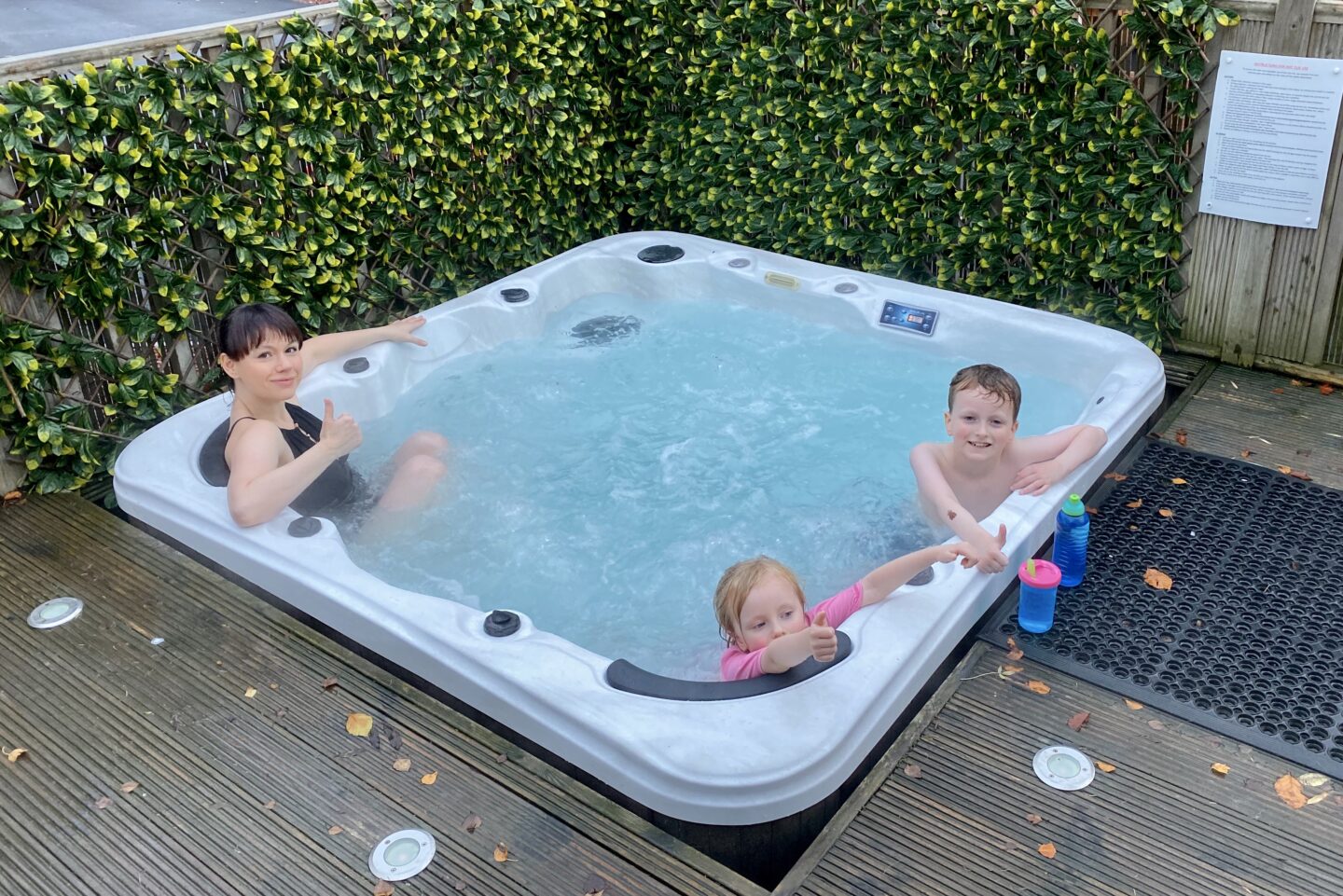 The hot tub is sunken into the decking so you have privacy from your neighbours. The Snug owners have also added some bamboo fencing and decorative leaves so you are completely hidden from neighbours once in the hot tub so it felt nice and private. Though I will say that I thought the Otterburn lodges were well spaced and you didn't feel on top of each other at all anyway.
Parking and pets at the Snug
You can park right next to the Snug and there is space for 2 cars. There are a few steps up on to the decking to get into the lodge.
Well behaved pets are allowed at the Snug but not in the bedrooms and dogs need to be on a lead on the estate.
Covid-19 safety measures
I was definitely a little anxious about staying somewhere during the pandemic. This is why we stuck to camping during the summer. However I was reassured somewhat by the Snug's safety measures.
Before we arrived we were sent their Covid risk assessment which I read through and it was one of the more robust ones I've see so far. They had clearly given it a lot of thought. We were asked to sign a form to say we hadn't had any recent risk factors – such as any covid symptoms, any contact with anyone with covid or any travel abroad. If you answer yes to any of the questions you would have to rearrange your stay.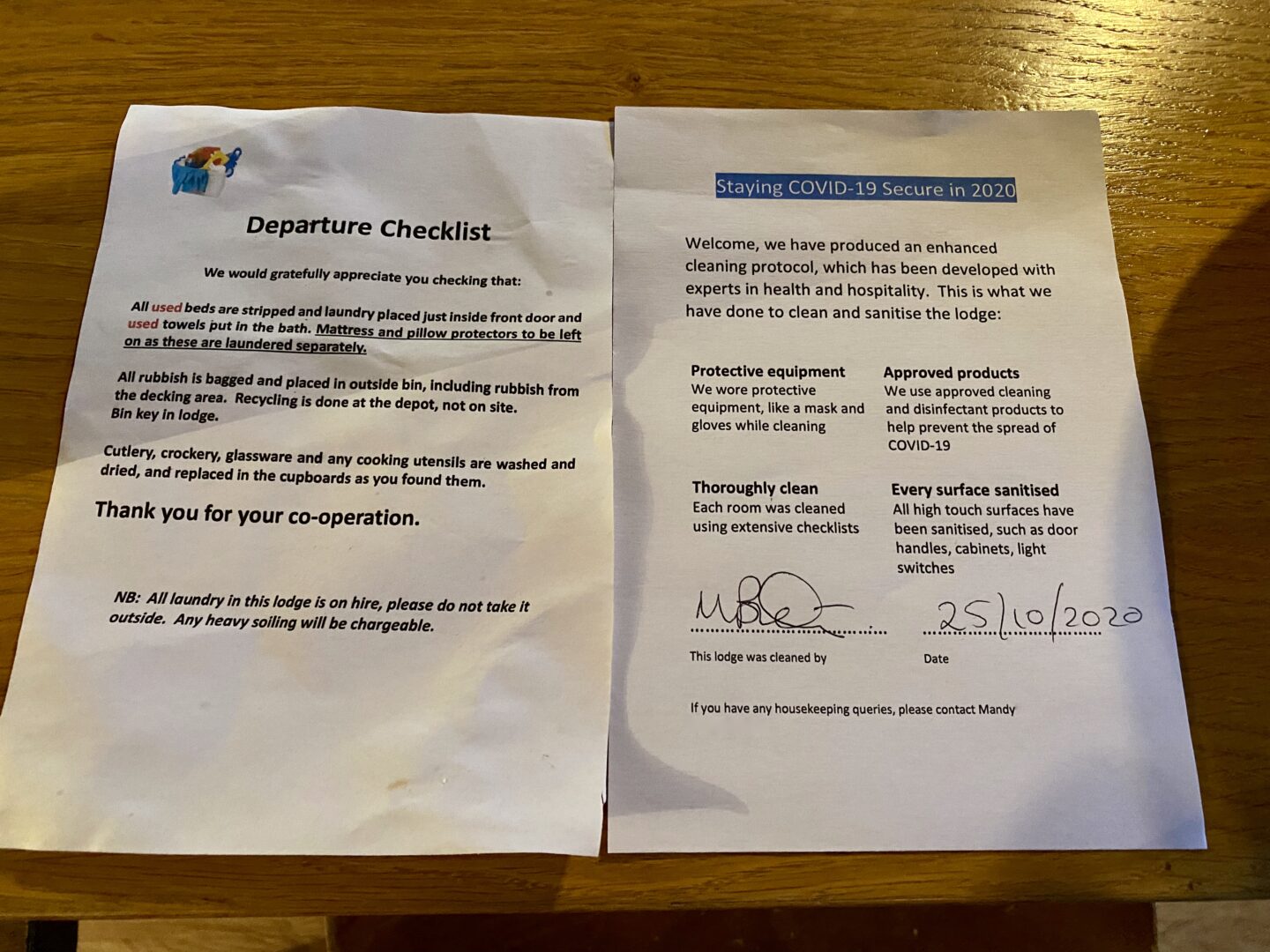 Once at the Snug it is a self check in, the key is in a locked box on the decking that you access via a code so we didn't need to interact with anyone during our stay. The lodge had lots of soap, hand sanitiser and cleaning equipment. There were signed forms from the cleaning staff saying that it had all been cleaned with particular attention to the high touch items like light switches etc.
When it was time to leave, to help with safety for the cleaning staff you are asked to strip and bag the bedding and towels and wash the crockery etc.
The lodge felt clean and tidy and I felt that they were taking covid measures seriously.
The cost
The Snug, Otterburn has a 3 night minimum booking. It seems like the start price for this is £420. If there are 6 of you going then this works out at £23.33 per person per night.
Obviously, if fewer of you go, it will work out more expensive per person and if you go during a popular booking time then prices may be higher. For us, as a family of 4, it would have worked out at £140 a night, or £35 per person per night if this hadn't have been complimentary with it being a press review break.
It looks like the Snug is booked up until January now – blame Covid making lodge breaks popular. However, the Snug does often post last minute cancellations on their Instagram and Facebook pages so make sure you give them a follow there. The Snug does run occasional offers so keep an eye out for those. They are currently running a giveaway for a break on Facebook so check that out asap.
If you are planning on booking the Snug for next year then I would do so quickly as their prices are increasing in January to £575 for 3 nights.
What is there to do near the Otterburn Lodges?
The lodges are kind of out in the sticks a bit and whilst there are a number of things to do nearby do expect to need to drive if you aren't sticking to the village itself.
Otterburn village is a few minutes drive away or a 20 minute walk along a footpath through the fields. The village has a castle, mill, café and village shop. It also has restaurants and bars, Le Petit Chateaux and Otterburn Castle is open after undergoing a total refurbishment. Otterburn Castle is a 9th century grade 2 castle with a hotel, restaurant and bar.
What did we eat during our stay at Otterburn lodges?
The Coach House is 100 metres from the Lodge with an excellent menu and lounge bar however it is closed Monday to Wednesday so sadly we didn't get to visit during our stay. It also has a takeaway menu – including Sunday lunch which we would have done if it had been open during our stay.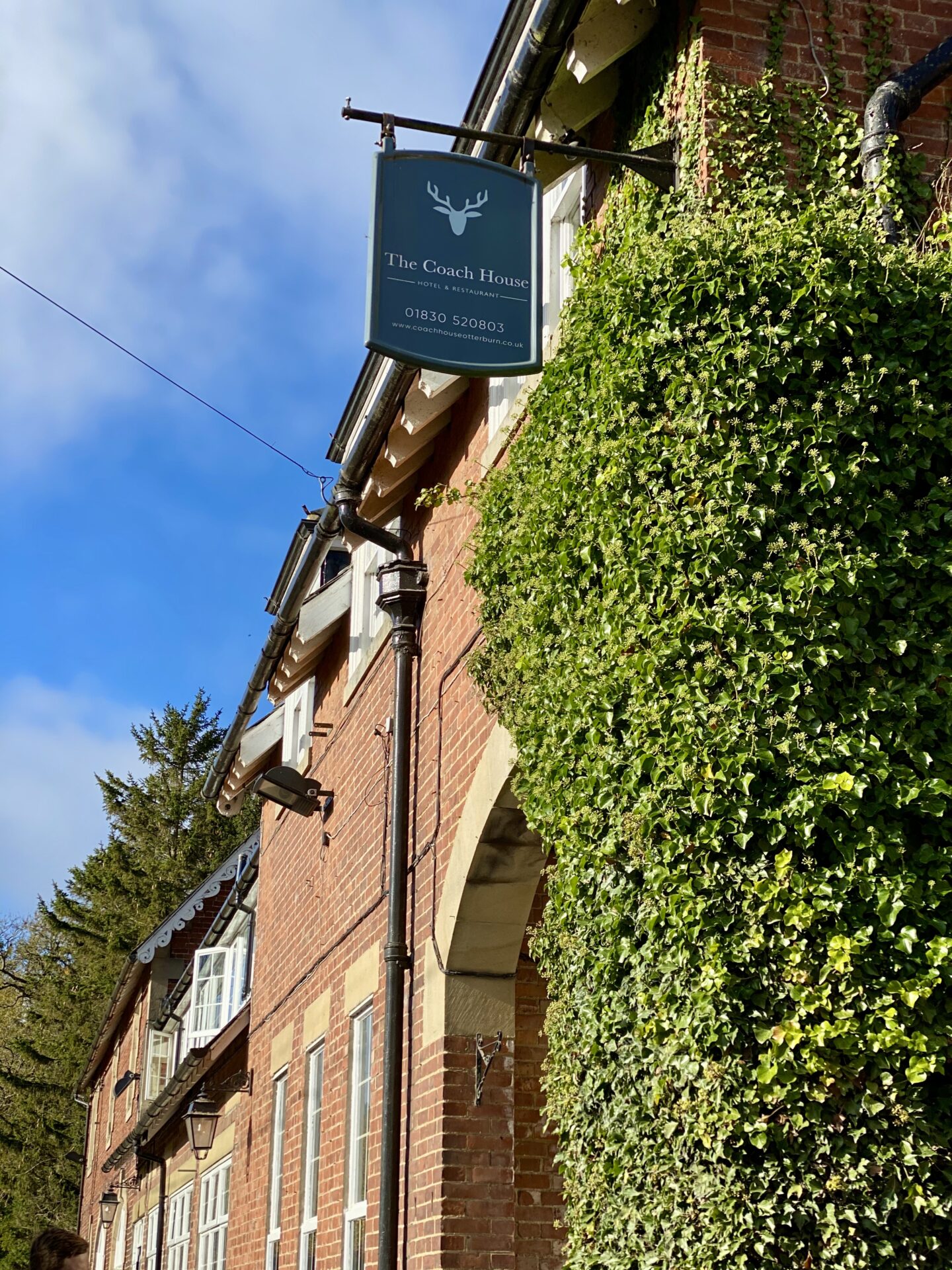 We did go to William de Percy Inn and Creperie in the village for lunch which was less than a 5 minute drive. We had a lovely meal there. The kids had a kids fish and chips and a burger and chips. I had a salad with Alnwick gin and beetroot cured salmon and Papa Ginge had fish and chips. I tried some of Papa Ginge's fish and it was perfect – excellent batter. The kids got ice lollies for pudding. I got an Eton Mess sundae and Papa Ginge got a yummy sticky toffee pudding. We also got a couple of beers and drinks. Our bill came to £75.
I've since found out that Willian de Percy offer 20% off if you are staying at Otterburn Lodges Snug so make sure to mention that if you visit there!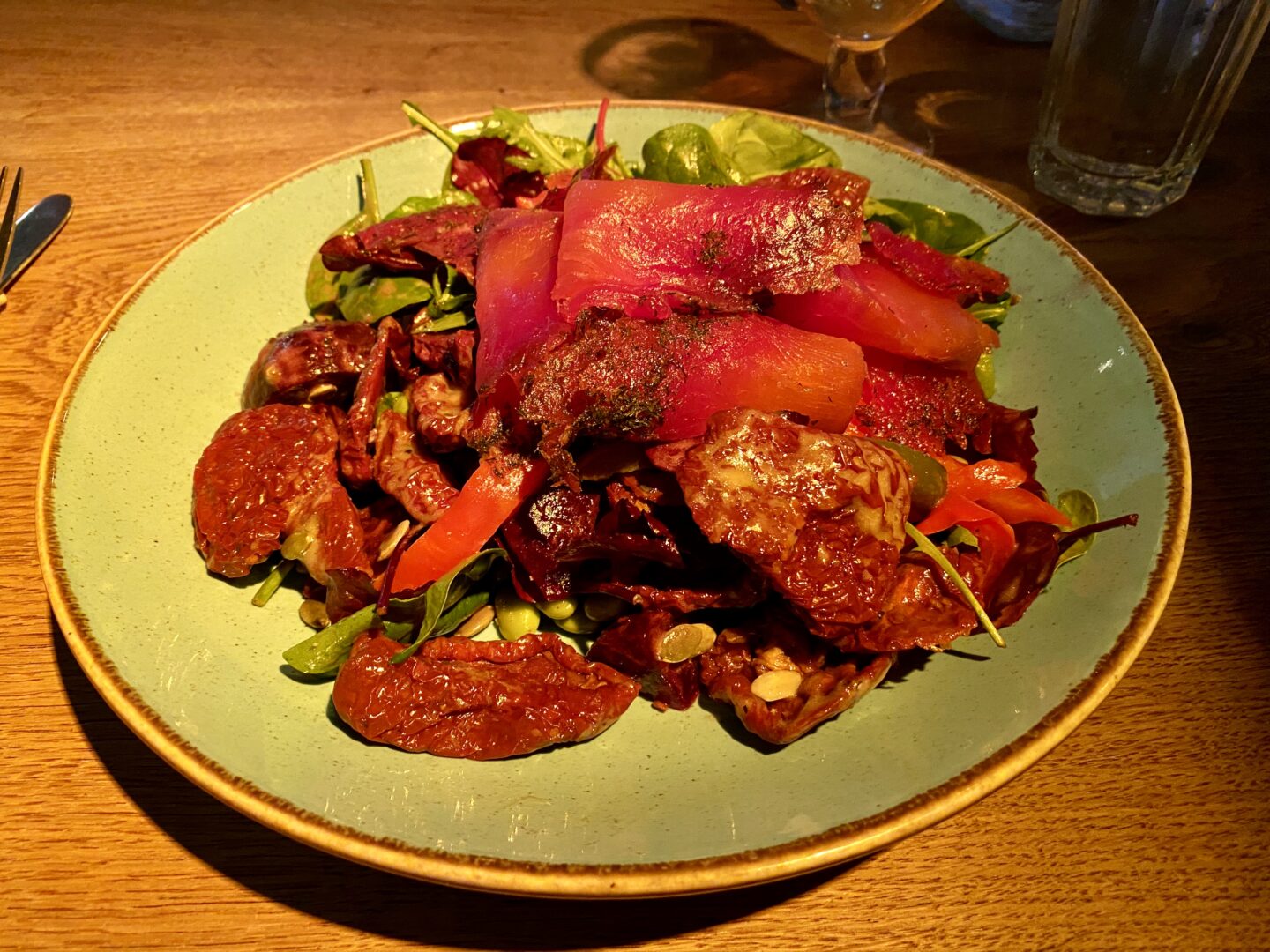 I'd recommend a visit there for sure. Their Covid safety measures were really good. All staff were wearing masks, they had track and trace check-in and they took your temperature on arrival. They had free masks and gloves to take, lots of sanitiser available. The tables were well spaced and had plastic partitions between them. I thought they were doing well at managing the risks.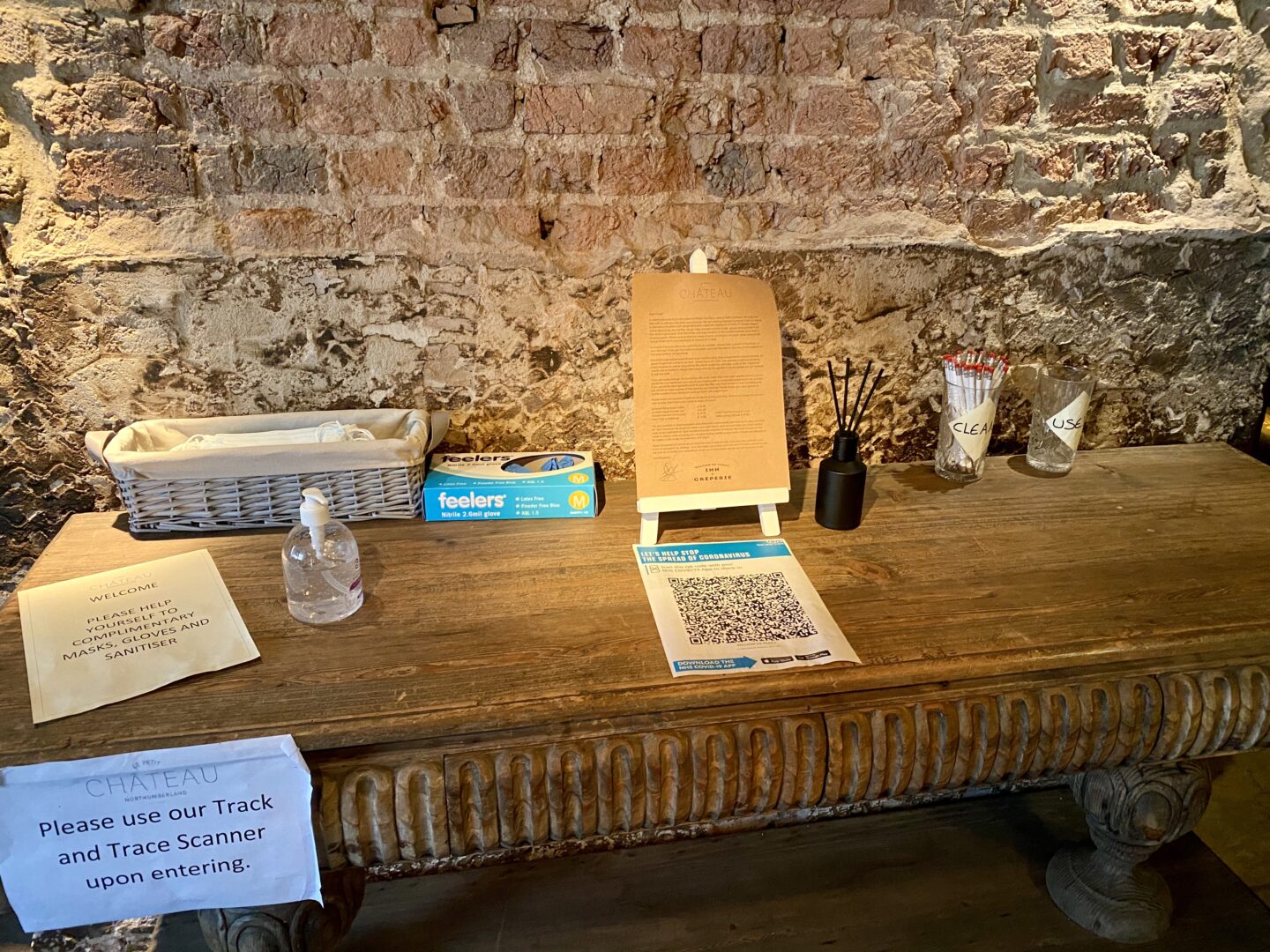 7 other places you can visit during your stay at Otterburn lodges, the Snug
Areas where the Snug excelled
You got the sense that the owners of the Snug cared about their guests and their experience. They have really thought about how guests would experience their stay and how to make it special. They have made sure that you have everything you need from the welcome basket to the animal feed, to the extras you wouldn't necessarily expect like sanitary towels and all the cleaning products. It felt more homely than any self-catering accommodation that I've stayed in before. We wouldn't hesitate to go back again. I asked my 8 year old what he wanted to say about the Snug and he simply said 'it was awesome'. I agree. We were sad to leave.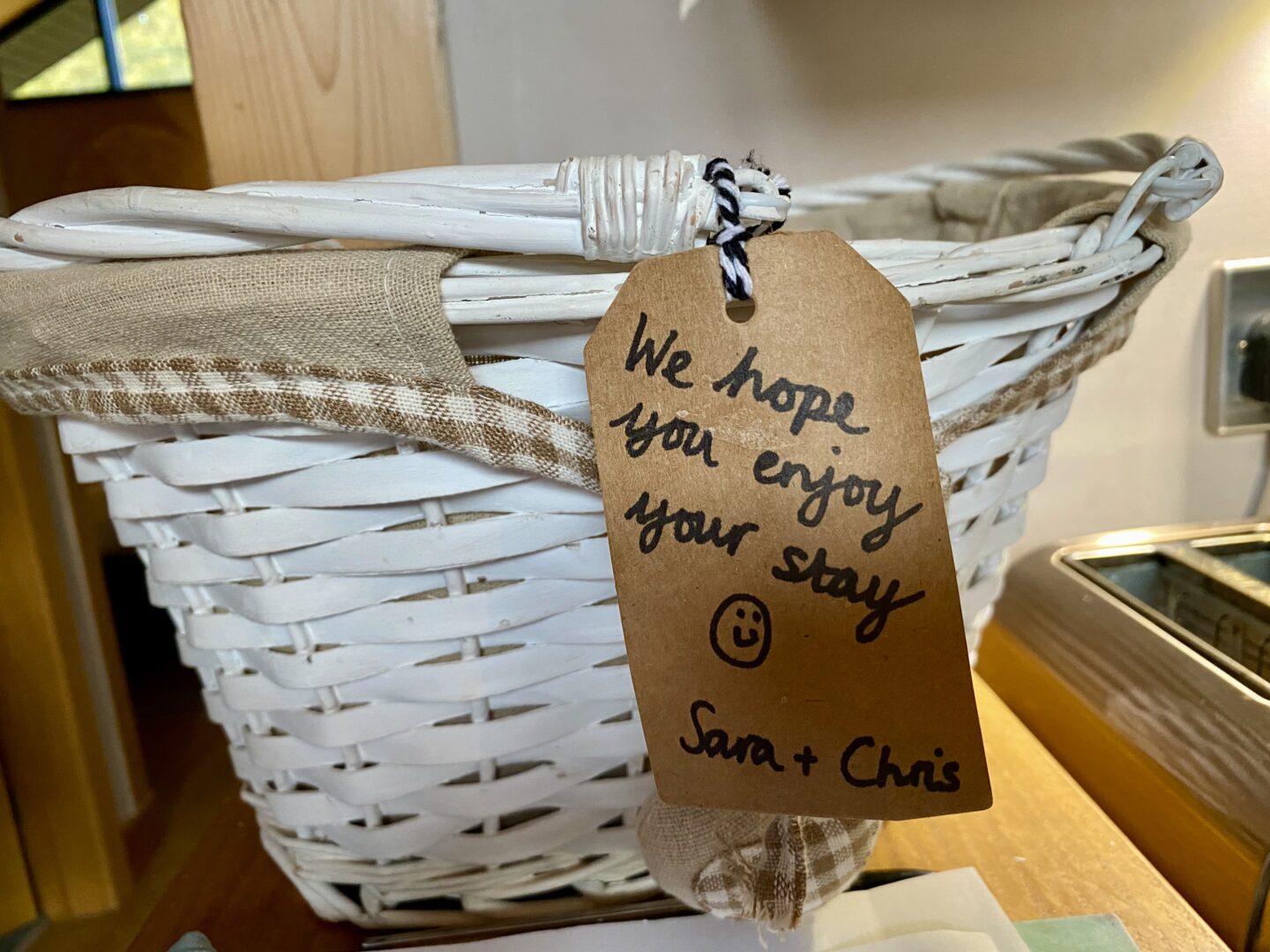 Areas where they could improve
There is very little I could criticise about the Snug. One of our only minor complaints was the lighting on a night was quite dim. It made for a lovely cosy ambience but it was quite hard to see by. It would have benefitted by a couple of extra lamps. Papa Ginge commented that he was expecting to find a dimmer switch at some point and go 'ahh we've had the lights dimmed the whole time'. This is still entirely possible knowing us lol.
It was so well equipped. The only thing they could add that I can think of is a small step for kids as the bathroom sink is quite high for them to reach without one so you have to hold them up to wash their hands and brush their teeth.
Sadly the DVD player was broken for our trip but this didn't affect us as we brought our Netflix hook up anyway. I'm sure they'll be getting that fixed anyway.
This is really nit picking for the purposes of the review though, we didn't have any real complaints.
Updated to add: I passed this feedback on to the Snug owners and they were really receptive to the feedback and said 'we appreciate your points for improving and will definitely act on them' – which just shows what great owners they are.
Top tips for staying at the Snug/Otterburn lodges
Take some sliders/spa slippers and a dressing gown. We didn't and we did regret it for getting in and out of the hot tub
Take wellies and do a walk of the grounds, you won't regret it
Keep the feeders stocked up if you want to see the squirrels and birds – mornings are the best times to watch
The lodge opposite, Settlers Lodge is the sister lodge to the Snug. If the Snug can't provide dates for people they can see if Settlers is free and vice versa. You could also try and get both lodges at the same time if booking with another party.
Make sure you spend some time looking up at the stars at night, don't miss out on the opportunity to stargaze in a dark skies area.
I hope you liked this review. Let me know your thoughts in the comments. If you want to see some video footage from our stay then pop over to my Instagram account and have a look at my Instagram Story highlights.
If you liked this post you might also like: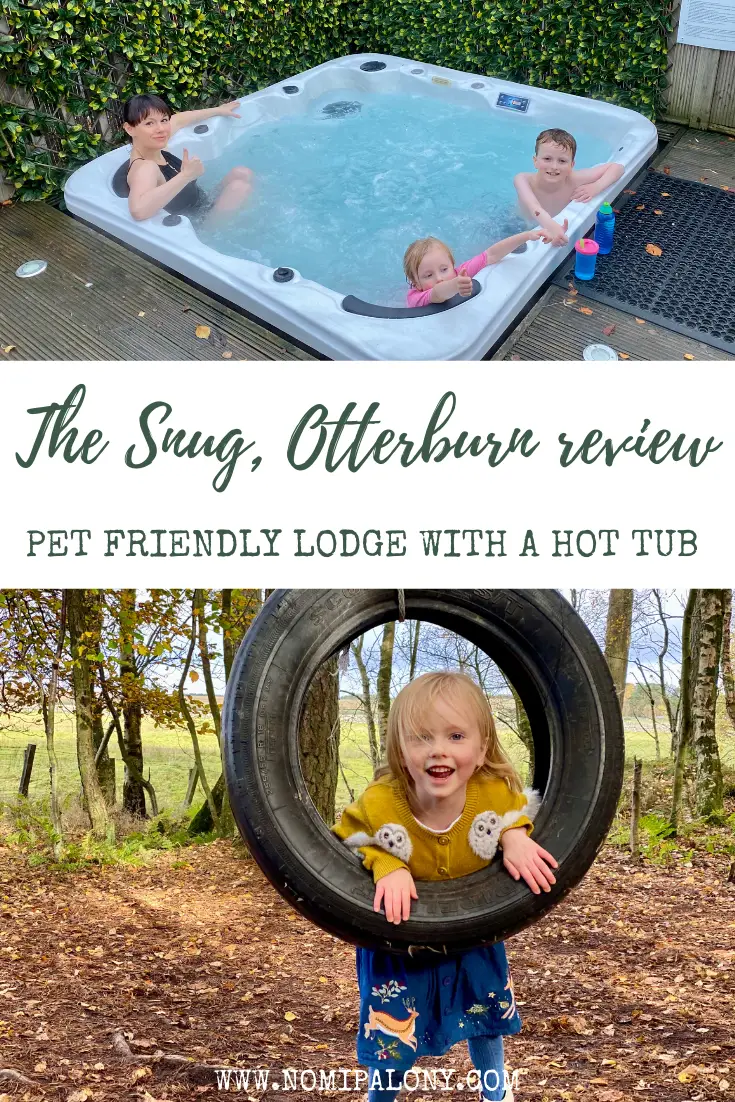 Disclaimer: This trip was a press trip and our accommodation was provided free of charge for the purposes of reviewing the accommodation for the post. For my full disclosure please see my about page.