When I returned from our 'holiday hell' I was perked up by seeing my first ever blogger's post! Charlotte Keating England had sent me their 2 piece maternity/nursing pj set to review. I ripped into it excitedly. It was packaged so prettily, there is something about opening tissue paper that gives me butterflies!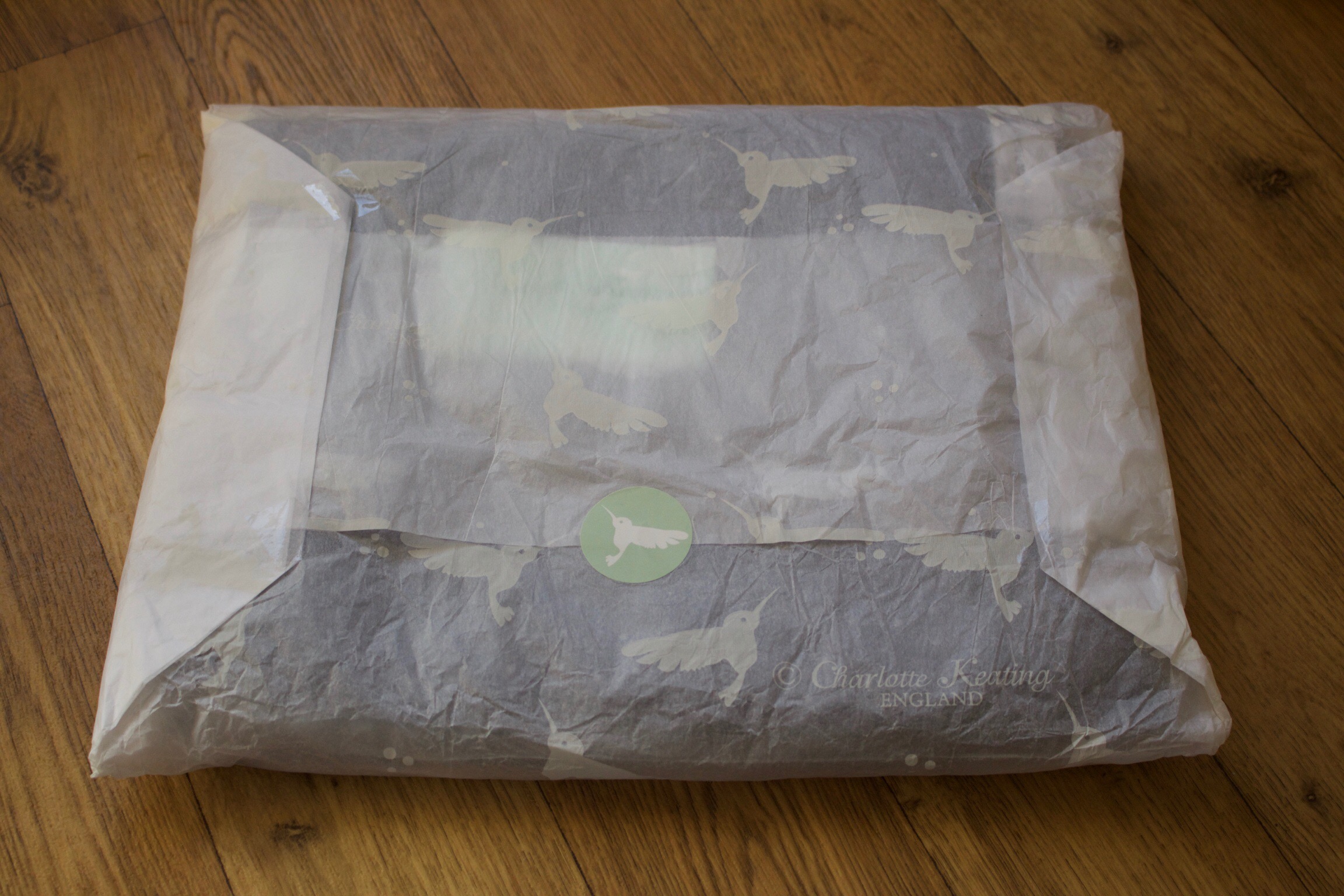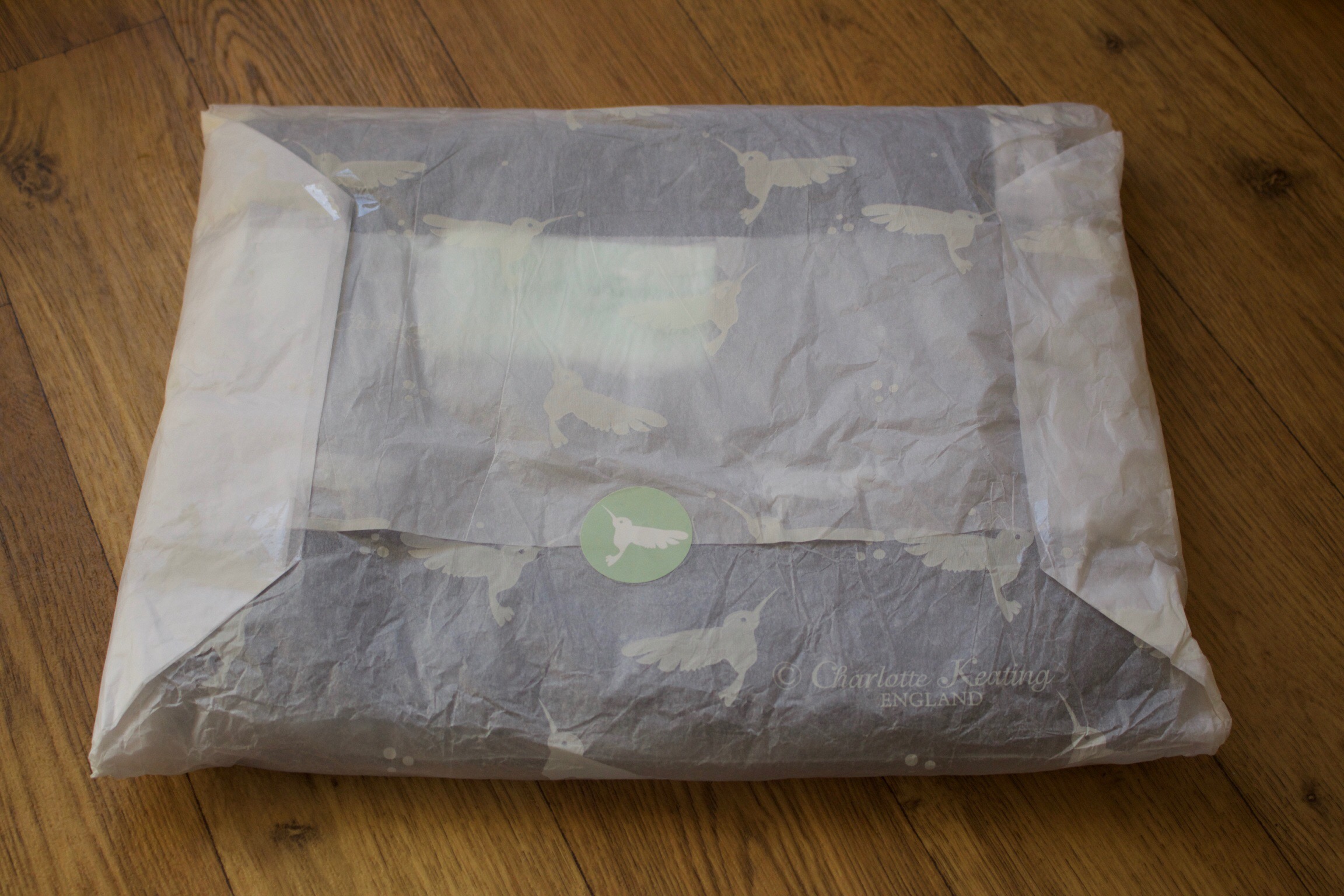 The pjs feel lovely. Really soft and great quality. The nursing vest in particular had a good thickness to it and felt quite supportive on my boobs. I felt it looked nice even without a bra on my 34FFs.
I'm normally a size 10 but ordered a size 2 as if they fitted small I would rather have my pjs too big than too small, and often 10s can be too small on the bust now I'm nursing my second bairn. I wish I had ordered size 1 now as the sizing is big – as is often the case with nursing wear that's also maternity wear.
It's ok though as the bottoms have a tie to tighten them up. The bottoms are very low slung with a pretty lace trim on the bottom cuffs.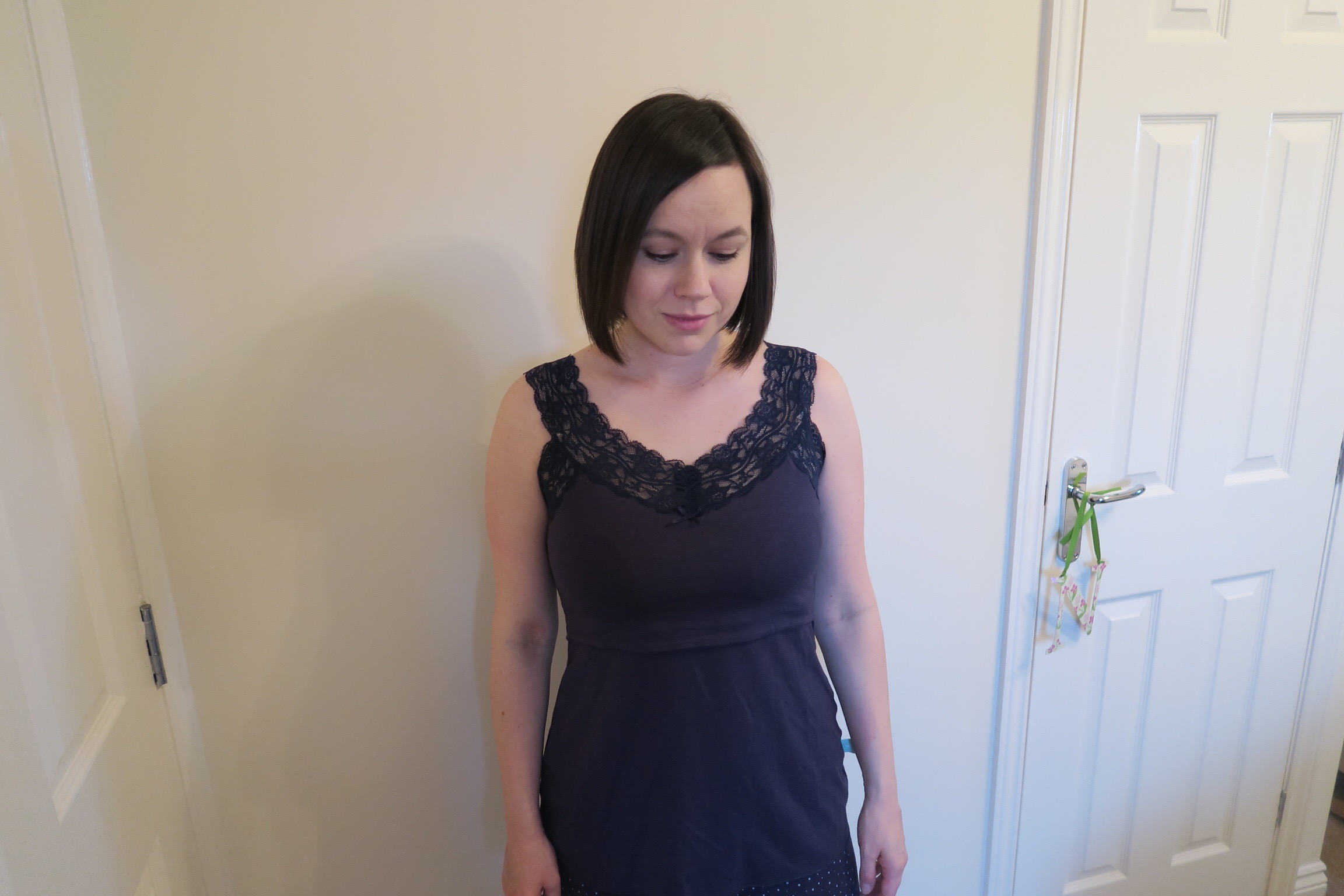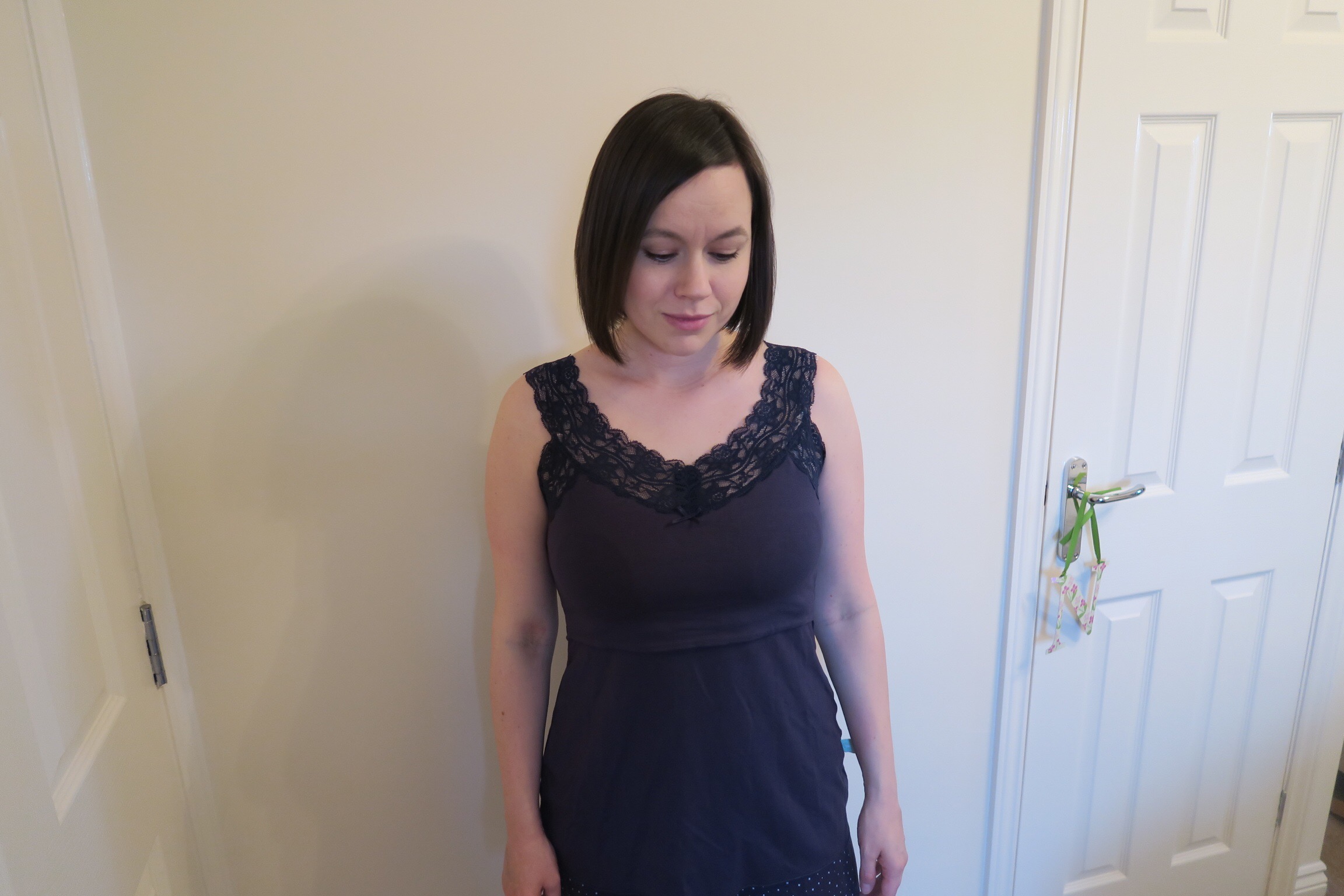 I was most impressed with the nursing vest. Normally I just wear any pj bottoms for bed with a nursing vest that I unclip and pull down for night feeds. Like most bedsharing night nursing mams I pretty much always have one boob out at night, exposed to the elements! This vest had a pull up panel and underneath had two boob holes, so one side pulls up to nurse and then even if you don't pull it back down, you aren't as uncovered/cold as the traditional nursing vests.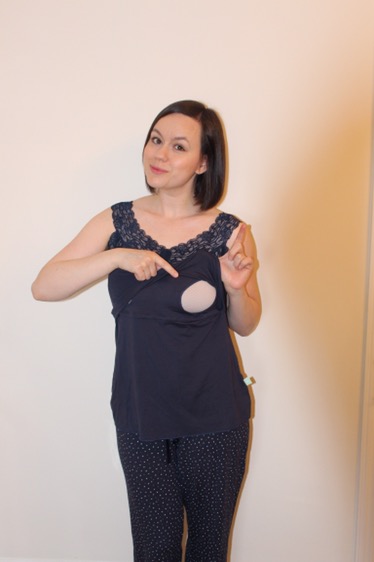 As avid readers of my blog will know, I'm really prone to blocked ducts and mastitis so I did have concerns that this 'peakaboob' style would cause too much pressure on the breast where the upper layer rested on the edges of the hole but it was fine for me, thankfully! And after trying them for a few nights I think I prefer this style at night to the regular clip down vests.
You can wear the top during the day, however I've not tested it in the day yet as I'm not sure I would feel comfortable wearing it without a bra out and about and I'm not sure how it would work with a clip down nursing bra and then the 'peekaboob' holes. I feel a regular nursing vest that clips down with the bra would be easier. I'll have to try that out for you and come back to update.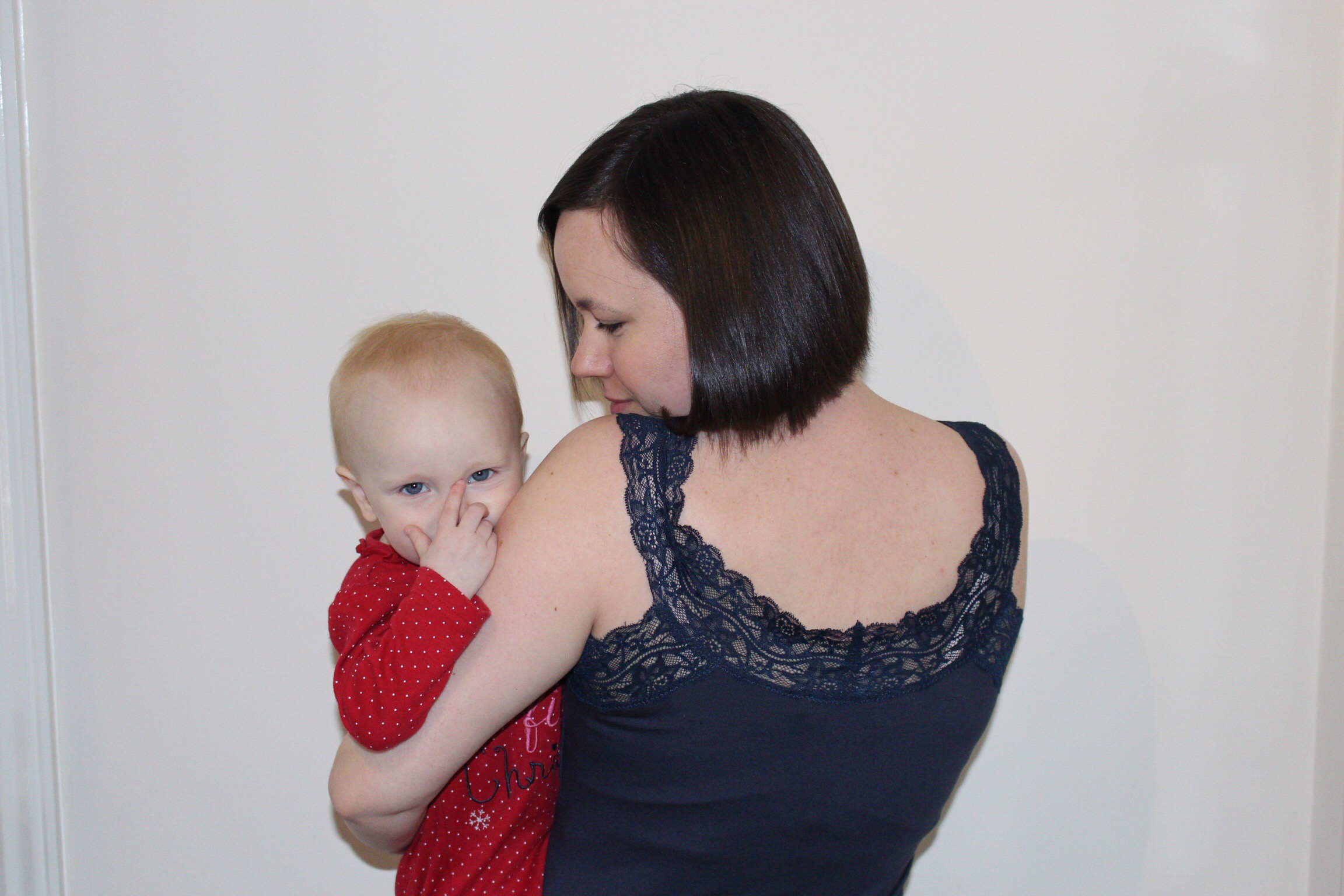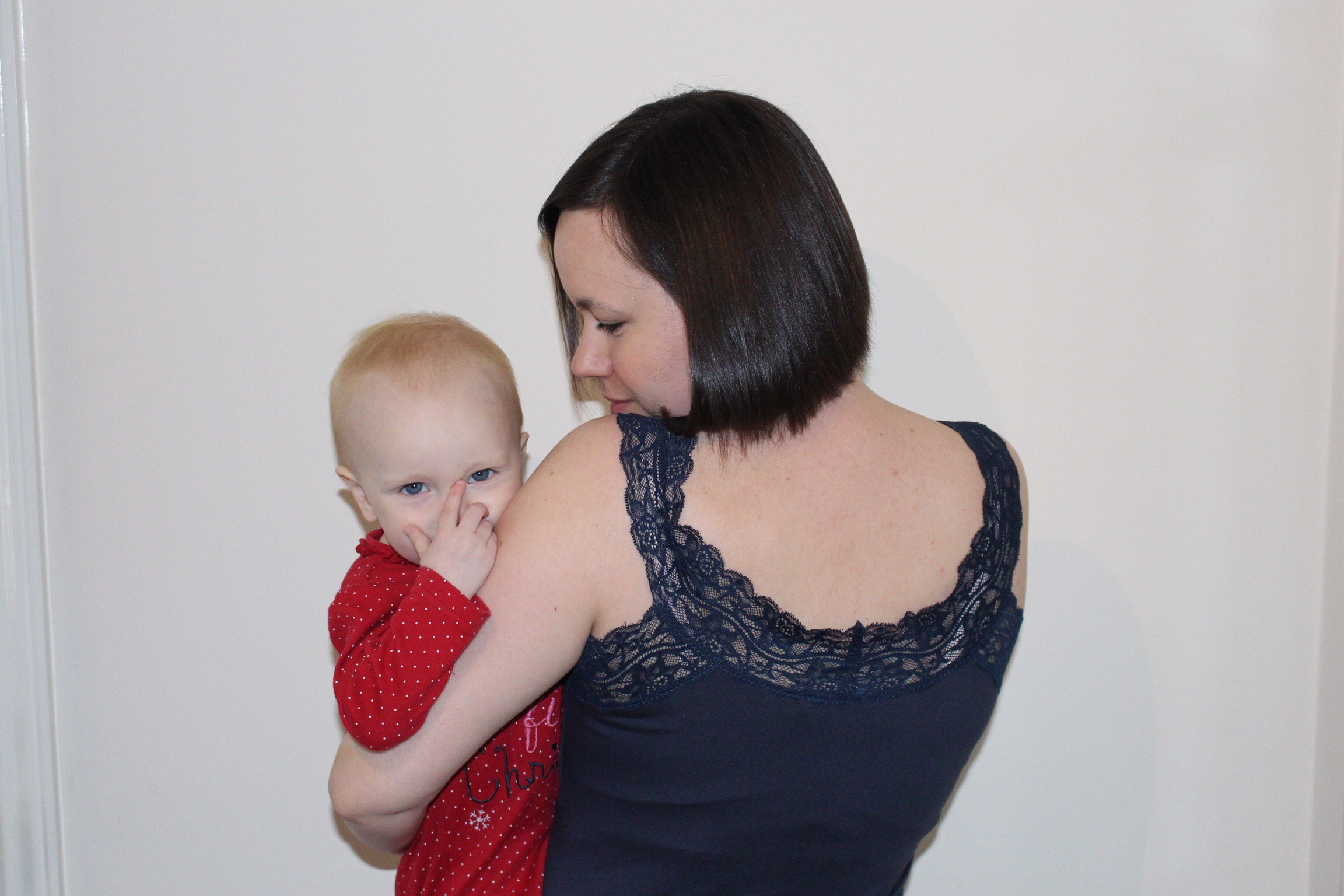 Washing instructions are to wash on 30 degrees but no tumble drying and iron on low (I don't know who the hell that is nursing who has time to iron pjs mind!).
When I first wrote this review I criticised the price as the PJs came in at £62. Im happy to report that they have since been reduced to £49.60 which is much more reasonable. They are still expensive but I've spoken to Charlotte about this and she told me more about her eco and ethical practices which I think makes the price reasonable if you care about these issues.
Charlotte told me 'we believe it's our responsibility to be ethically and environmentally conscious – accordingly our goods are produced in Portugal adhering to a strict moral code with regards to labour & working conditions. Our carbon footprint is minimized by keeping the whole production (patterns, textiles, manufacture, packaging) within the same locality. Both these eco and ethical choices make the products more expensive than sourcing from cheaper and less ethical countries but give us much better quality control and a higher spec product which we and our customers value. Unfortunately we couldn't maintain production in the UK due to even higher costs of production so Portugal is a good ethical & cost effective choice for us.' Given all of the damage done to women working in factories in India and elsewhere by some high street retailers, I think this makes the price worth paying. I'd rather pay more to ensure no one was exploited in the production of my fashion.
The vest can be worn in the day and bought separately at £29. You could really get your money's worth if you buy them during your first pregnancy, then wear them throughout your pregnancy then nursing and for your next pregnancies and nurslings. I think the quality would hold up to enable you to do that and get a good price per wear unlike a lot of high street stuff I've bought. Also keep a look out for the coupon codes on their website and social media. At the moment there is 10% off if you follow them.
In summary, these are comfortable, flattering, high quality pjs and I'd give them an 8/10. Thanks to Charlotte for letting me try these out for you guys!