Fantastic for Families
I had the privilege of working in partnership with Fantastic for Families over the summer and you might remember several posts I did in collaboration with them, such as our trip to Just So festival and our day out down the Ouseburn. In case you missed my first post about them, where I introduced you to why we love them, Fantastic for Families is an excellent website for finding family arts and culture activities near you (wherever that may be). You simply pop on the site and search via a postcode to bring up loads of upcoming arts and culture family activities in the area.
We've used the site several times now and are big fans. Every activity we have chosen from the site has been a hit with each member of our family – from 3 years old to 34 years old. That's the whole point of Fantastic for Families, everyone can use and benefit from it. So if you are a grandparent (or your parents watch your kids) then you can pop on and find where you can take your little cherubs for the day that you all can enjoy.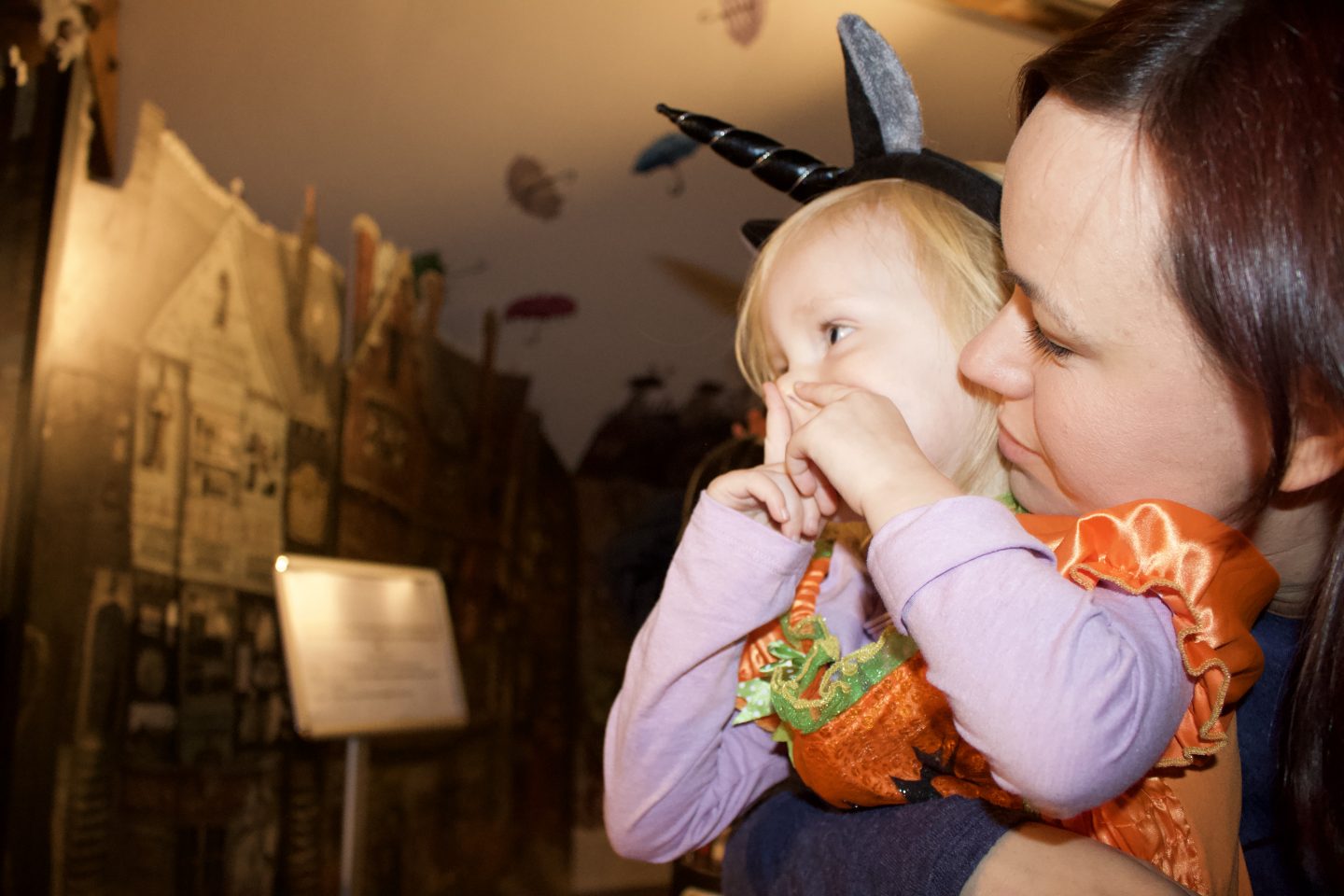 Seven Stories' I'm Not Scared Dance Party
We used Fantastic for Families again at the weekend to find a local Halloween themed activity for my kids who are 3 and 6 (soon to be 7). We chose to go to one of our favourites, Seven Stories, the National Centre for Children's Books, who were holding an 'I'm not scared dance party' aimed at under 7s.
The sensory session lasted 45 minutes and tickets cost £3 per person (for children and adults). Their visitor fee is waived but you get access to the party, café and bookshop. Of course you can pay the admission fee too and spend longer at Seven Stories exploring all their excellent exhibitions and toddler playroom.
On this occasion though, we had somewhere both before and after so we just went for the party itself. If you want to read more about Seven Stories and what else you can do down the Ouseburn Valley (my favourite part of Newcastle) then you can read my cultural family day out at Ouseburn, Newcastle post here.
Seven Stories' attic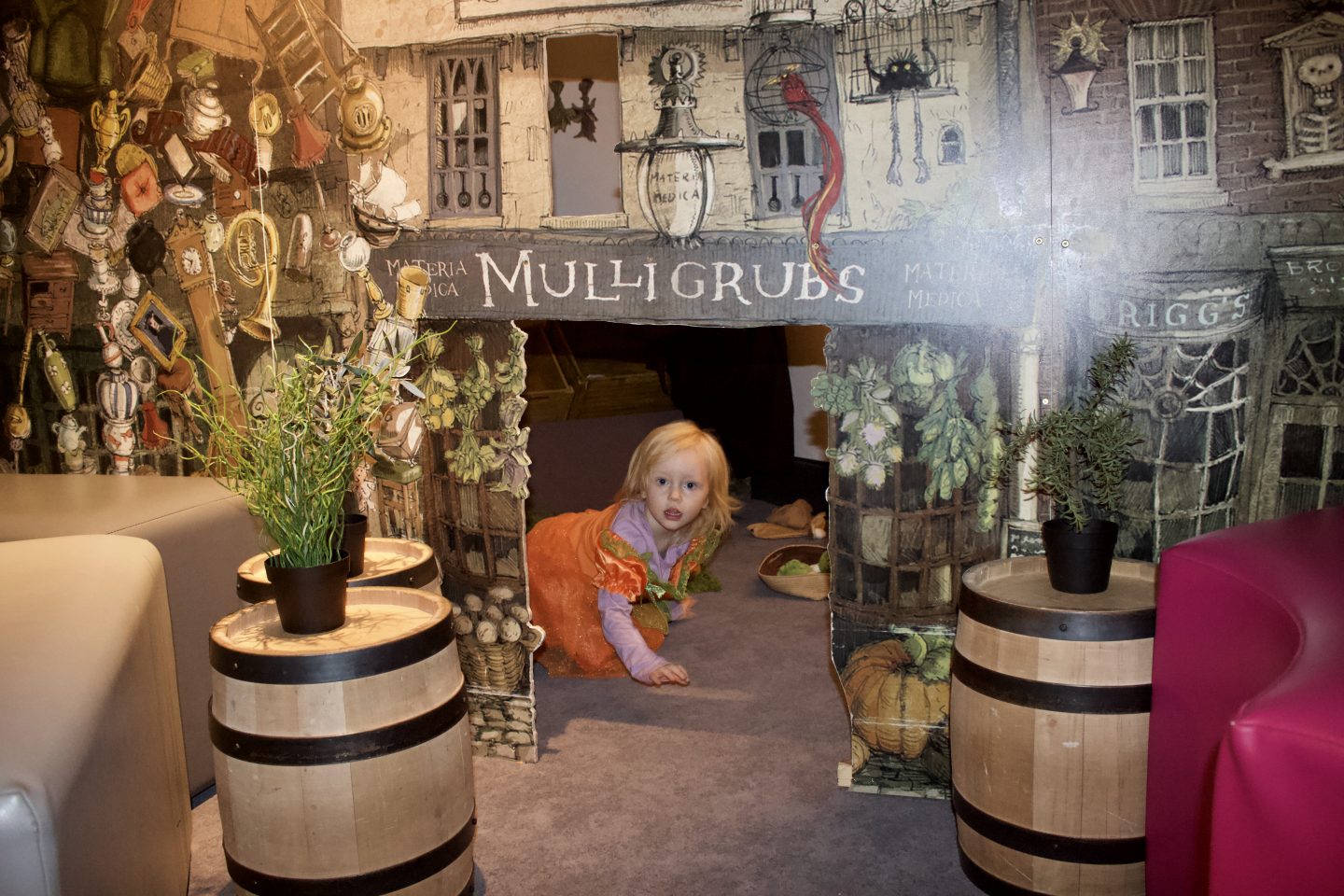 We arrived at Seven Stories at 2pm and headed straight up to the attic on floor 7. I love the attic at Seven Stories. We are big Harry Potter fans so love the Diagon Alley theme, they have dress up Harry Potter clothes and a little shop too. There are big wooden beams on the ceiling from which twinkling fairy lights are draped, creating a magical yet cosy ambience.
I was chuffed to see that they had another dress up area at the back of the attic with a poster from the Curious Festival that encouraged kids to dress up in clothes that 'smashed gender stereotypes'. And that's exactly the kind of venue you get from using the Fantastic for Families website, my kind of venue – one for the future.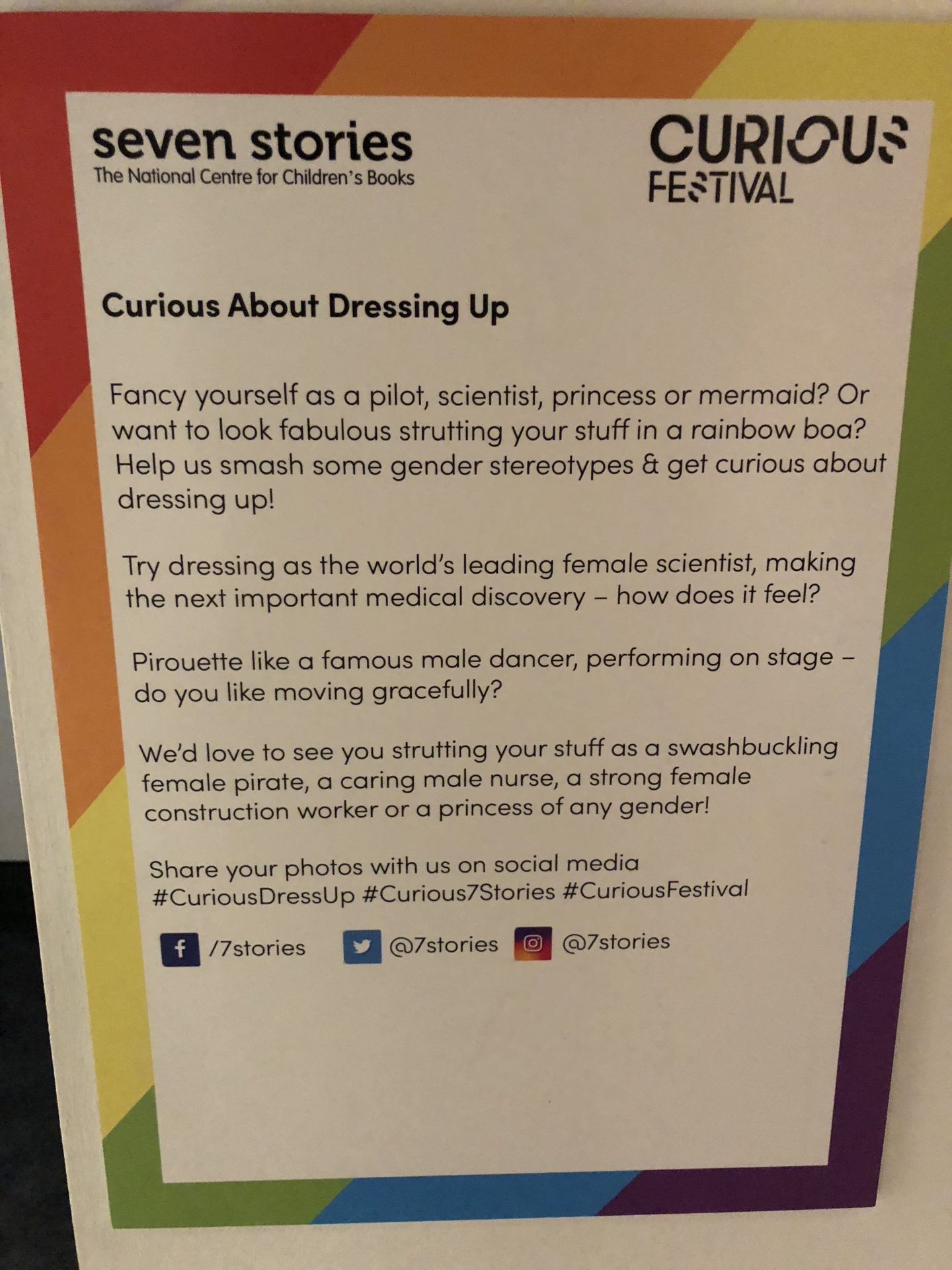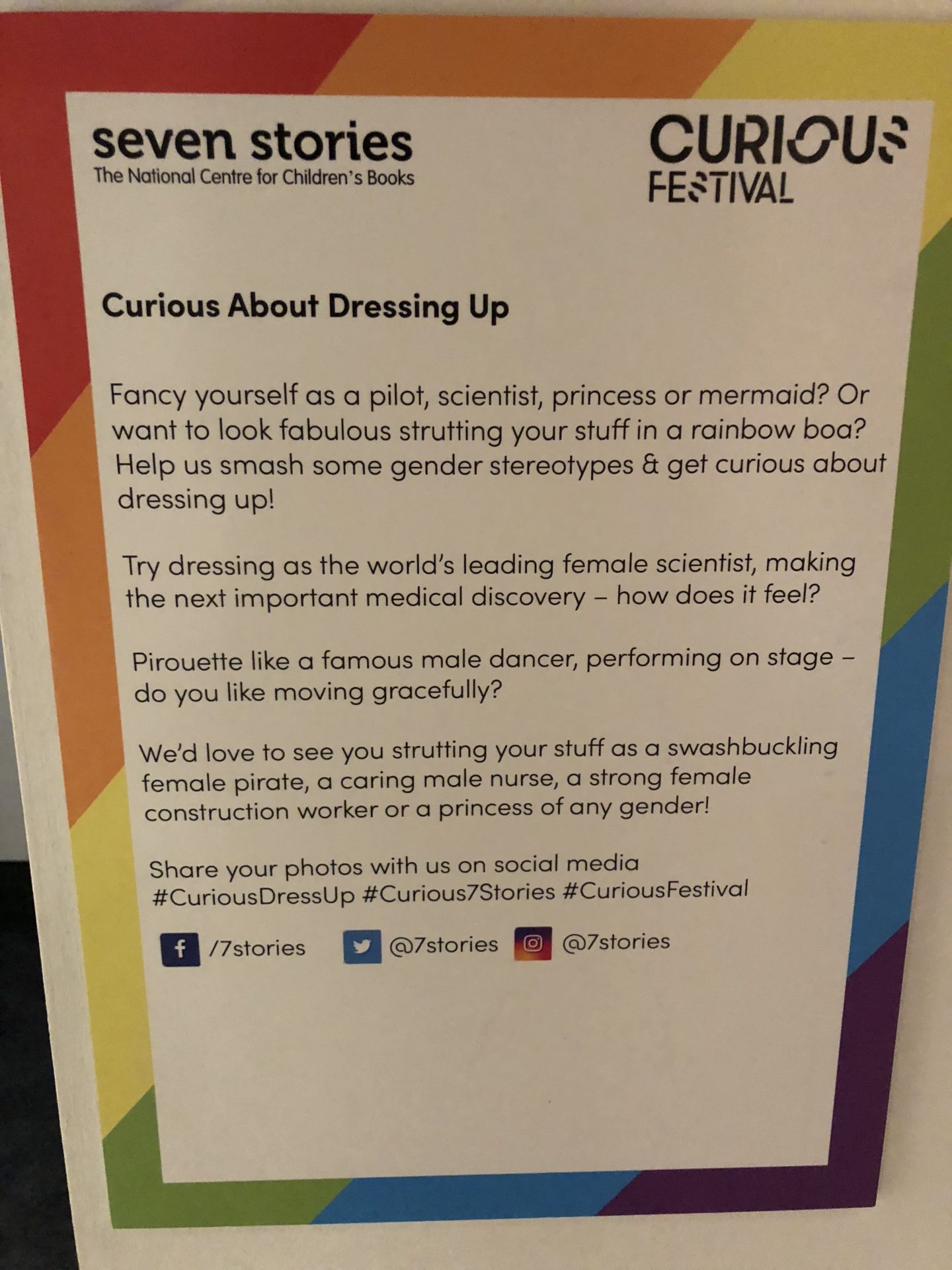 I'm Not Scared Dance Party activities
I didn't know what to expect from the event but imagined it would largely be the kids dancing to Halloween music. It was much better than that though and structured in a way that kids (and their grown-ups) didn't get bored. The session was ran by an enthusiastic woman who could easily front cbeebies or be an actress, she was fantastic. I'm disappointed I didn't get her name as she was fab.
All the children gathered around on stools and rainbow pillows on the floor. After introducing the session, the woman read the children a cute and engaging story called 'I want to be in a scary story' by Sean Taylor, illustrated by Jean Jullien. She got the group involved throughout making noises and acting parts out. Both my children were engrossed and a man sat next to us was thoroughly enthralled! I've never seen a grown up visibly enjoy a session as much as he did, good on him!
After the story she got everyone up and we played a light hearted game of musical statues to 'Monster Mash'. Literally every grown up did the same kind of swaying dancing which made me chuckle.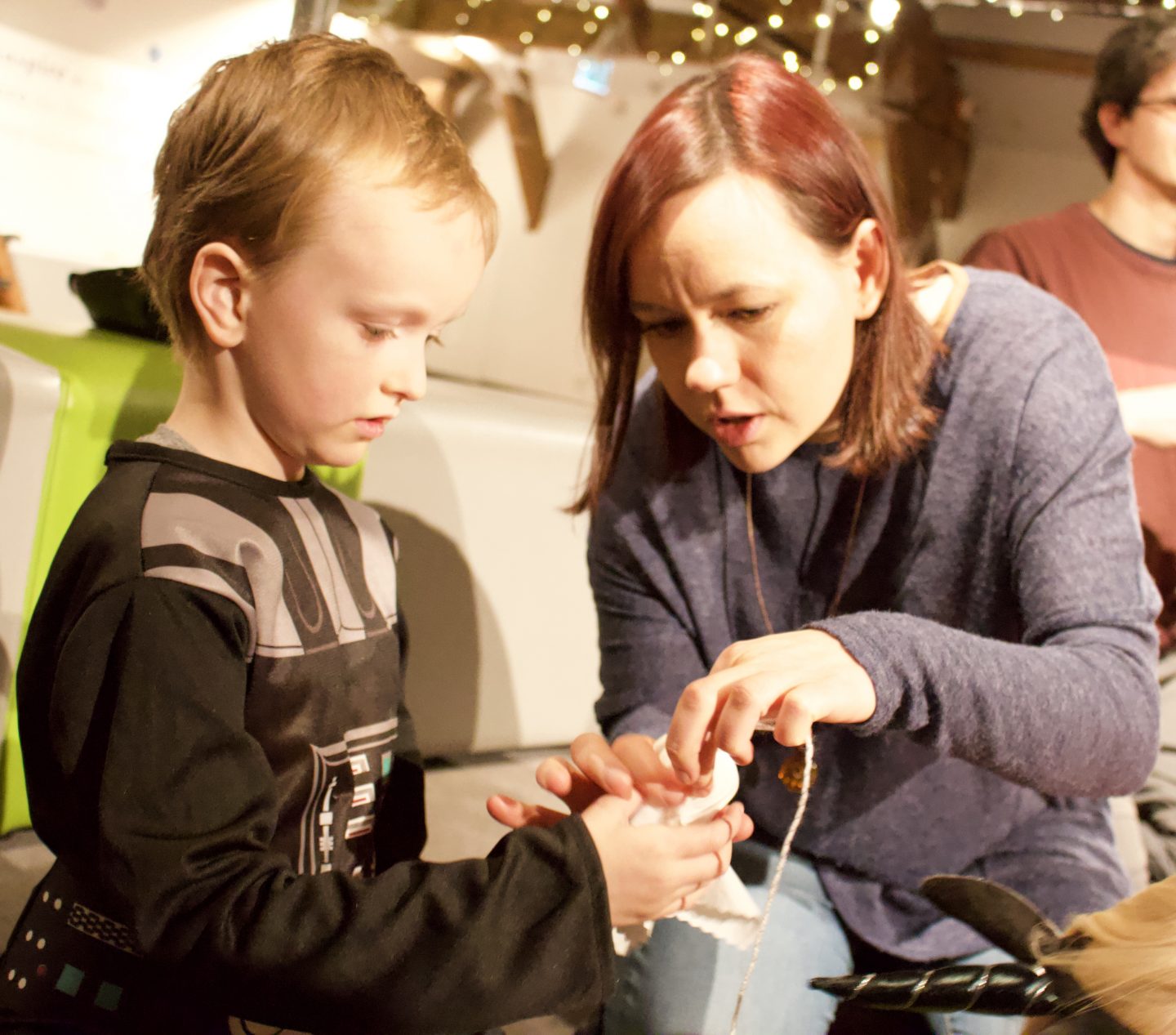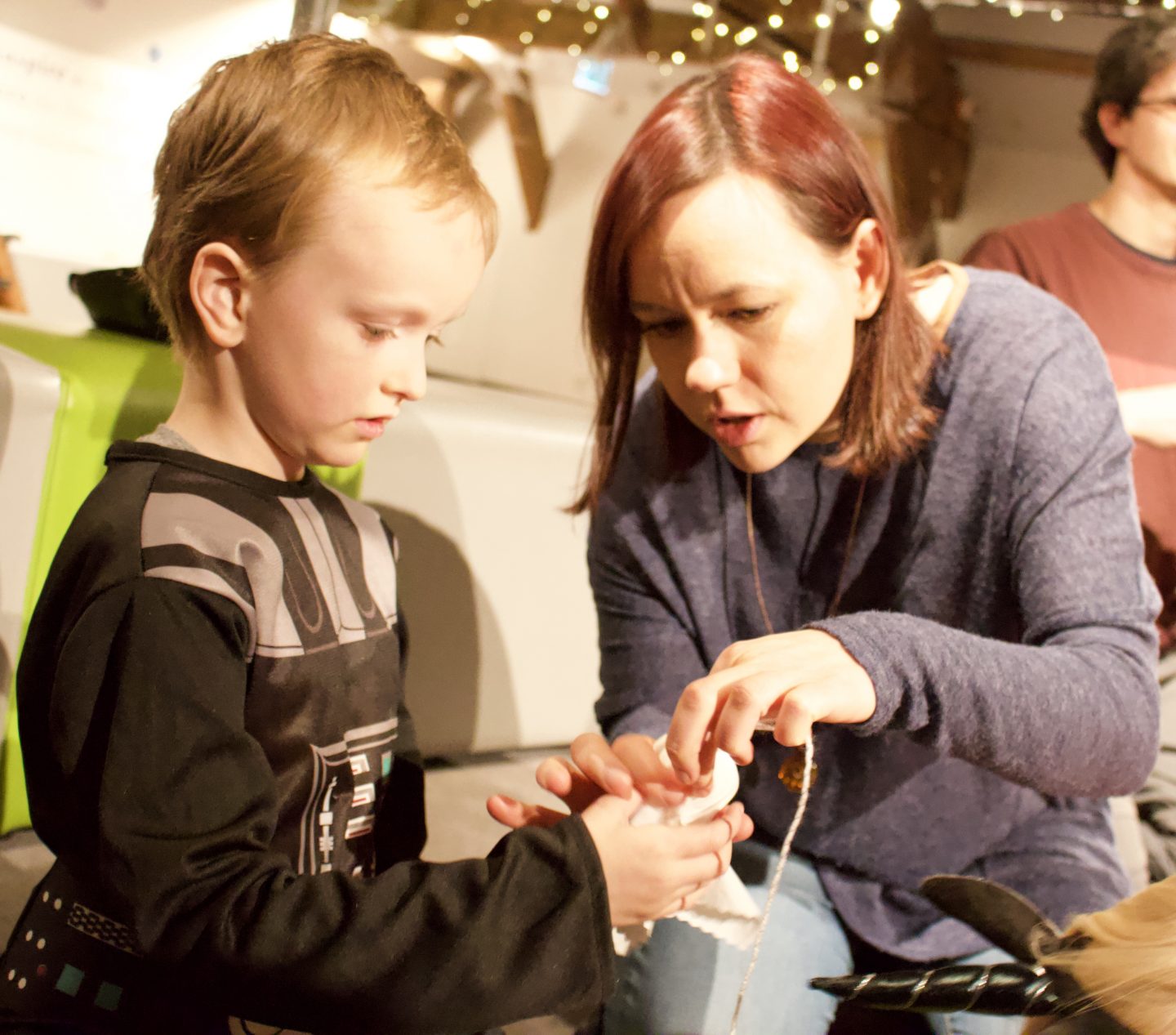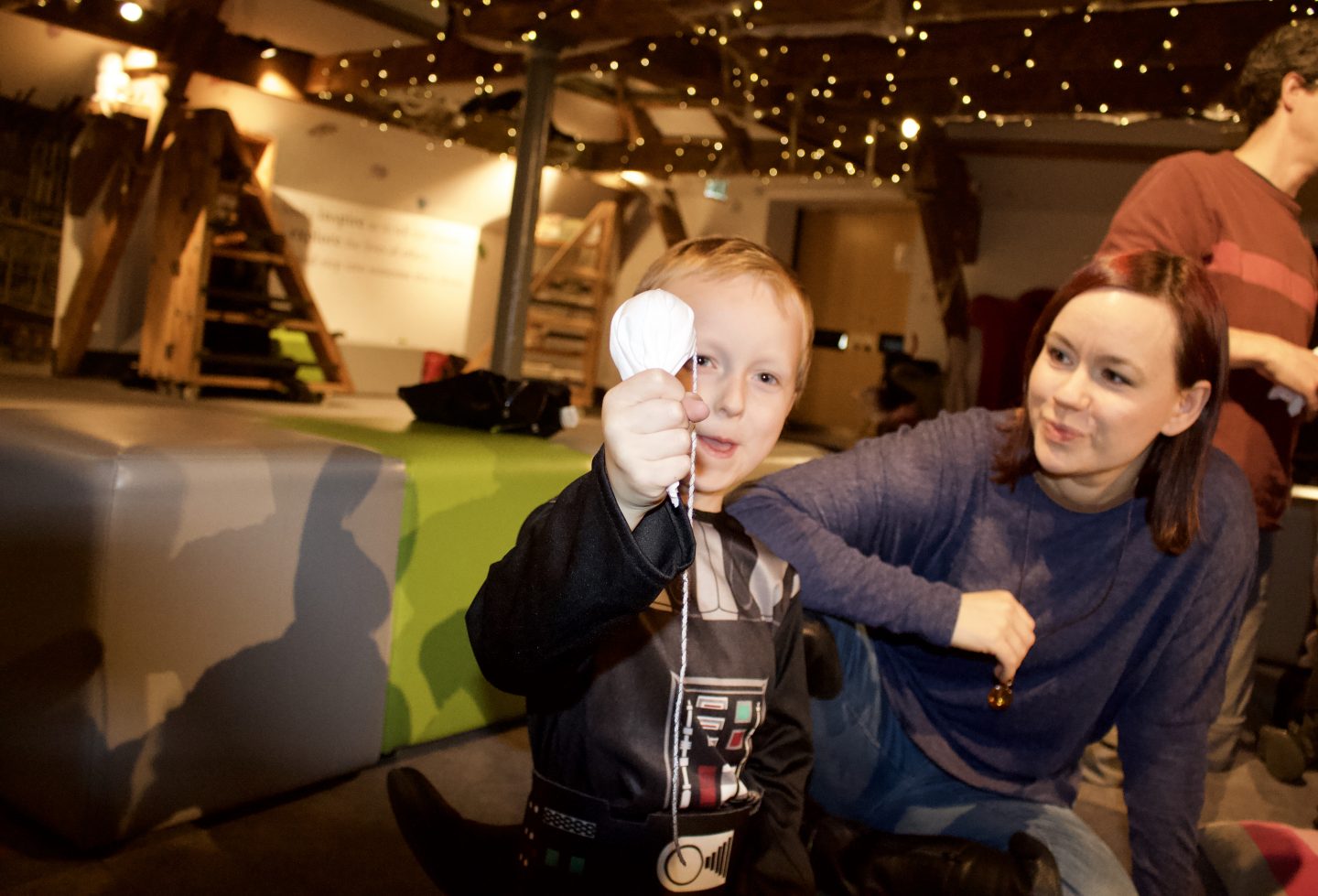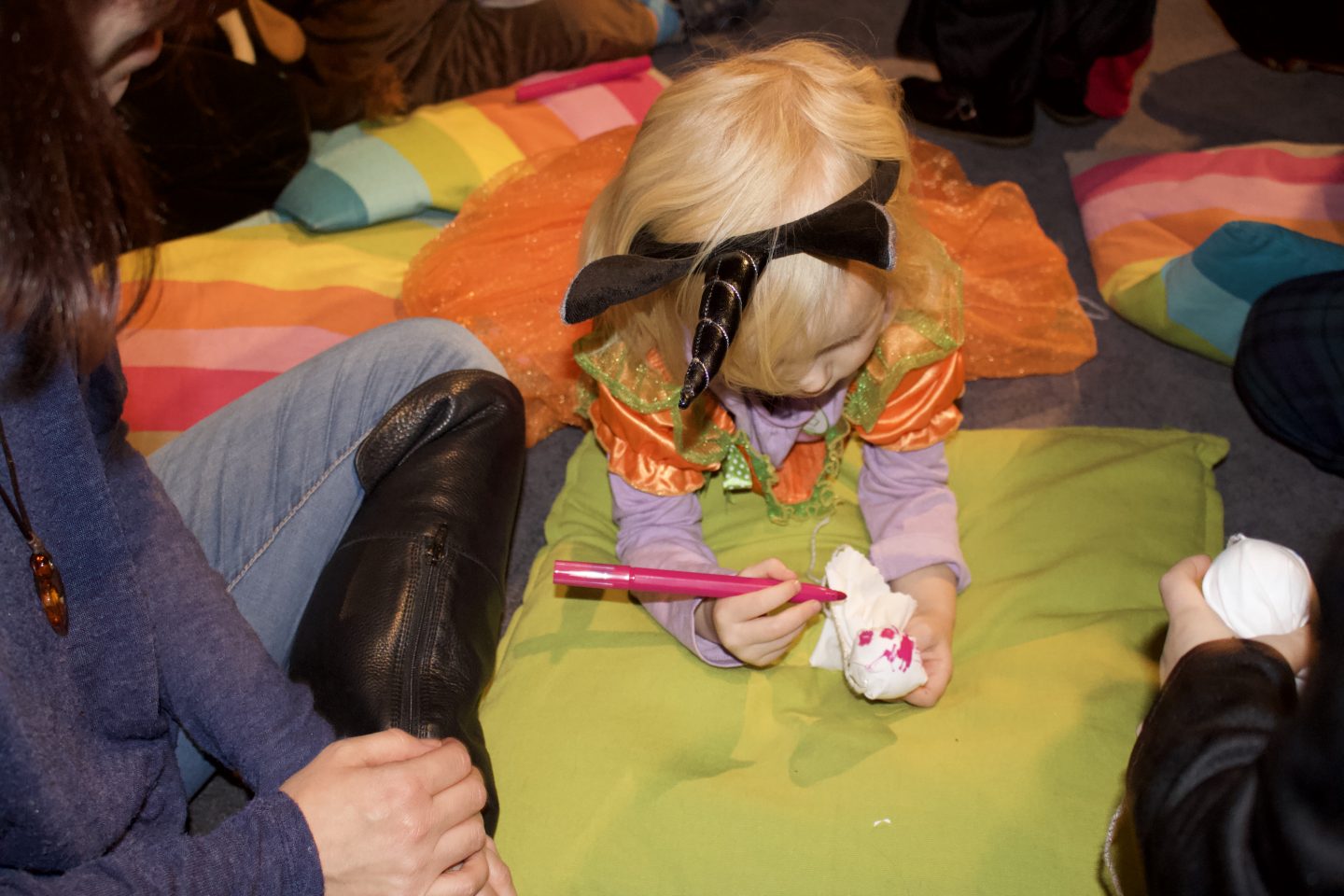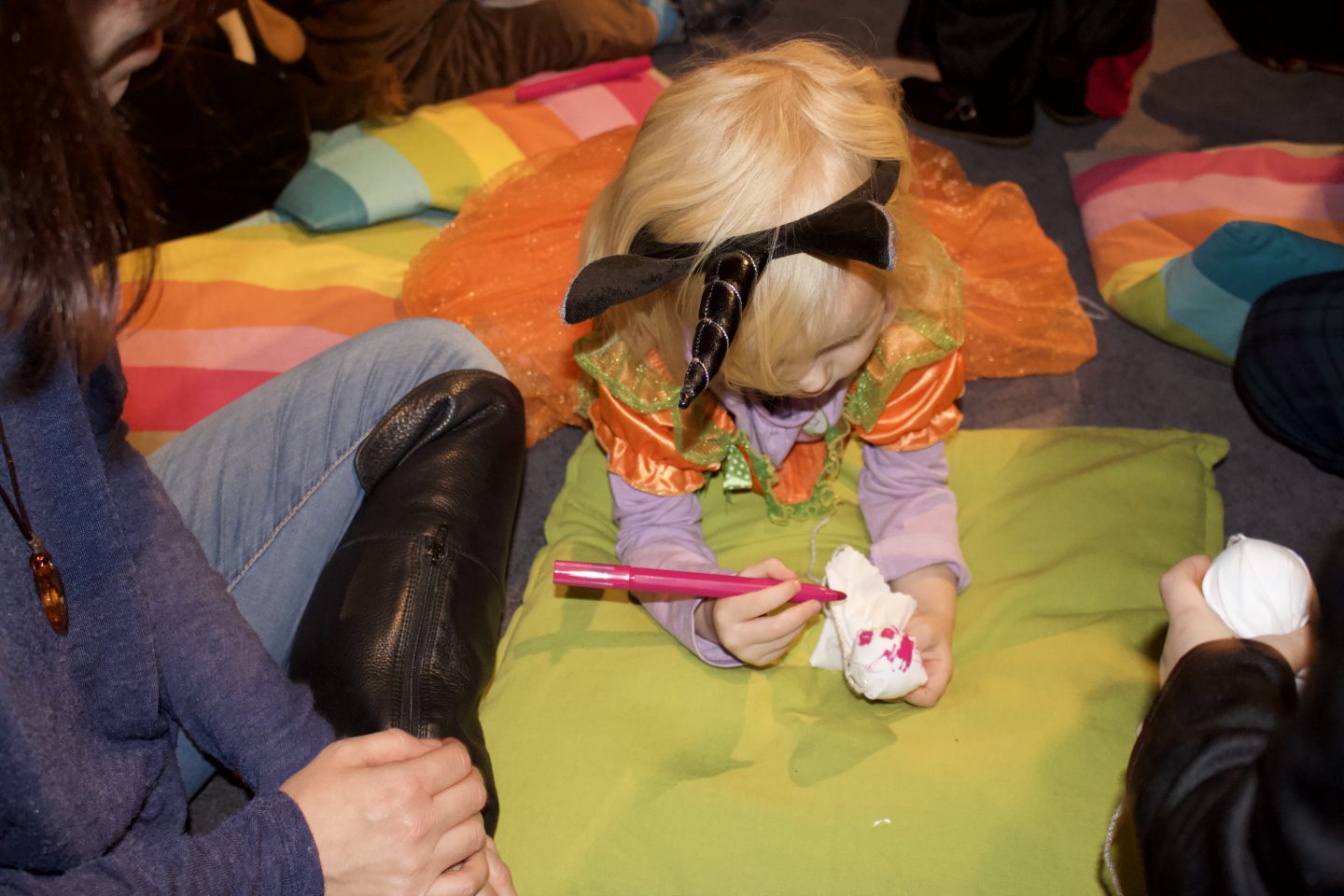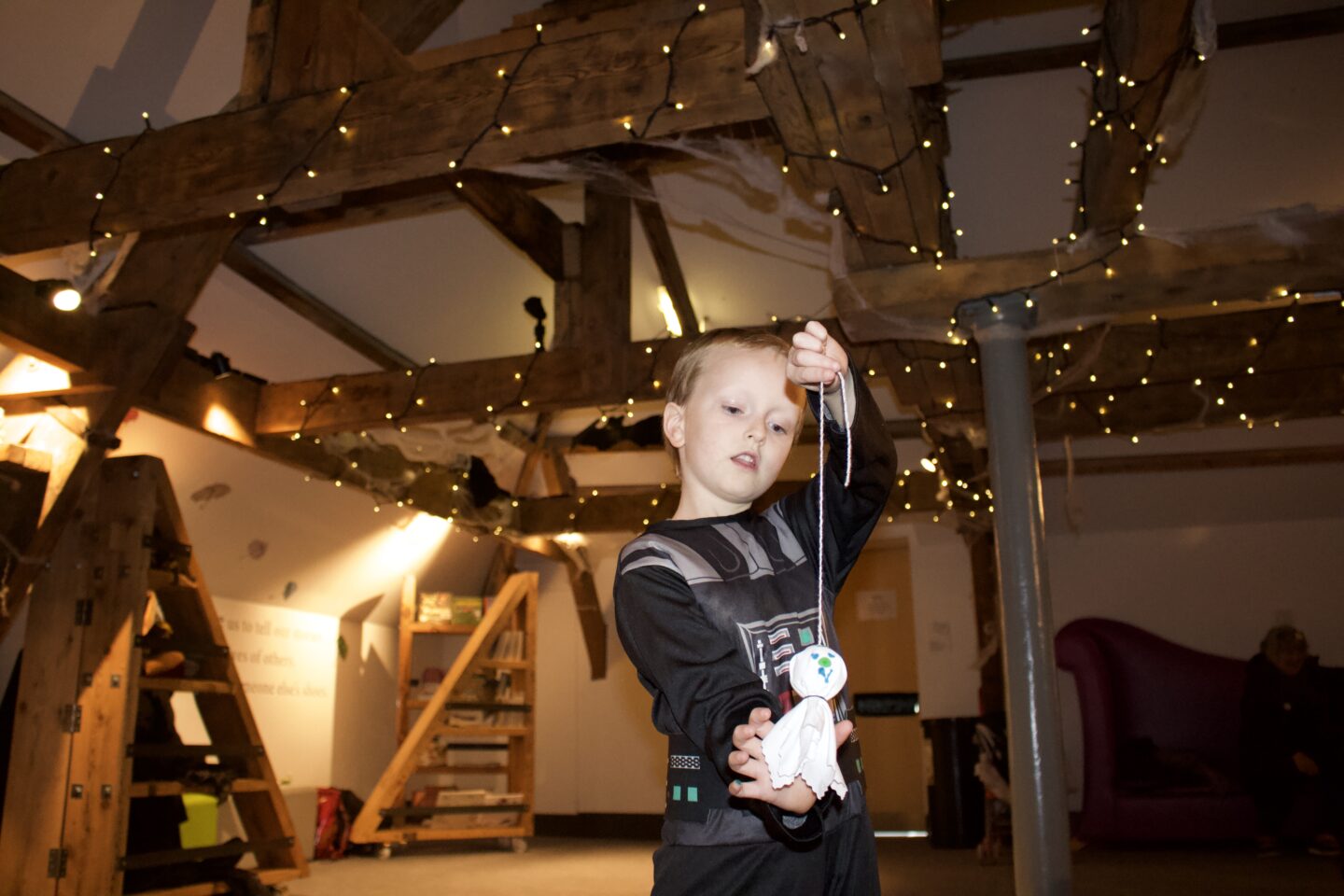 After musical statues we all made some spooky ghosts. The materials were pre-cut so the kids didn't become frustrated. They were each given a square of white fabric that had a piece of string threaded through it, a polystyrene ball and an elastic band. They needed a little grown up help but not much, then they got to draw a face on their ghost. Both mine enjoyed this activity and are still playing with their ghosts a few days later. It was such a simple Halloween craft that I think I might write a blog post about it – and I'm the least crafty person you could meet.
After making the ghosts we got up to do some dancing to Halloween songs again. We played musical bumps and the song choices were perfect. We all had great fun doing the conga and running around the attic. The session ended with everyone falling around laughing from the conga line that had turned into some kind of airplane conga mish mash. My son got the giggles so hard he got the hiccups, great job Seven Stories.
What we thought of it
I had expected my 3 year old to get most out of the session and my 6 year old to be on the cusp of being too old for it. If anything though, my 6 year old enjoyed it the most. He got really involved in each activity and I loved watching him laugh and dance and run around. He's a very shy boy and I think the smaller group size with younger children, combined with the intimate venue of the attic enabled him to come out of his shell and get involved more. As adults we found the session quick, enjoyable, well organised, well ran and good value for money.
Summary
All in all, I'm really pleased we went to the I'm not Scared Dance Party at Seven Stories. If you think it looks good for your family too then there is a final party on Halloween itself, Wednesday 31st October at 10:30-11:15am. It's a really cute (and easy) way to celebrate Halloween with your littles. It's another win for the Fantastic for Families website for us. I'll definitely be using it to plan our Christmas activities next!
Disclaimer: Big thanks to Fantastic for Families for working with us again and sponsoring this post. It's always a joy to work with a company whose values so closely align to your own. For more details on my disclosure policy please see my about page.