If you are anything like me, you leave stuff like end of year gifts for teachers to the last-minute. It's not long until school breaks for summer and I'm only just thinking about what I should do for gifts for teachers. If I'm entirely honest, I question whether getting gifts for teachers is something I even think I should do. There is enough pressure on parents as it is these days, without adding presents for teachers to it. However, it is becoming the 'done thing' so I asked some of my fellow bloggers for their best ideas for end of the year gifts for teachers. Here is what they said…
End of term gifts for teachers
Vouchers for teachers
This is such an easy idea and one that most people enjoy receiving – gift vouchers for teachers. I personally think you can't go wrong with Amazon vouchers (affiliate link) – almost everyone uses Amazon and you can get pretty much everything there.
'A One4All Gift Card is a fab thank you present to give teachers as it takes the stress out of worrying whether your kind gesture would be well received thanks to being able to use in multiple stores, restaurants, hotels and attractions.' This Womans Word
'Starbucks (or other coffee shop) vouchers. Not everyone drinks wine/gin etc. I'm a teacher and this is what I give (and like to receive).' 
Boozey gifts for teachers
This is a good one. Some people might frown on giving a primary school teacher alcohol but all my teacher friends love getting booze. I always have bottles of booze in my cupboard so I can always bring one out, write a note and jobs a good un.
'Wine (affiliate link) or other alcohol with a note saying 'My child may be the reason that you drink so enjoy this wine' Katy Kicker
'A massive bottle of gin?!' (affiliate link). Christ knows I'd need one!!
Thoughtful gifts for teachers
I admire these people but because I'm so busy/last-minute this unfortunately is rarely me. I'm a day before Amazon Prime (affiliate link) kinda gal. If you are thoughtful, these guys have some nice ideas for end of year gifts for teachers.
'I get a gift bag and fill it with a beach towel (just a cheapy!), trashy magazine, bag of Haribo and a can of cocktail, with a note telling them to relax and enjoy the peace!'
'Lush gift boxes. They usually give cute apple tags specifically for teachers. Who doesn't love Lush like?!' Twinderelmo
'I don't buy gifts but send a nice email to the head thanking the kids' teachers personally. It's always well received.' I really love this idea from North East Family Fun.
'We always get a little shop brought gift which varies depending on the teacher. But my son always makes his teachers a card himself, hand drawn and written with a note inside saying why he was saying thank you (always his own words) and then I stuck a little picture at the bottom of him. Teachers always comment on how sweet it is and lovely that he made it and wrote the words himself.' By Tantrums to Smiles
'Last year we gave the teachers a box of Krispy Kreme, it seemed to be a hit.' Yum! Mums the Nerd
'I try to get some inside info from my son about what they like i.e. this year his TA loves the London Underground so I've got her a little book called The Tube and his teacher apparently likes unicorns so I got her a little string bracelet with a unicorn on it!'
'Some nice personalised plaques with a quote relating to that teacher.'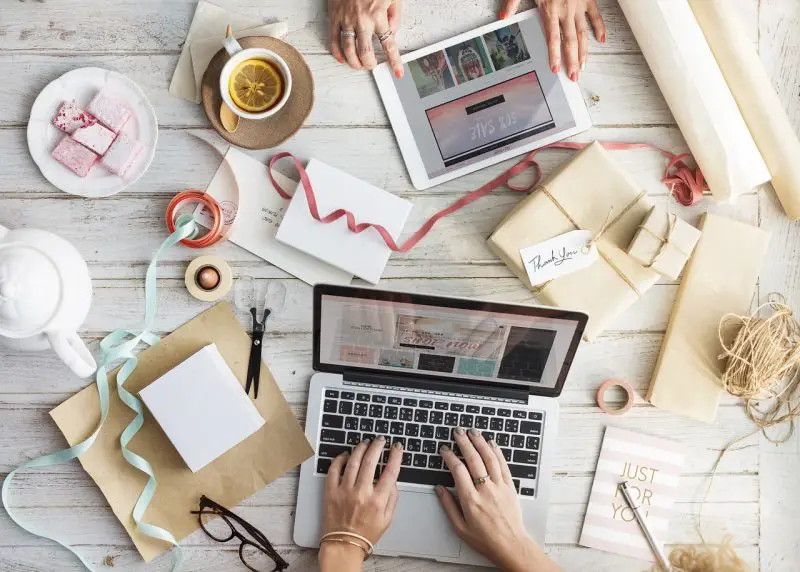 Coordinate your presents for teachers
I bet teachers really like coordinated gifts, they'll get something much more expensive instead of tonnes of chocolate and tat. A great idea, as long as I'm not the one who has to organise it!
'I heard recently of one parent co-ordinating the present from the whole class so the teacher got one gift voucher as opposed to lots of little gifts.' 
'I recently reviewed a Bakerdays letterbox cake which was lovely. Or get a few parents to club together and buy a spa voucher or afternoon tea.' From Cup of Toast
'We club together to buy the teachers a voucher for our local shopping centre. We put a fiver in each (or what ever you feel you can give) and then split the total between the teacher and teaching assistant. It's much cheaper than having to buy individual gifts, especially if you have more than one child in the school, and means the teacher doesn't get 20 boxes of chocolate and 10 best teacher mugs! Most of the year groups in our school do this and it works really well. I also get my kids to do a handmade thank you card.' Cardiff Mummy Says
'Club together with other mums to get a spa or beauty voucher. So they can properly relax finally!!' Two Hearts One Roof
Homemade end of term gifts for teachers
I feel the same about homemade gifts as I do about the thoughtful ones. These are the best but I've accepted that I'm never going to be one of these lovely people. I'm a last minute lass at best.
'A plant with the pot decorated by your child. Or some homemade fudge at Christmas.' Pink Pear Bear
'We made some jam after a pick your own strawberries session and the children decorated all the labels.' 
'Kilner jar (affiliate link) and fill it with loads of different sweets. Tie with a ribbon and a note.' Mummy in a Tutu
'This year we made flower pots using Yankee Candle Melts (affiliate link) as the flowers.'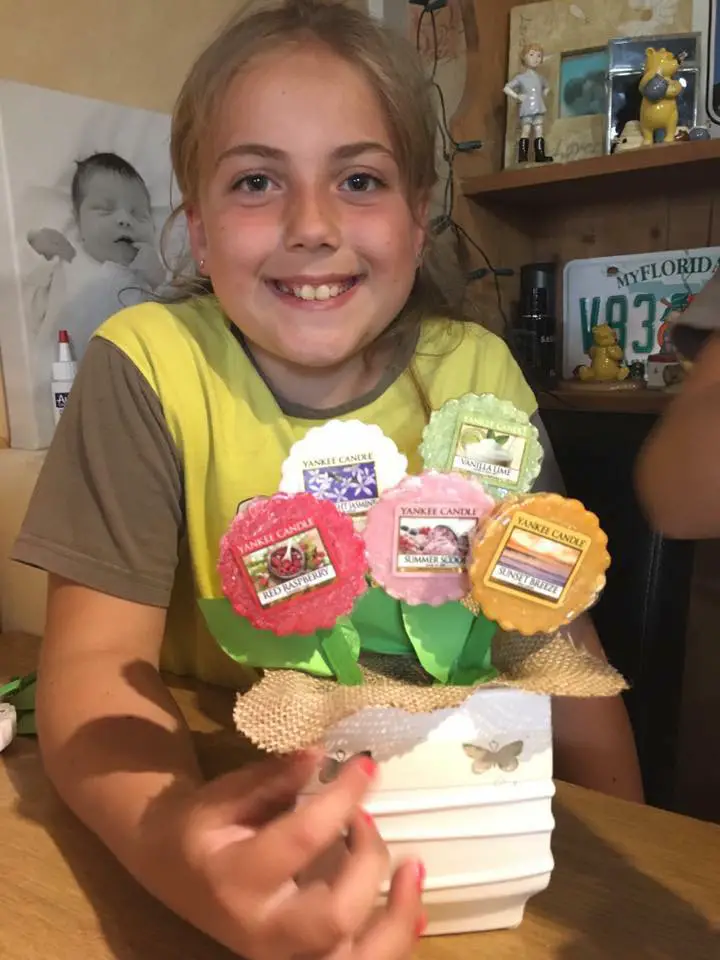 Charity presents for teachers
'The gifts that are favourite among my kids' teachers have always been the charity ones. Like oxfam unwrapped/UNICEF etc. We try to pick educational ones and are really great when buying for infant classes where there are many teachers as you only need one between them all. I've had teachers commenting about them years later!'
Harry Potter teacher gifts uk
If you follow this blog closely you'll know I'm a huge Potterhead and I know Arlo's teacher loves Harry Potter too so this year I'm going to get this Harry Potter cup (affiliate link), with a thank you note and I'll send an email to the headteacher praising her too.
Thank you to all the bloggers who contributed to this post and helped me make my indecisive mind up!
Do you get end of year gifts for teachers? What do you do? Leave me a comment and let me know.
If you liked this post you might also like:
If you have enjoyed this post or found it useful, here are some quick and easy ways that you can support Nomipalony or say thanks:
Share this post with your friends  
Pop over to my Amazon Storefront to see what products I have been buying and loving from there recently, including my health and fitness products list.
Sign up to my mailing list 
Women can join my feminist Facebook group – the Nomipalony Freehouse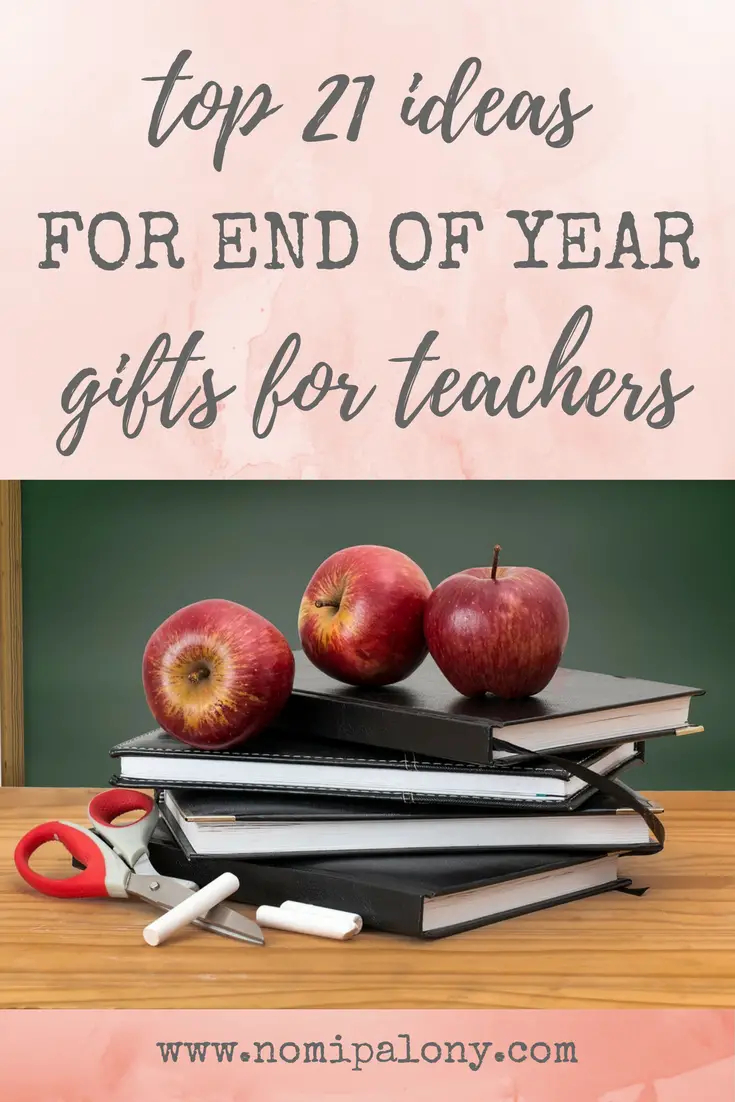 Disclaimer: This post is a sponsored post and contains Amazon affiliate links. If you purchase the item you won't pay anymore but I will receive a small proportion of the sale for referring you. This helps me to keep my site going. Thank you. For my full disclosure policy please see my about page.