Having a child about to start primary school can be daunting (you can read about how daunting I found it last year here) and it seems no one bothers to tell you what you need to do or how best to prepare practically. We have just finished our first year of reception class so I thought I would write my top tips down in case any of you are as clueless as I was.
If you want to read some of my other posts about having a child in school then see my bumper round up post – my child at school.
Top 10 tips for parents with a child about to start school
You don't have to buy the school uniforms with the logo on. In fact, I would recommend that you don't. Just buy the cheap supermarket uniforms instead. Last year we bought a few supermarket jumpers and a few official school versions. Our Asda jumpers were a fraction of the cost of the official school jumper and have actually worn way better.
Buying cheap stuff actually applies to anything they take to school, they can lose a lot of stuff. The other week Arlo lost his sunglasses and his good school coat in one week. The more you spend, the more disappointed you will be if/when that happens.
Buy enough uniforms for one outfit a day if you can afford to. You will inevitably find yourself scrambling around in the washing basket one day when you've ran out without realising. This will help! If you just buy the supermarket ones you can get more sets cheaper. My son's clothes come home in an unimaginable state (whoever thought up white t-shirts for uniforms was not a parent) so he needs a full fresh uniform daily.
Buy uniforms that are easy for them to put on and take off themselves. Arlo is still rubbish with buttons so the pull up elasticated trousers are much easier for him when he's in a rush going to the toilet and cause fewer accidents. They are still so little when they start reception – they have their whole lives to master buttons, there is no rush.
For the love of god don't buy socks or pants with days of the week or anything that requires 'matching' like Papa Ginge did. It's a pain in the arse to be searching for the 'Wednesday' underpants on a morning when you could just be pulling out any pair. Same with trying to find the other sock with blue on its sole. Just get all black socks and all the same underpants. Unless you have multiple children in uniform and then some colour coding so you know whose is whose is helpful.
Buy an all day sun cream. In our school they don't apply sun cream for the kids and my kid is nowhere near doing a good job at applying it himself yet. I apply Calypso Once a Day for kids (affiliate link) liberally on a morning and so far so good, no burning at all (and he's very fair).
Do buy good shoes, they are in them all day and their feet are still developing. Arlo's Clarks ones have lasted really well and he plays rough. The one area I never cheap out on for me or the kids are shoes. It's so important for your whole body and comfort to have well made shoes.
Do label everything! If you get a set of stickers made this will make that job much easier too. We just used a fabric pen but it was a bit annoying to do. I've heard stamptastic (affiliate link) is great but it isn't cheap.
While you are at it make an itinerary of how many of each item of clothing you have and what sizes they are. This means you know if you need to go and have a look through the school lost property bins. The teachers rarely realise they've lost something and at our school they don't sort through the lost property bin and hand items back to parents despite the clothes being labeled.
Get head lice stuff in just in case. We just got our first case of head lice one week before the end of Arlo's first year at primary school. Unfortunately, we noticed on an evening and we were entirely unprepared. If I could go back in time I would have tea tree essential oil (affiliate link) mixed with a bottle of water in a spray bottle and I'd give his hair a spritz each morning. This is what I'll be doing when he returns to school. I'd also have a nitty gritty comb (affiliate link). This was the only thing that got rid of them for us. I can't tell you enough how much better it is than the usual old school white nitty combs. Being prepared means if you do notice them, you can deal with it immediately and not have a last-minute scramble to get to the shops while you are riving your head off and freaking the F out.
There are many advantages to having a child in school and that's coming in a post very soon so if you haven't followed me on my social media below, please do now so you don't miss it.
Hopefully these tips will help you – good luck!
If you liked this post you might also like:
See this post from my blogging friend Sarah for 10 questions to ask when choosing a primary school.
If you have enjoyed this post or found it useful, here are some quick and easy ways that you can support Nomipalony or say thanks: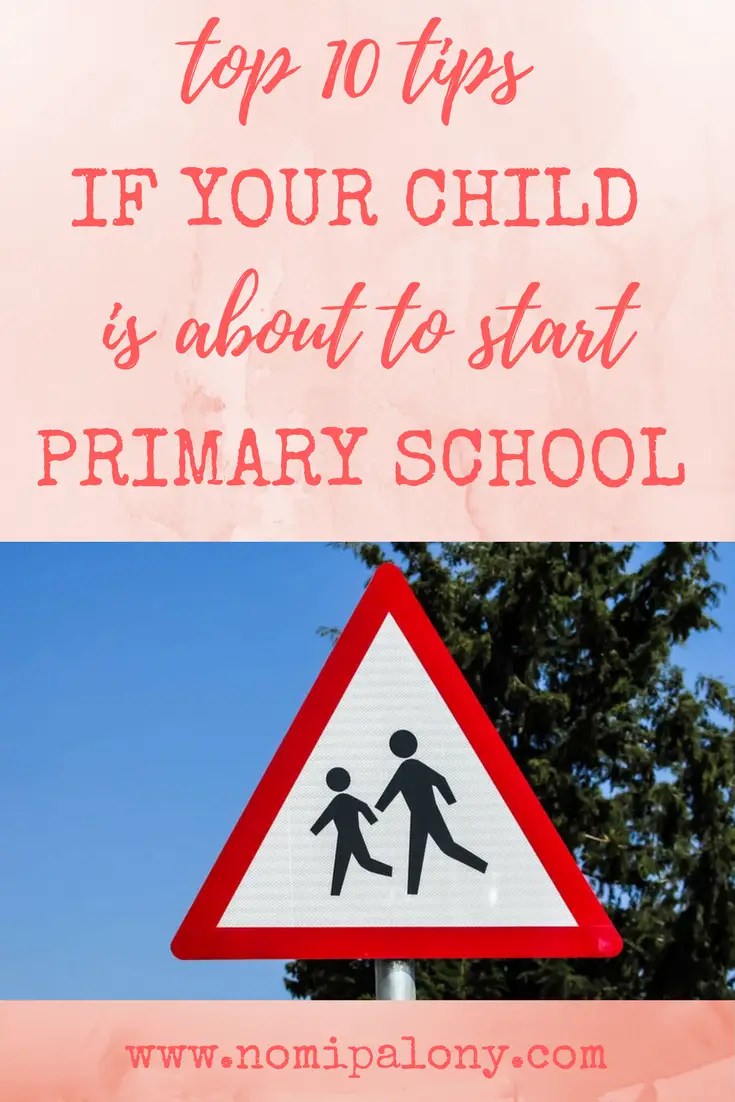 Disclaimer: This post contains affiliate links. If you choose to buy an item through an affiliate link it makes absolutely no difference to the price you pay but I will receive a small percentage of the sale for referring you. You can read more about my disclosure policy on my about page.