Prior to becoming a mam I used to sacrifice holidays abroad for going to festivals each summer. I could only afford one not both and I've always adored festivals. They are my happy place. I've been to so many over the years: Glastonbury, Leeds, T in the Park, Field Day, All Points East Fest, Wireless and many more. I had tickets to both Glastonbury and Electric Picnic the year I found out I was pregnant with my first child and had to cancel as it was peak morning sickness time for me and I couldn't hack it.
Queue two pregnancies, two babies, and 6 years of breastfeeding and the last time I camped at a festival was 2010. We were meant to go to Festival on the Wall last year but unfortunately it got cancelled due to planning permission problems. Now my youngest is a bit older I vowed that this year would be the year I got back into my festival stride – both with and without the kids. In June I headed down to Victoria Park in London to see the National and Future Islands headline All Points East which was awesome.
A funny thing happened though, despite having the best time with my best friend Laura, as the sun was setting and I saw parents with their little ones playing in the golden sunlight, I pined to have my own children with me. This was a bizarre response from a tired mother who had the day 'off' but it felt like something was missing not experiencing it with my family.
It's paradoxical as you want to let your hair down at a festival and be free. That's kind of the whole point of it. But at 34, I don't go as wild as I once did and think I'm perhaps ready to sacrifice some of the relaxation for the shared memories I'll make with my kids. I want them to experience this stuff young and grow up with an appreciation for live music. I want them to listen to great music and eventually school me on the great new bands.
So I took to looking for our perfect first family camping music festival. I wanted a festival that wasn't  a huge drive for us as my littlest hates being trapped in a car seat (she's a free spirit like her mam). Ideally, a festival that wasn't overwhelmingly big with too much walking – both around the site and for pitching up (it's hard enough carrying your gear for ages to the campsite without two young kids, let alone with them).
I also wanted the festival to have a kids zone or great line up of activities for kids, but I wanted some stellar bands on the line up. I've found a lot of festivals pitched at families quite frankly have really shit bands on and I'm not down for that. Or alternatively, they have wall to wall bands but little for kids.
Electric Fields set deep within the stunning forests of Dumfries & Galloway ticked all my boxes and appears to strike the perfect family friendly balance. We are booked to go and I couldn't be more excited. I'm practically bouncing off the walls and it's not for weeks yet. I've been waiting for this day for 8 years and am over the moon it's finally here and I've found the perfect festival for us.
Reasons why I have chosen Electric Fields as the first music festival I will camp at with my family:
Short travel time
Dunlanrig Castle is a 2 hour 18 minute drive from Newcastle making it a great festival for families from the North East. Not much further than Kendall Calling or Leeds Festival. For those who don't drive it's also accessible by public transport in about 2.5 hours from Newcastle upon Tyne.
If you do drive, Electric Fields are working with charity Energy Revolution to balance your fossil-fuel travel miles to the festival. 100% of your donation will be invested directly into clean renewable energy – helping to tackle the environmental impacts of your journey and turning a problem into a solution. Pretty rad.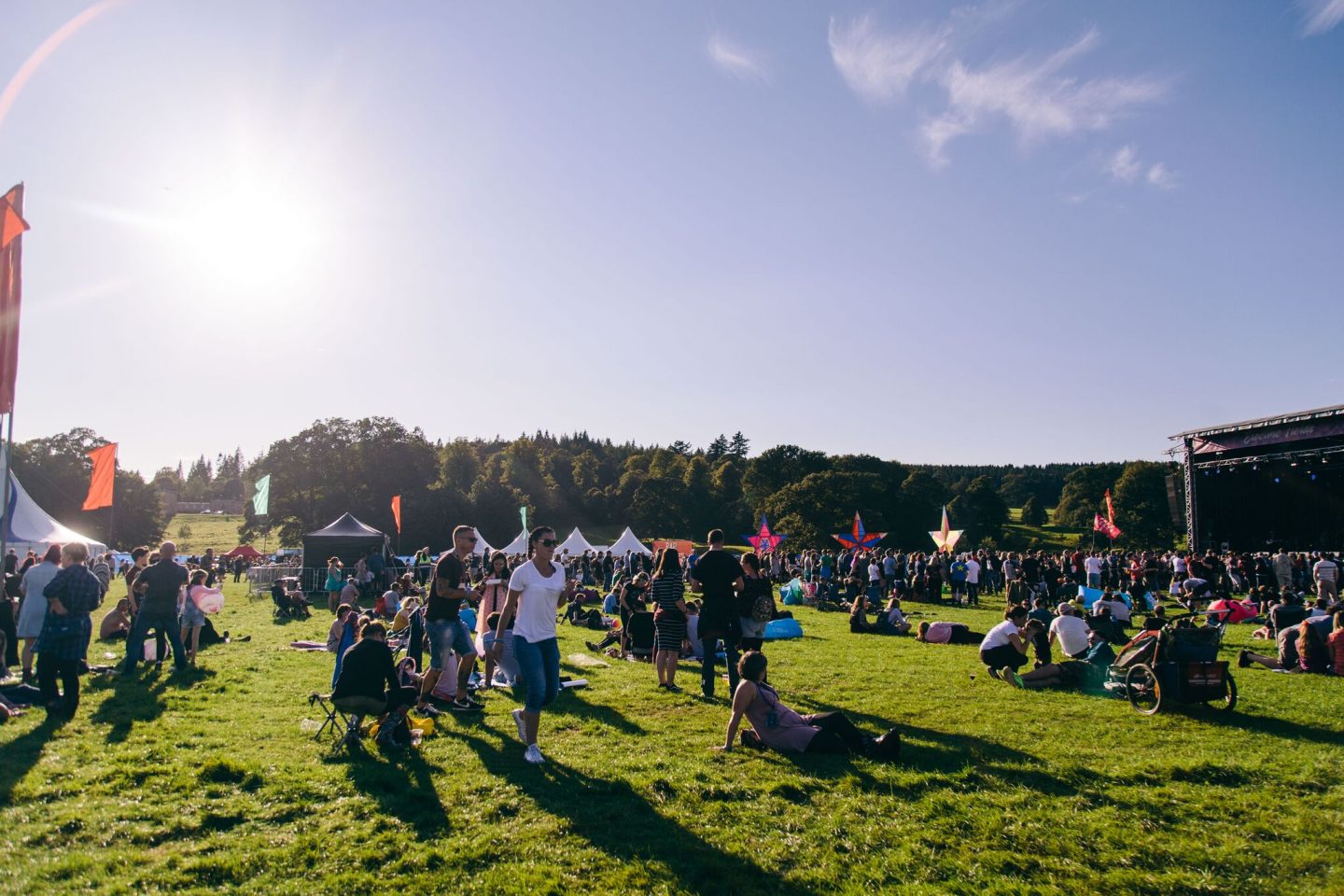 Great bands but not an overwhelming amount
The top bands on my hitlist are: Idles, Young Fathers, Ezra Furman, Ride, Ibibio Sound Machine, Public Service Broadcasting, Idlewild, The Horrors, Ghostpoet. There are loads of great bands though but not an overwhelming amount like Glastonbury where I felt I was missing out if I wasn't at something every second. At Electric Fields there are the bands above that are non-negotiable for me but the rest of the time I'm not going to be resentful about doing kids activities. Don't get me wrong, if they are up for seeing more bands I'm down for that and there are more than enough great bands to go to but I just won't feel stressed about it.
It's small – both in size and attendee numbers
This year is Electric Field's 5th birthday and the festival has gone from strength to strength over previous years. So much so that this year, they have increased capacity from 5,000 to 7,000. Compared to Glastonbury's 180,000 though it's teeny. This is precisely why I chose the festival for our first family camping music festival though. The acts they've got pack a huge punch for the festival's size making it the perfect music festival for us to cut our teeth on as a family. The car park/bus drop off point is just over the road from the camp site, less than two minutes away. There will be people on hand to help you with your bags if your hands are full as well.
Dedicated family camping area
Returning for 2018, Electric Fields has a completely separate field for family camping, it's conveniently located right beside the massive adventure playground and I'm told it's a 5 minute walk from the main arena.
Drumlanrig Castle 
I've been on Drumlanrig Castle's website and in itself it looks like a great place to take your kids for a day out. As a history graduate, you can be damn sure we'll be visiting the 'Pink Palace' which is regarded at one of the finest examples of 17th Century Renaissance architecture in Scotland.
Also, I'm a huge Outlander fan and they filmed some scenes here so I'll be making Papa Ginge re-enact Claire Randall and Jamie Fraser scenes with me (not like that, honestly get your head out the gutter, the children will be there).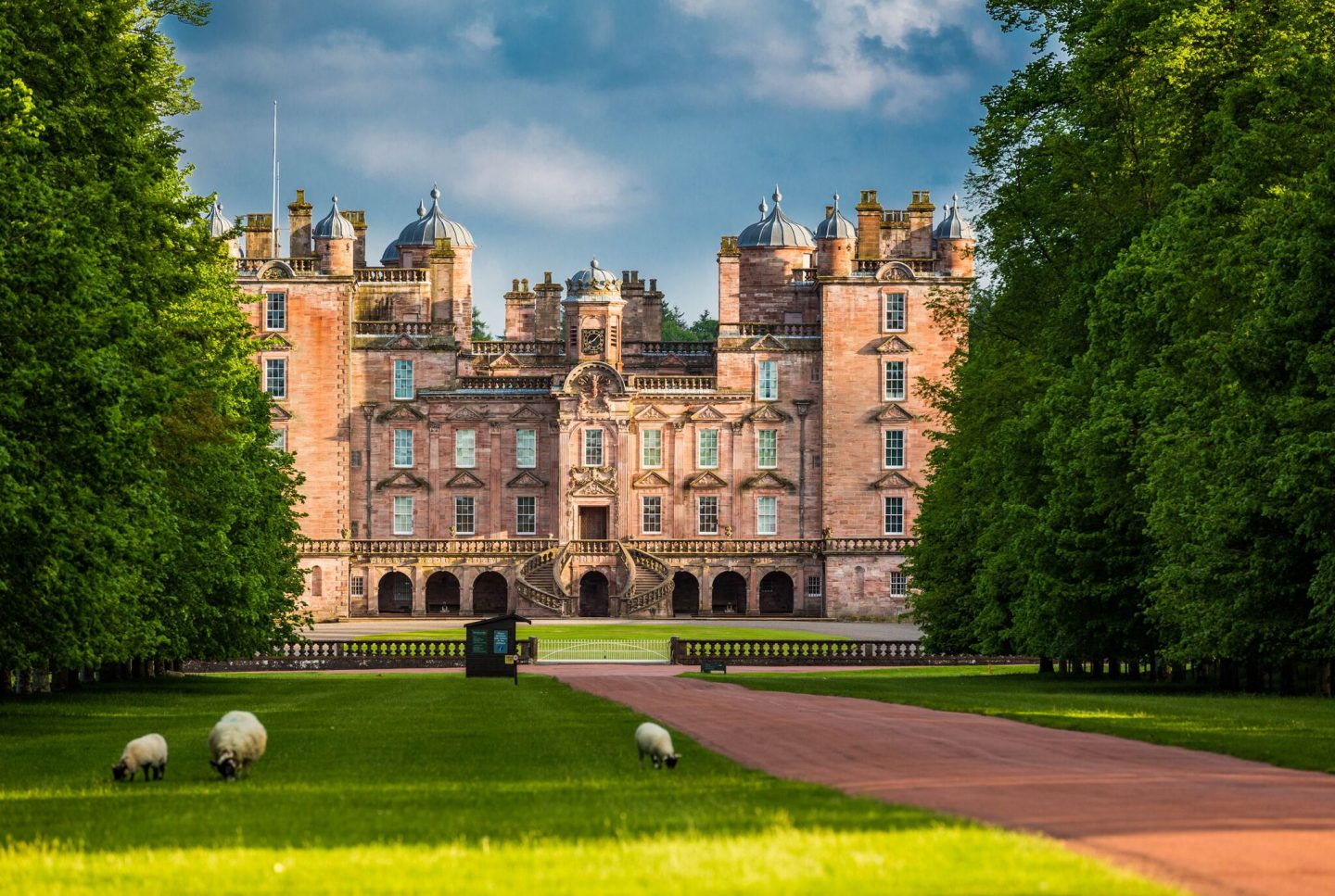 Adventure playground
Drumlanrig Castles's famous adventure playground is FREE to all ticket holders, with aerial swings, climbing frames, zip-wire and loads more. I'm certain that I'm going to struggle to drag my kids away from it.
Special kids area – Our Kids Electric
There is a special kids zone called Our Kids Electric that has SO much on offer for kids throughout the festival, including:
Daffy Dill Magic Shows
Zoo Lab – animal handling experience
Dance workshops
Fairy Bod Mother Fitness Academy
Bumble Bee Sports
Art Workshops
Wee Mousie Drama Workshop – release your little one's inner Di Caprio
Fun With Drumlanrig's Ranger Team–  family fun games with an environmental twist in the castle gardens on Saturday morning, with workshops in the afternoon
The Road Runner Children's Entertainer
Giant Games – play with a range of giant games including Jenga, Connect 4, Archery
Clayworks Studio – pottery and clay making workshops
Graffiti Walls – unleash your kids inner Banksy
Facepainting, Glitter Tattoos, Balloon Modelling and Storytime
More Than a Party Kids Disco's –A series of disco's just for kids will be taking place all day. You can send in requests pre-festival so the kids can rest assured their jam will be playing!
Glasgow Science Centre presents… BodyWorks On Tour – Fitlab Exhibits! This pulse-raising, interdisciplinary experience will let your participants explore endurance, strength, agility, speed and coordination through a range of zoned exhibits.
Major Minor Music Club – this excellent new gig series is put together by true music lovers for younger people to experience music in a true gigging environment!
For the really wee ones, we have private covered areas for baby changing and feeding if needs be.
My plan is to let the children go wild in this area for much of the day and hopefully they will repay me by watching my favourite bands with me. I can naively hope right? If they kick off when Idles or Young Fathers are on I'll be livid! 
Fairground
The website says there is a fairground on site that I know my kids will love. I don't know what's on it but there is definitely a carousel.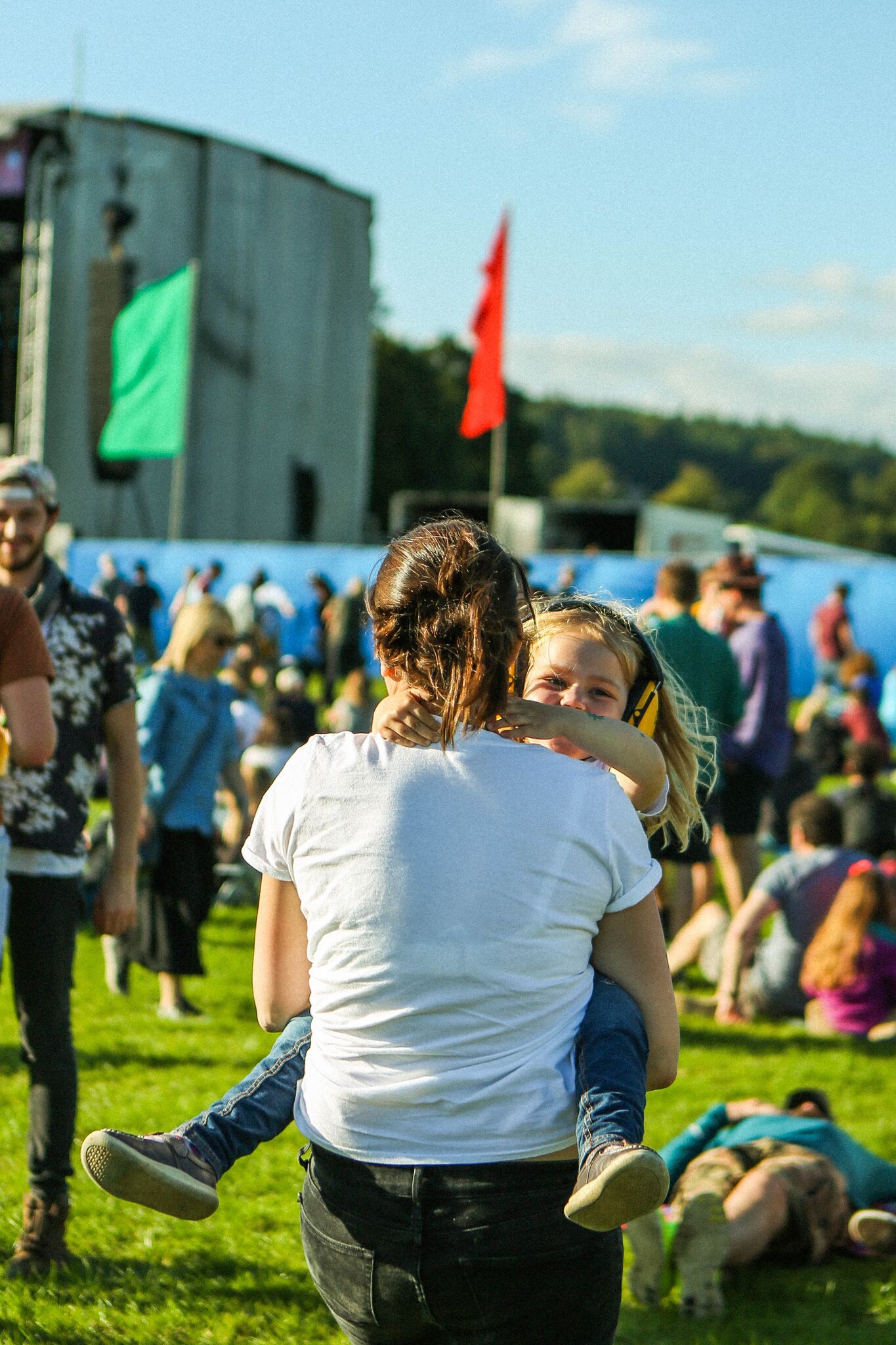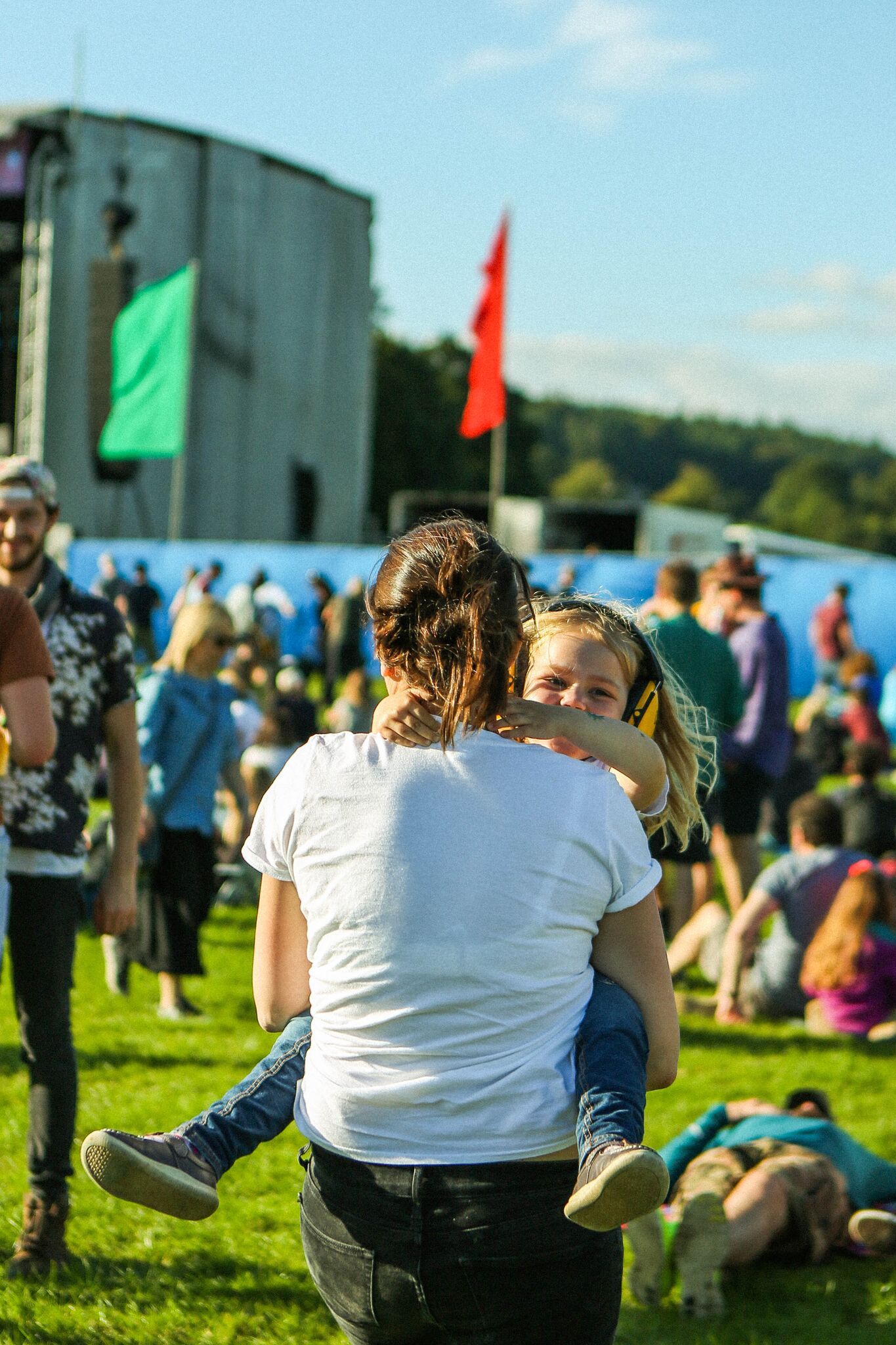 Amazing food with kids portions
Food at the festival is by the notorious Edinburgh street food market 'The Pitt' and the list of vendors attending has my mouth watering just reading it. I'm also pleased to read that after listening to feedback from last year's festival they will now be offering kids sized portions and prices. Festival food can be pricy and you don't want your toddler getting a full portion of a meal, taking a bite and declaring it yakky. This is welcome news that will make the festival so much more affordable for families.
There will also be a dedicated real ale section which I'm looking forward to sampling.
One of the cheaper festivals – especially for kids
It's a really reasonably priced music festival. A weekend ticket for an adult costs £126 and if you want to go on the Thursday too its £28.50. Parking is £11.
Tickets for those under 16 are much cheaper then adult weekend tickets too:
13-15 is £45 for the weekend
6-12 is £20
0-5 is FREE
In the school holidays – last hurrah
A lot of festivals are in term time (cough, cough Glastonbury). This year Electric Fields falls on the last weekend of the school holidays for those of us in England. I think it's ideal for a last summer family hurrah before the dreary school routine kicks back in for September.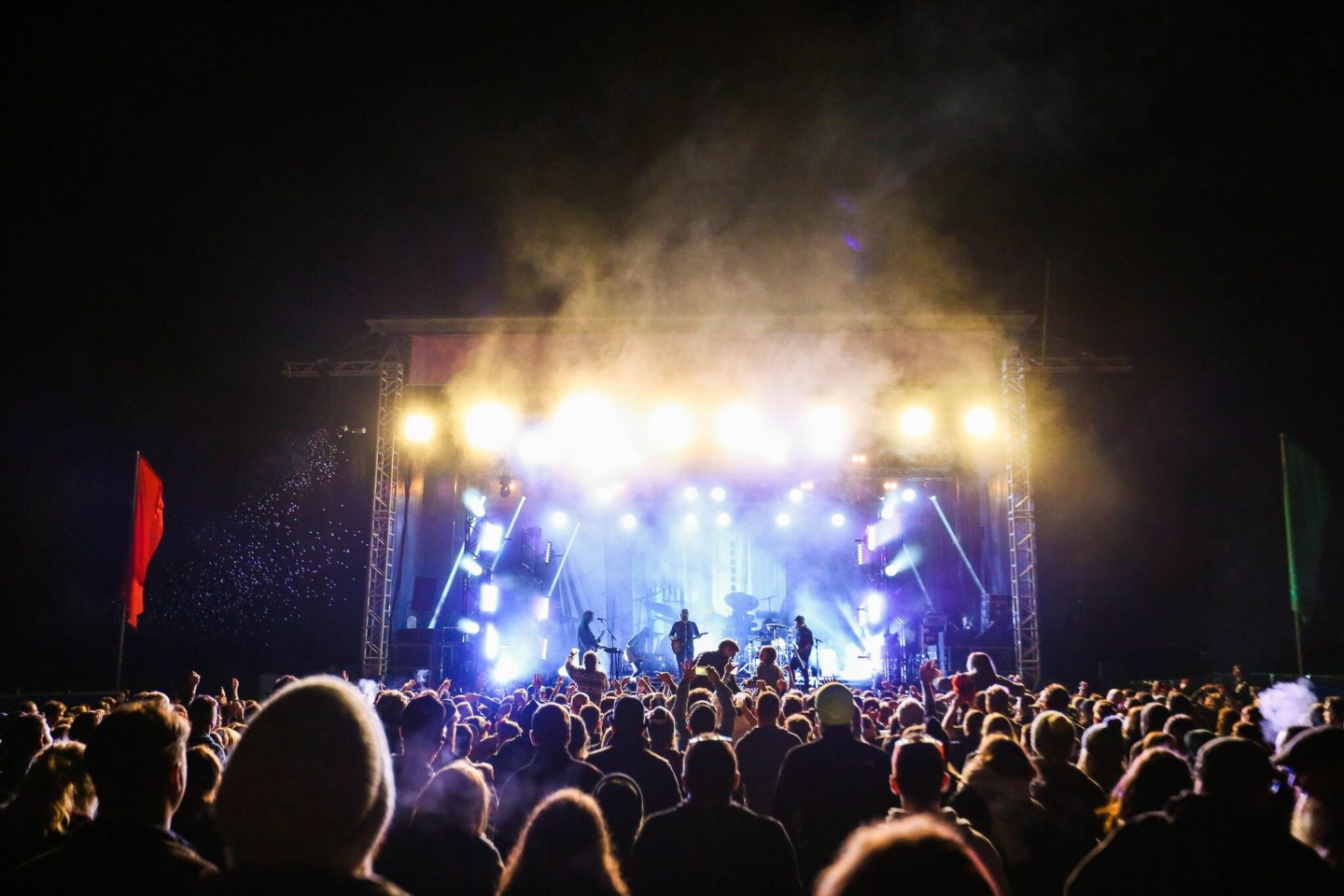 Summary
All in all, I'm sure you can see why Electric Fields is the perfect festival for those of us living in the North East, especially if you have a family. I can not wait to go. If you want to hear more about our time there, make sure you are following me on YouTube where I'll be posting a vlog of our time there. I'm hoping we love it and it becomes an annual family tradition for us!
Giveaway
The kind folks at Electric Fields are very generously giving away a family ticket to one of my lucky followers. I'm stoked to be able to bring you such an awesome prize! Simply enter via the Gleam form below and make sure you read the Terms and Conditions. Good luck!
Win a family ticket to Electric Fields music festival, worth over £300