There's little worse than getting hot and sweaty during yoga and then slipping whilst trying to hold a pose because your sweaty palms can't grip properly on your yoga mat. I've been fortunate enough to practice on a number of different mats over the years so today I'm sharing my favourite yoga mats for sweaty hands. I've also included some mats I haven't personally tried but I've researched on forums for real life recommendations from real people.
Yoga mats for sweaty hands
Our top pick yoga mat for sweaty hands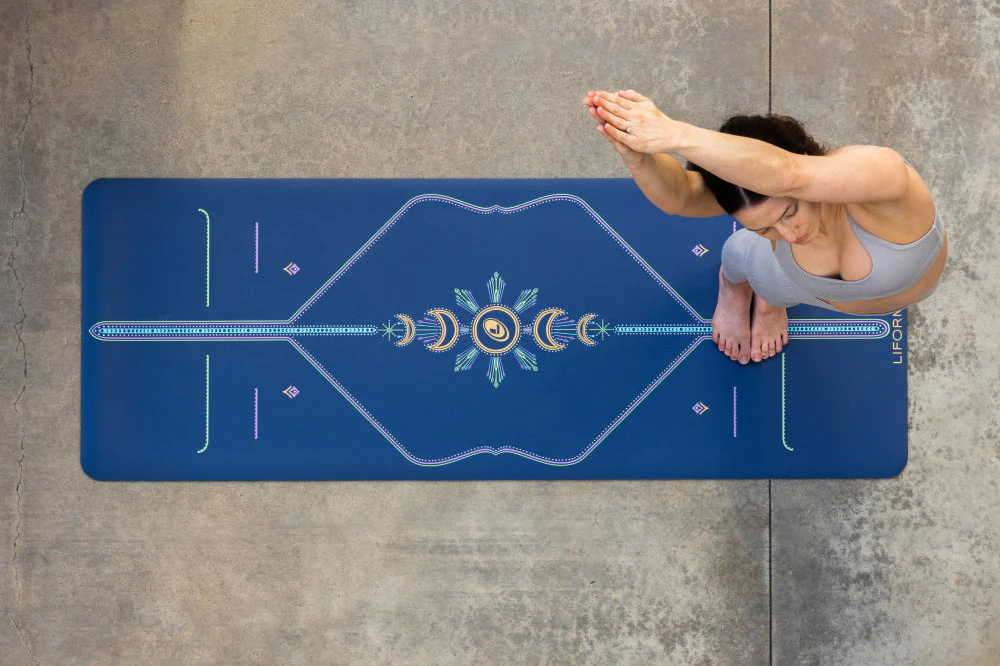 Liforme have just released a beautiful special edition, Cosmic Moon mat (affiliate link) with warrior-like grip and planet-friendly design and featuring its trailblazing, Alignment System and unique, patented waterproof barrier.
The Liforme mats are designed to become 'grippier' the more you sweat and yogi's on reddit who practice hot yoga were swearing by these mats.
One Reddit reviewer said 'I sweat a ton when doing my ashtanga yoga, The only mat that has worked for me is the Liforme without needing any yoga towel on top of it or anything. The material actually gets grippier with sweat. I've gone through a Lululemon, and a Manduka eko and also tried my wife's Jade, but all of them start to slip when you get really sweaty, except for the liforme, which remains consistently grippy.'
The new mat will be available from Liforme (affiliate link) in full size for £140 and a complimentary bag is included with every mat.  
Liforme has never faltered in its mission to improve not just its unique and groundbreaking products, but its impact on the planet, by pushing boundaries, being eco-friendly, ethical  and socially just. To date, they have planted more than 200,000 trees with TreeNation and donated over $650,000 to  charity partners including WWF, GLAAD, Friends of the Earth  and RSPCA.  
Best value for money yoga mats for sweaty hands
If your budget is a little tight then this Basaho Cork Yoga Mat (affiliate link) might be a good option for you.
The reviews of this mat are really good with people praising how non slip and sticky it is. Apparently cork gets grippier the sweatier you get making it a great choice for hot yoga etc.
Though beware, if you want a lighter mat then this isn't the one as reviewers comment on how heavy it is.
100% natural cork upper, sourced sustainably in Portugal.
Natural rubber underside for extra cushioning and grip.
Cork has natural grip which increases with moisture. More sweat equals more grip.
The natural tree rubber underside comes from sustainable sources and is free from synthetic nasties like PVC and TPE.
Self-cleaning, antibacterial cork for easy upkeep and freshness.
Free from toxic PVC/TPE/Plasticizers. 100% biodegradable.
Includes strap.
Plastic free packaging.
183cm x 61cm. 5mm thick
When I was doing research into the best yoga mats for sweaty palms the Jade mats kept being mentioned time and time again by yogis who struggling with sweating lots.
One person on Reddit said 'Amen for jade. Not joking I have had mine for over 15 years – through lots of hot yoga – and it's perfect.'
The Jade mat has a natural, open-cell rubber that provides a better cushion than synthetic rubber, making it easier to achieve and hold poses.
Jade yoga mats are made from entirely toxin-free materials with no PVC, phthalates, heavy metals, or other harsh chemicals. 
Jade also plants a tree for every mat sold.
Best yoga mat for sweaty hands for hot yoga classes
Some yogis on forums swear by the Aurorae 5mm mats with an inbuilt bonded microfibre towel for their hot bikram yoga classes.
You'll experience no more slipping or bunching of your towel as you move on top of your mat. The wetter this mat gets the better the grip as Towel and mat are bonded together.
The Aurorae mats are non toxic with no phthalates, phenols, PAHS, latex or rubber.
One Amazon review says 'Bought this for my wife who was slipping a lot during hot yoga, with this she never slips, she keeps telling me how good it is and how much she loves it.'
They are aesthetically pleasing design too.
Best travel yoga mats for sweaty hands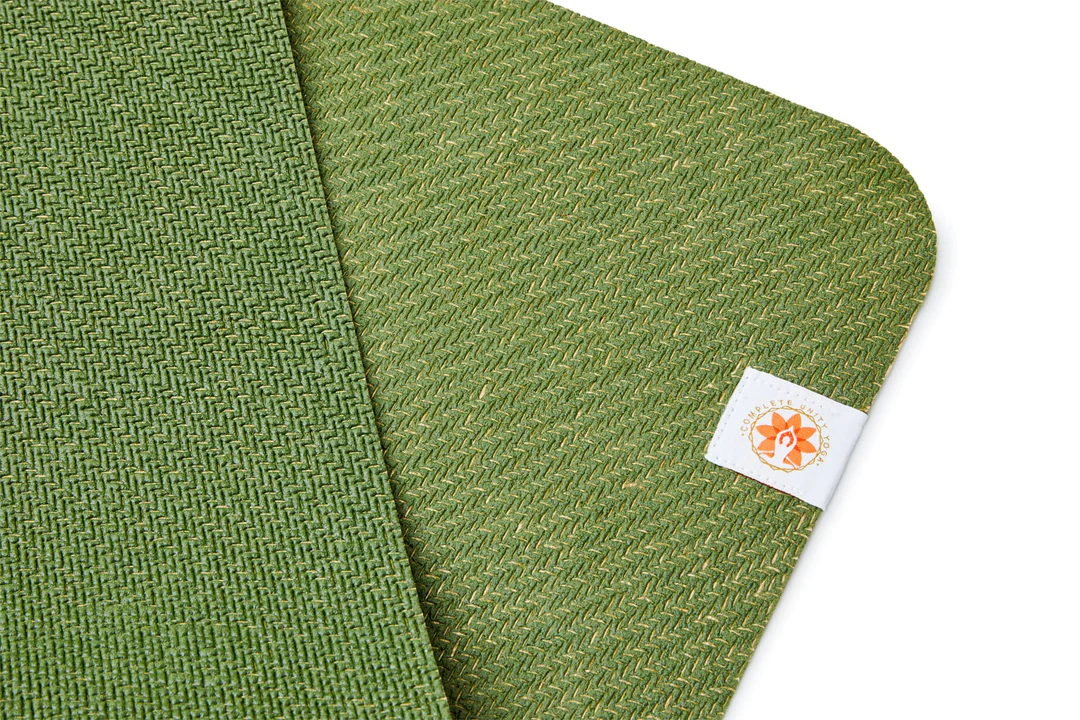 This popular high quality sustainable non-slip yoga mat (affiliate link) will give you the peace of mind of doing yoga without slipping. Thickness 4mm and weighs 2.6kg.
Eco-friendly made from sustainably harvested natural tree rubber & natural jute fibres 
Incredible grip 
Non-toxic (plastic-free, PU-free, BPA-free, TPE-free, PVC-free and free from microfibre) 
Cushioned 4mm of cushioning, comfort and durability to protect your joints
Ethically made using a zero-waste manufacturing process. A vegan friendly & eco-friendly yoga mat.
Zero plastic packaging packaged beautifully in FSC certified craft paper.
Liforme recently sent me their Liforme Rainbow Hope travel mat (affiliate link) and I've been using it for the last few months and it has been great. My hands don't slip on it at all, no matter how sweaty my palms get.
It's really stunning. It's the prettiest yoga mat I've ever seen.
It comes in it's own perfectly formed travel bag that makes it perfect for taking on your trips or just to your local yoga studio.
It features the Liforme signature alignment system (markings on the mat to help guide you in your poses). Has a great non-slip surface and durable, non-toxic and eco-friendly ink. 
The Liforme rainbow hope travel mat is planet concious too as it is biodegradable, non-toxic, and PVC-free. Perfect for any eco warrior. You can buy direct at Liforme here (affiliate link).
2mm thickness and 1.6kg weight. This one is my favourite travel mat by far – and it's been all the way to Amsterdam with me as a test!
What's more, Liforme recently become the first British yoga company to earn B Corp Certification after achieving one of the best Impact Assessment scores of all time in its sector – B Corp status is only awarded to companies with high standards of social and environmental impact.
Best thick yoga mats for sweaty hands
Loved by Yoga teachers the world over is the Manduka Pro 6mm yoga mat (affiliate link).
An ultra-dense and spacious performance grip yoga mat that has unmatched comfort and cushioning.
Designed for performance and durability, the PRO is backed by Manduka's promise that it won't peel, flake or fade for life.
This one is a great choice if you have a latex allergy as it is latex free and non toxic.
It's performance grip finish improves over time.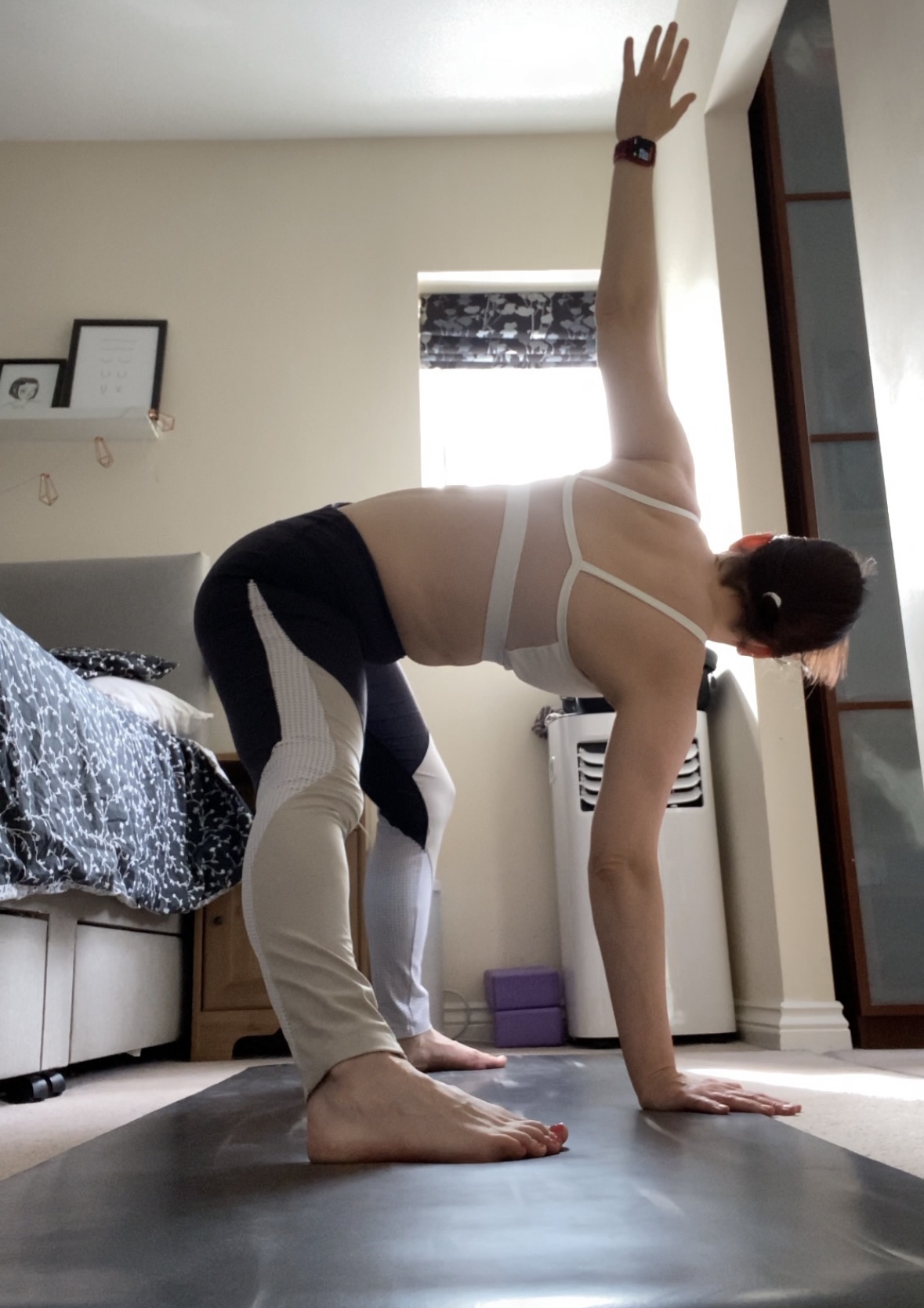 I've used my OG Lululemon yoga mat (affiliate link) at home for years on both hard floors and carpet and its super grippy.
This mat has a natural FSC certified rubber base with a little extra cushion.
It has a 5mm thickness so its a great mat if you struggle with pressure on your knees.
This is a really sticky mat and has really helped me with my poses as once a hand or foot is down it doesn't budge or slide.
I've been using this mat for a couple of years, indoors, outdoors and its holding up really well. A great all rounder but perhaps too heavy for travelling with at 2.38KG.
Also should be avoided if you have a rubber or latex allergy.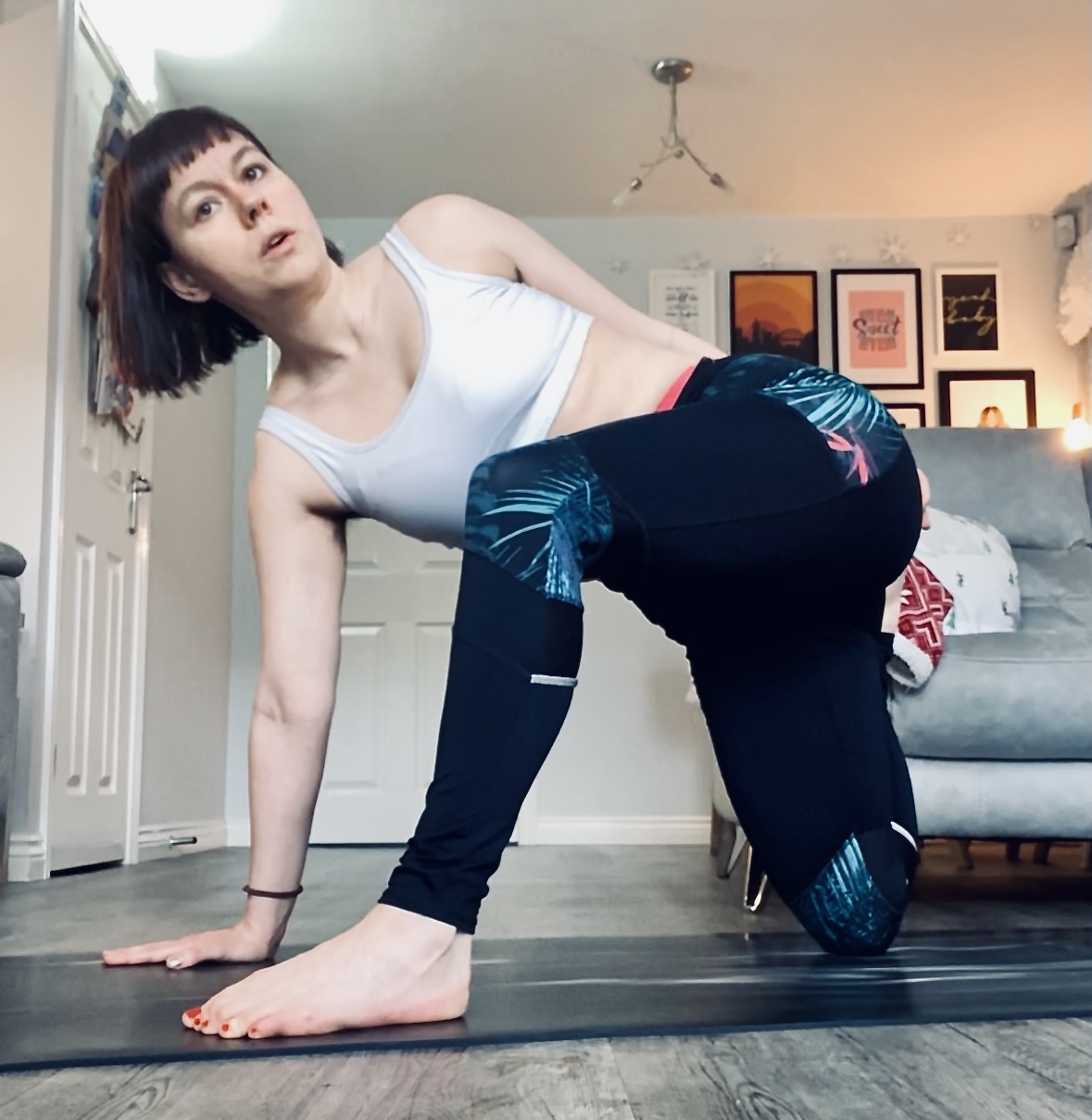 Best ethical yoga mats for sweaty hands
It's not one I've personally tried but some people rave about the Yogasana cotton yoga mats (affiliate link). The cotton soaks up any sweat during use.
Yogasana offer a 15 YEAR warranty. You can also practice on the mat and if you aren't happy you can return it.
Yogasana mats are hand-made in the region of India where yoga began. For every mat purchased they donate $5 to provide pencils, pens, paper, and other school supplies to help the education of the children of our workers in India.
Frequently asked questions about yoga mats for sweaty hands

What is the best material for yoga mat for sweaty hands?
The best material for a yoga mat for sweaty hands depends on personal preference and whether you have any allergies. Some people swear by cork, some rubber, some cotton and some towels.
Hopefully my selection of mats will give you some options that will work for you.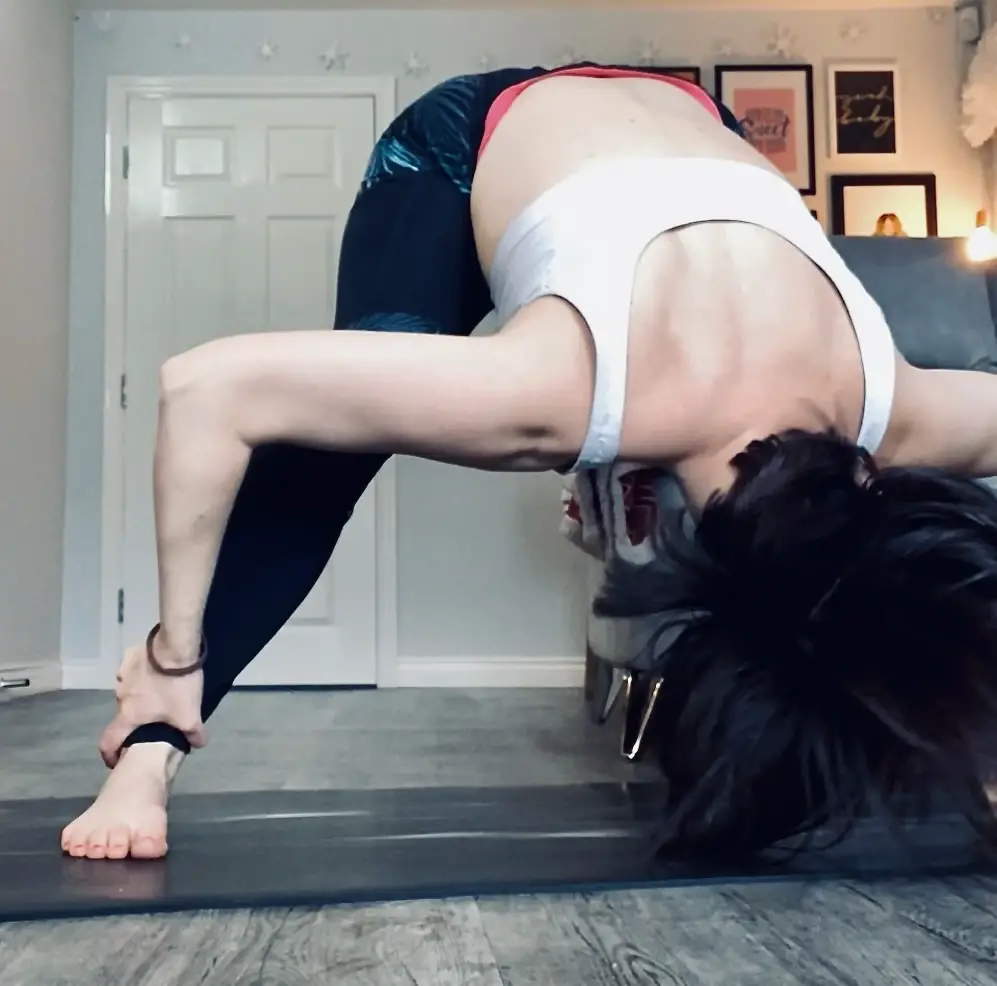 How do I stop my hands from sweating during yoga?
Other options to help with yoga with sweaty hands is using a good quality yoga towel on top of your yoga mat. These yoga towels are designed to get more grip the wetter they are.
Some people swear by using anti-perspirant or chalk on their hands and feet before hot yoga to help minimise sweat.
Other recommend toe socks and exercise gloves to help with sweat when doing yoga. Some yogis really rave about Yoga Paws below.
I hope you enjoyed this post. If you have any other questions drop them in the comments and I'll do my best to answer them.
In the meantime, you might also find these posts helpful: Yoga for office workers and Best yoga mats for carpet.
If you have enjoyed this post or found it useful, here are some quick and easy ways that you can support Nomipalony or say thanks:
Share this post with your friends  
Pop over to my Amazon Storefront to see what products I have been buying and loving from there recently, including my health and fitness products list.
Sign up to my mailing list 
Women can join my feminist Facebook group – the Nomipalony Freehouse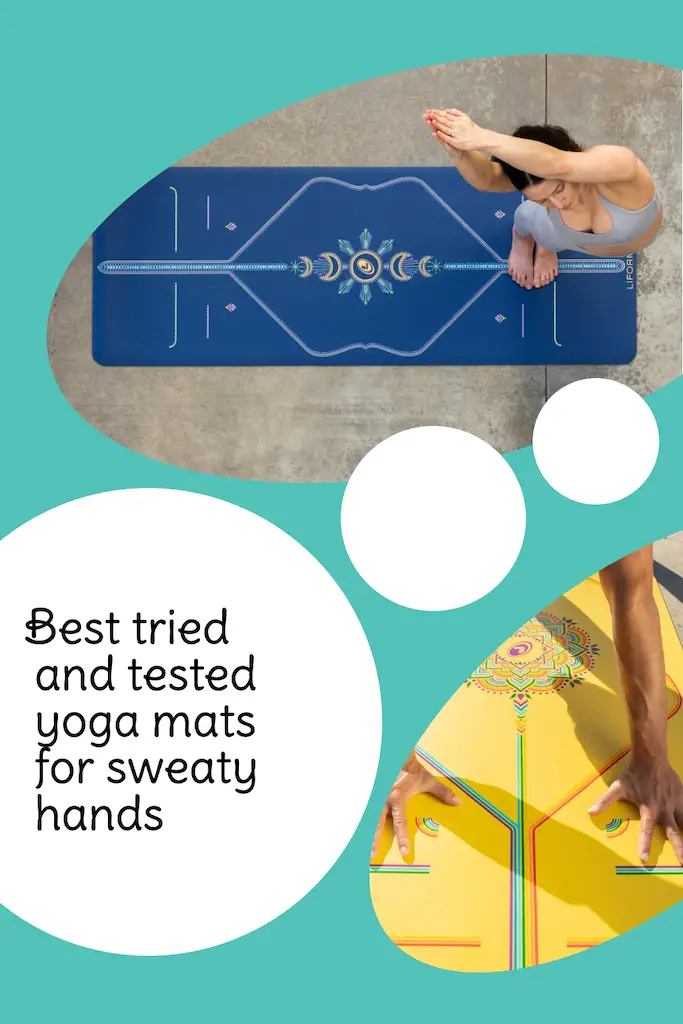 Disclaimer: This post contains affiliate links. If you purchase through an affiliate link you will not be charged any more for your purchase, but I will receive a small fee for referring you. As an Amazon Associate, I earn from qualifying purchases. For my full disclosure policy, please see my about page.