Have you ever thought it would be nice to have someone else do the cooking and cleaning up for you? Especially for a dinner party? Well we recently tried out something VERY cool – hiring a private chef and hosting a dinner party through La Belle Assiette. Keep reading for my full La Belle Assiette review…
Service/website
La Belle Assiette is the UK's leading chef service. They aim to make entertaining at home truly enjoyable by taking out all of the stress. You order a private chef through La Belle Assiette so that you can enjoy hosting a dinner party without having to worrying about preparing, cooking or cleaning.
They have over 300 professional chefs on their books across the country. On the La Belle Assiette website you can read about the different chefs in your area, see their reviews and examples of their menus.
The website is simple to use. You can search chefs via city or postcode, select a date and time and it brings up the menus in your area. There is an £8 booking fee for using the service. You can also buy gift vouchers which would make a wonderful present for someone.
Menus
Menus are grouped into three clear price levels, temptation level at £39, prestige at £59 and signature at £89 per person. The temptation level is perfect for any occasion, prestige is gourmet and signature is Michelin quality. Can you imagine, having a Michelin level chef, cooking for you and your guests in your own home? What a treat! We went for the cheapest option, the temptation level at £39 per person for three courses. Given that you can provide your own drinks or have your guests BYOB it actually works out cheaper than a restaurant of the same quality.
The chef
Our chef for our dinner was Lee Patton. Lee is an experienced chef based in the North East, whose time cooking in hotels and working as a freelance chef has given him the opportunity to explore many different styles of cooking. Lee takes pride in creating simple, honest food that speaks for itself. I found Lee to be personable, approachable and down to earth. Nothing was too much of a problem for Lee. He called me after we had booked to go through the menu and ask if I wanted to change anything so we could get it perfectly to our tastes.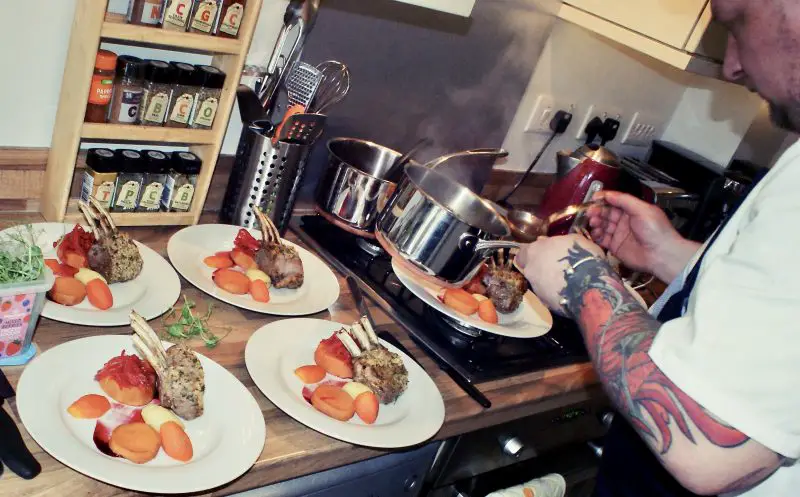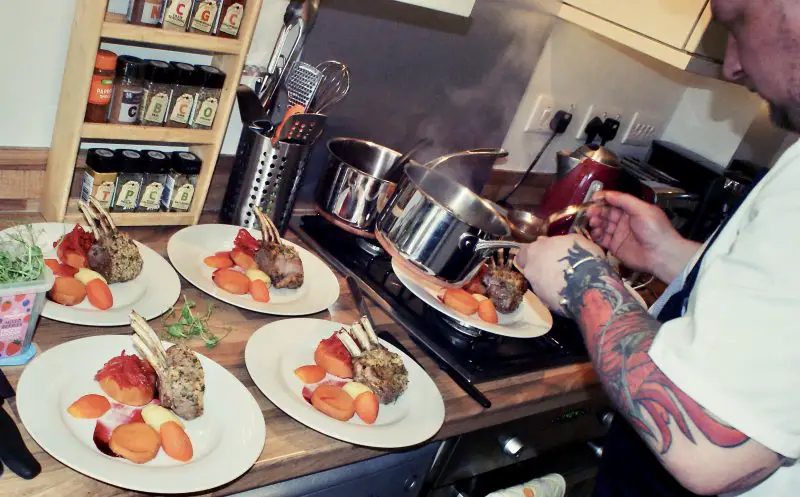 The food
I would say, one area where getting a private chef will differ to going to a restaurant is that broadly, everyone needs to eat the same (minus small adaptations). If you have a bunch of fussy diners who can't agree it might be better to go to a restaurant instead.
Starter – Harissa Smoked Salmon
Our starter was harissa smoked salmon, edamame bean & chicory salad. The salad was a perfect starter, light with lots of texture, crunch and a bit it of a spice kick. A few of the party were not fish fans, with one having never eaten it at all. They were all blown away by how much they enjoyed it.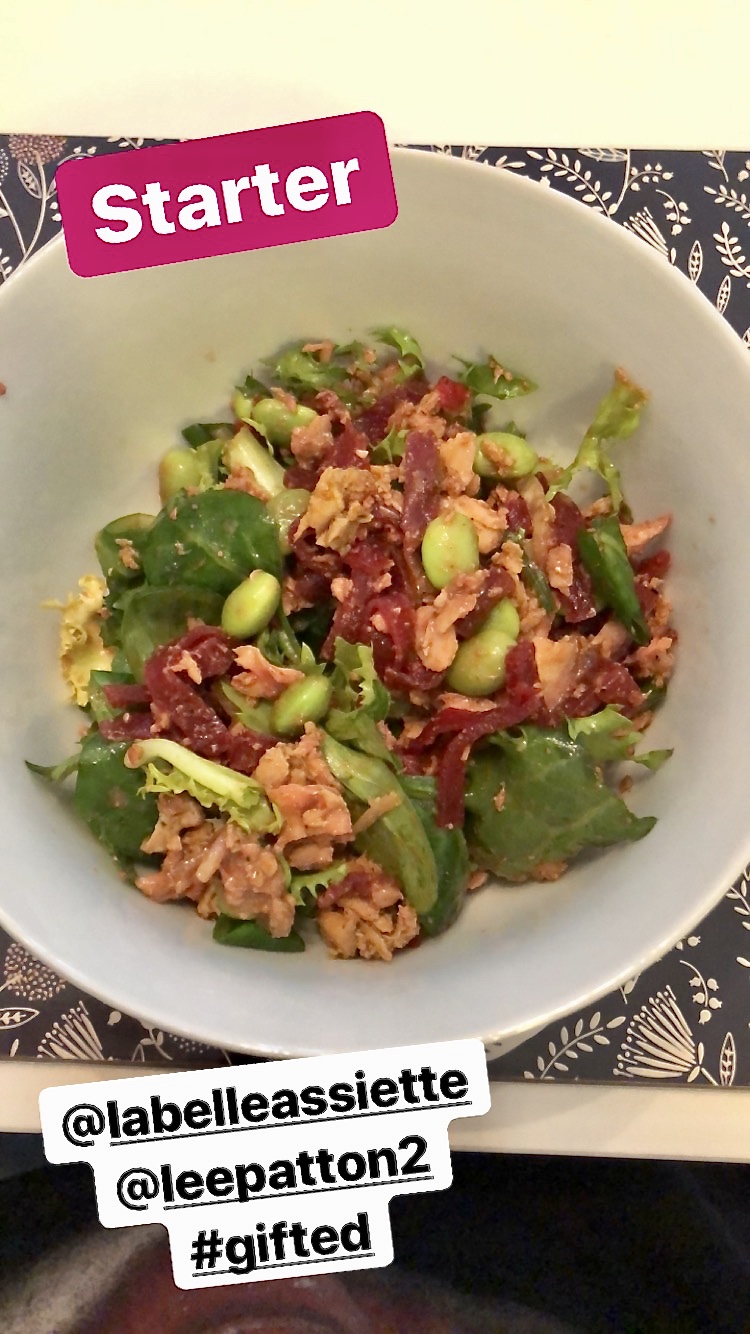 Main – Herb Crusted Lamb Rack
Our main was a herb crusted lamb rack with sweet potato, mint jus and red-current gel. The lamb was perfectly cooked and succulent. What made this dish for me though was the herb crust which packed a big flavour punch and complemented the dish superbly. I loved the addition of the sweet potato which I always think goes perfectly with lamb. The lamb coming on the rack made it feel that little bit fancier.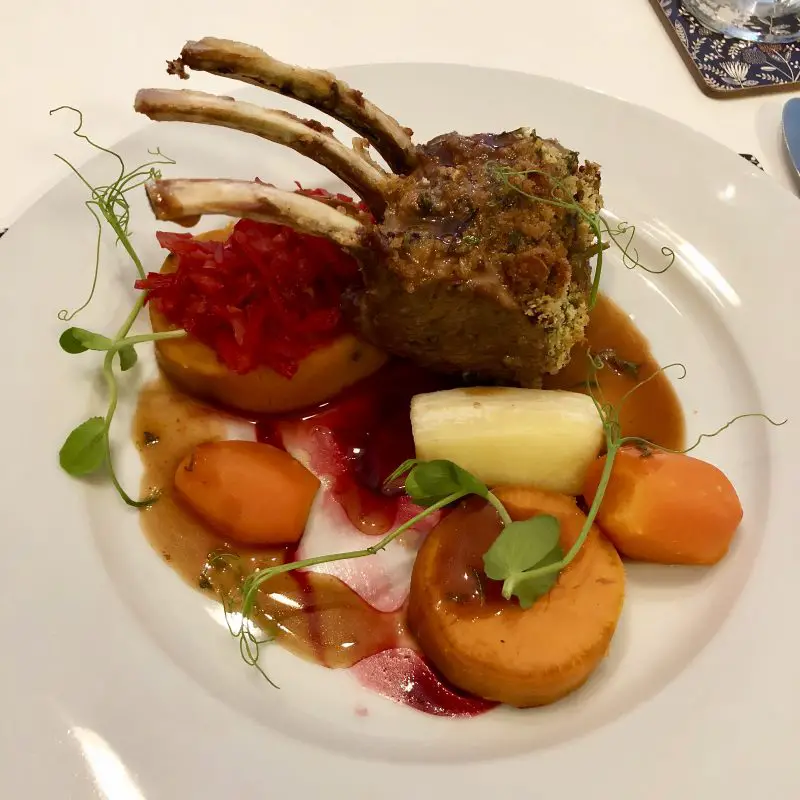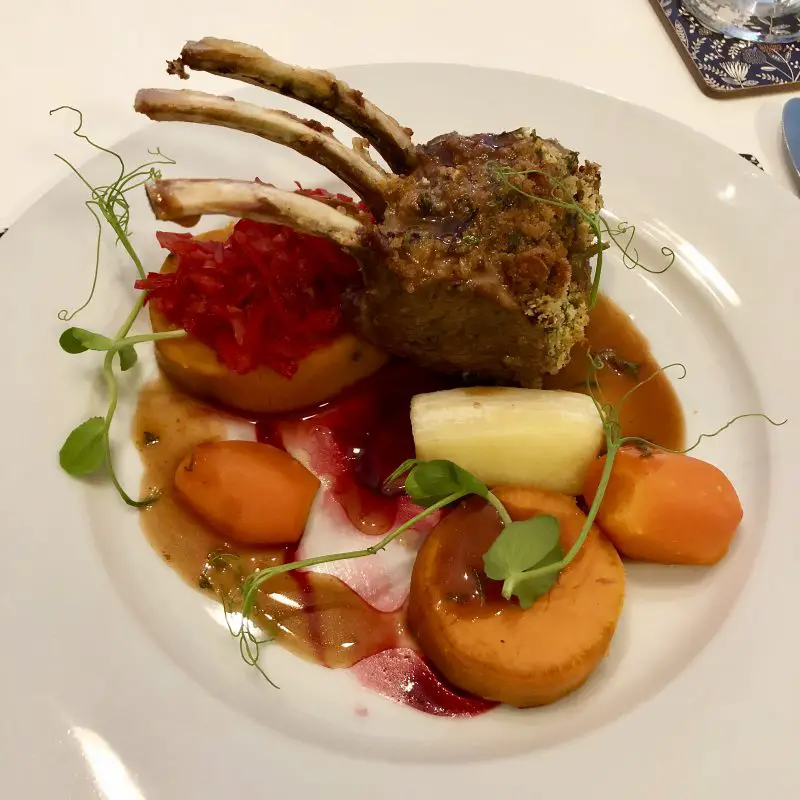 Dessert – Dark chocolate bomb
We were meant to have edible cups for our dessert but there was an incident meaning they hadn't turned out right. Lee thinks that this was because he was using dairy free chocolate for one of our guests who has a dairy intolerance. Lee had prepare different desserts last-minute and we had dark chocolate bombs with chocolate mouse filling. This was sublime. I did not care one bit that it was a different dessert than planned because it was excellent. There was orange sauce dotted round the edges that really complimented the rich chocolate. The dessert was a feast for the eyes as well as the taste buds. Our dairy free guest had tiffin which he has described below.
All in all the food was excellent and the amount of food was just right. I was pleased that I didn't feel horribly stuffed at the end as I often do after three courses.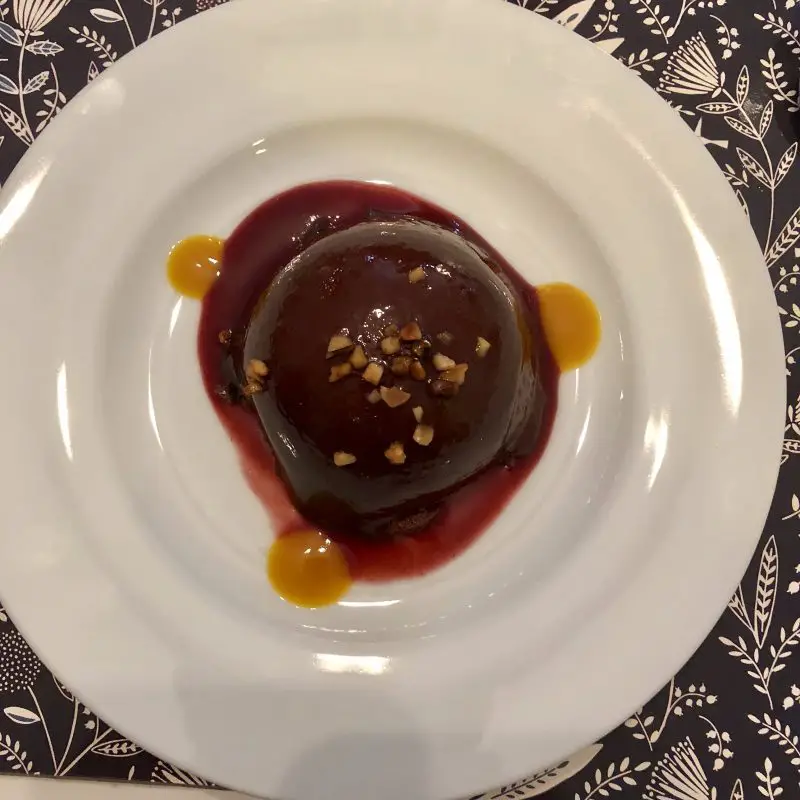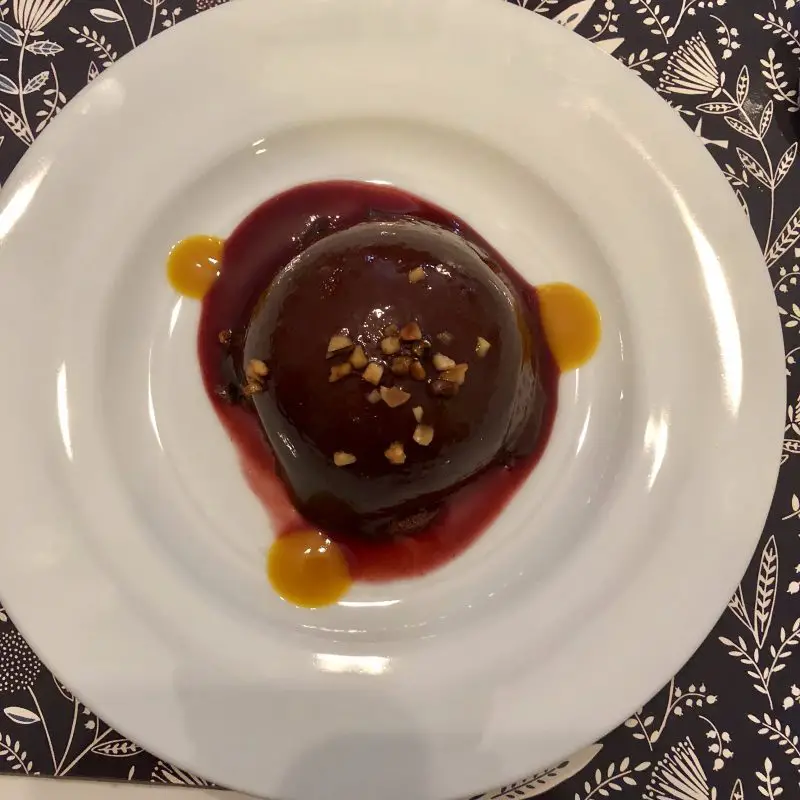 Dietary requirements
As I mentioned above, I had one guest who has a dairy intolerance. I was keen to ensure that he wasn't excluded at all. Lee adapted courses with no problems. I asked my guest what he thought of it from the perspective of someone with dietary requirements and this is what he said:
'In terms of the dairy free it was excellent that I was able to have two meals the same as everybody else (never normally happens and I feel like a leper! In one restaurant recently, they cooked my food first and everyone had to watch me eat before they got theirs. I was about as popular as a fart in a spacesuit). It was unbelievable that I had a dessert that wasn't fruit!
Just as an example of usual dairy free times, when I had qualified as a solicitor I had to dine at an Inn of Court for my graduation in London. They put on a five course meal (starter, main, dessert, fruit course then cheese course). My starter was melon, dessert was melon, fruit course was melon and cheese course…..melon. So to have a tiffin was bloody amazing. The fruity sauces with the bitter chocolate was just delicious and finished off the meal nicely.
I don't know about you but I thought the lamb was absolutely spot on – juicy and a lovely flavour. And in terms of the starter I was the same as a few of the others in that I was a bit worried it would be really fishy but it was a really nice surprise how good it was. All in all I had a great time and thoroughly enjoyed the food. I felt like a proper adult!'
What it is like having a chef in your home
I have to say we were a little bit anxious to have a stranger come to our home and cook for us. We were worried it would feel awkward, that we wouldn't be able to talk freely and that our kitchen would be too small and basic. Lee put our minds at ease immediately though.
He was really discrete and unobtrusive. Lee just got on with it and left us to chat in the next room and actually it didn't feel awkward at all. He didn't need help locating anything in the kitchen, he just cracked on. He checked each time that we were ready for our next course. When serving he told the guests what the course was and what was in the meal.
While we were finishing our puddings, Lee cleaned up and by time we had finished our drinks he said goodbye and was gone. My kitchen was spotless again and I made my guests teas and coffees. It really was effortless. I wish every meal was like it!
Honestly, it's very likely that I will hire Lee to do something like this again in the future. One of my guests already has plans to hire him for a dinner party she is planning.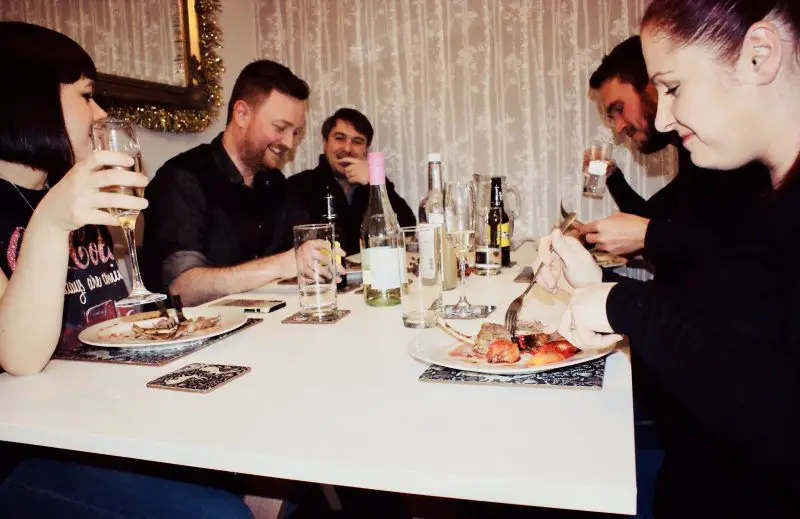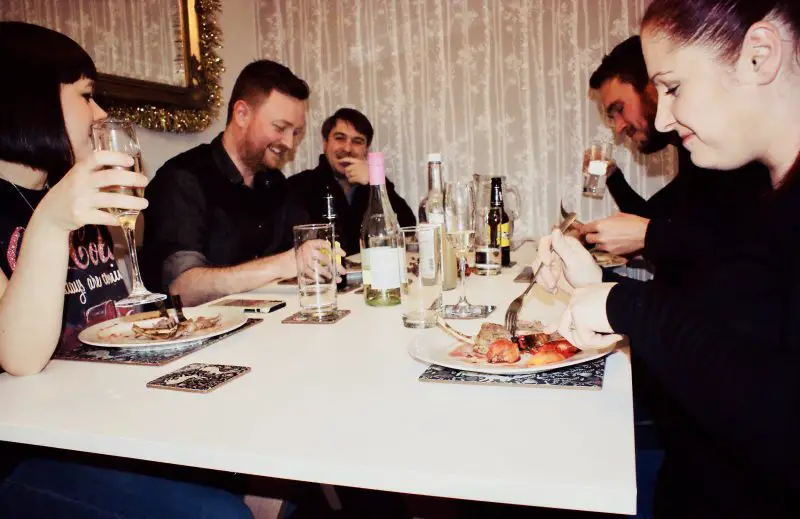 Negatives
The only inconvenience for us was we felt we had to deep clean the kitchen/oven beforehand. That's really our fault for it not being ship-shape to start with. Now that the dinner party is over I'm actually really thankful that it forced us to do it. We also had to buy a new dinner set for 6 people and new glasses as either nothing matched or we didn't have enough. That's mainly from us having not hosted a dinner party in 7 years though. And of course it is stuff we will use over and over now we have them.
Summary
All in all, this is definitely something I would do again. I think it's perfect for parents of young children who perhaps can't get out to restaurants much anymore. This would mean they could host a dinner party with minimal fuss.
If your guests pay for their own meal and everyone can BYOB then it would work our cheaper than going to a restaurant of the same standing.
It would also be great if you had a young baby and worried about taking them to a posh restaurant but still wanted a fancy meal for a special occasion.
I would also book this for special occasions like birthdays/anniversaries etc. It really does feel very special to have a chef cooking for you in the comfort of your own home.
It adds that extra je ne sais quoi to your occasion. Everyone goes to restaurants but unless you are a Kardashian having a private chef is a rare and exciting event that would make any special occasion talked about for years to come.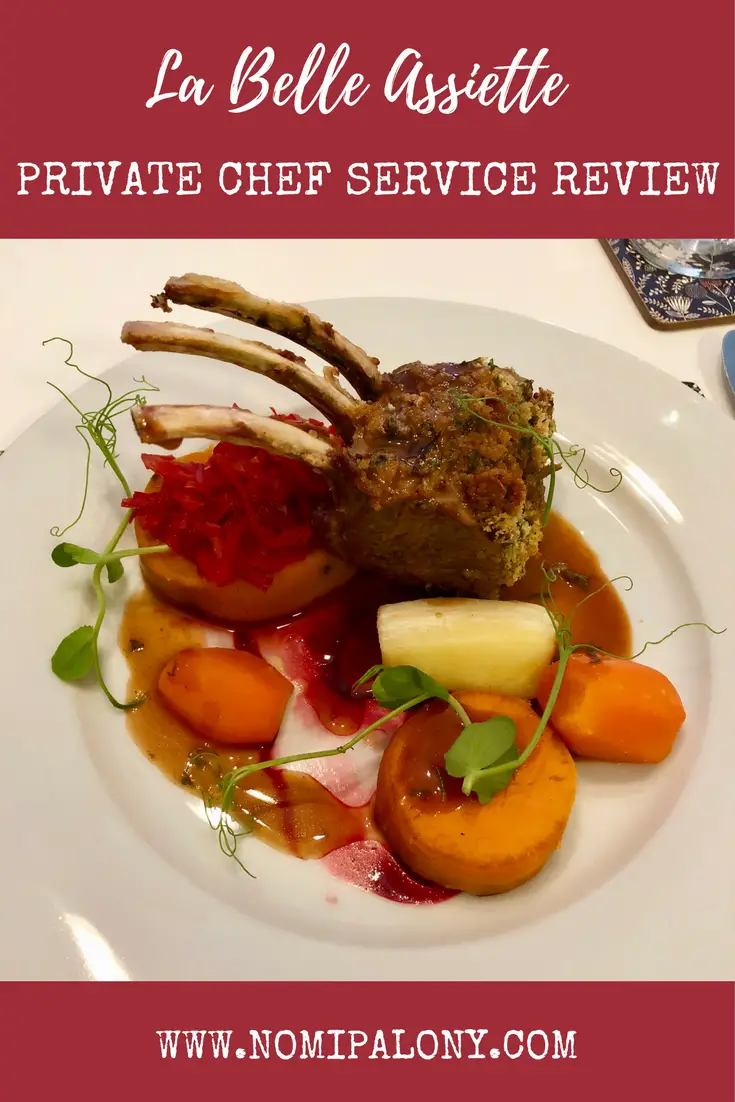 Disclaimer: Thank you to La Belle Assiette and Lee Patton for our meals which were complimentary in exchange for this honest review. For my full disclosure policy, please see my about page. Apologies that the photos aren't great. La Belle Assiette hired a photographer for the piece but unfortunately the photos were not what we had hoped for. Some of these I had to take from my Instagram stories.