It was a lovely bright (on and off) lightly snowy February Sunday. For our second Valentines in a row we decided we would go to House of Tides. Since we last came it won its first Michelin star and is the only restaurant in Newcastle to boast one so that's cool, and well deserved. We were really looking forward to coming again. A whole year had passed and the day felt poignant and I was reflective as last time we were here I was due with Lena the very next day. Chef and owner Kenny Atkinson was great at tailoring the menu for me where necessary last time but this time I was looking forward to no limitations, pink meat and more wine!
I should start off with a couple of disclaimers – firstly, we were STARVING when we arrived after an early start with the kids. We pretty much inhaled the first few courses. Secondly, in writing this restaurant review it finally dawned on me that my dream of being a food critic would never be realised as when it actually comes to writing about food, it's actually harder than it seems. Certainly harder than eating it. Who'd a thunk it?! Basically for every course all I want to write is 'aye, it was tasty' or 'yummy'. Thirdly, disclaimer, Kenny Atkinson retweeted me yesterday which I'm pretty stoked about. Fourth disclaimer, I had to take the photos on my phone again as I just didn't have the confidence to take them with a DSLR.  Plus I didn't want a flash and noise to ruin the ambiance for the other diners.
The service was perfect, our needs were never neglected but I was a tad disappointed that my servers weren't as engaging and charismatic as last time. Probably just a personality thing but I wanted a bit more interaction and a few more smiles. For example, when we were seated there were two empty tables and the server went to put us in the middle one and I asked if we could have the window one instead, which she did but it seemed like she wasn't happy about it. The servers we had last time were much more personable. My only other criticism is that the tables are incredibly close together, as is often the case in restaurants like this but it's a pet peeve of mine. I don't want to hear the couple next to me chew their food or discuss their love life. It's awkward. Give people a little more room.
What I do love about House of Tides though is it does have a more relaxed atmosphere, you don't feel you have to dress up and feel perfectly comfortable in jeans and other smart casual attire. After all, who wants to eat in a dress, you want maternity pants or an elasticated waist band at the least.
Ok so onto the food. Here is the menu: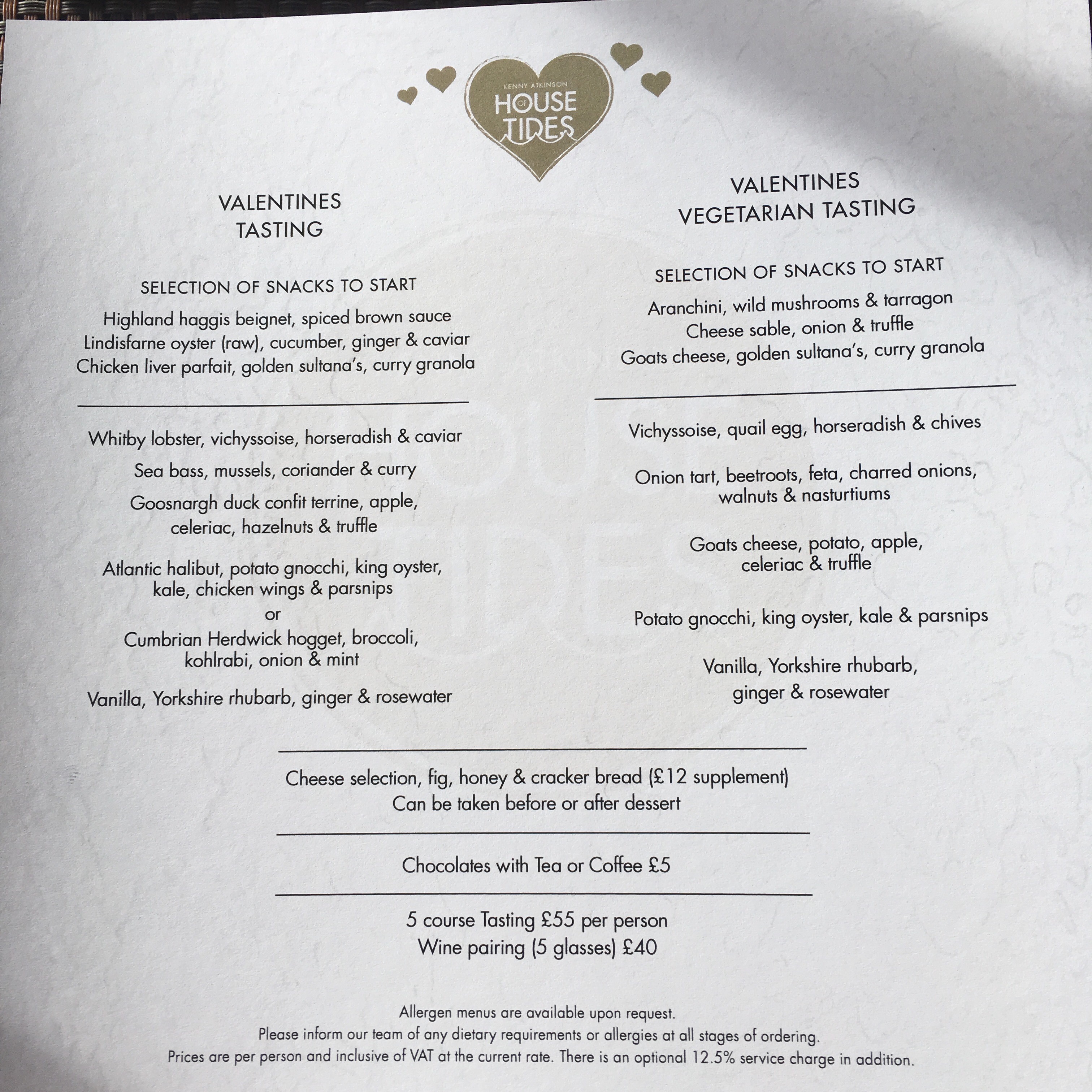 It was only the tasting menu on for Valentines but we love a tasting menu and House of Tides is known for them so it was fine by us. First up was a selection of 'snacks':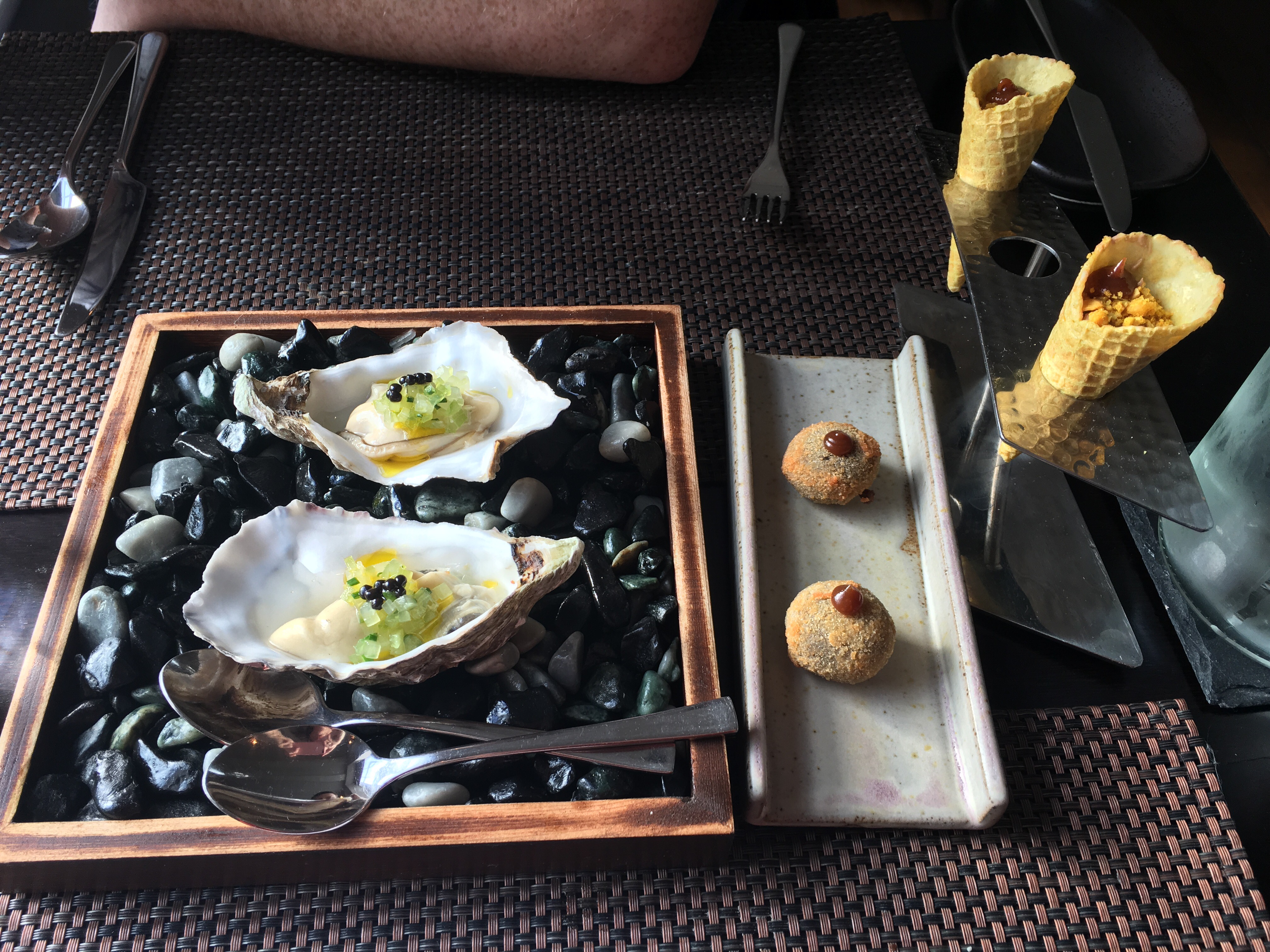 Highland Haggis beignet with spiced brown sauce – to me it tasted a bit like a posh ball of findus crispy pancake, tasty though
Chicken Liver Parfait, golden sultanas, curry granola – these came in cute little cones, as is always the case the parfait was very very rich, my mouth didn't know what to make of all the combinations of flavours and textures on this one but I enjoyed it.
Lindsfarne Oyster (raw), cucumber, ginger and caviar – now I love seafood but am afraid of raw oysters, I've tried them many times, I just don't like them. Feel like it's still living in my chest as I write. As far as they go though it was the nicest I've tried, the accompaniments took away from how hideous it was – slightly.
Obviously the presentation of this course was sexy and exciting. We felt like we were token judges on Great British Menu. Except ones who had no clue what they were critiquing.
Whilst we would have loved to have done the wine pairing we had two little kids to get back to and care for so we had to forego the 5 glasses of wine. The couple on the table next to us had it though and enjoyed hearing about their wines from the sommelier (who by the way did seem personable and engaging). I'd love to do that sometime. Papa Ginge went for a local northern alchemy beer which he enjoyed and I had a glass of 2013 Clos Berger Vouvray Chenin Blanc from Loire, France. Ok two glasses, you got me, but they were only 125ml so really it's like a large glass no?!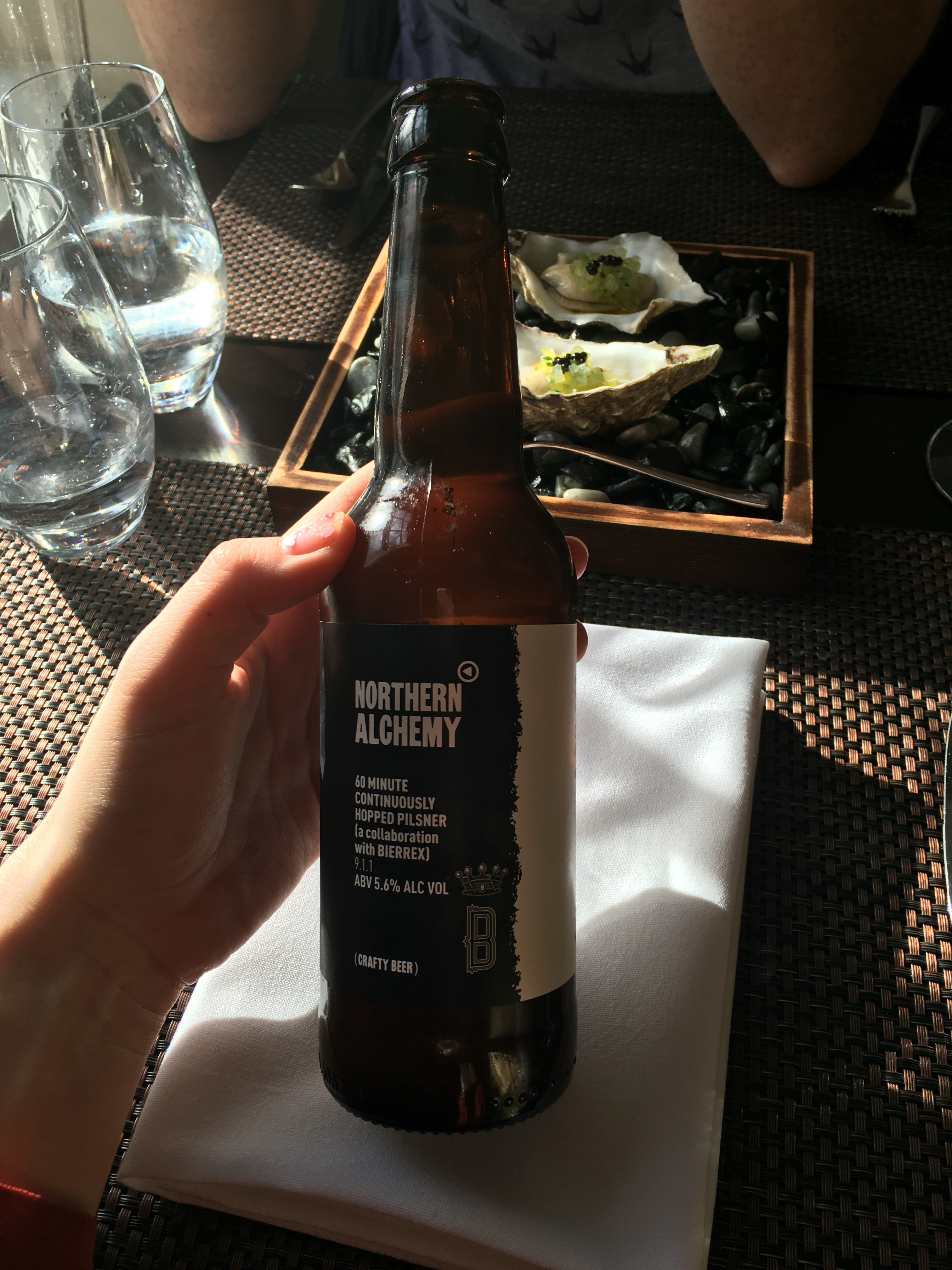 My wine was the nicest I've had in a long time. Beautifully buttery and mellow. It smelled of butter and pears. I reckon, but I'm no sommalier. Basically it was so nice that I ordered a second glass.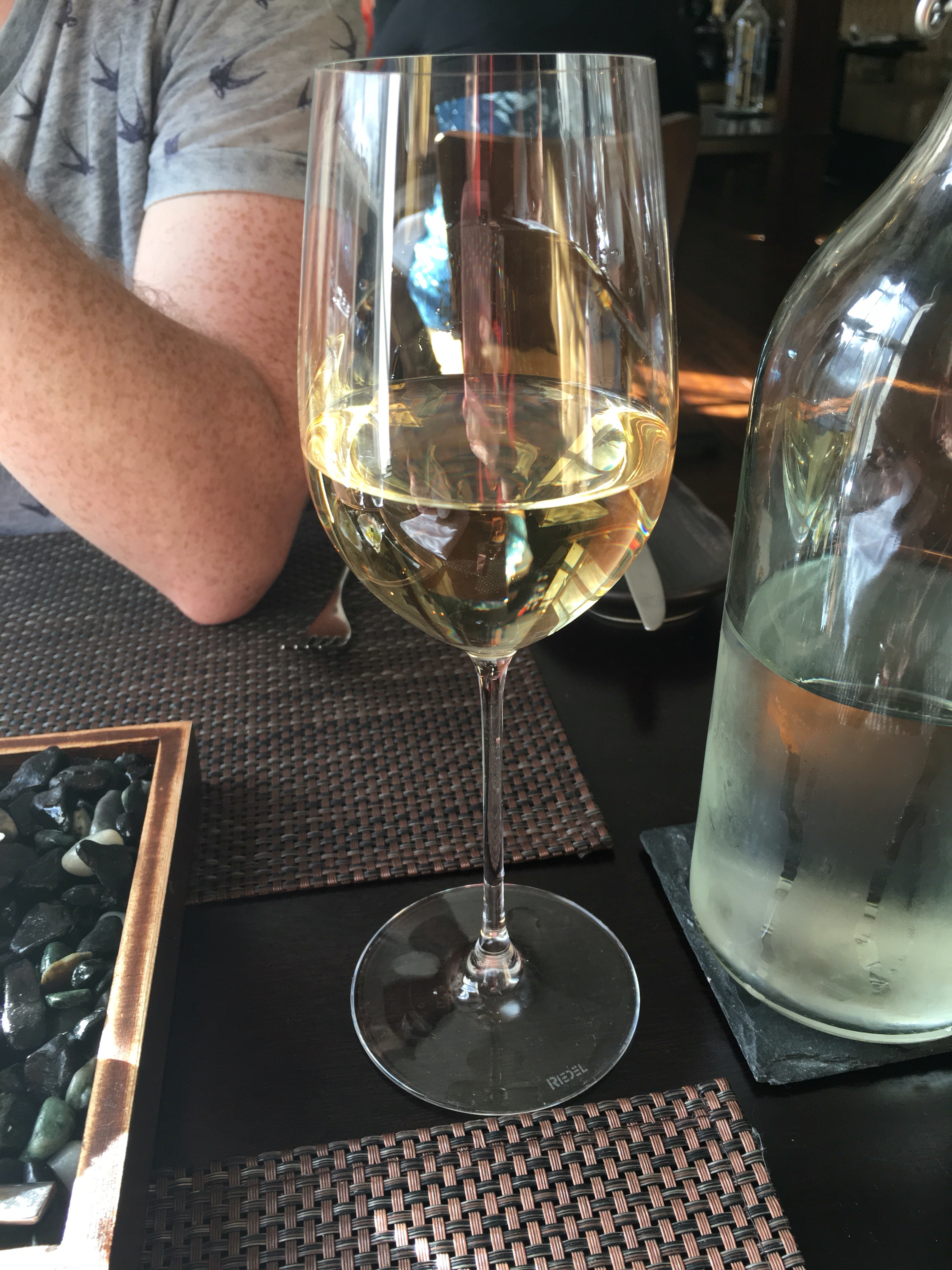 The next course was called 'Whitby lobster, vichyssoise, horseradish and caviar'. I would have called it a tiny soup but that's why I'm not a chef or a food critic innit. I loved this. It was delicious, creamy, rich and had hidden lobster in its depths. I love truffle oil too and it tasted scrumptiously rich with it. It's probably very peasant like of me to make note of this but the bread and butter were the bomb diggity. I gave papa Ginge the bigger slice, that's true love there (also I didn't get him any actually gifts or a card because we were coming here so there's that).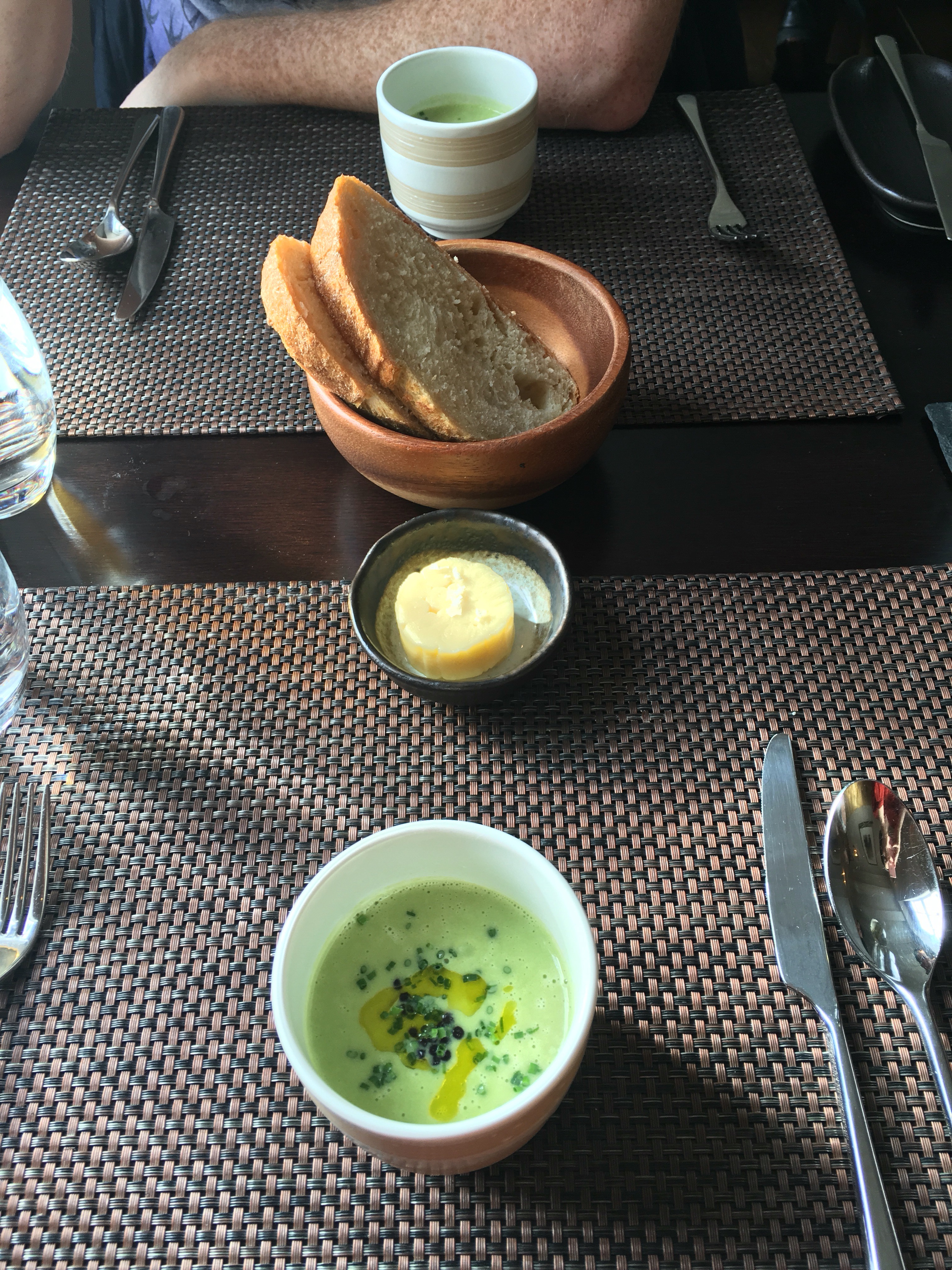 Then it was on to 'Sea bass, mussels, coriander and curry'. This was on the menu last year too. It was good, the curry was not too overpowering. Nice textures – the fish was soft and tender, the skin crispy and the small vegetables crunchy. Everything was cooked perfectly. The bowl was warm and toasty while the sleet snow fell outside. It felt very seasonal and cosy.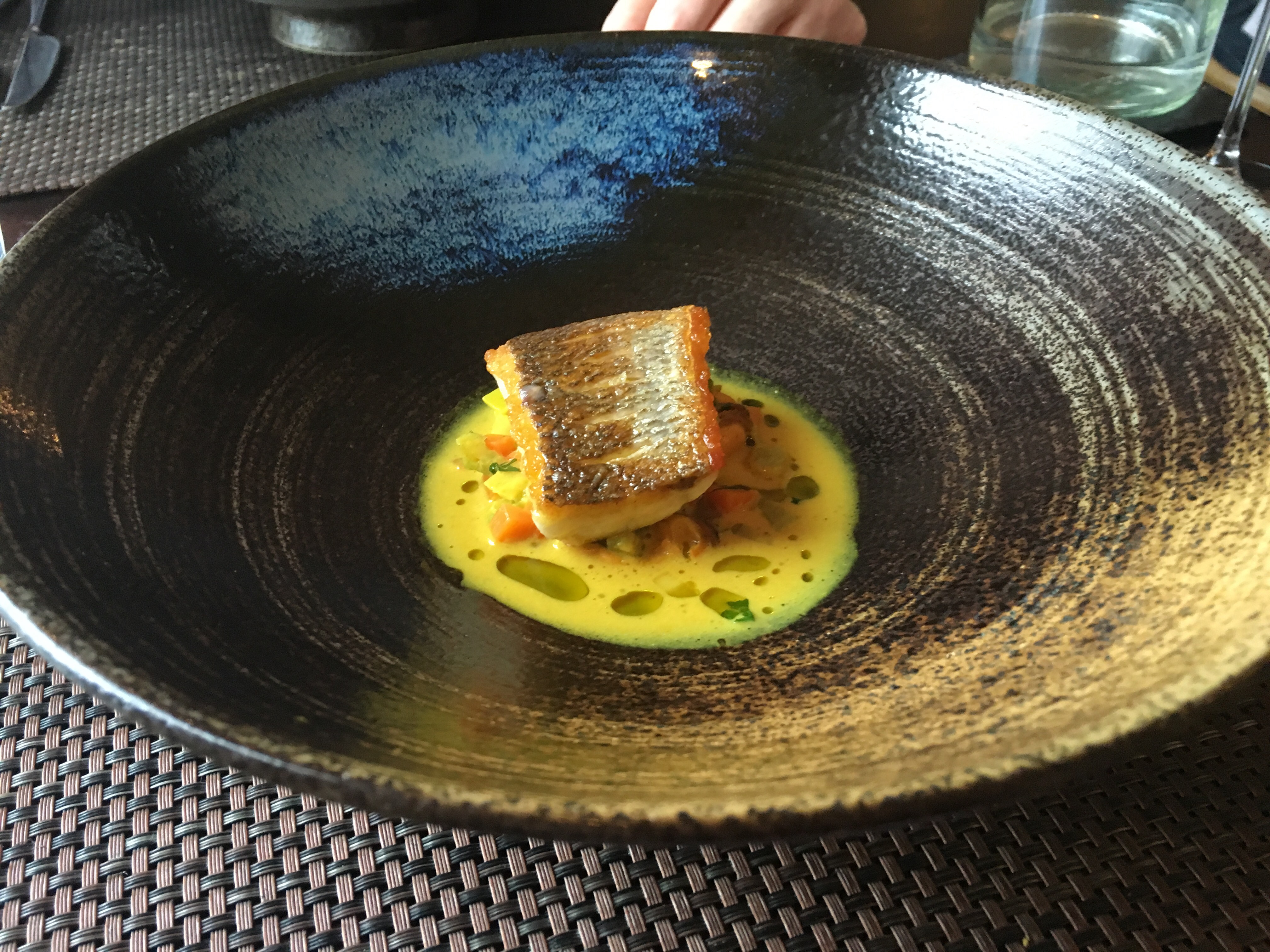 Next course was 'Goosnargh Duck confit terrine, apple, celeriac, hazlenut and truffle'. It was a very strong and rich course. All the flavours and textures worked well together. It looked great. The Truffle puree matched the strength of the duck well. Hazlenut took the edge off the richness of duck terrine which might have felt too rich without all of the accompaniments.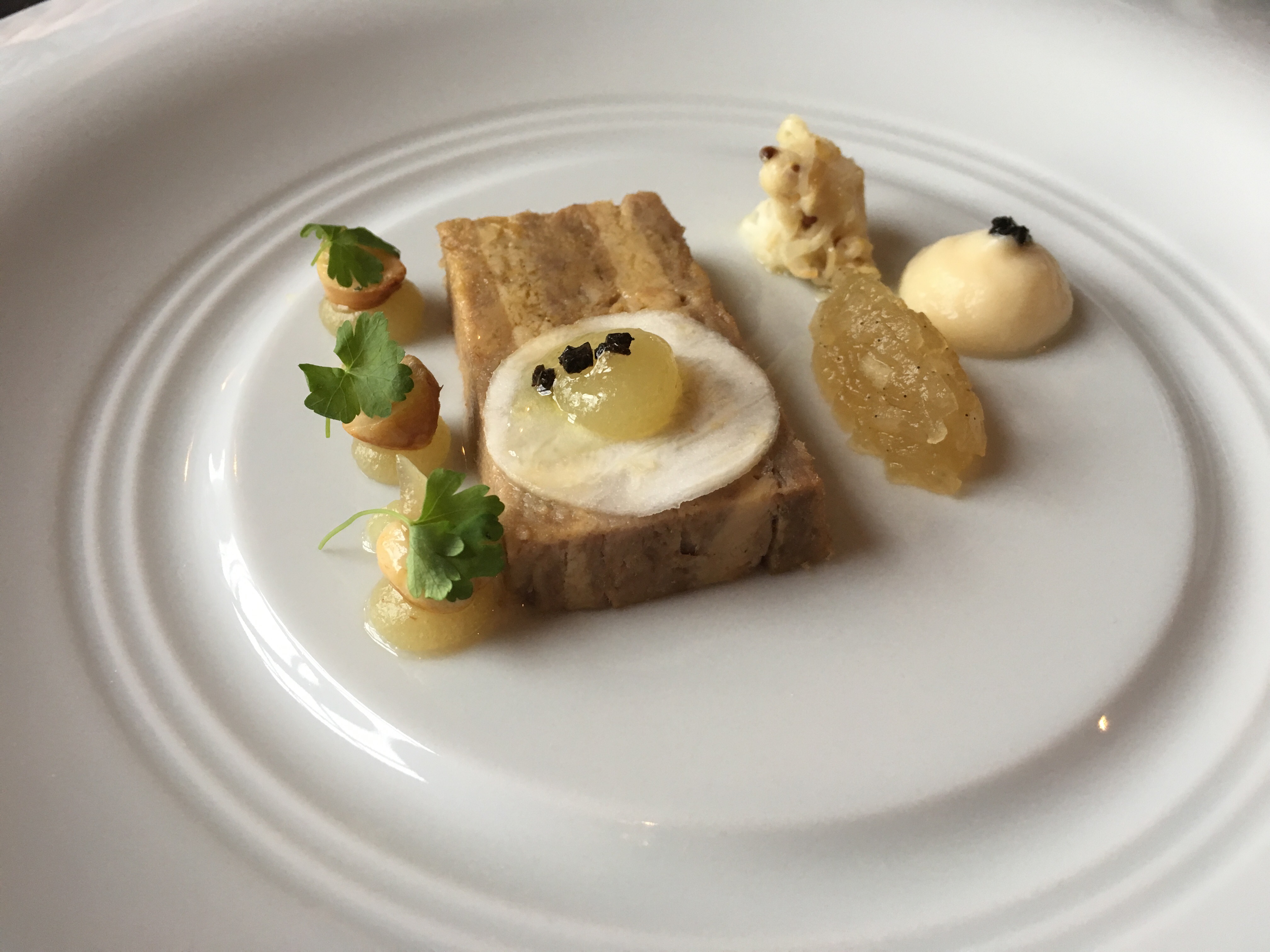 Then there was a choice to the courses. I chose 'Atlantic halibut, potato gnocchi, King oyster, kale, chicken wings and parsnips'.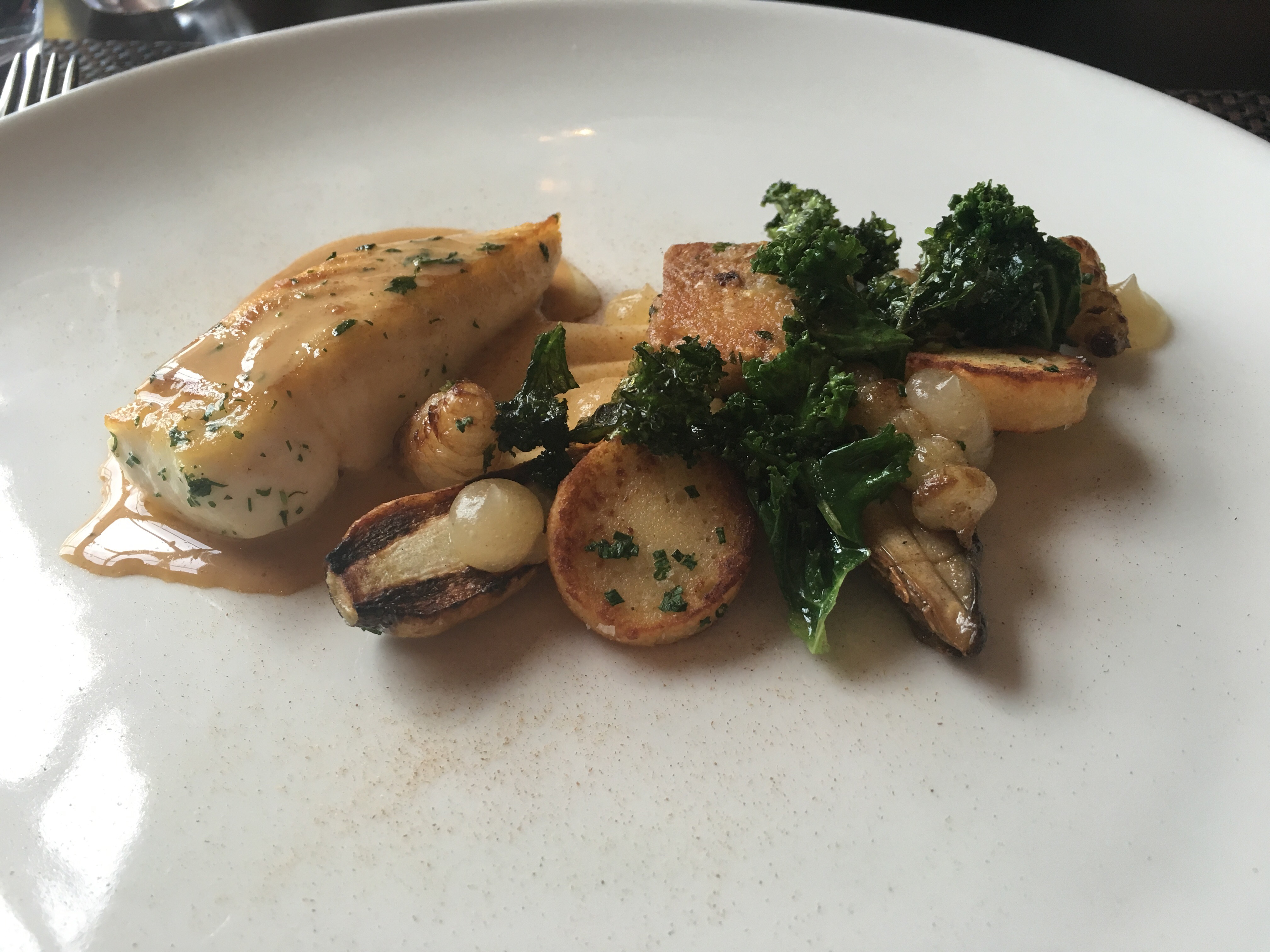 The halibut was cooked to perfection and the sauce was so good. I loved the King oyster mushroom which added nice taste and texture to the dish. Again all the textures and tastes worked really well together. I didn't like the parsnip which seemed a bit burnt to me (you can see it in the photo) – maybe it was meant to be like that, if so it didn't work for me.
Papa Ginge chose a different course here and when it came, I did my usual and wished I had ordered what he did. He got 'Cumbrian herewick hogget (we had to google, it's basically lamb), broccoli, kohl rabi, onion and mint'.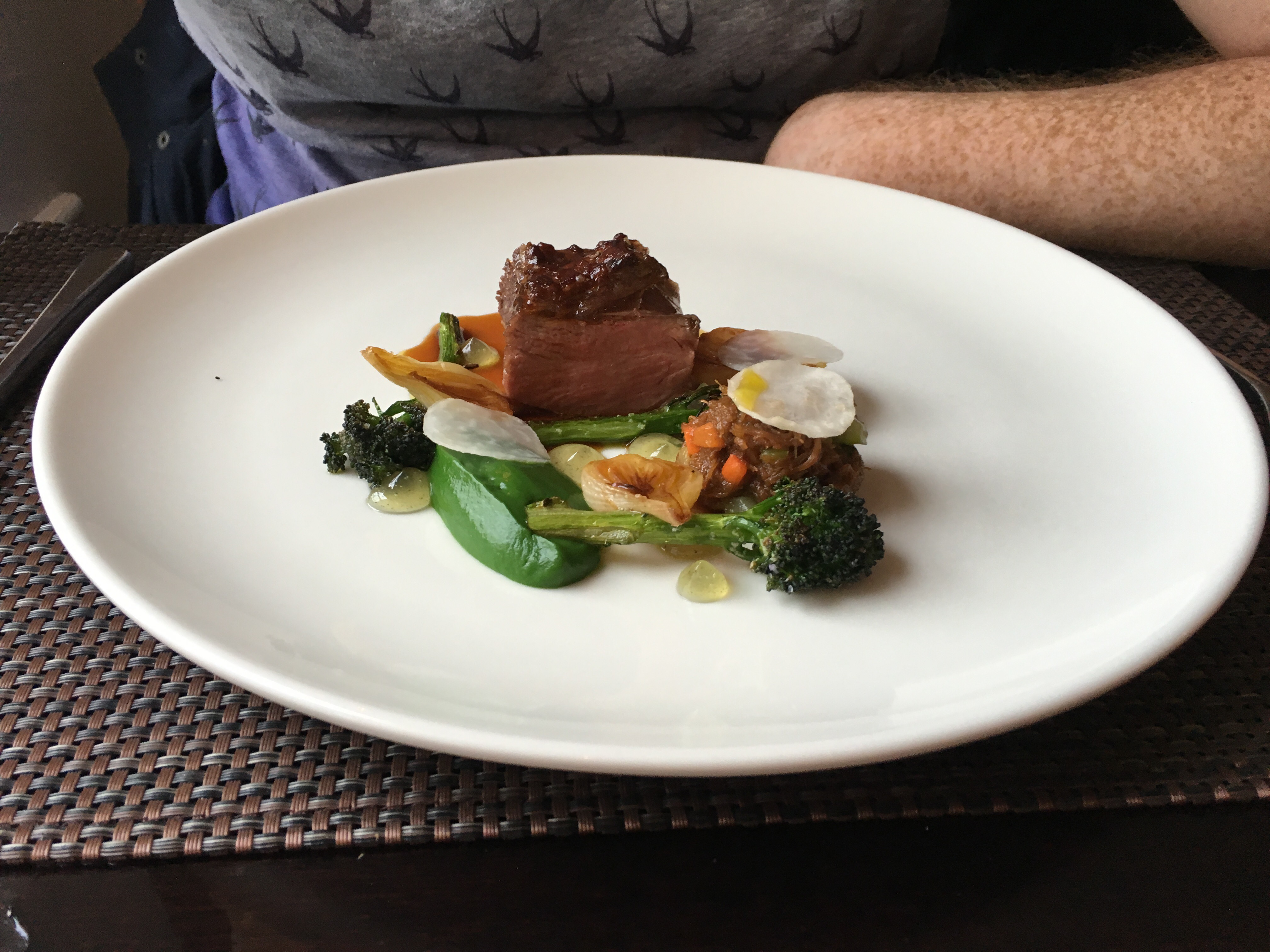 Obviously the lamb was perfectly cooked, there was just the right amount of food on the plate. The tender stem broccoli crispy and crunchy, red wine jus complimented it well. I found the pea puree bland but Papa Ginge disagreed and he ate most of it I just had a tiny taste. Wish I ordered this one!
Last but not least came the dessert course. This may have been my favourite course and I'm not a dessert person. I seem to remember this dish from last year too or a very similar one. The menu listed it as 'vanilla, Yorkshire rhubarb, ginger and rosewater' (this just autocorrected to tidewater so I'm pleased I picked that up!) It was a really great balance of textures and flavours. The tart rhubarb ice cream and crisp pieces of rhubarb balanced perfectly with the smooth and soft vanilla part – whatever it was – panna cotta/Creme brûlée – I dunno, it was tasty. This course made me reflect that it's a shame you can't lick your plate in a Michelin starred restaurant. Or at least you can't without scorn.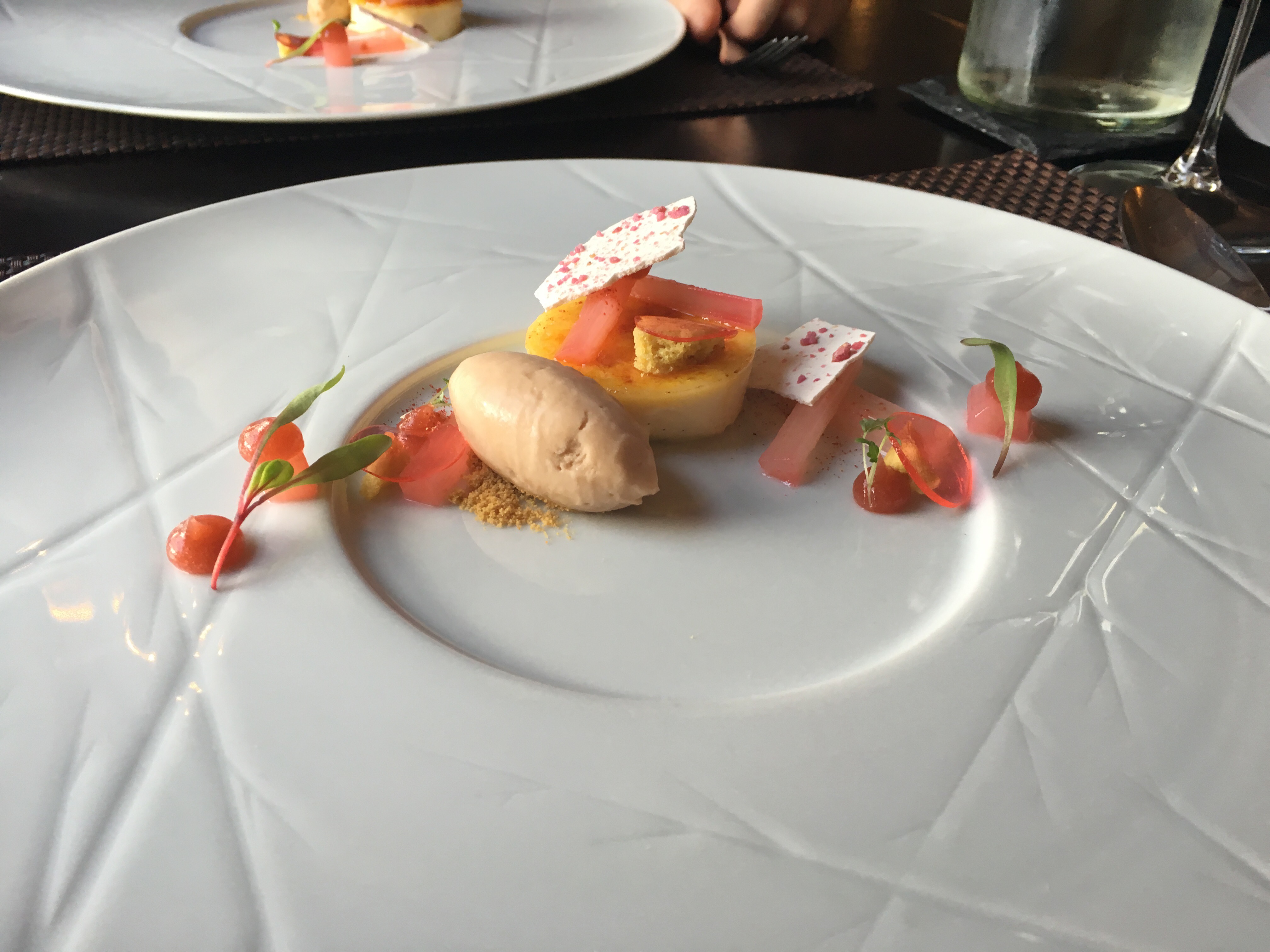 It was time for the toilet test, the litmus test of restaurant visits for me and my friends. It smelled great, clean, jazzy hand cream, thick posh hand napkins – the whole shebang. I wondered if I was drunker than I thought on the way back from the toilet till I realised the floor is not at all level in this restored grade 1 listed 16th century former merchant's town house overlooking the Tyne.
Like every restaurant they hit our pet peeve of taking too long to get the bill. Where do servers go in restaurants at bill time?! Is this a tactic? What's it about, let me know in the comments! It's like the wreck of the Hesperus when you just want to bounce.
Costs:
1 glass of northern alchemy beer £5
2 glasses wine £6 125ml
Tap water – free just costs a small part of your pride asking for it
2 x 5 course taster courses £55 each
Service charge 12.5% included
Total £142.87 (ouch)
This wasn't a sponsored post – unfortunately. We save our pennies all year for a big valentines dining treat. Valentines is our thing, we don't celebrate our anniversary. This year we also didn't get each other presents so we could afford it. It's what we enjoy so it's worth it for us.
All in all though we had a great time and can't wait to go back again. Total score 9/10.