Last week I was fortunate enough to get an invite to a PR event for the launch of the spring/summer menu at Asian tapas restaurant, River Beat. This was my second time at River Beat having last been just after it first opened.
I really like the building – it was built in 1845 and used to be the old River Police Station. It's a great location, just at the end of the Swing Bridge on the Gateshead side, right on the corner. Not long ago it was South Bank Grill and before that O de V. Restaurants based here don't seem to last very long it seems, so hopefully that's not the case for River Beat too as apparently owner Andrew Drape has invested more than £50,000 into the venture.
One of the best things about River Beat is that it has two great private rooms, a small one downstairs with a lovely seated bay window and a larger function room upstairs with a bar. They are perfect for meetings, events and celebrations.
The restaurant is bright and airy with lots of full length windows offering scenic views of the river Tyne and Quayside. I'm a real sucker for restaurants next to water, I find it so soothing. There is a small terrace outside which will be cool in the summer – eating the Asian tapas al fresco on a summer night with a cold glass next to the lapping water of the Tyne would really compliment the style of food. The restaurant also passes my stringent 'toilet test', which is no mean feat. So many restaurants are let down by grotty loos.
There was a glass of prosecco for each person which was nice although I personally prefer a nice crisp, cold lager with spicier food like this. The food was put out buffet style for us to go and help ourselves. There weren't any labels which would have been helpful so we knew what we were eating. Fortunately I'm not a fussy eater at all so I just put everything on my plate and got stuck in.
My favourite by far was the pan fried scallops with twice cooked belly pork with peanut caramel sauce. We were all fighting over these. They were the perfect little mouthfuls, really soft and sumptuous and the dip was divine. I would be put off by the price tag of £9.10 a portion though.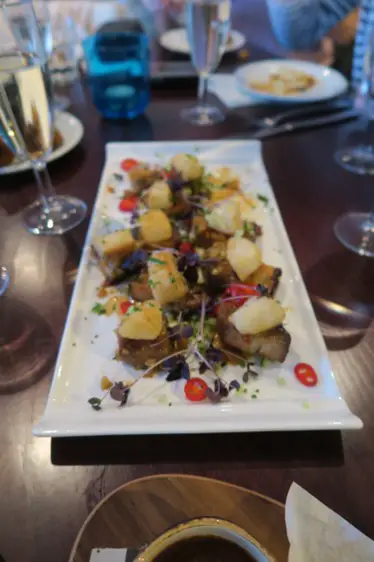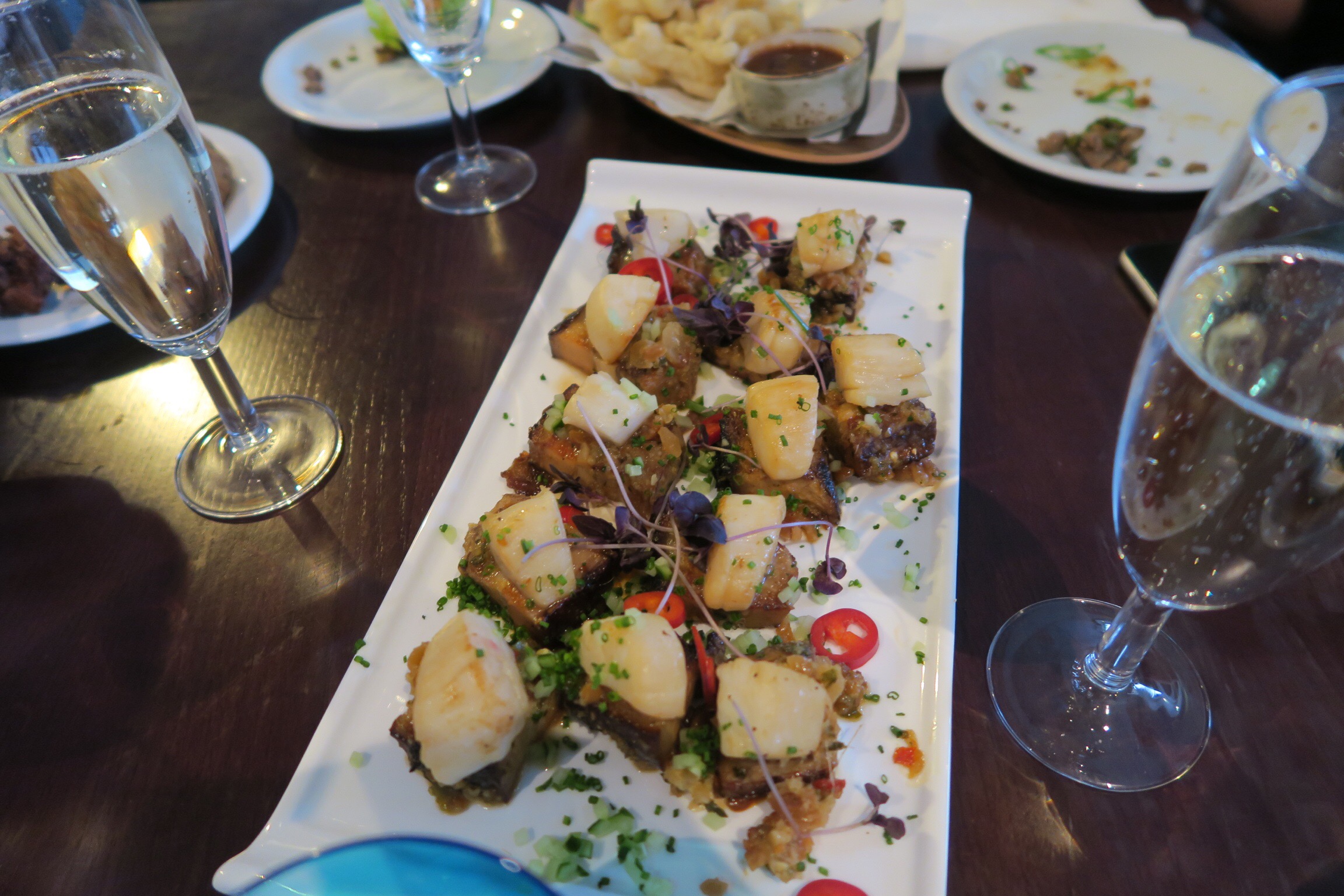 The cauliflower and dill curried fritters were canny but the vindaloo dip was way too hot for me, it nearly blew my head off. I am a self professed wimp with spices but even the bloggers who weren't found it seriously spicy too – great if you do like your heat.
I was a bit 'meh' about the chiang rai rice balls, they didn't taste of much to me and probably weren't worth the calories or price in my humble opinion. The mango and lime leave syrup they came with was nice but they tasted bland to me without it.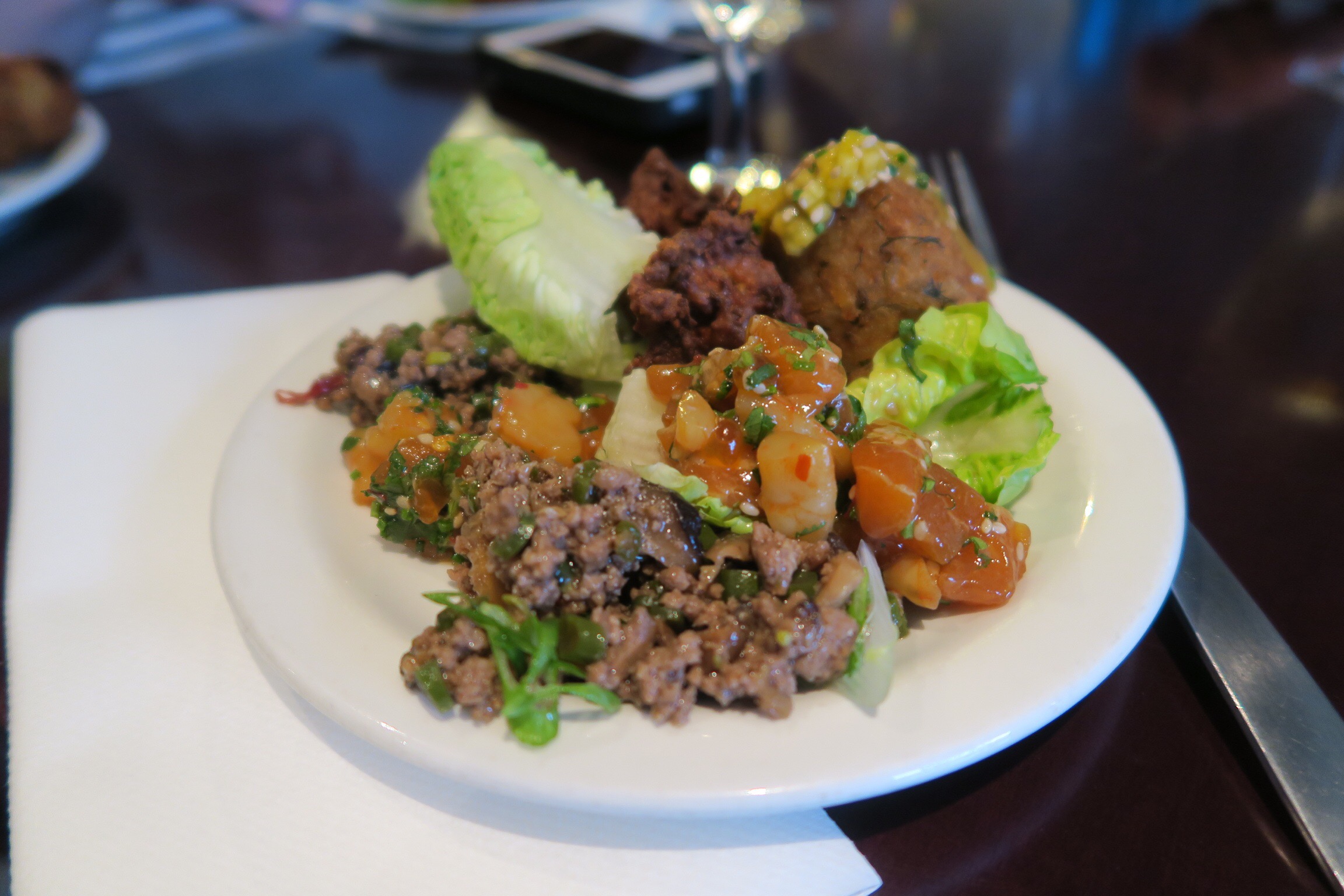 Now, I'm a huge seafood and fish lover but I wasn't keen on the prawn and salmon poke with tempura soft shell crab. I'm not sure what it was about it that I didn't like, I couldn't put my finger on it. Perhaps it was just too rich. I just didn't want any more of it. I couldn't taste any crab at all. I would have been disappointed if I had paid £8.40 for it. Someone I was chatting too said it was his favourite though so clearly it's a personal taste thing.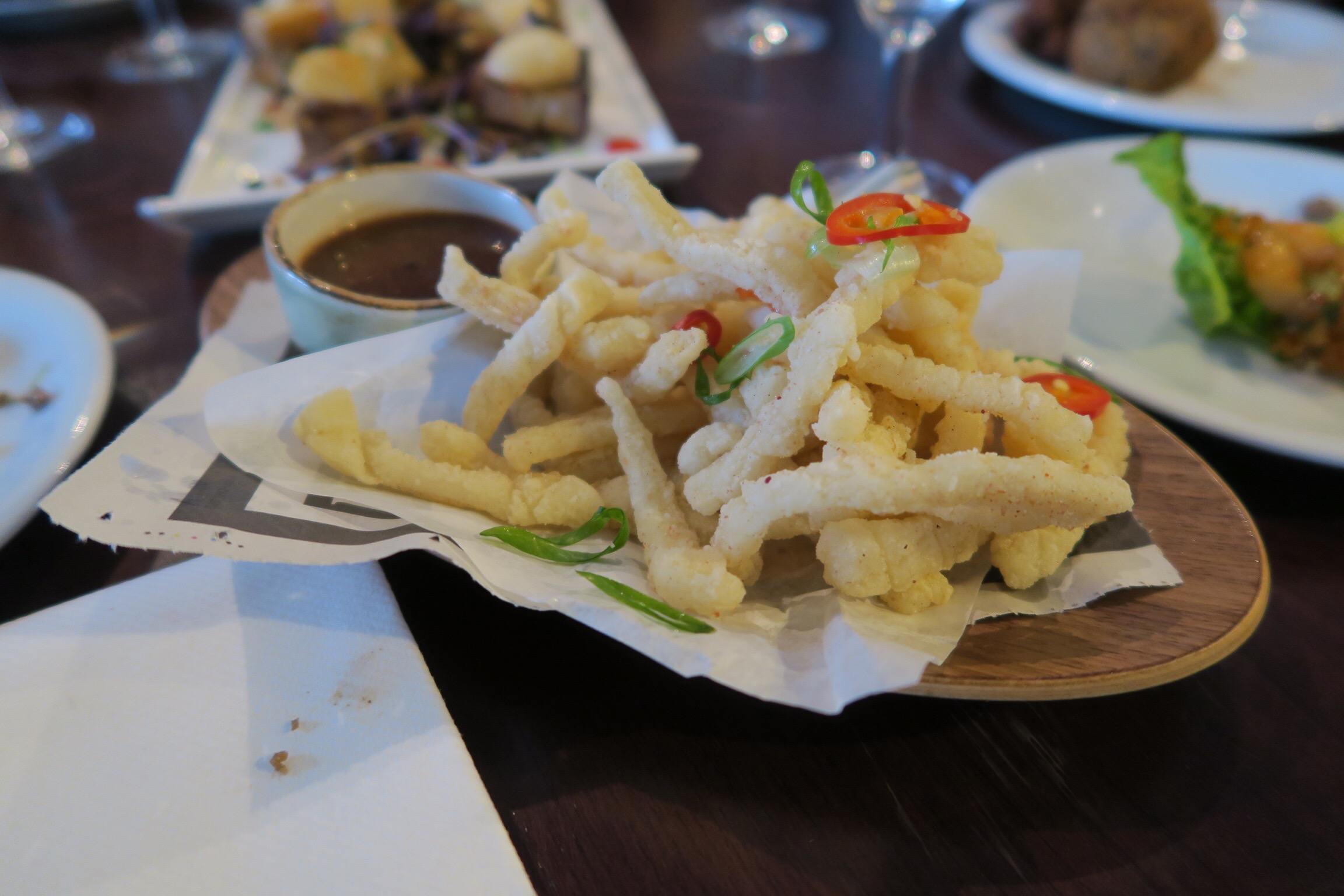 The salt and pepper squid was great – really tender, not chewy like some squid can be and I loved the plum and tamarind dip it came with. I would order this again and felt it was good value.
I really liked the lamb sang choi bao with lettuce leaves. The texture and flavour went nicely with the crisp lettuce leaves. I would order this again and feel like its good value on the 3 for £14.50 menu.
One thing I'm not sure River Beat have got quite right is their pricing. I feel they are priced just that little bit too high for drinks and some of the tapas. When we went after it just opened I felt our bill was maybe about 15% more expensive than we wanted it to be. I'd be tempted to go more if the prices were a bit less. The early bird menu is a steal though at 3 dishes for £9.50 and that's definitely good value for money.
If you wanted to try something really unique River Beat are providing food for one of the nights of Dine by the Tine where you get to eat your dinner 100ft above the Tyne! I'm very intrigued by these events myself.
The best thing about these events for me though isn't even the free food or booze (as great as that is) but the opportunity to network with other North East bloggers which is invaluable to a fledgling blogger like myself. I got to meet some new people like Canny Food and Newcastle Eats. Emmy from Canny Food and I bonded over babies and we are both currently breastfeeding our baby girls so we laughed about our recent 'boob'scapades'! I finally met Honestly Helen, following a near miss at the Big Vintage Festival last week (check out our vlog of that here). It was nice to see Chloe again from New Girl in Toon as I've been enjoying her snapchats lately. I also got to know Pixie from Fashion Voyeur (and her lovely work colleagues) a bit better after meeting her for the first time at Cabana a couple of weeks back, that chick's got some edge!
It was a nice respite from dealing with my little ones for the evening so thank you for your hospitality River Beat, look forward to coming again to enjoy that terrace by the Tyne.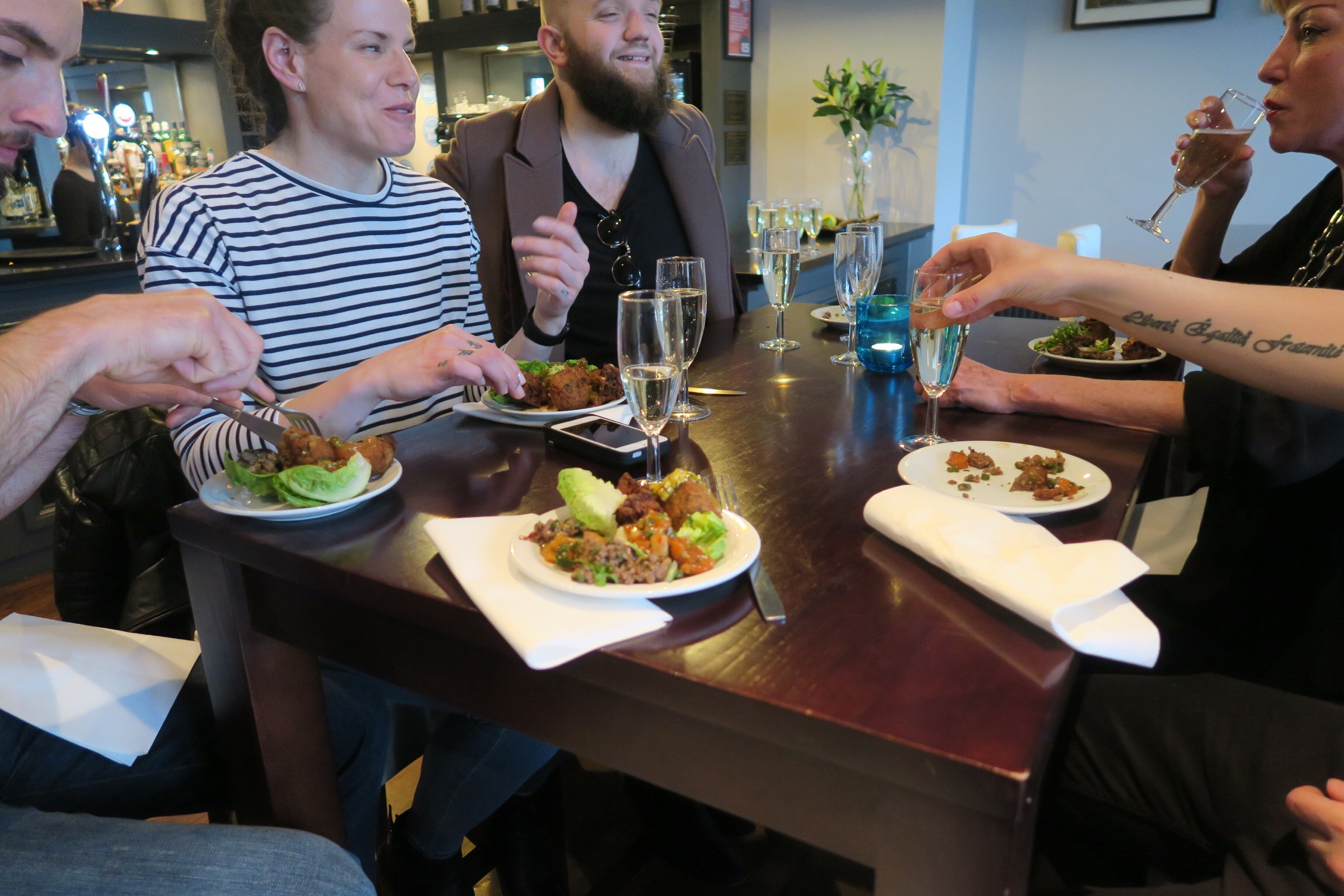 My scores on the doors:
• Venue 8/10
• Location 8/10
• Value 6/10
• Food 7/10
• Toilets 8/10
Disclaimer: I received this food and a glass of prosecco in exchange for this review but are no limitations on my review. I will never accept a review where I can't be honest.