I now have a new favourite play place! Yesterday we went to check out the recently opened Role Play in Hebburn and I fell in love. I liked it so much I booked it for Arlo's 5th birthday party in December while I was there!
Things I loved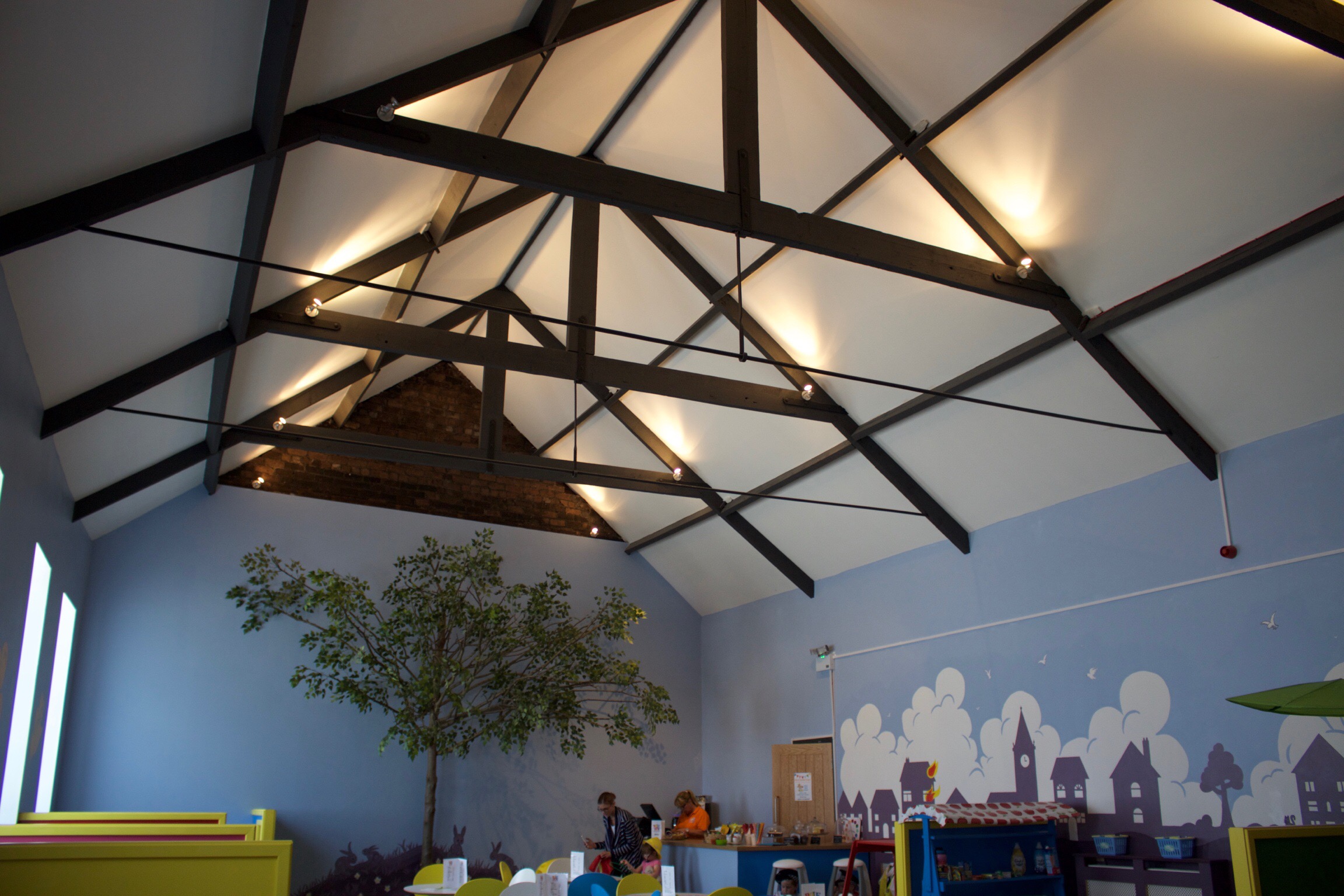 The location is good – a 5 minute walk from Hebburn metro. If you drive there is lots of free parking at Hebburn hub across the road, or even around down the side streets.
I don't know about you but with a toddler and pre-schooler, what I want is somewhere where I can take them and I can sit down and have a cuppa but still always see them. Role Play is that kind of place. Its laid out perfectly so that there are tables in the middle, a 'racing' track around those tables and then play stations around the edge of the room. It is all baby proof and safe, the kids can't get out of doors or into things that can hurt them. Best of all, the stations are so different and fun they actually want to run off and play independently so you could sit and have a cuppa or catch up with another parent. You could probably even work! So much better than taking them to soft play.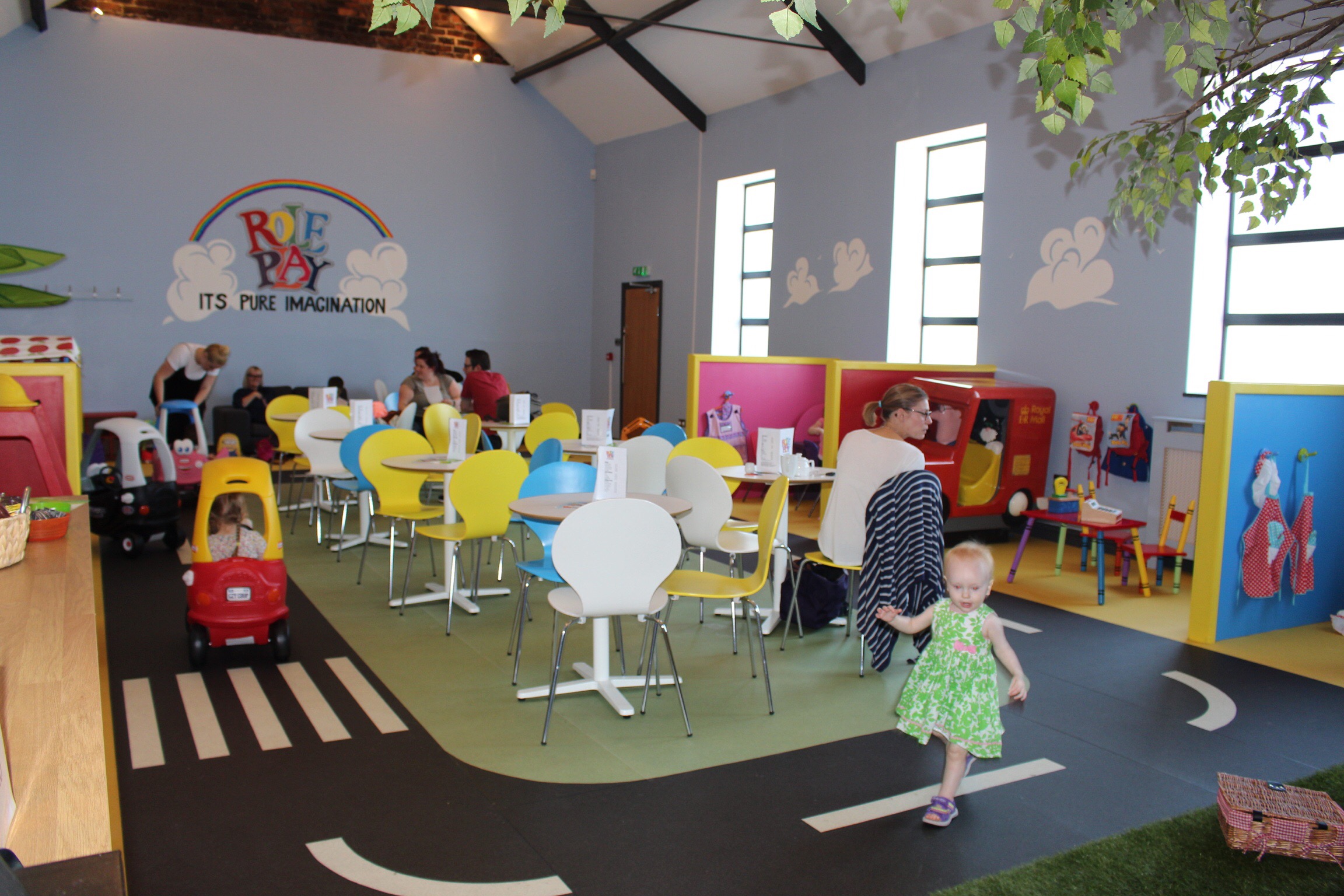 The other amazing thing about it is they have a number of staff who are going round keeping the place in order and tidy and *gasp* playing with the kids. They were all childcare professionals on the day I was there ranging from qualified teachers to nursery workers. They are all CRB checked and you could tell they genuinely enjoyed playing with the kids. This will come in especially useful for outnumbered parents who can relax a little knowing there is a helping hand if they have a number of kids requiring attention at the same time. All of the staff I spoke to on our visit were very polite and enthusiastic. They nailed customer service.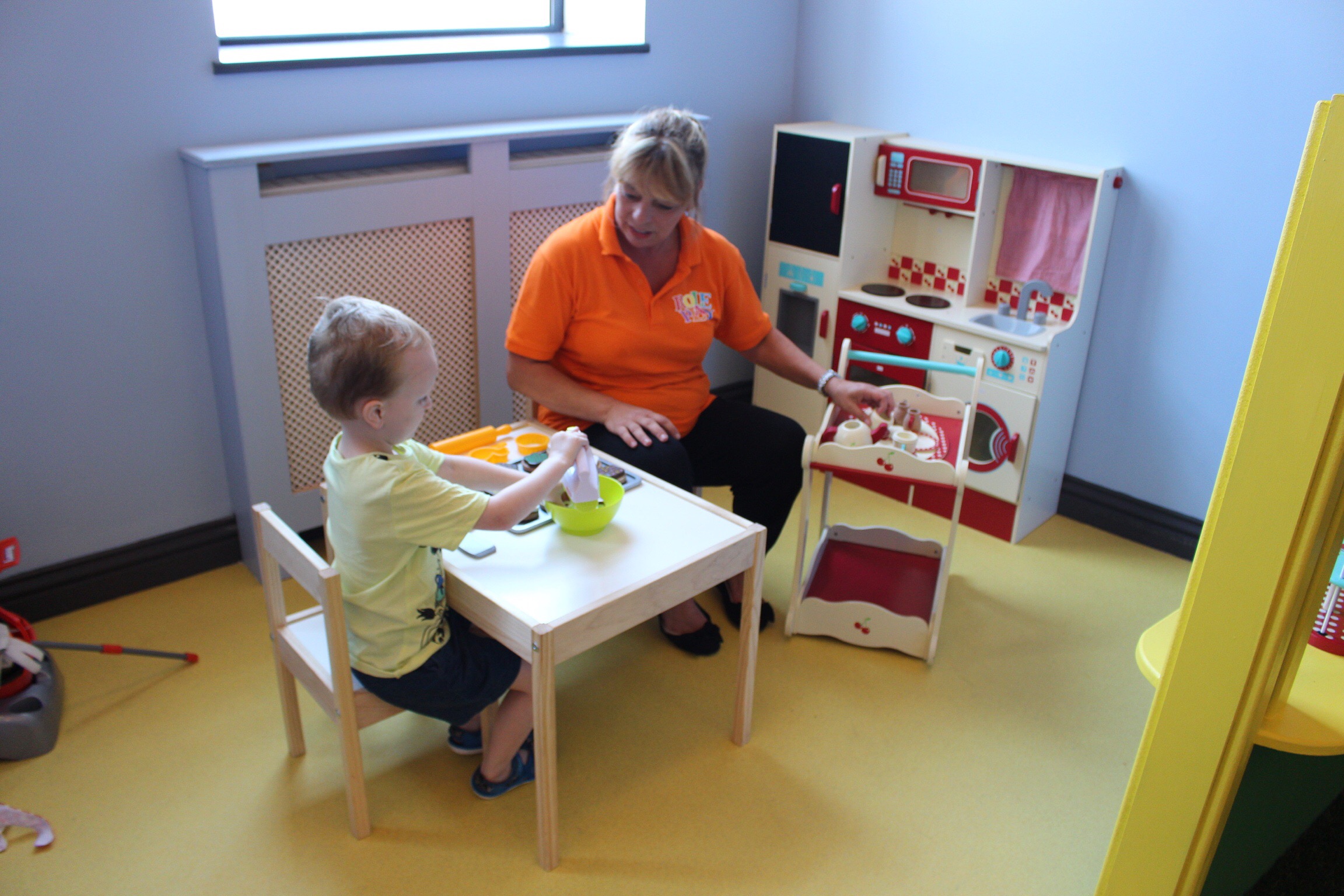 The room is lovely, big wooden beams and pretty ceiling lighting and a real tree at the back. The staff brought the tree in and treated it so it doesn't have any insect issues. They then stuck fakes leaves on it so it still looks like a real tree. If that's not dedication to creating a lovely space then I don't know what is. The tree is house on some fake grass to create a little play picnic area that is a wonderful focal point to the room. At the end of the 1 hour 30 minute session the staff clap and sing a song and then read a story there to mark the end of the play time.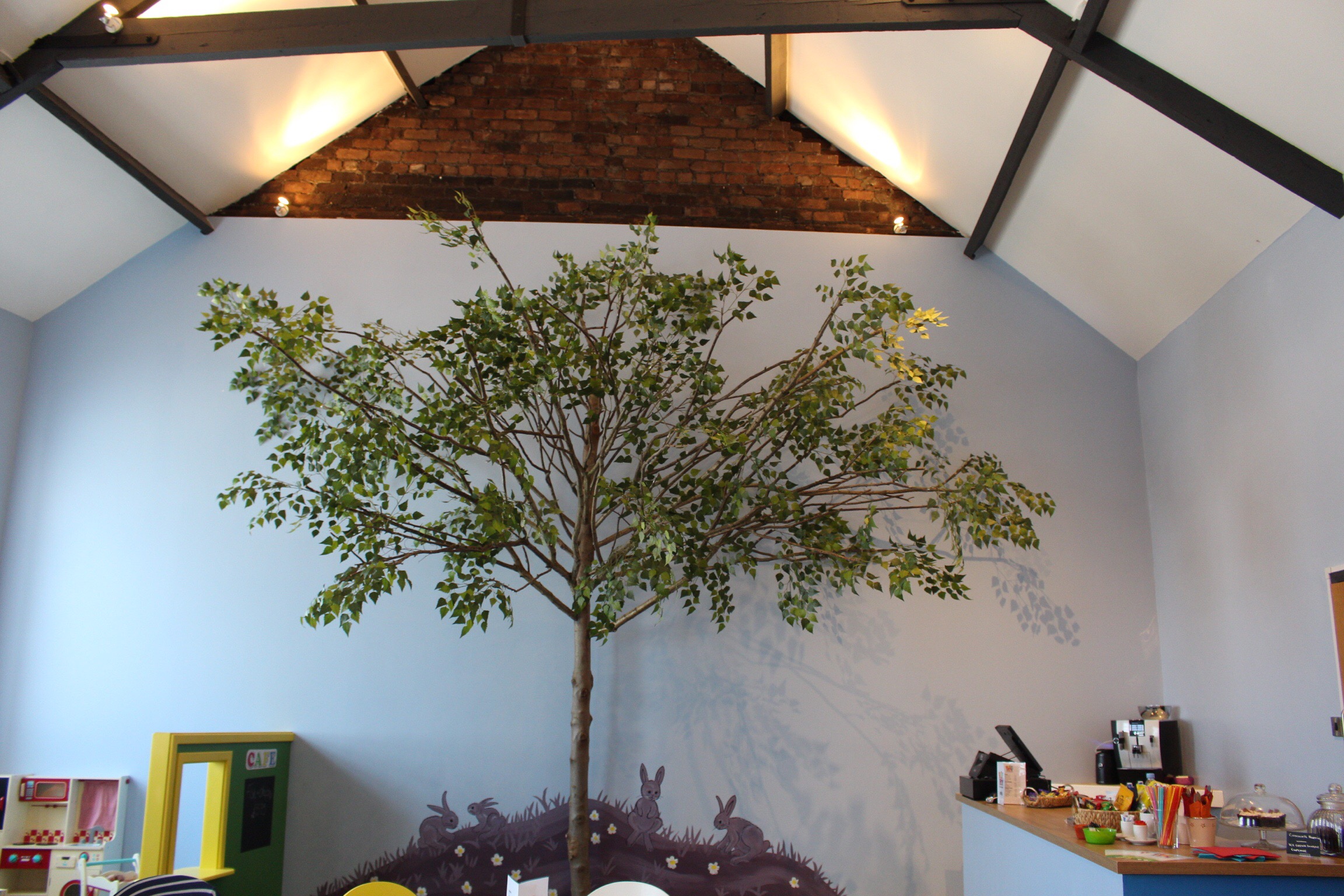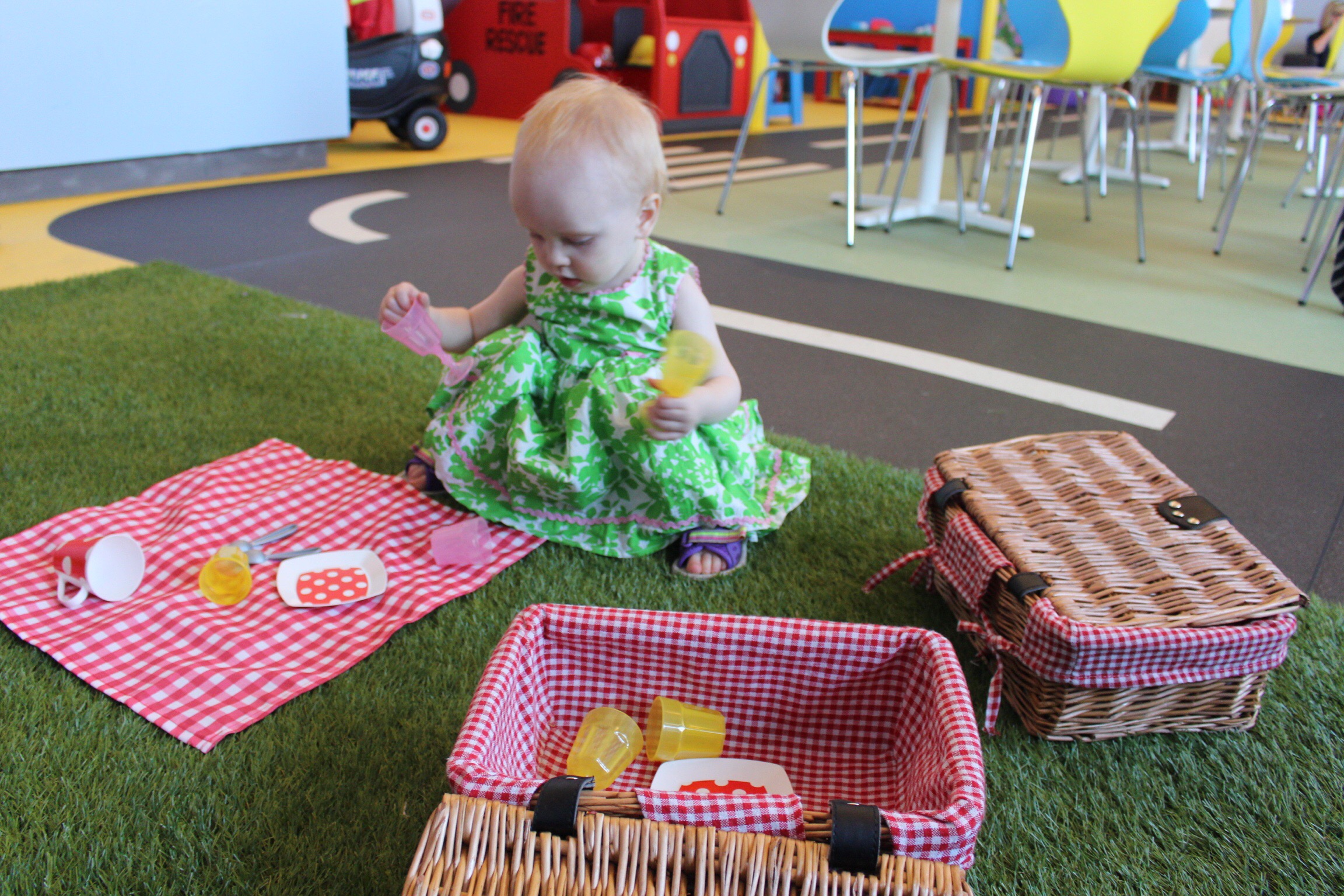 This is a lovely touch and demarcation to the session – although Lena kept trying to pinch the book.
Both my kids (4 and 1) loved playing in the cars and going round the race track. Lena abandoned cars after a while and started pushing a shopping trolley around the track for a while but whatever floats her boat I guess, as long as she's not hanging off me so I can get 5 minutes of peace.
There is a builders station with fake bricks, builders dress up clothes and a couple of ride on vehicles that the kids all seemed to love.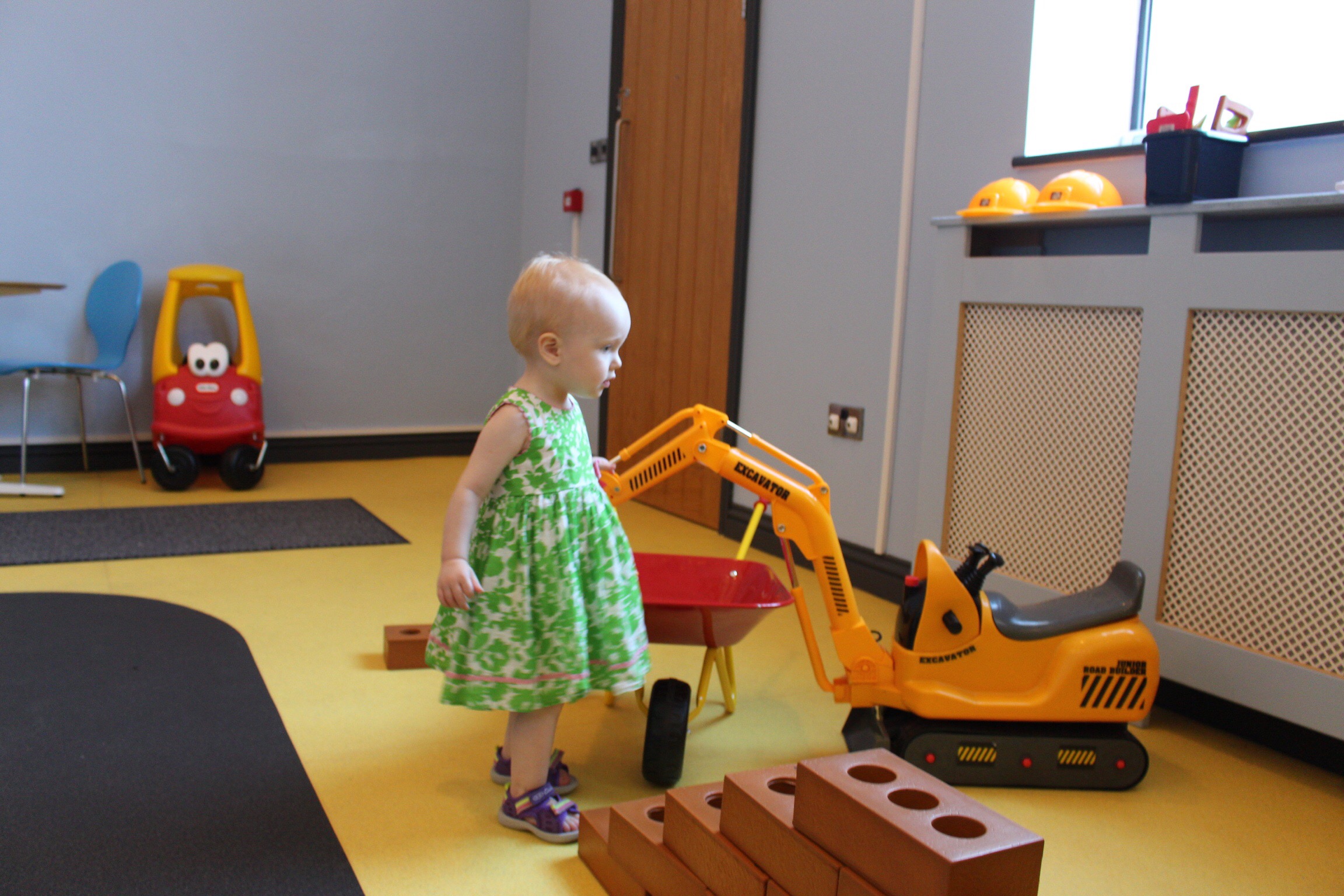 There is a hairdressing salon with dolls heads where you can do their hair.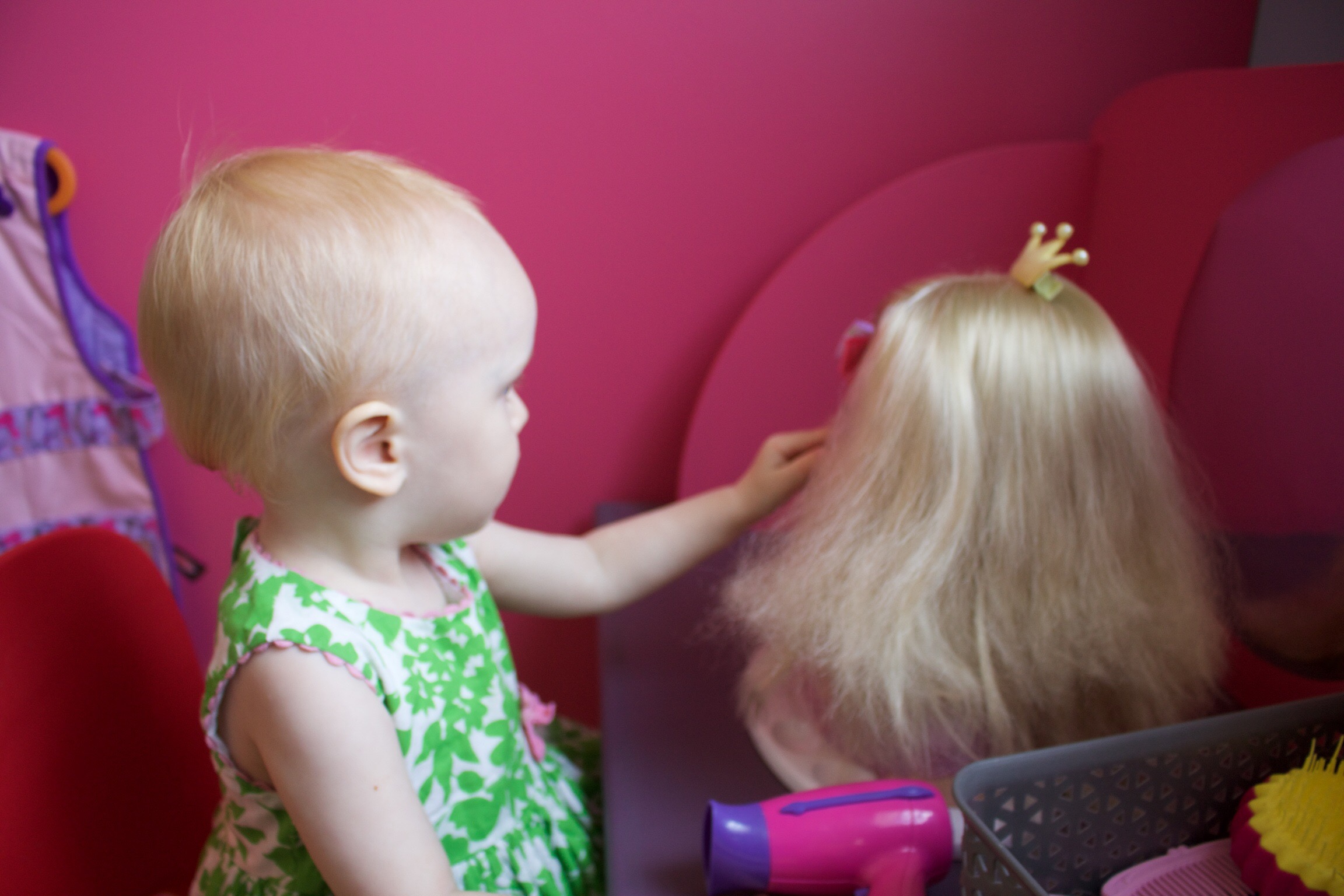 A post office with dress up outfits and a postman pat van complete with Jess the cat was popular. They even had little parcels in it, wrapped up in brown paper and tied with string.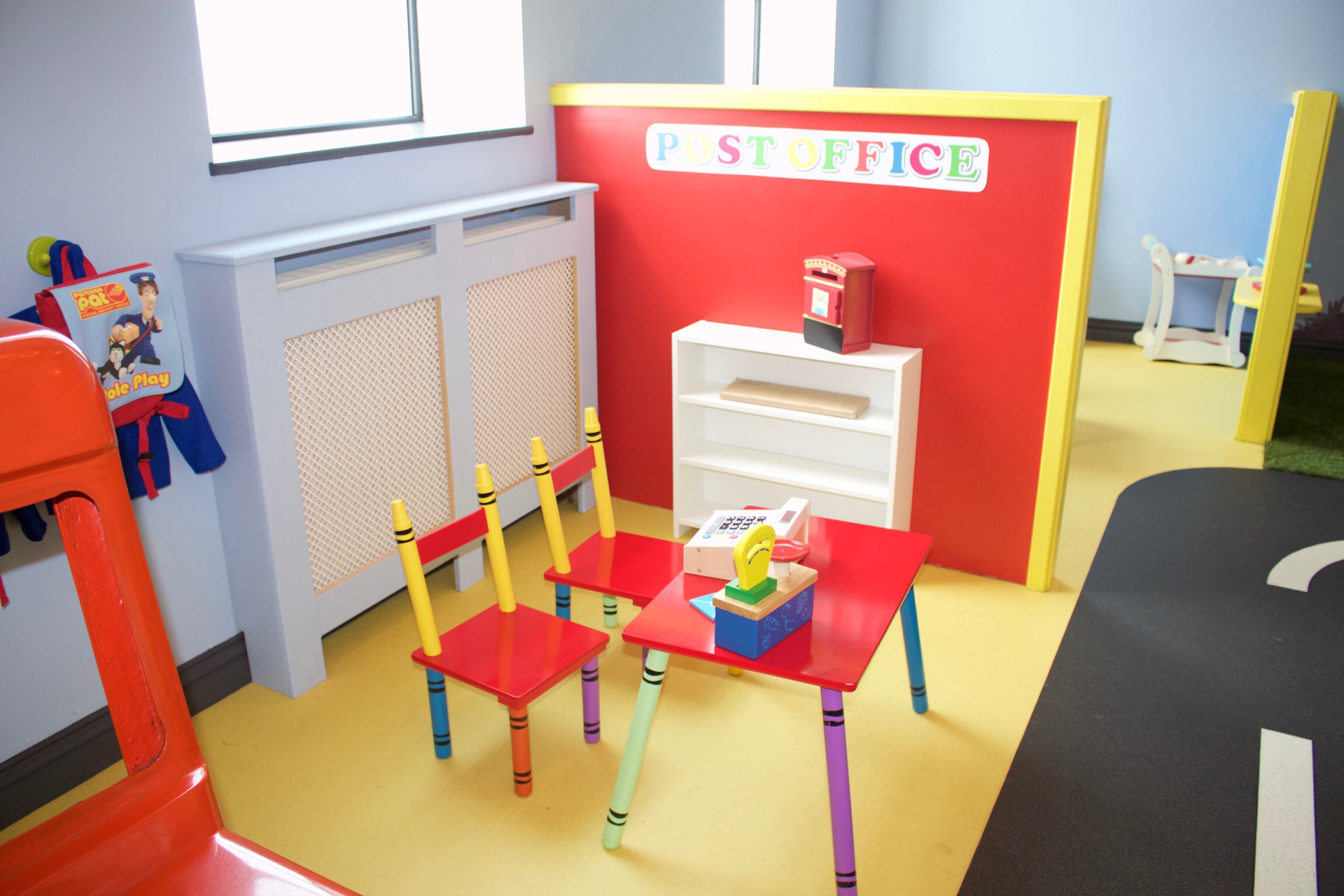 There was a little kitchen area with a wooden kitchen set, cleaning toys and table and chairs.
Arlo's favourite was a fire/police station with dress up and a fire engine. This station also had police cosy coupe cars.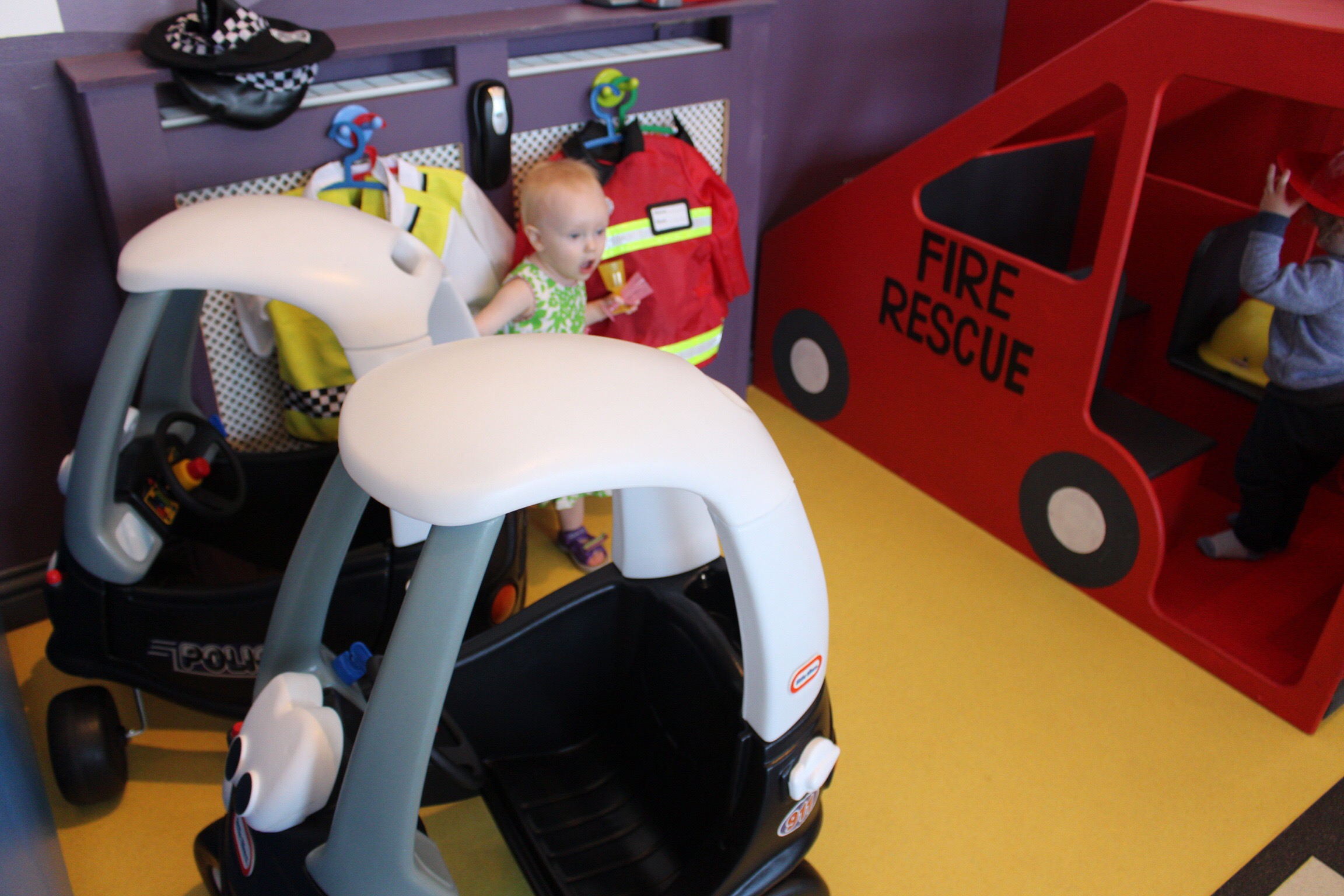 There was a shop station with a shelf of 'groceries', a shopping trolley, fabric bags and a till, counter and seat. The kids really seemed to like this one.
Then finally there was a baby section that would also be good for chilling out at – with books and baby seats/toys.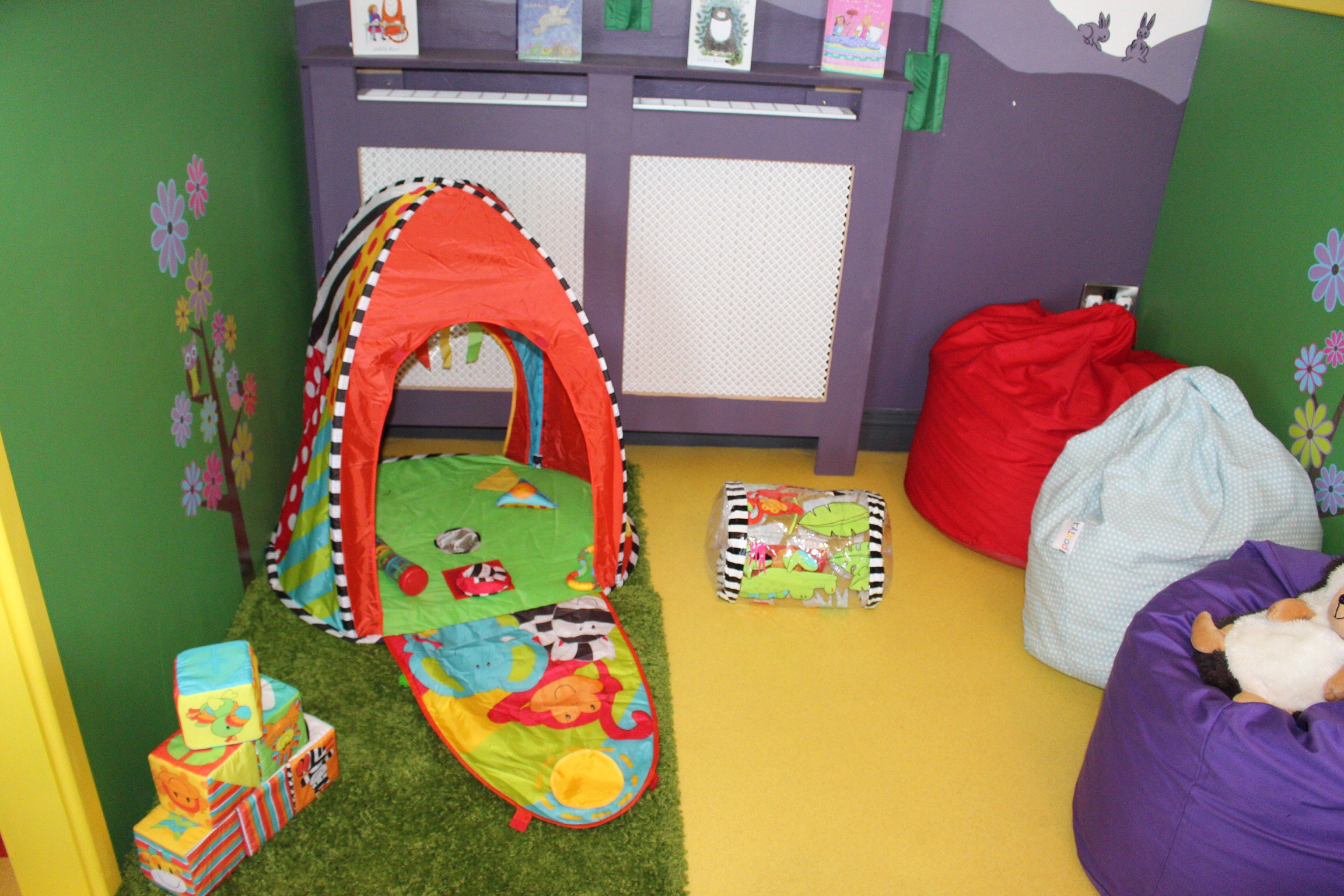 There is a counter at the back of the room where you can order food, drinks and snacks – hot and cold. I didn't eat but I've spoken to people who have eaten there who assured me the food is good. There weren't many allergy friendly options when I was there but the manager said they were going to rectify that and she was certainly very keen to cater for any allergies. We spoke about it for my son's birthday party and nothing was a bother.
Things that could be better
In fact, any criticisms I could have made are stuff the management is aware of and already on the road to fixing. It was quite hot in the room of the day we were there so they are looking at getting air con or fans to help. They currently hold 4 90 minute sessions a day, each session currently costs £5 per child. I asked if they would be doing a sibling discount (as £10 for my 2 a session at the moment makes it something I can't do often). The manager told me that they will be introducing this asap, along with lots of toddler group sessions.
Summary
Overall I'd give Role Play 9/10. I was given complimentary entry to do this review but I'll definitely be back again out of my own pocket and I'm very excited to see what this little venture has in its future!
If you enjoyed this blog post then I would love it if you followed me on Facebook, Twitter and Instagram to see more like this!