I've just returned home from an enjoyable long weekend at Haggerston Castle in Berwick. This is the kind of holiday that you would only consider doing if you have kids. To be honest, it's not a holiday I would have considered myself unless my sister had persuaded me but we went and we had fun. This blog post is a review of our long weekend stay at Haggerston Castle Holiday Park in 2016. If you are a more visual person scroll to the end of this post where we have two YouTube videos of our stay as well.
T&R Caravans Haggerston Castle review
We hadn't planned any more holidays this year and my sister asked if we would like to go to Haggerston Castle Holiday Park with them. They had booked a caravan for their family and my mam was going to stay with them. Our kids all get on great. Our eldest two are only 3 months in age apart and I've never seen two kids play nicer together. I love to watch them. Then our youngest two are around a year apart. She had found a caravan opposite her so we booked up with T&R Caravans. We received a small discount with them for including them in our YouTube vlog of our stay (below). It was the 6 weeks holidays so pricier than usual, for Friday to Monday our caravan cost £295 (and a £50 refundable deposit).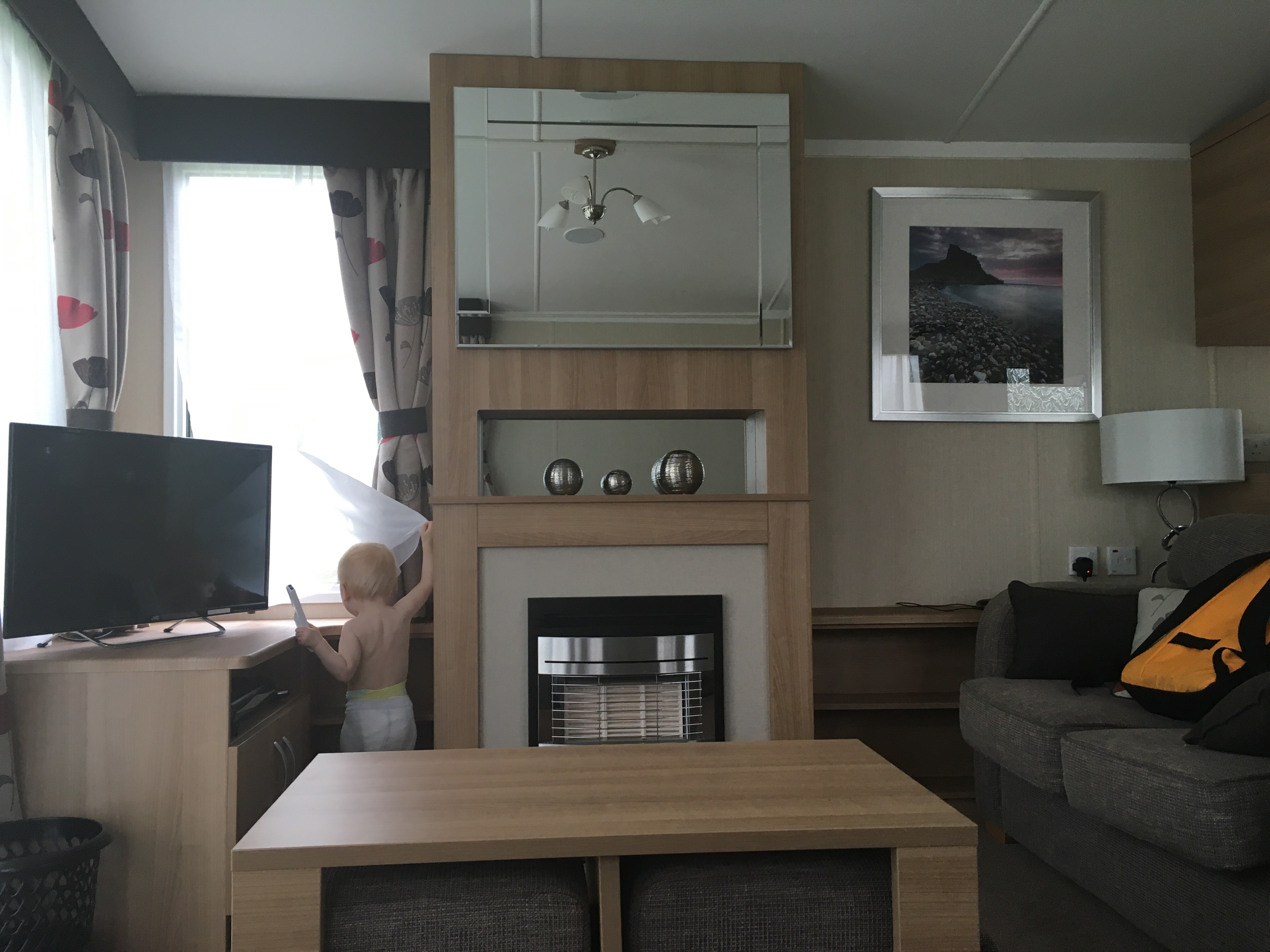 At the site you can either book through Haven Holidays or through independent firms/owners. The Haven Caravans include passes to the site. If you book independently then you need passes to the Haven entertainment site/activities which cost us £30 for the weekend for each adult (the kids at 4 and 1 were free). Our passes were only checked twice, both times when we were heading to the evening entertainment which we could happily have not gone to. The naughty part of me wonders whether we could have got away without paying for the passes and saved ourselves £60.
What was our T&R caravan like at Haggerston Castle
I was really happy with our caravan when we arrived. I wasn't sure what to expect. I hadn't been on a caravan holiday since I was a girl and standards have really improved since then. Our caravan was spotlessly clean and furnished to a high standard. I'm not sure if it was new but if not, you could barely tell it had been used before.
The shower was great – spacious with good water pressure and temperatures and the beds were comfortable. We requested a high chair and bed guard which were provided at no extra cost (I was told when you book with Haven you get charged for these).
We had a small issue that the high chair and bedding we had requested (they do charge £20 extra to provide bedding) were not there when we arrived but they rectified this quickly.
The only thing the caravan could benefit from would be the fenced decking like my sister had on hers. Perfect for letting the kids play outside but keeping them contained and safe from harm. We did have a huge picnic table for sitting out at.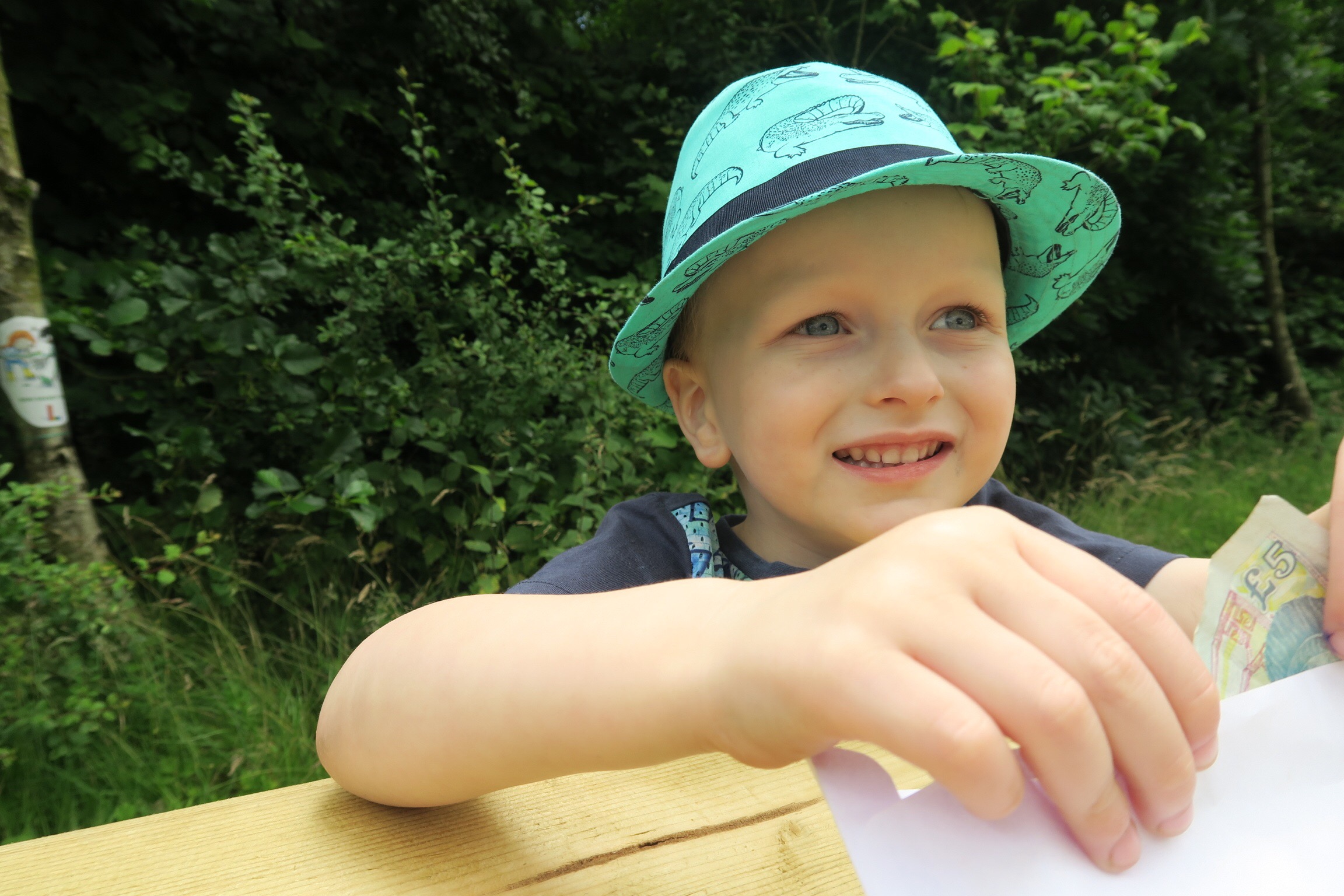 Distance from the caravan to the main Haggerston Castle area
Our caravan was on the Turnberry plot which I really liked. It was a bit more of a walk to the centre where the entertainment was but it was quiet where we were and right next to a small playground for the kids.
I don't know how we would have found it without my sisters directions though as its not well signposted.
We were also right next to the Chinese restaurant which we enjoyed takeaway from on our first evening. I also liked the 15 minute walk in to the centre – I made my 10,000 steps a day easily over the weekend.
Food at Haggerston Castle Holiday Park
On site there is a Spar shop where you get all your groceries from. Most things were a bit more overpriced than a supermarket so I would take what you can pack and just use it for extras you need while you are there rather than relying on it to get most of your food from there.
In terms of food there is a good chip shop on site, a nice café at the golf course, a burger king, the worst Papa Johns we've ever tried, and a pub called the Mash and Barrell that we had a nice meal at.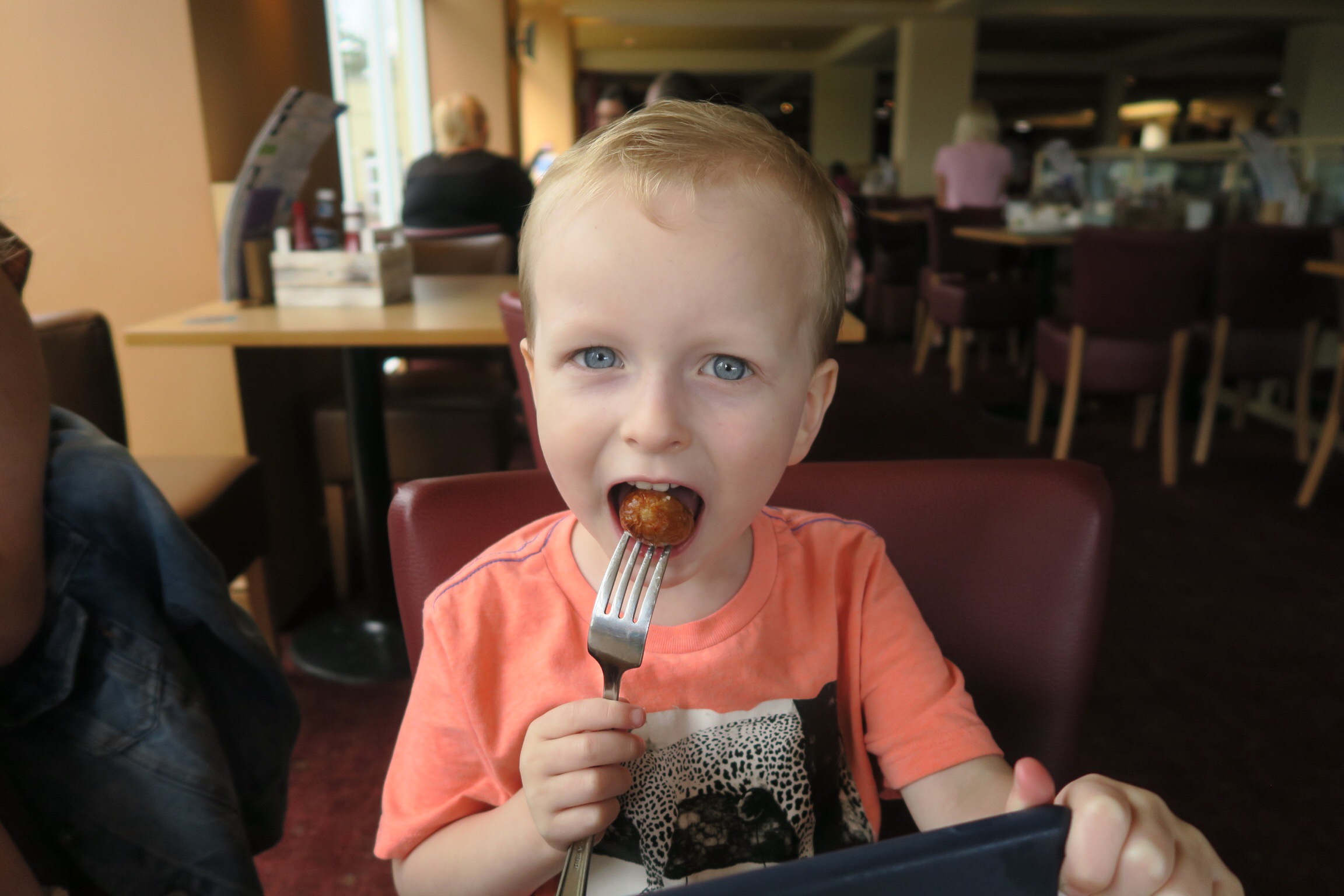 Entertainment at Haggerston Castle Holiday Park
There is a lot of entertainment on the site and most of it is to a pretty decent standard. We went to 2 of the kids shows in the day which were enjoyable.
The kids favourite was the circus show on the Saturday afternoon where there was acrobats, hula hoopers and bicycle performers. It wasn't as busy as the evening shows so we could enjoy it better.
On an evening for the kids shows we felt it got much too busy. All seats were taken, it was too crowded and so loud I took my one year old out because I was worried about her ears.
My 4 year old is quite introverted and he got a bit overwhelmed. He wanted to see the character animals but found it a bit much.
The pantomime performance of Jack in the Beanstalk was the same too, although good it was just too busy for us – and be warned they soak any kids sat on the floor if your kids are sensitive to that kind of thing.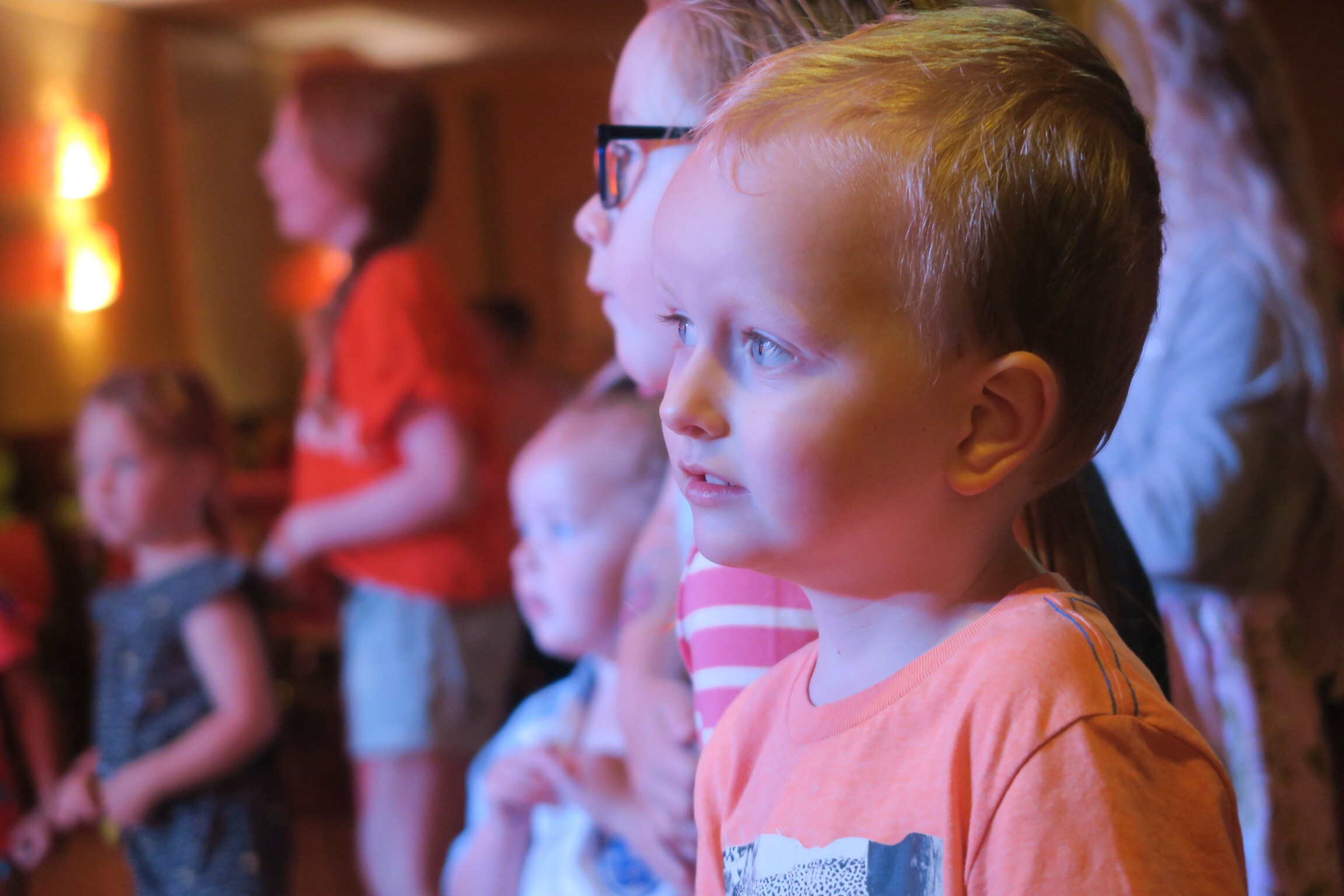 Swimming at Haggerston Castle Holiday Park
We took the kids swimming on the Saturday and the Sunday which they really enjoyed. As a parent I enjoyed it less. I'm not sure they manage it as best they could.
They have a strange system where you go at 9.30am on the morning to book morning slots for that day and then back at 2pm for booking afternoon slots for that day. You can't book more in advance than that. You can imagine the queues at the morning and afternoon get quite big.
You get a 1 hour slot – some sessions have 60 people in and others 45. It gets pretty hectic although doesn't feel too crowded when you are in the pool itself.
They call people out of the pool at the same time the next session is going in so there is a period of time where the pool is empty but the changing rooms are full on. I feel that could be managed better.
The changing rooms were a bit smelly and the floor often dirty. I did see staff cleaning the floor a lot though so they were clearly trying to keep on top of it.
The kids did have fun though and it was free in with your activity pass.
Arcade at Haggerston Castle Holiday Park
There is a big arcade that you walk through in the main activity centre to get to the shows and food venues, which is pretty loud and brash which may be a good or bad thing depending on what you think of gambling machines. I was a bit overwhelmed by it when I first went in I thought 'where have we come to?'. Papa Ginge and Arlo (and my mam) had fun trying to win things from the grabbers though.
Activities and facilities at Haggerston Castle Holiday Park
There were a number of playgrounds dotted around the site. My kids played at 2 of them.
There is a pretty lake where you can do water activities like pedalos.
For older kids there is an aerial adventure, climbing wall and activities such as archery.
There is also a soft play but I think this is pitched at kids older than mine. It was all up a height, the slide was quite big and my 4 year old hurt his elbow coming down and didn't want to go back in. I would have liked to have seen more physical activities for toddlers and preschoolers.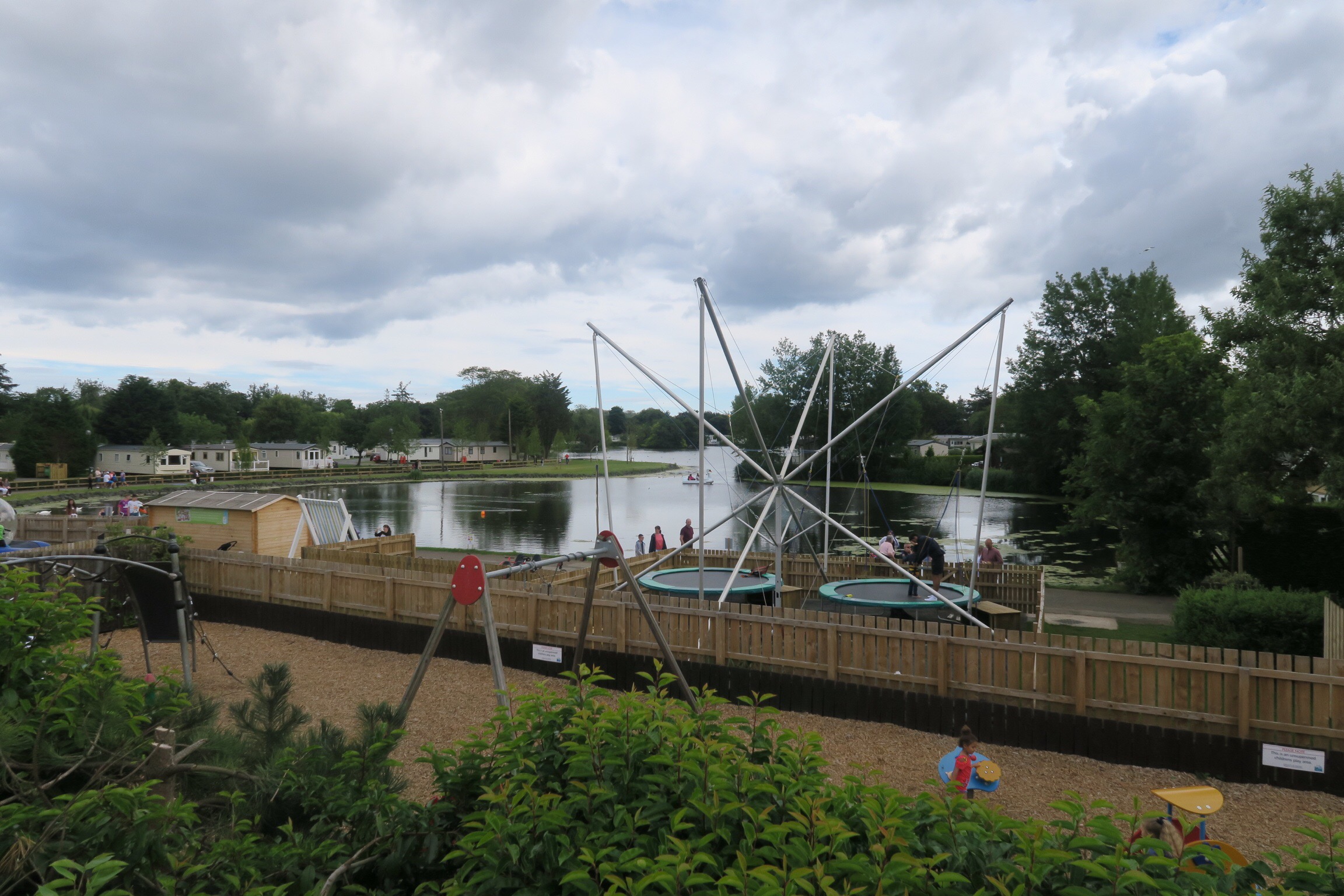 There is a spa on site but unfortunately I didn't get to try that out. As well as the usual stuff it had princess pamper packages for little girls which looked cute.
There is a laundrette on site if you are staying for any length of time and some stables for horse/pony rides.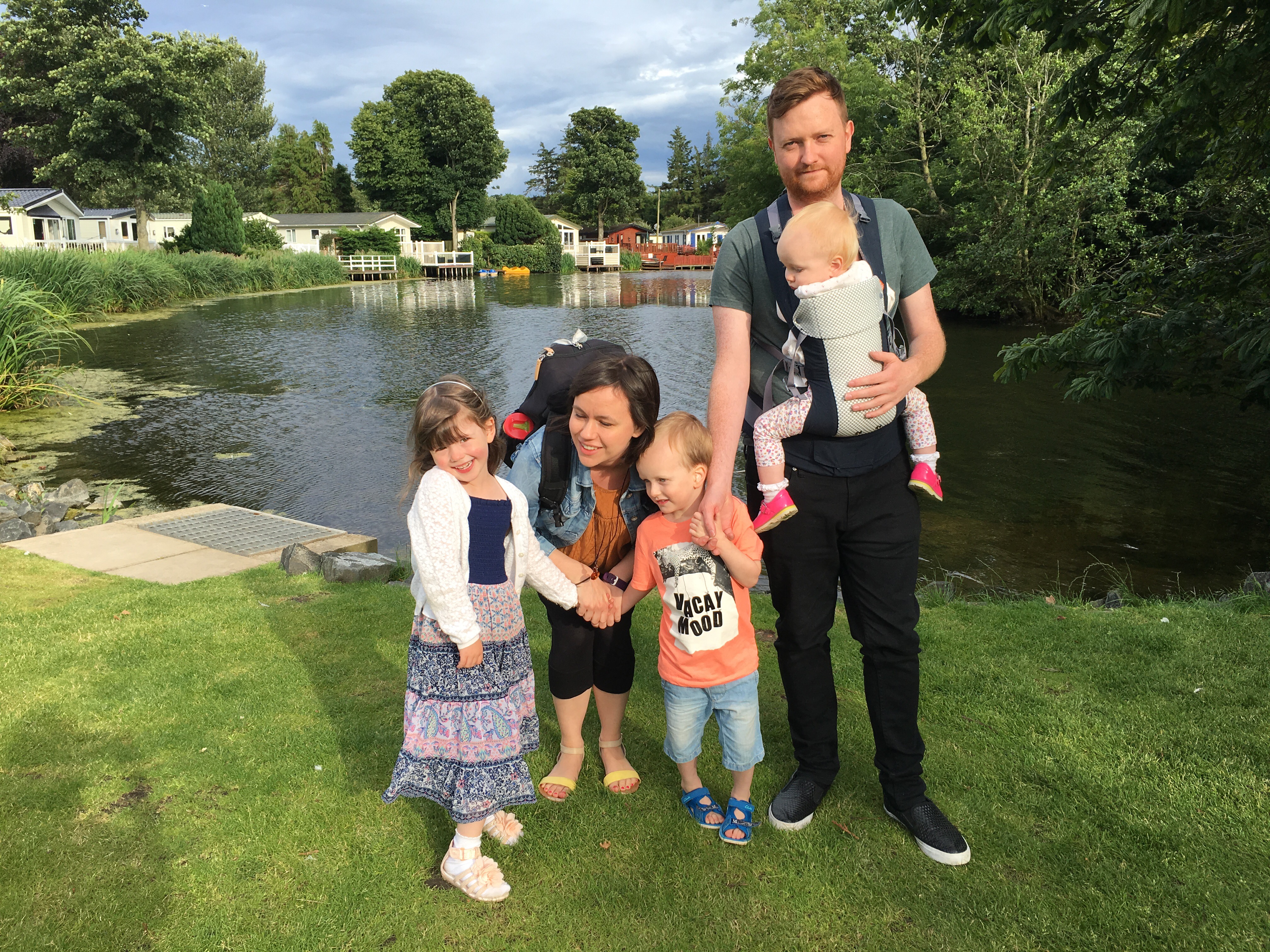 Mini golf at Haggerston Castle
There is also a golf and mini golf site. The kids played mini golf on the last day and had a blast.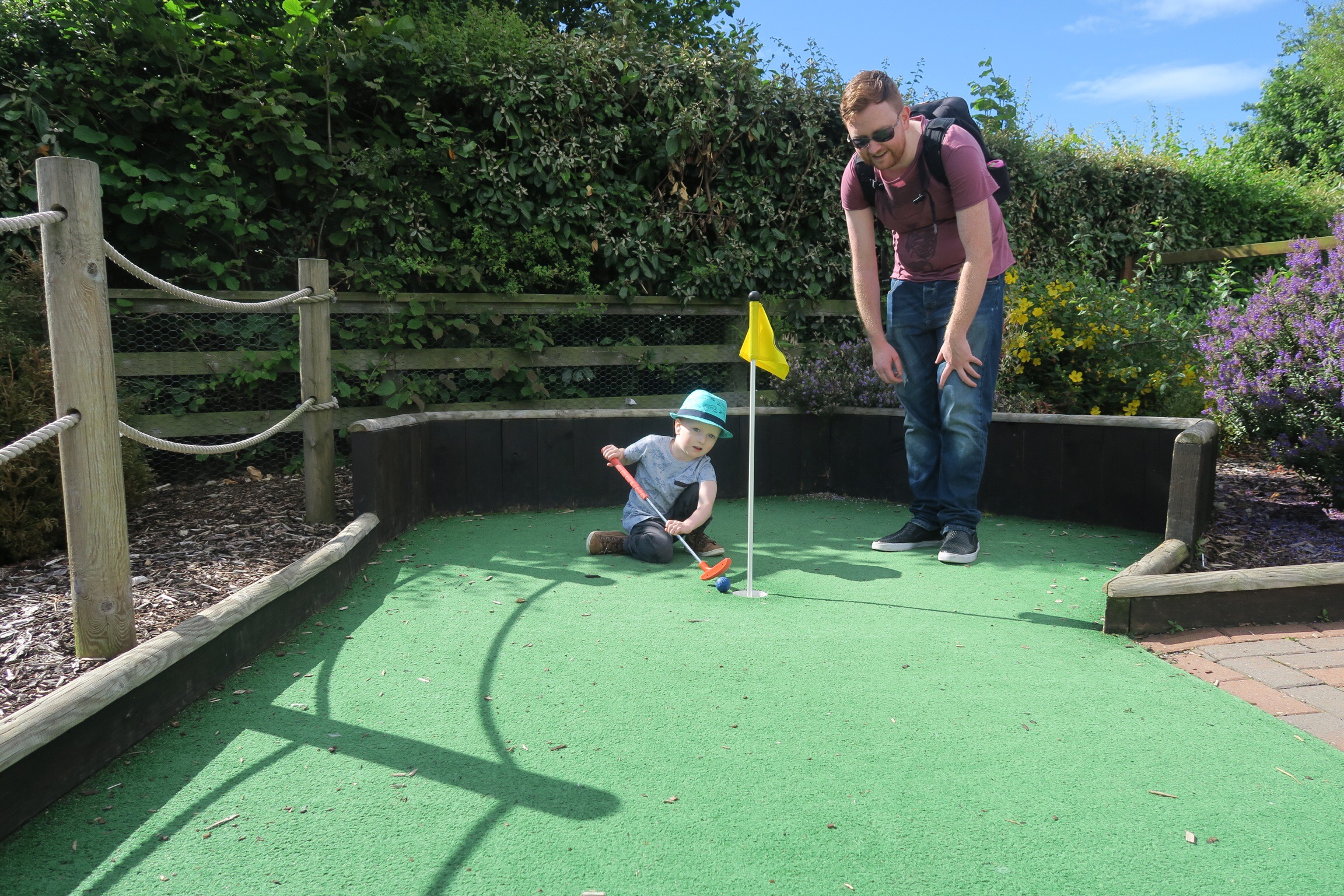 Then we ate lunch in the café on site there which catered especially well for gluten allergies. My coeliac sister was able to get a gluten free panini and there was gluten free cake too. I wish the rest of the site catered that well for allergies. The Papa Johns staff were pretty terrible when it came to trying to decipher what was gluten/dairy free there (not much it turns out). It took about 5 attempts to convince the member of staff I was asking about no milk rather than no nuts.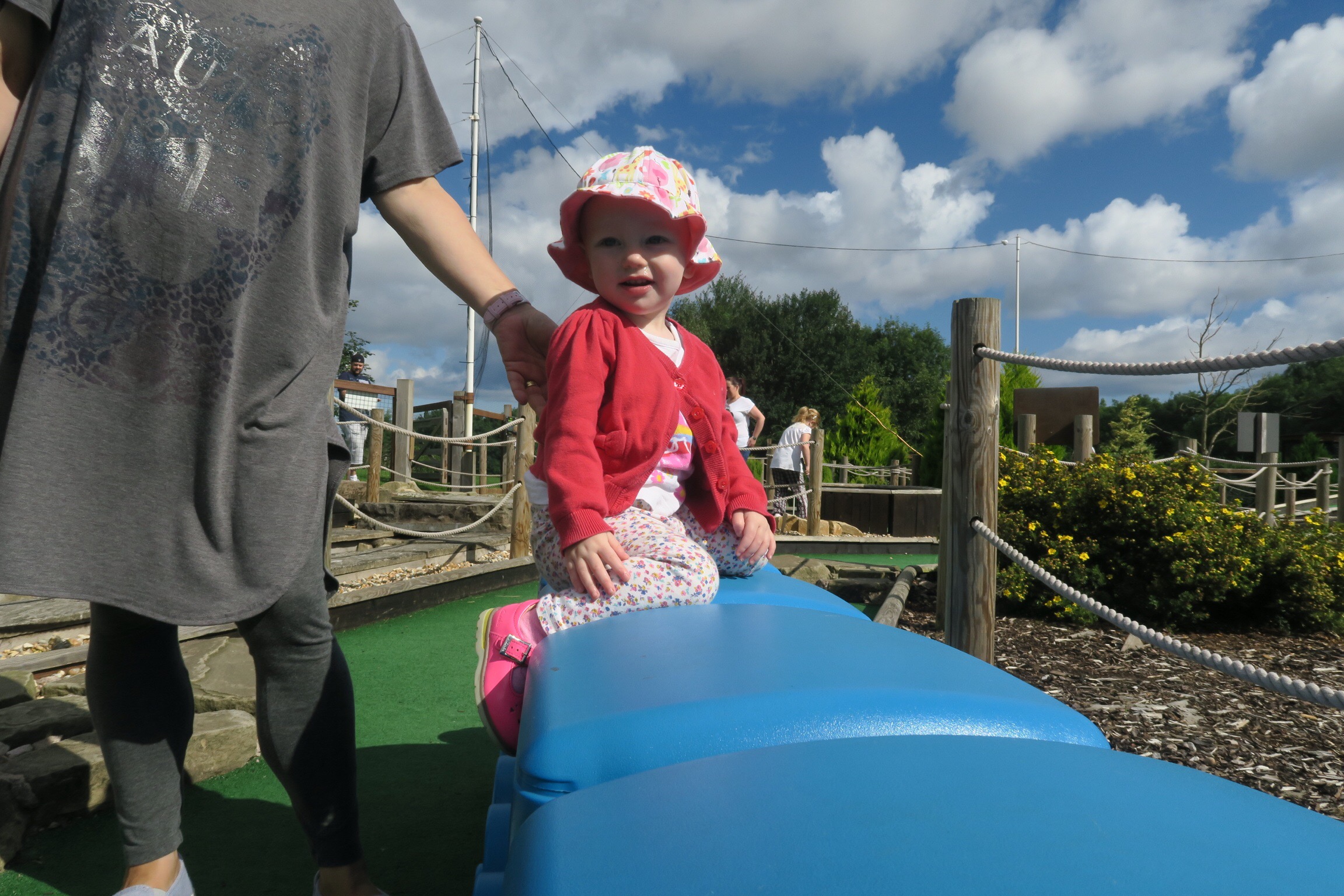 Summary Haggerston Castle review
Overall though we had a good time and I think I would go back. Personally for us I think a weekend is enough time there, whilst we had fun we were ready to come back on the Monday. Ironically, we had better weather on the Scottish Border than we did in our May holiday in Spain, go figure. I did enjoy Centre Parcs more but Haggerston Castle is cheaper so a good option when funds are tight.
Haggerstone Castle review scores on the doors:
Food: 6.5
Location: 8
Entertainment: 8
Site: 7.5
Accommodation: 8.5
Activities: 7
Overall – 7/10
YouTube videos of our stay at Haggerston Castle
If you liked this post you might also like:
If you have enjoyed this post or found it useful, here are some quick and easy ways that you can support Nomipalony or say thanks: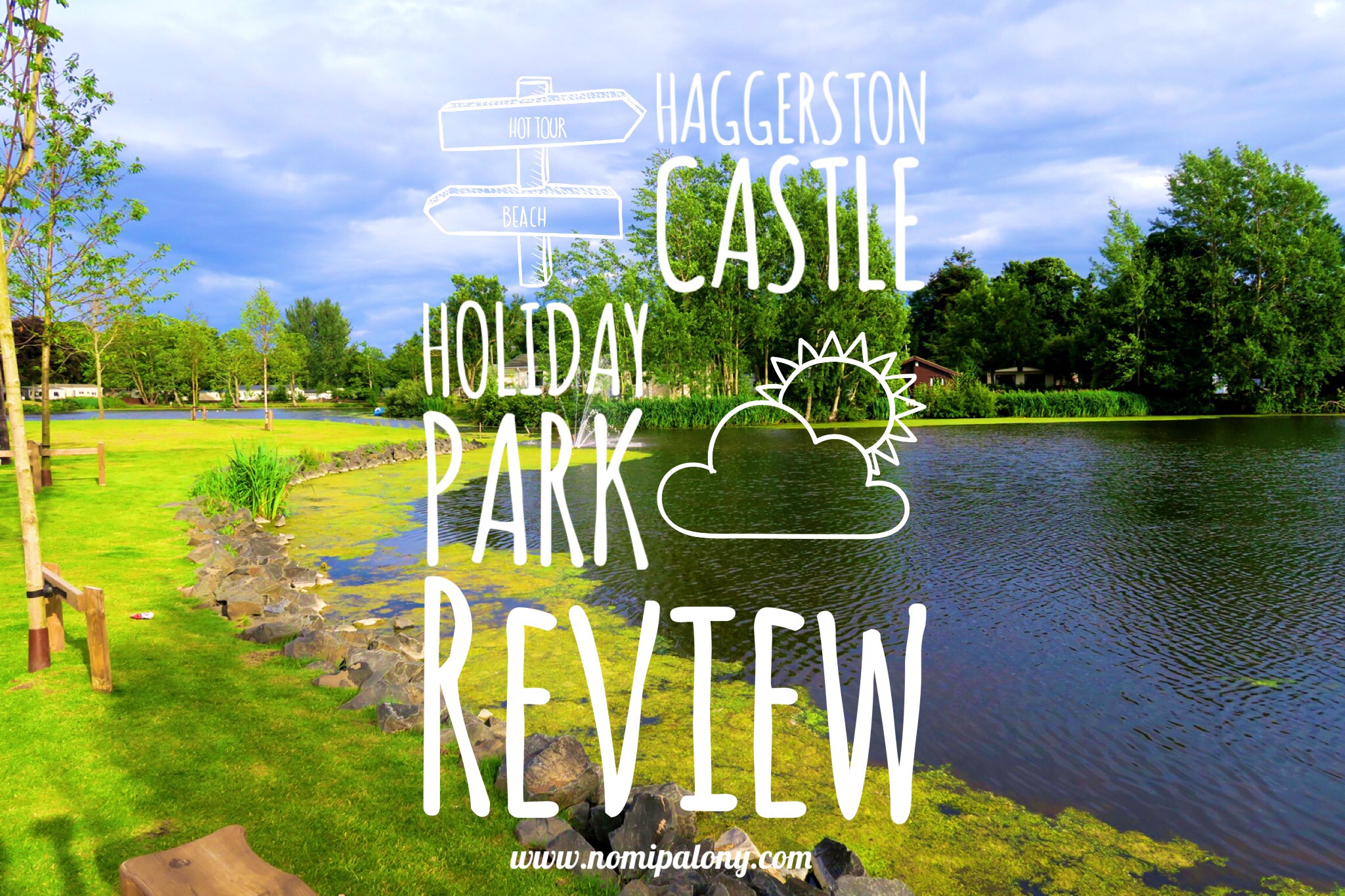 Disclaimer – I was given a small reduction in the cost of my caravan by T&R Caravans for including footage of the caravan in our upcoming vlog of the trip. I mentioned them in this article too as I really would recommend the caravan we stayed in and would stay there again myself.