I don't know about you but I can barely remember how it felt to be a teenager now. Sure I remember the mood swings, the angst and the confusion but at the grand old age of 34, it's all a bit of a blur now.  Can you remember? Today's blog post is all about a fantastic free and innovative local theatrical event for my North East followers who are the parents of young adults (11-18) (or young people themselves).
What is 'Out There'?
This Summer, as part of the Great Northumberland programme, theatre company, Mortal Fools will be holding a one-off outdoor theatre production set against the backdrop of the lush Northumberland countryside. Wearing 'silent disco' headphones, you'll go on an outdoor theatre walk to hear stories and see performances about what it's like to be 'out there'; i.e. young and living in Northumberland today.
"'Out There' takes you on a scenic, rural route along Prudhoe's riverside, telling the stories of Northumberland's young people through beautiful text, visuals and sound, with performances by young people from the Tyne Valley.
Accompanied by a dynamic soundscape through your silent disco headphones, you will discover how young people feel about coming from Northumberland; a place where they live, grow, explore and find out where there are going next. ​Do you remember what it was like to be young? Maybe you are growing up in Northumberland right now. Exploring the wide world for the first time, discovering your rural landscape, fringed by urban adventures. Filled with the excitement of not knowing what might happen next. This story is about you."
The young people within the show will share their experiences of growing up. The story walk has lots of pop up performances across the way that you will hear about through your head phones. The performers are aged between 11-18 and the stories cover that unique age period.
Themes of 'Out There'
The underlying themes of the production are:
Growing up in the modern day – the fears, the challenges, the hormones, the questions and the opportunities
Growing up in the countryside verses urban landscape
Not being able to "play out" and explore as much as previous generations – can young people still play out and experience the true freedom to explore?
Growing up in the Northumberland landscape that is growing with you. Does the Northumberland landscape become a part of their identity?
The opportunities available to young people in Northumberland currently – what opportunities exist? How do they see, hear, feel about them?
That age when many Northumberland young people "leave" for university or move to the city. The fears, excitement and confusion of that moment – not knowing what is going to happen next, whether they will miss the familiar Northumberland surroundings and the big questions of whether they will come back.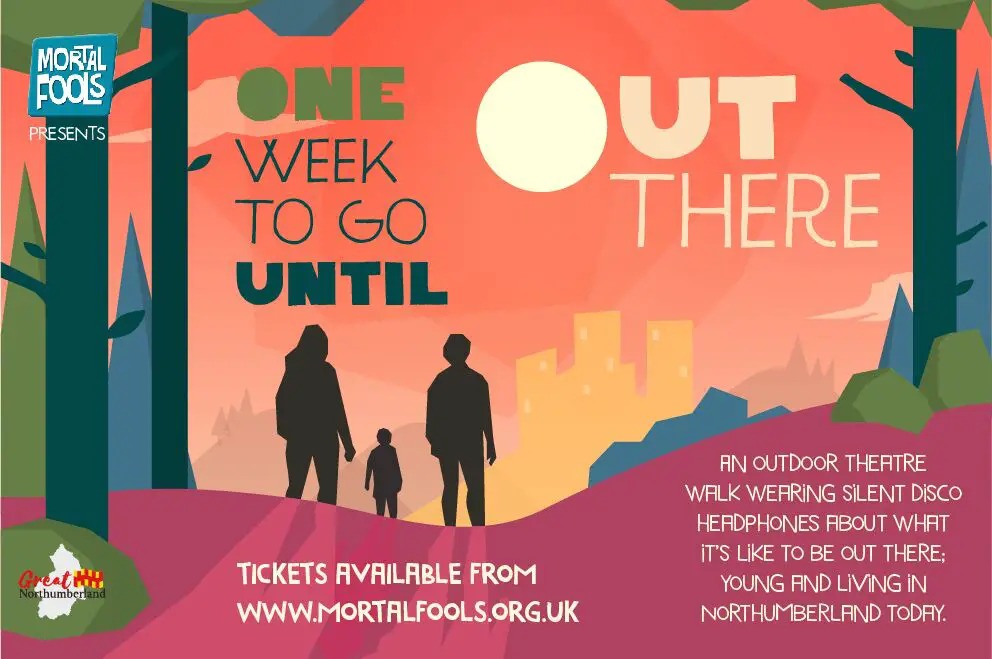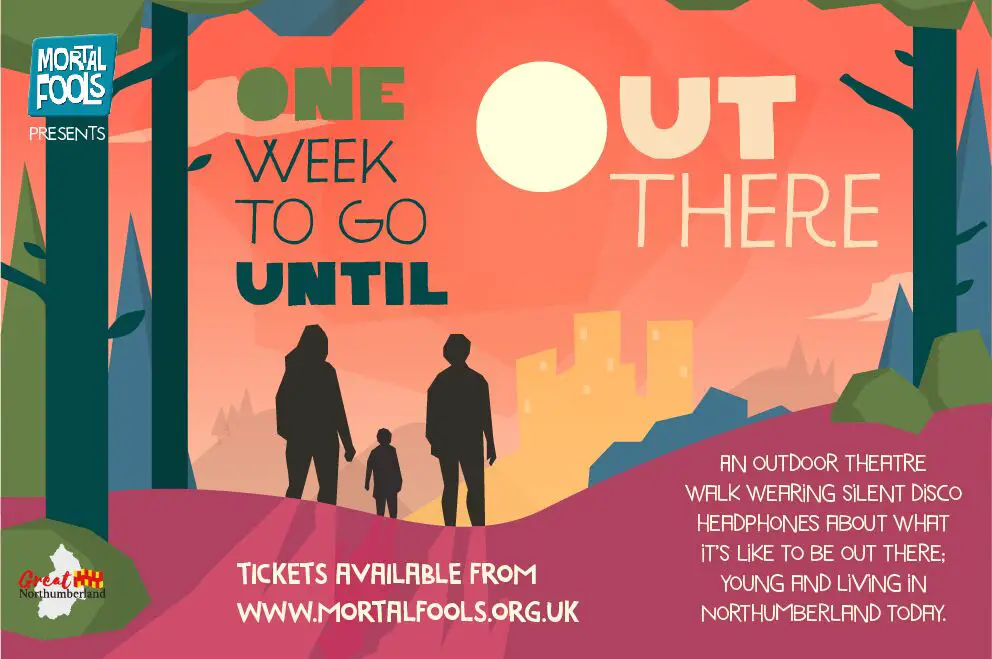 Event details:
Date: Saturday 14th and Sunday 15th July
Performance times: 11:45 AM, 1:45 PM, 3:45 PM & 5:45 PM
Location: ​Prudhoe Riverside – Tyne Riverside Country Park in Prudhoe
Tickets: Tickets are FREE but audience capacity is limited, so pre-bookable spaces are available online.
To book: visit here (a £3 refundable deposit is taken at the time of booking)
Charitable donations: Mortal Fools is a registered charity and will accept donations if you enjoyed the show.
Good to know:
Performances will last 90 minutes in duration and the headphones are worn through-out.
The walking route is just over a mile in distance, and you will be on your feet walking or standing for the duration of the performance.
Due to the setting of the performance, the walking route is not fully accessible. However, small parts of the route are accessible for wheelchairs and we will have seats along the way for those that require a break. If you'd like to discuss accessibility or the walking route email:

[email protected]

Car parking is available on site for the duration of the show, but attendees will be asked to leave the car park to enable space for the next show's audience.
Summary
If you are a parent to secondary school aged young adults then I'm sure they will be captivated by this thought provoking innovative production by young people their age. I think parents will gain a better understanding of what their children are going through from the performance. It will certainly be a great conversation starter with them at the very least!
Tickets are going fast so book now to avoid disappointment. If you go, do come back and leave me a comment about what it was like!
For event updates, see Mortal Fools, email [email protected], or call 0191 580 1250
Disclaimer: This is a sponsored post. For full details of my disclosure policy please see my 'about page'.