For the past couple of months I've been following the news of the new £1.5m shipping container community By the River Brew Co opening on the Gateshead Quayside with eager anticipation. I've been saying for years that more should be done with the land of the Gateshead Quayside so was thrilled to learn that the leisure company who brought us the Wylam Brewery, had planned this cutting edge development for the Quayside. It was the most hotly anticipated launch that I've seen in the Toon for years.
It was only in April that a garden leisure destination by another company was scrapped. It's an incredible feat that developers Rob Cameron and Dave Stone (the pair who also launched gastro pubs the Town Wall and The Bridge Tavern in Newcastle) have turned these plans into a reality in just 11 weeks. According to the Chronicle a team of around 50 people have constructed the container village over the last three months, which will remain in place for four years. The 'box park' has created over 100 jobs for the area.
When Papa Ginge's mam offered to babysit for us on Sunday afternoon and the weather forecast was glorious I immediately made plans to head down to check out whether By the River Brew Co's HWKRMRKT lived up to the hype.
I didn't plan on reviewing it so I didn't take my DSLR camera or took photos/notes for review. However, I was so blown away by it that I just had to tell you about it today. The photos in this blog post were taken on my Iphone X.
I will say, when you are reading this, please bear in mind that the site opened on Friday and we went down on Sunday so they really hadn't had much time to work out any teething problems. I'm sure this week they will be implementing some changes that they learned from opening weekend.
Design
Firstly, when you enter the area you are immediately struck by the modern design of the shipping containers and the cool bustling vibe. It's all along the River Tyne so it's got gorgeous views of Newcastle's Quayside. When we visited it was overlooking the Quayside markets as it was a Sunday. You felt like you were in the most vibrant and bustling area of the North East on either side of the river. You could spend a whole Sunday on both sides of the Quayside just soaking up the atmosphere.
The shipping containers and their decoration gave the complex an industrial, edgy feel to what is otherwise quite a commercial enterprise.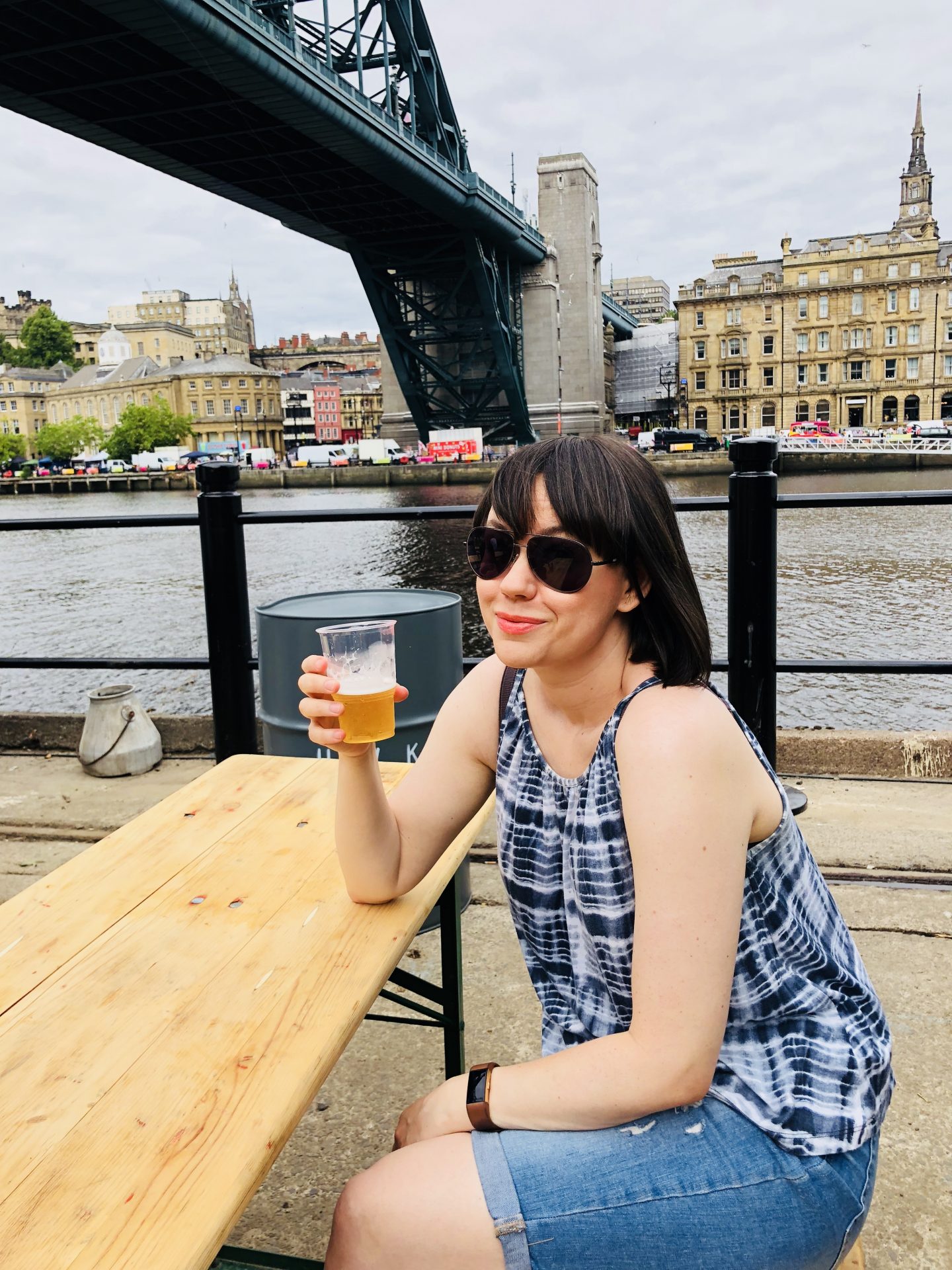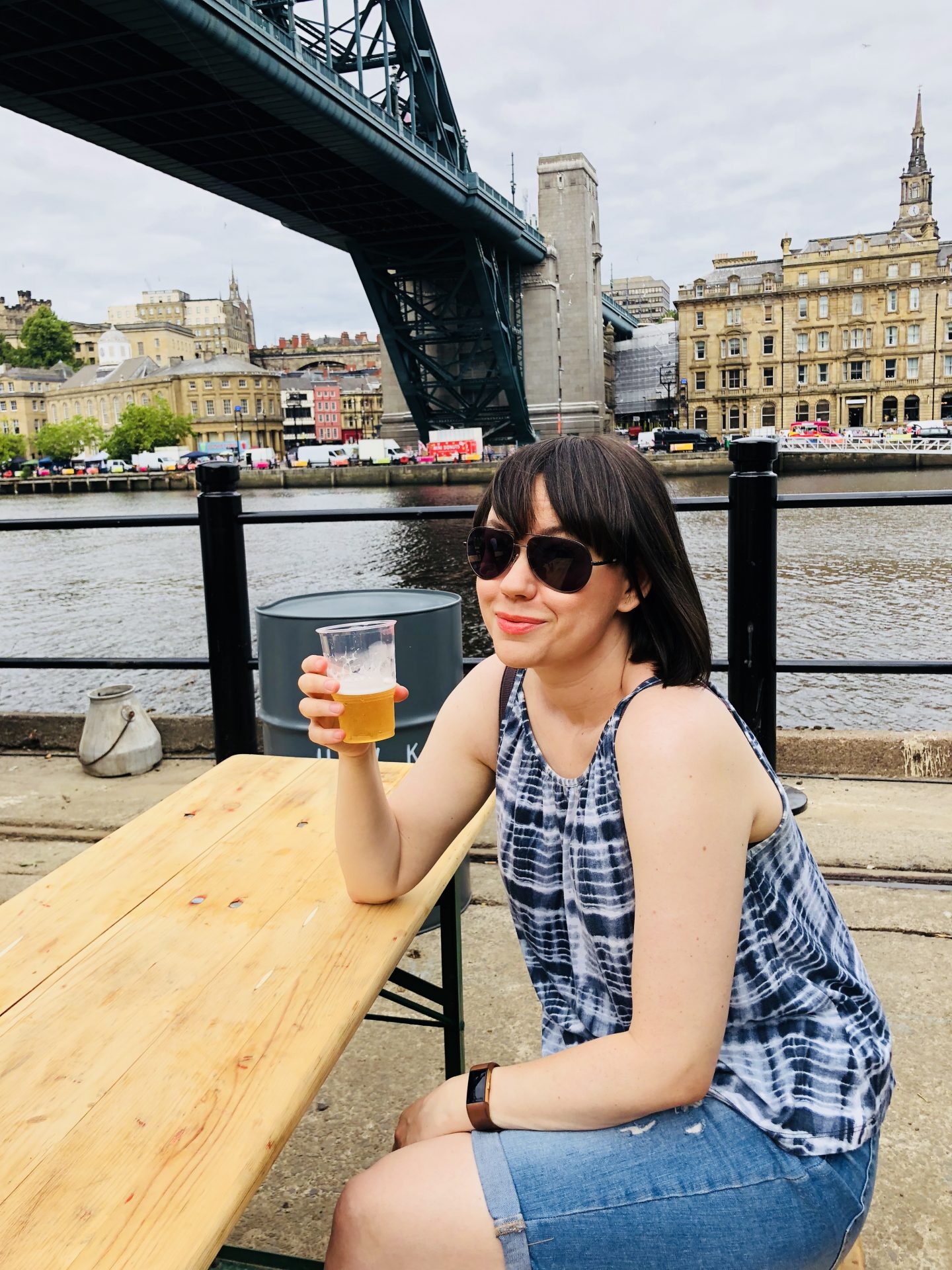 The site contains two distinct parts. First you walk in past a grassed area, with a miniature Tyne Bridge monument (for locals, it's the one that was in Saltwell Park that has been moved). Then the first shipping containers you get to is by the River Brew Co – a brewery and tap-room. There was lots of seating outside the container and all along the river.
Next door to this is Träkol (Swedish word for Charcoal) open flame restaurant. We didn't try this but I can't wait to. Then there is a smaller container set for the Backyard Bike Shop and Coffee Shop, which has moved to the site from its original base in Ouseburn. As well as being open for cycling needs, the Backyard Bikeshop will serve breakfast, brunch, coffees (from 8am) and cocktails (from 5pm weekdays, noon weekends).
Then as you move along the Tyne you reach Hawker Market (HWKRMRKT) – a vibrant street food market that's only open Friday nights, Saturdays and Sundays. This is where we focussed our visit on this occasion.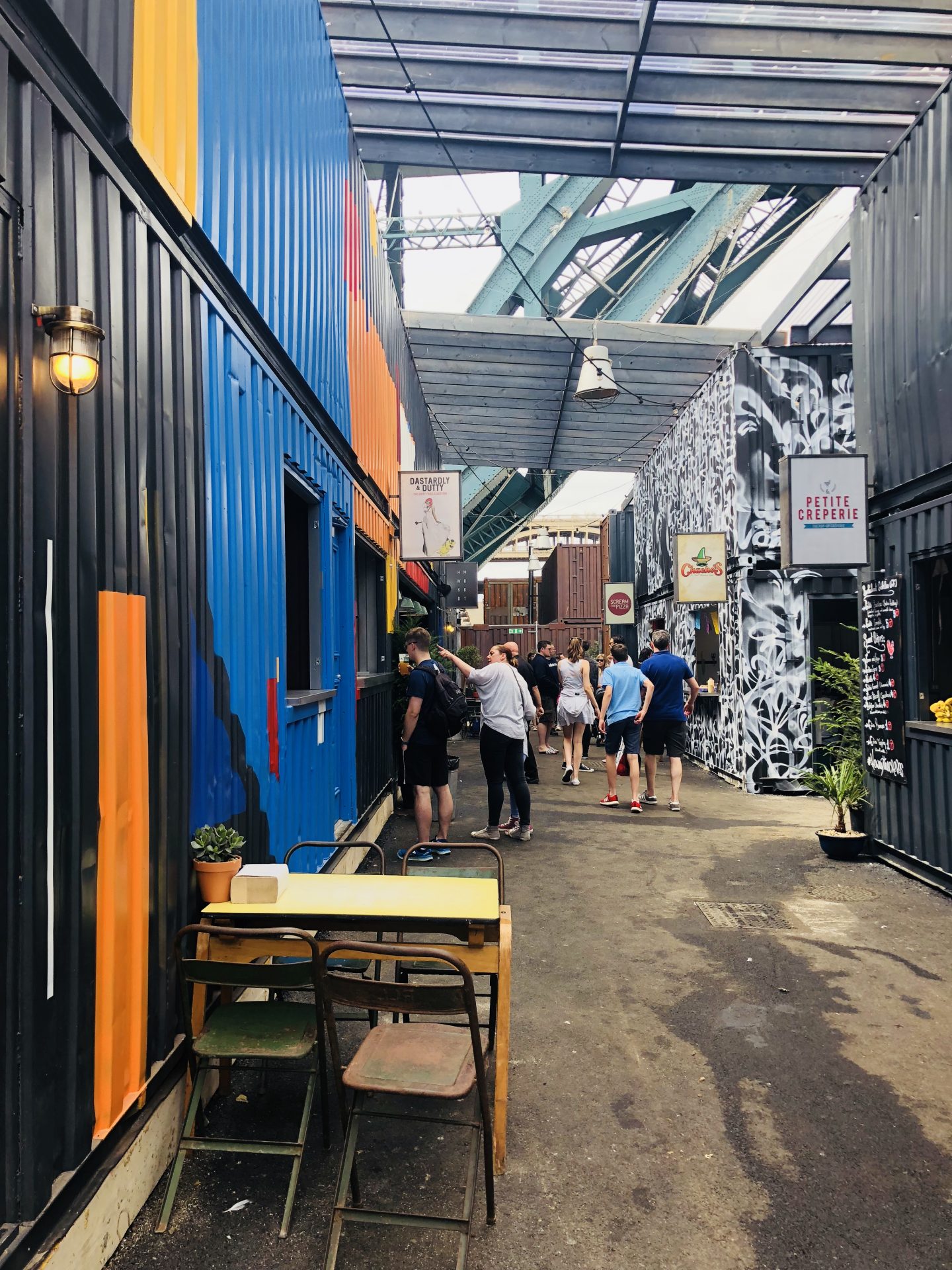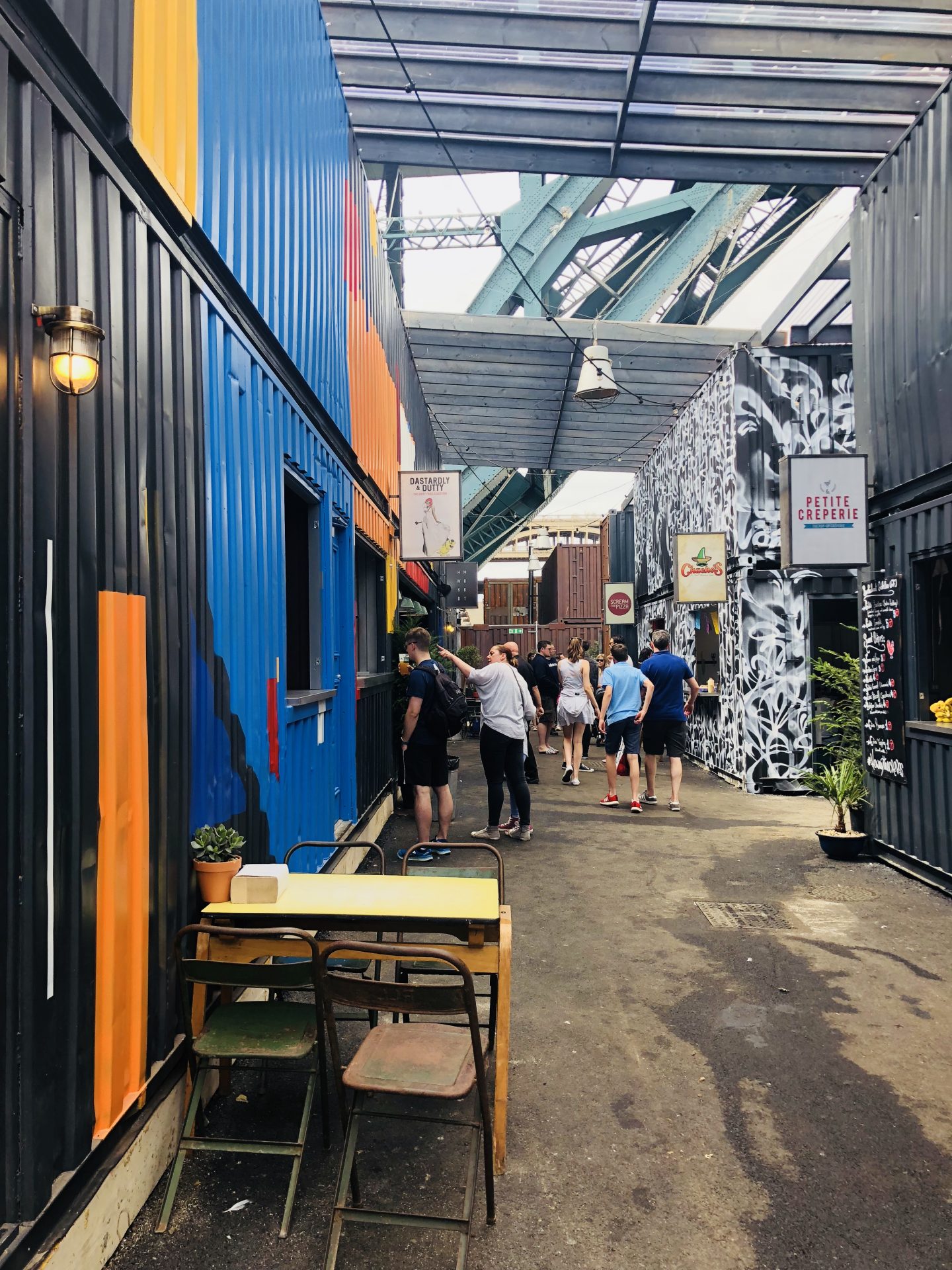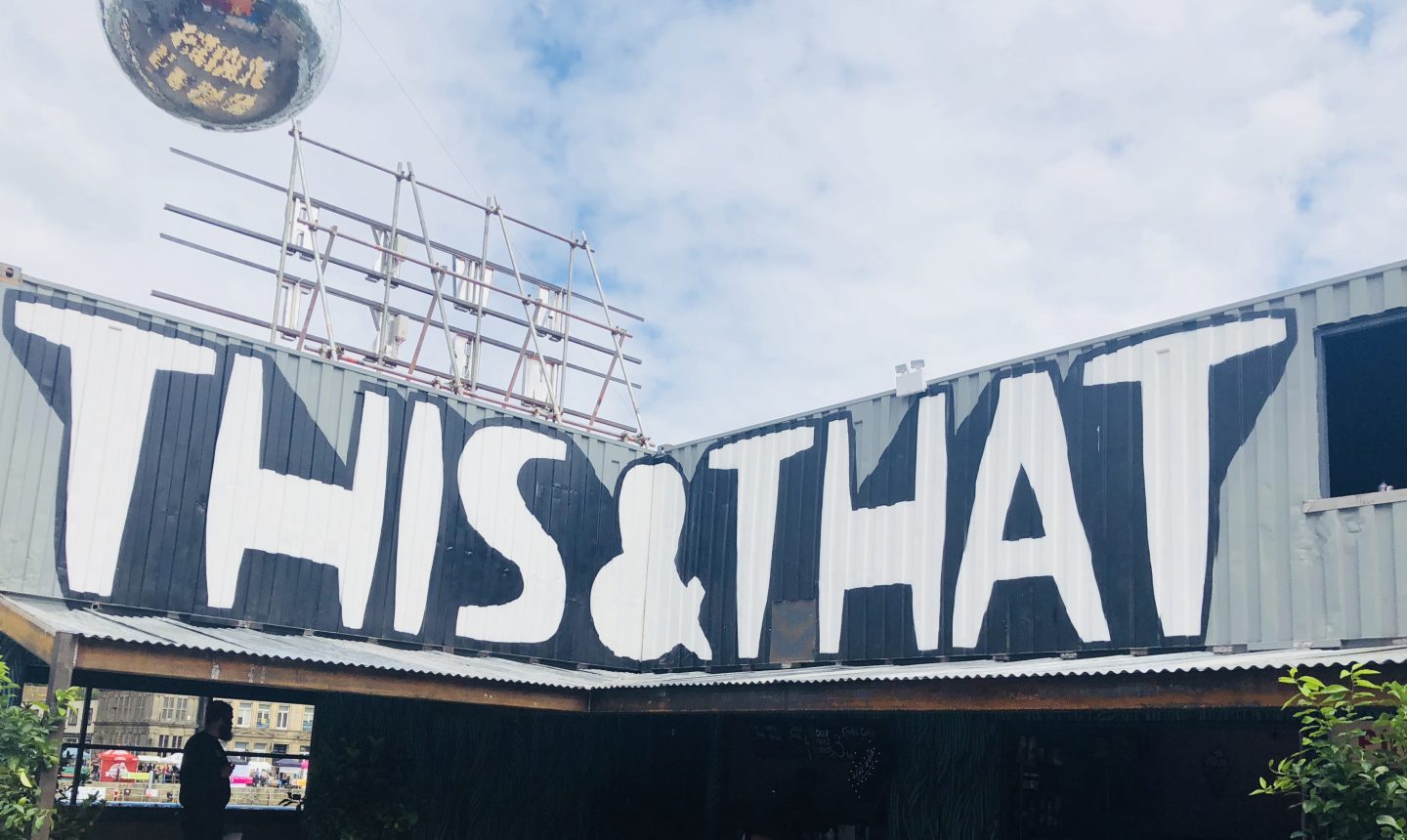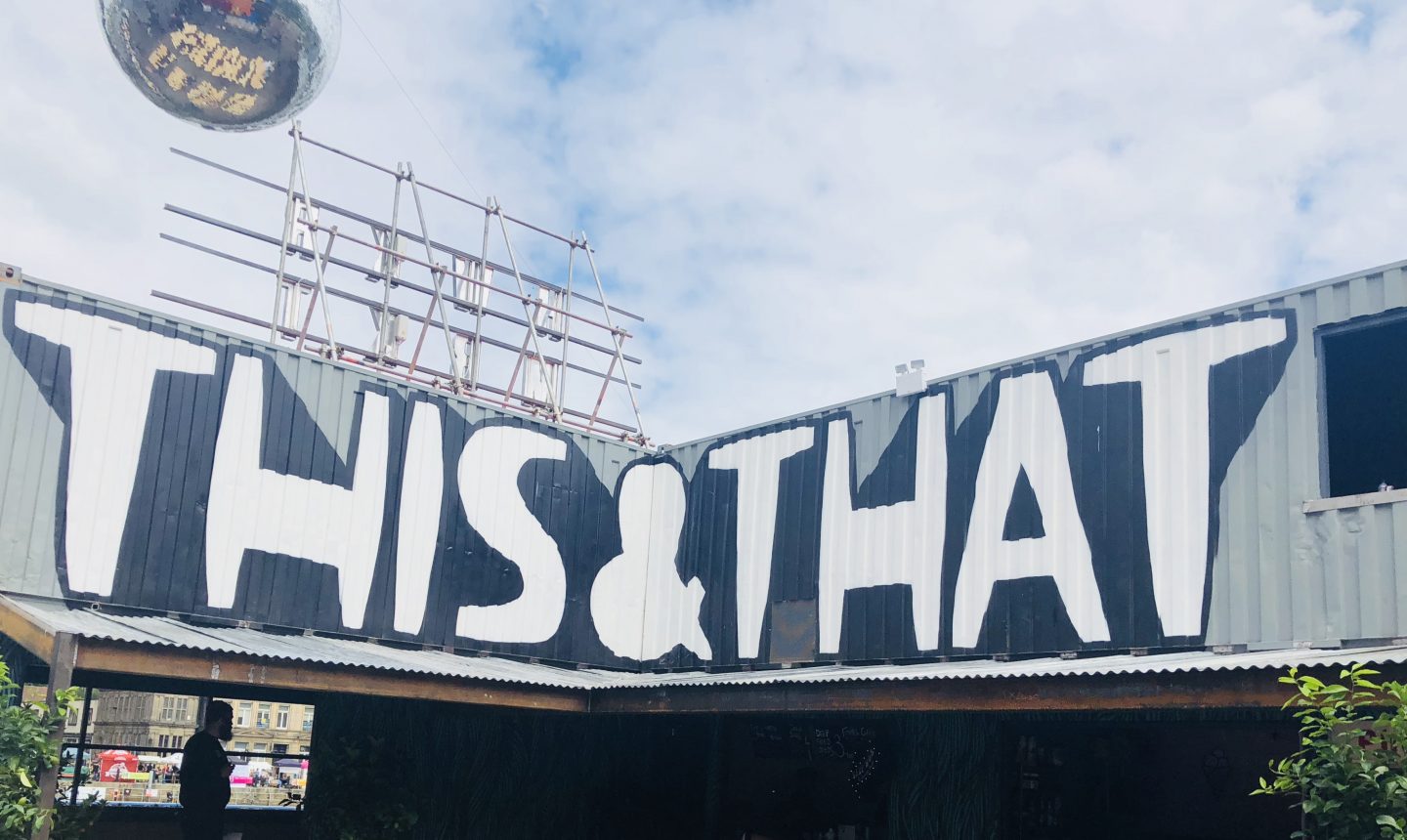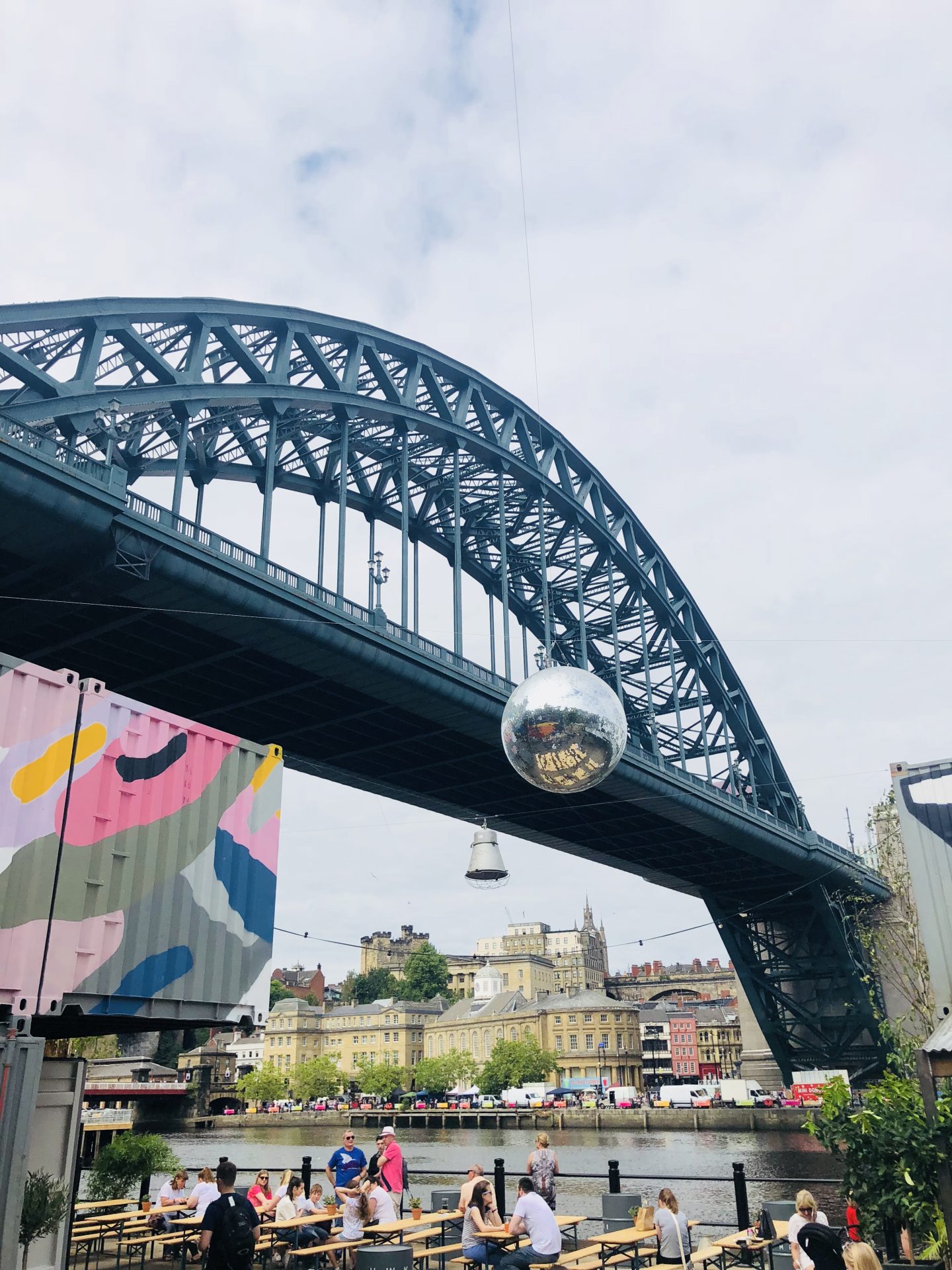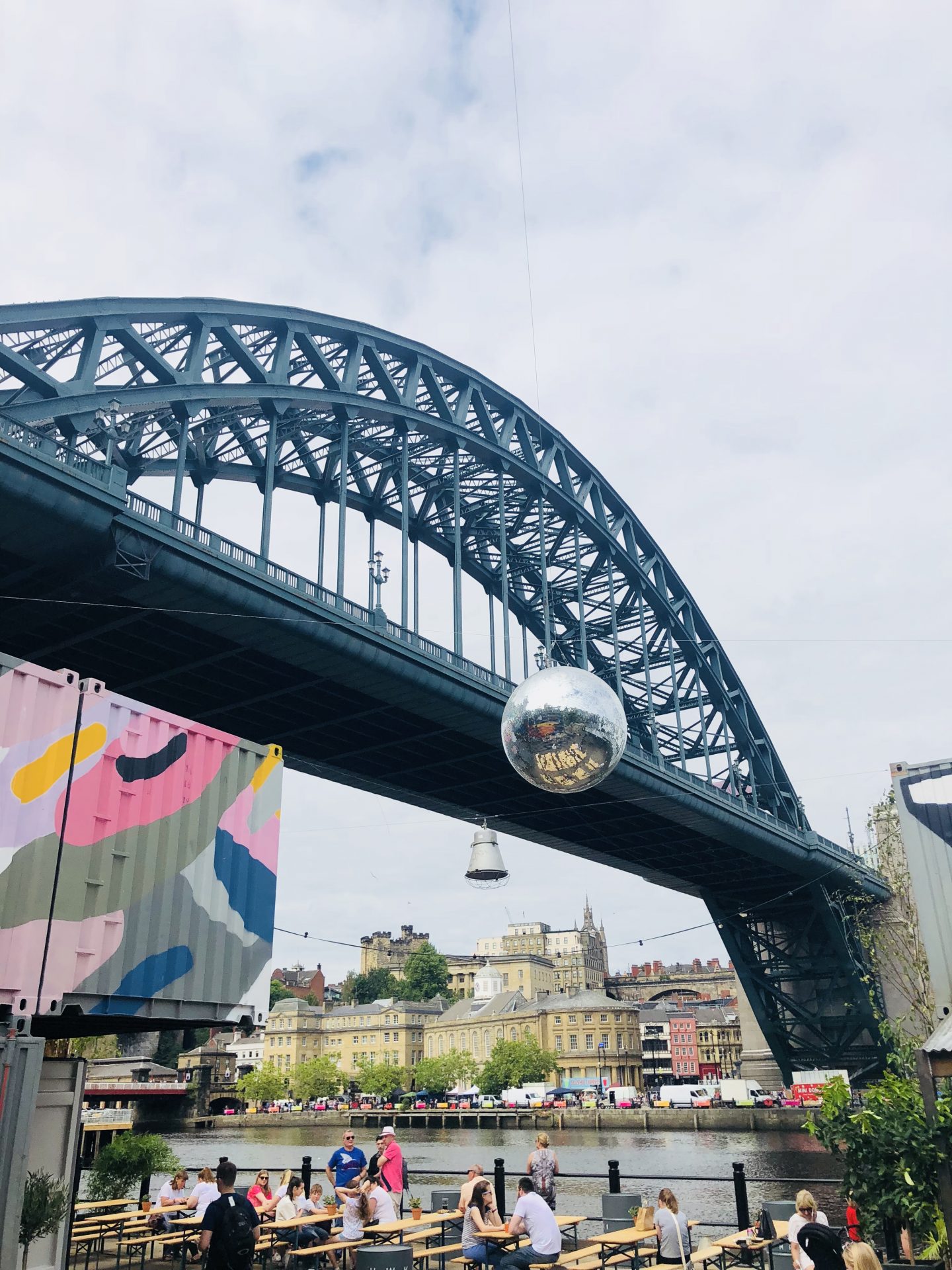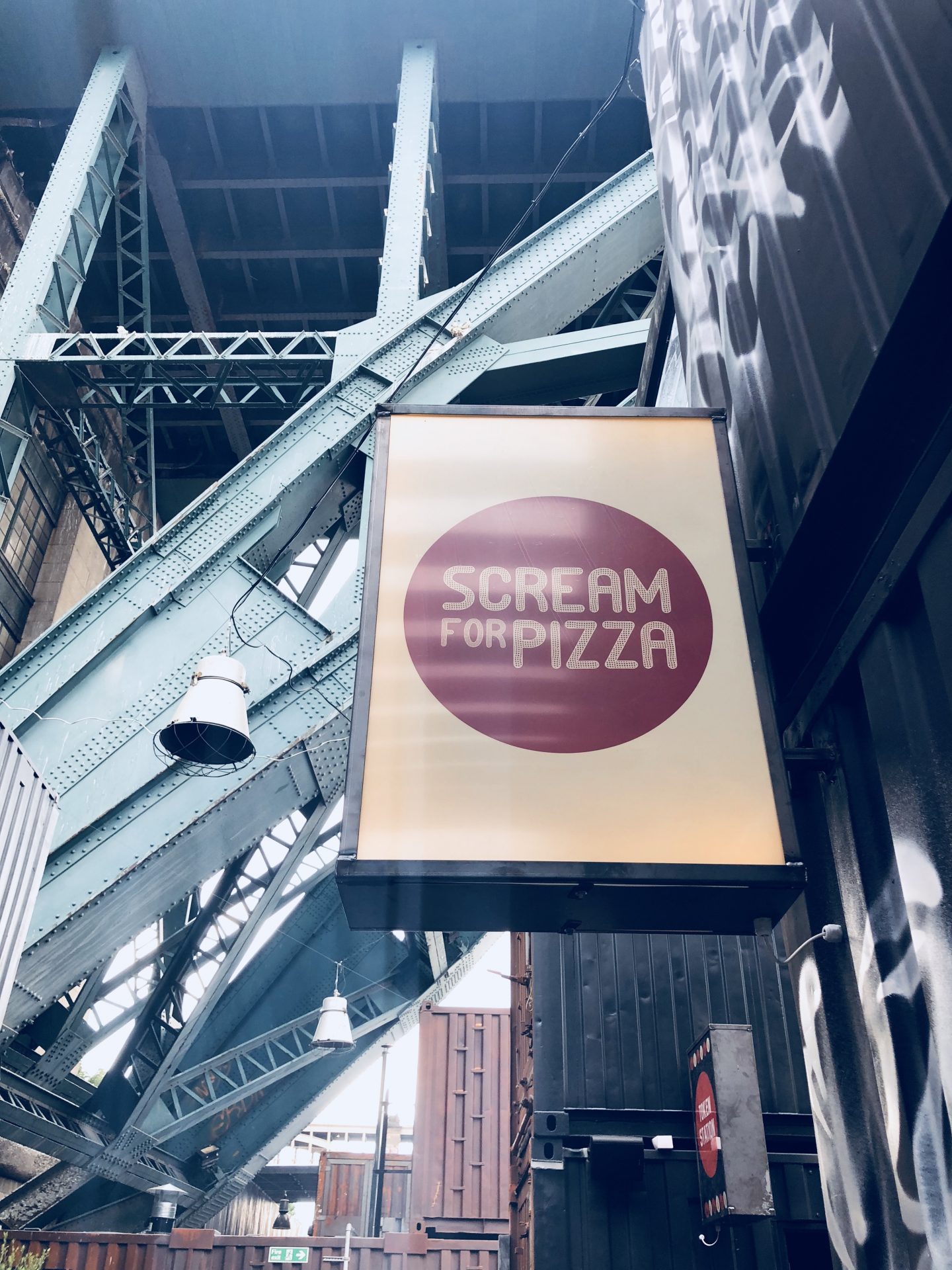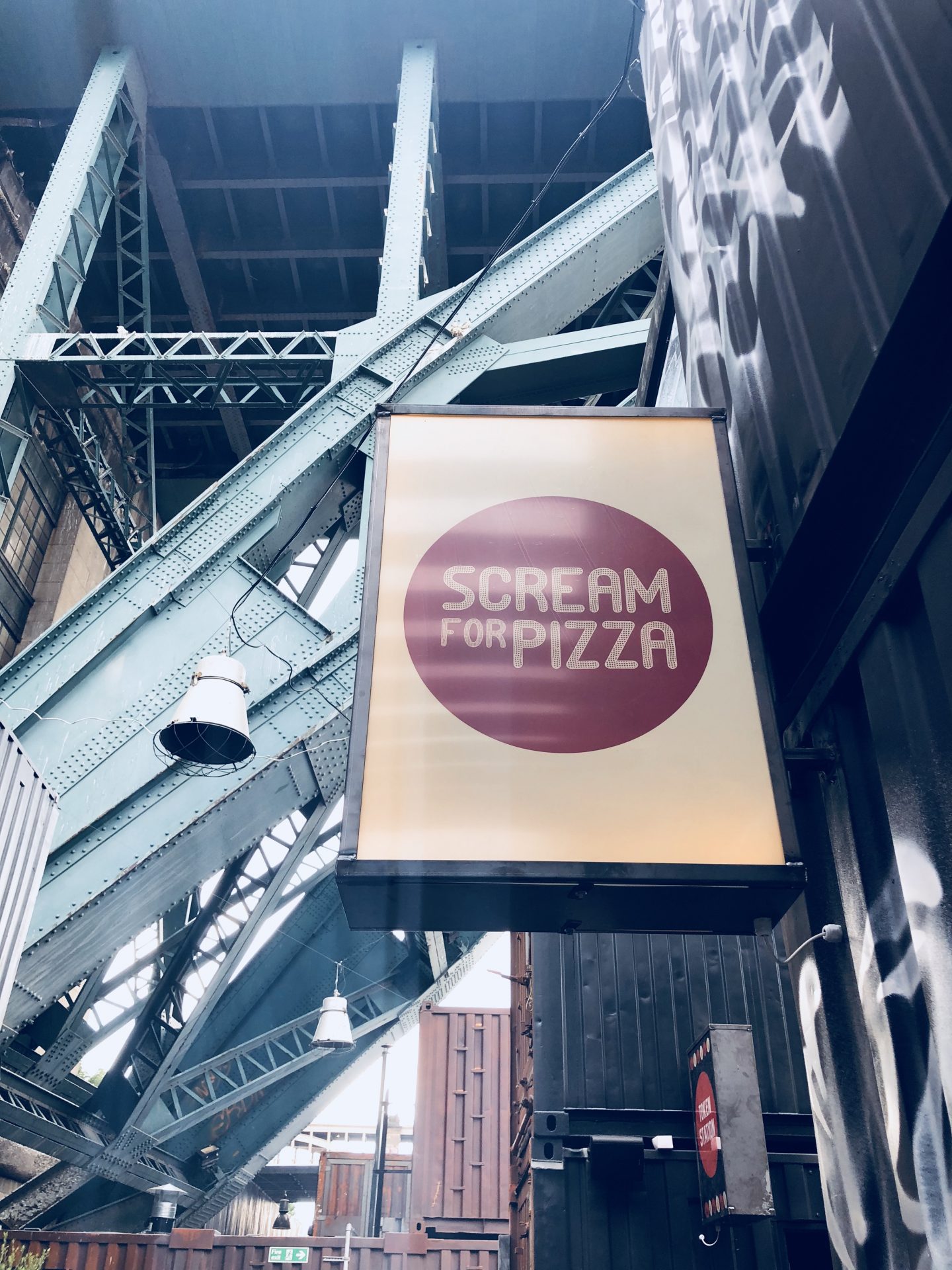 Drinks
We tried the 4% Flensburger lager which was £4 a pint and £2 a half. This was a crisp fresh hoppy lager that we would get again.
We also tried the 4.1% eternal pale ale Northern Monk which was an excellent light blonde ale with tangerine that I'd definitely get again. This was pricier still at £5 a pint and £2.50 a half. You can see some of the other draught offerings in the photo I took of the bar in the prices section below.
Be warned, the bar is the highest bar I've ever been to, even on my tip toes, I couldn't really see what was in the fridge. It was a shame I couldn't see as they weren't listed on the boards either and they had a much larger range in the fridges that I would have been keen to sample. Perhaps some stools would be a helpful introduction for their smaller guests?!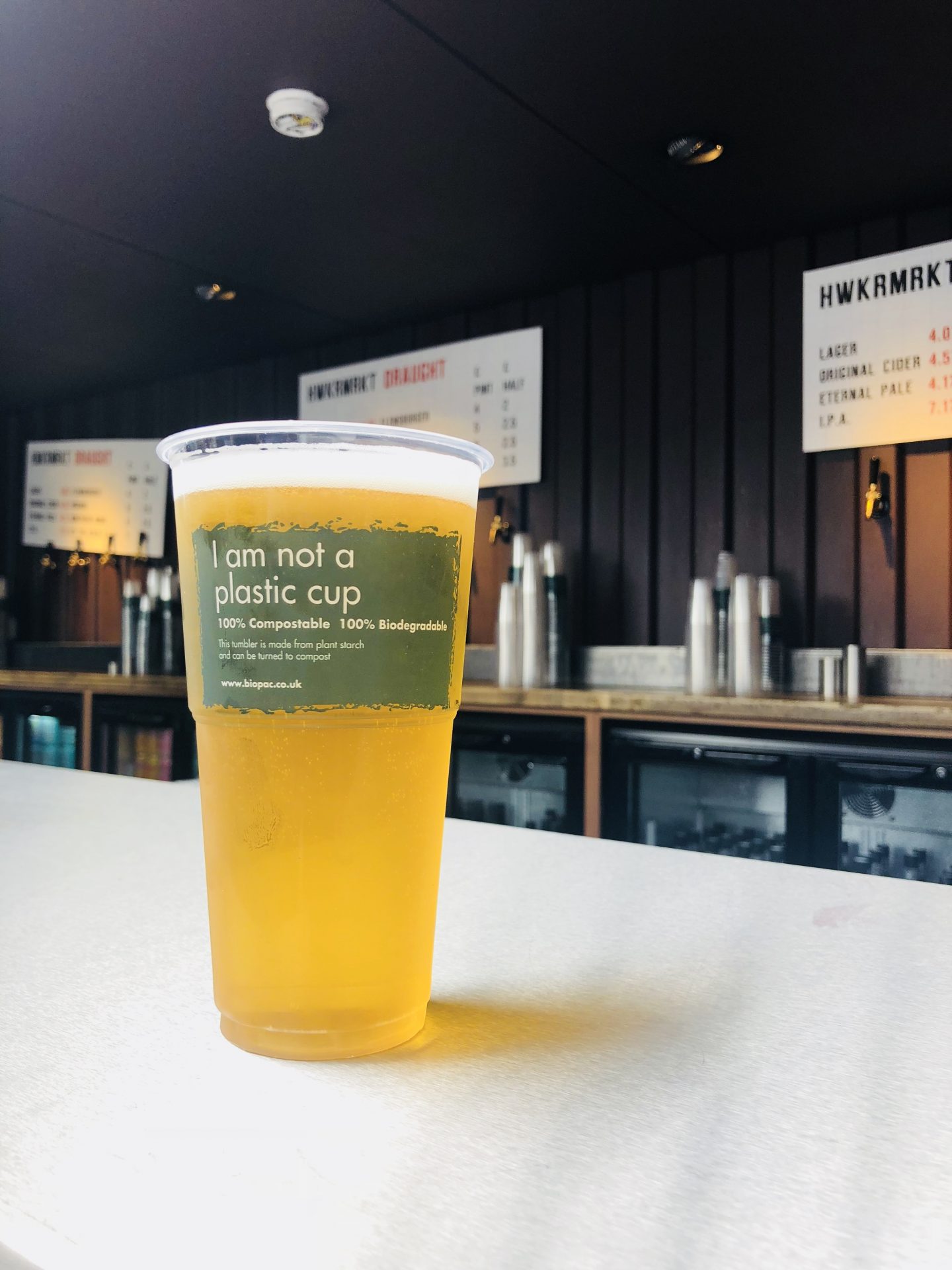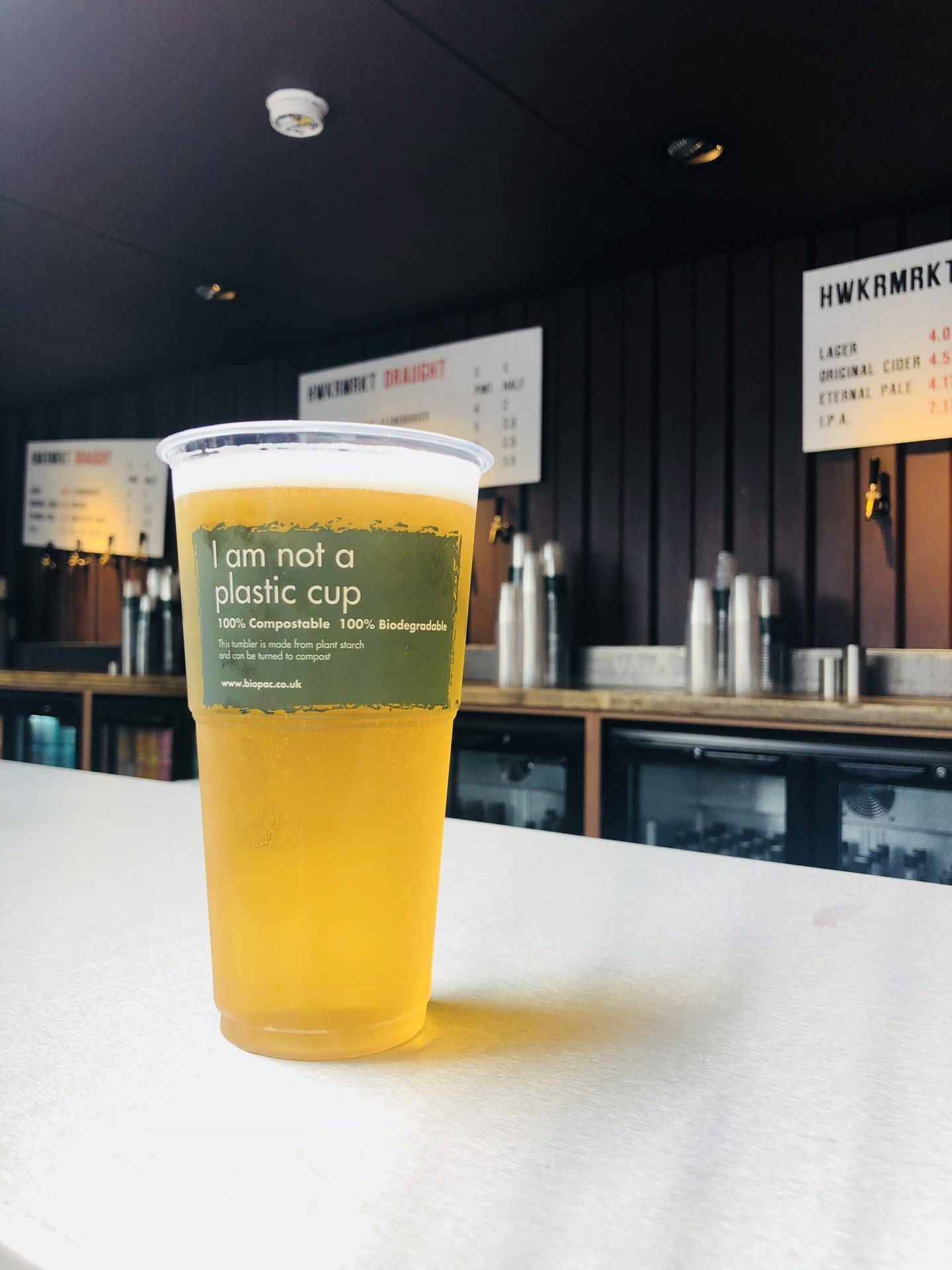 Food
The food is what is really amazing about HWKRMRKT. It's a sample of some of the best food that Newcastle has to offer. Traders with stalls are:
Authentic spanish tapas from Kaltur (resident trader)
Eastern mediterranean mezze bar Papa Ganoush (resident trader)
Chucho's tacos (resident trader)
Indian street food pioneers Dabbwal (resident trader)
Neapolitan pizza from Scream for Pizza (resident trader)
Seafood from Oktopus (resident trader)
Lola Jeans – think proper tasty burgers – this stall was one of the quietest stalls when we were there, despite having one of the largest shop frontages  (resident trader)
All vegan 'junk' food from Grumpy Panda – a cruelty free, plant-based american style diner (resident trader)
Cheese galette from Cheese Sir (guest trader)
For those of you with a sweet tooth there is:
Dastardly and Dutty double bubble cones (resident trader)
Authentic sweet crêpes and buckwheat galettes from La Petite Crêperie (guest trader)
Durham self-taught cake decorators Cakes Contour (guest trader)
Cheese Sir
As you can see, there is something for everyone. I found it nearly impossible to choose. In fact, I queued for ages to get a wrap at Papa Ganoush, having been torn between the raclette and the mediterranean mezze. Then someone behind me joined his family with some raclette from Cheese Sir when I was next to be served and it smelled so good that I had to leave the queue to go and get some. I was not disappointed.
I spoke to someone recently about how I had wanted to try raclette cheese for ages and they were telling me that they had and it was very bland. This put me off but I tell you this cheese was anything but bland. I could tell from just smelling it that it wouldn't be as it bloody stunk to high heavens. It was a pungent and delicious cheese.
I ordered the 'Special Sir' which is melted cheese over baby new potatoes and chorizo with salad and cost £7. The potatoes and salad were the perfect pairing to stop it from becoming too sickly. I'd like to see Cheese Sir change their residency to a permanent one. At the moment, they are guests so make sure you don't miss out. I can't wait to have it again.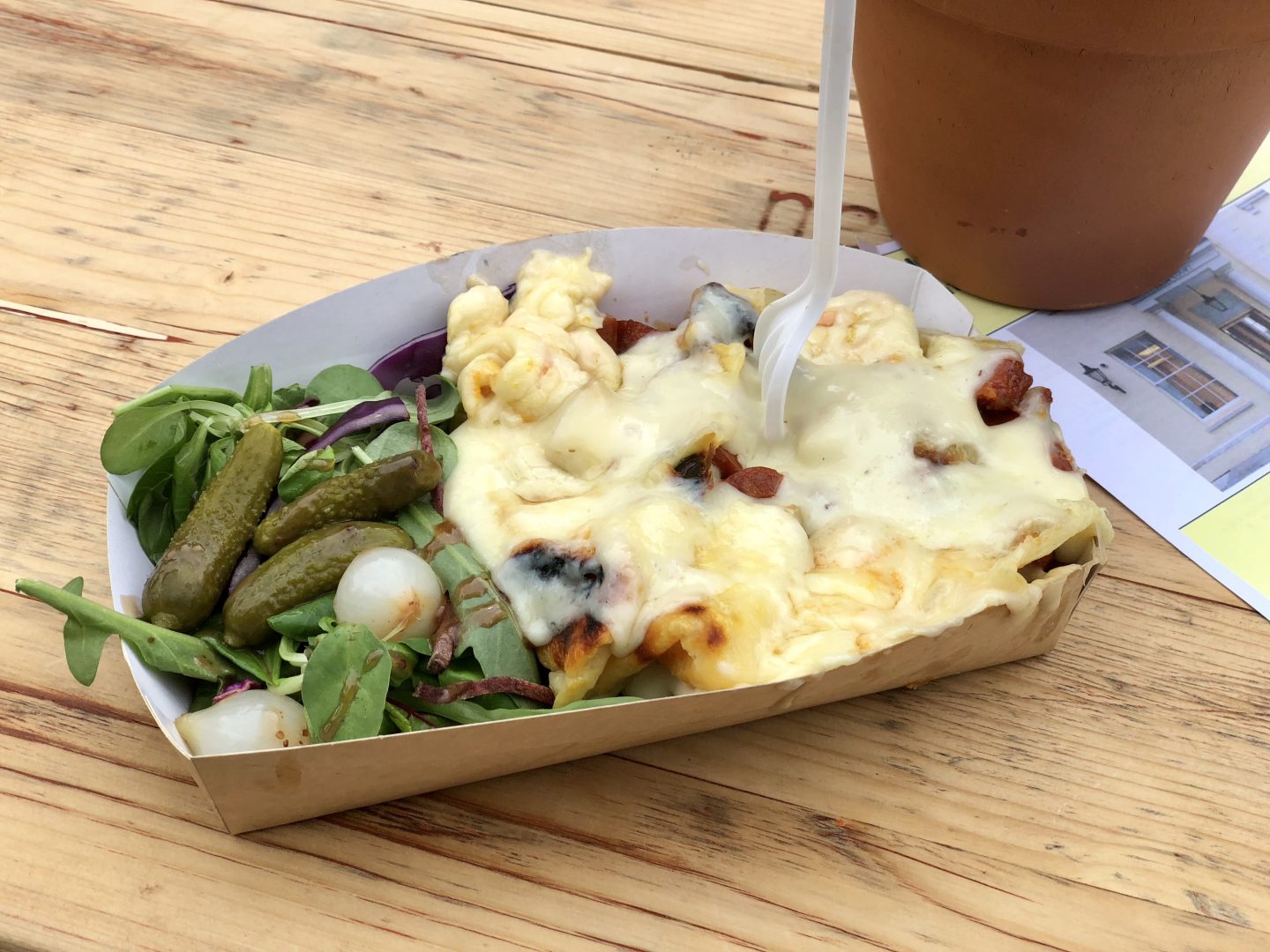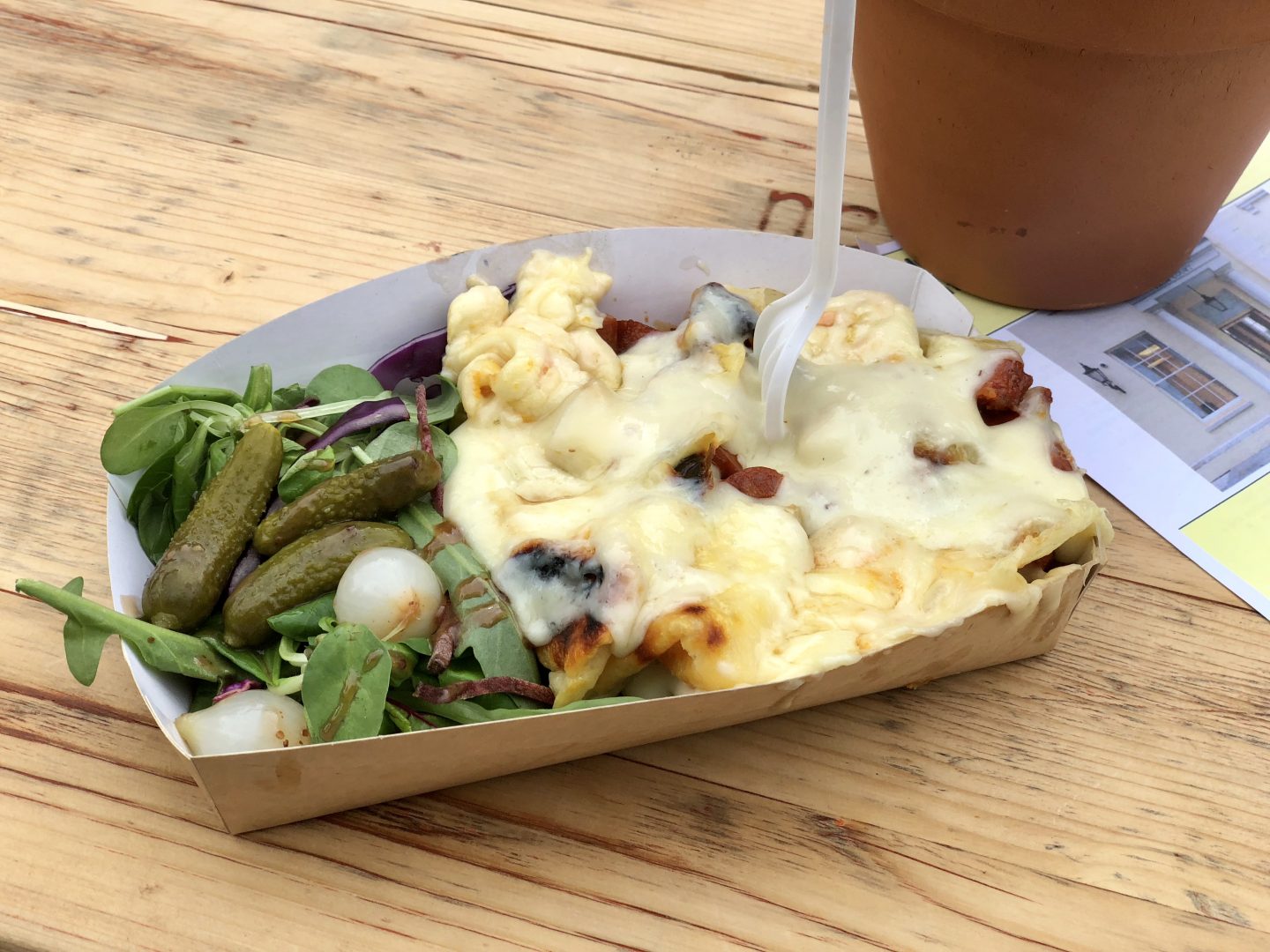 Kaltur
I've been hearing great things about the tapas Kaltur on High Bridge ever since it opened. Every friend I've had who has visited has told me it's truly authentic and the best Spanish food in the area so I was keen to try something from them. Lucky for me, Papa Ginge ordered their Iberico acorn ham toast £8. Honestly we were a little disappointed in this from a value for money perspective. It tasted delicious but we felt £8 was a lot for what it was.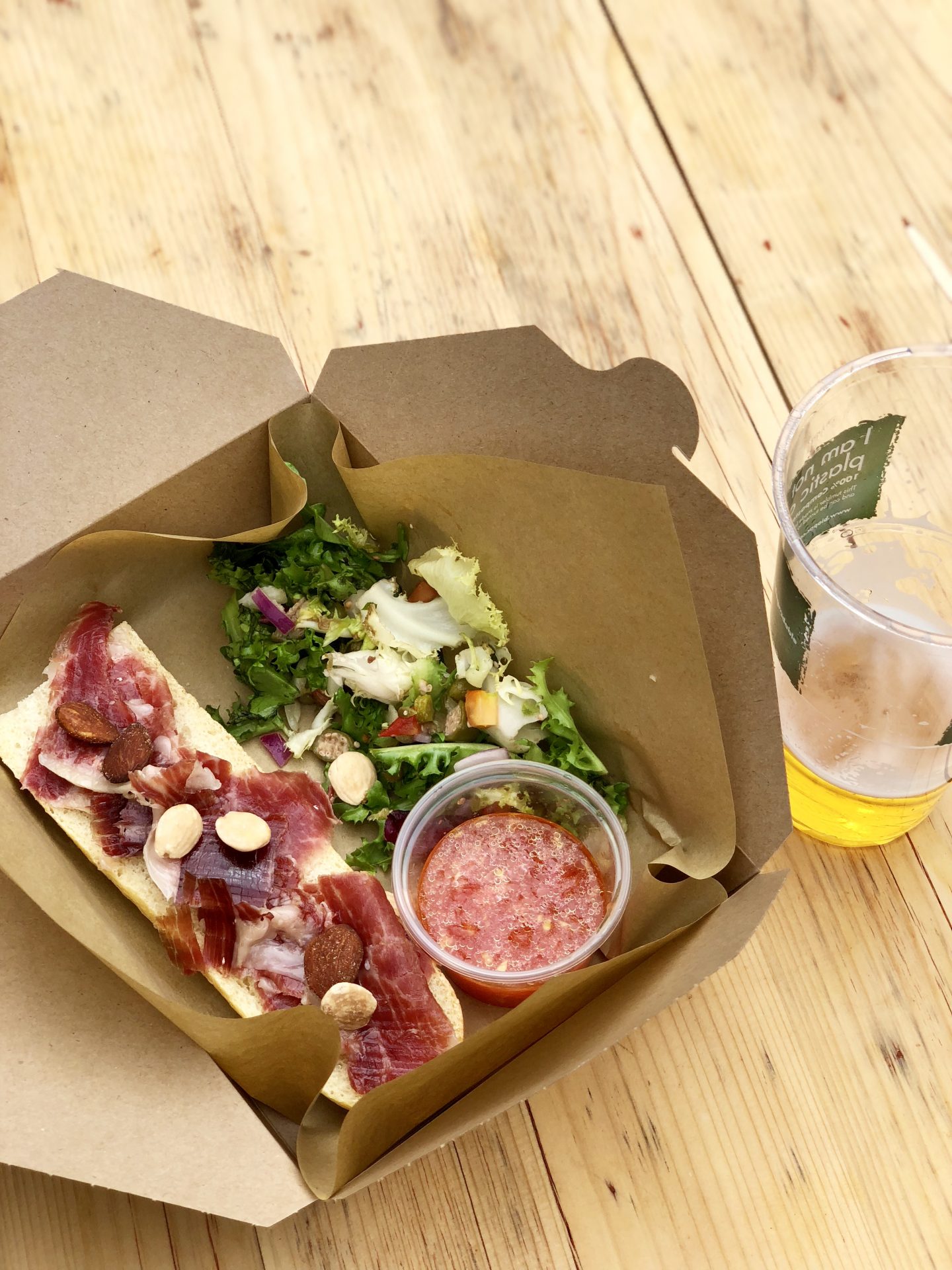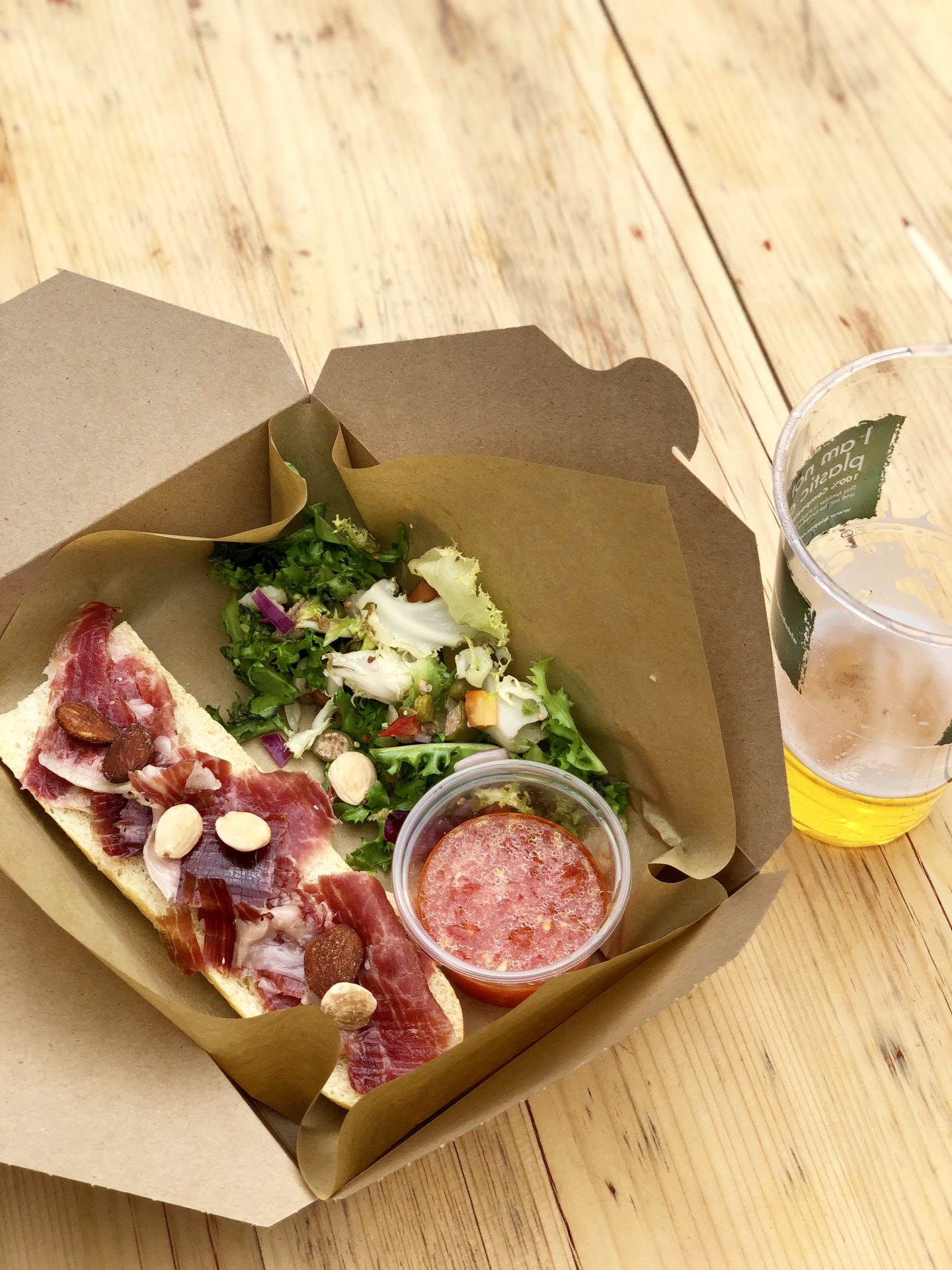 Papa Ganoush
As we had visited the HWKRMRKT for 4 hours, and because Papa Ginge's meal from Kaltur wasn't very filling, before we left, he ordered a second meal. He went for the Papa Ganoush halloumi wrap. At £7 this was their most expensive offering but oh my was it worth it. A true taste explosion. So many beautiful complementary tastes and textures. The pomegranate and salad against the salty halloumi was devine. Truly delicious and I can't wait to head back and get one all for myself. They also had chicken shawarma and falafel options.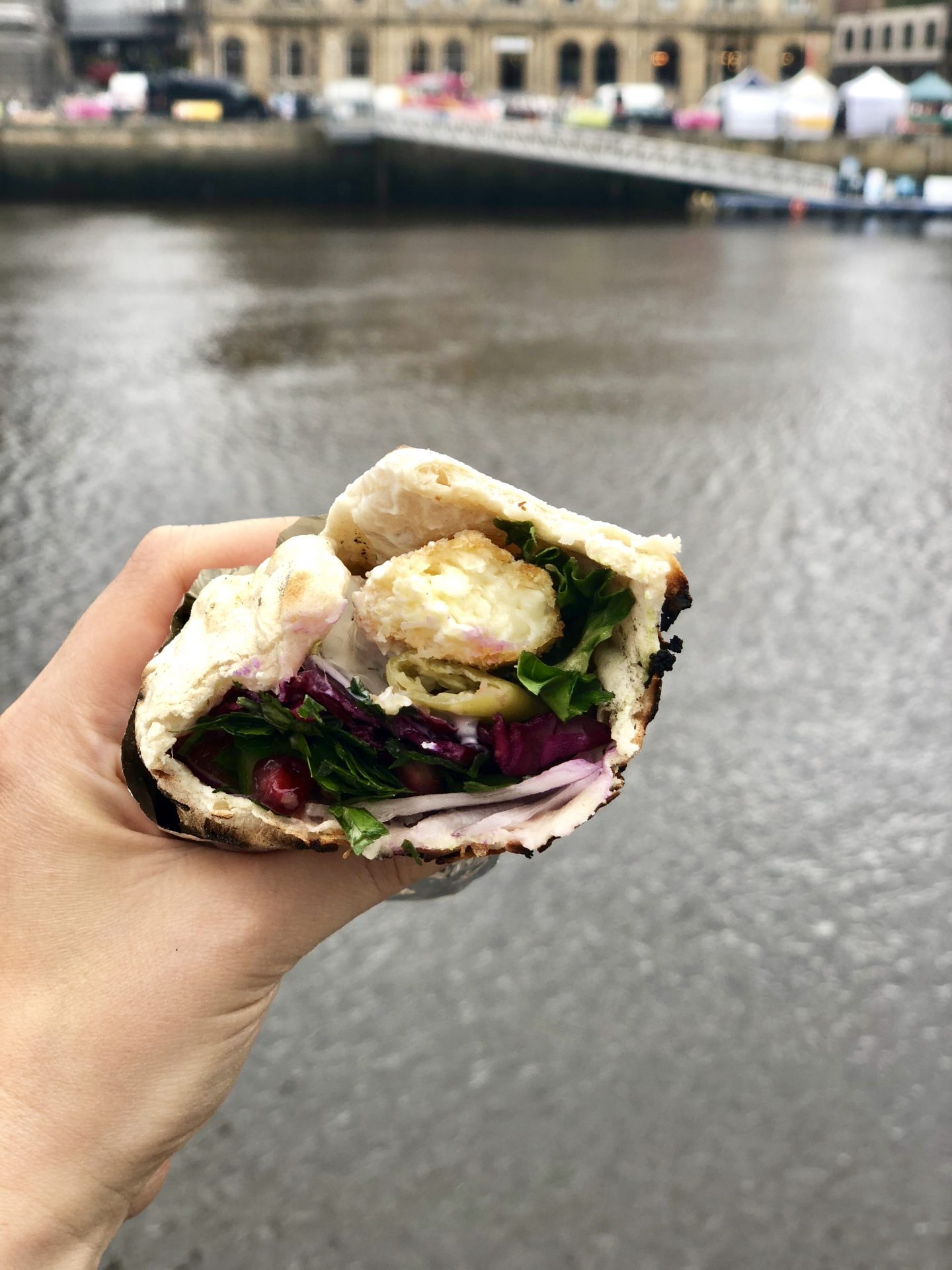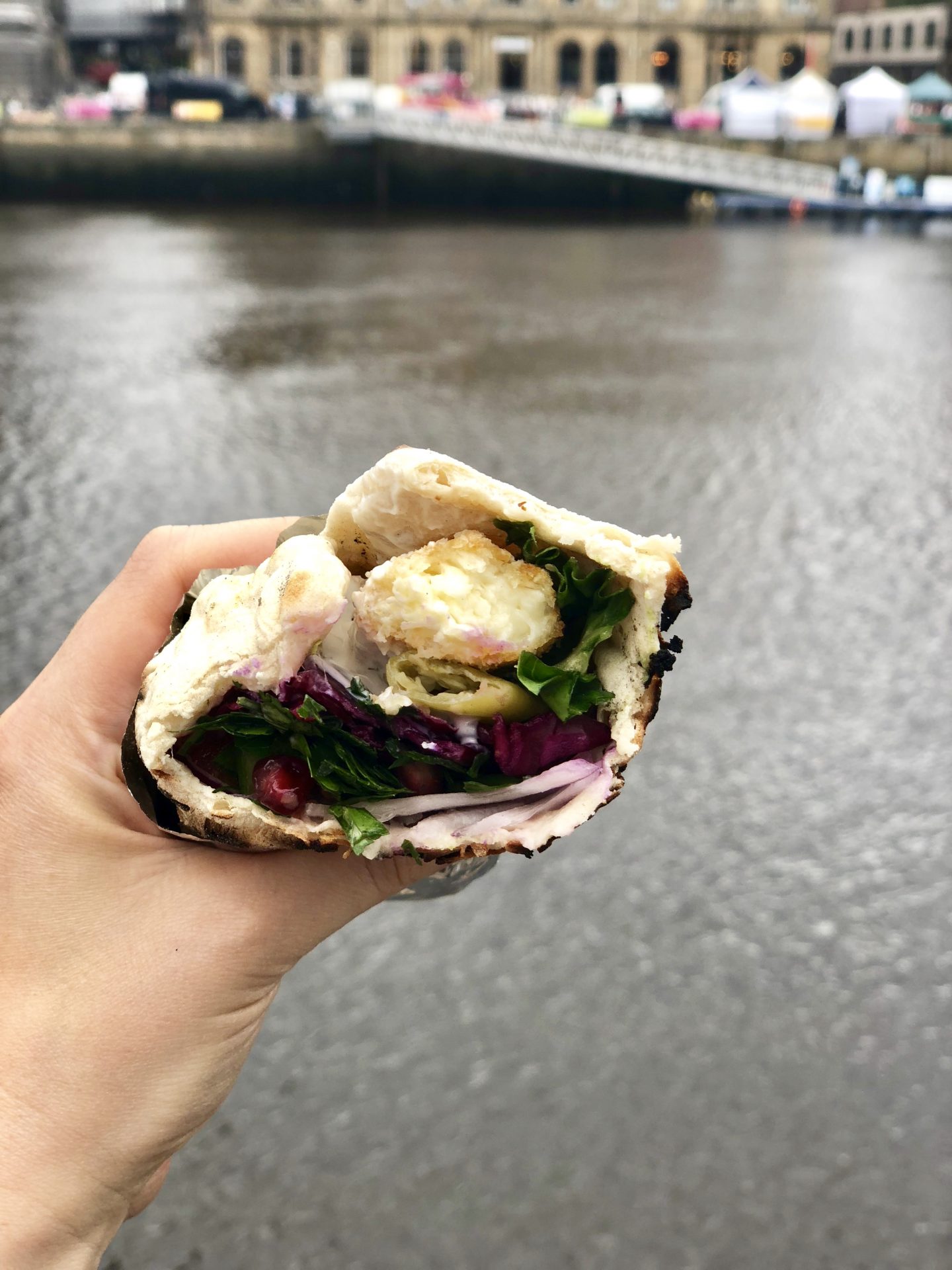 Grumpy Panda
Our friend John is vegan and headed to vegan junk food stall Grumpy panda. He ordered a 'chik n waffle'  with buffalo and ranch dressing. He kindly gave me a try and it was lovely but one of the spiciest things I've ever eaten. Not for the faint of heart! The waffle was sweet which paired well with the savoury topping. Surprisingly, as vegan options often tend to be more expensive, I found Grumpy Panda to be one of the cheaper stalls. When we inevitably go back I know I will take my son there who has a dairy allergy for their deep-fried oreos or funnel cake as he often gets rubbish options when it comes to puddings.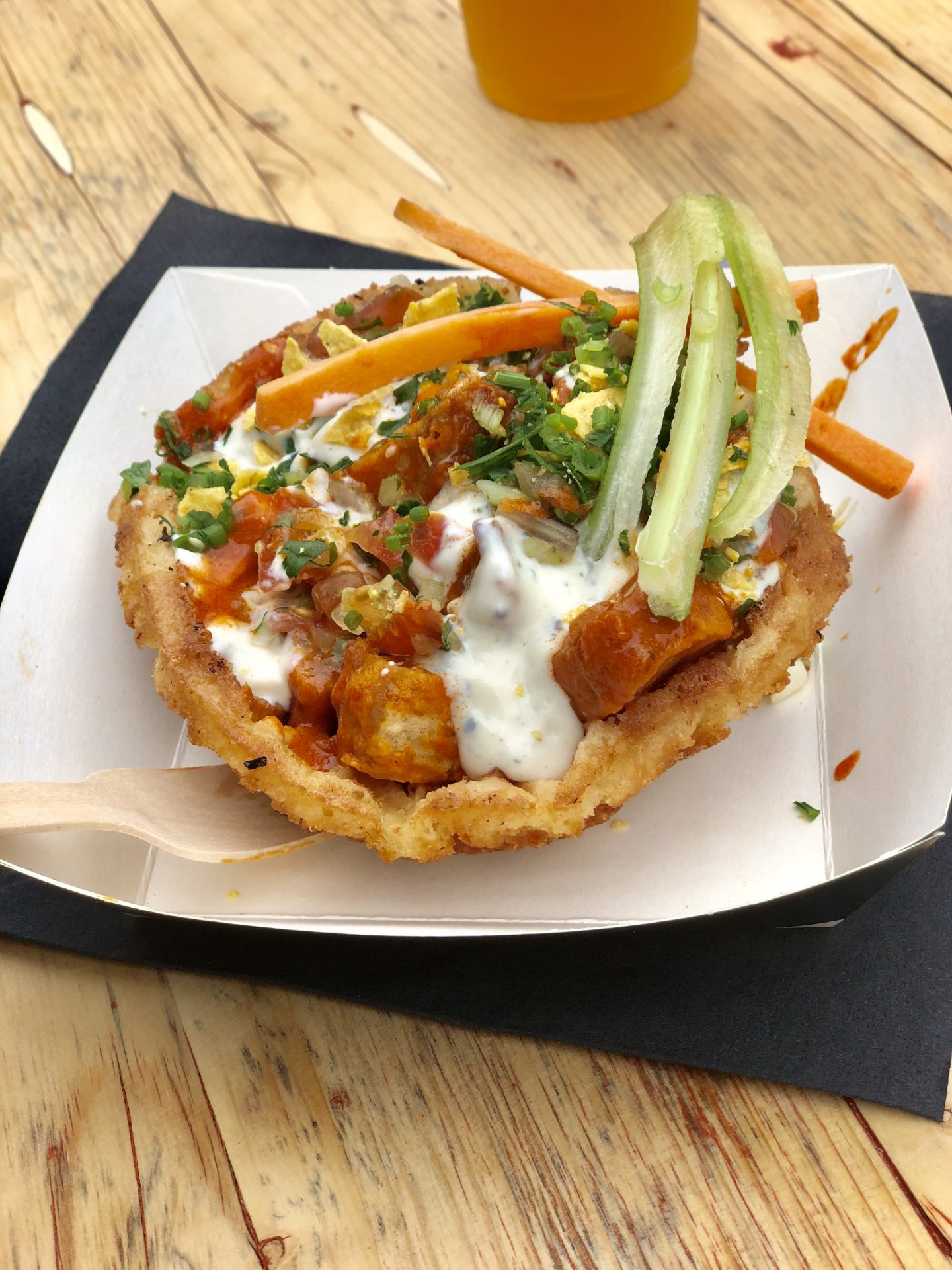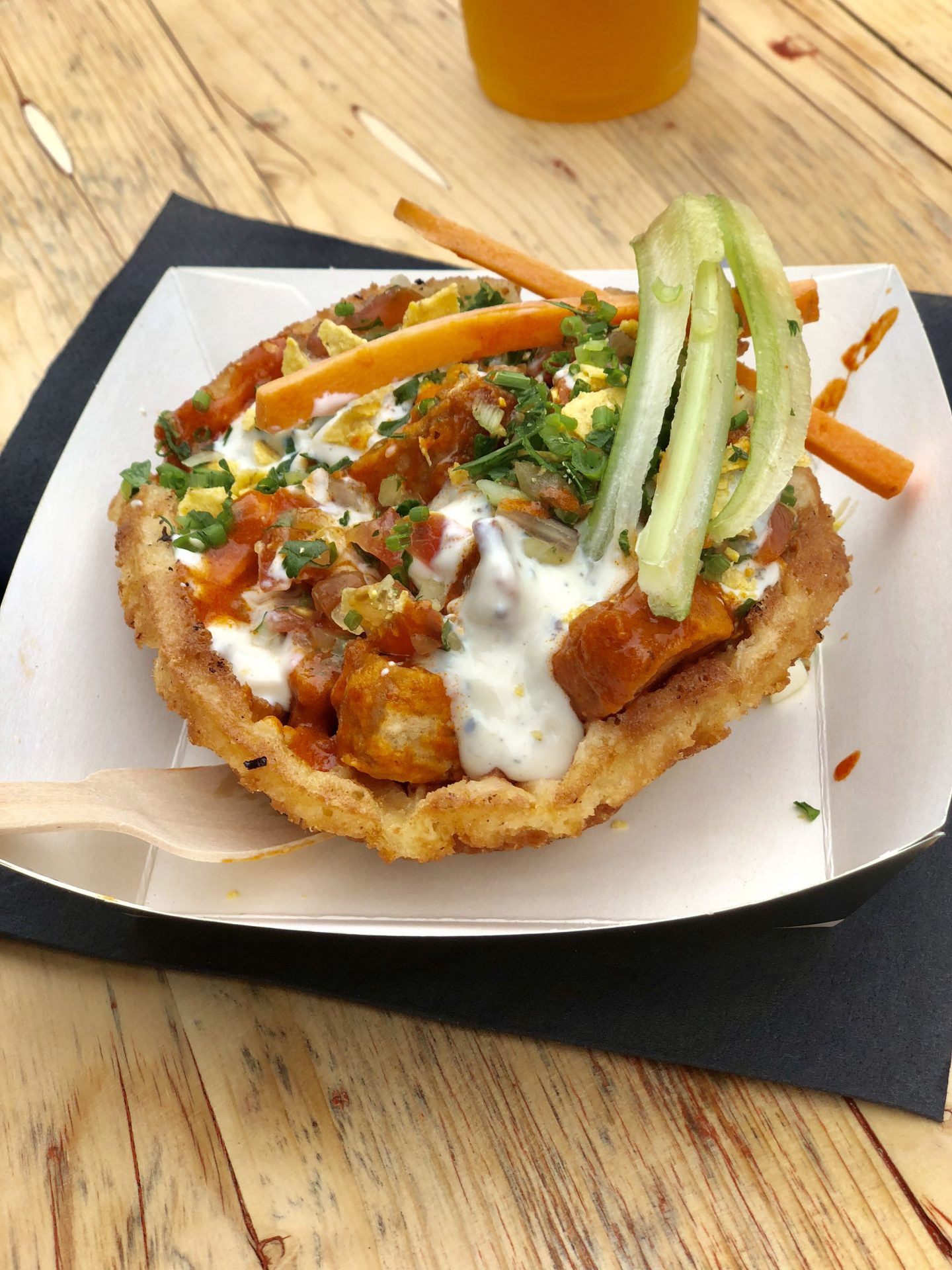 Atmosphere and music
The atmosphere was cool and bustling. The place feels undeniably cool with grafitti type painting on the containers. Somehow, it reminded me of when we queued for burgers at a burger bar based in old public toilets under a train track in Kreuzberg, Berlin. Industrial, edgy and fun. The music was superb! Great mix of classics. I'm a music snob and was impressed. I heard the Michael Kiwanuke, the Cure, Echo and the Bunnymen, Bowie, old house classics. If you want to get more of a feel for the music, I've popped my Instagram stories for the day on my highlight reel so go check them out.
What kind of prices are you looking at?
It ain't cheap, that's for sure. Generally you are talking £3-£8 for a meal. I found the prices in line with the kind you would pay at a festival. Cheaper than a restaurant but more expensive than a market perhaps. Some stalls offered better value for money than others. Scream for Pizza had big New York style pizza slices for £3 that I'm keen to try next time.
Here are some of the menus and prices for you.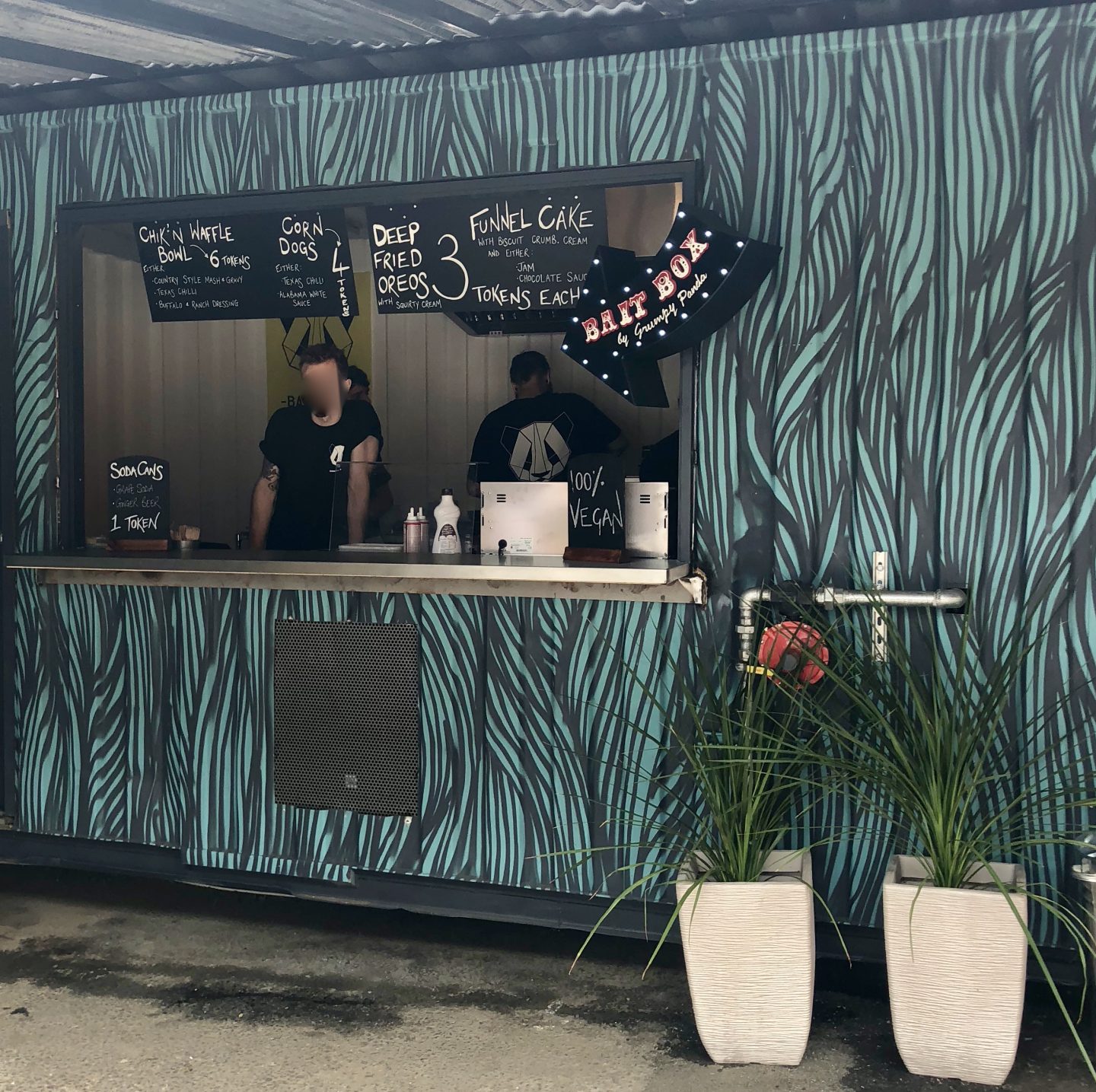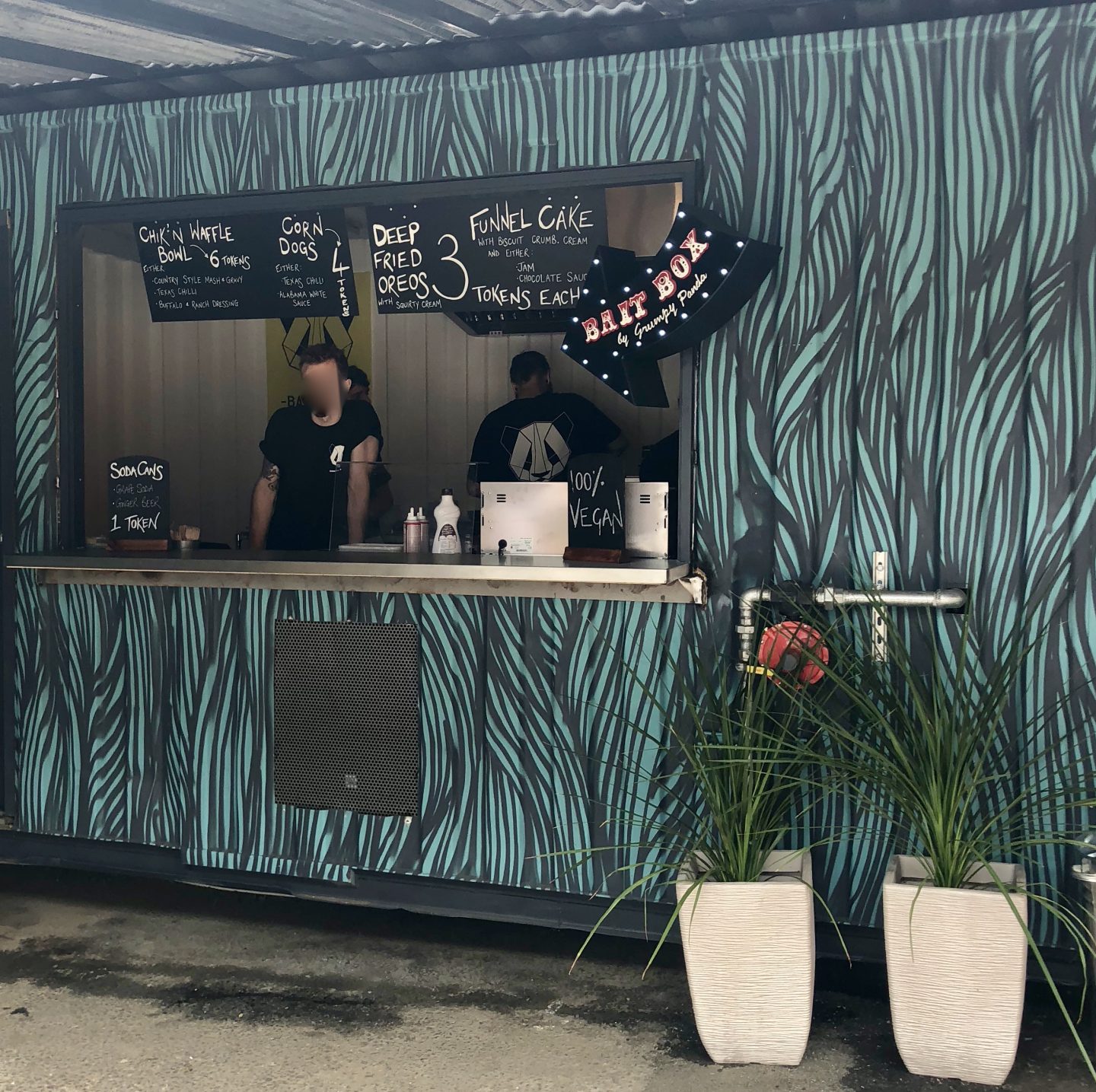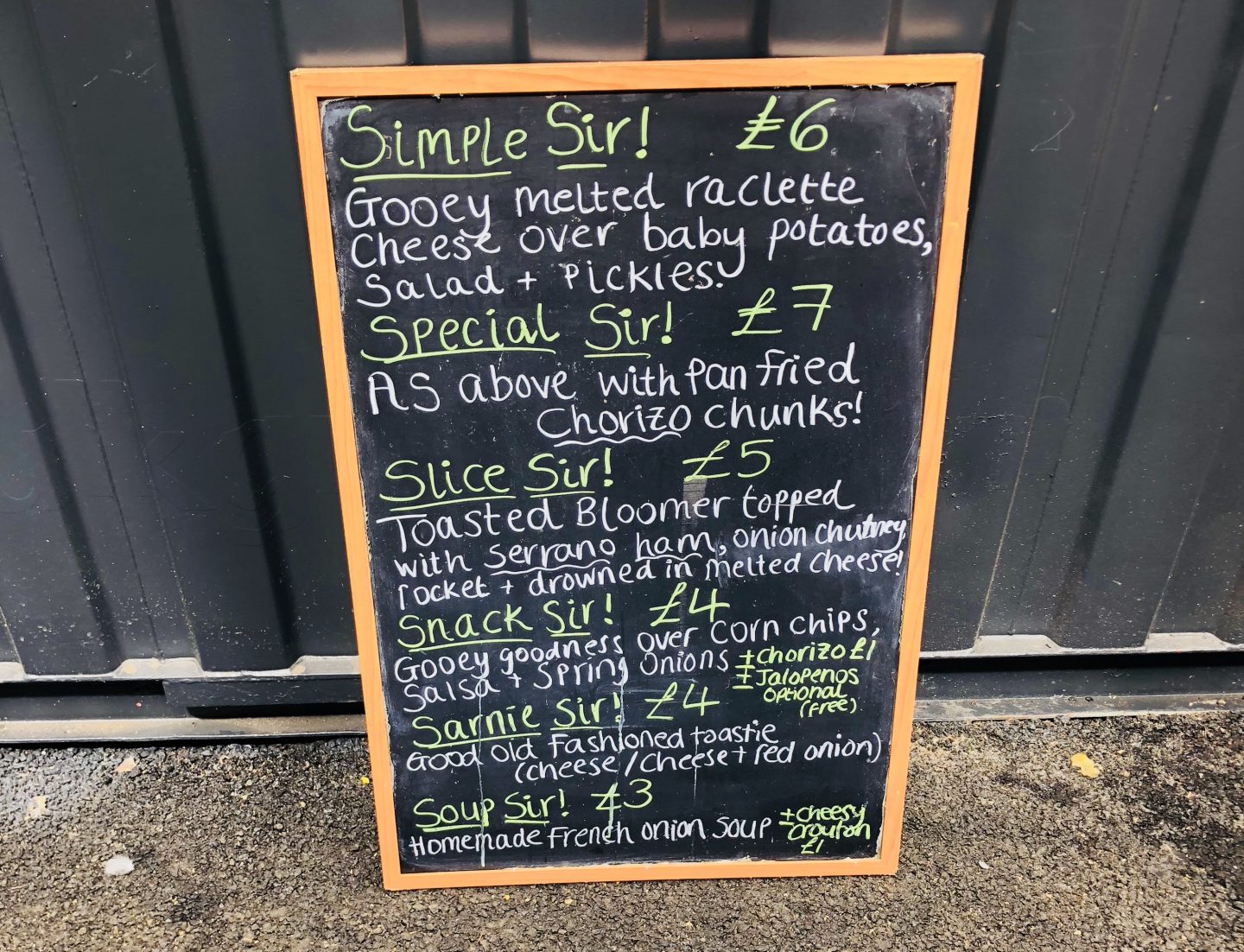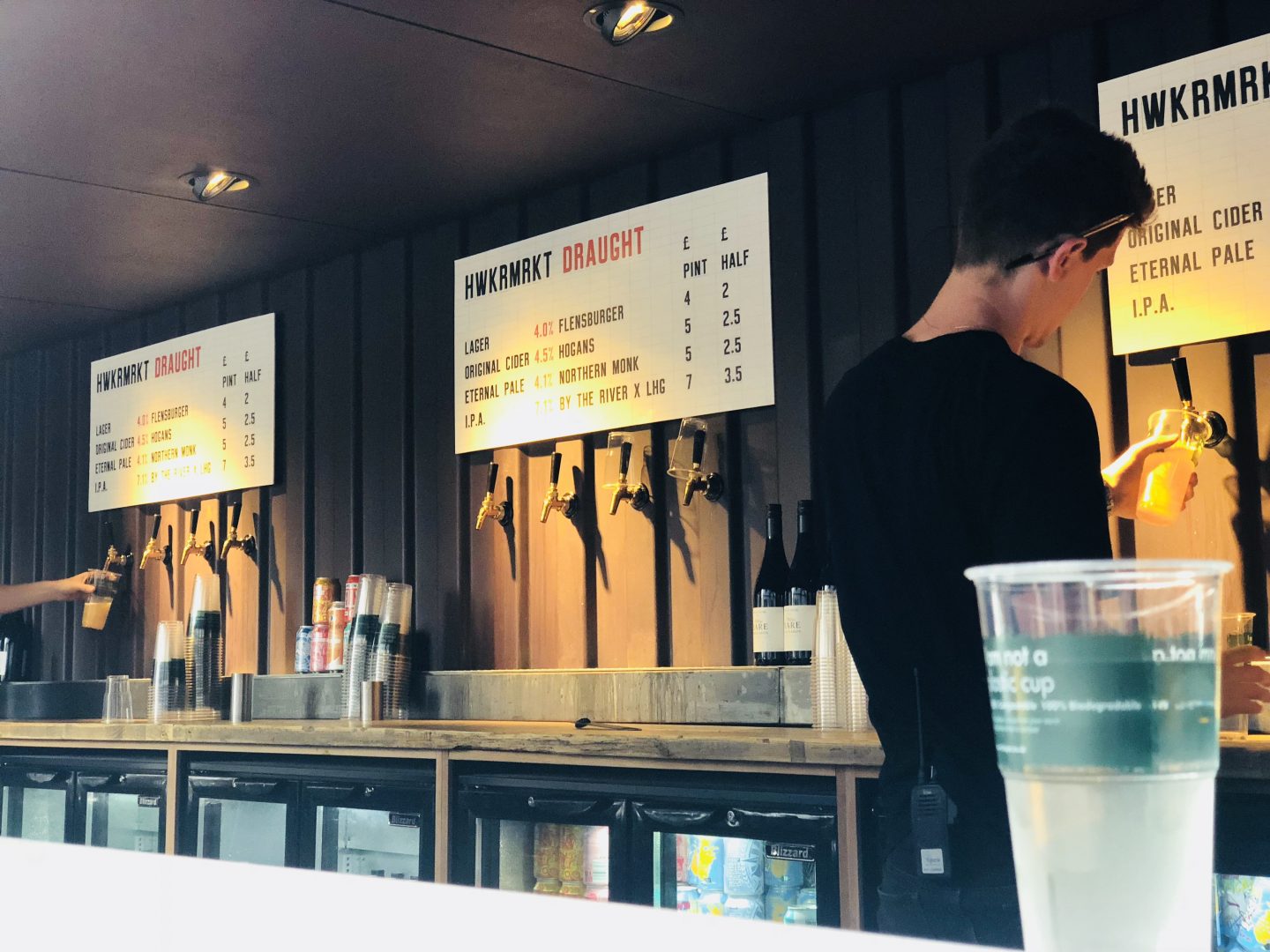 Toilets, accessibility and is it family friendly?
The site seemed accessible to me. There were accessible toilets and I didn't notice any steps at all. I saw plenty of families with prams and buggies. I would take my kids and wouldn't worry that we would feel out-of-place. However, be warned that the fencing around the Tyne is pretty open so if you have preschool kids and younger you'll need to keep a close eye on them to keep them safe if they need to roam about. Also, to be honest, it's a bit too busy to let them roam about. You'd want them holding your hands at all times and watch they don't get in the way of the other patrons.
There was a real mix of people there from young to old. There were dogs if you need somewhere pet friendly. Most the food stalls had vegetarian options and there was a completely vegan food stand in Grumpy Panda at the back of HWKRMRKT.
I had expected the toilets to be like portaloos as per the festival vibe. However I was pleasantly surprised to see they were nicely decorated 'proper' restaurant style toilets. They did get a bit messy the day we were there as it was very busy. This will be something for them to improve upon. There was always toilet paper and soap in the 4 hours we were there but they did run out of hand towels.
Drawbacks
Token system for food sales
All the food stands only took payment in tokens. So to buy food, you have to first queue at the token booth and exchange cash for tokens. A white token is one pound, a black token is two pounds.Some of the drinks stalls took cash and tokens but not cards. For somewhere so modern we found the token system regressive for patrons.
The queues for the token booth get quite big. We ran out of tokens a few times and had to re-queue. Then at the end as we left we had to queue again to exchange our tokens back to cash. As a customer I found this irritating and old school.
I had just got back from All Points East Festival a few weeks back that sold similar street food and the whole festival was cashless. The stalls had iPads and touch screen devices so people could pay really quickly and easily with contactless cards. This really reduced queues and speeded things up at a big and busy festival. In a world where digital and cashless is the future, it seemed a shame that they weren't cashless. I think it would really reduce the queues and congestion at HWKRMRKT if they went cashless.
I spoke to some of the food sellers and it seems the reason for this is that By the River Brew Co charge them 20% to have a stall in HWKRMRKT so it's the only way they could figure out for tracking the sales. I'm sure there must be a way to figure this out digitally though and I hope it's something that By the River Brew Co look to going forward.
I know some servers told me that they had many confused customers not realising they needed to pay using tokens, so they ordered their food and then when it came to pay had to leave the queue, go queue for tokens and then come back to get their food which caused a bunch of hassle for all involved. As it's popular and busy, you spend a fair amount fo time queuing so adding extra queuing to the process is not ideal.
Bird poo
Under the Tyne Bridge has never been so bad for bird poo. Just last week my son and I got pooped on trying to run under the Newcastle side. Apparently the problem is the Kittywakes who are a protected species so the Council can't do much to prevent them but I've never known it so bad.
I had a friend visiting from Cleethorpes recently and she asked why there was so much bird poo everywhere and was aghast. Now, being under the Tyne Bridge, the area is prone to this problem. In the HWKRMRKT, there was some plastic sheeting above the walk ways to the food stalls but in the uncovered areas you could see lots of poo on the floor.
While I was queuing at Papa Ganoush I felt at risk! I heard a couple of people complain they got pooped on. I'm honestly not sure what else they could do about it. It did get very hot on sunday afternoon when the sun was blaring so perhaps adding some parasols to the tables would 'kill two birds with one stone' – to pardon the pun.
Environmental practices – almost there
There weren't many bins about and adding a few more would help customers keep the site tidy and reduce pressure on staff. I loved that they had biodegradable and compostable drinks cups but would have liked to have seen recycling bins for rubbish as well, especially food waste bins.
Opening hours
These are the opening hours as of July 2018 but please check the main site before heading down in case of changes:
Hawkers Market
Fridays: 5pm – midnight
Saturdays: 12noon – midnight
Sundays: 12noon-8pm
Last food services is one hour before close
Brewery and Tap Opening Hours
Monday to Thursday 12pm to 11pm
Friday & Saturday 12pm to 12am
Sundays 12pm to 11pm
Trakol Restaurant Opening Times:
Lunch Monday to Saturday 12pm to 3pm
Dinner Monday to Saturday 5:30pm to 12am
Sundays 12pm to 6pm
To reserve a table email [email protected] with the date and time you would like to reserve, the number of diners and a contact number.
Summary
Honestly, HWKRMRKT at By the River Brew Co has been open for one weekend and it's already the coolest place in Newcastle/Gateshead. I simply adored it and I know I'll visit as much as my bank balance allows me this summer. A total asset to the region. It will be the first place I take any visiting guests now.
The only thing that could dampen my enthusiasm is if it gets much busier as it inevitably increases in popularity as more people hear about it. It's what the Toon has been crying out for and I imagine people will travel far and wide to come visit. A huge well done to all involved!
P.S. If you have enjoyed this review, I do regular food and restaurant reviews so please follow me on my social media channels below.