Fun and stylish kids' clothes from me&i
I love looking at all the photos of super stylish and grown up monochrome clothes on Instagram BUT that hasn't really been a style I've gone for with my kids. I like kids' clothes to be really fun, colourful and bright. You are only a kid once and soon your life is boring school uniforms and then even more boring work dress codes. I love it when kids get to dress like kids. To be frank, most of the time, my complaints about kids clothes are that they don't do them in my size.
So I was stoked to be asked to review some clothes by Swedish brand me&i. I'm really into that whole 'scandi' vibe at the moment and if you follow us closely then you will know that I'm in the middle of trying to give my living room a scandi update. Me&i's clothes are Swedish design, colourful and uniquely designed.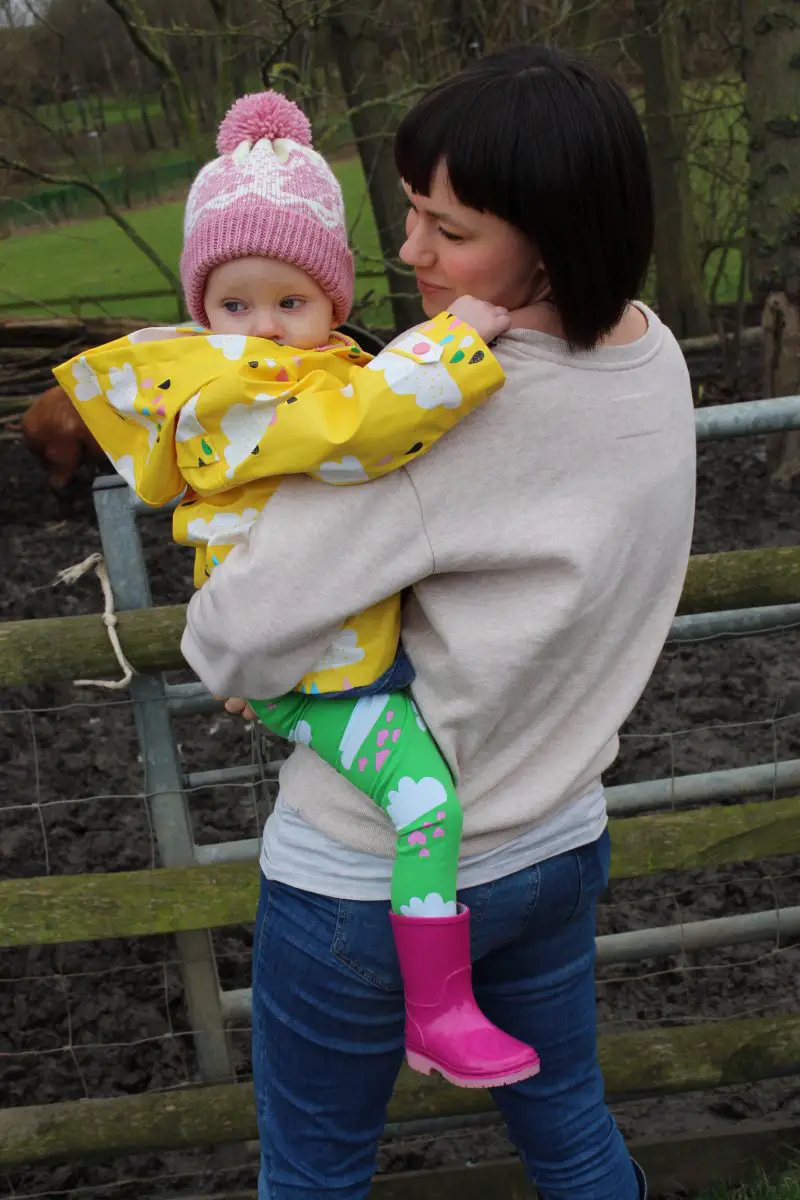 Responsible Manufacturing
They 'manufacture the clothes in a responsible manner in Portugal and Turkey' visiting all the factories that they work with, and not working with large factories that mass-produce items. Me&I has a code of conduct that they make all the manufacturers agree to. The Code of Conduct is based on internationally agreed rules produced by the International Labour Organization (ILO) and the ten principles of the UN Global Compact for sustainable enterprise. It guarantees worker's rights such as the freedom to establish a Trade Union, no child labour, wages above the minimum levels to working wages.
Charity
Me&i goes even further than this and supports The Step (an international girls home in Nepal) financially and by donating clothes to the children. As a feminist who is aware of the unfair working practices that our sisters in places like India are often subjected to, this meant that me&I was a company that I was proud to work with and buy from.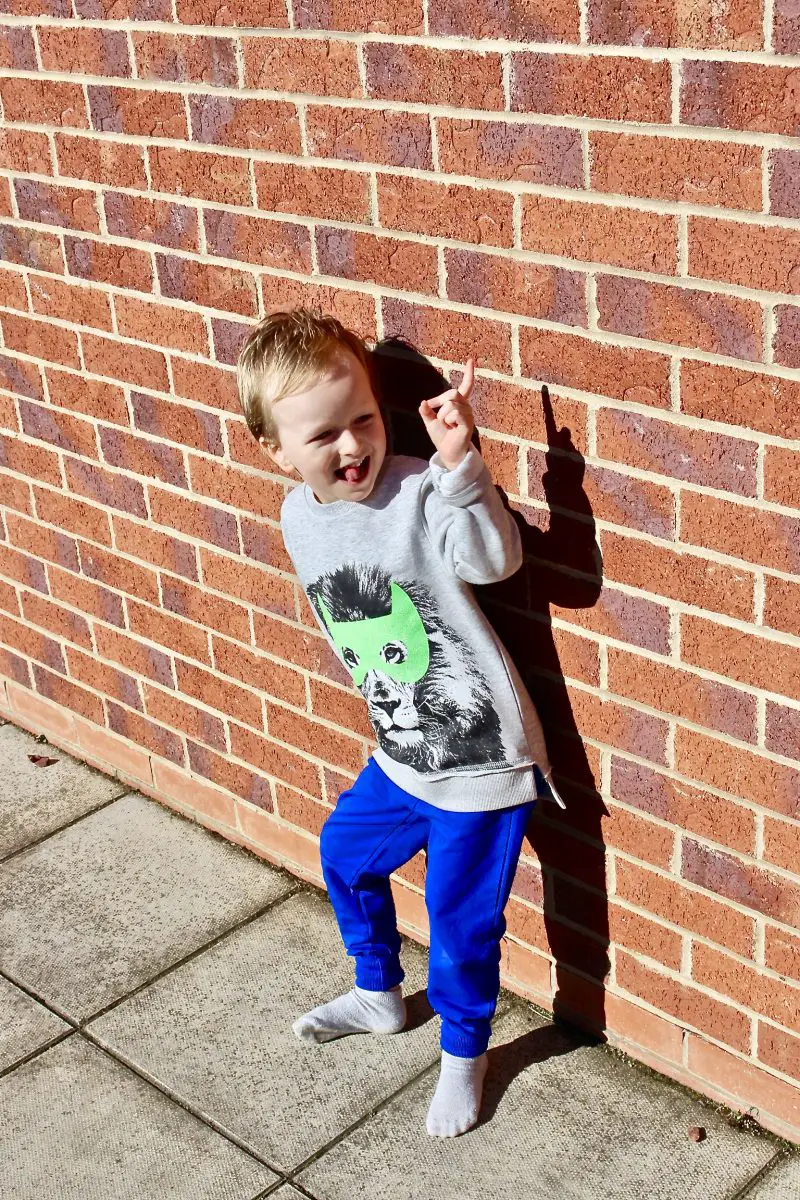 OEKO-TEX standard
Me&i clothes are quality certified to the OEKO-TEX standard. OEKO-TEX is the leading international control body in the world for textiles. It means that the clothes do not contain any hazardous substances that may irritate the skin or pose a threat to your health. Additionally, all the baby items from me&i are made from organic cotton.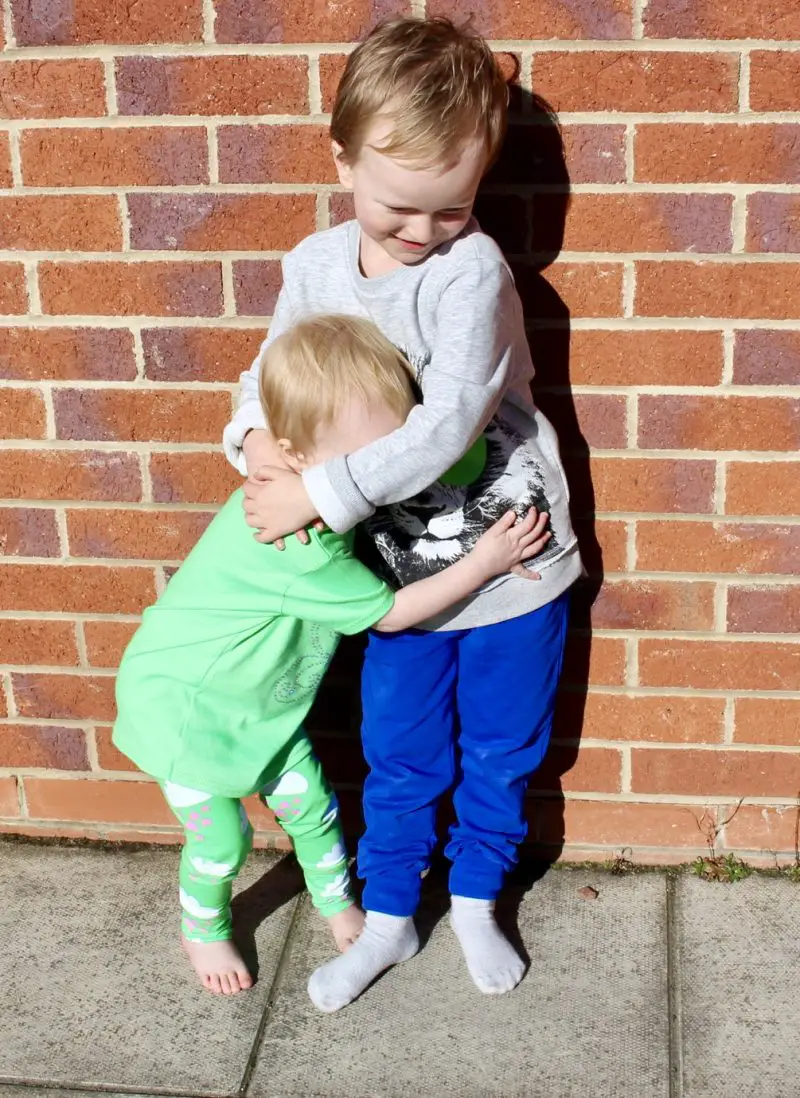 My choices
I ordered the best sweatpants in cobalt in size 110-116 for Arlo (£26) and the raining hearts leggings in size 86-92 for Lena (£19).
The size guide is annoying as a Brit, I'm used to ages which seems easier to me. The good thing about me&i though is that you have access to  a consultant. I will say my consultant was really helpful and patient with me in helping me to choose the best size for Lena. It was nice to have that responsive guidance in choosing. My consultant sent me a number of photos of children in the clothes so I was able to get the right size for Lena and they fit her well. They don't fall off her now but I can tell she's going to have plenty of growing room in them.
I didn't ask for her advice on choosing Arlo's size as at 5 I thought the age 4-6 would clearly be the right size for him and I was right. They are a bit big, I'm rolling the waist band over and the cuffs up at the moment but he can wear them and he's going to be able to grow into them too. He loves them because blue is his favourite colour (something he tells me at least 900 times a day lest I forget).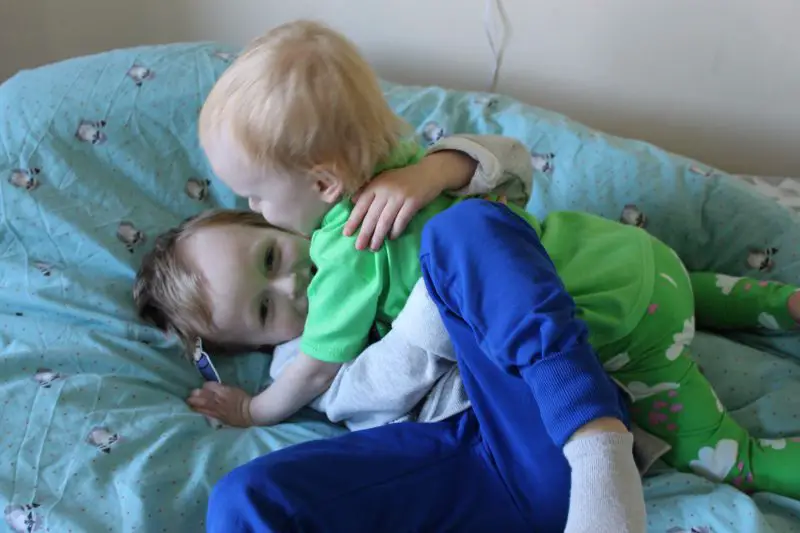 The clothes are very soft and you can tell that they are a good quality and are well made. I like that they are cosy, comfortable and stretchy for the kids to both relax and play in.  I think they are nice and colourful and funky. I'm particularly enamoured with Lena's leggings and wouldn't mind them in my size. Lena's go well with her new yellow raining clouds rain jacket she's just got from M&S for her birthday.
Another thing I love about me&i's clothes is that they have a wide range of gender neutral clothes – there is some typical gendered colours but there are more clothes that aren't gendered.
Consultants and parties
As well as being able to purchase me&I clothes online, they also have an option to host a party. You can have a group as small as three and you get to invite a sales consultant along. There is no obligation to purchase at the parties but as a host you get to choose one gift (from a small selection) and the chance to purchase a garment of your choice from the collection at 20% discount. There are further discounts depending on how much your party spends.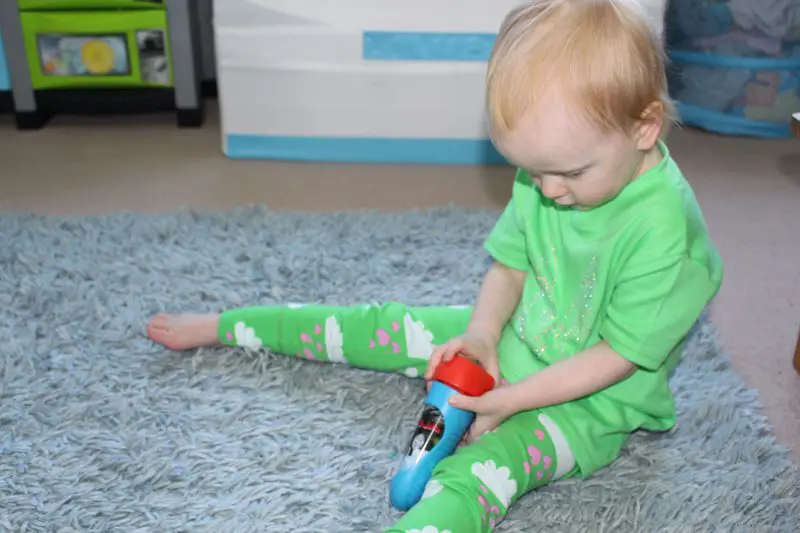 Overall
Me&i are a company I will likely go back to. I was initially a little put off by their prices thinking they were too much for kids' clothes. But, knowing about their ethical practices, seeing the quality of their clothes and seeing how the clothes both fit the kids now but will provide plenty of growing room has me convinced they are clothes worth investing in.
Giveaway
The lovely people at me&i have given me a £25 gift voucher plus free delivery to one of my lucky readers. You can enter through a variety of options (and see the T&Cs) in the Rafflecopter link below.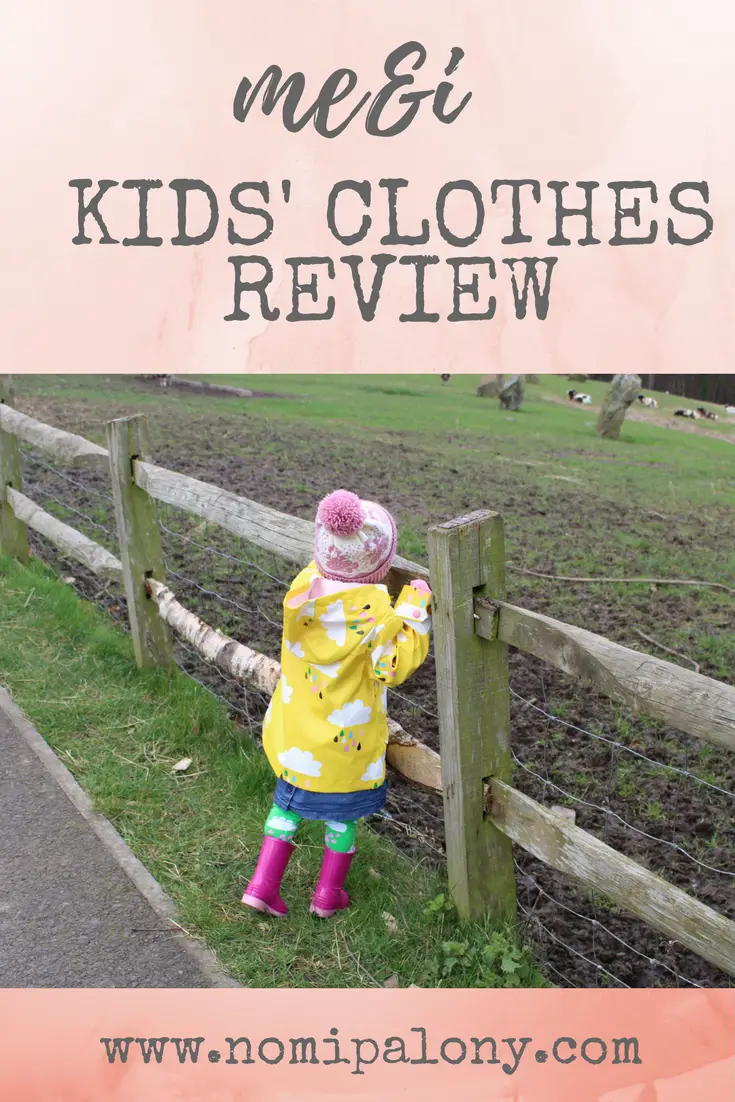 Disclaimer: I was sent the clothes from me&i for the purposes of this review.