I'm feeling very relaxed as I write this review having just got back from the Mineral House Spa at the Crowne Plaza hotel in Newcastle. I was very fortunate to be invited along to a bloggers event at the spa. I got to enjoy the facilities for 2 hours, have a 25 minute massage, canapés, mock tails and a goody bag in return for a review of the spa. My review can say whatever I want – positive or negative, that's my call. Mind you, giving me a massage is always going to put me in a positive frame of mind so you've that for bias.
The hotel is in a great location for getting to by public transport. It's five minute walk from Central Station. You exit the station and walk out to the left. You then take a left and walk down the bank so the Centre for Life complex is on your right. Under the train bridge and left again and the Crowne Plaza is straight ahead on your right. Perfect for a city spa – you could easily incorporate this into a girls or hen's weekend treat and then onto the city and not have to drive.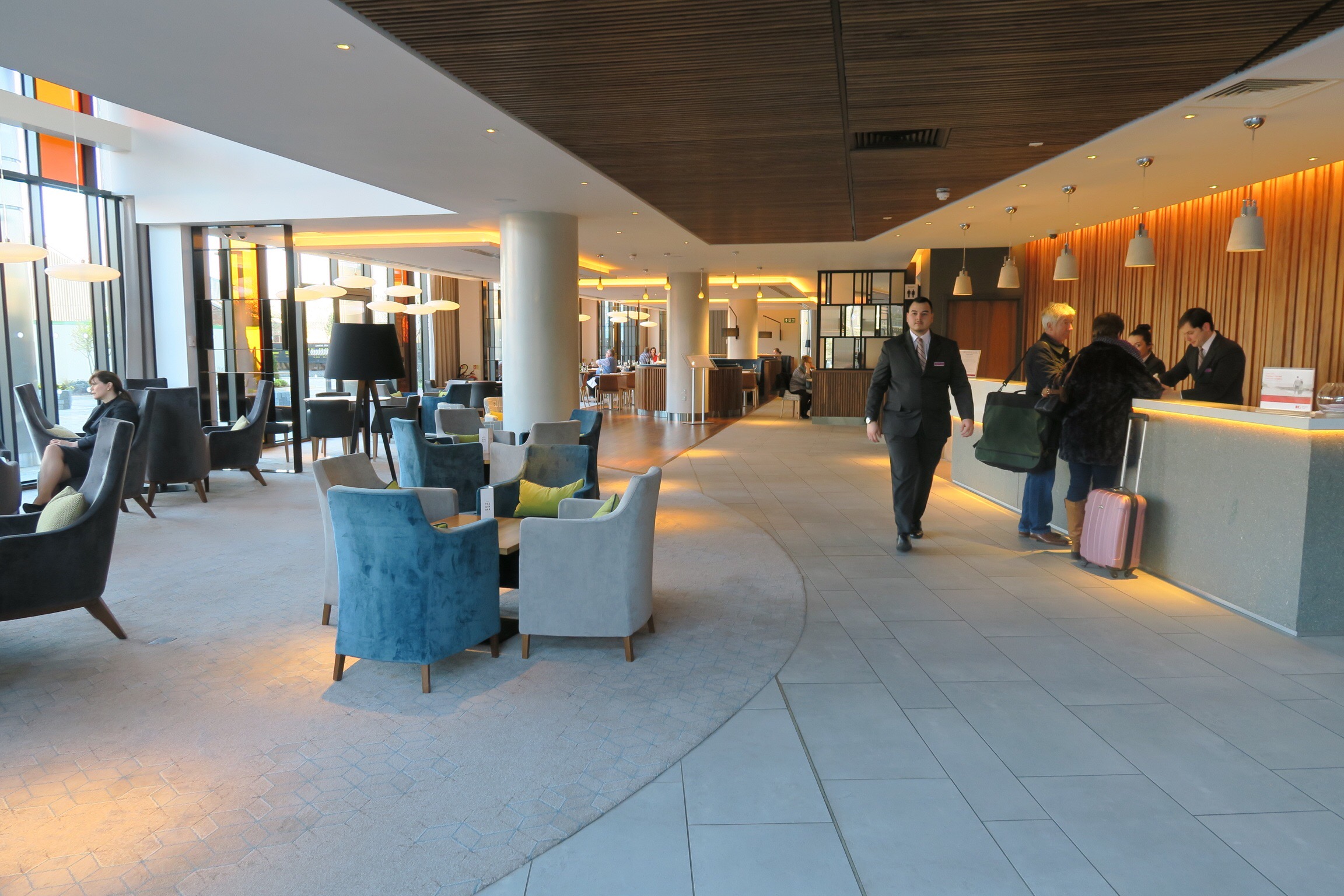 The Crowne Plaza itself looks great. It opened in September. At Christmas Papa Ginge and I walked past it and said to one another, 'bloody hell, where did that pop up from'. It looked beautiful with its Christmas tree in the foyer. Apparently it's part of a larger regeneration project of the Stephenson Quarter with lots more stuff planned round there in the coming years so it's going to be interesting to see what else pops up down there. It's a nice looking hotel, modern and fresh.
So you get the lift to the lower ground floor and it's the usual jazz – calm, candles, spacious and modern. It does the usual thing that spas do that annoys me – little signage and directions. Do spas just want you to bumble around cluelessly? Is it some kind of conspiracy in spas across the world? I would go through one door to a room then there would be two doors back out, both identical with no signage. Signage would help guys!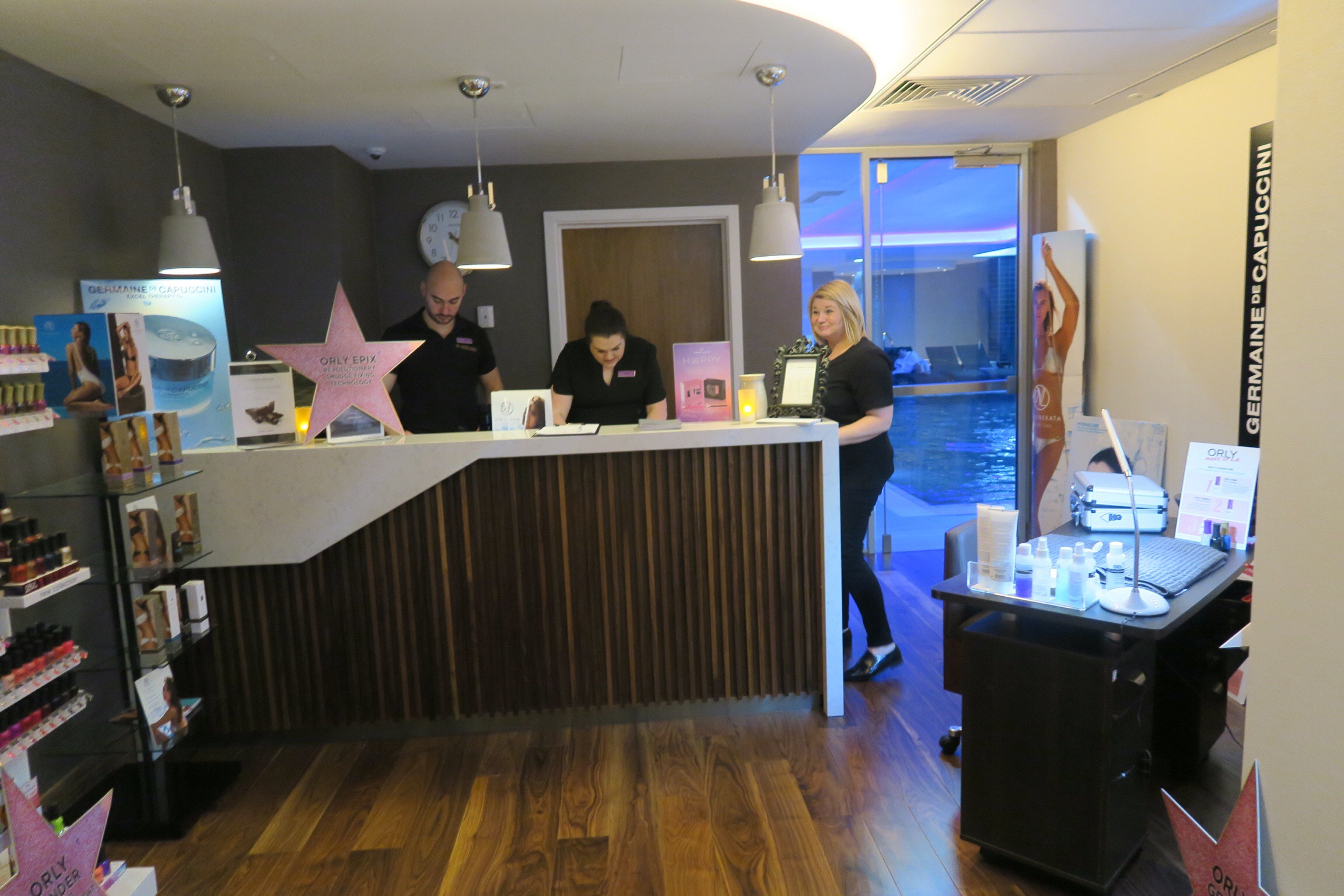 Anyway, I was greeted by a welcoming and professional reception, who took me to a relaxation area to fill out the usual forms. I was given a robe, towel and slippers. I was given a mock-tail which was very refreshing (although I would have preferred hard liquor, less mock and more…ok I heard it).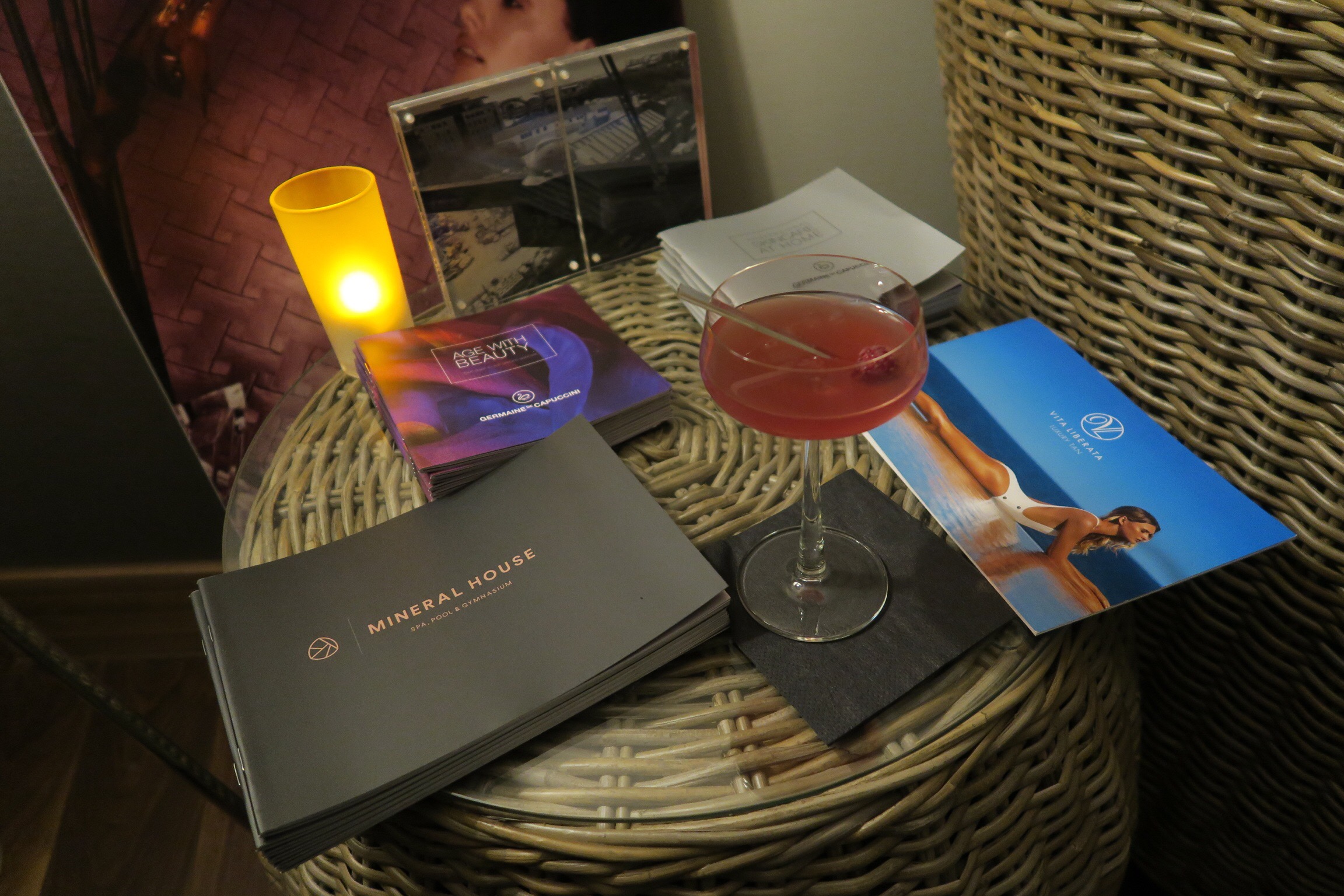 We were also given some delicious canapés. So good that when the lovely fellow blogger Chloe didn't want hers and kindly offered them around, I ate those too. What can I say, I hadn't eaten lunch and I love my grub. There was a little tiny shepherds pie type tart, a mushroom mousse with porcini mushrooms on toasted bread and then another piece of toasted bread with cod (I assume, or other white fish) and I'm not sure what was on top of it. I would have loved it if they told us what the food was actually or if it was labelled or something. It was presented very nicely though and tasted great. Getting food at a spa day is such a nice treat and makes it feel so much more special for sure.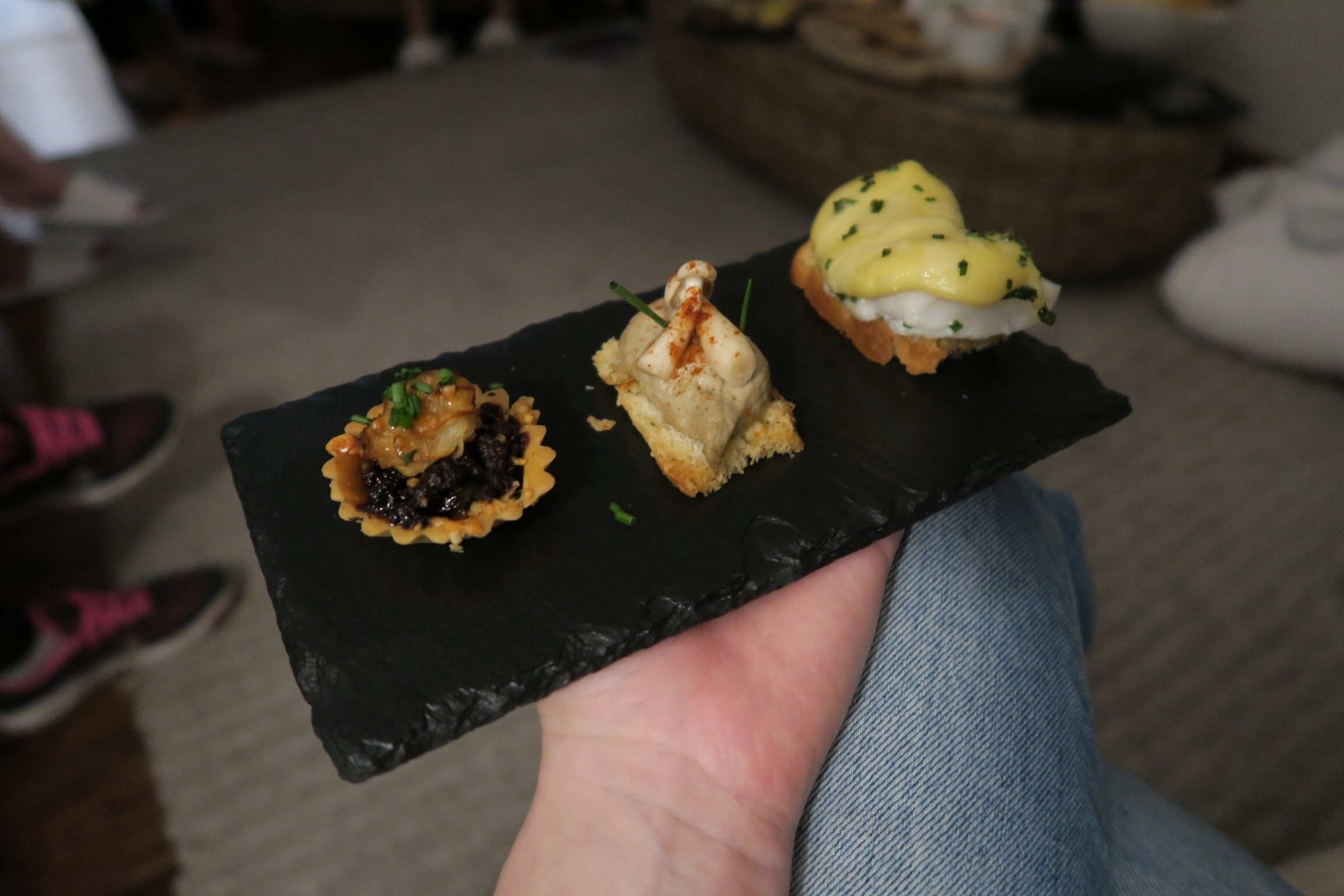 There were also some other nibbles out and iced water that you could help yourself too. The relaxation area was small but cosy.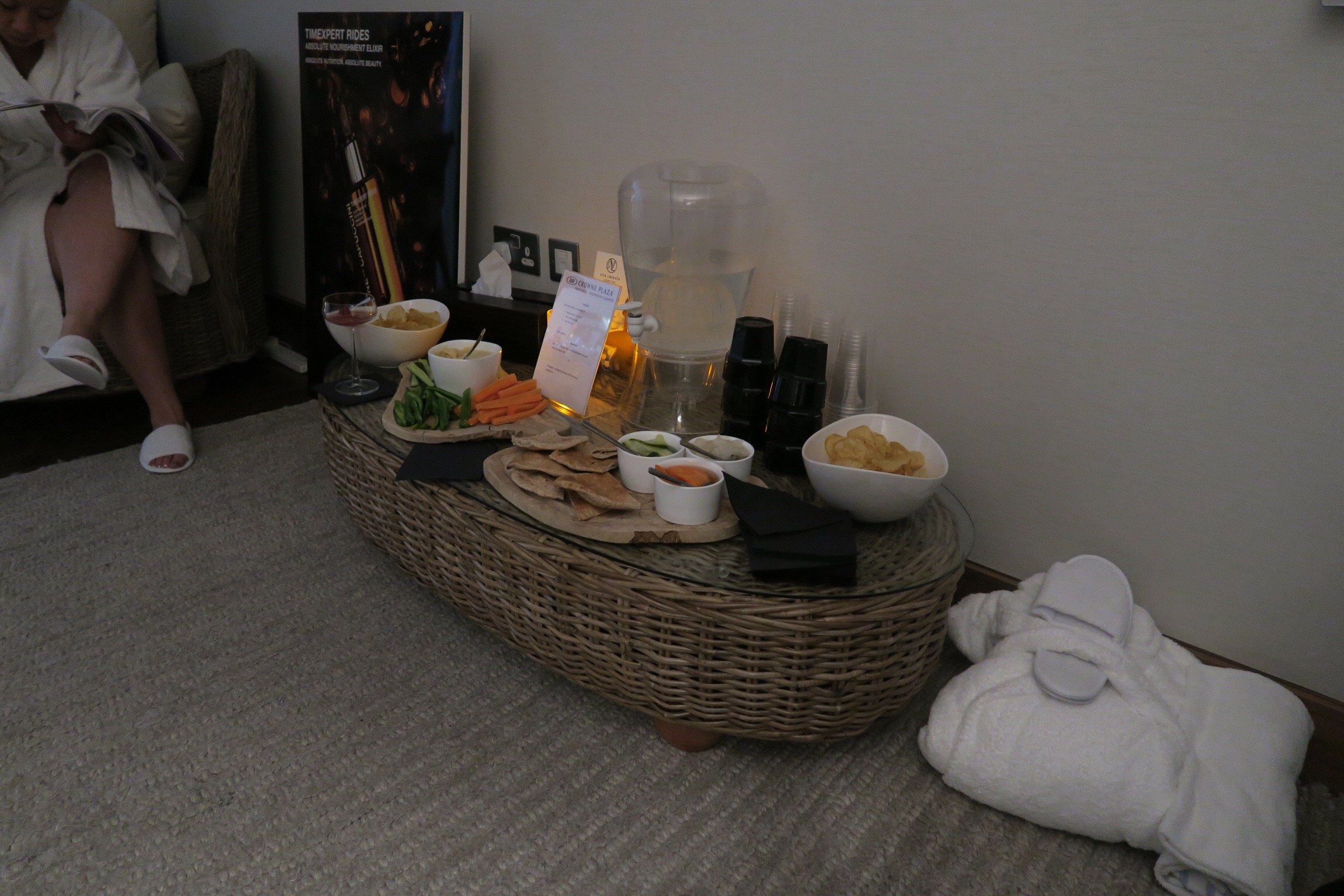 After meeting and chatting to some of the other North East bloggers (who were all really lovely) I went through to the changing room. Again small but clean and modern. Only the one mirror and hairdryer but they seemed to manage the bookings well, even with a lot of female bloggers there we had no queues and it didn't feel cramped. There were a couple of showers and sinks. The shower was great. Good temperature, good water pressure and the White Company shampoo and shower gel – winning! The lockers were big and operated by a pound coin that you get back on return.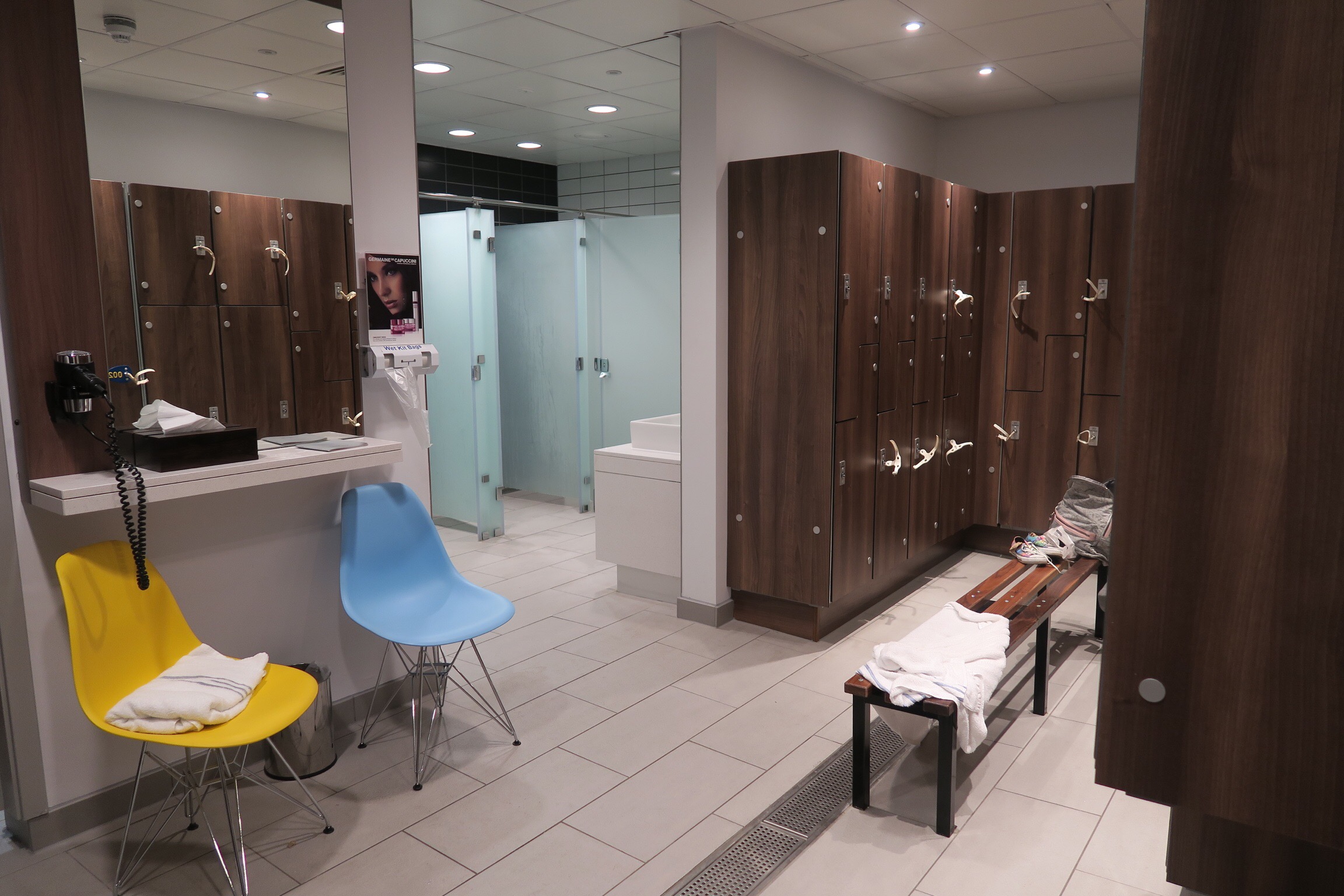 After going through the wrong doors a couple of times I went through to the spa and pool area. I took my camera at first to take photos for you guys and then went to return the camera to my locker. However I accidentally went into the men's locker room. There was a sign on the door but the lighting is low in the pool area and the sign is small and well I'm an bumbling idiot. So not only did I walk into the men's changing room, I did so with a camera. Not embarrassing at all… Fortunately there were no men in there. Thank feck for that.
So that crisis over I went for a swim. I really liked the pool area, it's small but modern, funky and clean. The lighting is very low so even the least body confident will feel more at ease here. My cellulite has never looked better you guys. It also did a good job of hiding the fact that my daughter fed off just one boob before I left so I was pretty lopsided in my bathers.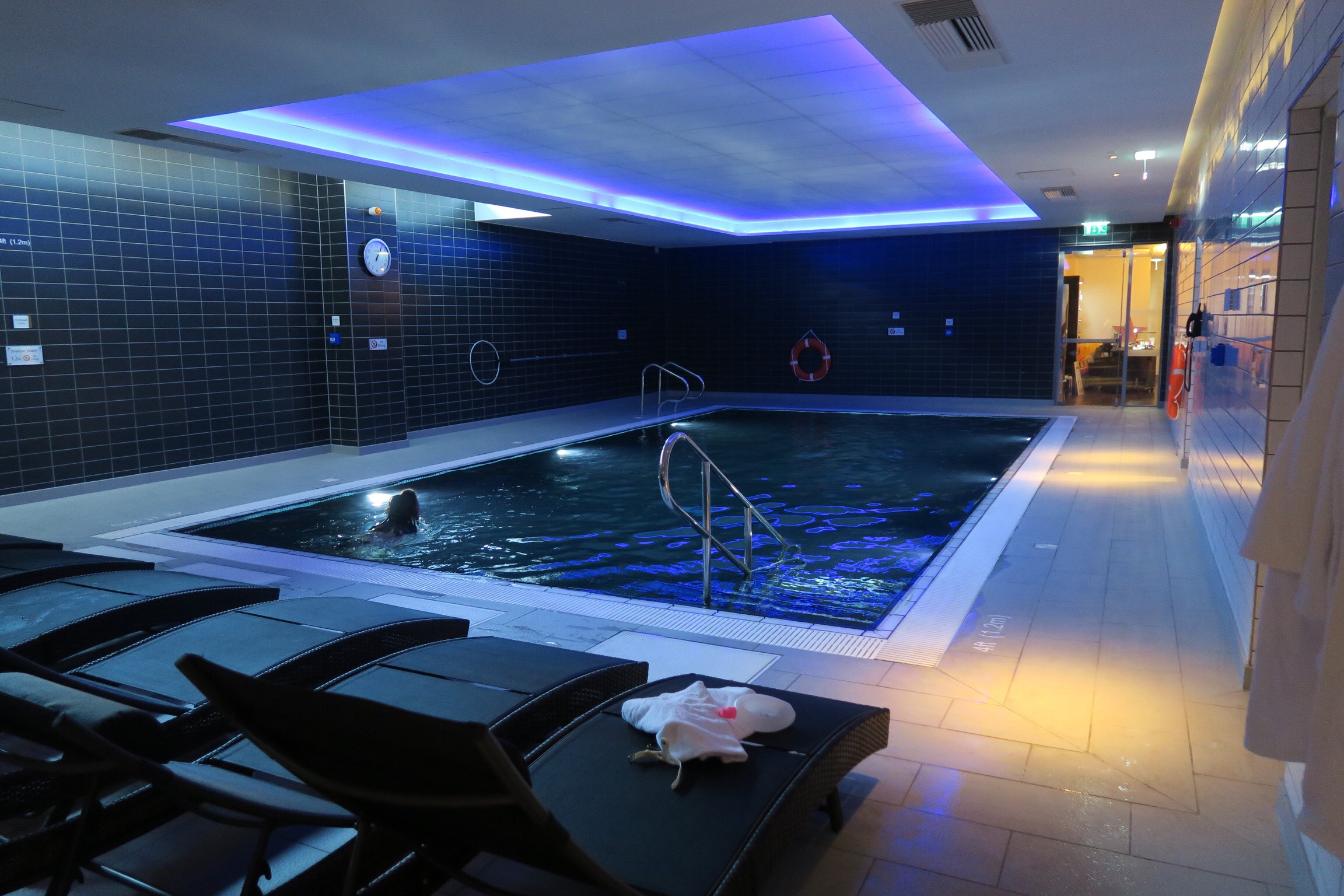 I swam some lengths and it was very enjoyable. I love to swim. Then I popped in the jacuzzi which was fab. Standard jacuzzi jazz. There is one tiled steam room that was wet steam. I hate steam rooms, I feel like I'm suffocating in them. I don't get them at all but if you like them it was decent I guess. Very hot and steamy, too hot for me so probably perfect for those who enjoy it. I went back in the pool which now felt freezing after the jacuzzi and steam room. Let's just say I'm pleased I don't have balls as based on what Papa Ginge is always telling me I think they would have retracted inside (he is SUCH a baby whenever he has to get in a pool, lamenting 'me balls, me balls'). I alternated the pool and jacuzzi, chatting to the other bloggers while I waited for my treatment. You have two hours in the pool area pre-treatment which is plenty of time. Some of the bloggers hit the gym before the pool too but I didn't try that out.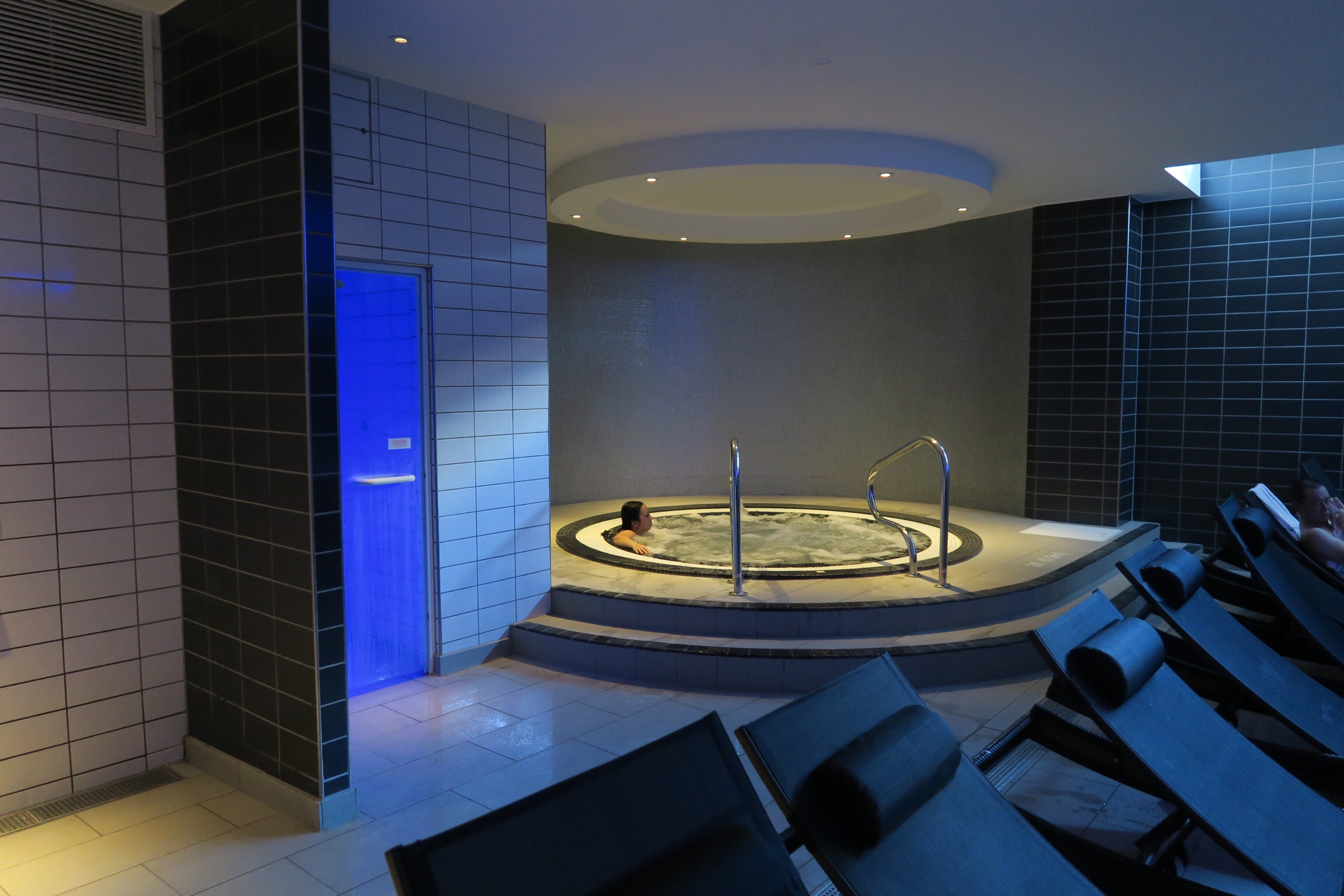 Then it was time for my treatment. The treatment room was nice. Spacious enough that it didn't feel cramped at all (cough cough, Gateshead Hilton, cough). There was a desk and chair for sitting and chatting pre treatment and then a bed and a shower. The photo doesn't do it justice, it actually looked much nicer in real life.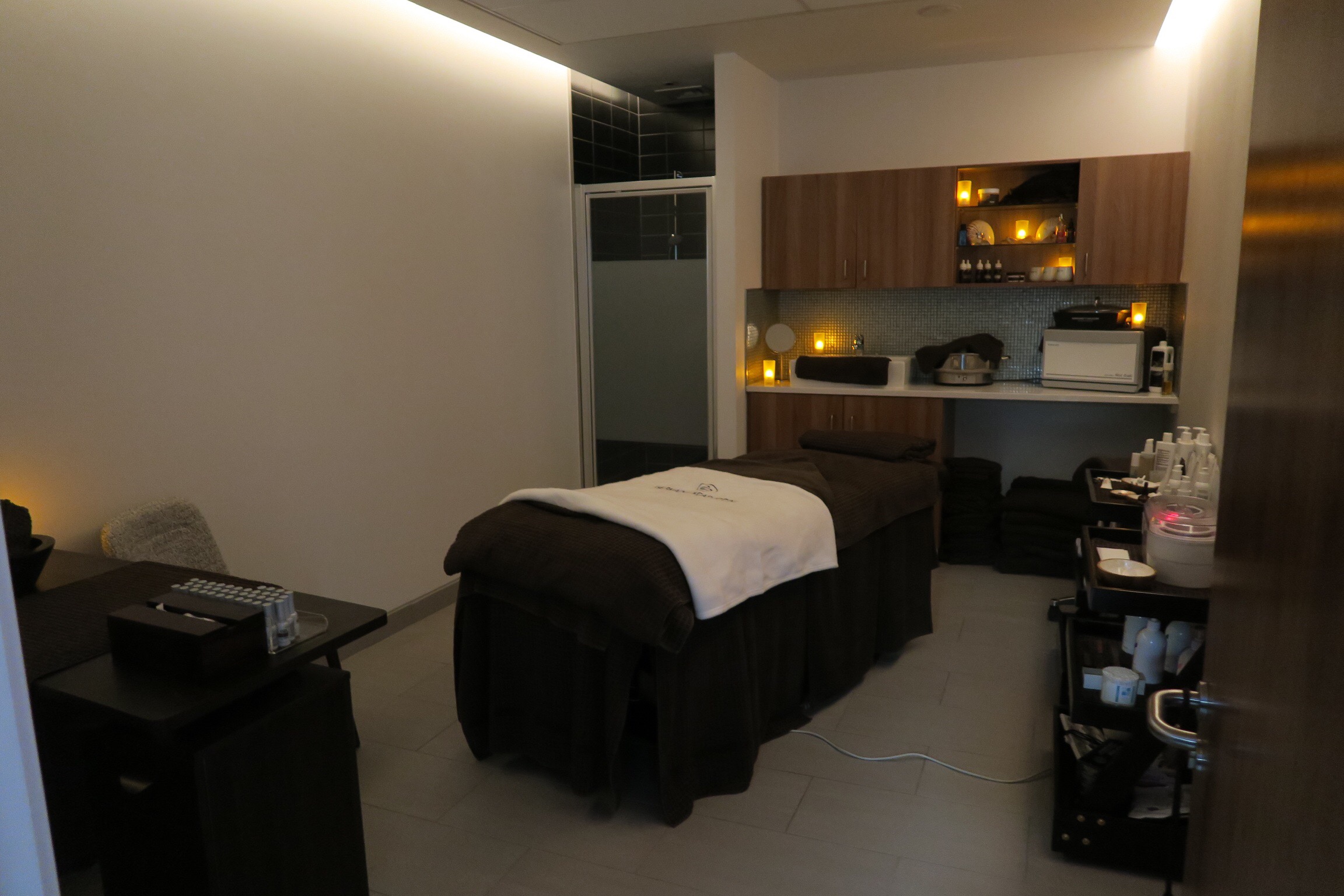 I went for the 25 minute back massage and had Suzi. Suzi was fab mes amis. She had that soothing, calming, soft spoken manner going on that good therapists have. Even just chatting to her pre massage I felt more relaxed. We talked about how I was still breastfeeding and so she chose a particular oil that was safe and would be ideal for my skin – an organic African baobab tree oil. It smelled really nice on the patch test. Suzi left the room while I got naked and put on those glamorous paper knickers spas love so much. I was instructed to lay face down on the bed with my head in the head hole thingymajig and cover with a towel.
The massage started with a pinda massage which is something I haven't had before but enjoyed immensely. The pinda bags reminded me of those little heat bags you get that you can put in the microwave for aches and pains. They were hot and Suzi had two that she was pressing all over my body. Even though it was just a back massage she massaged right down my legs with the pinda bags. Then it was onto the main massage which was good, not too hard or soft and Suzi asked a couple of times if it was ok and told me to let her know if I needed more or less pressure. It was very thorough. She even massaged my bum which I don't think a masseuse has done before but I don't know why not because it was good and I sit on that thing a lot! I was worried an accidental fart could happen after the canapés and am relieved to say (that after two babies and weakened pelvic floor muscles) such an embarrassment did not occur and I took that as my win for the week. I really didn't want my massage to be over but all good things must come to an end, Suzi wrapped a warmed towel around my neck and wrapped me up in towels and sat the bed up. I was devastated and didn't want to get out of the towels and return to my real life which is a sign of a good treatment. I was told I could go relax in the relaxation area afterwards, which I did after my shower. I really wanted a cocktail by this point. That would have made the experience perfect I think. If I had been with friends I would have definitely gone up to the bar area for a drink afterwards but I felt guilty that Papa Ginge was alone with the two littles so I headed back home. They gave me a goody bag as I left but I suspect that was a blogger treat rather than a regular spa deal thing.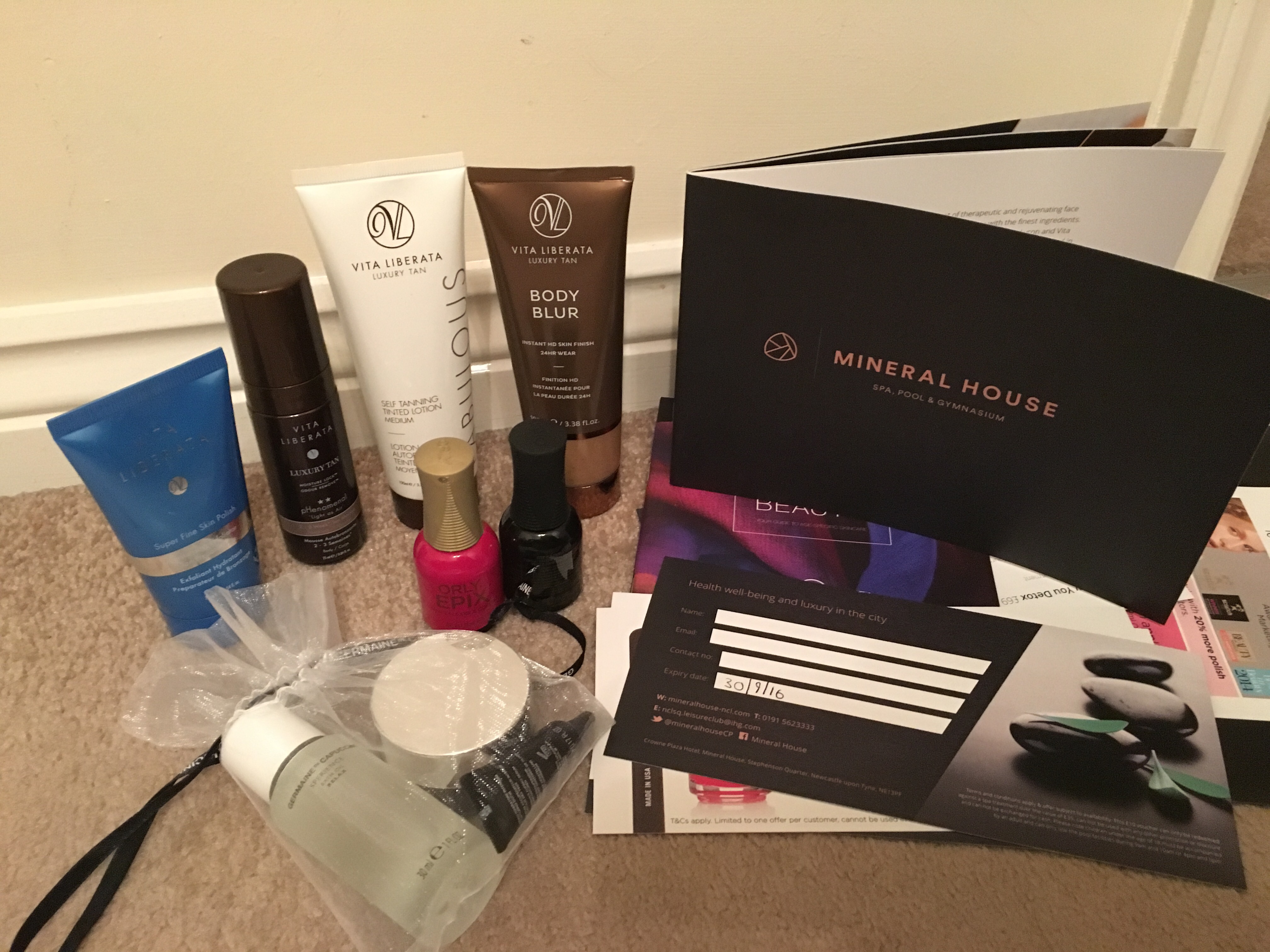 On my way out I saw Nelly from Nelly's Cupcakes who had just had a jazzy blue manicure done which looked pretty. We contemplated going to the bar together but we both had the mama guilt so postponed to a later date (I'll hold you to it though Nelly).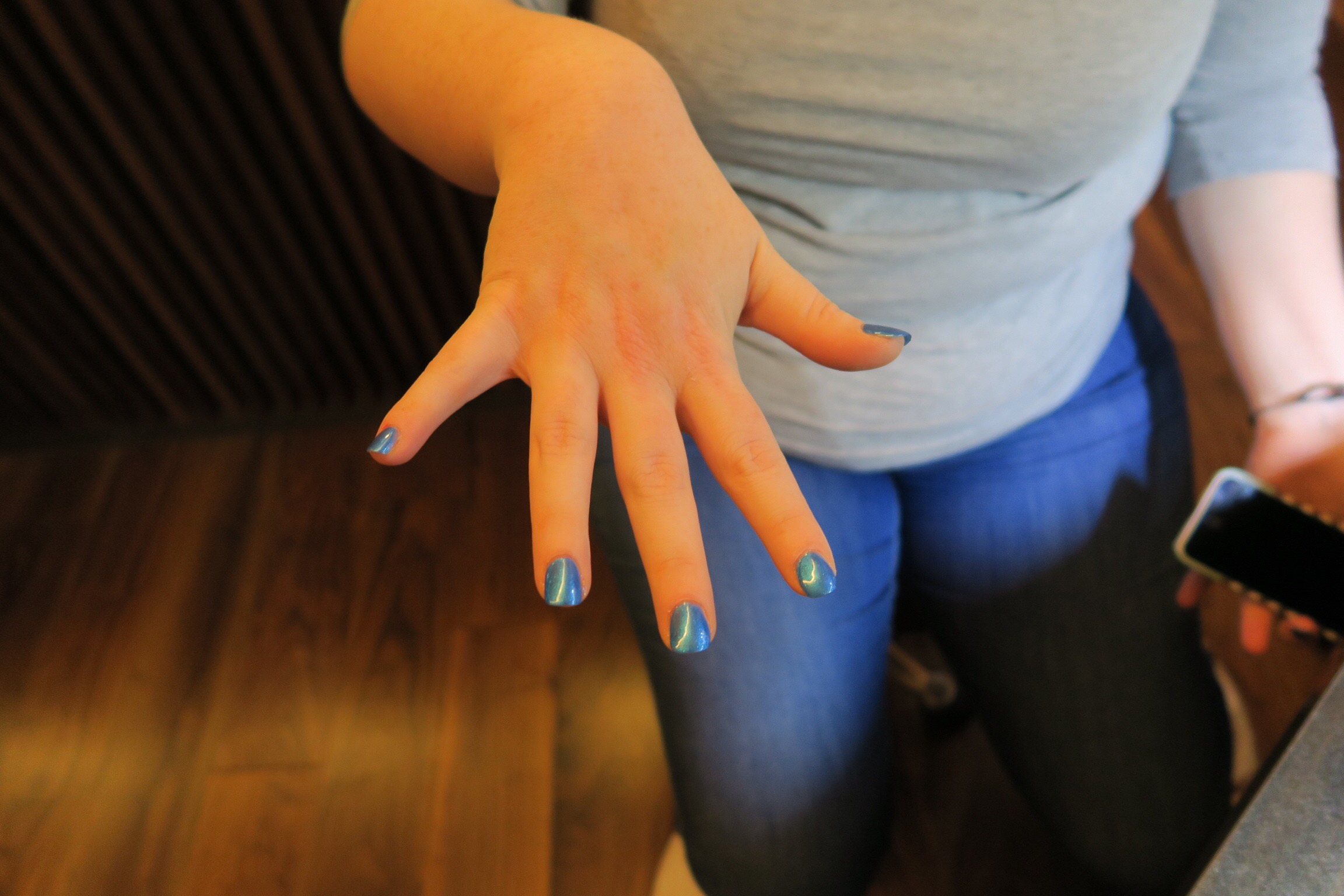 All in all I really liked the spa and treatment. The experience was top notch. The price is comparable to the Hilton nearby but it's way way better in every regard. The pool area is nicer, treatment rooms better, massage way better. I would choose the Crowne Plaza any day of the week. It's easier to get to on public transport too. I really see this as a great resource to the city, especially for girl get togethers, hen parties, mother and daughter or sister dates. I will definitely be recommending it to friends and I will be back. In terms of local spa experiences I would say it doesn't trump the sumptuous luxury of Seaham Hall but it's ahead of the Hilton by a long shot. I'd give it a solid 8/10.
Thank you for inviting me Crowne Plaza, it was a real treat and I can't wait to come back!