Last night was the long awaited launch party for the new Cabana Brasilian Barbeque restaurant in Newcastle – and good things come to those who wait.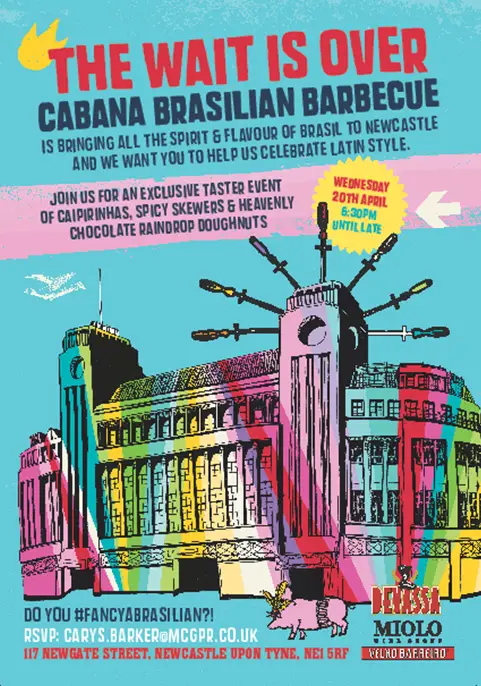 Cabana Brasilian Barbeque is pretty self explanatory – Brazilian BBQ food and drinks. It's a chain restaurant with 9 other restaurants across the UK. The founders Jamie Barber and David Ponte are aiming to celebrate the communal aspects of Brazilian food, the 'urban collage' of Brazil and the Brazilian spirit of 'Tudo Bem' meaning 'everything's good'. It was certainly tudo bem last night my amigos.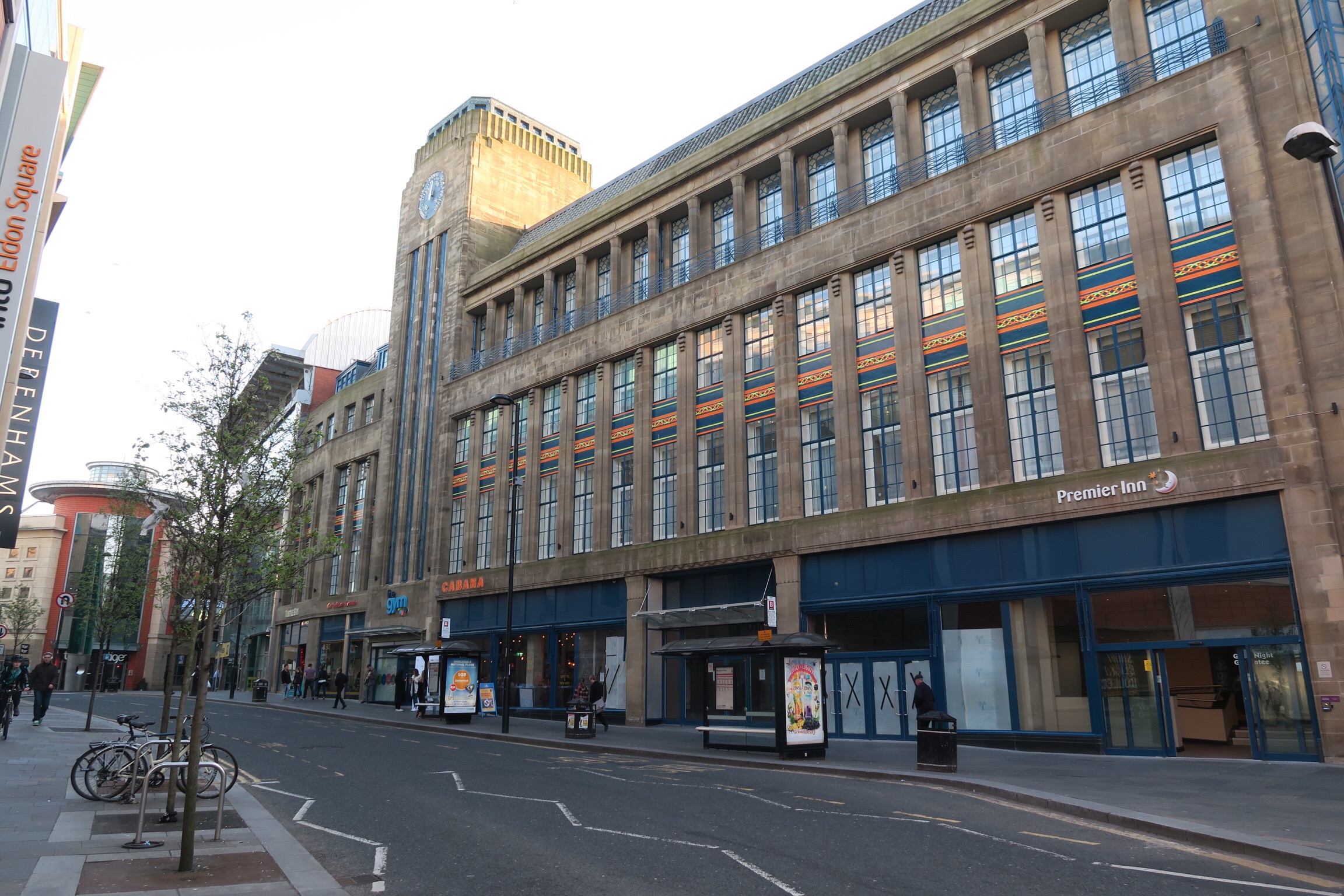 The restaurant is housed in the old iconic Art Deco Co-op building next to the Gate that recently underwent a £17 million renovation and I reckon the Cabana restaurant is a sound addition to the regeneration scheme. It's super easy to get to by public transport, I got the metro to Monument where it was a 5 minute walk to get to. Similar distance from Central Station too. There's parking in the Gate if you are bringing the car.
I can really see this venue being food in the day and succeeding in the Toon bar scene in the evenings. It has a real party/holiday type vibe to it. For the launch party there were dancers dressed in those outfits that you think of when you think of the Rio Carnival. There was a lot of booty on show! These women have body confidence. I had a long chat with dancer Gillian about loving your body no matter your size and being confident, she was pretty inspiring. It was great that the dancers were going around and chatting to people, they were a real credit to the event. It was fun to watch her dance, shame there weren't any similarly disrobed men mind. You know, in the name of gender equal perving. I hope they do events where they get the dancers back because it really added to the party vibe.
Fellow blogger Nelly from Nelly's Cupcakes asked if I wanted a photo with Gillian and I laughed 'I dunno, do I?!' Gillian looked incredible in all her garb and I had just come from my wrangling small children and my smear test so it felt a bit like putting an oompa loompa next to JLo but here we are! I took one for the Team.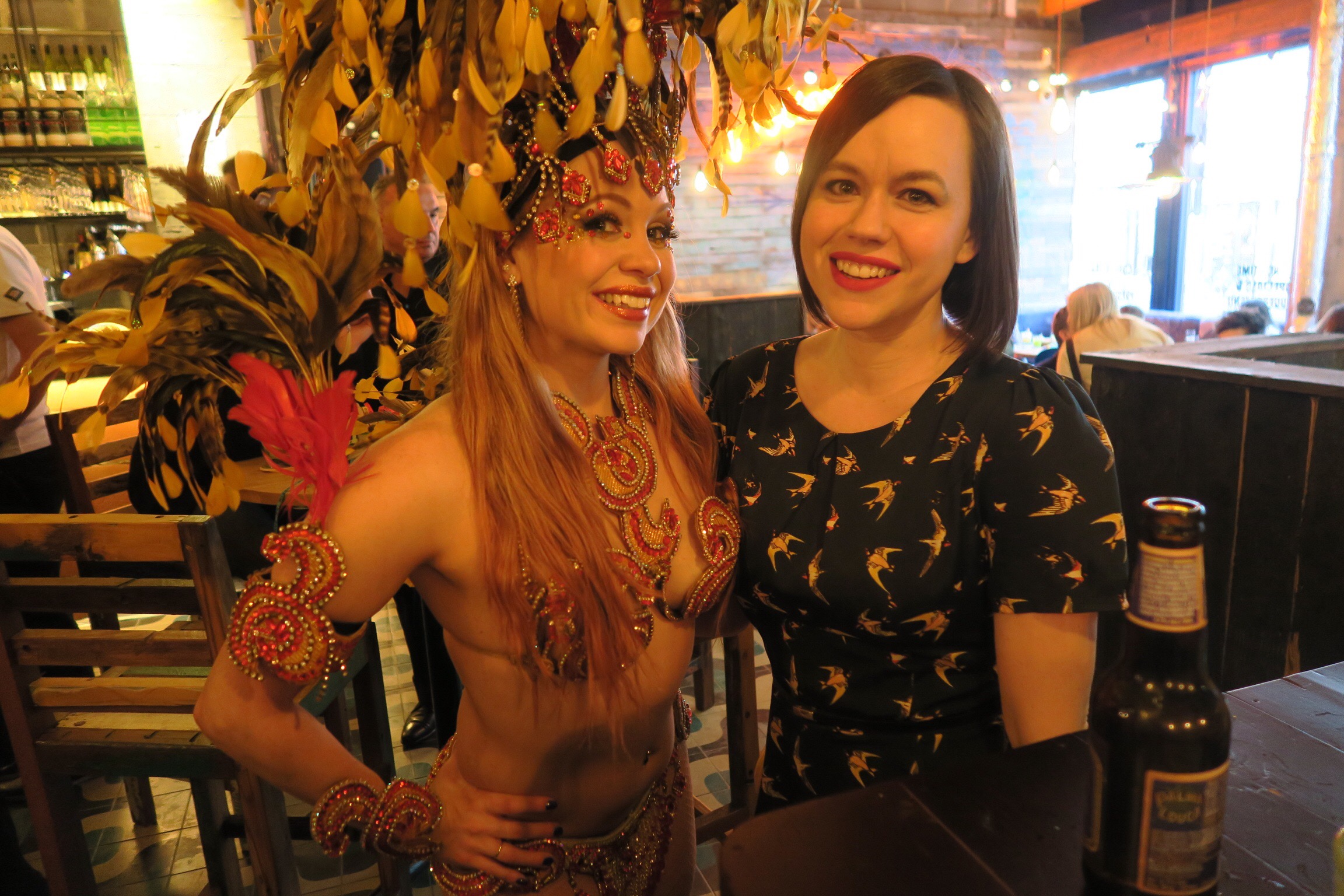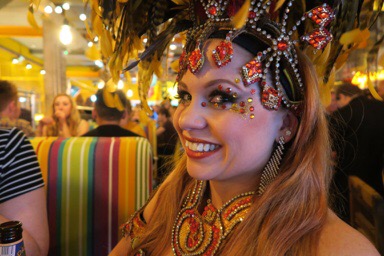 It was hard to get great photos that do it justice as it was a bit dark and the place was packed but the decor looked great.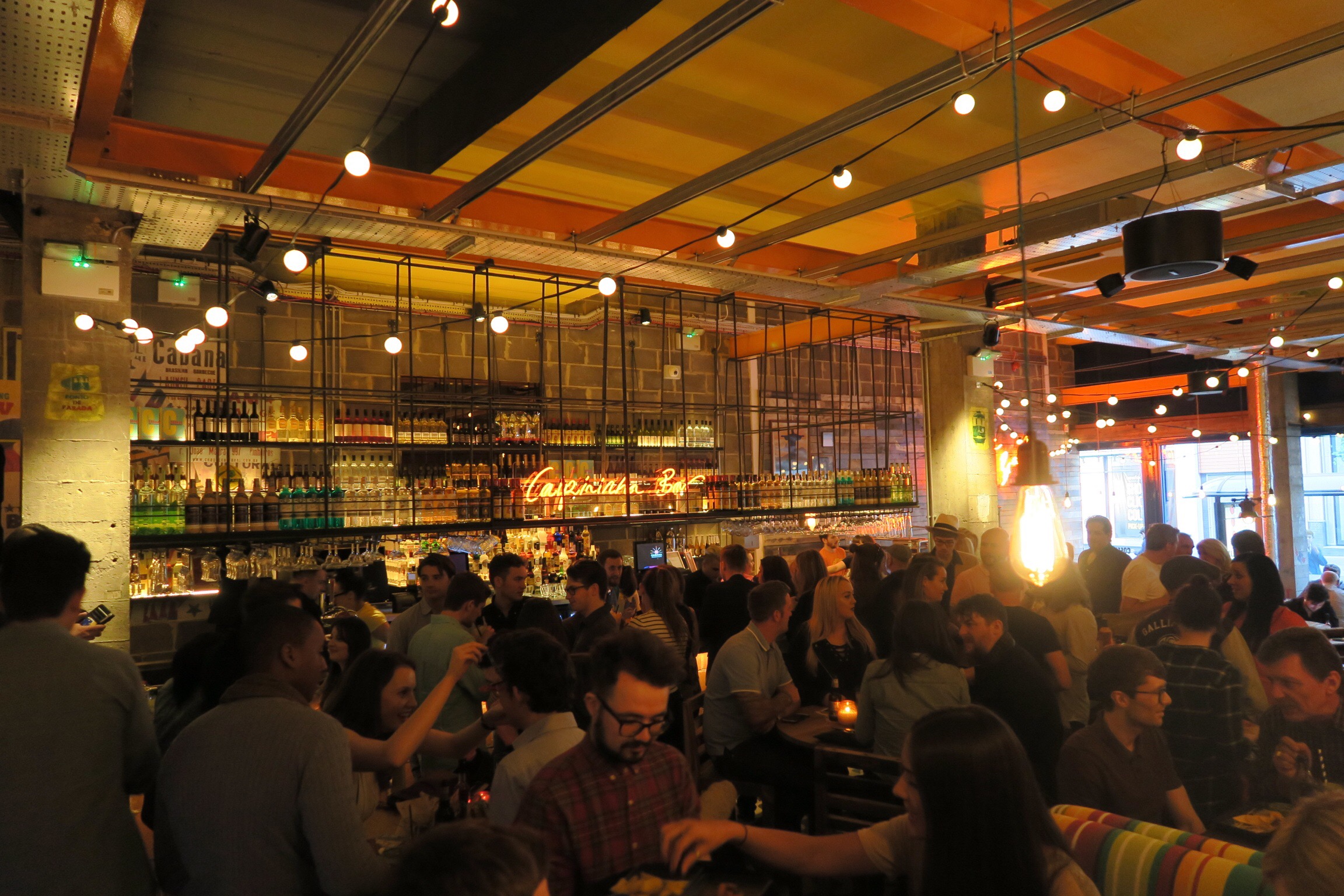 I sat down with Nelly and her lovely friend Katie and we tried some of the cocktails. Personally I'm not a fan of cocktails made with cachaça and obviously that's what you get most at a Brazillian place. I tried a brasilito (Brazilian take on mojito with cachaça) which blew my head off so I only had a couple of sips.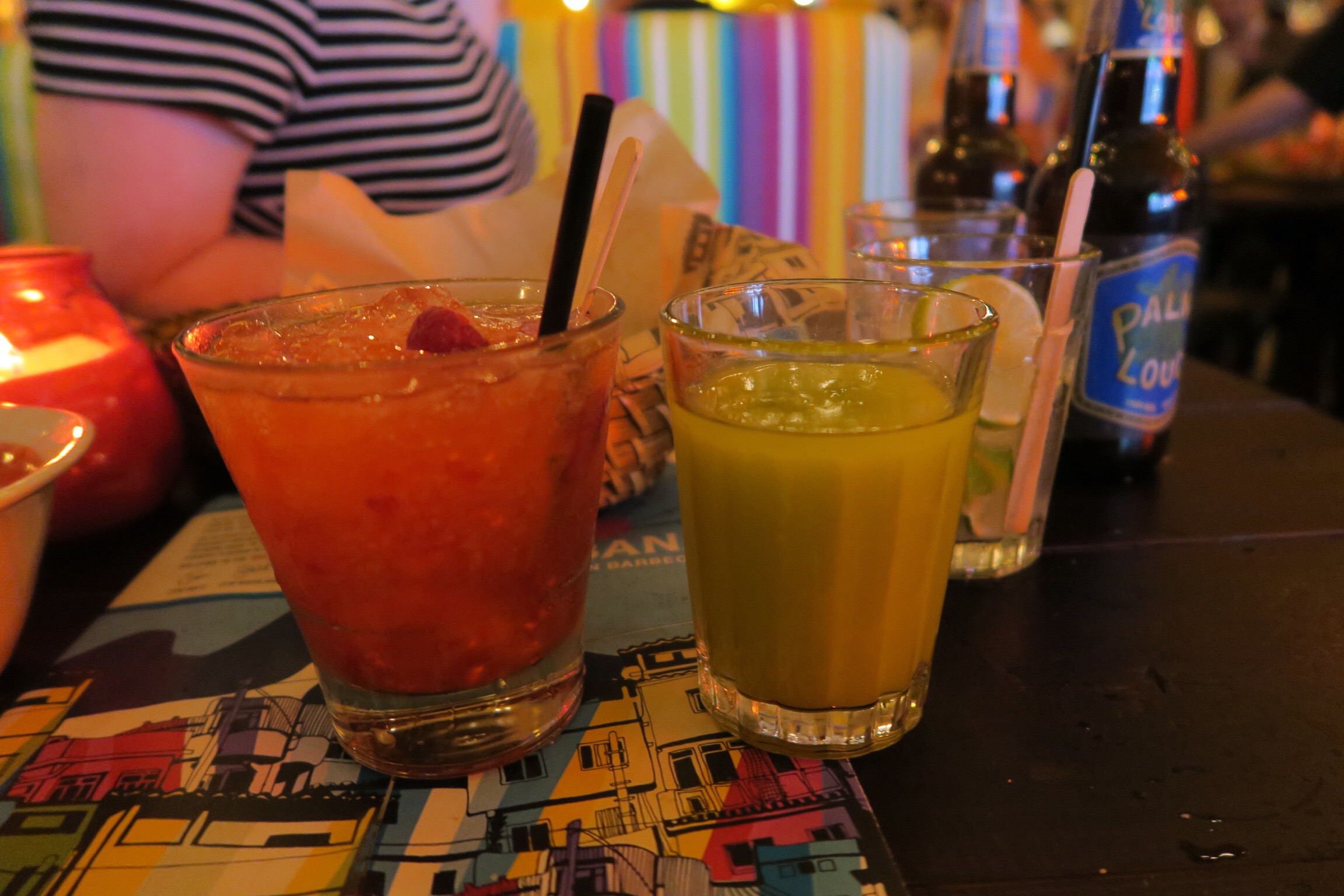 I am a lightweight these days though as a breastfeeding, night nursing, mother of a one year old – so bear that in mind. I had a try of the frozen strawberry caipirinhas but again, I'm not keen on cachaça so only had a few sips. Personally my favourite was the bottles of beer, Palma Louca, a nice refreshing lager that complimented the food well.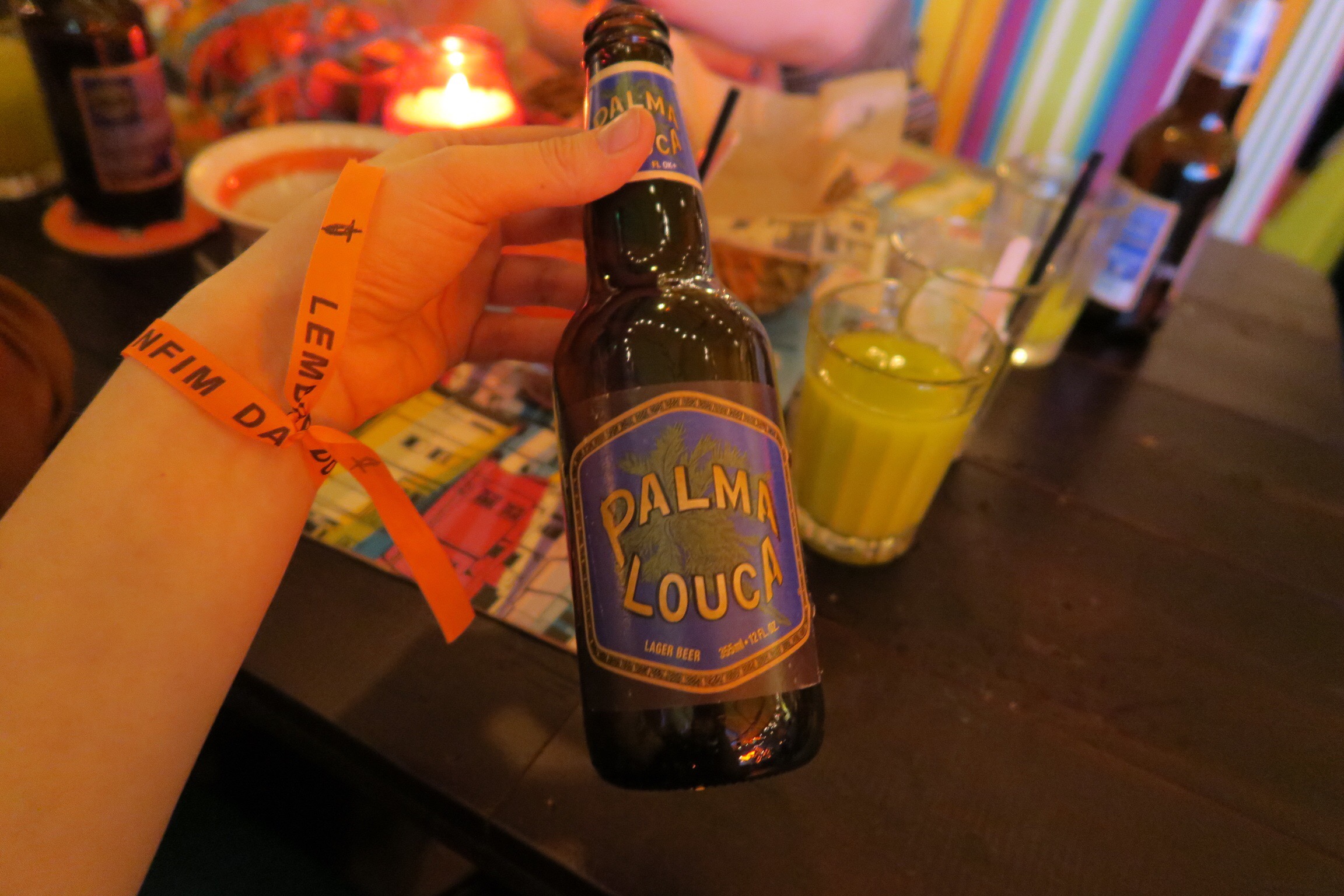 Now what really impressed me was the food. Everything I tried was packed with flavour. There were 'fiery roasted nuts' on the table and whilst I'm a self-confessed wimp when it comes to spice they were good. A bit of heat but I could still enjoy them.
The first thing I tried was the salt cod fritters which were delicious. Perfectly sized and salty. Nelly told me the cheesy baked dough balls were better and I was doubtful but tried one (then a few) and I'm not exaggerating when I tell you these were hands down THE best cheesy dough balls I've ever had. Seriously great.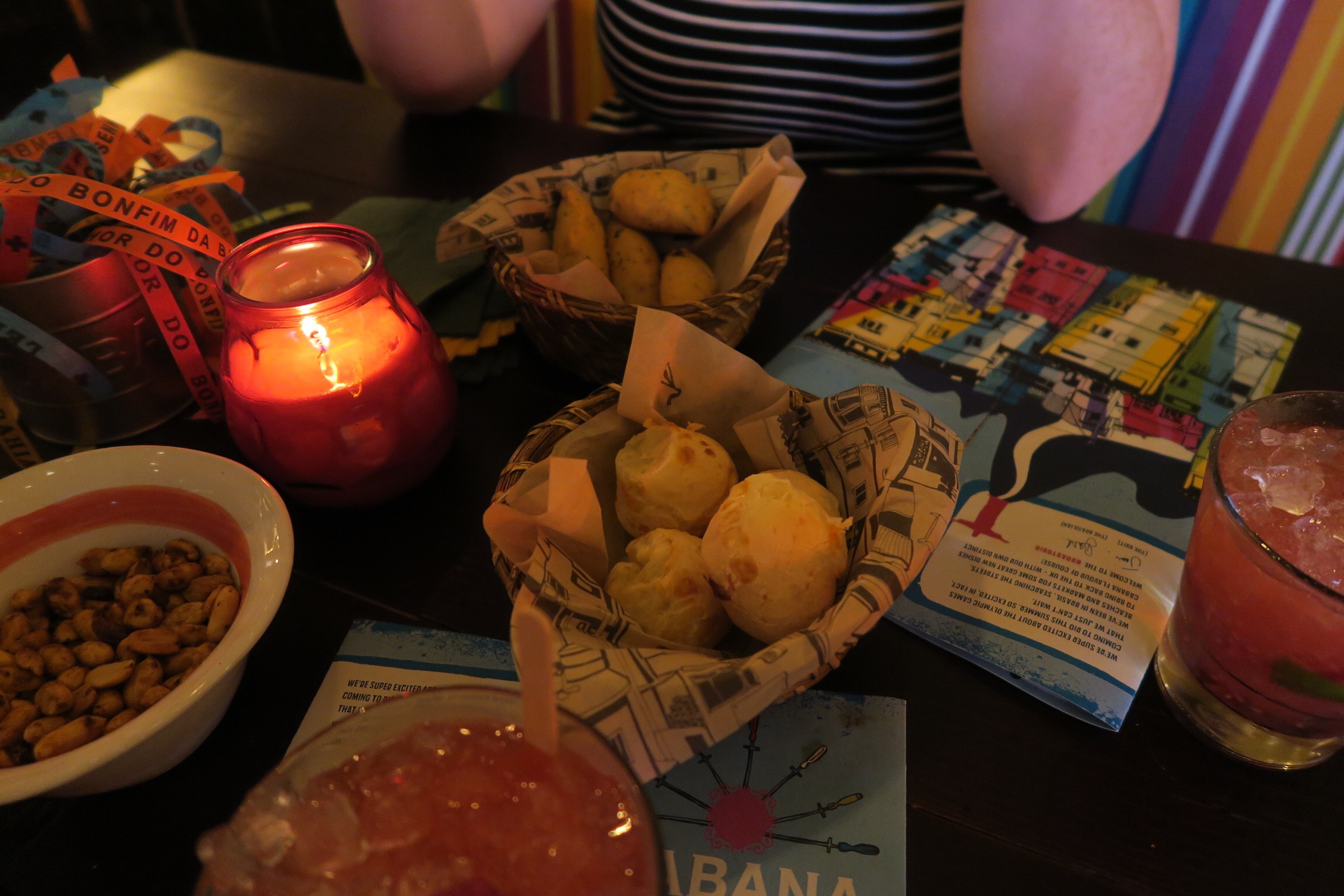 A few of the waiters seemed to have their blinkers on when it came to our booth and kept missing us out, while I pathetically tried to get their attention lusting after the halloumi, prawn and fish platters. We loved waiters Michael and Sarah, who were loyal to our booth and made sure we didn't miss out anymore. Sarah checked to see if there was any more halloumi left but it had all gone. It says a lot about me that I'm still genuinely disappointed about this today. If I was to have chosen the top 3 things I wanted to try, it would of course have been the only 3 things I didn't get to try! Sod's law is my unelected despot.
However, what it meant is that I didn't fill up on things I would have ordered and ensured I tried things I wouldn't have normally ordered. When the chips came round I said 'why would I try the chips, you can get chips anywhere'. Not these chips! They were cassava fries with malagueta Mayo. They were so fluffy on the inside and crispy on the outside. They were 'da bomb'.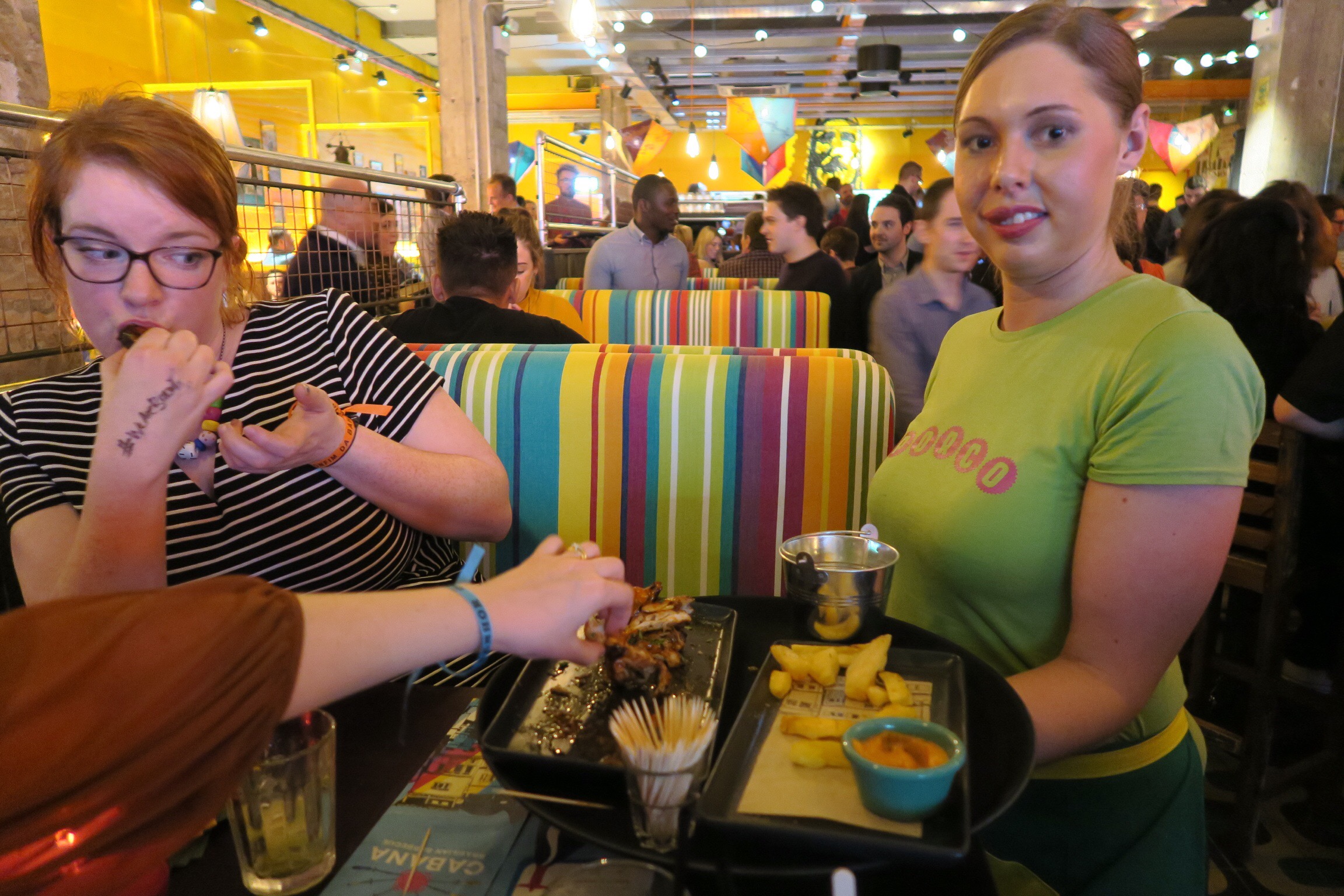 I also tried a lot of the different chicken. It was so succulent you guys. Really bloody good. Sticky and sweet and soft. I loved the guava-cue (the puns throughout the menu are top drawer) chicken and the spicy malagueta chicken (not too spicy). The pork and papaya sausage was incredible too and I know my 4 year old will love that when I bring him. The kids menu looked strong too.
I only tried one dessert but it was a good one – 'chocolate raindrop doughnuts' which were fried dough balls stuffed with Nutella and I had about 3!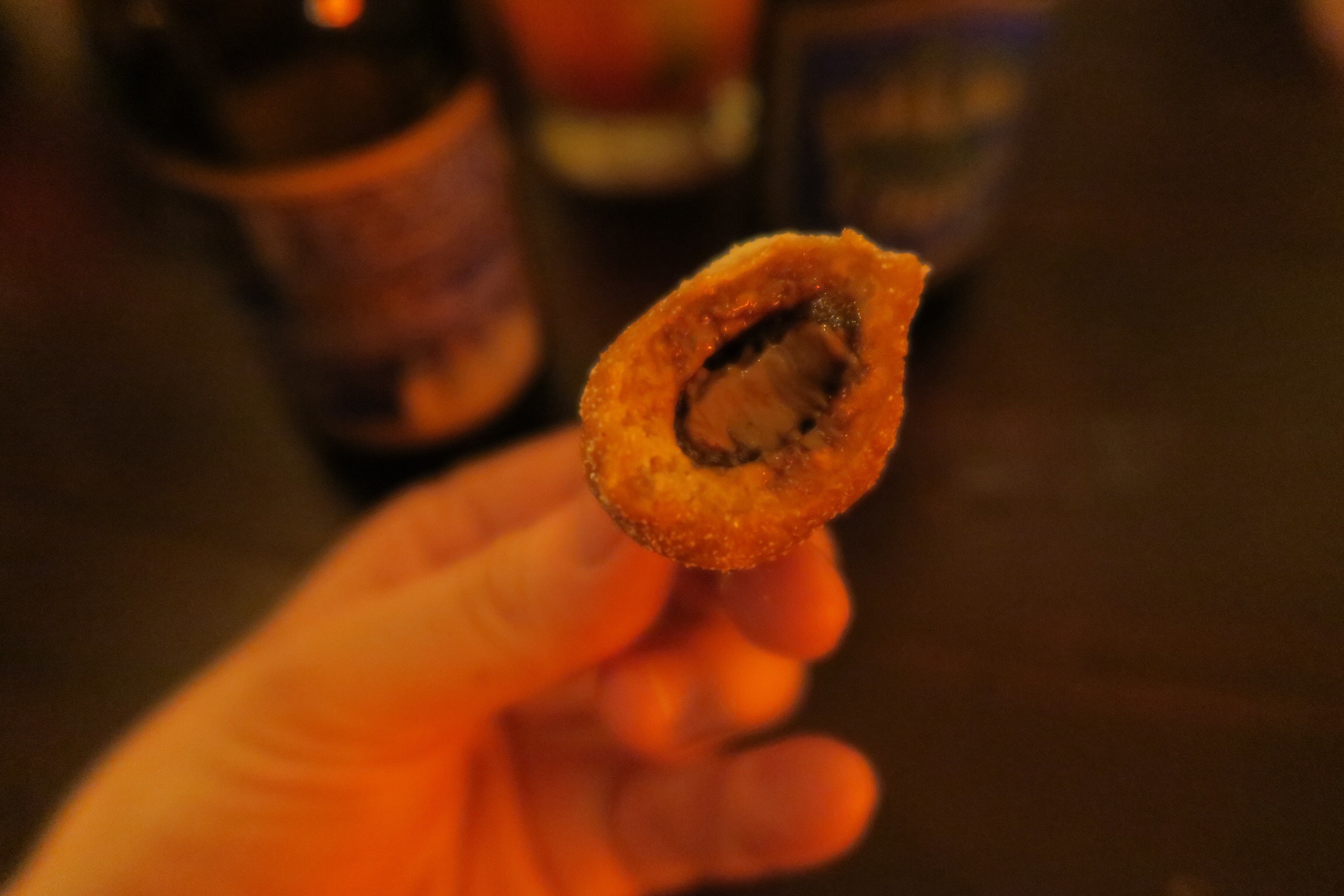 I'll be so hard pushed to know what to order next time I go back. I guess that's the whole point though isn't it? So everyone orders all sorts and shares. I love communal eating like that. It's so much more of a shared experience, and that's what life is all about after all.
I had a great time at the launch and loved getting to know some of the other local bloggers better. I spent most my time with Nelly and really enjoyed chatting with her – we had a few laughs. I had a nice little chat with Rachel from Life in Geordieland who is just lovely. I met Chloe from New Girl in Toon for the first time and we had a talked about blogging, her upcoming wedding and the pressure on women in their 30s to have kids. I met Pixie from Fashion Voyeur who has the most incredible arms and makes me want to take up boxing.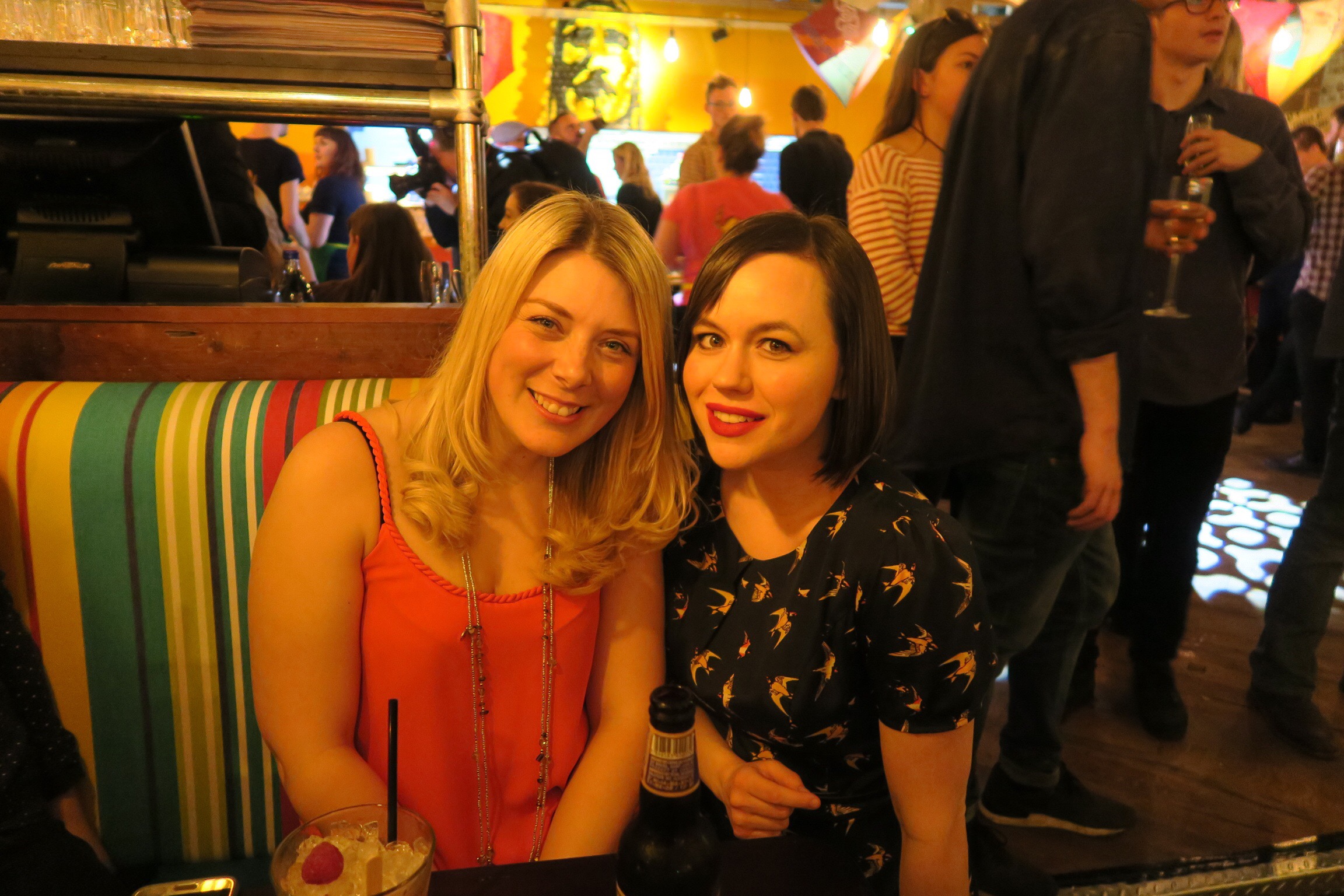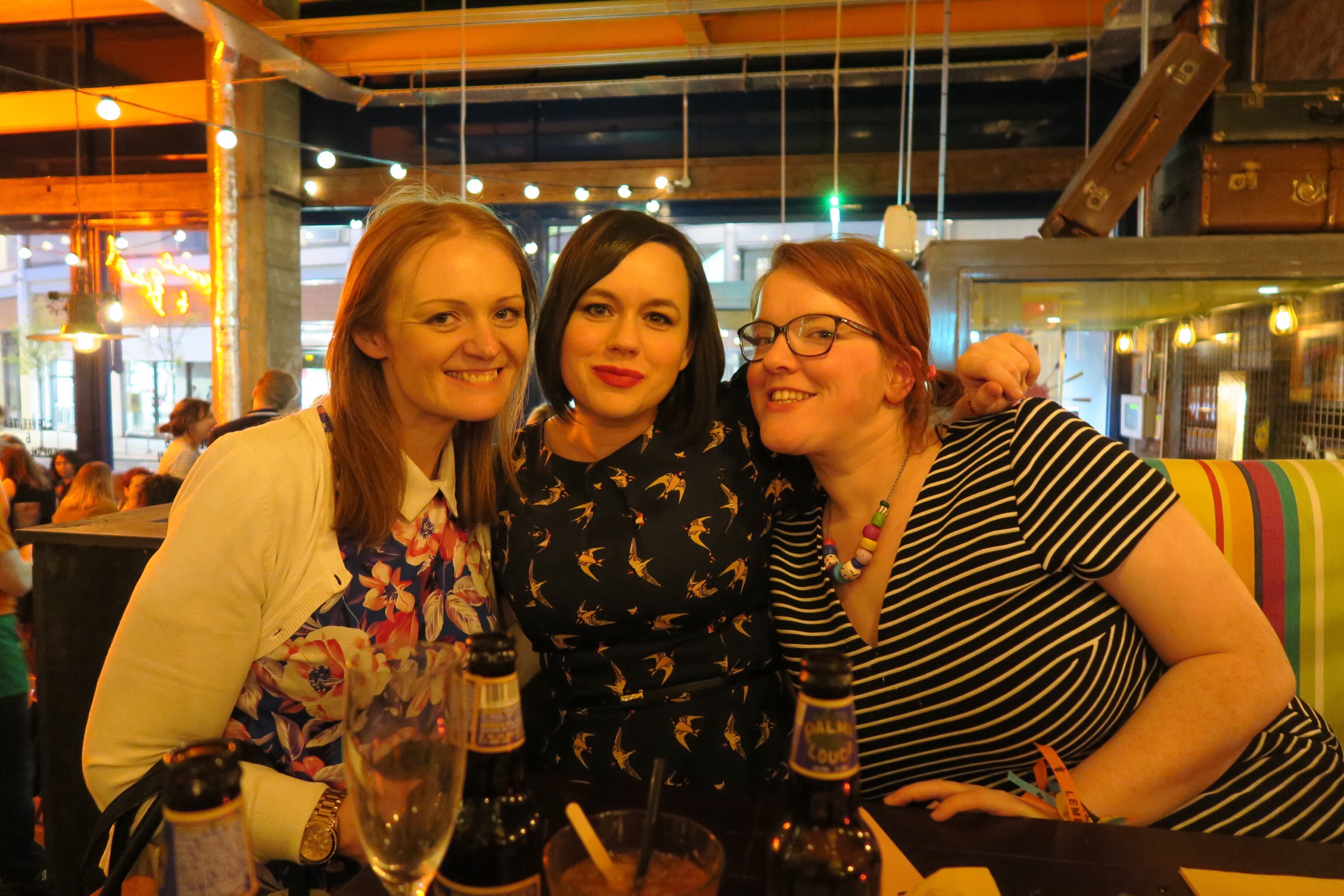 I also saw Mandy Charlton who took our family photos at the weekend. And met Ashleigh and Katie for the first time who both seemed really sweet. Unfortunately somehow I managed to miss Kelly from the Life Bath which was a shame.
So thanks to Cabana Newcastle for their wonderful hospitality. I score it 9/10, and yes they did give me free booze and food but it genuinely was that good. I promise I'd tell you if it wasn't. I'll be heading back very soon. Let me know what you think in the comments if you check it out.