If you are anything like us, then you are always on the lookout for a great Sunday lunch. Sometimes it's just all you want on a Sunday and nothing hits the spot quite like it. On Sunday we tried the offerings at Kingslodge Inn (part of the Inn Collection Group) in Durham.
Despite being from County Durham, I'd never been to Kingslodge before and was curious to see what it was like having heard a lot about it from other North East bloggers.
The website tells you it's '…just a stone's throw away from the heart of historic Durham city yet surrounded by peaceful woodland, The Kingslodge Inn has all the benefits of a city-centre location but with a laid back, relaxed vibe that you will love' which is an entirely accurate description.
It's at the bottom of the bank that leads up to Durham train station, across from the bus depot – so perfectly accessible by public transport. We drove however and there was plenty of free on-site parking (despite it being so close to Durham City Centre). A great location if you need a hotel in the centre of Durham.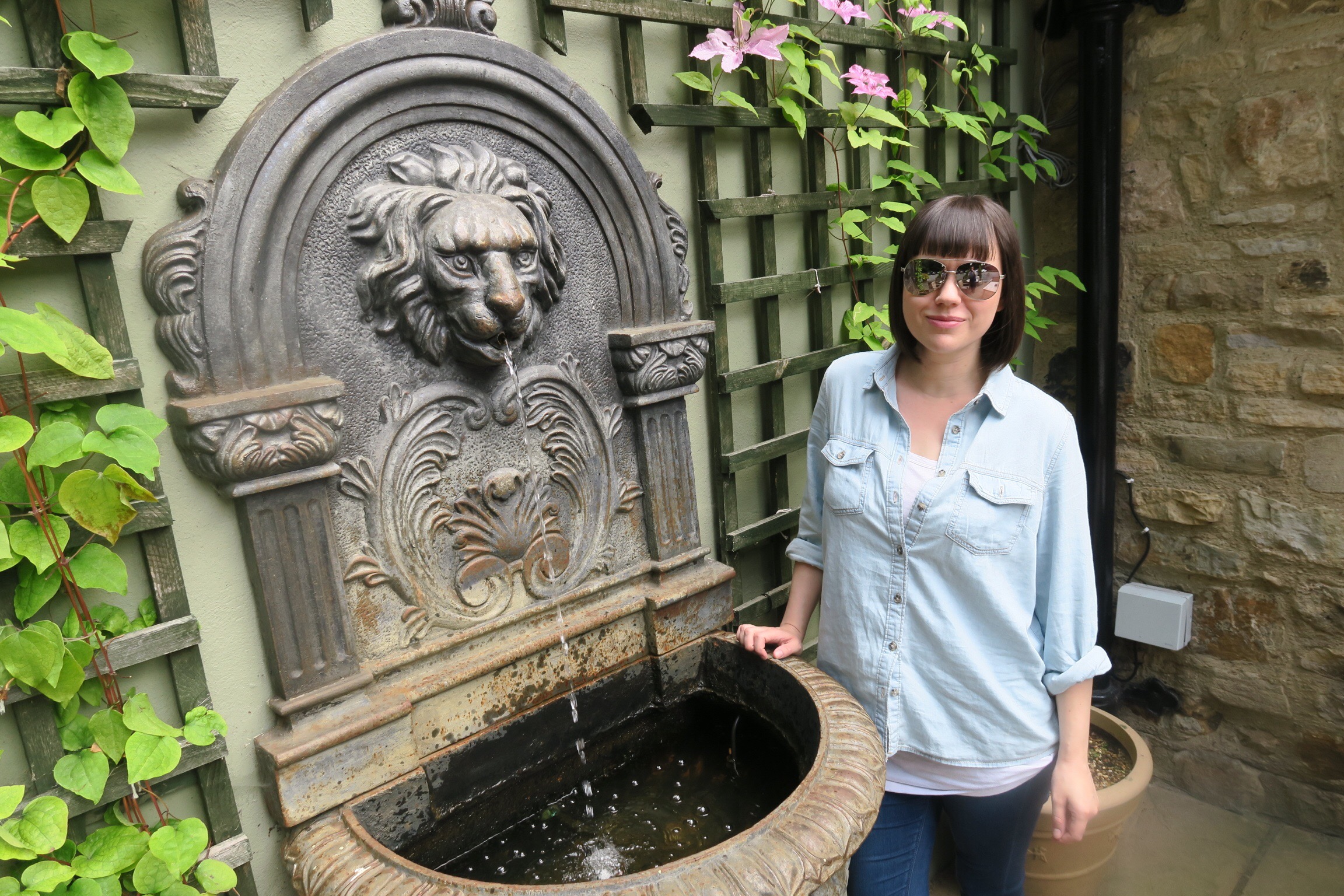 The building and grounds are lovely. There was a fountain out the front and at the back there was a lovely little garden. I really wanted to eat outside but it was a bit too hot (shocking I know). It would be perfect for al fresco eating or just a couple of drinks to catch up with friends.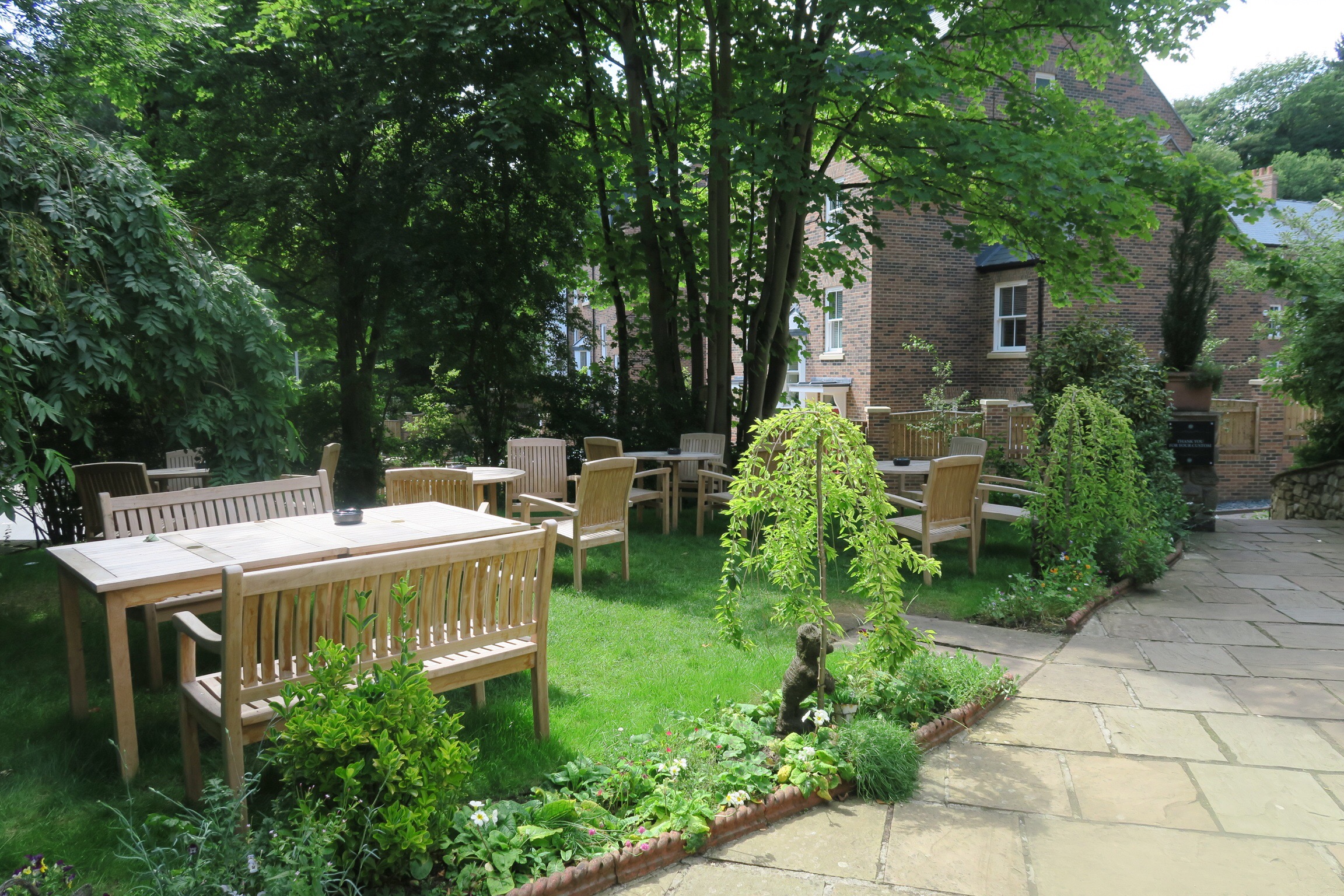 Inside the decor was lovely too. Tasteful and modern, lots of wood. We were seated in a booth and it was comfortable.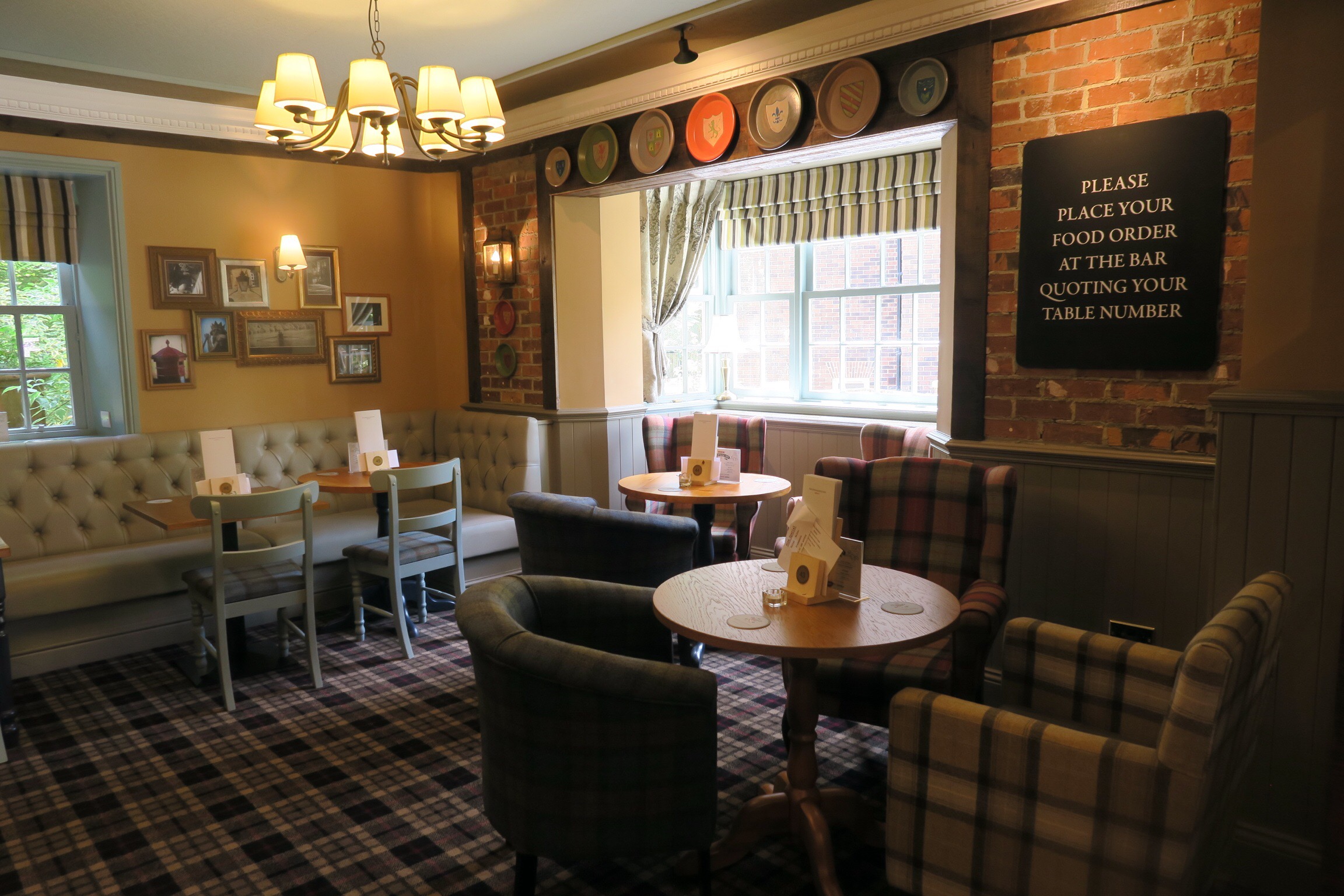 As it was such a sunny day I went for a Liefmanns fruitesse (£4.95) and Papa Ginge tried a Lawnmower beer (£4.45). I felt the drinks (especially the Lawnmower) were expensive for their size, coming in at £5 for a small can equating to half a beer. I had thought at that price it would have been a pint!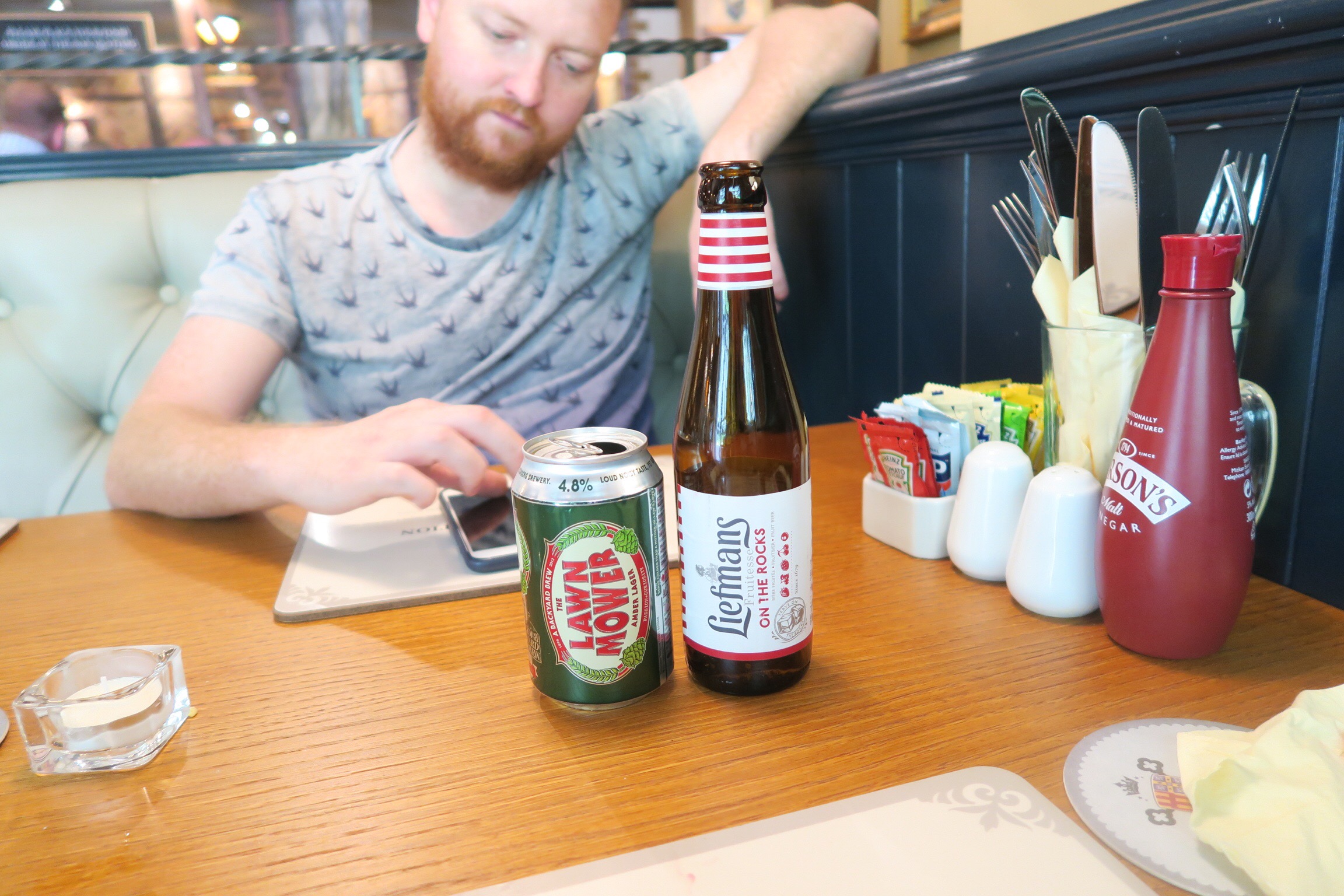 We skipped the starters and went straight to the mains. Papa Ginge got the large beef dinner (£11.95). I got the standard pork (£9.95). The large had an extra Yorkshire pudding and a bit bigger of a portion. The standard was more than enough for me though.
We both loved the gravy, thick, rich and tasty. Not many places get gravy right. They do. We liked the roasted potatoes. The vegetables were good. I liked the turnip/swede mash but Papa Ginge felt it was too watery. My pork seemed a bit tough to me but Papa Ginge felt it was as to be expected at a pub. His beef was nice though. Both of us disliked the Yorkshire puddings, they were too thick and too dry. I left mine but despite complaining about them to me, Papa Ginge did in fact eat both of his (which tells you a lot about him).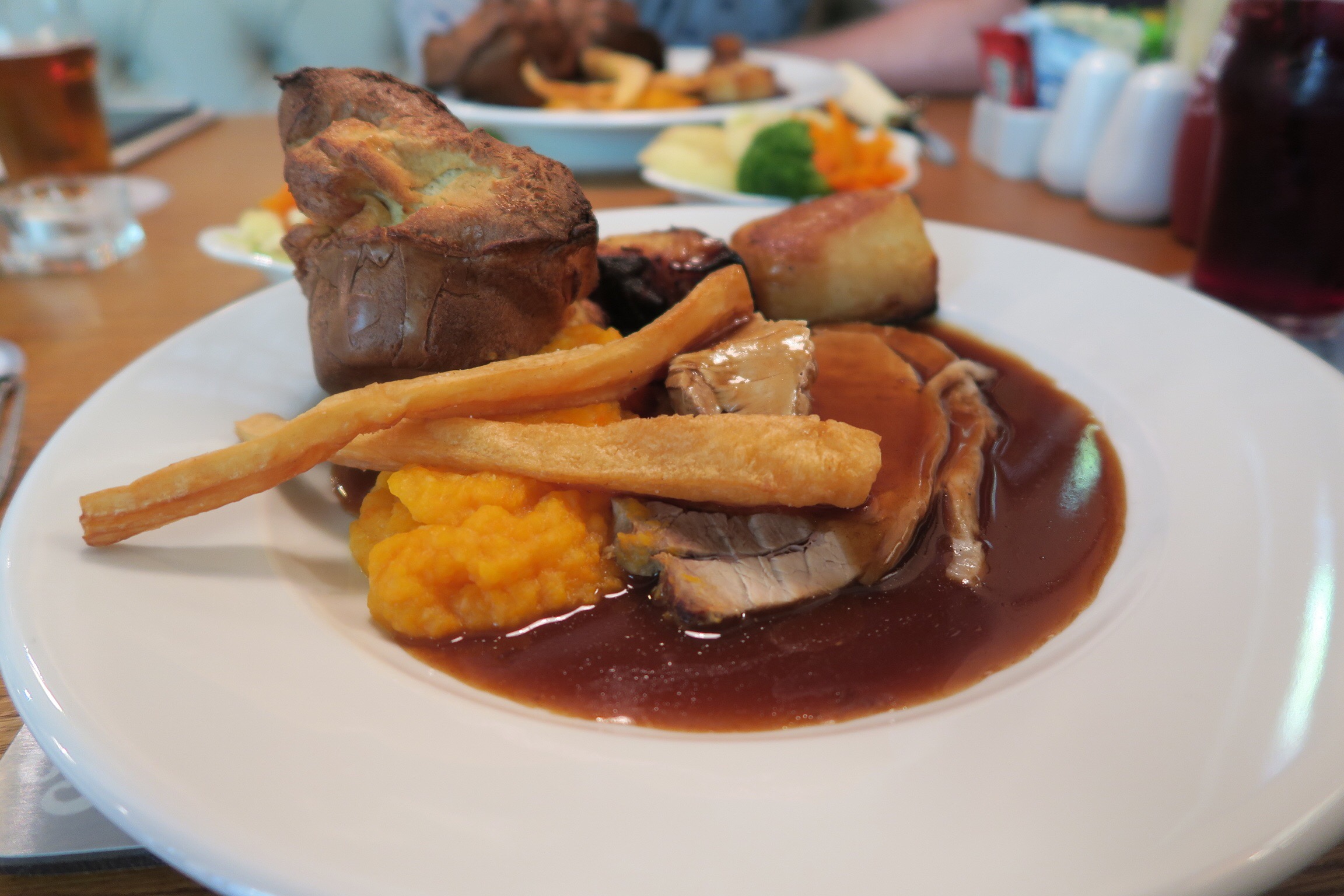 For desserts Papa Ginge ordered the Sticky Toffee Sundae (£6.95) and I ordered the Knickerbocker Glory (£6.95). They were huge! You could easily share one, I couldn't finish mine alone although Papa Ginge had no problem! The Stick Toffee Sundae was really good. We are big fans of sticky toffee puddings here and hold them to high standards. I actually wanted to order the sticky toffee pudding but needed something cooler on account of the hot day. I'm sure it would have been lovely though as the chunks of pudding and sticky toffee sauce in the sundae were perfect. I got the 'dessert is always greener' envy and wish I had ordered Papa Ginge's (as usual). Papa Ginge said he can't praise the sticky toffee sundae enough and would go back again just for that! Mine was nice, but it was a big dessert for me and felt a bit too sickly by the end. I think if the fruit was sharper or tarter instead of being so sweet It might have cut across all the cream flavours better. Overall it was nice though.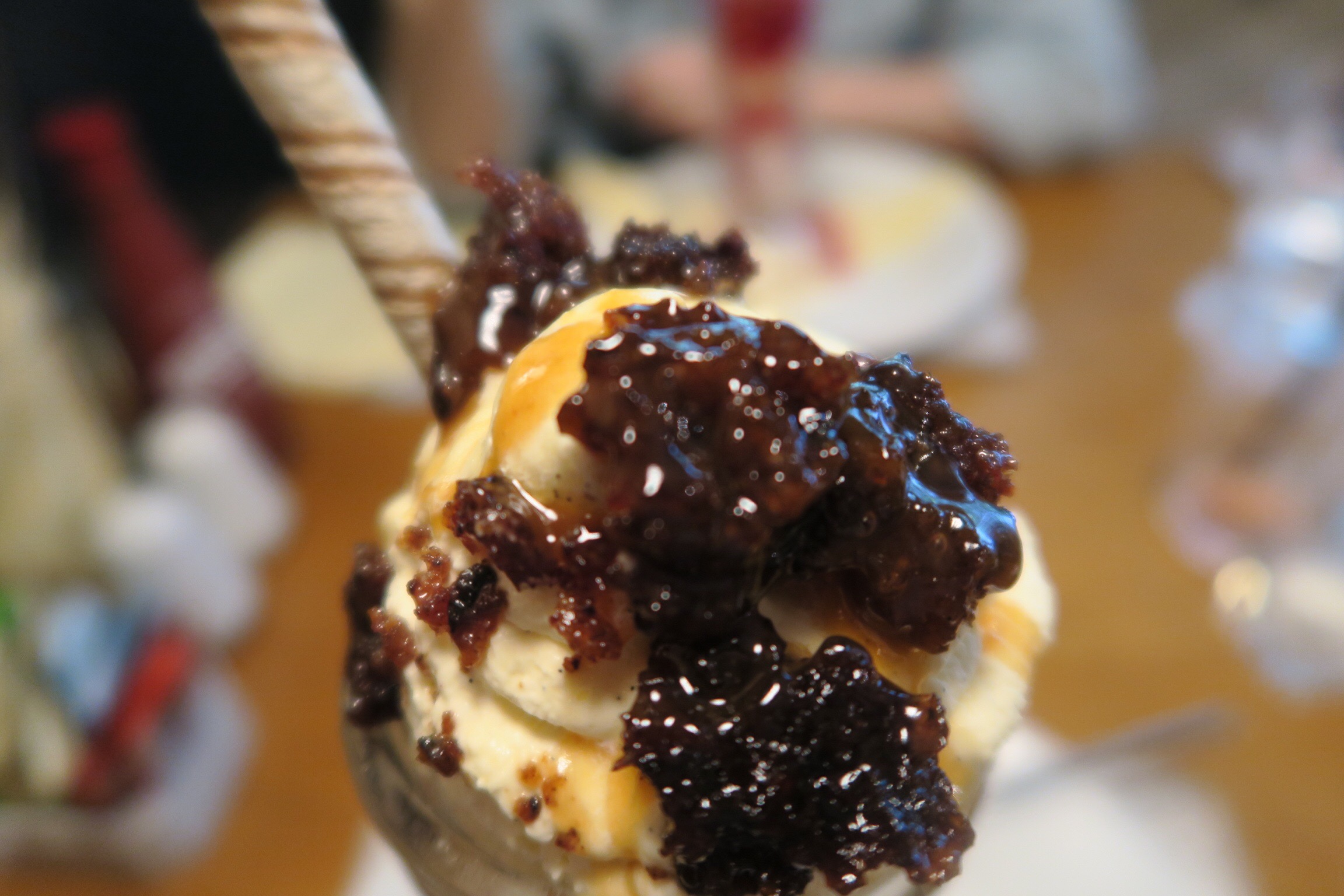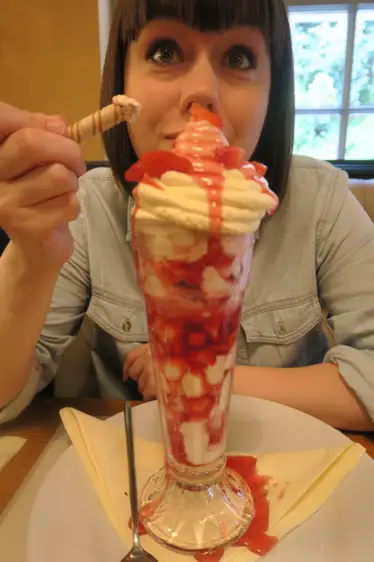 The service was sound, I can't fault that at all and the toilets were nice. There were no children there when we were, we didn't take ours so it was hard to assess how child friendly they were. They had a good children's menu though.
Our total bill would have come to £45.20. Our overall final thoughts were that the establishment and grounds were of a higher standard than the quality of the food that we ate on our visit. We loved the location and venue, so it pains me to say that we wanted the food to be just that little bit better. I've read lots of other reviews from local bloggers who raved about the food though so perhaps we went on a slight off day.
Final scores on the doors:
Food – 6.5
Value – 6
Venue – 8
Music – 6
Service – 8
Toilets – 8
Location – 9
Overall – 7/10
Disclaimer – we received our meal and drinks free of charge in return for this honest review.