People often look down their noses at chain restaurants but a number of the new chains we have in Newcastle are totally kicking it out of the park. Tapas Revolution Newcastle, Turtle Bay and Cabana are some of my firm favourites. Tapas Revolution Newcastle is based in the new Grey's Quarter renovation in Eldon Square, just near the Monument entrance (just across from the Alchemist).
We went shopping in Eldon Square and then for a drink in the Alchemist before going for our 4pm booking. It's location means it's very close to the Monument Metro station. Whilst there is parking nearby we decided to get the metro because of its close proximity (and the fact that it would allow us both to drink alcohol).
Tapas Revolution history and chef
Tapas Revolution is the brain-child of spanish chef Omar Allibhoy. Born in Madrid and trained by Ferran Adria of El Bulli, Omar arrived in the UK in 2008 to take over the reins at El Pirata Detapas in West London. Whilst there, he was featured on Channel 4's 'Ramsay's Best Restaurant', and Omar's reputation as the 'Antonio Banderas of cooking' was born.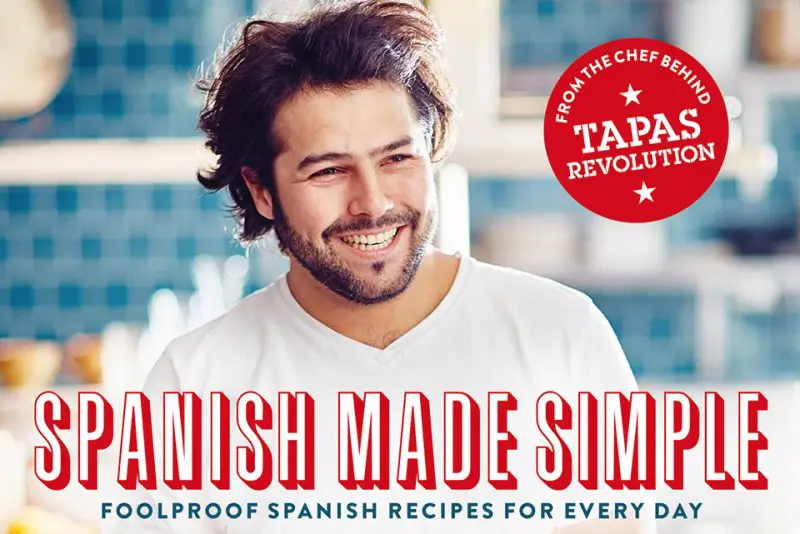 In 2010 he opened his first Tapas Revolution at Westfield Shepherd's Bush. Today there are 7 Tapas Revolution Bars & Restaurants in the UK with sites in London, Kent, Birmingham, Sheffield, Bath and we are fortunate enough to have one in Newcastle. I'm pleased to see another tapas restaurant in Newcastle as I think it's something we don't have a lot of.
The restaurant itself
This was my first time dining at a Tapas Revolution and on entering I was struck by the tasteful décor. I loved the 'Spanish style' blue and white tiles, the ornate lanterns hung above the bar and the cured sausages hanging on the walls.
Even the toilets were a style treat with beautiful on trend tiles and light fixtures. There is even a tree in the 'outdoor' section of the restaurant. It's very easy to forget that you are eating in a restaurant in a shopping mall. Especially because one side of the restaurant looks out upon the main street opposite what is known locally as 'goth square'.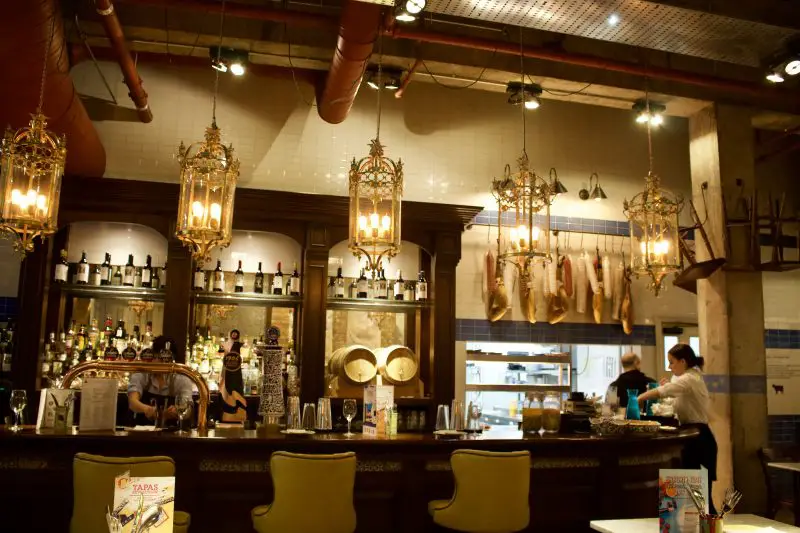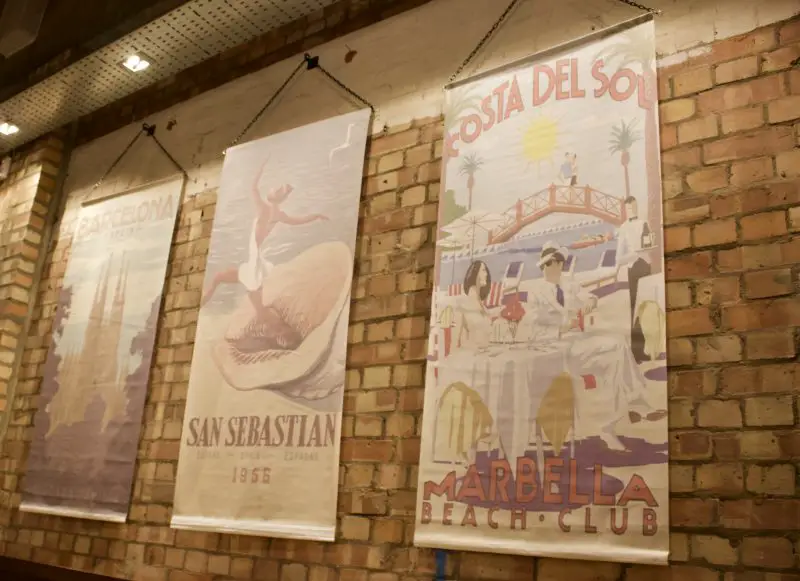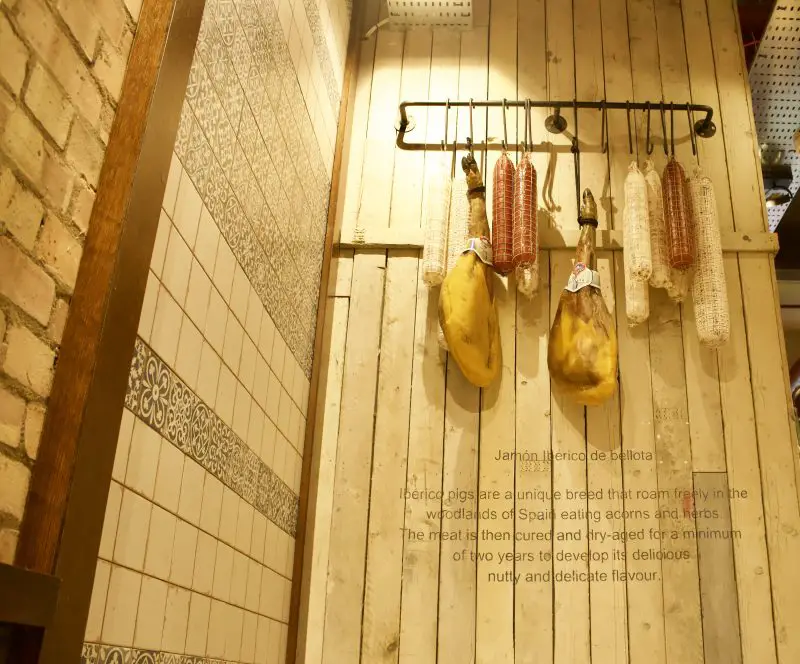 Service and atmosphere
Our waiter for the evening was Marco who was fantastic. Sometimes I worry that we won't get unbiased representative service during blogger reviews as the staff know we are there to review. However, it was clear that initially Marco didn't actually know we were there to review so I can say without bias that his service was excellent. He was speedy, we were never left waiting to catch his attention. He was polite and attentive and made excellent food and drink recommendations.
Marco informed us that it was 'sangria time' which meant half price jugs of sangria and 2 4 1 cocktails. The cocktail list looked great but I love getting sangria when I go for tapas so we opted to share a jug at £8 (instead of the regular £16). The sangria was great, you could taste the wine and fruit but it wasn't too strong. I would order it again.
Drinking my sangria and eating some marinated andalusian green olives (aceitunas manzanilla – £2.50), listening to the vibrant Spanish music playing I felt myself relax. I felt like I was on holiday. I loved it.
The music was so fun and festive. The volume was such that even if someone was on the next table they couldn't overhear us. Yet we could hear each other fine. It had a vibrant but relaxed atmosphere. I think it would be a great place to start off your night out with some tapas to share and half price cocktails/sangria. There were in fact a few people sat around the bar doing just that.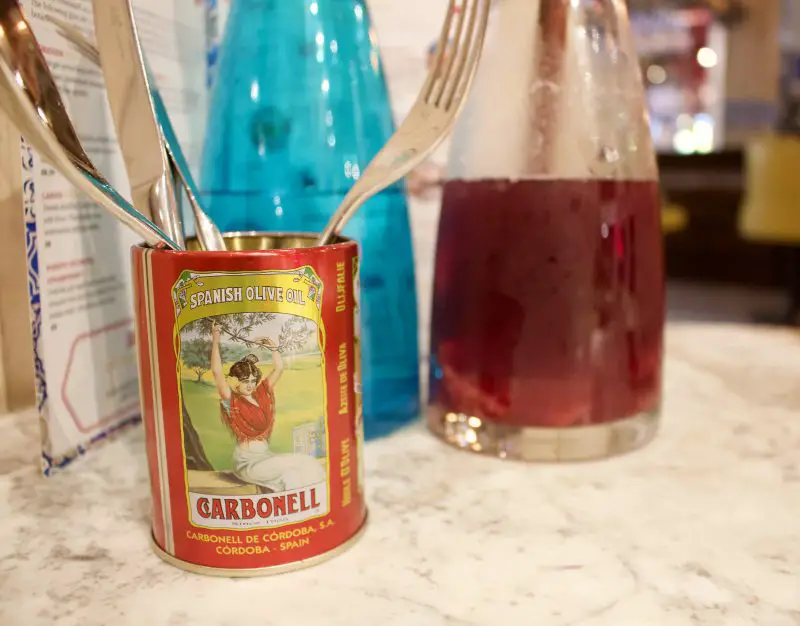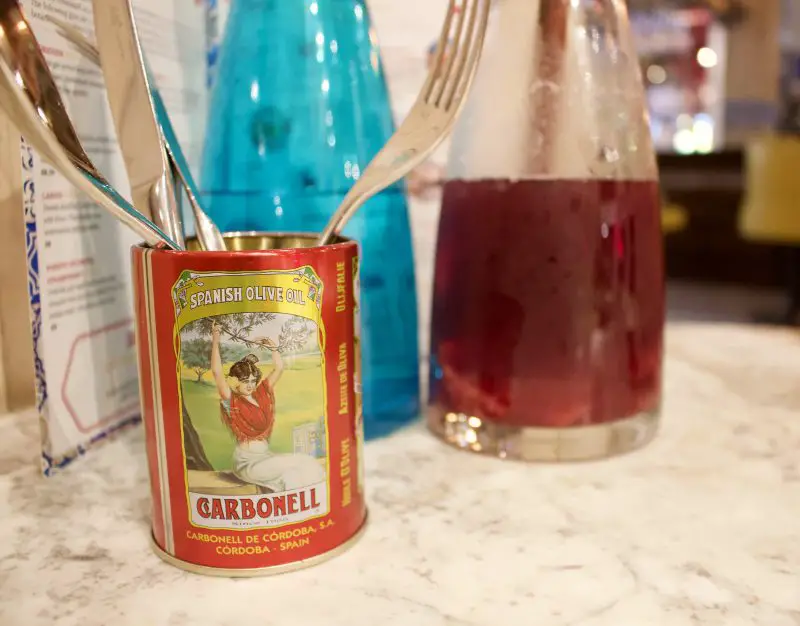 The food
Top dish recommendations
Marco recommended the pan de la casa (toasted bread, tomato topped with garlic sauce and serrano ham – £4.50) and Papa Ginge and I actually disagreed about ordering it. I was seduced by the more exotic looking dishes and thought this sounded a little dull. The men folk convinced me though and I'm so pleased they did as this was my favourite dish.
The flavours worked together perfectly. The ham was delicious, you could taste the creaminess of the garlic in the tomato sauce. I will go back just for this dish for sure. It just goes to show that you should always ask for a waiters recommendations.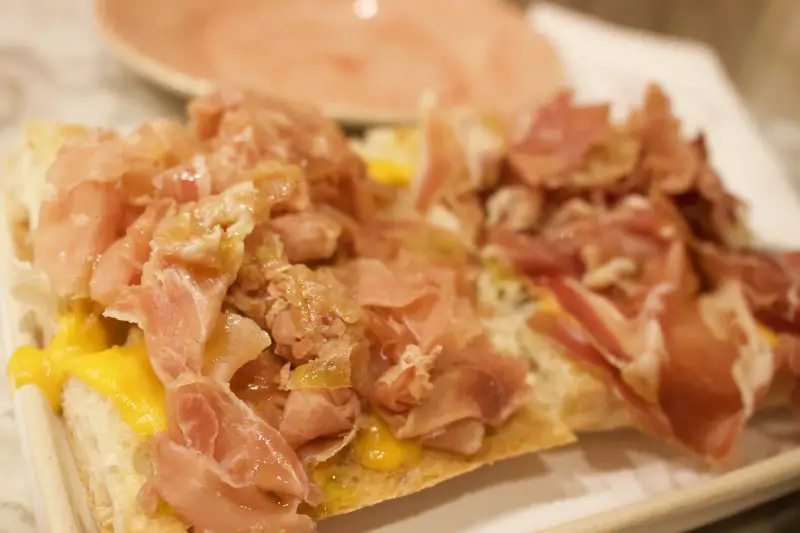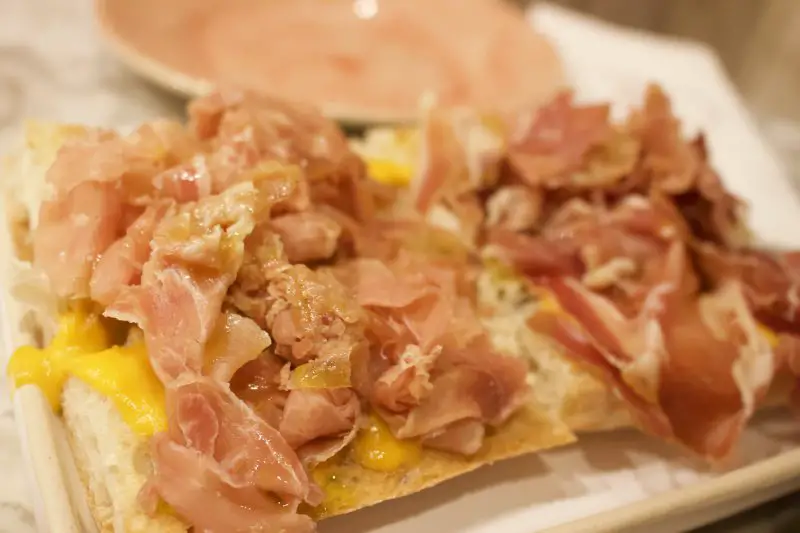 Another of my favourite dishes was recommended to us by our waiter – chorizo a la sidra (spiced Asturian sausage roasted with cider – £5.75). This was unlike any chorizo I've tried before, the cider made it almost sweet. The sweetness was offset by a slight spice kick. Papa Ginge and I were fighting over it. Another dish I will order again.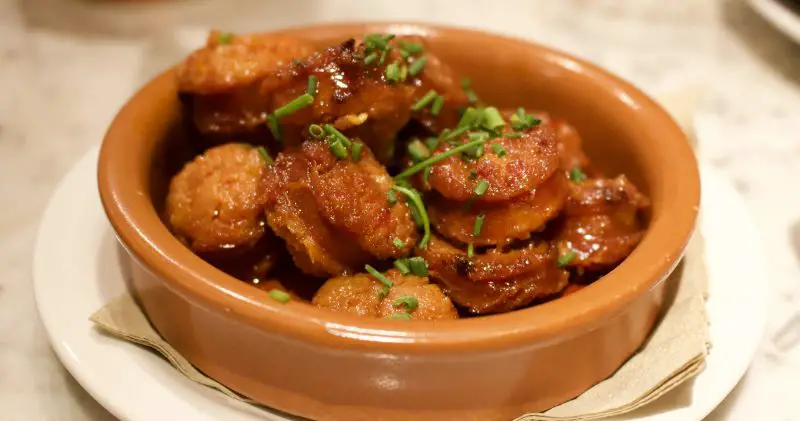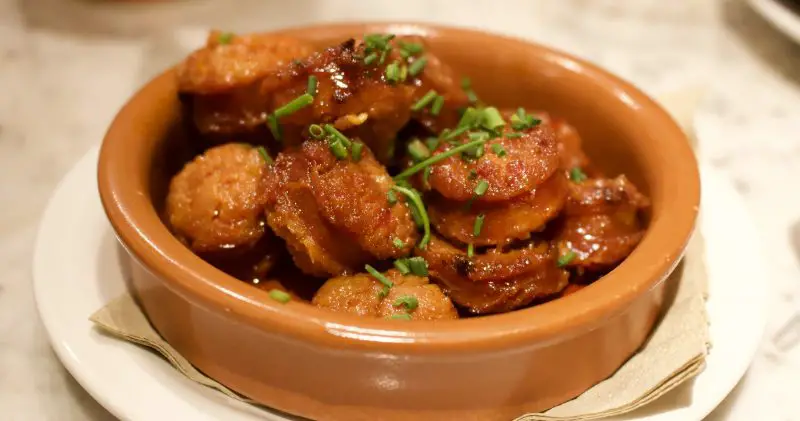 The bacalao con piperrada (roasted cod loin with slow-cooked red peppers and olives – £6.50) was lovely. Perfectly soft and flaky cody with rich peppers and olives. I enjoyed mopping up some of the oil from this with the bread from my pan de la casa.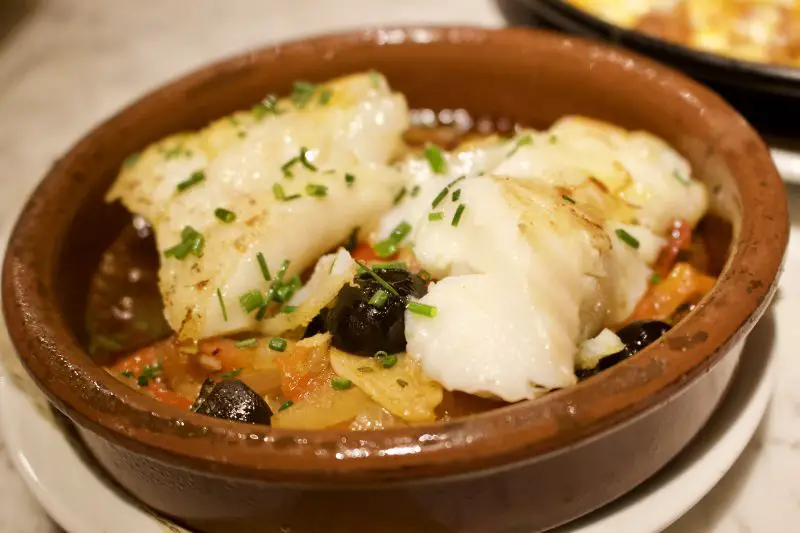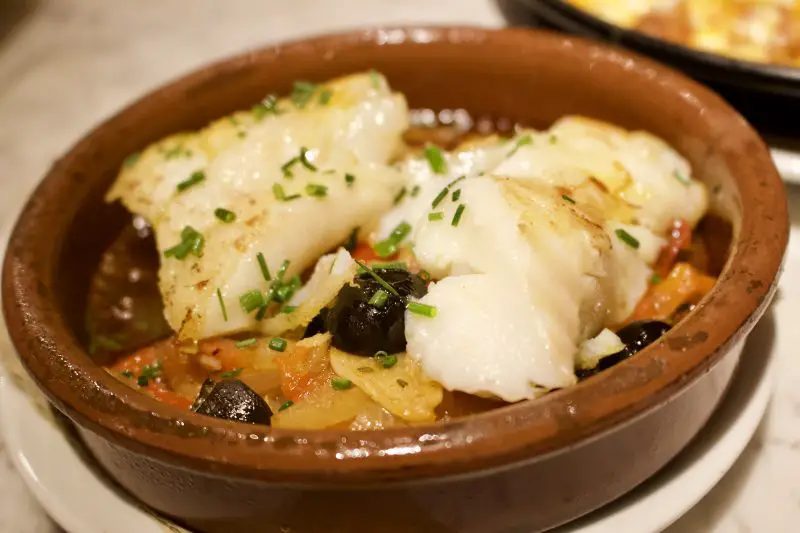 I also really enjoyed the classics we tried, such as the tortilla de patatas (classic Spanish omelette with eggs, potato and onion – £4.50) and the patatas bravas (roasted potatoes with spicy tomato sauce and alioli – £4.25).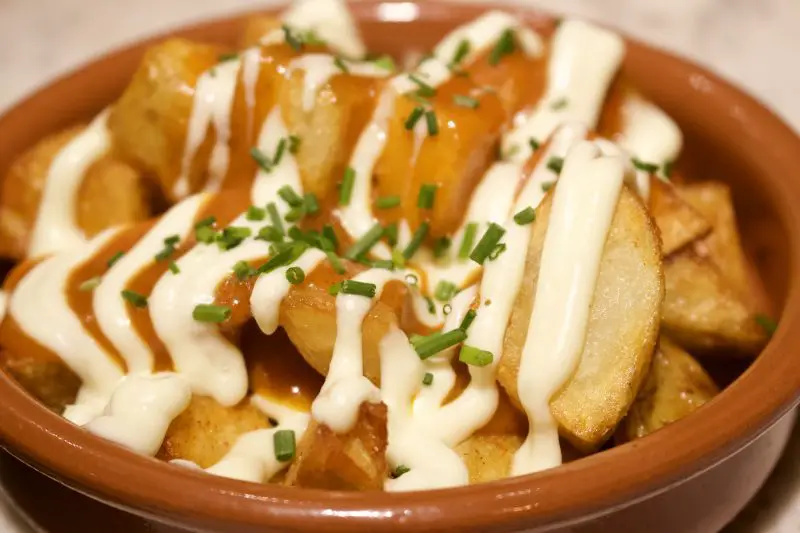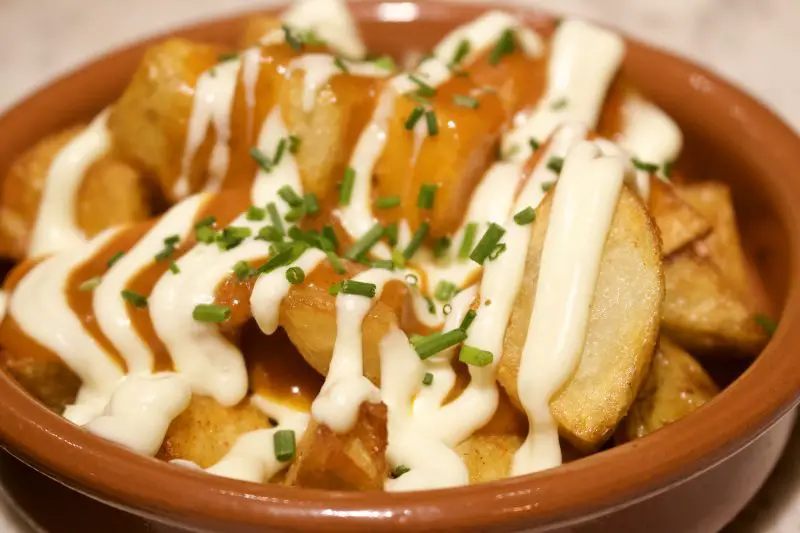 Papa Ginge loved the torreznos con mojo dulce (crispy pork belly with sweet and spicy sauce – £5.95). Whilst I loved the texture of the pork belly, the sauce was too spicy for me. I'm a self-confessed wimp though. If you love spice you should enjoy it.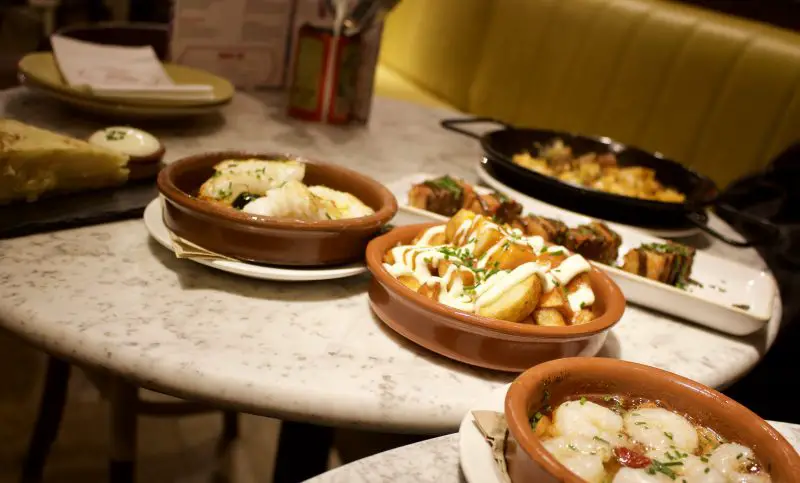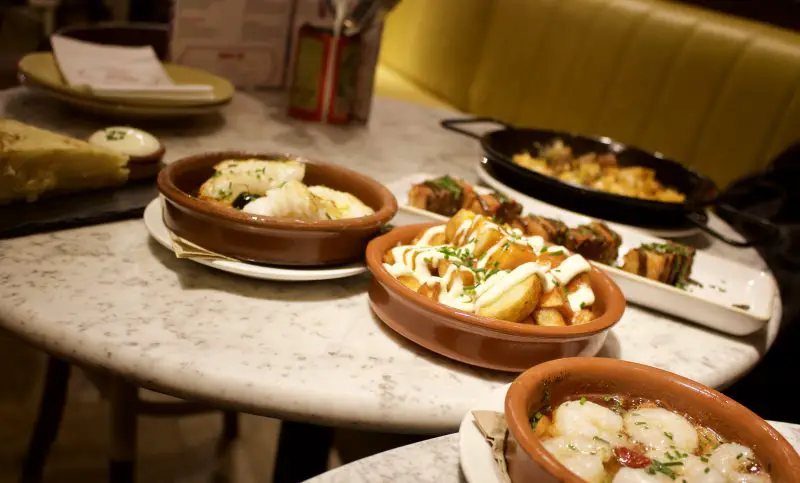 Our least favourite dishes
The dish I liked the least was huevos rotos (baked chorizo sausage, potatoes and free range egg – £5.50). To us the eggs tasted a little undercooked. I've found my eggs to seem a bit undercooked in Spanish restaurants before too though so perhaps it's how the dish is meant to be and it's just not to our tastes.
I thought that the gambas al ajillo (tiger prawns with garlic and chilli oil cooked in the traditional terracotta clay pot – £7.95) is quite expensive for what it is, however, I think that's the same at most tapas places for this dish. King prawns are just pricey I guess.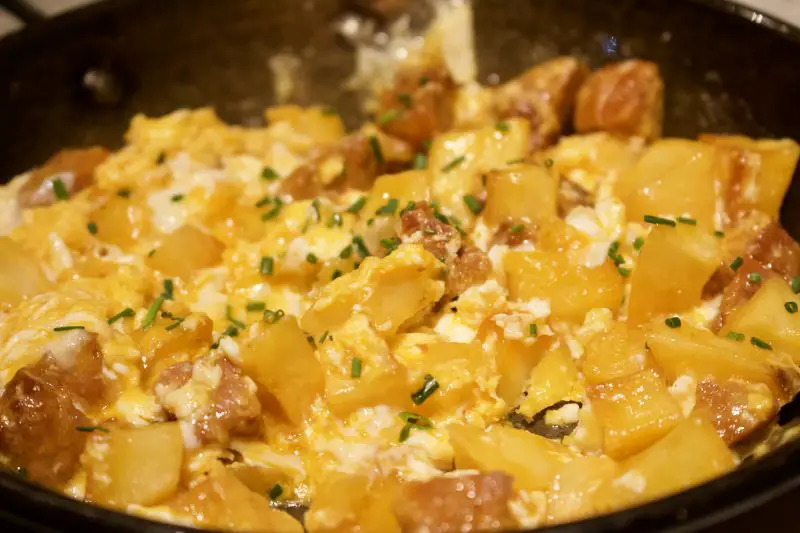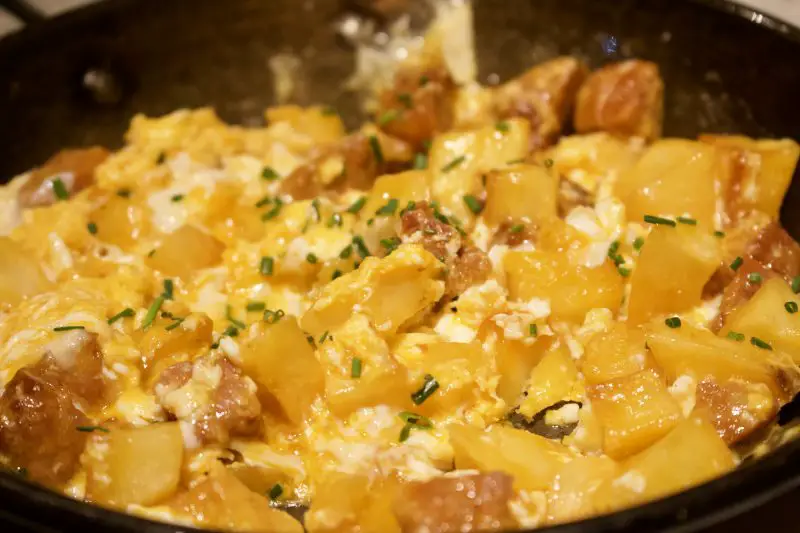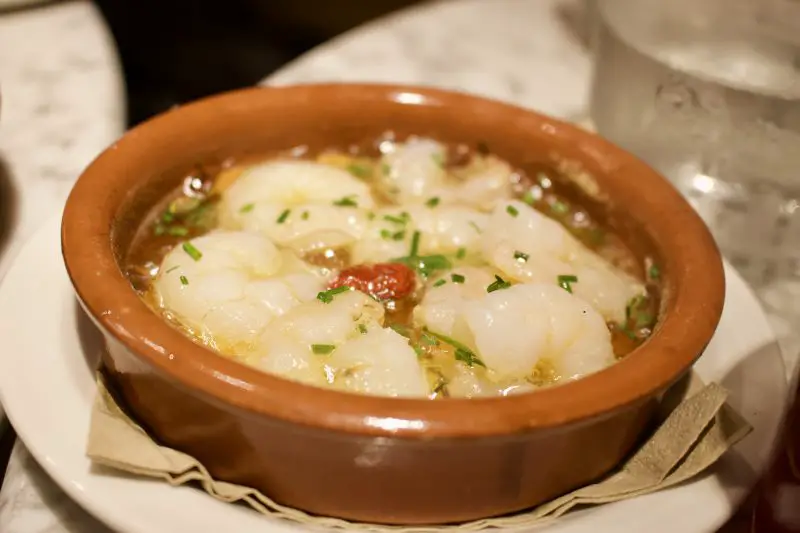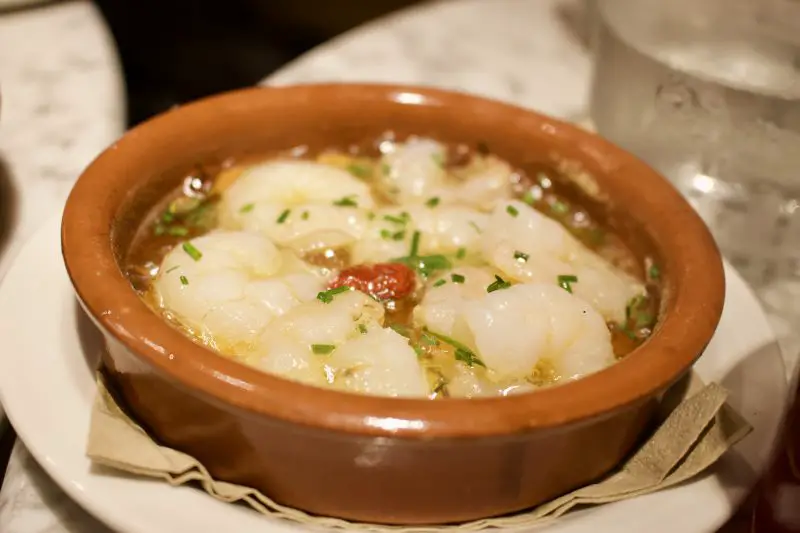 I didn't notice it while I was eating but our dishes must have been quite salty as we were both parched the rest of the evening. Not a problem for us but something to be aware of.
After dinner
Unfortunately we were much too full to order desserts. We had ordered 8 dishes, plus some olives between 2 of us (Papa Ginge is a BIG eater). I would say if you wanted to sample their desserts too then stick to 3 dishes per person.
Missing the puddings we opted to finish our meal off with a café con leche latte (£2.50) and a té english breakfast (£1.95). There was such attention to detail. As you can see below the ceramic crockery was beautiful and looked authentically Spanish and the tea cups had been warmed prior to being given to us which was wonderfully soothing.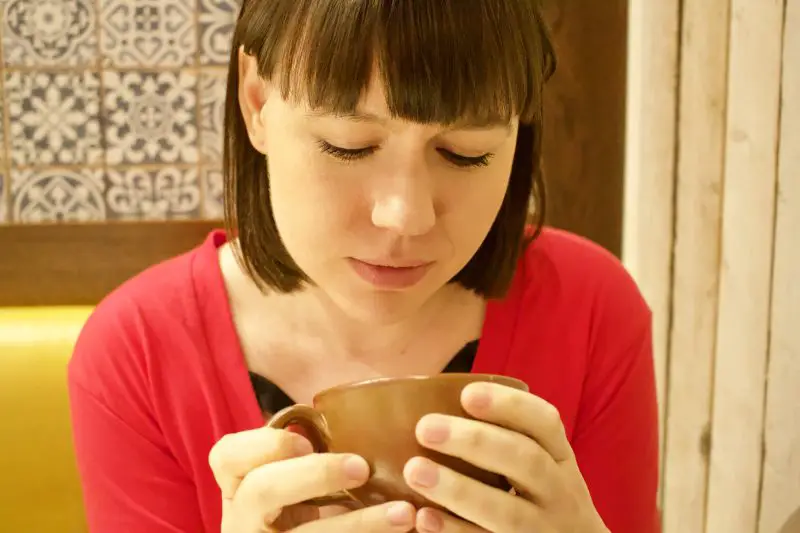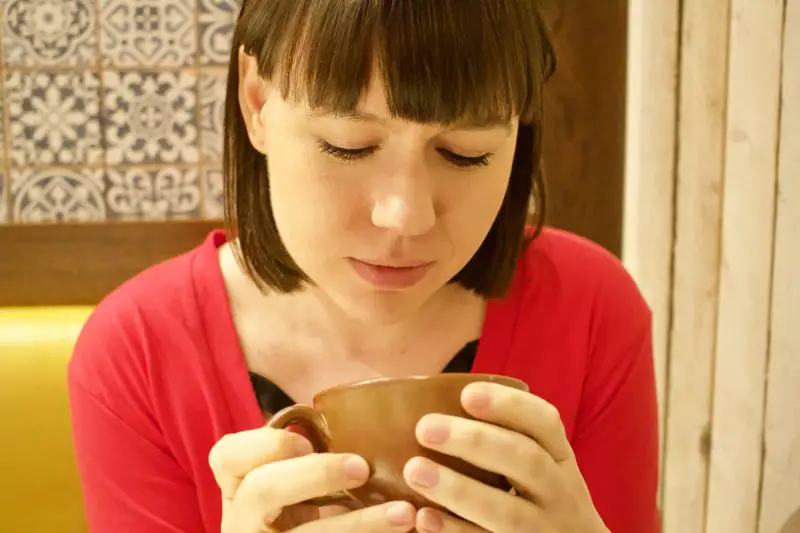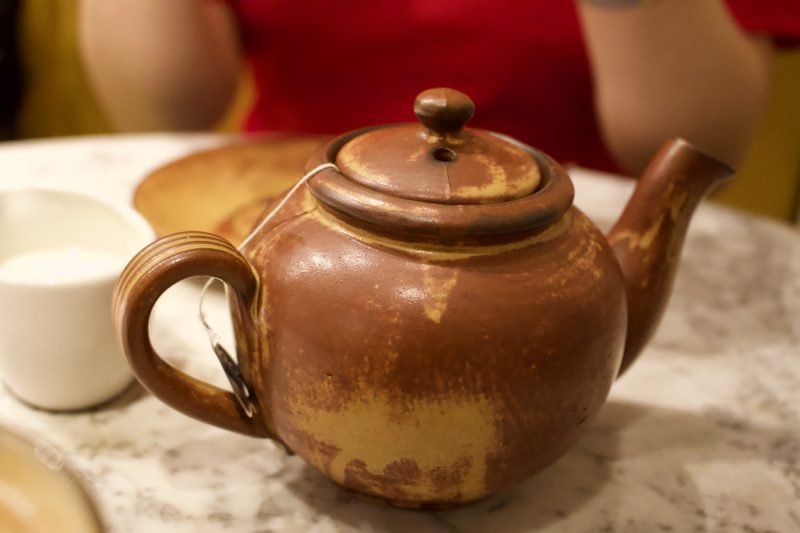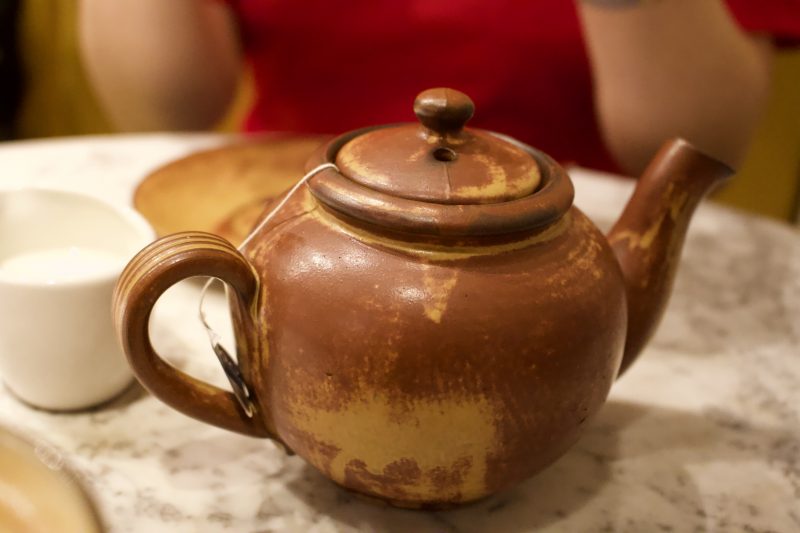 Cost
Our total cost for 9 dishes, a jug of sangria and teas and coffees cost £59.85 for two people. We felt this was good value for money for the amount we ordered. I would recommend going in happy hour to take advantage of the half price sangria and 2 4 1 cocktails.
Dining with kids
Tapas Revolution Newcastle is somewhere I would feel comfortable taking my children. There were high chairs available and the atmosphere was relaxed and jovial. They have a kids' menu (complete with colouring sheets and activities) with 2 listed tapas and churros for £5 but I think my children would enjoy sharing the regular tapas dishes with us too.
Dietary requirements
Vegetarian options, gluten free and gluten traces are marked on the menus. Otherwise you would have to ask the staff, who I'm sure would be very helpful based on our experience.
Scores on the doors
Venue 9/10
Location 9/10
Value 8/10
Food 8/10
Drinks 9/10
Toilets 9/10
Overall – 8.7/10
Summary
I was really impressed with Tapas Revolution Newcastle and would definitely go back. The happy hour drinks are great. My top recommendation is to order some pan de la casa, chorizo a la sidra and sangria. It's a perfect place to go mid afternoon shopping trip, meeting your friends for a catch up, an evening meal or even the start of a night out. A versatile and charming restaurant, it goes straight on to my list of Toon favourites.
Disclaimer: Thank you to Tapas Revolution Newcastle who provided us with our meal in exchange for this honest review. You can read my full disclosure policy on my about page.