Feminist books you should read right now
This blog post is all about the feminist books I read and loved in 2016 – the books I think you should read too. One of my personal goals is to read at least one feminist book a month. By that, I can mean a book about feminism, by a feminist or just one that espouses feminist values. There is so much that I've still to learn and reading is a great way to educate myself.
Nothing inspires me more than a challenging book by a bad ass feminist babe. I also read other books too and sometimes I get caught up in these and miss my monthly goal but that's ok, I still read more with my target than without.
Feminist book clubs
One of the places I draw a lot of inspiration from is Emma Watson's Our Shared Shelf on Goodreads. I love Goodreads. If you are a bibliophile like me then Goodreads is a must for book recommendations. Do follow me if you are on there.
Our Shared Shelf is a feminist book club by Emma Watson as part of her He for She campaign for her role as UN Goodwill Ambassador for Women. Its a really great book club – the book choices are great, the discussion is great and there are often interviews with the authors afterwards where us readers get to pose questions.
So some of my choices are from there. Occasionally, I've deviated from them if I can't get hold of the book electronically (as I read on my kindle to get back to sleep when my darling daughter wakes me 9000 times at night. Flicking pages in the dark just doesn't work for me anymore).
I also really like the The Killjoy Feminist Book Club on Goodreads for great book choices, although I'm less involved in that group.
So without further ado, these are the feminist books I read in 2016:
Factual books

Out of all the books that I read last year, this one taught me the most and shook me up. I thought I knew about a lot of what women go through elsewhere in the world but this book taught me that I knew nothing. The first chapter about sex slaves was extremely hard to read. I cried several times reading it. The book did get a little easier but man it was an eye opener. It made me realise what a job we still have to do fighting for the equality of our sisters across the world. You simply must read this book!
Favourite quotes:
'…far more women and girls are shipped into brothels each year in the early twenty-first century than African slaves were shipped into slave plantations each year in the eighteenth or nineteenth centuries…whatever the exact number is, it seems almost certain that the modern global slave trade is larger in absolute terms than the eighteenth and nineteenth centuries was.'
'People get away with enslaving village girls for the same reason that people got away with enslaving blacks two hundred years ago: The victims are perceived as discounted humans.'
'Decades from now, people will look back and wonder how societies could have acquiesced in a sec slave trade in the twenty-first century.'
'Major General Patrick Cammaert, a former United Nations force commander, spoke of the spread of rape as a war tactic and said something haunting: 'it has probably become more dangerous to be a woman than a soldier in an armed conflict'.
'Women now own just 1% of the world's titled land'.
'Approximately once every ten seconds, a girl somewhere in the world is pinned down. Her legs are pulled apart, and a local woman, with no medical training pulls out a knife or razor blade and slices off some or all of the girl's genitals. In most cases, there is no anaesthetic.'
Again, another real eye opener of a book and this book will get you angry. Seething angry. When you realise the dirty tricks the formula companies have played which range from undermining women, to effectively knowingly killing them and/or their babies/children. If you don't think the 'mommy wars' are a patriarchal construct that benefits business at our expense then you need to go read this book, now.
Favourite quotes:
'…our era is the first in recorded history where the breast has become public fetish for male sexual stimulation, while its primary function has diminished on a vast scale. Perhaps the only parallel is the phenomenon of foot-binding in China, when the primary use of a part of a body was sacrificed to serve the cult of a sexual fetishism which celebrated female helplessness.'
'In the 20th century, women were presented with an illusion of liberation through artificial feeding of babies, only to find their breasts appropriated by men and popular culture.'
'If society were organised so that the true baby milk manufacturers, women, earned the rewards they deserve for their production, the baby food industry would dwindle and much of the poverty that causes infant disease and death would disappear.'
'The fact that a woman in power must hide female qualities like lactation, is a measure of continuing male dominance.'
Fiction books
One of my particular goals for 2016 was to learn more about intersectionality, so this 1982 epistolary novel by Alice Walker was a good place to start. I loved the book which focused on the life of women of colour in the Southern United States in the 1930s. I know I'll go back and re-read this book some day. It was compelling. I would love to see the play, especially the one with Danielle Brookes from Orange is the New Black as Sofia. I bet she's awesome in it.
Favourite quotes:
'There is a way that the men speak to women that reminds me too much of Pa. They listen just long enough to issue instructions. They don't even look at women when women are speaking. They look at the ground and bend their heads toward the ground'.
'When I told her the Olinka don't believe in educating girls she said, quick as a flash, They're like white people at home who don't want colored people to learn.'

This is the much awaited sequel to Johansen's Queen of the Tearling about young Kelsea Glynn, ruler of 'The Tearling'. It's magical fiction and I can't wait for the third book in the series. Warner Bros are making the series into a film, with Emma Watson to star, which is perfect casting. I can't wait. Its really an easy read young adult novel but it has a lot of strong female characters who are driving the narrative.
Favourite quotes:
'Love was a real thing, Aisa thought, but secondary. Certainly love was not as real as her sword.'
'Fortune favors the bold, history tells us. Therefore, it behooves us to be as bold as possible.'

This was a heartbreaking and painful read inspired by the Charles Manson murders. A story about a young girl who joins a commune. Not technically a feminist book but I've added it as I feel it provides a narrative on patriarchal culture and what it can do to young women, and the impact that resulting anger can have. The girls in this story were compelling characters, often not likeable but you would ignore them at your peril.
Favourite quotes:
'I waited to be told what was good about me. I wondered later if this was why there were so many more women than men at the ranch, All that time I had spent readying myself, the articles that taught me life was really just a waiting room until someone noticed you – the boys had spent that time becoming themselves.'
'That was part of being a girl – you were resigned to whatever feedback you'd get. If you got mad, you were crazy, and if you didn't react, you were a bitch. The only thing you could do was smile from the corner they'd backed you into. Implicate yourself in the joke even if the joke was always on you.'
Autobiographical
Steinem has long been one of the leaders of the Feminist Movement and this is her autobiography of her time on the road campaigning. I found it fascinating, she's a really wise woman.
Favourite quotes:
'Needing approval is a female cultural disease, and often a sign of doing the wrong thing.'
'No wonder studies show that women's intellectual self-esteem tends to go down as years of education go up. We have been studying our own absence.'

I've long been a fan of Keyes' novels. This book is more an anthology of autobiographical articles that Keyes has written and is a real insight into the author and her life. Hilariously funny just as you know to expect from Keyes, also very honest and candid too.
Favourite quote
'Why is hair good in one place and very very bad in another? (Because the upkeep on both keeps women exhausted and demoralised and without energy to get promoted? Do men expend time and money and anxiety combatting bad hair days? Just a thought…)'
This is a book that I know I will go back and re-read. Caitlin Moran is a goddamn queen and my modern day feminist heroine. I could listen to her all day long.
Favourite quotes:
'Whilst some use the euphemism 'Brazillian' to describe this state of affairs, I prefer to call it what it is – 'a ruinously high-maintenance, itchy. cold-looking child's fanny…I can't believe we've got to a point where it's basically costing us money to have a fanny. They're making us pay for maintenance and upkeep of our lulus, like a communal garden. It's a stealth tax. Fanny VAT. This is money we should be spending on THE ELECTRICITY BILL and CHEESE and BERETS. Instead, we're wasting it on making our chihuahuas look like a skanky Lidl chicken breast.'
'Would we give as much of a shit about our thighs if we, as a sex, owned the majority of the world's wealth, instead of the men?'
'But women living in fear of aging, and pulling painful and expensive tricks to hide it from the world, does not say something amazing about us as human beings. Oh, it makes women look like we were made to do it, by big boys. It makes us look like losers. It makes us look like cowards. And that's the last thing we are. That's the very, very last thing women are.'
Slightly more frivolous than some of my previous choices but none the less feminist because of it. A modern day take on feminism that feels like chatting to a girlfriend and putting the world to rights.
Favourite quotes:
'…these magazines feed a not very nice side of our beings. Its the side that compares ourselves to other women, that thinks we are what we can afford to buy, that judges someone on where they go on holiday or how cool their shoes are. In our right mind we know that these are puerile views but if we're often absorbing them, it's hard to remember that.'
'…after I've read the mail online, I feel a very subtle but very real sense of self-hatred ('if that's how disgusting that find her cellulite, they would find me a hideous monster') and, if I'm not being concious, I carry that competitive, shallow, mean perception into my view of other women. Hate breeds hate. And I don't want that going on inside of me.'
The autobiography of Carrie Brownstein, musician from riot-girl feminist punk band Sleater-Kinney. I was fascinated reading about the 90s riot girl culture in the pacific Northwest of America. What I would give to be a fly on the wall in that area during that scene.
Favourite quote:
'Eventually, I started to cringe at the elitism that was often paired with punk and the like. A movement that professed inclusiveness seemed to actually be highly exclusive, as alienating and ungraspable as many of the clubs and institutions that drove us to the fringes in the first place. One set of rules had simply been replaced by new ones, and they were just as difficult to follow.'
I love Mindy Kaling. She's hilarious and is a brilliant example of a woman who isn't seeing herself in stories so goes and creates those stories for herself in mainstream media. She's a young indian/american woman writing, starring and producing in her own successful TV show, the Mindy Project (which I love). She's hugely inspiring to me. This is her second book and is a collection of essays that give you further insight into her life.
Favourite quotes:
'People get scared when you try to do something, especially when it looks like you're succeeding. People do not get scared when you're failing. It calms them…But when you're winning, it makes them feel like they're losing or, worse yet, that maybe they should've tried to do something too, but now it's too late. And since they didn't, they want to stop you. You can't let them.'
'I just sometimes get the sneaking suspicion that corporations are co-opting 'girl confidence' language to rally girls into buying body wash. Be careful.'
So those are 11 feminist books I read last year, that I think you should read too – if you haven't already. In case you are curious, the other books I read last year that aren't specifically feminist were:
The Goldfinch by Donna Tartt
Harry Potter and the Cursed Child, by John Tiffany, Jack Thorne, JK Rowling
Call the Midwife by Jennifer Worth
Shadows of the Workhouse by Jennifer Worth
Farewell to the East End by Jennifer Worth
Career of Evil, Robert Galbraith
The Silkworm, Robert Galbraith
I'm sure I've forgotten a few as well but let me know if you want me to do a similar piece on these books too.
Have you read any of these books? Do you like the sound of any of them? Do you have any to recommend to me? I'm about to start my next book so I'd love to hear from you in the comments!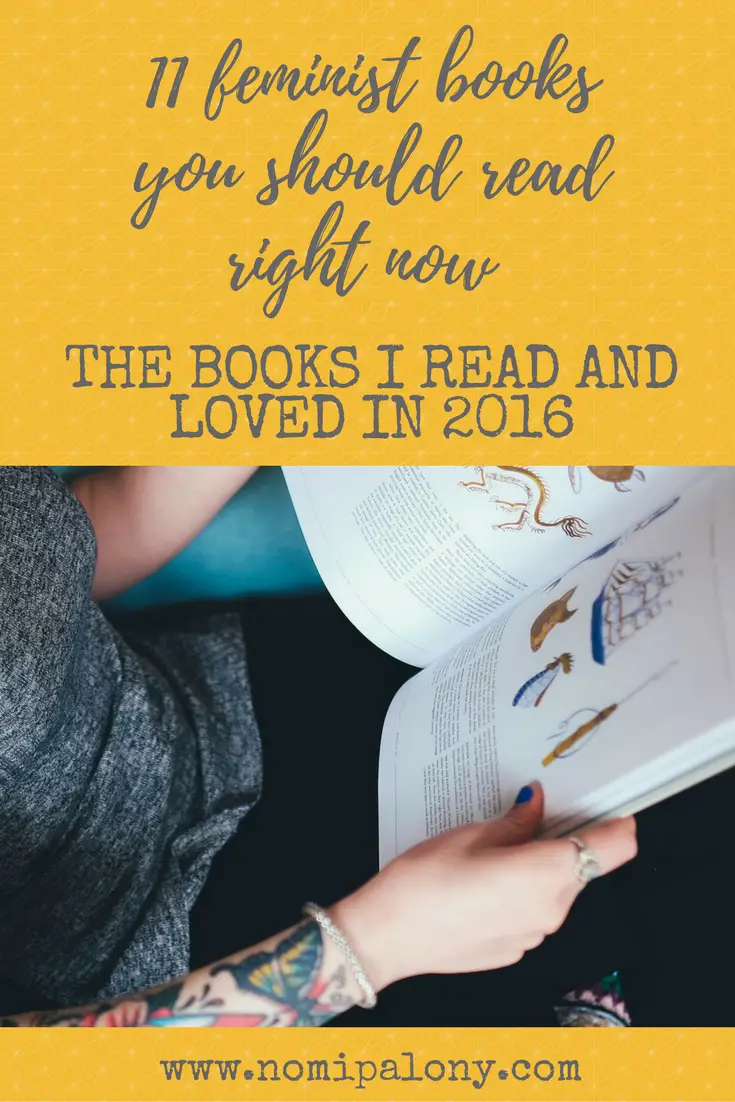 Disclaimer: This post contains Amazon affiliate links. This makes no difference to the price you pay but I receive a small referral fee which helps me keep my site going.