When our second born was all new and we realised that we had indeed made another sleep thief velcro baby, we decided to try out the 4moms silver plush rockaRoo – ya know to see if it meant that we could ever put her down! Did it work for us, and will it work for your sleep thief? Read on or watch our full 4moms rockaRoo video below to find out more.
The 4Mom rockaRoo
The 4moms® RockaRoo® Baby Rocker provides front to back gliding motion that babies love in a compact size to create a baby rocker chair, with 5-speed options to choose from. The smooth gliding motion of the RockaRoo Baby Rocker soothes your baby like you do when comforting them in your nursery glider or rocking chair.
The automatic baby rocker features a toy mobile that includes reversible, removable toys to keep baby entertained in the baby rocker seat. The sleek, modern design of this rocking baby seat is one-third the size of traditional infant swings so it fits perfectly in any home.
The RockaRoo Baby Rocker is available in two fabric options: the classic fabric (grey) is a smooth, woven polyester material, and the cool mesh fabric (dark grey) with a smooth, breathable surface to maximize airflow and keep baby cool and comfortable. Extra fabrics for the baby rocker swing are available in classic, plush and cool mesh options. All fabrics are machine washable.
4moms Rockaroo or Mamaroo?
The 4Moms MamaRoo 4.0 is meant to mimic a parent's movements more closely and bounces rahter than swings. it's currently got 483 reviews on Amazon and scores 4.5 stars so there's definitely plenty of people who rate it highly but it's very expensive.
Is the 4Moms Rockaroo noisy?
It wasn't too noisy but there was noise that came from the seat when it swings backwards and forwards. You can hear this in our video below.
Does the 4moms Rockaroo play music?
The 4moms rockaRoo does play music via a aux 3.5mm jack cable. However we found it quite a tinny sound and not the best sound quality. It was the same sound quality as the Mamaroo though which was a lot more expensive than this.
Does the 4moms Rockaroo recline?
There is one standard position for the rockaRoo but it is on a recline.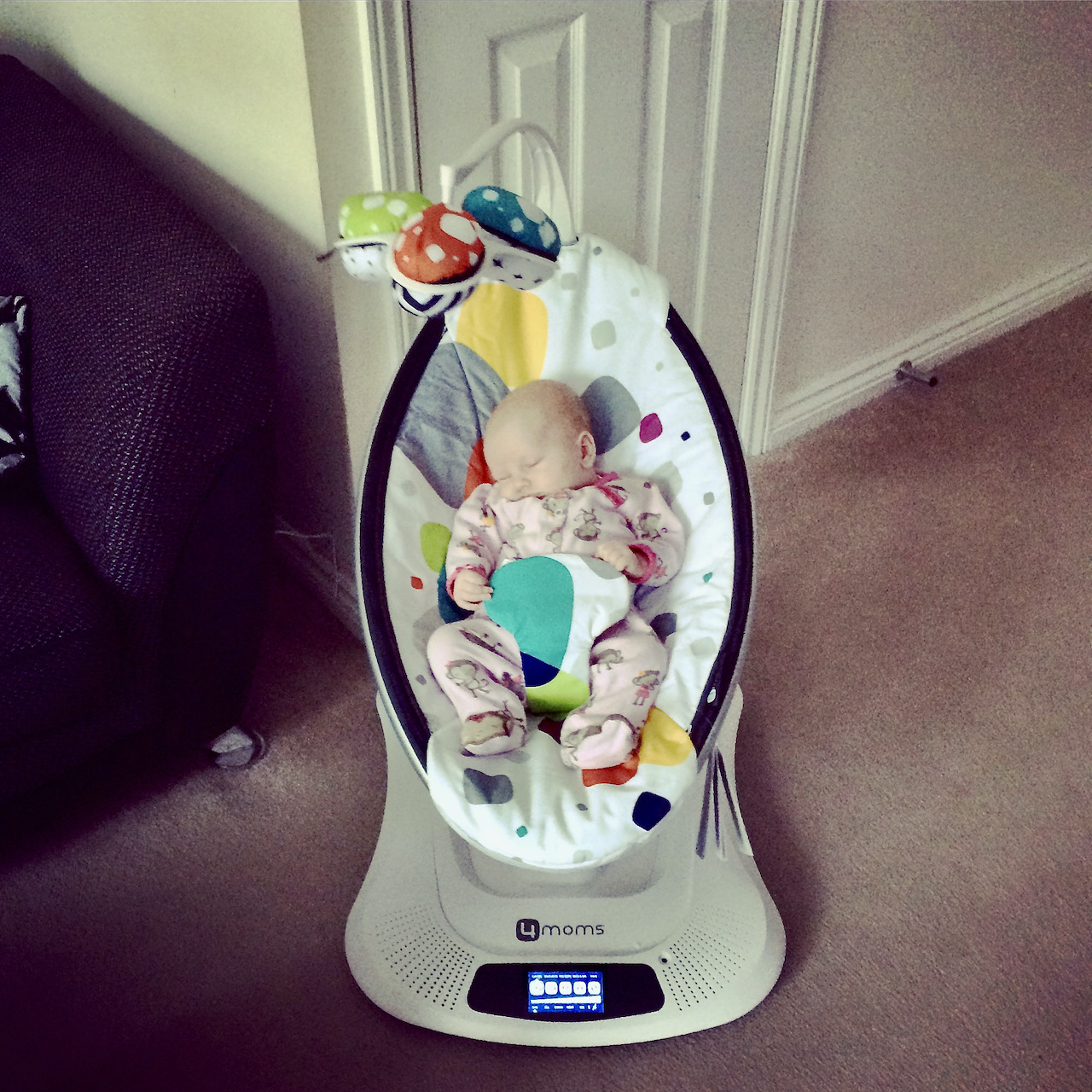 How long can baby use 4moms Rockaroo?
The 4Moms rockaRoo is for use from birth until child reaches maximum weight limit of 20 pounds or can sit up unassisted or attempts to climb out, whichever comes first. For my babies this was around 6-7 months old.
Can baby sleep in 4moms rockaRoo
Our baby fell asleep for short naps in the 4Moms rockaRoo on occasion. It isn't recommended for babies to sleep for long periods in sleeping chairs/car seats though so do remember to follow safe sleeping practices and always keep an eye on your baby when in such devices. It is not meant for night time sleep.
How do I clean the RockaRoo Baby Rocker seat fabric?
The infant swing seat fabrics (classic, plush, and cool mesh) and the newborn insert are machine washable. 4Moms recommend washing them in cold water on the gentle cycle. Do not use bleach. Tumble dry separately on low heat and remove promptly from dryer.
How to put together 4moms rockaRoo
The large arm attaches to the seat and simply clicks on both sides. Then the safety clips feed through the seat cushion. The seat will then clip onto the base unit. There is a grey lever at the back that you push down to secure it. The mobile arm just clips into the top of the seat. Then you pop the plug into the base and the wall and you are away. It's really easy, it took us just a few minutes. You can watch how simple it is to assemble in the video below (complete with our 3 year old 'helping').
How to disassemble 4moms rockaRoo
Click here for disassembly instructions. Watch the rockaRoo disassembly video for instructions on disassembling your rockaRoo baby rocker chair.
How to wash 4moms rockaRoo
In order to clean the harness straps you must first disassemble the baby rocker seat (see above). Once disassembled, use a sink or other basin and allow the straps to dangle from the central rail into soapy water. Do NOT immerse the central rail into the water. Once clean, rinse and let dry before reassembling the unit.
4moms Rockaroo video
In this video we do an unboxing of the 4moms Rockaroo and show you us assembling it. We then show you our baby using it for the first time at 7 weeks old and then we do another update after using it for a few weeks when our baby was 10 weeks old.
Drawbacks of the 4moms Rockaroo?
We found the safety harness buckles a little stiff to fasten and unfasten. The music played quite tinny, wasn't the best sound quality but ok for playing white noise.
Is the 4moms Rockaroo worth it?
I think the answer to this would be a) it depends on your baby and b) it depends on why you are buying it. We found it a bit hit and miss but our baby was one of the more needy babies to try it with – she liked being held at all times.
Our baby didn't like being put down at all and wouldn't let us put her down for sleep and liked continual motion. We were hoping that she would go to sleep in it often. She did fall asleep in it occasionally but it certainly didn't work every time. We tended to use it for the odd 10 minutes where we could pop her in it to allow us to do some quick chores until she starts complaining to come out. If you child takes a dummy/pacifer it may work a bit better!
Our baby loved the toys on the mobile. We liked that the balls could come off and that they had a black and white side for when the baby can only see in black and white and then colours for later.
Personally, we didn't find the 4moms Rockaroo much better practically than a regular cheap swing. We thought it looked more stylish but in terms of it's purpose of being able to put the baby in and them be content or go to sleep we didn't find it much if at all better than the old fisherprice swing we had. What we did love about it is we could plug it into the wall which isn't the case with a lot of the swings on the British market. It didn't have the option of using batteries as well though so it does depend what you want it for.
We would rate it a 7/10. If you want something that is better than a regular swing then I'm not sure it is but if you want something that's smaller, a bit more stylish for your living room and can plug into your wall then it's a good choice.
If you liked this post you might also like
If you have enjoyed this post or found it useful, here are some quick and easy ways that you can support Nomipalony or say thanks: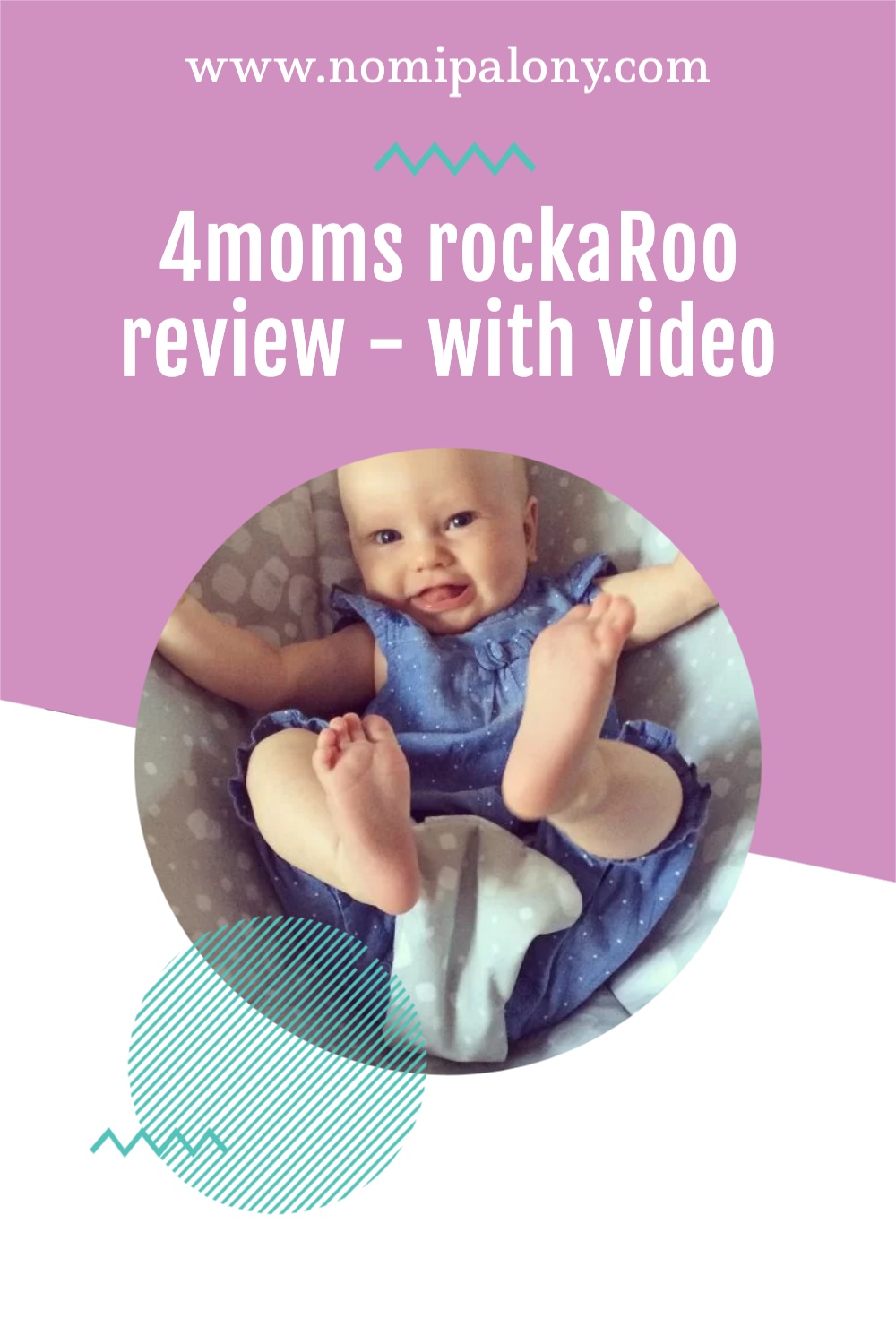 Disclaimer: This post contains affiliate links. If you purchase through an affiliate link you will not be charged any more for your purchase, but I will receive a small fee for referring you. As an Amazon Associate, I earn from qualifying purchases. For my full disclosure policy, please see my about page.