I'm loving this podcast renaissance we are having at the moment. It's like being able to pick the very best radio shows, with the best guests, talking about what you want to hear about, whenever you want to hear it. I tend to listen to podcasts on my commutes and I always end up at my destination in no time.
So in today's post, kindly sponsored by Panasonic wireless home cinema system, I thought I'd tell you all about my favourite podcasts in case you are looking for some inspiration or even to get started with podcasts altogether.
Shagged, Married, Annoyed by Chris and Rosie Ramsey
This is a really great light hearted comedy podcast by Geordie husband and wife duo Chris and Rosie Ramsey. Chris is the better known of the two for his stand up comedy and time starring in the sitcom Hebburn but dare I say it, Rosie is even funnier. If you aren't following her on Instagram (below) then you are missing out. I think what I love most about this podcast is that Chris and Rosie are just a normal North East couple and we have a certain way about us don't we? For me, it's like hearing myself be represented, I laugh with them as they are just like me and Papa Ginge. Definitely one to subscribe to. You'll crack up at the two of them cracking up at each other.
Tea with Queen and J
Queen and J are self-described as two American womanist race nerds talking liberation, politics and pop culture over tea. I listen to this because I want to listen and learn from these women so I understand some of the issues black women face better and so I can learn how to be a better ally. If anyone has any similar recommendations I'd love to hear them.
The Female Struggle is Real by Emma Jo Real-Davies
I found Emma through Instagram where we follow each other and chat via DMs on the regular. Emma's podcast is fab, she has a great presenting voice and is a dream to listen to. The podcast is done really well. Each episode explores issues that women face in a way that will have you nodding in agreement. My favourite episodes so far include #18 The Struggle with Body Hair where Emma goes and tries out laser hair removal for the first time and the latest episode The Female Struggle with Sex which was a live recording that covered all things sex from anal to polygamy and 'devil dick'.
Getting Curious with Jonathan Van Ness
Did you know that everyone's favourite Fab Five member had a podcast? Well he does and its a delight. JVN comes across as quite ditzy sometimes so it might surprise listeners of this to discover he's actually incredibly intelligent, like, impressively so. Each episode he invites a guest on to talk about something that he's curious about. My favourite episodes have been the Queer Eye Fab Five interviews, How Fierce is Erin Brockovich, How Do You Ignore Haters and Learn to Love Yourself with Jameela Jamil, Has Britain Screwed Itself with Brexit? with Mary O'Hara and Is Saudi Arabia Cute Now? with Prof. James Gelvin. I thank you universe for JVN, we don't deserve him!
Body Cons with Molly Forbes and Lottie Storey
Molly is a blogging friend of mine and you might have watched my interview with her a while back over on my YouTube channel (below).
Molly is one of the hosts of the Channel 4 show Naked Beach, an antidote Love Island and Molly is a fierce body confidence advocate. Molly recently brought out a podcast with Lottie Storey exploring all things body confidence. If you want to learn how to love your body then this is one to subscribe to. So far they've talked about ditching diets, Instagram vs reality, Intuitive eating and exercise, body image in pregnancy and more. One to watch (or listen I guess).
Armchair Expert with Dax Shepherd
In terms of my celeb couple goal crushes Kristen Bell and Dax Shepherd are up there for me. Dax is an intriguing character who has struggled with addiction and self-image over the years and has done a lot of work in therapy and on himself to overcome it. For Armchair Expert, he applies what he's learned through therapy to interviewing his guests. He's very curious about the human spirit and how people come to be how they are and his questions are in that vein. Due to being such a big celebrity in his own right he gets some great guests and doesn't shy away from asking the difficult questions, his interview with Amy Schumer gets very awkward and is worth a listen to. My other favourite interviews of his have been Kristen Bell, Ashton Kutcher, Ellen DeGeneres, Anna Faris, Lena Dunham, Joy Bryant, Sarah Silverman, Evan Rachel Wood and Sophia Bush.
Ctrl Alt Delete by Emma Gannon
If you are interested in the digital age and are a 'multi-hyphen millennial' then this is the podcast for you. Emma is a similar age to me and is very much living in the world I am, grasping with the same things I am so her podcast is answering all the questions I would ask about how to succeed or even survive in this current digital age. Her book the Multi-Hyphen Method is also fantastic. Each podcast interviews a guest and my favourite episodes so far have been Lena Dunham dealing with life online, Rachel Cargle on white privilege, Jameela Jamil on shame, Ellen Page on speaking out and Katherine Ormerod on whether social media is ruining your life.
Not Another Mummy Podcast by Alison Perry
Another interview-based podcast, this podcast sees successful blogger and journalist Alison Perry interview some of my social media favourites. I'm a member of a few blogging communities with Alison and she's always courteous, helpful and smart. Alison's podcast capitalises on being able to interview many of the Instagram stars of the parenting community who perhaps aren't big enough celebrities to feature on traditional media but who thousands of people are clamouring to hear more about none the less. Her favourite interviews of mine so far are: Gemma and Vickie from Mutha.hood and Inpolife on running a business, Mother Pukka on flexible working, Amber Wilde on same-sex parenting and Emma Conway (aka Brummie Mummy of 2) on the emotional ups and downs when your kids start school.
Dirty Mother Pukka
Dirty Mother Pukka is brought to us by another husband and wife duo, Anna Whitehouse and Matt Farquharson – Instagram celebs in their own rights. This, their associated podcast brings them together with their mates another 2 married couples. The 3 'female halves' record their half together and the men record their half together discussing the same issues but often having wildly different perspectives. It's coarse and rude and feels very much like hearing your mates have a chat in the pub. Obviously the women are much more filthy than the men. It's very funny. My favourite episodes have been – #1 The Years Before Child, #10 Stick or Twist; Going for the Second Child, #5 Splashdown; The Birth. Worth a subscribe for when you need a laugh.
The Guilty Feminist with Deborah Frances-White
Last but certainly not least is the Guilty Feminist podcast which really doesn't need much of an introduction. This podcast is fantastic as it makes you laugh whilst addressing important feminist issues. It also has fantastic guests! My favourite episodes so far have been sexuality with Phoebe Waller-Bridge (goddess) and Motherhood with Sharon Horgan and Rebekah Staton. If you've never listened to or said 'I'm a feminist but…' then I order you to go listen to an episode of this now!
So there are my top 10 podcast recommendations, what are yours? I'm particularly keen to hear about more diverse podcasts as mine are a bit of an able-bodied whitewash at the moment so let me know in the comments if I'm missing anything good. Thanks and happy listening!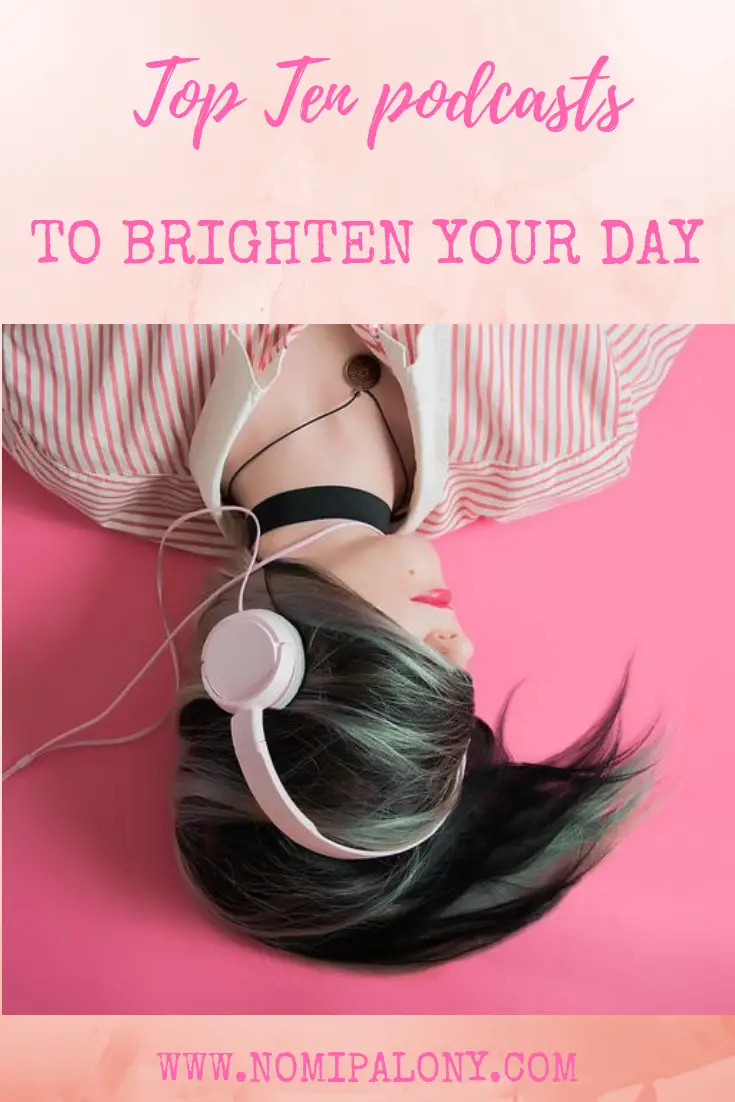 Disclosure: This is a sponsored advertorial post. For my full disclosure policy please see my about page.