Boody
Boody is my kind of company. They mesh comfort and style with sustainability seamlessly (literally, they have no seams). All Boody products are made from organic chemical free bamboo yarn. Bamboo is one of the fastest growing, renewable and sustainable plants on earth. They grow the bamboo on plantations which uses much less water than cotton based fabrics. Even their boxes are recycled and printed with vegetable-based ink.
Comfort
Nothing prepared me for how comfortable Boody clothes are though.
I first tried a pair of their boyleg briefs around Christmas and was hooked. Wearing them is an utter pleasure. I'm genuinely excited to put them on and then sad when they have to go in the wash. They are Incredibly soft and comfortable. Like a hug for your bum. Hmmmm, maybe that's not an ideal expression!
Bamboo is renowned for its moisture absorbency, breathability and anti-bacterial properties. They are soft, smooth and silky to the touch. I'm not going to be happy until I own every single one of their products and enough of their knickers that I never have to wear normal knickers if my Boody is in the wash again. I'm all about comfort when it comes to my clothes and I'm genuinely happier when I wear my Boody products. As I write this I'm wearing the boyleg briefs, the leggings, the bra and the vest all under my dress and I feel so cosy as a result. If there is one thing that I've received through blogging that I would recommend everyone tries, it's Boody products.
Body confidence – posing in your undies
Now, when Boody contacted me to ask me if I would like to review some of their products I was over the moon as I genuinely love their products. However, I didn't quite think it through to the point where I would have to be photographed in what is mostly underwear.
Close followers of my blog will know I'm on a mission to love my body no matter its size and achieve body confidence. This would really put it to the test. It's one thing in theory and a total other thing in practice – especially when that practice is putting out photos of your still breastfeeding post-partum body in underwear on the internet. You know that feeling when you go bikini shopping and feel awful. This felt so much worse to me!
For those of you who watch my Instagram stories, you will know that mine and Papa Ginge's relationship is characterised by a lot of banter. He's the last person you want to take a photo of you in your underwear. Most photos he takes of me he takes the piss out of my posing and I feel incredibly awkward. But with these photos, I didn't just feel awkward, I felt vulnerable, embarrassed even. See why I need to work on that body confidence still.
Learning to let go and relax
My idea was that I would do some photos holding my tummy in and some completely relaxed to show myself, and other women the difference, and that the difference is a-ok. I always admire these kind of photos online (think Constance Hall, Celeste Barber, Body Posi Panda etc) but have never had the confidence to do them myself. I wanted to challenge myself to do them in this post, thinking it would help me on my quest for body confidence like the 'Gok Wan naked photo' test.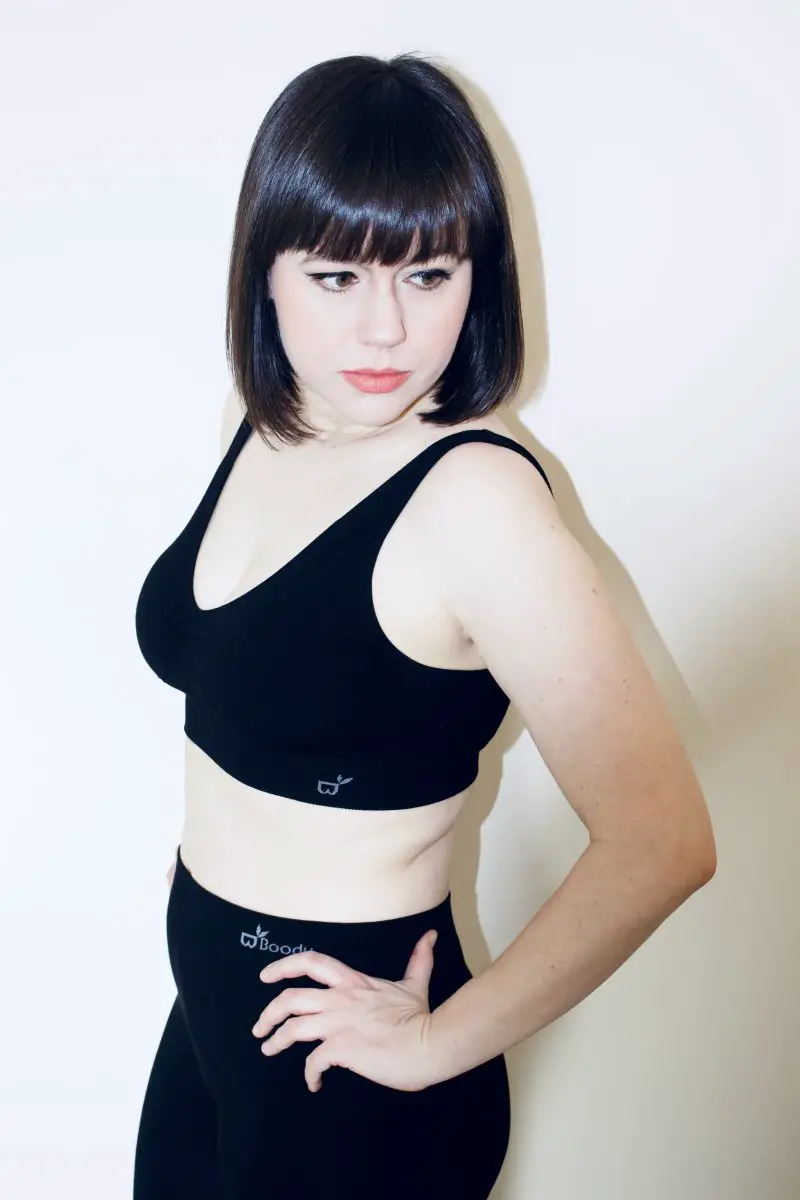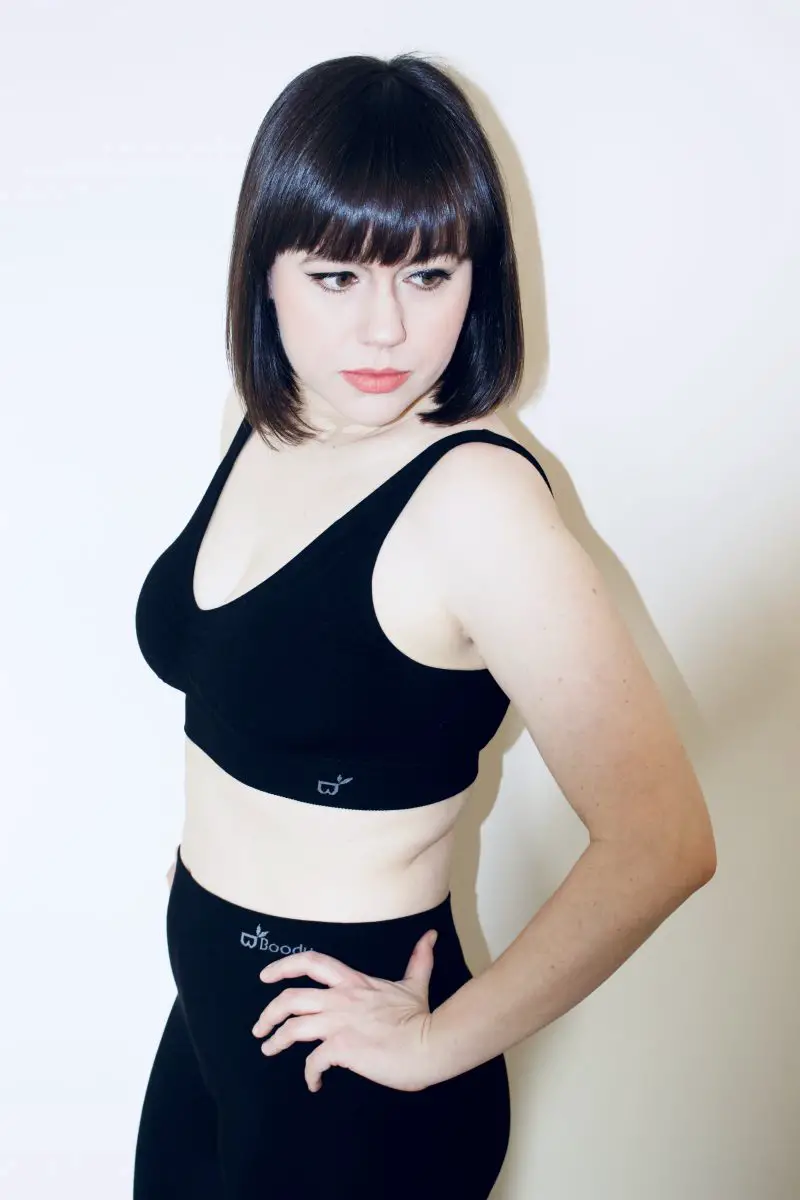 I've just read the formidable Megan Crabbe's book Body Positive Power (affiliate link) – which I wholeheartedly recommend. She often talks about how we should learn to relax and stop trying to minimise our stomachs with spanx and constantly trying to hold them in. She's so right, why are we trying to pretend our tummies are all flat? I did have a flat stomach pre kids but my body has stretched to grow two very overdue babies. Its go-to position when I relax now is of 5 months pregnant. Our stomachs grow throughout the day as we eat. A stomach at 6pm isn't going to be as flat as one at 8am. A pre-menstrual or menstruating stomach will be considerably bigger. But we all pretend. We stick those tight dresses on and suck it in all day no matter the discomfort. I'm not totally out of the practice yet but these photos are a mix of me posing and holding my tummy in and ones of me relaxed, letting it 'all hang out'. You might notice that this photo below where I'm relaxed I look visibly happier.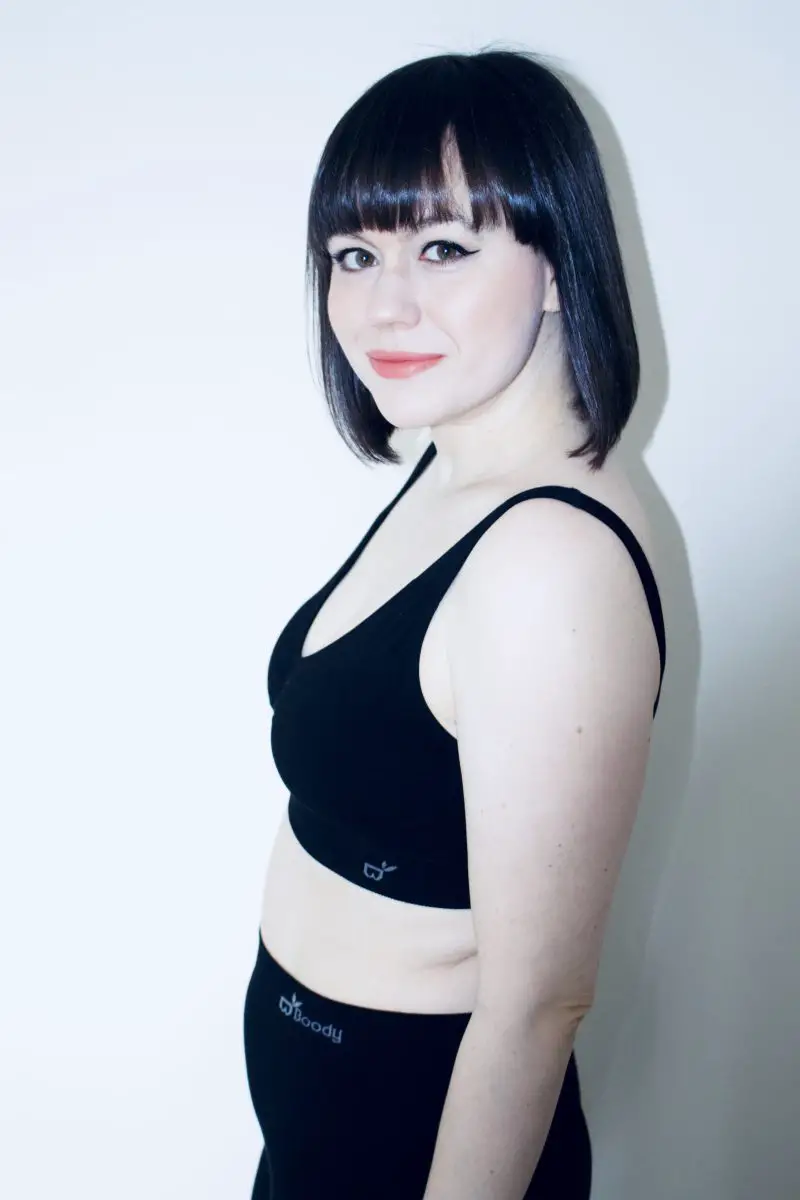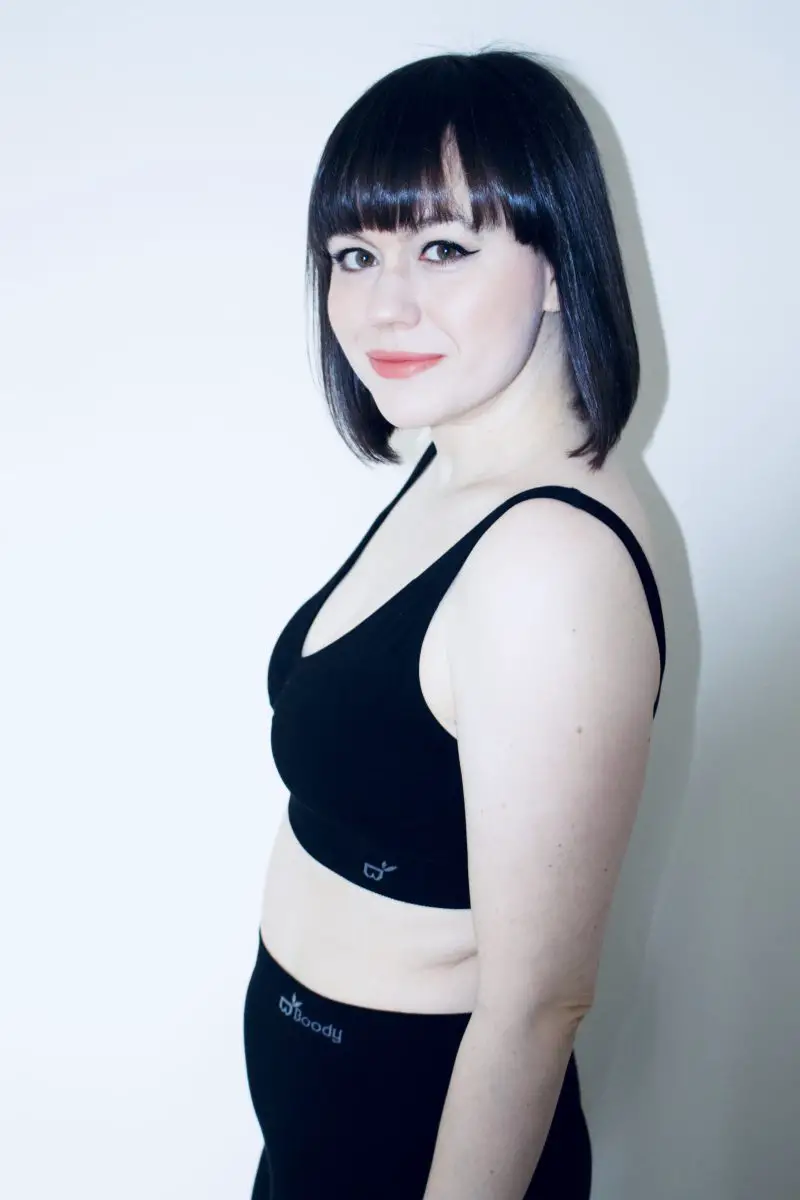 Finding it hard
I'll be honest though, I didn't come away from this feeling great about my body. If anything I felt worse and felt those diet culture norms niggling at me. 'If only I just lost half a stone or a stone' or 'I need to work out more' and I would look better etc. I'm agonising about posting this post/these photos even as I write this. I'm hoping posting it will help me and others though and that I won't regret it (she ponders whilst biting her nails with worry).
Now don't get me wrong, I don't think I look terrible or anything but the perfectionist in me sees what I want to change, not what I should love and that's why I'm on this quest for body confidence. I'm well aware there will be as many people reading this thinking 'she's let herself go' as there will be those thinking 'She's got nothing to complain about'. But it's absolutely not about body size, or what my/your body looks like – it's our minds that are often the real issue. In the media, all we see are re-touched/photoshopped size zero models/actresses in their underwear etc.  That's considered the ideal and it's that type that is forced upon us everywhere we look when only a small percentage of women (2-5%) naturally meet that body type.
When you don't have that Victoria's Secret body and see yourself, in your underwear, with all your imperfections on show in such a visible way it can be confronting. I think that's why the most dreaded clothes shop is the bikini shop. But I believe the more we all show ourselves to each other in all of our glory, the more we will see real bodies in a diversity of shapes and sizes, ultimately the more accepting we will be of our ourselves. That's why I decided not to shy away from posting these photos. The world doesn't need more perfect photos, it needs more imperfect ones.
Anyway, back on to the Boody! Here are a bunch of photos of me wearing my items, under most the photos I've added a disclaimer to tell you what I'm doing with my body or how I feel about the image.
Boyleg briefs £8.95
I swear periods are easier in these boyleg briefs. So so so cosy. By far the best underwear I've ever tried. I kind of wish they came up a little higher but that's really nit-picking.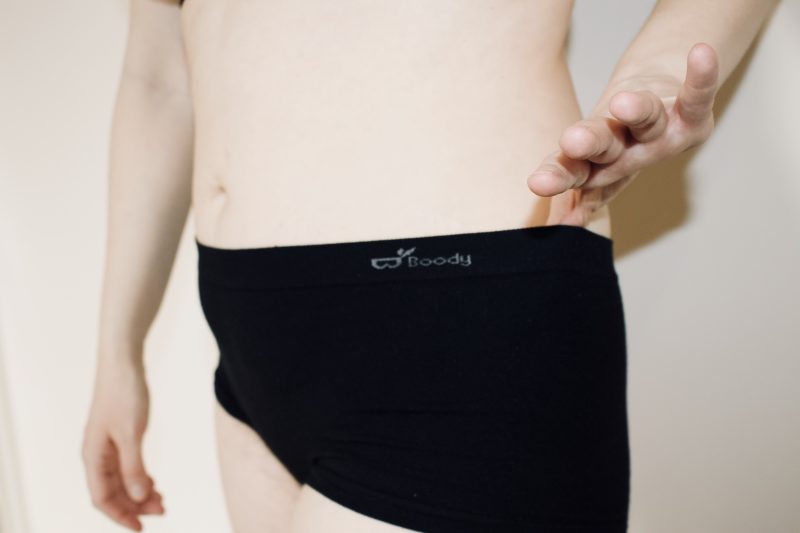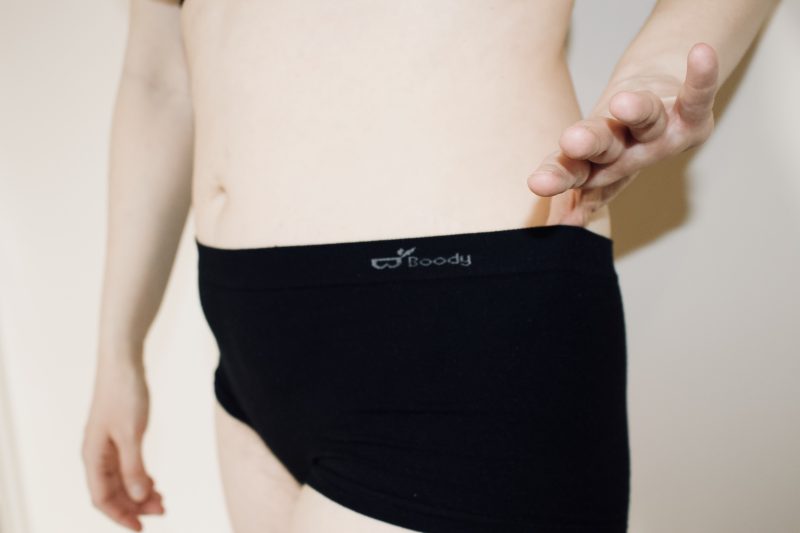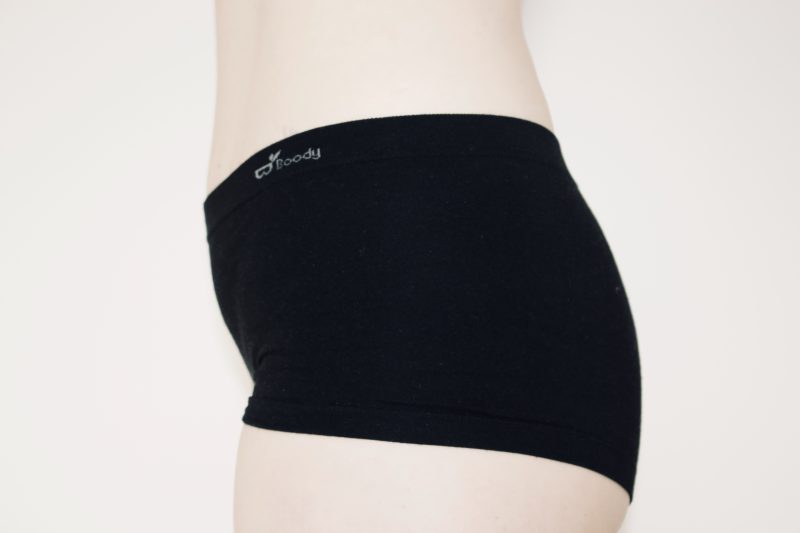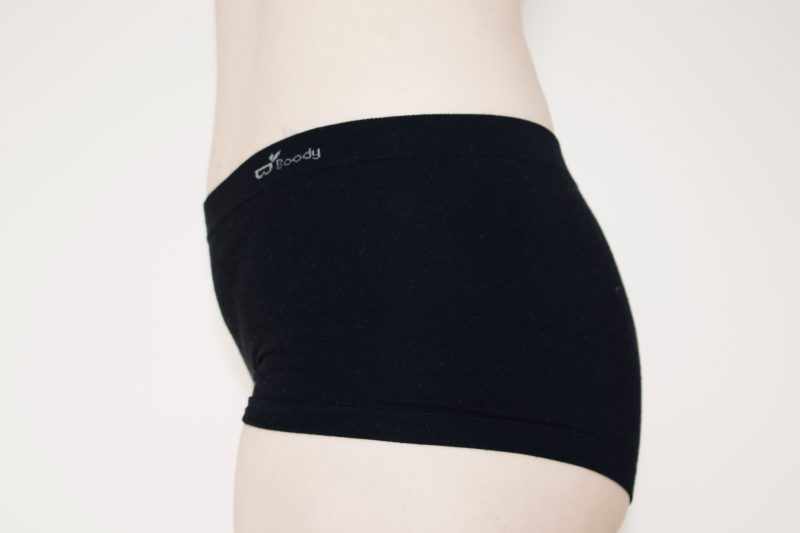 Padded bra – £19.95
This is a super cosy bra that you won't feel the need to rush off at the end of the day. You could sleep in it, it's that soft and unrestrictive. It's not the most supportive though but it's perfectly adequate for me and my 34GGs (I'm wearing a large). I wouldn't try run in it though!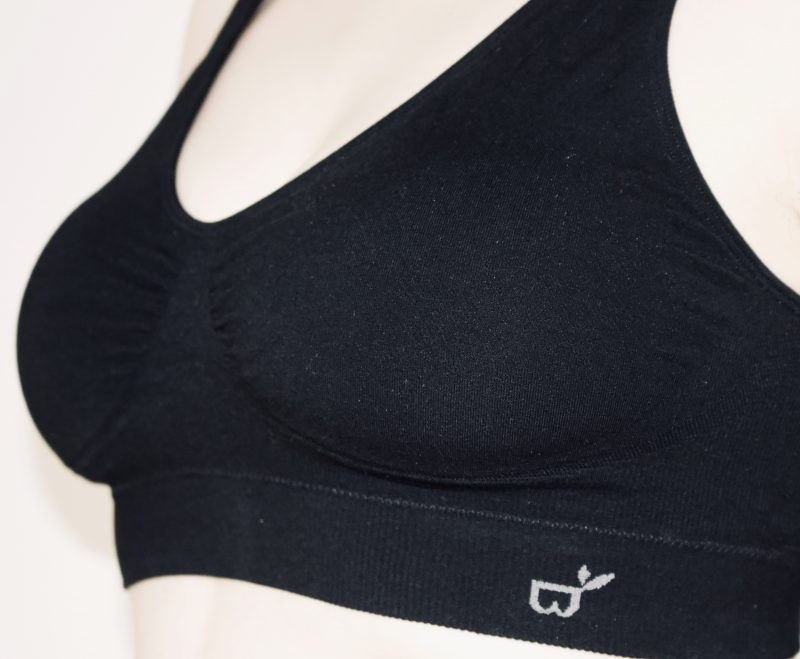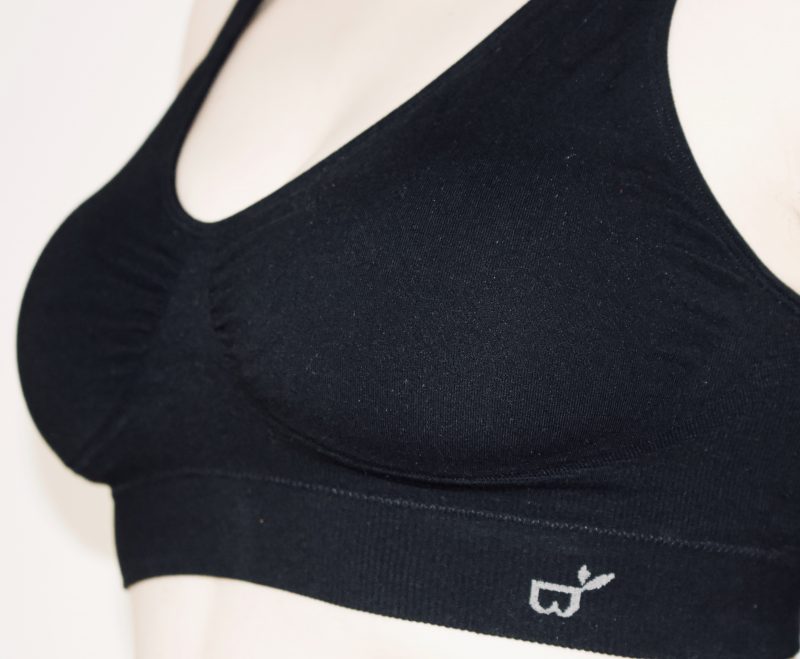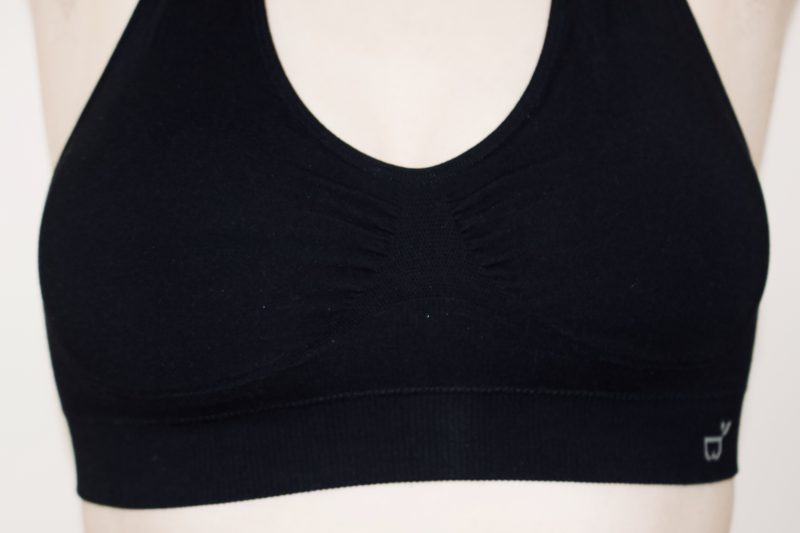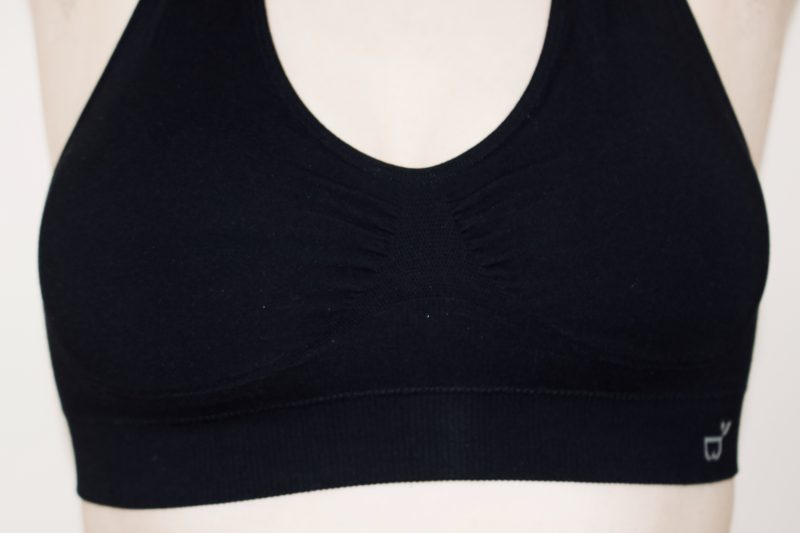 Tank top £13.95
Standard tank top, I'd say this is bigger fitting than the other products I've tried and I could have gotten a small in it as opposed to the large in the leggings, boy shorts and bra. Like the other products, it's soft and stretchy.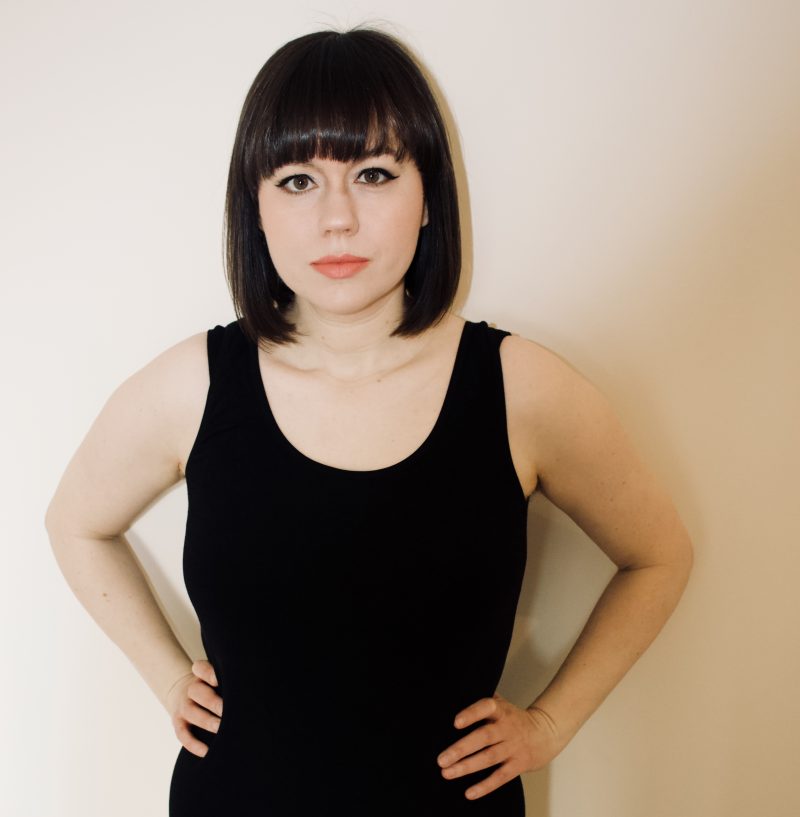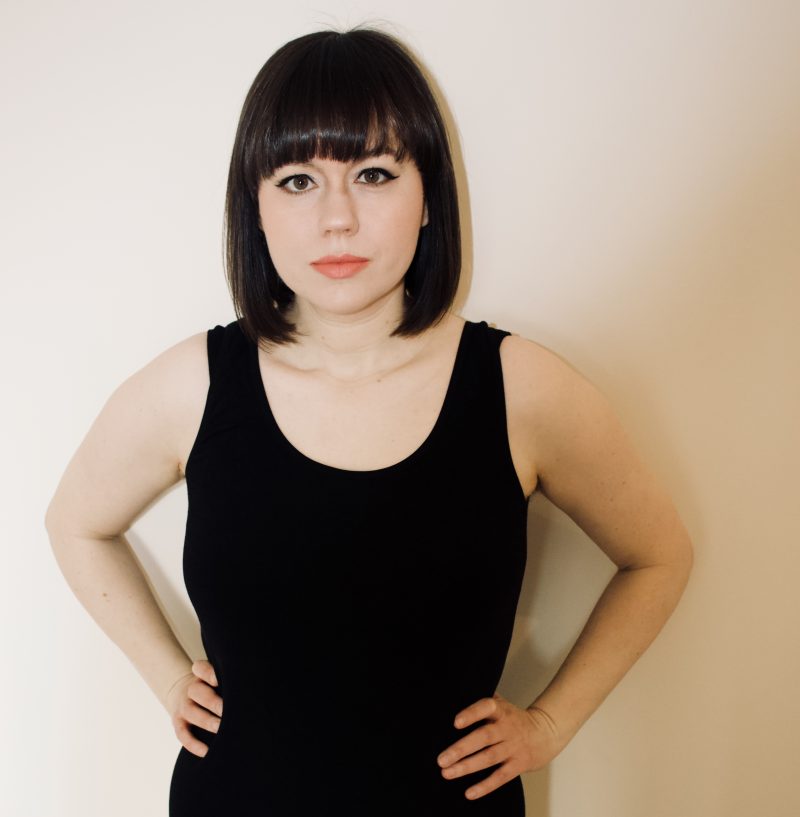 Full leggings £21.95
These are now the best leggings I own. The waistband doesn't dig in. They don't bag at the knees. They don't lose their shape. They are comfortable and my other leggings now seem redundant.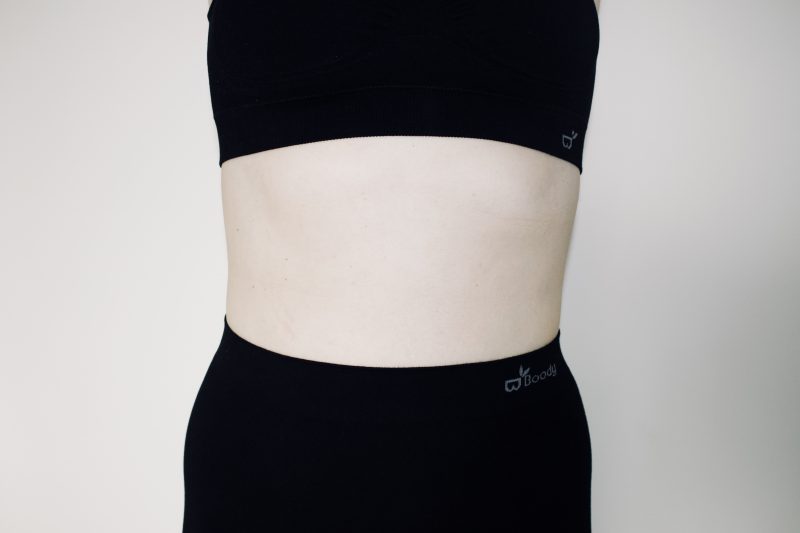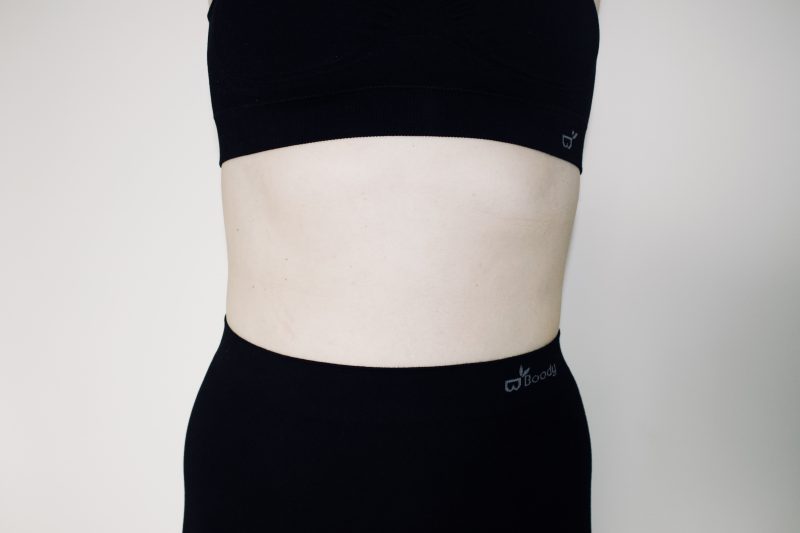 Could be better
Speaking of body confidence, my only criticism of Boody is that their sizes aren't fully inclusive. I would like to see them come in larger sizes. I'm a size 12 and am wearing the largest size (m/l) in the boyleg briefs. I'm a 32FF and am wearing a large in the padded bra. I'm wearing a medium in the vest but a small probably would have been better. I'm wearing a large in the leggings. Of course all the items are very stretchy but you don't want any waistbands or straps digging in do you? I think Boody could be even better if they catered for all body shapes. I hope they plan to add more sizes in going forward.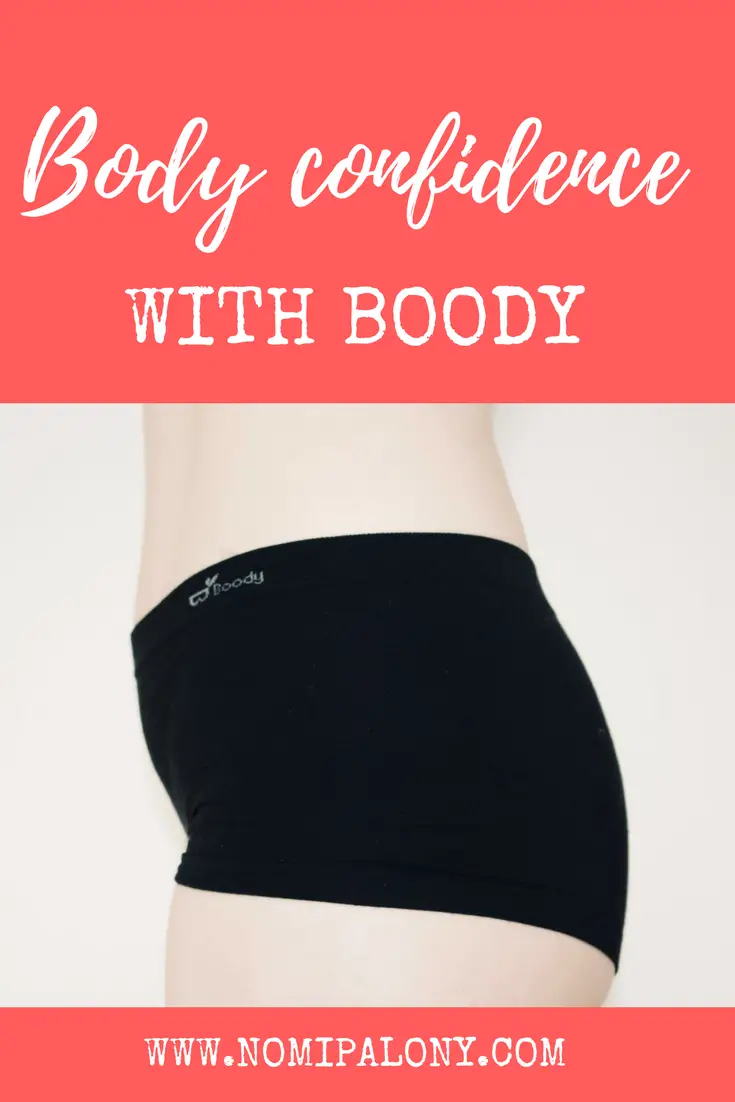 Disclaimer: Thanks to Boody for sending me these items to review. This post contains affiliate links that are clearly marked. If you buy an item through an affiliate link you won't pay more but I will receive a small fee for referring you.