If you follow me on Instagram and YouTube, you will likely already know that this summer I have partnered with Care2Rock for their Sounds of the Summer campaign. My 6 year old Arlo has been trying out their online guitar lessons so that we could cover them for you so you can get a sneaky peek of what they are like. You can check out my vlog of Arlo's first lesson here and my video review of Arlo's first two lessons below:
What is Care2Rock?
Care2Rock is a company that provides online music lessons with some amazingly accomplished musicians. All you need is a computer or laptop with a webcam and instrument and you can take a lesson from the comfort of your own home. We bought Arlo this guitar from Amazon (affiliate link). If you choose a guitar you will have to set it up for them too so either buy a tuner like this one (affiliate link) that our teacher recommended for us or use an online tuning website. You need to make sure it's tuned before your lessons. If you don't want to buy an instrument or deal with the hassle of that side of things they do singing lessons too. Who wouldn't benefit from a singing lesson? We all sing our whole lives, why not learn how to make the best out of what we've got?
Great offer
Care2Rock are offering my followers a fantastic special offer if you sign up to their Sounds of the Summer Club. If you choose a Sounds of the Summer club plan you will receive an instrument for free. You can choose from an acoustic guitar or a digital keyboard worth $149.99.
It's worth trying a taster session for free and seeing what you think. If you like it, then signing up to the Sounds of the Summer Club is a great way to keep your kids entertained this summer and get a brand new instrument in the process.
It would make a great gift to someone too. Do you struggle to buy for someone who has everything? What's better than the gift of music?!
Why choose Care2Rock?
Every lesson taken with Care2Rock benefits a child in foster care or hospital, who gains access to Care2Rock's life-changing music program. All of their teachers agree to serve as volunteer music mentors for a child in foster care/hospital every week for up to a year. When you buy a lesson from Care2Rock you are giving back to these kids.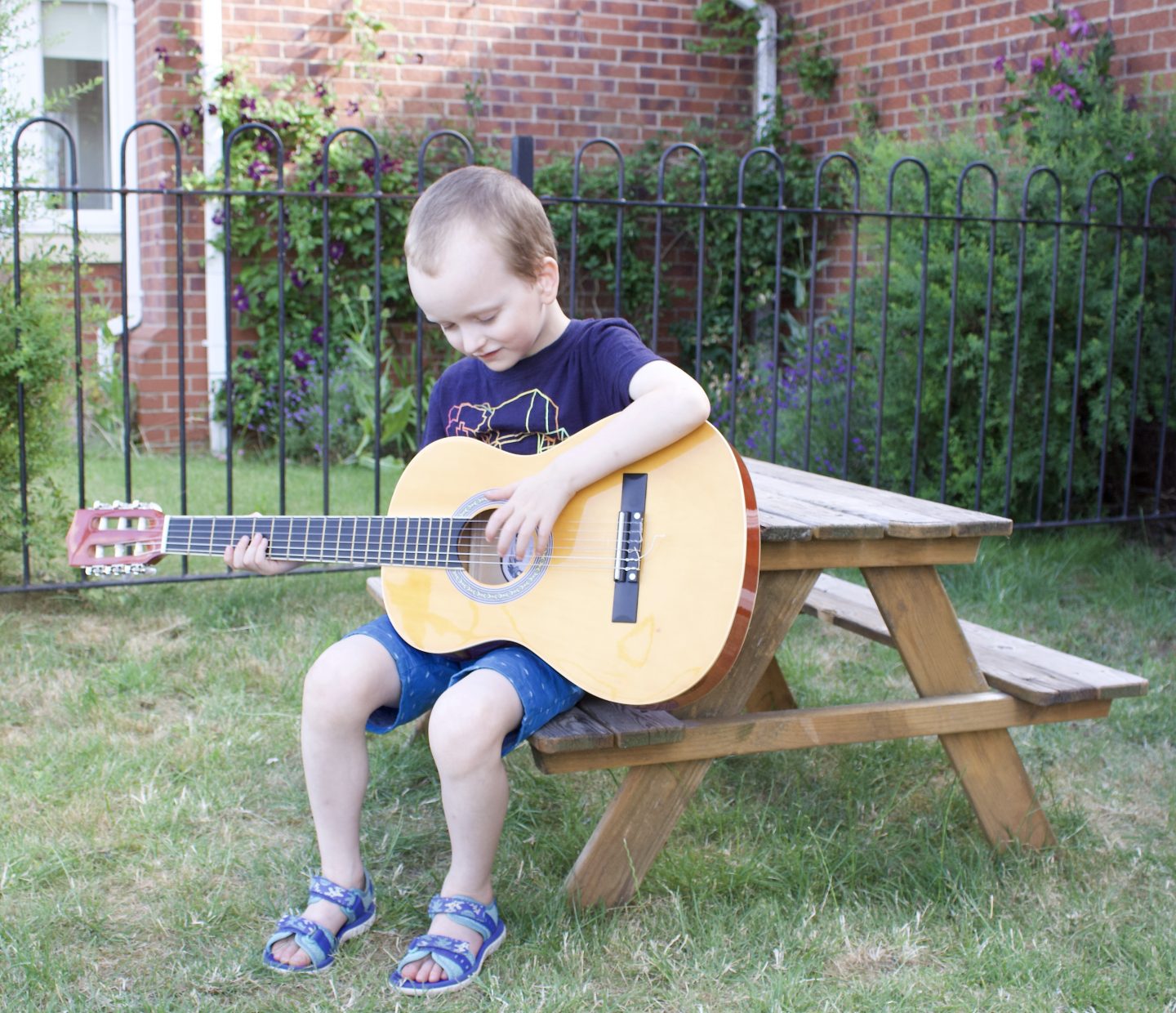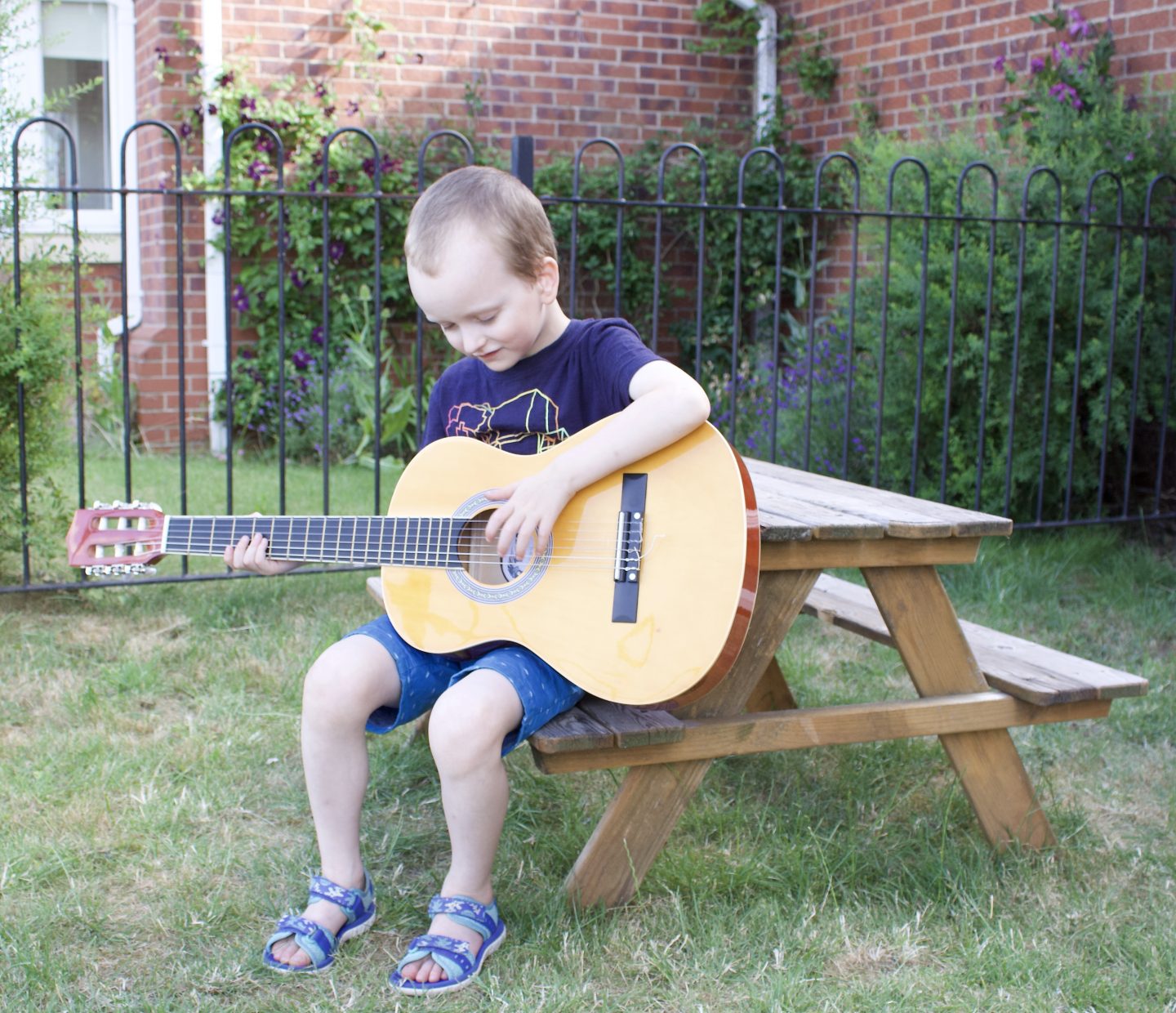 How to book and take lessons with Care2Rock
It's really simple to book and take your lessons with Care2Rock. You simply go on their site and choose a teacher you like. You can book a free taster session with a teacher to 'try before you buy'. I think this is a great idea and good benefit of using Care2rock. Your child will likely work with the teacher for a long time and build a working relationship with them. It's sensible to check that they are going to vibe. Once you've chosen you teacher, you pick a time slot, fill in your details and the length of lesson you would like and then pay.
When it comes to the lesson, you log into your account and click your lesson link when it's time for your lesson and your teacher will appear when it's time. There is a time counter on the screen so you can always see how long is left. When the lesson time is up the system just ends the lesson for you. It's really simple.
Benefits of online music lessons with Care2Rock?
You can book a free taster session with a teacher on Care2Rock to check that you are a good fit before you purchase a lesson with them.
Some of the teachers are very accomplished, giving you access to teaching you just wouldn't get in your local area. For example, you could learn songwriting from a Berklees educated performer who is a Broadway superstar who spent 7 months as the lead of Disney's Tarzan.
All teachers are triple vetted for quality and safety.
You don't have to waste time travelling somewhere and back or have those additional travel/parking costs.
You/your child are comfortable because you are in your own home. For children like my son who are shy and get overwhelmed easily this is a big plus.
It's easy to slot a quick lesson into your day.
It's perfect for school holidays, especially if you see that it will be rainy later in the week and you know the kids will get cabin fever. Simply schedule a lesson to break up one of the days.
It's educational and teaches great life skills.

Things that could be better…
You need to give 24 hours notice to book a lesson. For parents with busy schedules, sometimes you find a gap and want to book a lesson short notice. This is picking at straws though as 24 hours is still pretty reasonable. They also let you cancel for free up until 24 hours before the lesson which is reasonable.
The booking slots sometimes showed slots available to me when they weren't really. I've fed this back to Care2Rock who are improving the system so this shouldn't happen for you.
The website could be more intuitive. For example, I'd like to be able to search what teachers are available for a specific time rather than have to keep looking at all the teachers and then checking their availability. This is less of a problem once you've chosen a teacher as then you'll likely just stick to that one for continuity anyway.
It would be helpful to have a way on the site to search for teachers that are most suitable for teaching younger children. I've fed this back to Care2Rock.
Most the teachers are American so it's difficult to get availability earlier in the day as that's their night time. I hope they start to get more British teachers on their books now they are expanding here.
When we went to take one of our lessons the system was glitch and either we couldn't see our teacher or the teacher couldn't see us and we had to reschedule which was frustrating. The other two times we tried were fine though. You are meant to use Chrome to reduce issues like this. My teacher had never experienced the issue before so I think it was a fluke.
How did my son find his lessons?
My son really enjoyed his lessons. He took a real shine to his teacher JJ. He was blown away when JJ played him a song and thought he was the coolest ever. Arlo is a young 6 and struggled to focus in his lessons but he did pretty well. We booked the shortest sessions that were 30 minutes long as I knew he wouldn't focus past that point. When he was losing focus I asked JJ to change it up and play Arlo a song which really helped.
I think Arlo just wanted to bash out songs straight away but obviously he's starting from zero. He had a lot of basics to learn first. Even learning to just strum the strings was difficult for him and took a while. In the first two sessions Arlo learned how to hold the guitar, pluck a string, the names of the strings and the parts of the guitar. JJ made it fun for him by naming the strings 'Mr E, little E' etc. He was enthusiastic and pitched the lesson to the right level for Arlo. JJ also communicated with us via email between the lessons and made it clear he was happy for us to ask any questions. He emailed links to things we could buy or that would help Arlo between lessons. JJ was so friendly and approachable.
Good to know
A 30-minute lesson with any teacher costs $32, a 45-minute lesson costs $42, and a 60-minute lessons costs $48. You can also purchase lessons in bundles of 4 or 8 to receive a discount. I did a quick google to see what it would cost for face to face one to one teachers of a comparable standing and Care2Rock seem competitively priced.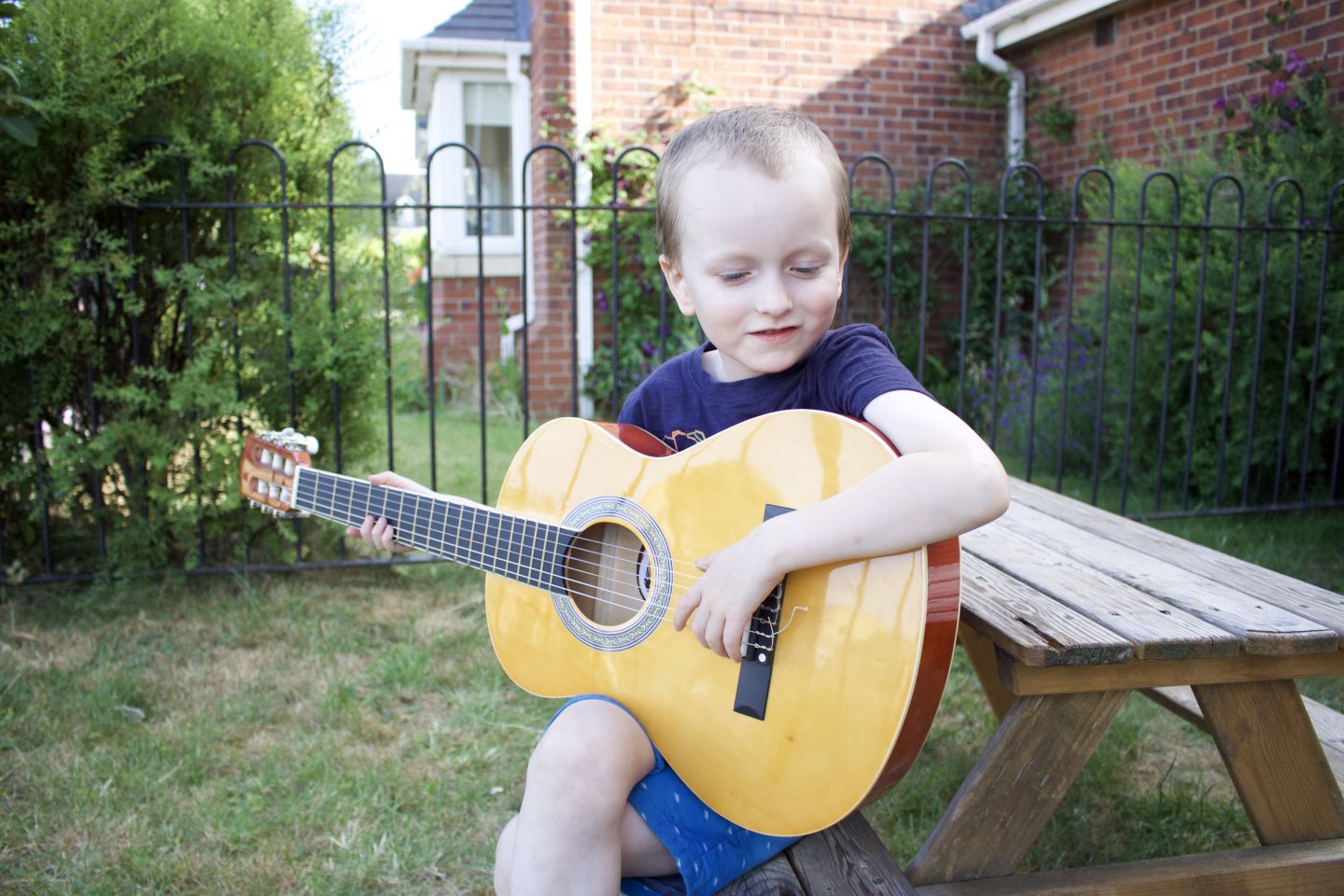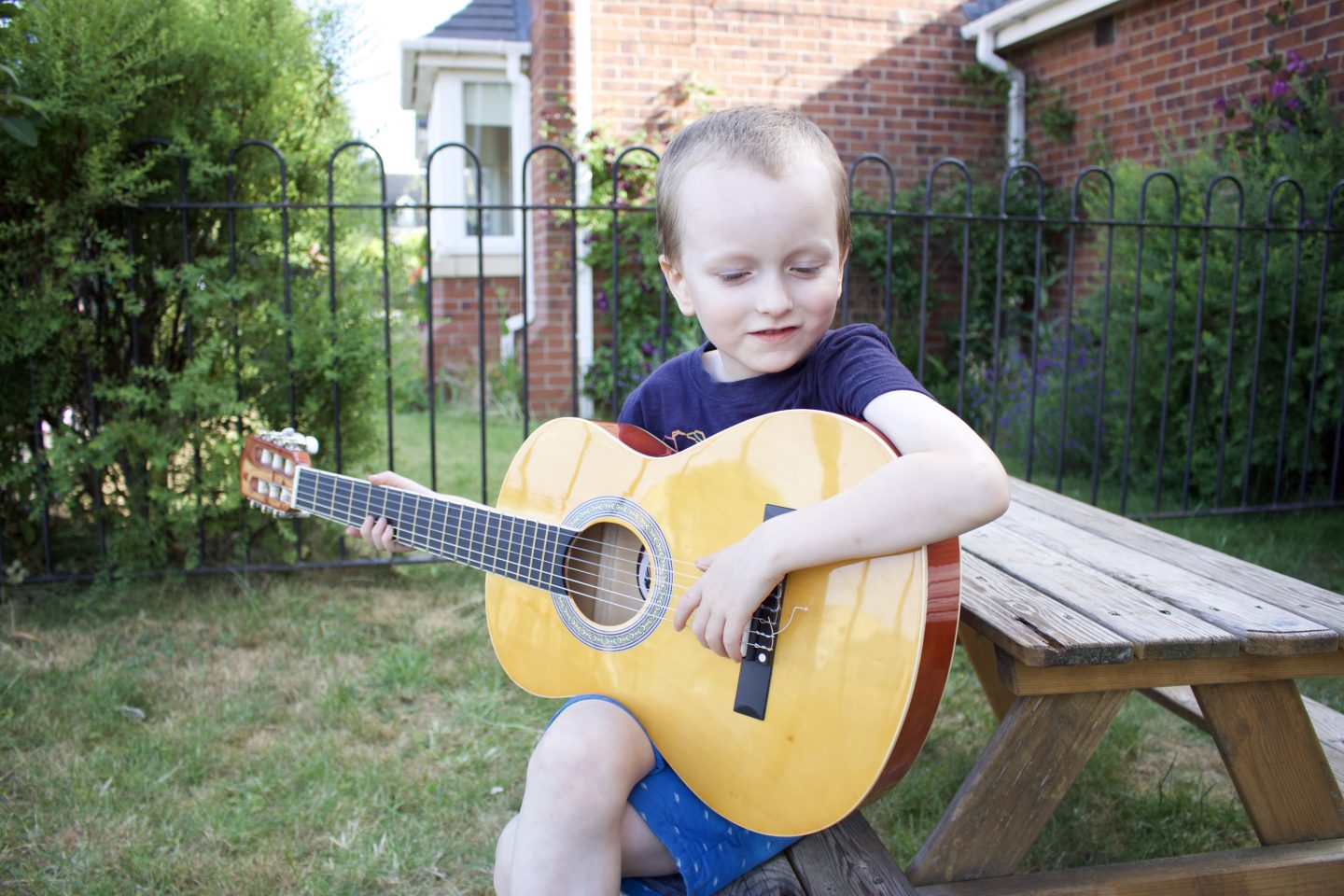 Would I recommend?  
My son is 6 and he did enjoy the lessons but I felt he was a little too young at the moment. Personally, I would recommend for kids aged 7 upwards but you know your child and whether they would be able to follow instructions and focus. I would absolutely recommend for older children and adults and am actually considering it for myself. I've always wanted to learn the guitar and with this I have no longer have any excuse not to start!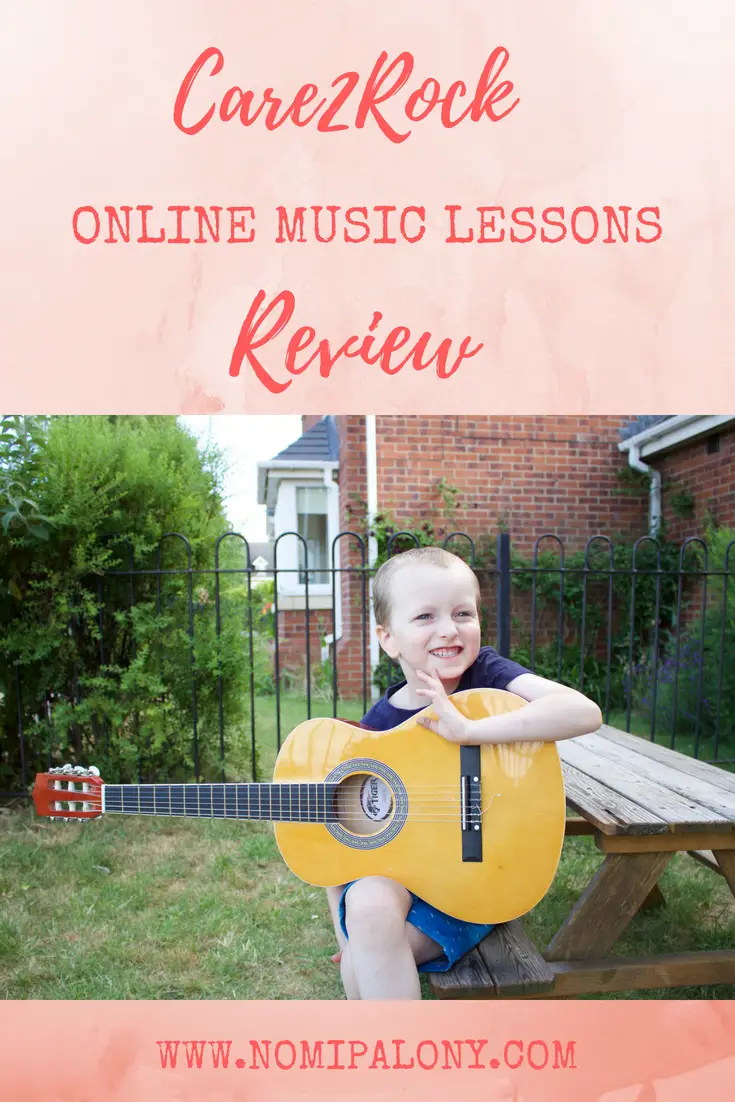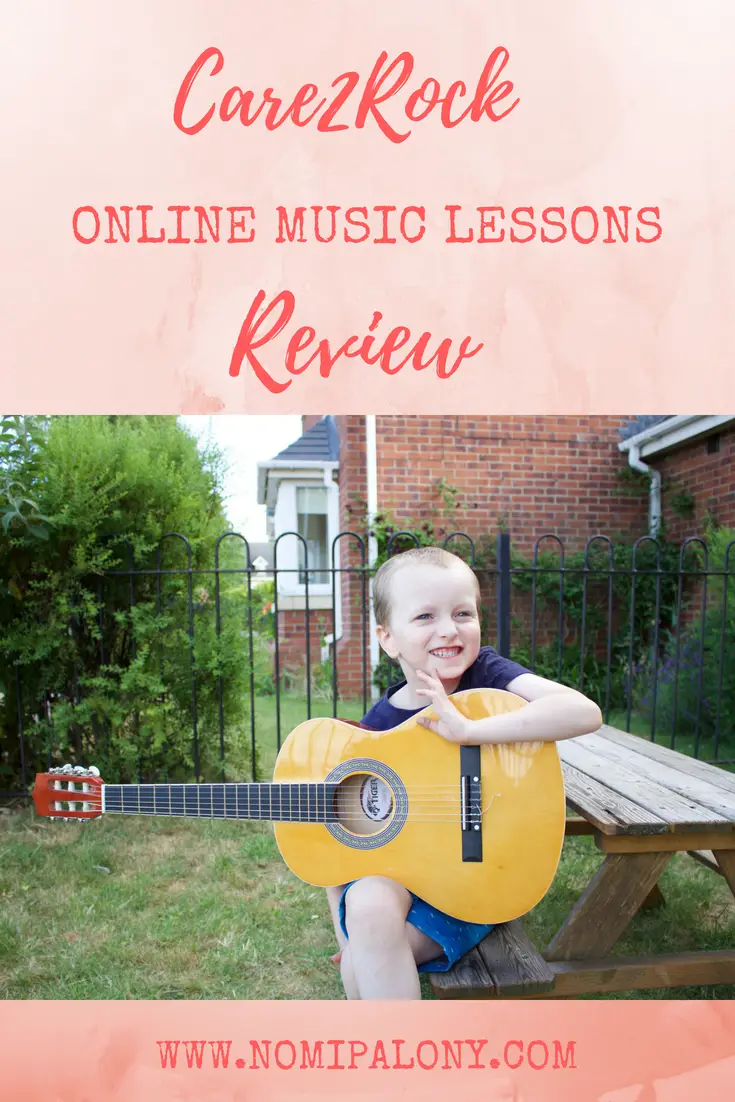 Disclaimer: This post was sponsored by Care2Rock. All words are my own. For more details on my disclosure policy, please see my about page.