Thanks to all of you who gave my gift guide for men who are hard to buy for so much love. Today it's time for the women! There are a range of gifts from stocking fillers starting a £5 up to main presents at £47. I've put them in order of least to most expensive so there is something to suit a range of budgets. There is a hefty dose of female led, feminist companies and mama merch in here because women should support women! There are also a couple of companies in here from North East England as it's cool to support local. If you are looking to buy for a feminist or just a modern woman or, you are one yourself and still need ideas for what to hint to people to buy for you then this should be right up your street. The gifts are pretty much all things that I would like and given so many of you lot are quite like me, I'm hoping you dig it. Just like the men's gift guide, there are a few exclusive discount codes in here too so it could save you a few bob. So without further ado…
1. Black and Beech stocking filler and necklace – £5 and £22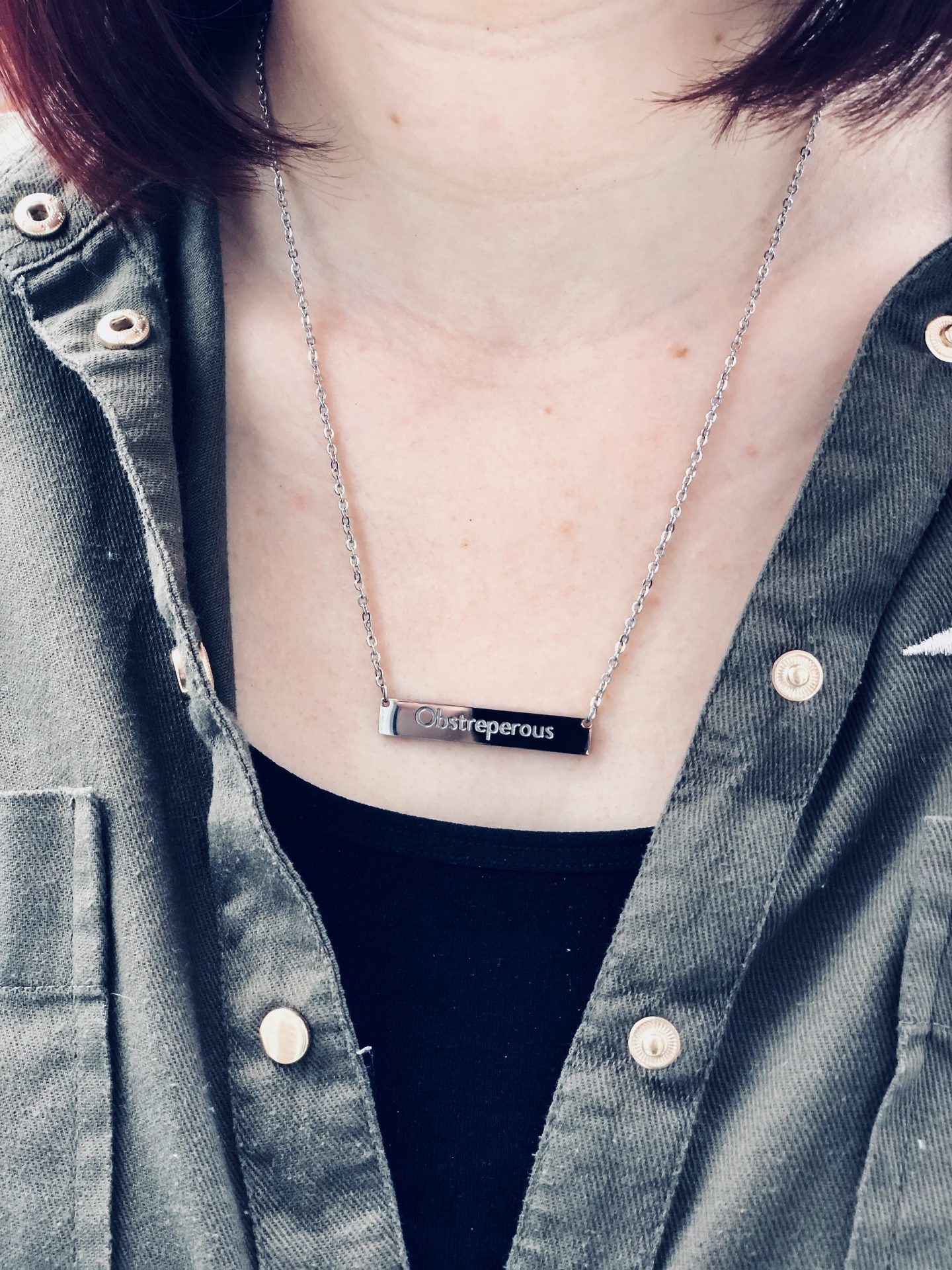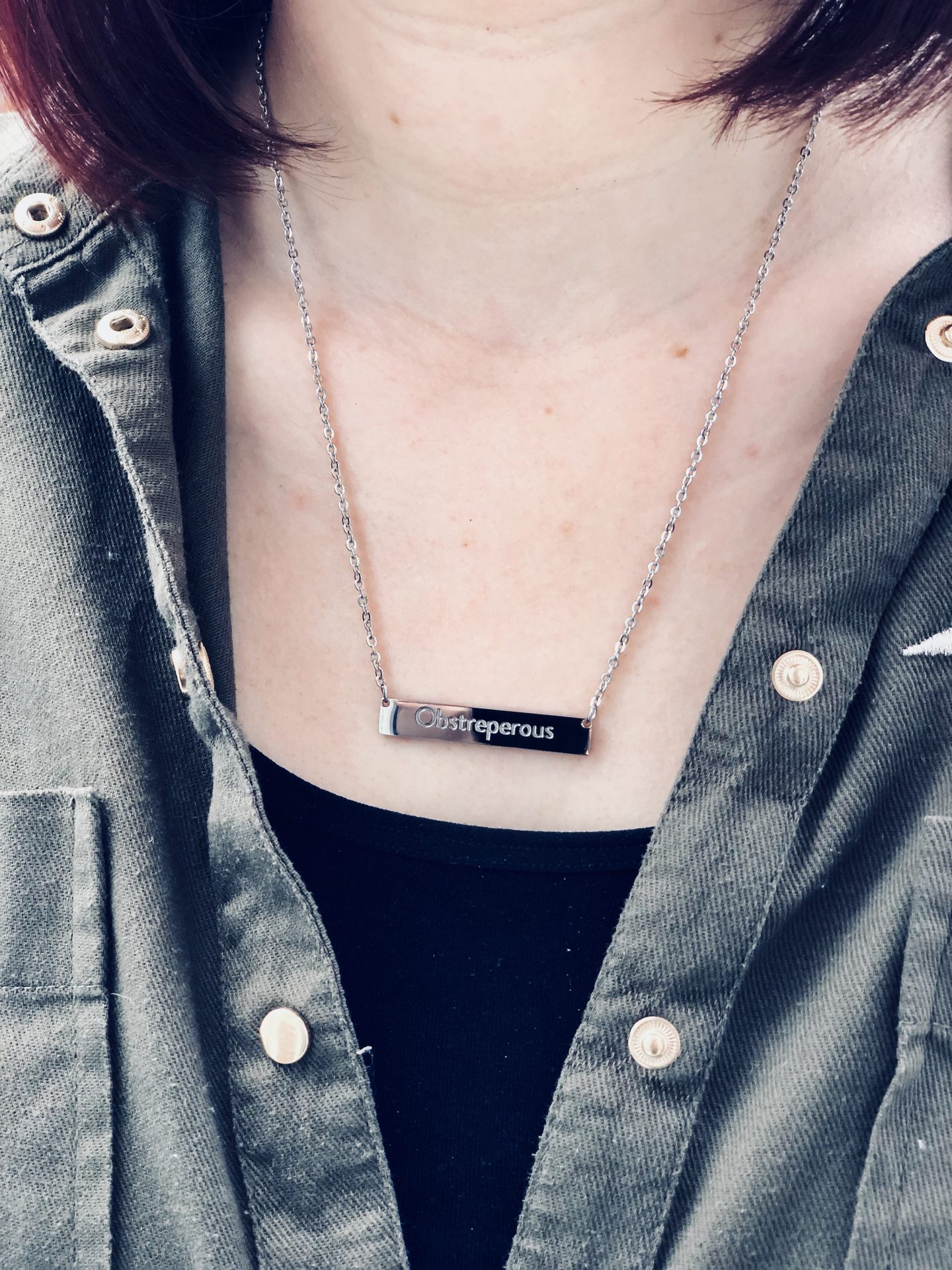 One of my favourite shops and accounts is the feminist merch account Black and Beech who I follow on Instagram. Stacey is a babe, her products are rad and she supports and donates to many different abortion support networks and organisations.
I have many of Stacey's items including her Nevertheless She Persisted (LOVE that quote) sweater, a Mothers Place in the Resistance print and the Revolution Begins at Home print. I also bought Papa Ginge a Black and Beech Rad Dad top.
My current new favourite is the Obstreperous necklace which is my way to make a pretty outfit more feminist. My whole life I have been called the North East colloquialism of this obstropelous or stroppy and we all know, it's just because I'm justifiably mad as hell about inequality.
Black and Beech has a really helpful Christmas gifts section on the site and loads of superb stocking fillers too like their Nolite Te Bastardes Carborundorum and Feminist AF key rings at £7 each or the Black and Beech Christmas Stocking Filler at £5. Everything on her site is a treat for the modern feminist.
2. Pin Club pins – £6-£8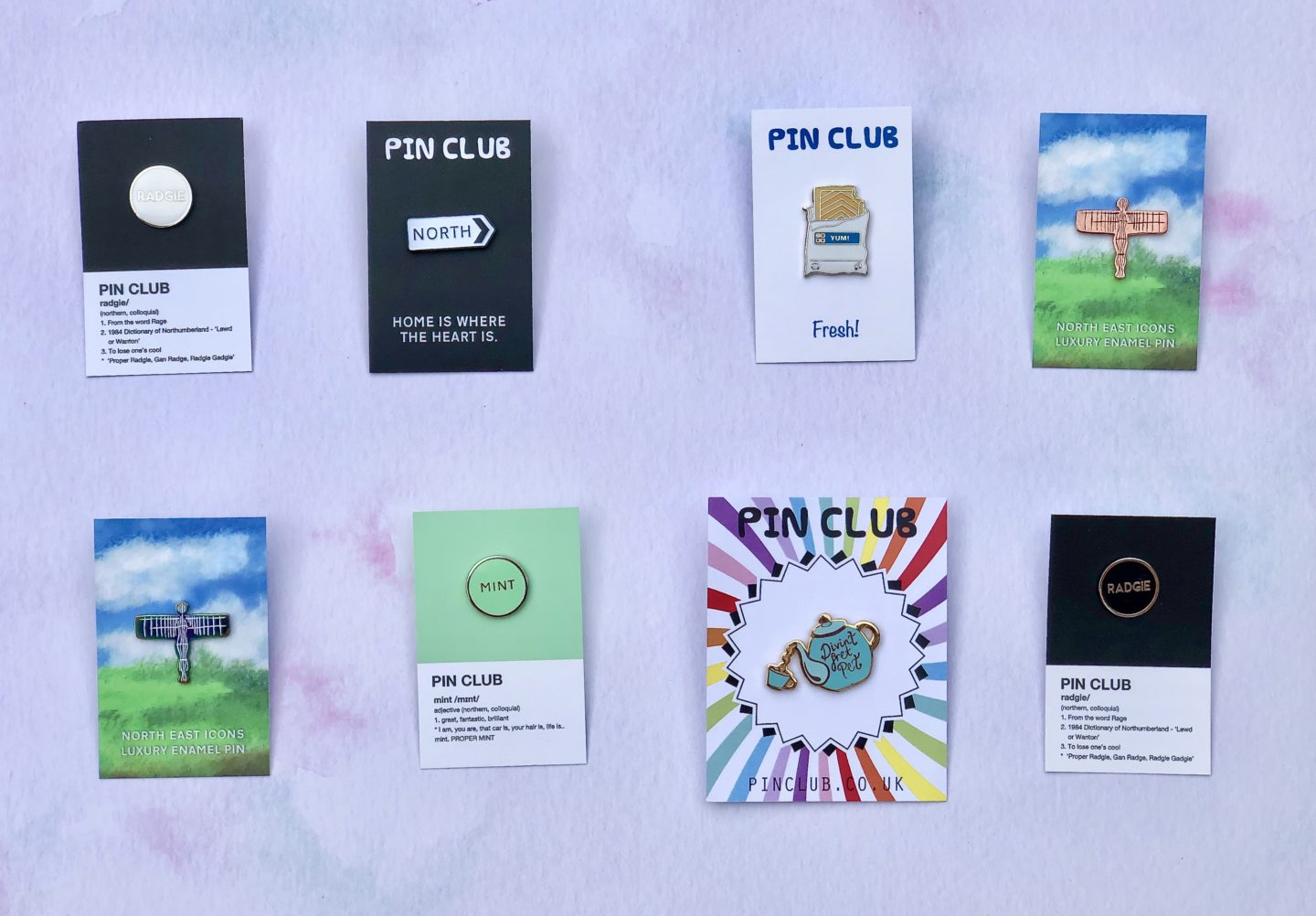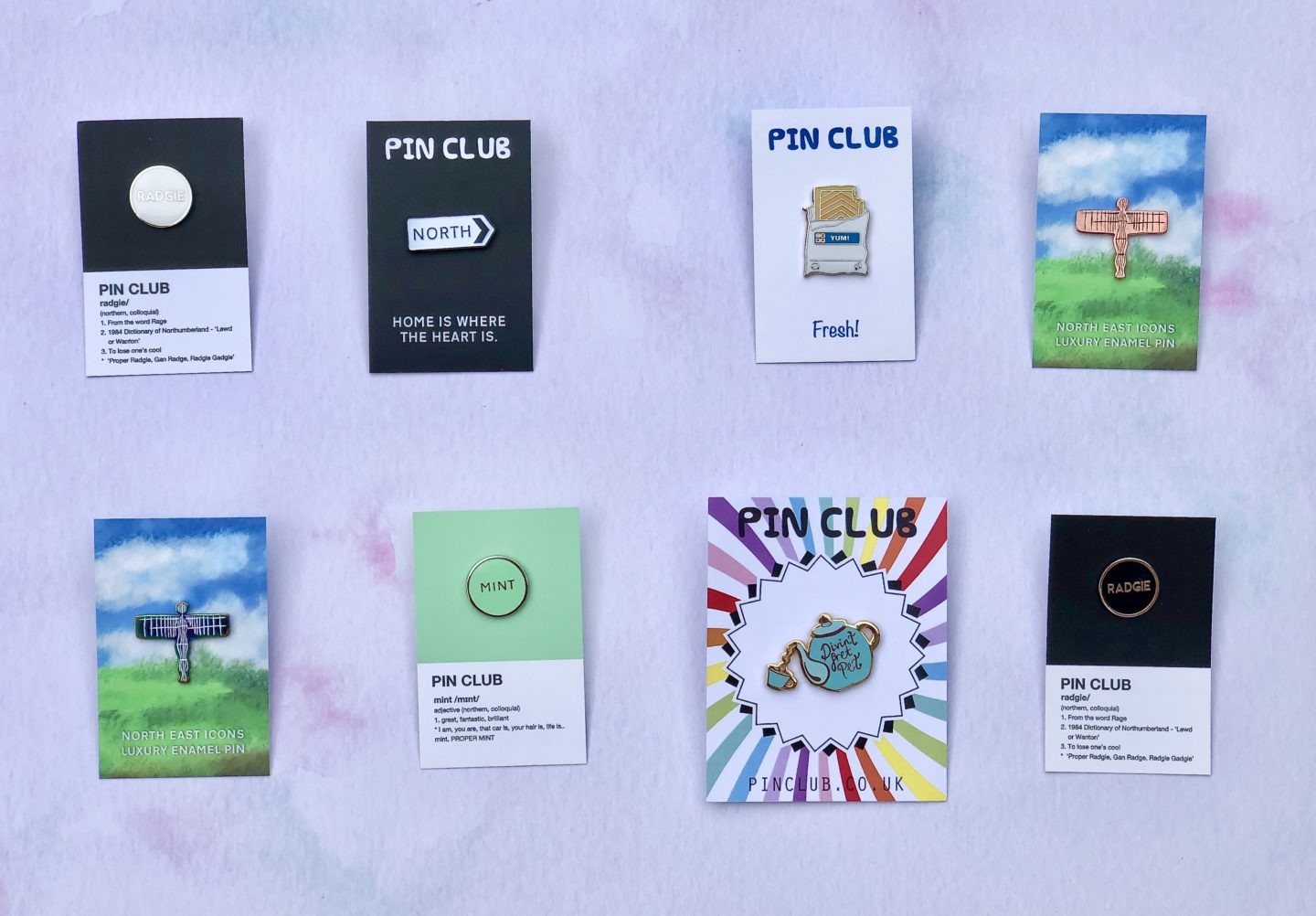 If you are looking for great stocking fillers or something small to round out a gift package then Pin Club from our very own Whitley Bay have you sorted. They have a fab North East range if you are local. I've been wearing their pink shy bairns pin for years and I love her whole Geordie range that includes a Gregg's pasty and the Angel of the North. Nik is LUSH and it would be great if you supported her business this Christmas. My favourite is the Divint fret pet teapot below.
3. Milk and Moon pins – £7-£8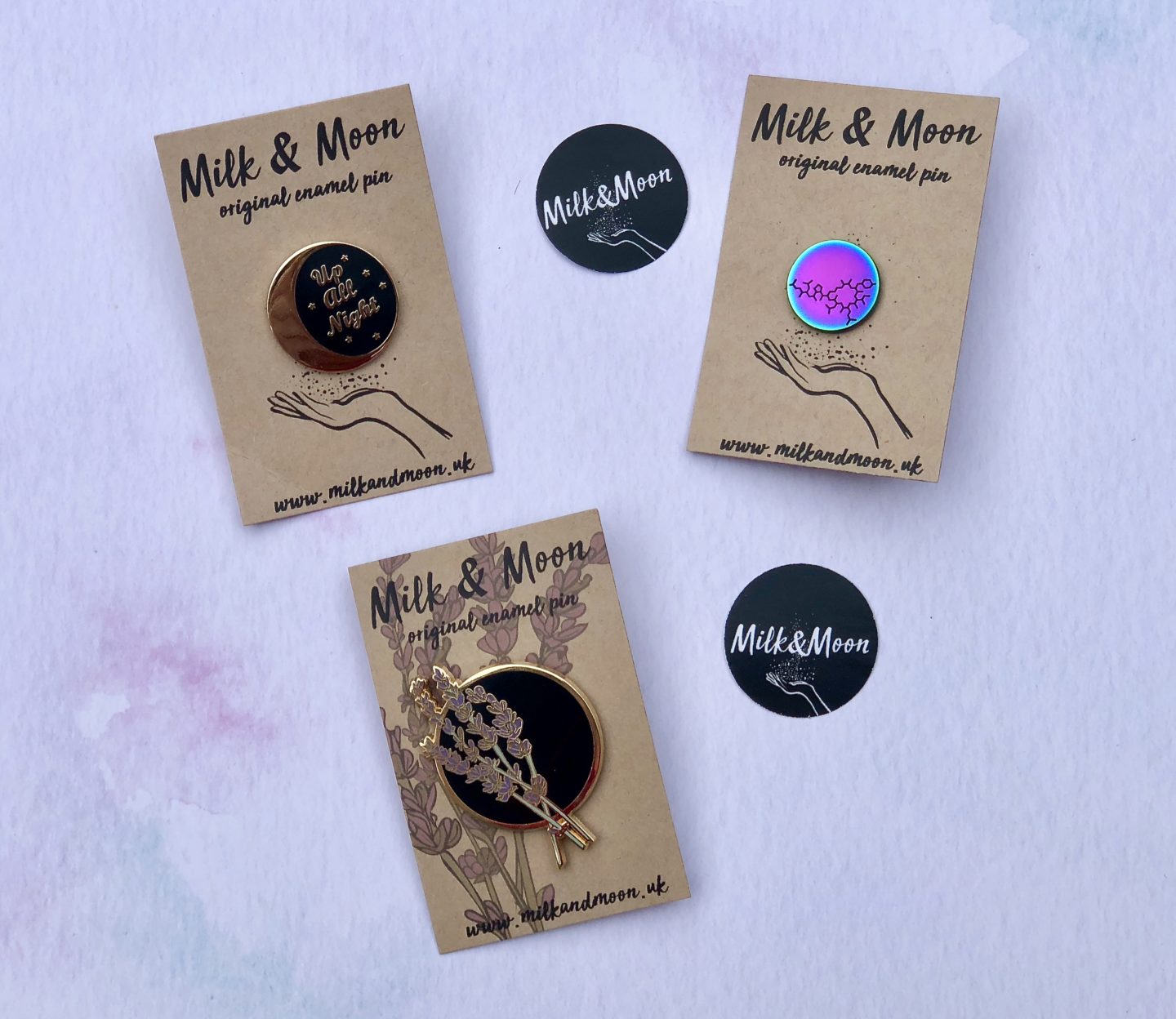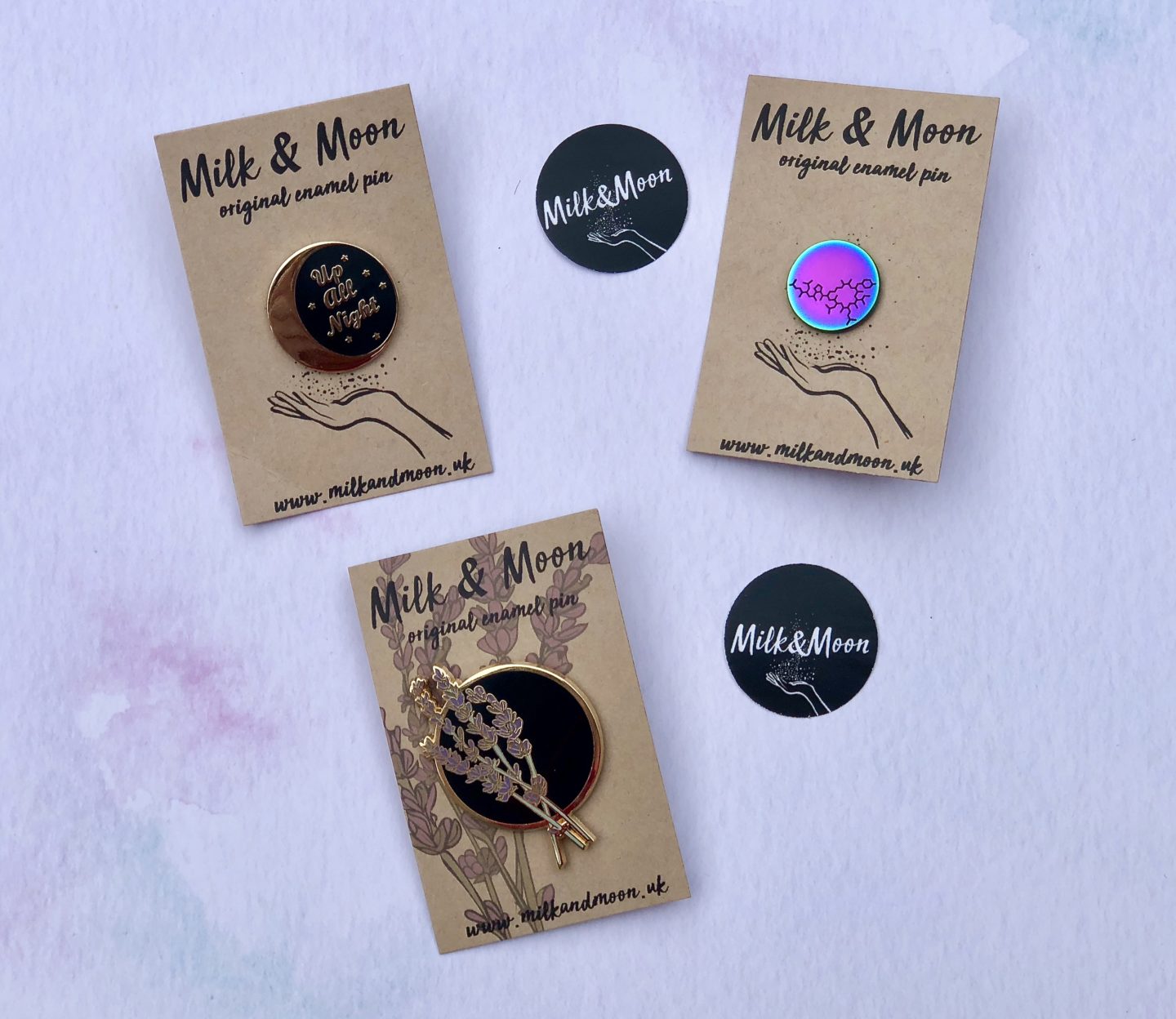 Another feminist merch site ran by a fellow Punky Mom (if you know, you know) – Milk and Moon sell amazing pins, jewellery and clothes. I'm  a particular fan of their pins as stocking fillers which are both beautiful and powerful. The Rest is for Rebels lavender £8, rainbow oxytocin £7 and Up All Night £7 pins below particularly speak to me as a breastfeeding bed-sharing mama (aka knackered).
4. Boody bodysuit and pants – £9.95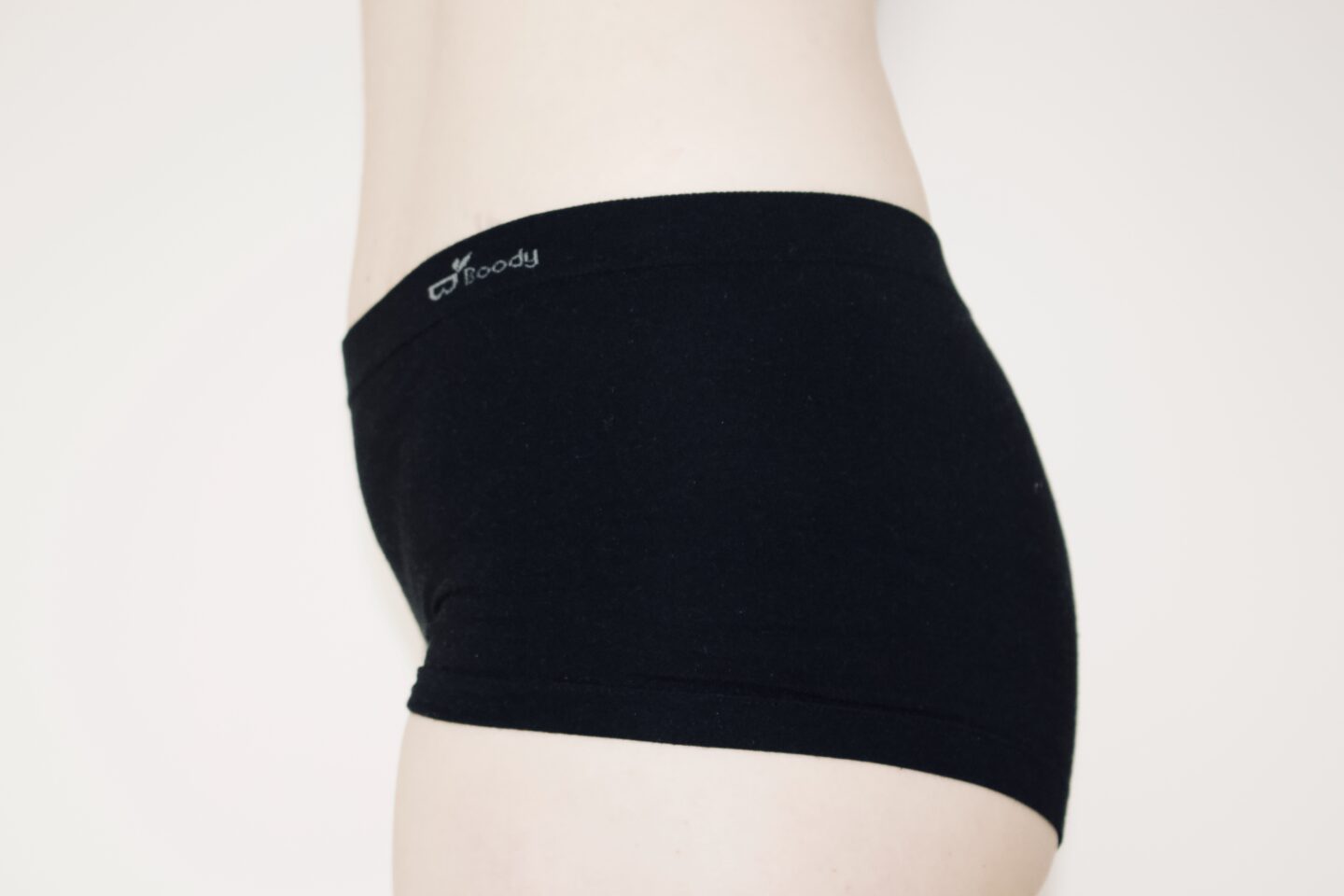 I rave about Boody every chance I get because I just love the way their underwear feels. At this time of year when it's cold and you need layers, you can't go wrong with their body suits or vests. I'm obsessed with their knickers which feel like a hug for your bum. I don't know why that isn't their marketing slogan tbh but hey ho. I've got you a 15% discount on Boody orders, go here and use the code: NYOMI15. The code will run until 20/12/18 at midnight.
5. Strong Girls Club pop socket – £12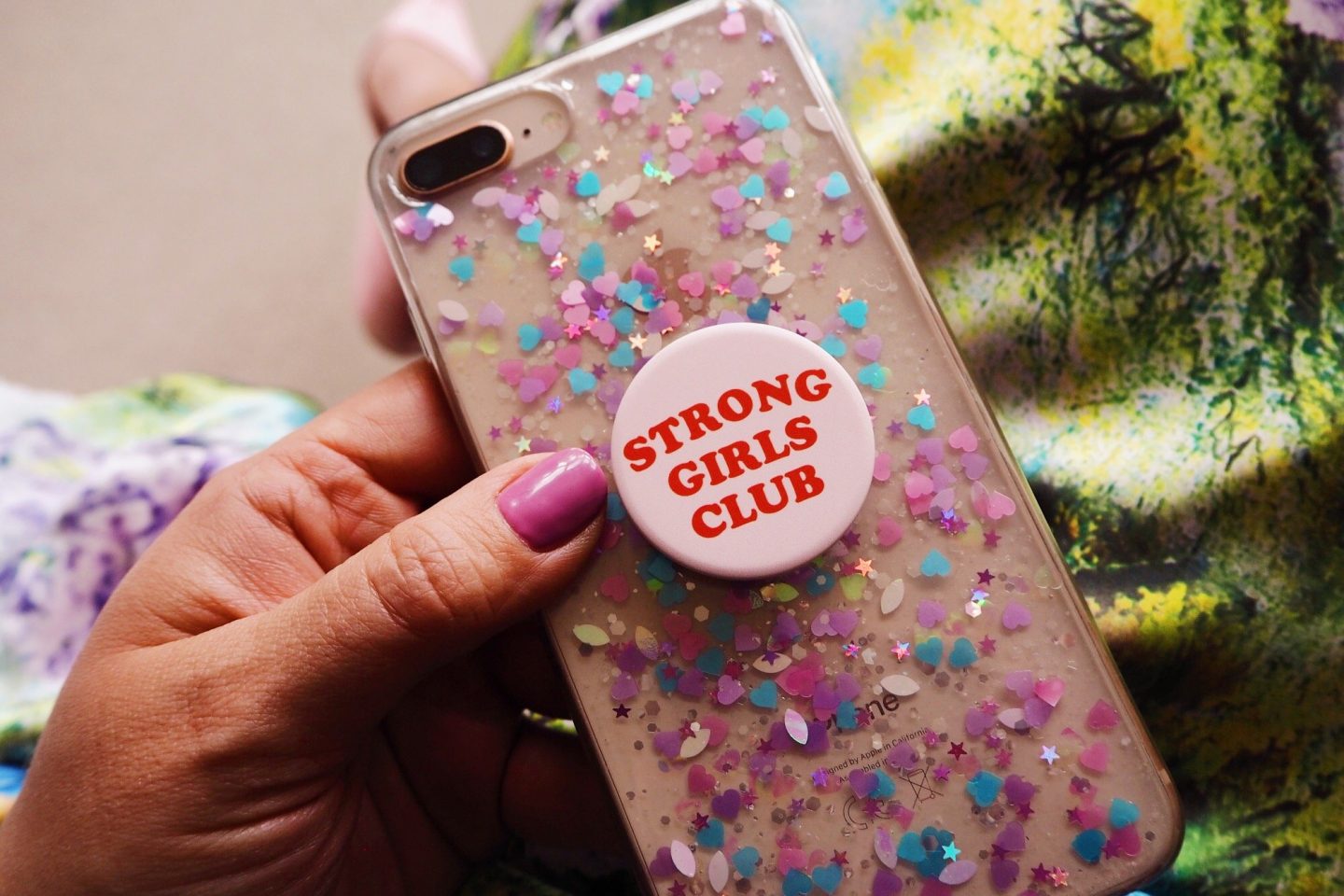 I've been a fan of Mutha.Hood for a long time now and have several items of her clothing. The quality is second to none and I've bought things from her seconds sales before and was unable to find any faults whatsoever. I've been after a pop socket to reduce the impact on my 'phone finger' (which is getting worryingly deformed) so when I saw Gemma's Strong Girls Club pop socket I had to have it.
I've been using it a while now and it's fab and it gives me a kick up the arse whenever I see it on my phone. Her whole range is ace – I'd honestly be happy with anything from her store. I'm currently lusting after the wine/rose gold Strong Girls Club sweater for Lena and I but we do already both have it in pink and red so I'm not sure I can justify the expense.
If you aren't following Gemma on Instagram stories then you are missing out – she's both adorable and hilarious. I've been on a long-standing mission to make her my friend (whether she likes it or not).
6. Bria Organics Relief Repair Replenish Balm – £14.95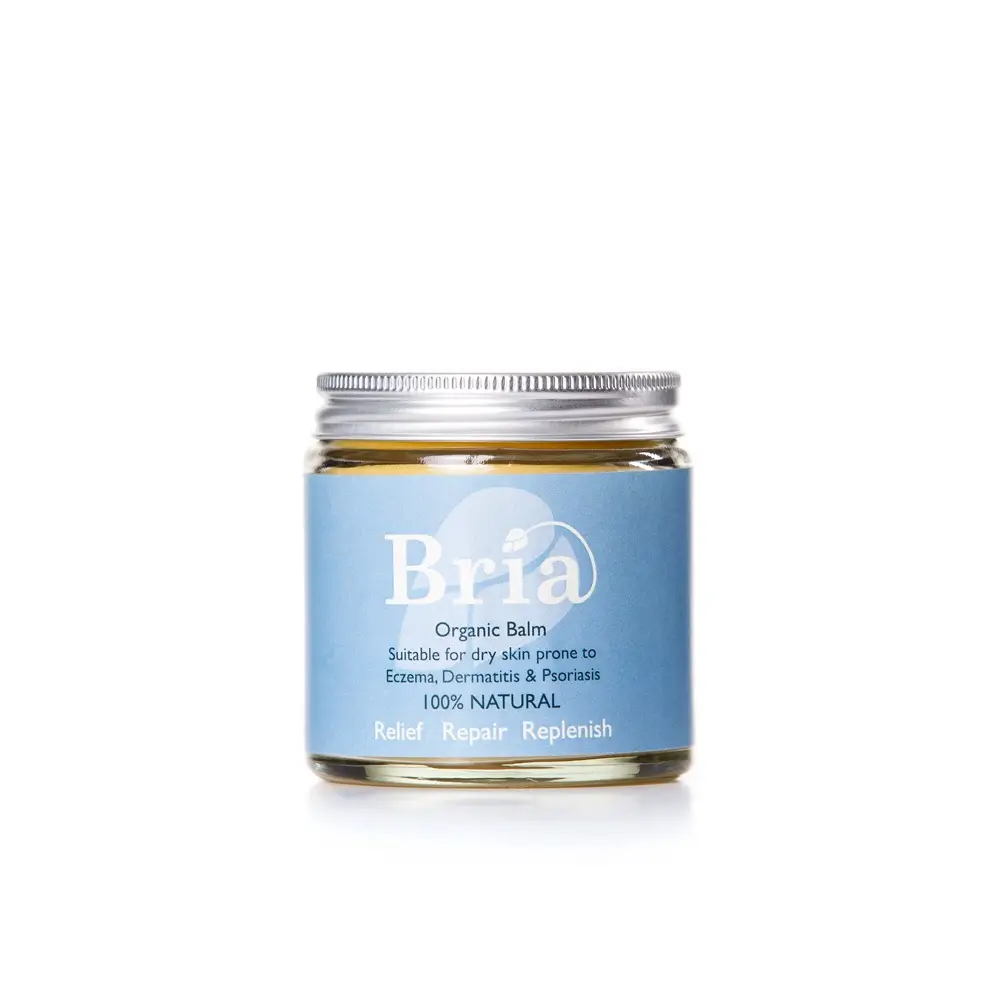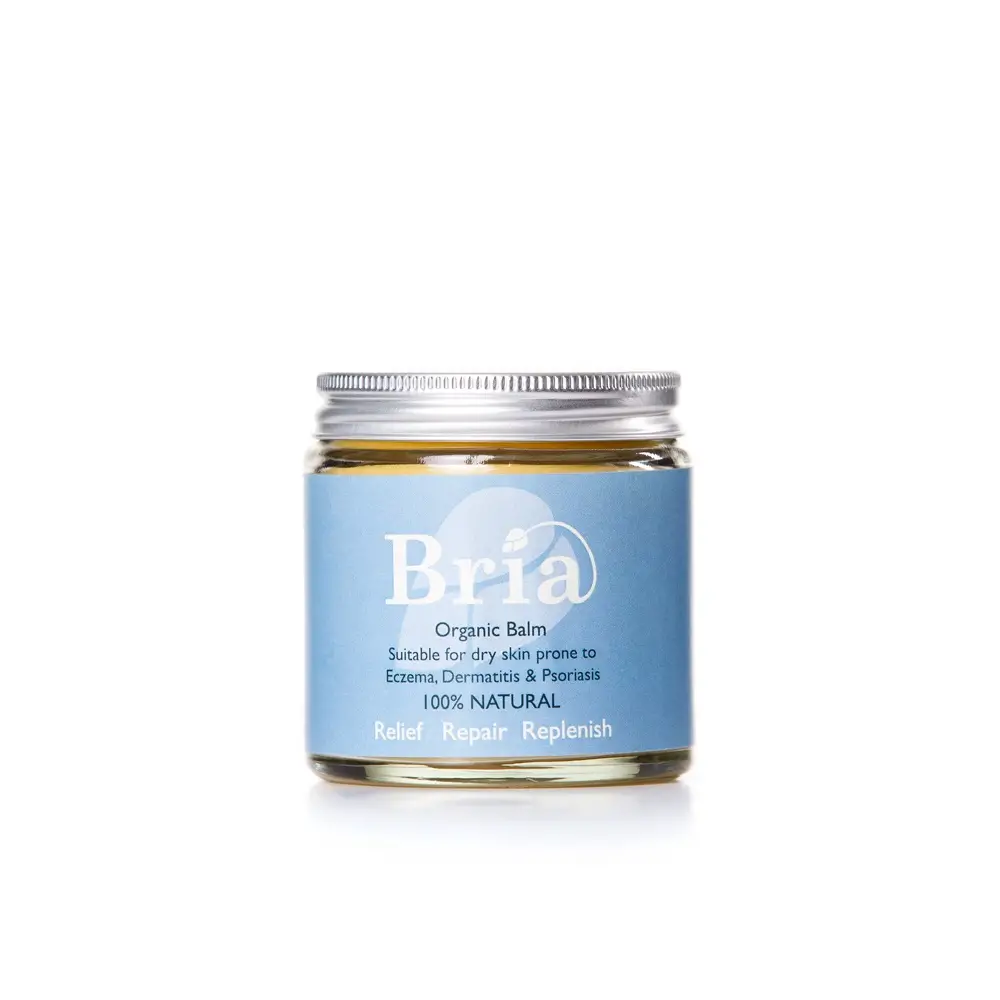 Another company from Newcastle worth checking out is Bria Organics who have a range of organic skin care products. Nothing is added to her products unless it will benefit the health of your skin naturally. Bria have won several green awards and are certified leaping bunny cruelty free. This relief repair replenish balm is multipurpose and a strong all-rounder.
7. Twinning is winning Elf PJs – £15.99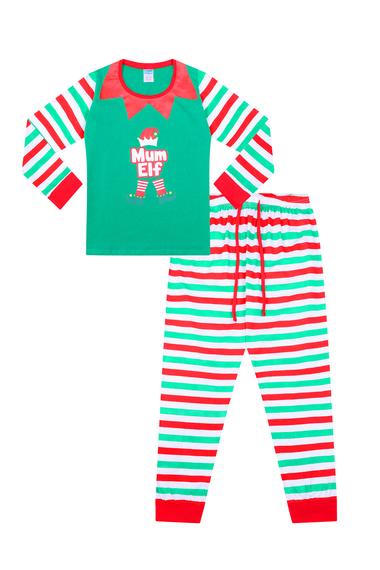 We are all getting some matching family PJs for our Christmas boxes so we can all match on Christmas eve and Christmas morning opening our pressies (agh I'm excited just writing that!). I've got myself these Mum Elf PJs (then Dad Elf for Papa Ginge, Big Elf for Arlo and Little Elf for Lena) from the Pyjama Factory. They are a bargain at £15.99 for the adults ones and then £10.99 for the kids sizes.
8. Posterhaste Star Map – from £20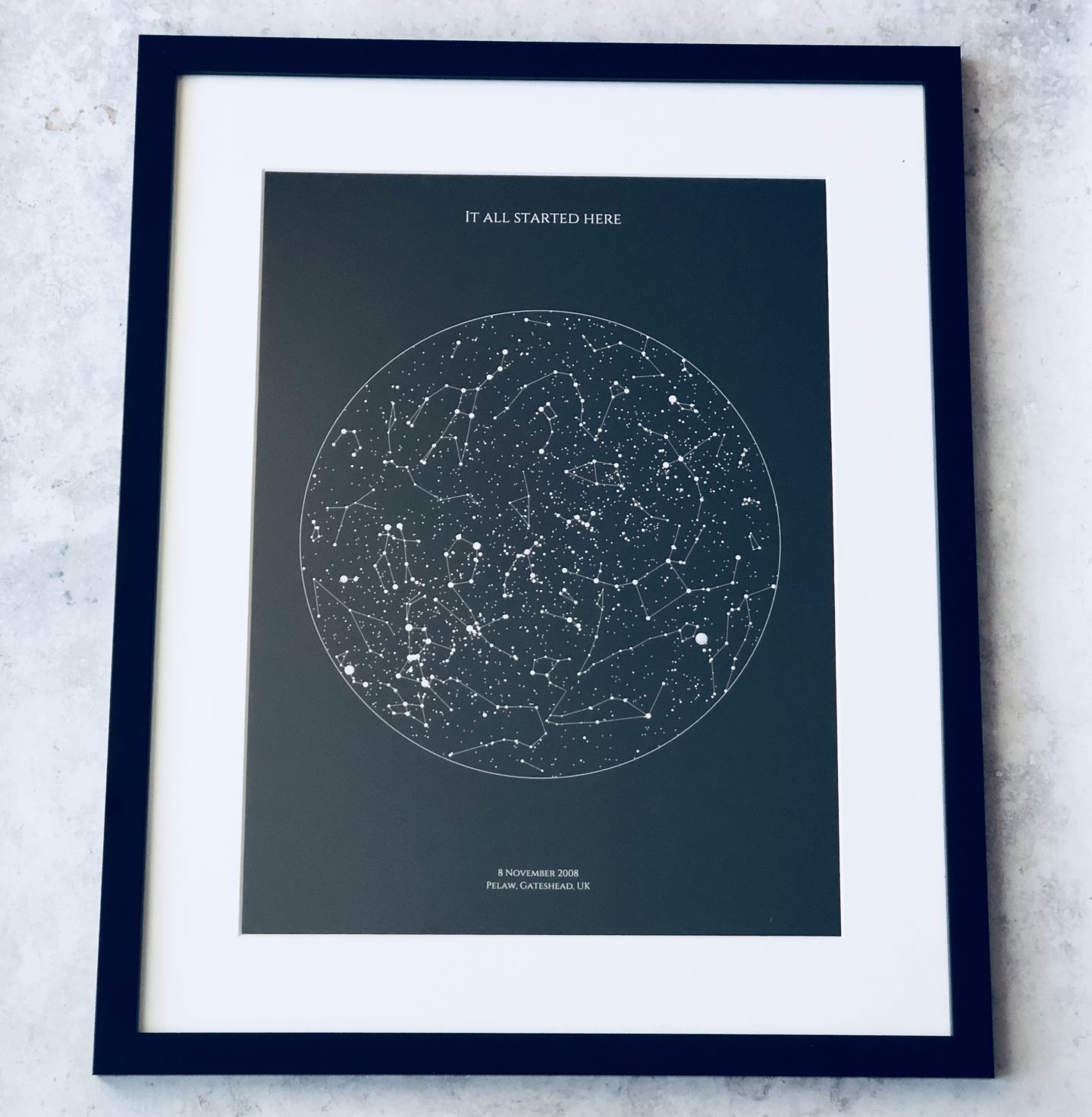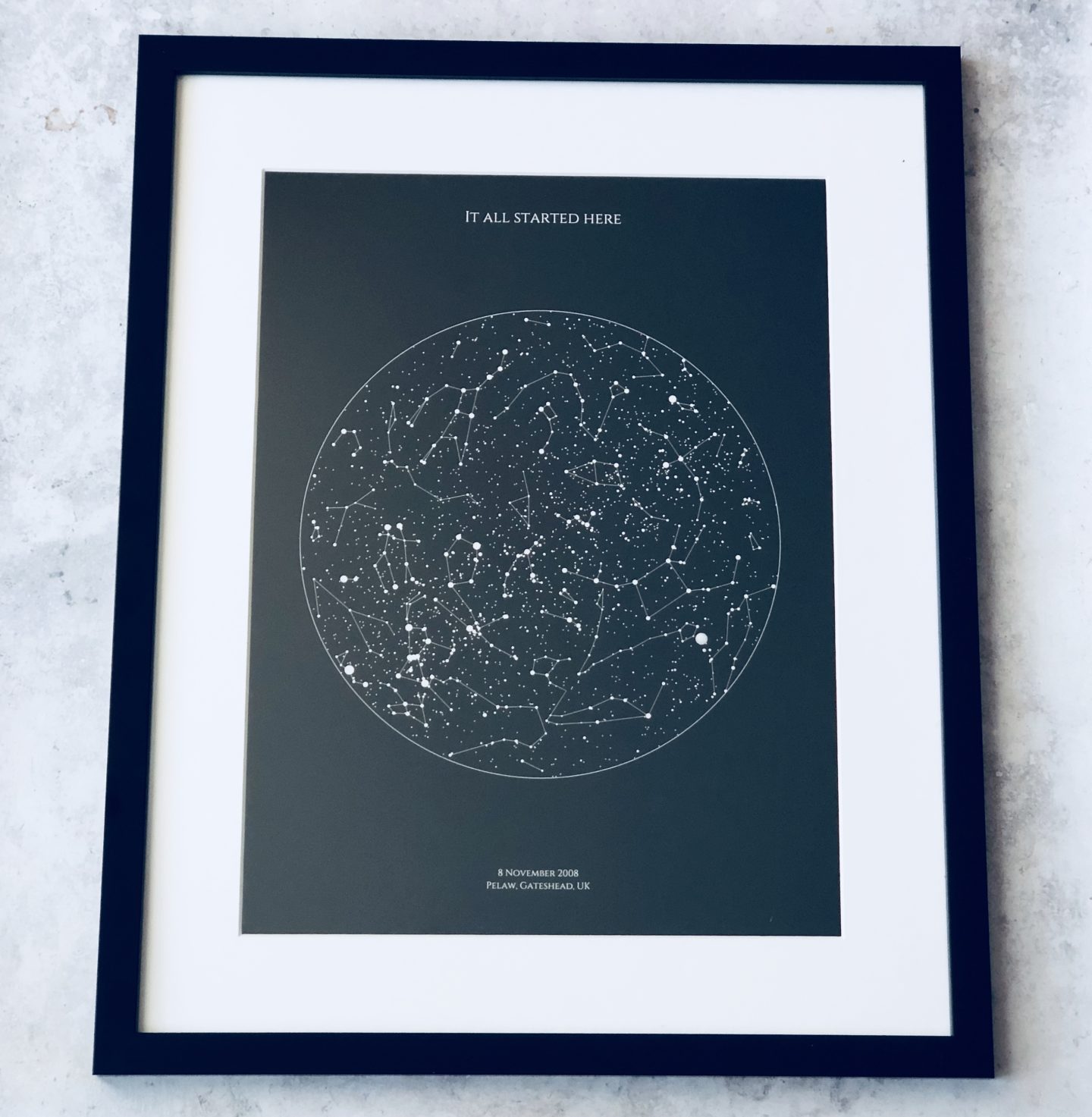 If you want to get someone in your life a more thoughtful personalised Christmas gift, you couldn't go far wrong with something from Posterhaste. They do personalised 'star map' prints where you enter a location, date and time and it shows the night sky as it was or will be. I've had one made for the time that Papa Ginge and I got together. They also do lovely family portraits with cutesy stick figures that are adorable.
9. Hairburst Mulberry silk pillowcase – £34.99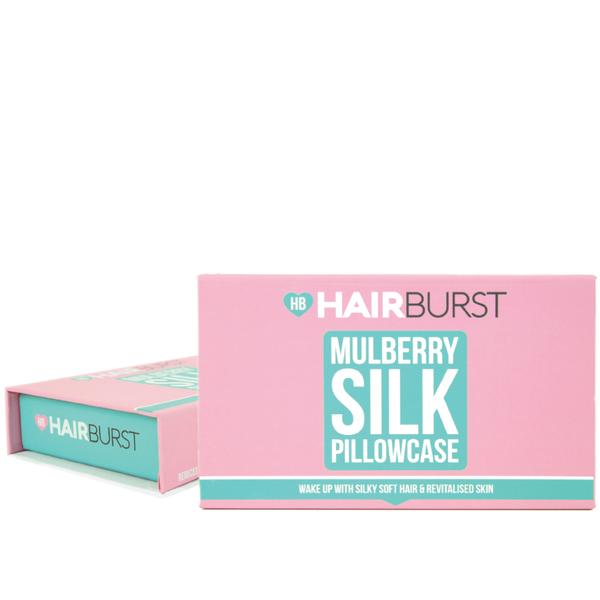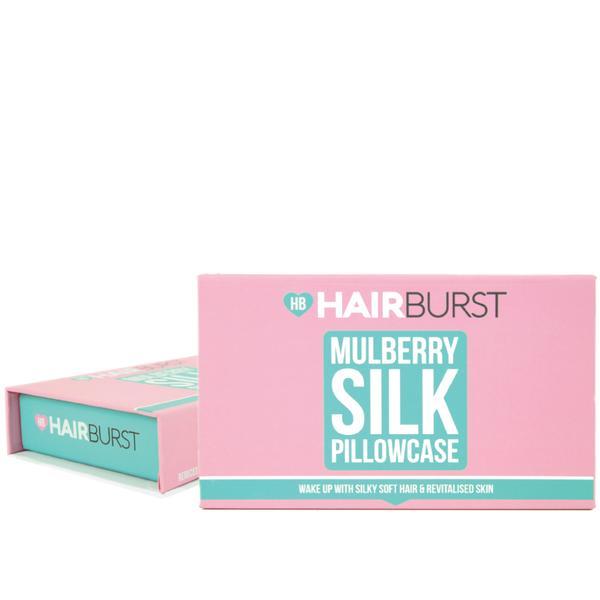 I don't have many beauty tips but one of my best is get a silk pillowcase. They are a game changer for your face and hair. I read a few celebrities talking about them so thought I'd give it a go and it really does make a difference. My face is less creased when I wake up and my hair is less messy. Plus they feel really nice to put your face on.
10. Lillio vibrator – £39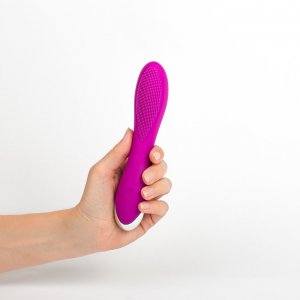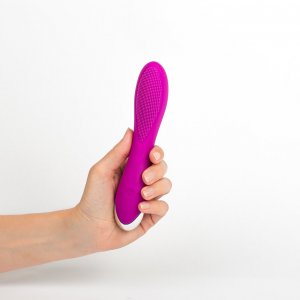 The gift that keeps on giving! I love Sent to Thrill, their products really 'hit the spot'. I'm a particular fan of their Dione and Lillio vibrators. Lillio comes with a discreet pouch to store your toys in too.
11. Scent and Chocs gift box – £47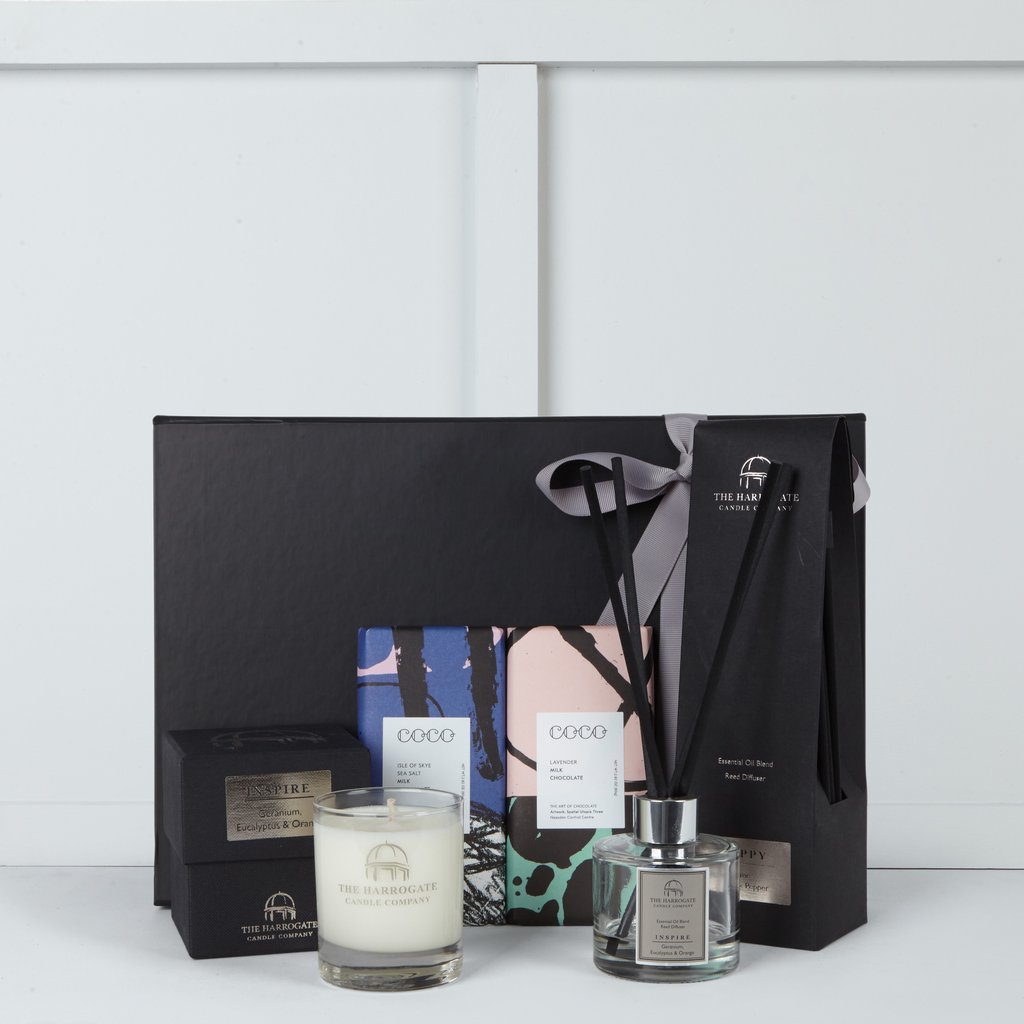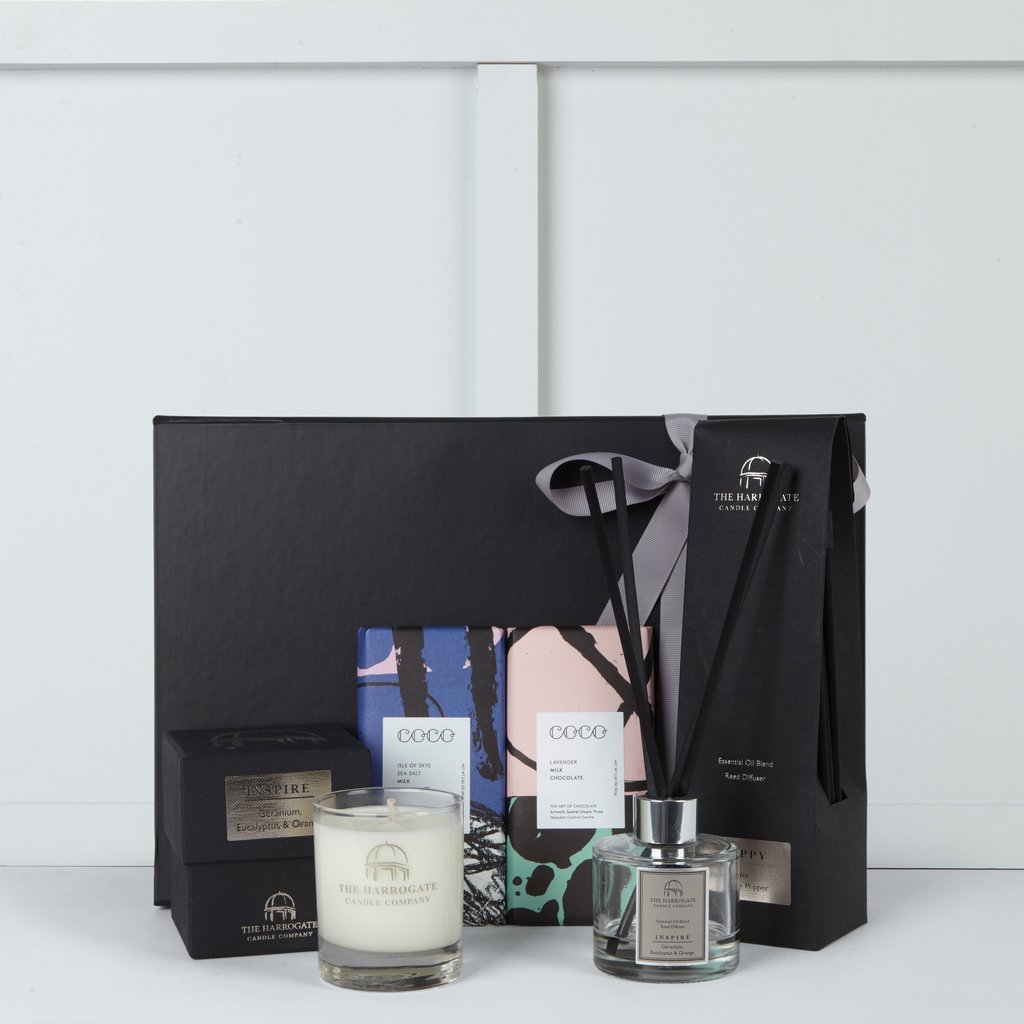 Hamper Lounge is a gorgeous luxury gift box site ran by Sherree. All the hampers/boxes on the site look top-notch. I don't know a woman who wouldn't love her Scent and Chocs gift box which comes with a scented candle and a diffuser from the Harrogate Candle Company and two bars of luxury chocolate from Coco Chocolatier.
It comes in  a beautifully presented gift box in black with a grey bow. It's a gift that will make someone feel really special. If you want to customise the boxes further by adding extra products then the website has options for you to do that. The box comes with a free gift card so you can personalise your own message. Sherree has given me 10% discount code for my followers to use, simply enter the code NP10 when prompted.
So there you go, I hope these give you some inspiration. Let me know which are your favourites and if you buy any let me know in the comments!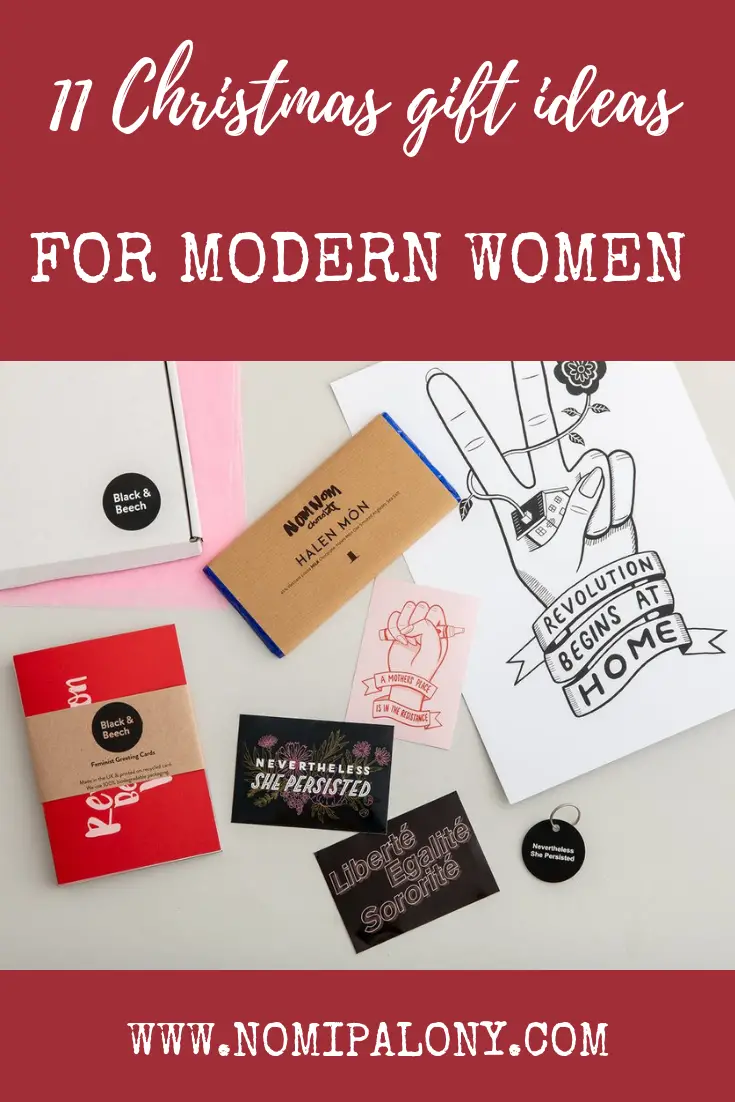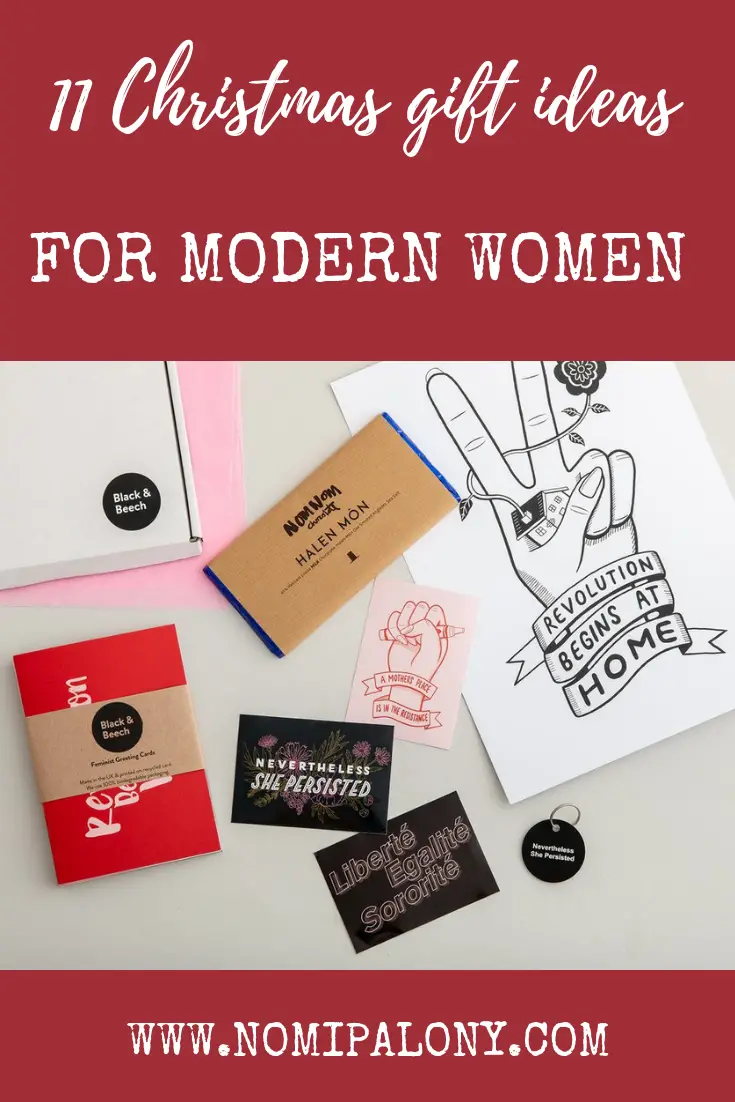 Disclaimer: This blog post contains product placement. This blog post contains affiliate links. If you buy a product through an affiliate link you won't pay a penny more but I will receive a small fee for referring you. You can read my full disclosure policy on my about page.