Avid readers of this blog will know that we are big fans of days out down the Ouseburn and Seven Stories events in particular. When it came to looking for fun festive activities for our family this November/December I turned straight to Seven Stories to see what they had on. My son Arlo is a big fan of the Supertato books by Sue Hendra, with Supertato; Evil Pea Rules being his favourite so when I saw that Seven Stories were holding an event inspired by the book I knew we would have to go.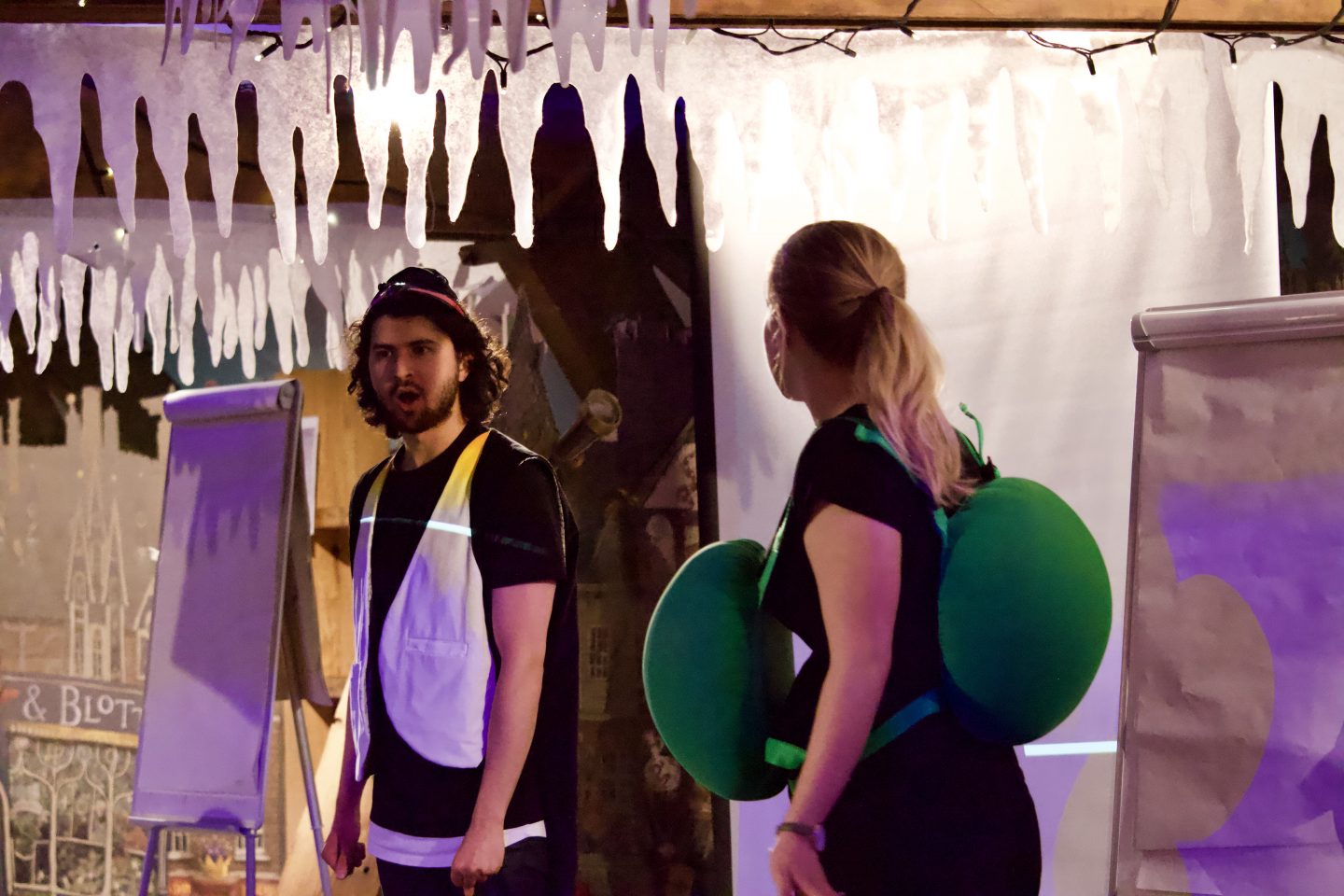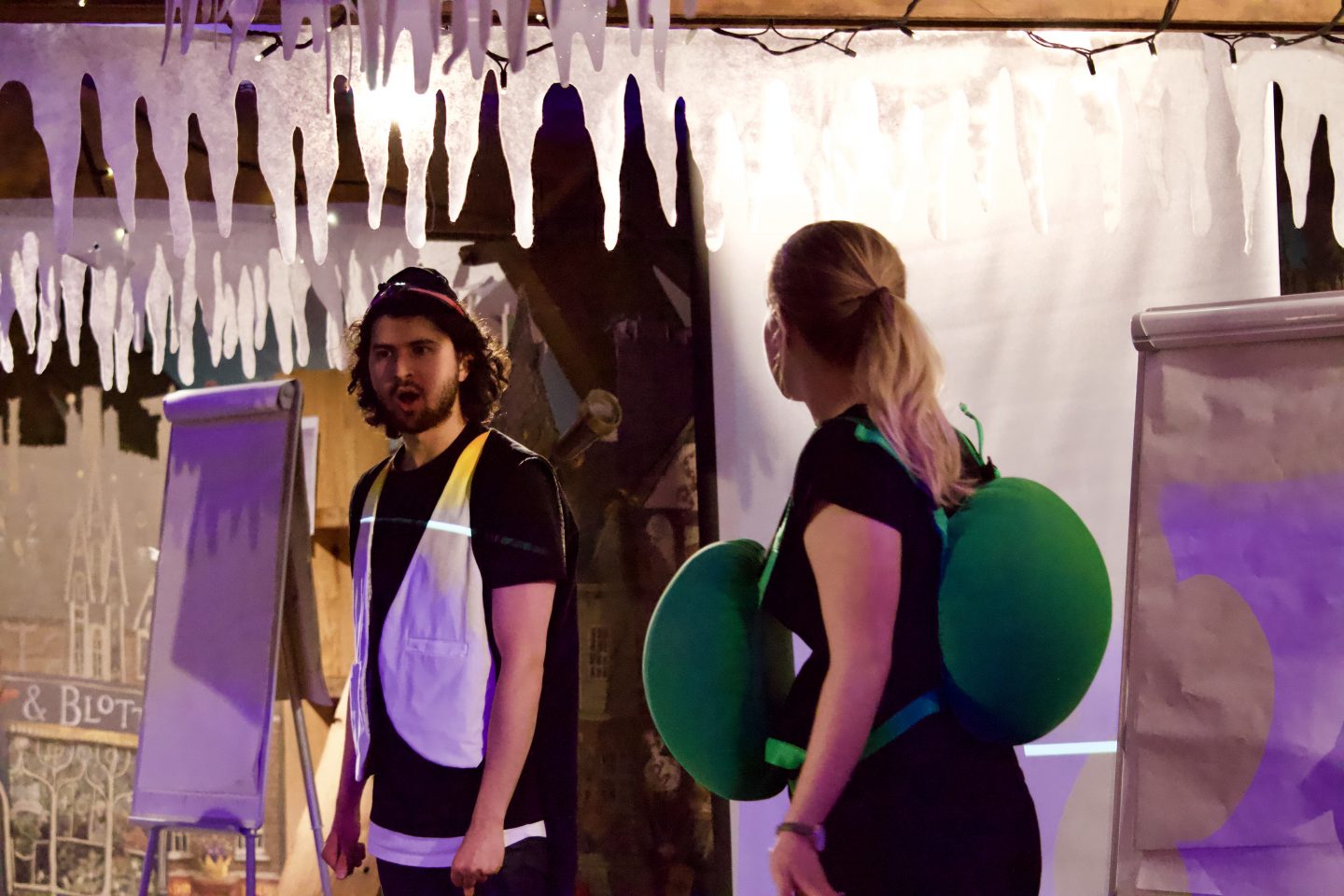 Synopsis
'Something fishy's going on in the howling tundra of the freezer box.  Under the rule of Evil Pea and Evil Emperor Penguin, the Pea and Penguin communities have been enemies for as long as they can remember – because… well… come to think of it, nobody can remember exactly why! Will Peas and Penguins give each other the cold shoulder forever? Or can they use teamwork and kindness to end this game of charades and create peas on earth?  Join our Story Catchers for a unique live storytelling experience complete with creative activities, cosy family time, lots of silliness and the best seasonal party games (with a twist).
Inspired by the books Supertato: Evil Pea Rules by Sue Hendra and Paul Linnet, All the Way Home by Debi Gliori and Evil Emperor Penguin by Laura Ellen Anderson.'
What happens during Peas VS. Penguins: Fight for the Festive Freezer!?
We attended the second session which took place on Sunday 25th November at 2pm. Make sure you arrive a bit early to Seven Stories as sometimes parking can be difficult. Also take cash as some of the parking machines are cash only. There were a few events on the Ouseburn the day we went and we were almost late trying to find a parking spot.
Seven Stories events often take place in their cosy 'Diagon Alley' themed attic which is a lovely event space. On this day, we were given special tickets with a pea picture on them and on entering the attic were told we were Team Pea (as opposed to Team Penguin) and were instructed to sit on the right hand side of the room. Chairs were set up on either side on the room with a gap in the middle with one side being Team Pea and one side being Team Penguin. There were two group leaders, aka Story Catchers who presented through the session and really engaged with the children, making sure that no one was left out. They were loud, silly and fun and led the session well.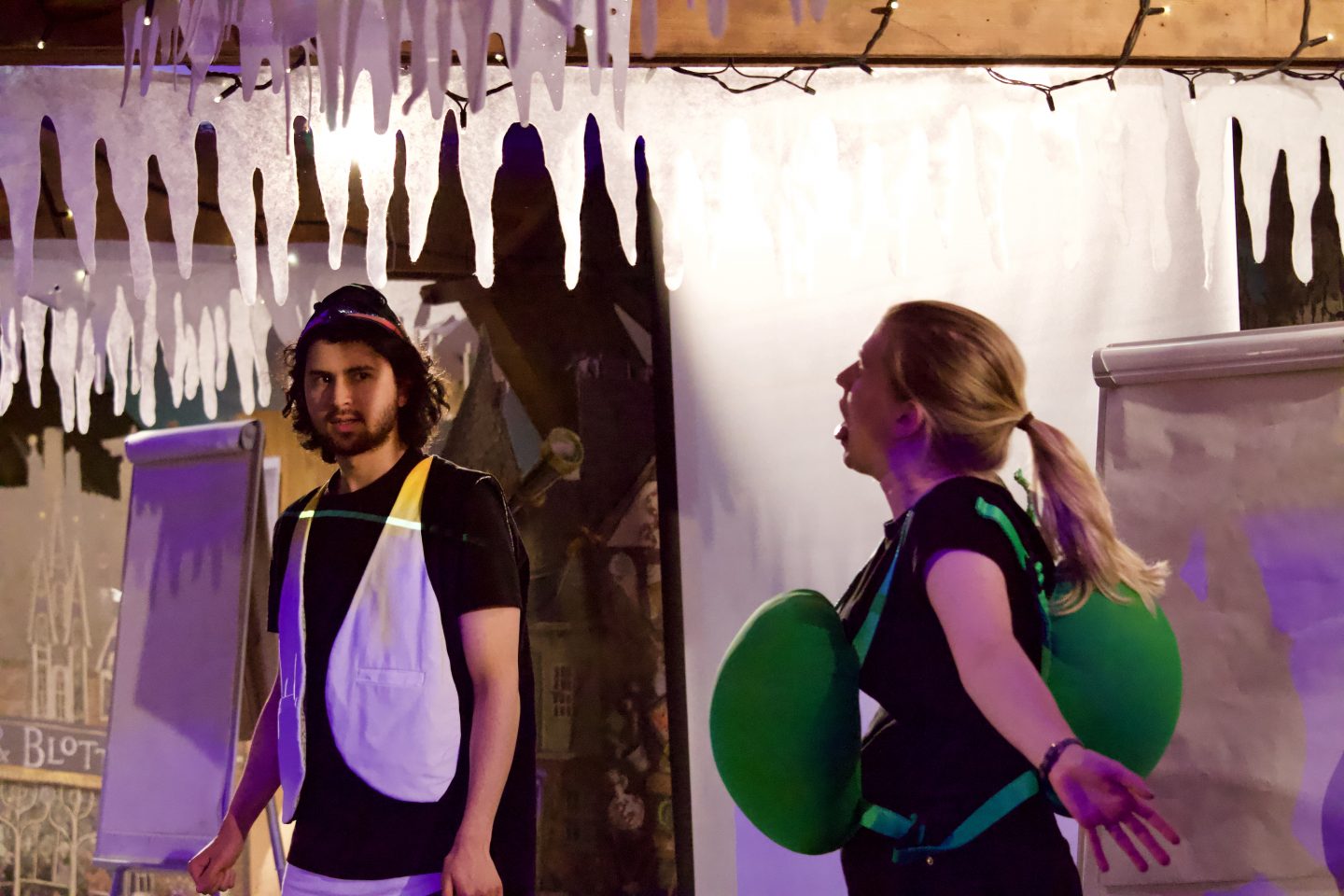 Firstly the Story catchers introduced the session and the theme of the day with some fun teasing of the opposite side. Then they showed a news clip 'from the freezer' where the 'frozen foods' were talking about how bad things had gotten.
After that set the scene, it was time for a dance off. Each group gathered at the front of their side and discussed what scary moves their penguin/peas could do to scare off the other side. We chose 3 silly moves and practiced them then gathered opposite the other side and performed them. The penguins kicked the peas butts here, theirs made me (and much of the room) laugh out loud.
The next activity was a game of 'dinosaurs, smiley faces, ice cream' which was essential a 'freezer tapas' version of 'rock, paper, scissors' complete with silly dance moves. Each time both teams chose the same move so this game was declared a draw after 3 rounds.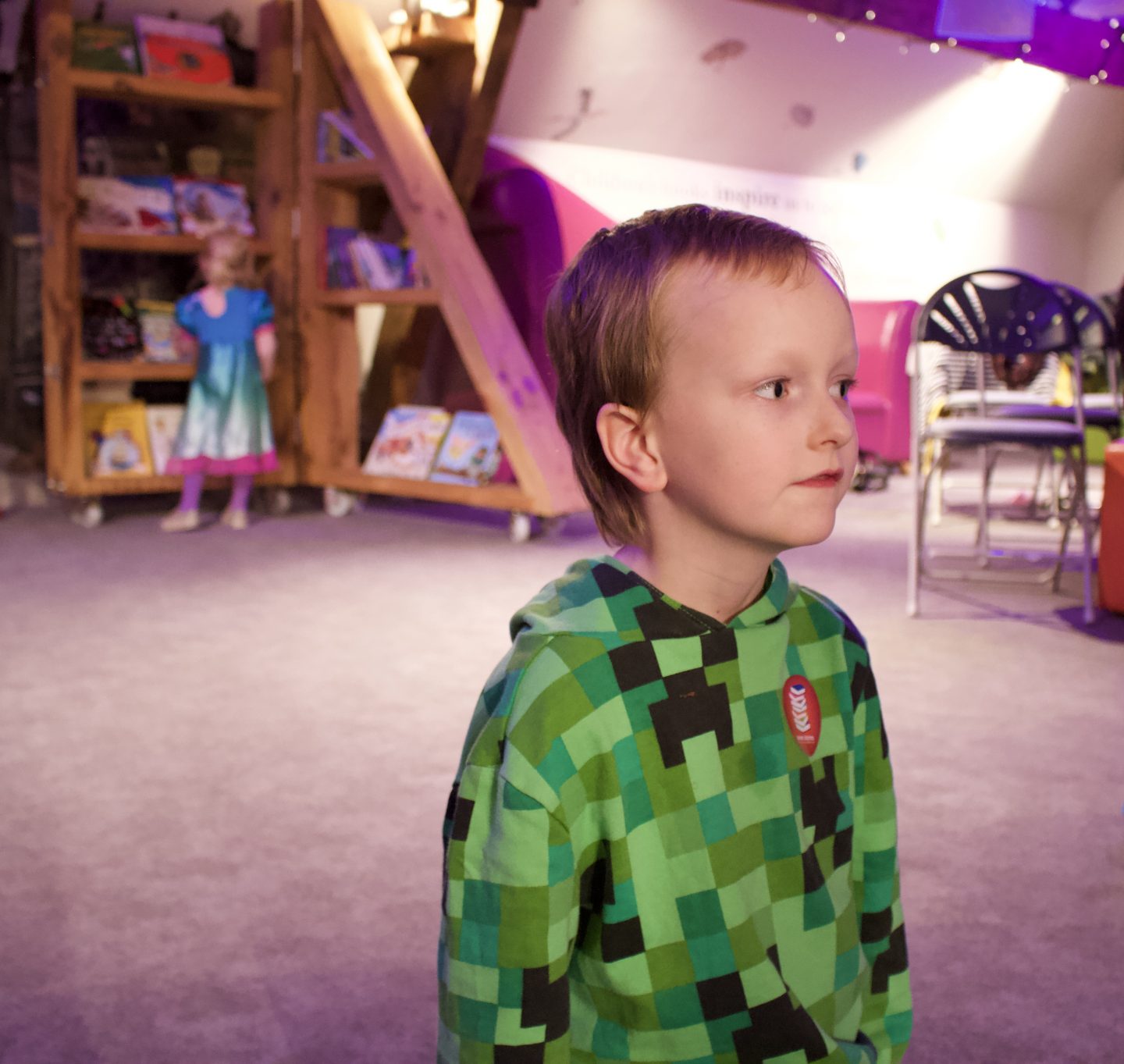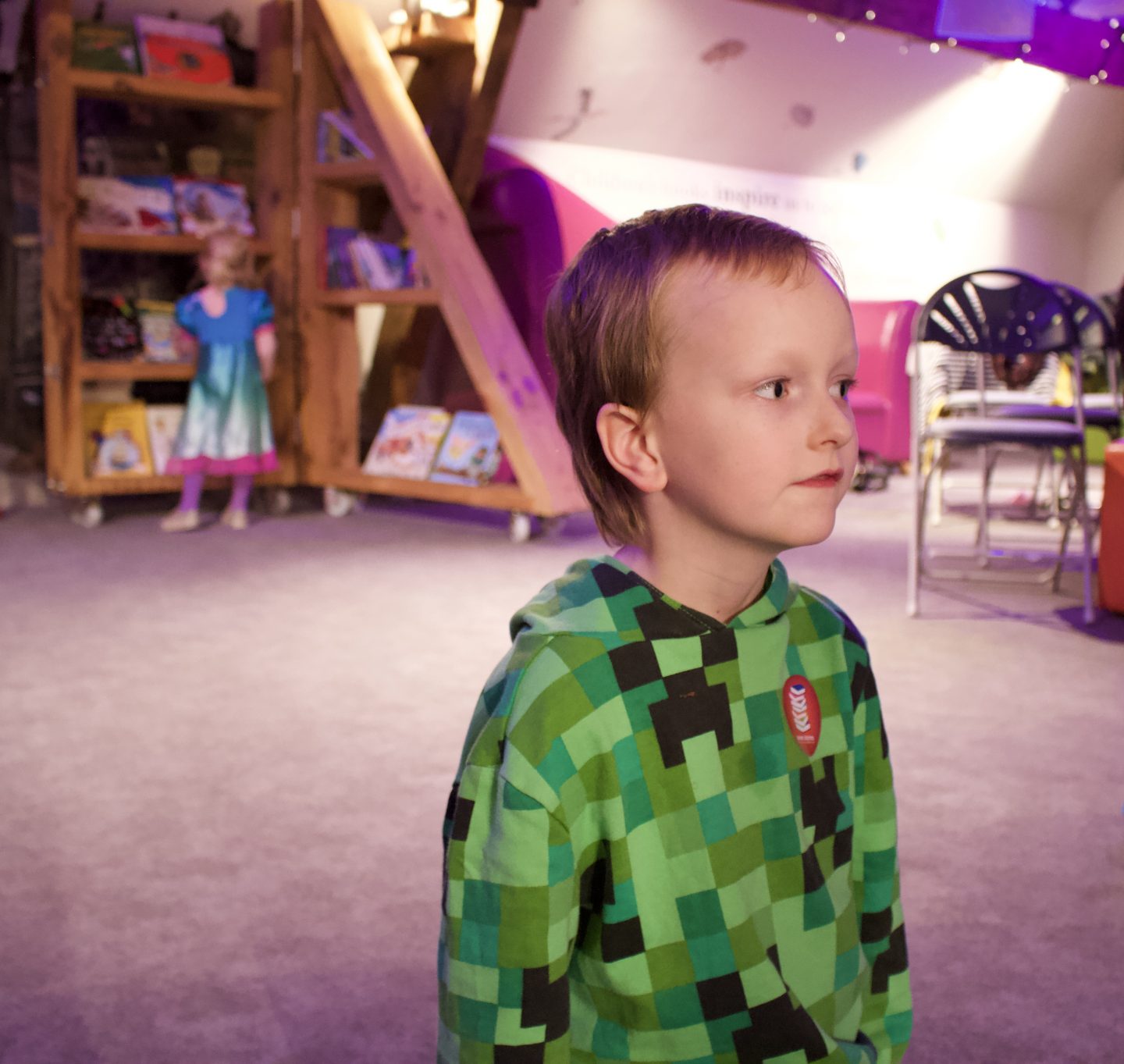 The next activity swiftly followed – a game of Pictionary where both story catchers drew a picture on a flip chart for their teams who had to guess what they were drawing. They both drew Harry Potter which set the scene of the penguin and the pea having more in common than they had realised.
After this, the Story Catchers got the kids moving again to a game of musical statues to 'Jingle Bell Rock'. As the session progressed, the Story Catchers realised that the Evil Penguin and Evil Pea were friends after all and it was all a set up and everyone made friends.
For the penultimate activity each child had to join up with a member of the opposing team. When a Story Catcher called out body parts, the kids had to put those body parts together. For example, one was thumb to ear (one was also head to head which as a parent all I could think about was how it was a recipe for nits). Up until this point Arlo had really enjoyed all of the activities but he is painfully shy and no amount of my cajoling was going to convince him to take part in this one so he sat and watched with me and we did the activity together.
For the final activity the music player unfortunately stopped working but it didn't matter much as everyone sang 'Walking in a Winter Wonderland' with the words up on the screen. This activity somewhat relied on your child having a pretty decent reading age but most seemed to join in and sing along.
As the session finished there was an opportunity for the kids to get photos taken with giant 'frozen foods' like fish fingers, sweetcorn, ice cubes and lollies which my kids thought was amusing.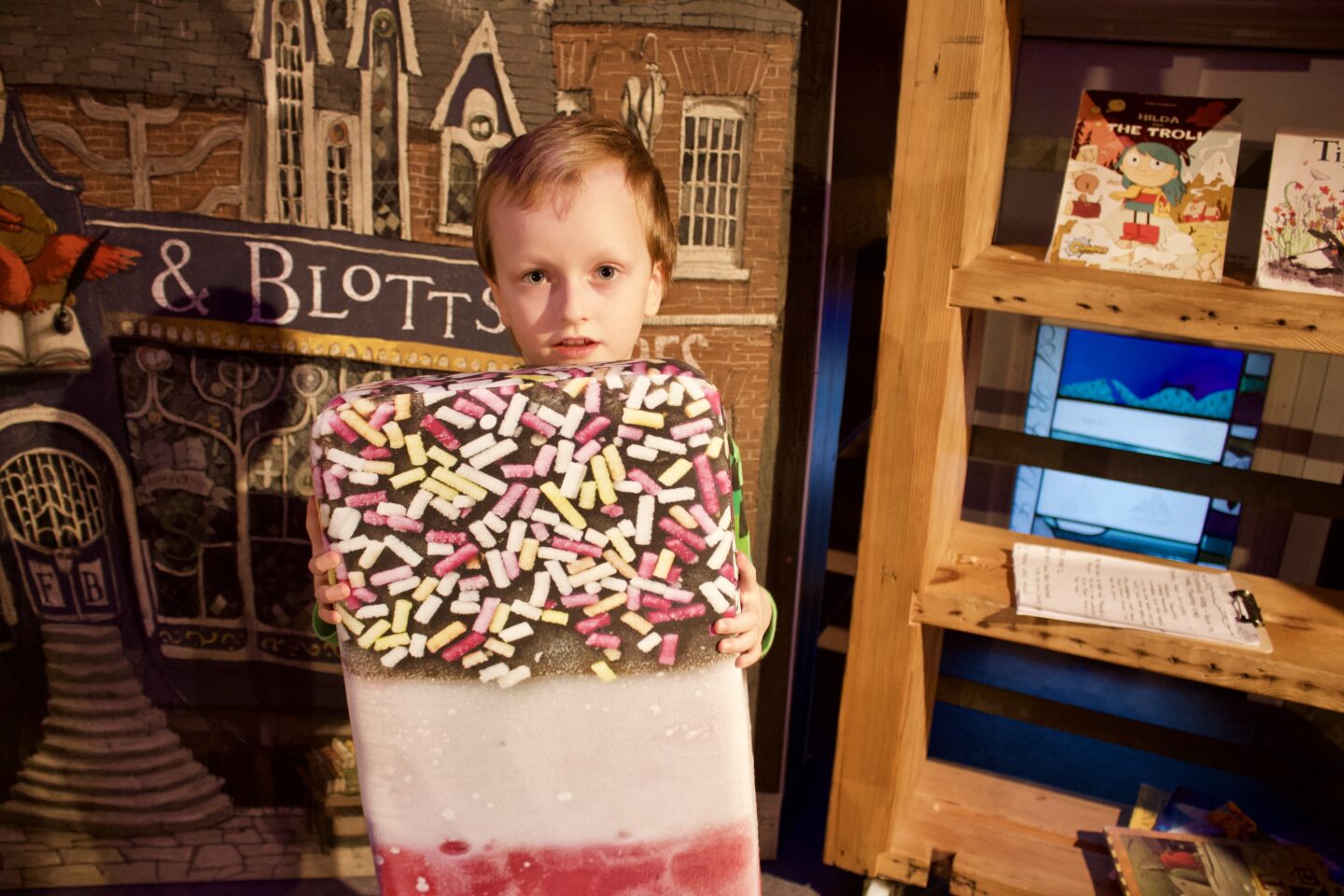 Summary
The session is suitable for all the family but my 3 (almost 4) year old wasn't very engaged by it – that may have been her (terrible) mood on the day though. If you have under 5s in your party then I would make sure to go to the special 'mini' session outlined below.
My 6 (almost 7) year old really enjoyed it and took part in all but one of the activities.
We recently attended Seven Stories Halloween event and that had a simple craft activity in the middle which was our favourite part. I think popping a similar kind of craft activity in the Peas VS. Penguins: Fight for the Festive Freezer! session would make it extra special. The website says sessions are 60 minutes however ours was 45 minutes long so there was scope to add in a crafting activity.
Nit picking aside though it was a cute activity that the whole family can take part in that is perfectly suited to a rainy winters day. If you are looking for something short, interactive and that encourages your child's creative side then this is a worthwhile festive activity to choose. If you pair it up with a walk around the Ouseburn, lunch at one of the many great pubs/restaurants there and a trip to the community farm then it would make for a perfect day out (as I've described here in this cultural family day out at the Ouseburn post).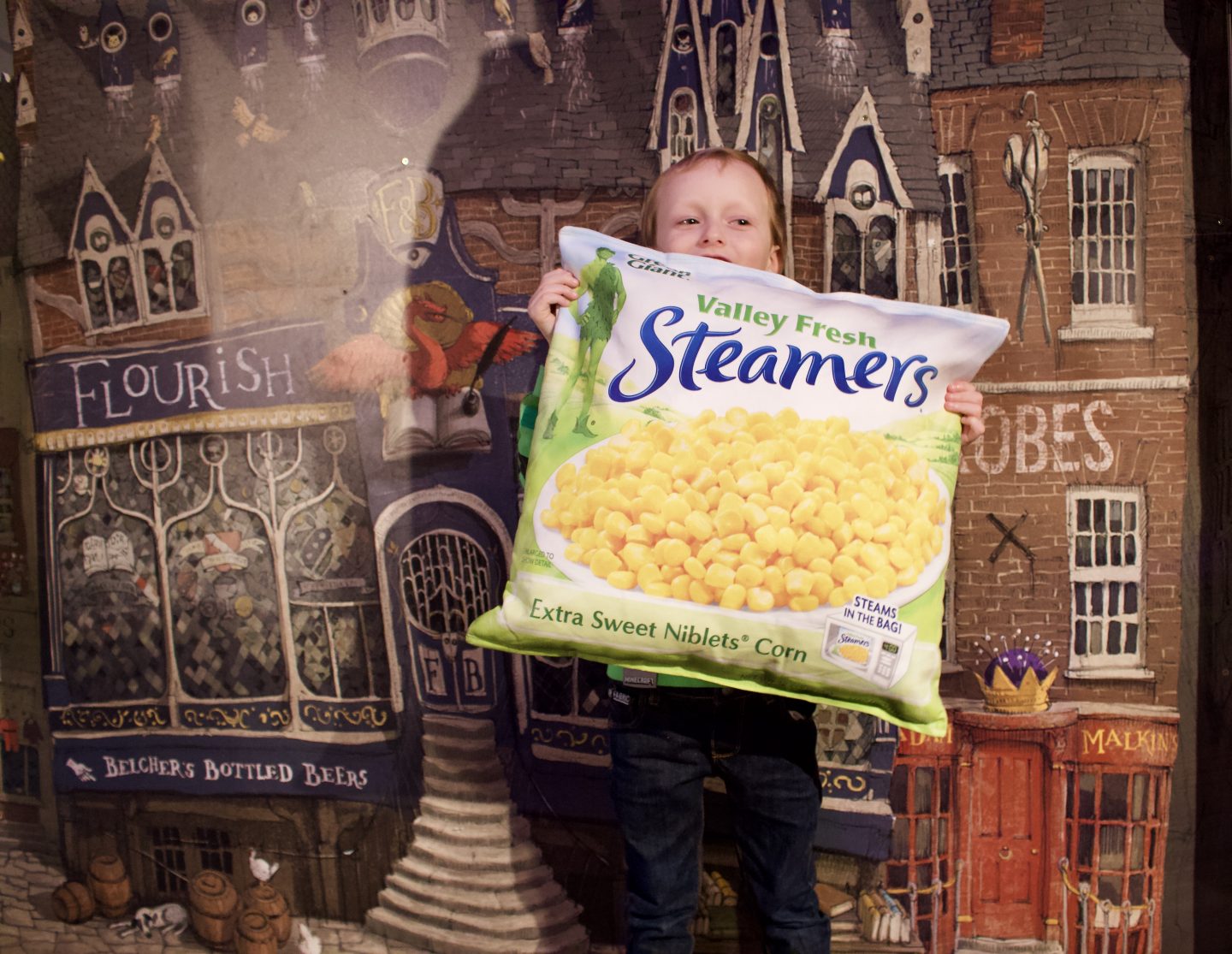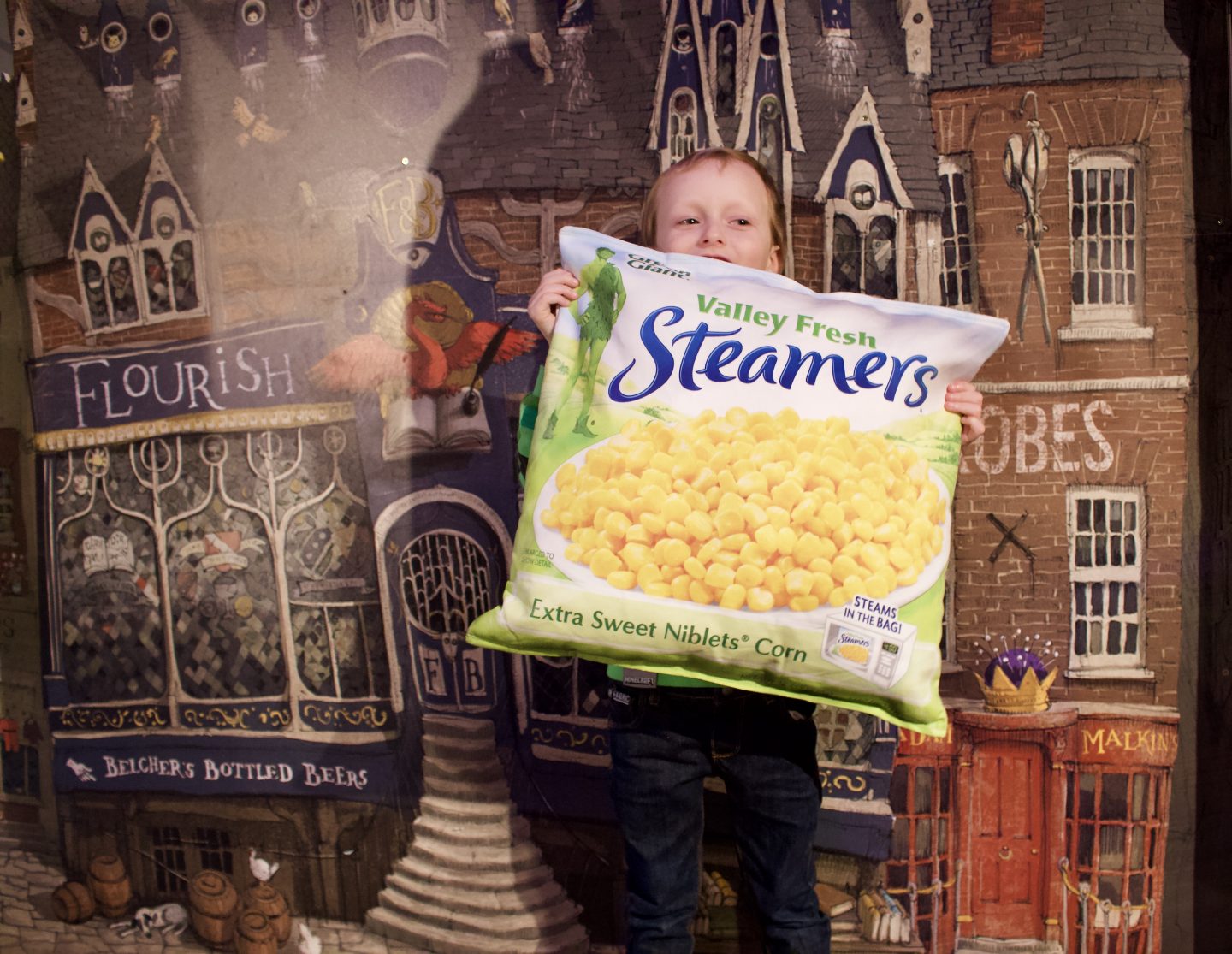 Good to know
It costs £5 per person (including children and adults).  No general admission is required but if you want to purchase that as well and explore Seven Stories as a whole then that would make a full afternoon/morning of activities.
Sessions take place:
Saturday 1st December 2pm
Sunday 2nd December 2pm
Saturday 8th December 11am
Sunday 9th December 2pm
Saturday 15th December 11am and 2pm (relaxed session)
Sunday 16th December 2pm
Saturday 22nd December 11am and 2pm (relaxed session)
Sunday 23rd December 2pm
There is also a special 'mini' edition of Peas VS. Penguins aimed at those aged 5 and under.
You can buy tickets to Peas VS. Penguins: Fight for the Festive Freezer! here.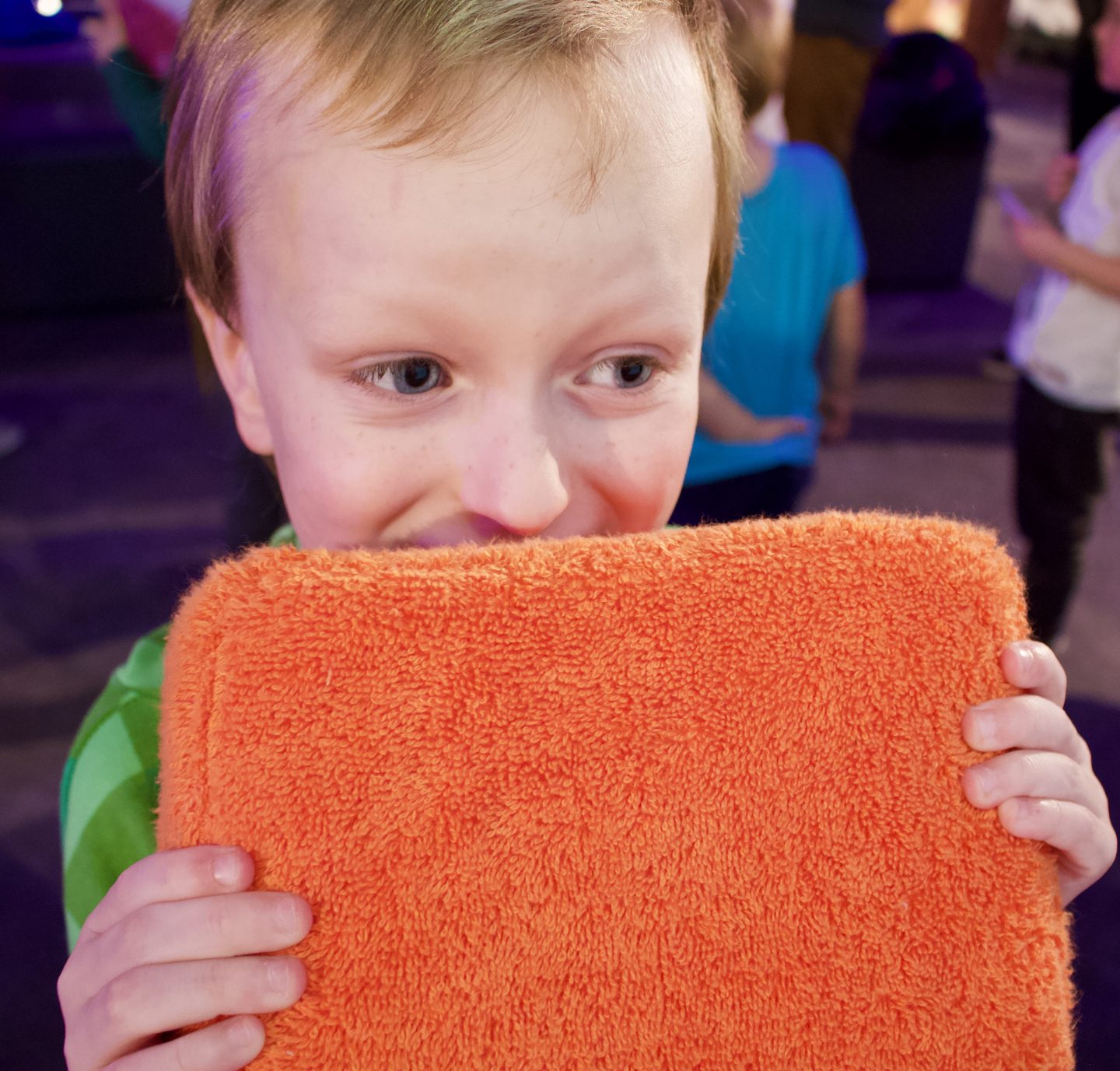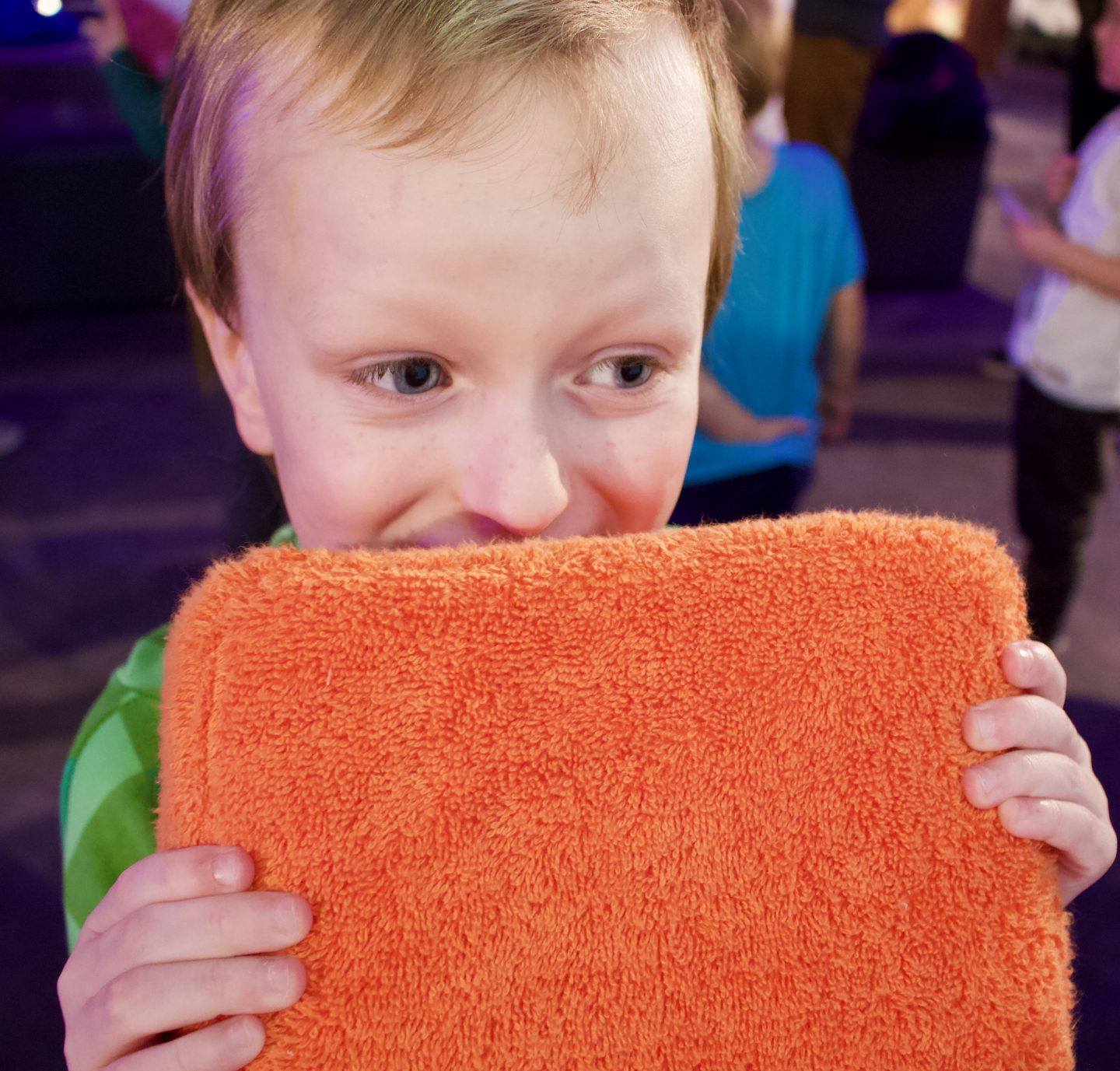 Disclaimer: This is a advertorial review. All words are my own and I received no instructions on what to write. For my full disclosure policy please see my about page.