Last week I was very fortunate to be invited to review the upcoming Christmas menu at Marco Pierre White Newcastle. Marco Pierre White Newcastle is one of those places that I had been meaning to try for AGES but never got round to.
Located at Hotel Indigo on Fenkle Street, it is Marco's only restaurant in the North East. I had only heard good things about it so I jumped at the chance to review their Christmas offerings.
It was a little odd to be eating my first Christmas dinner of the year in what was technically still the summer but I'm a huge Christmas fan, and food fan, so what's not to love. And you guys, it was soooo good.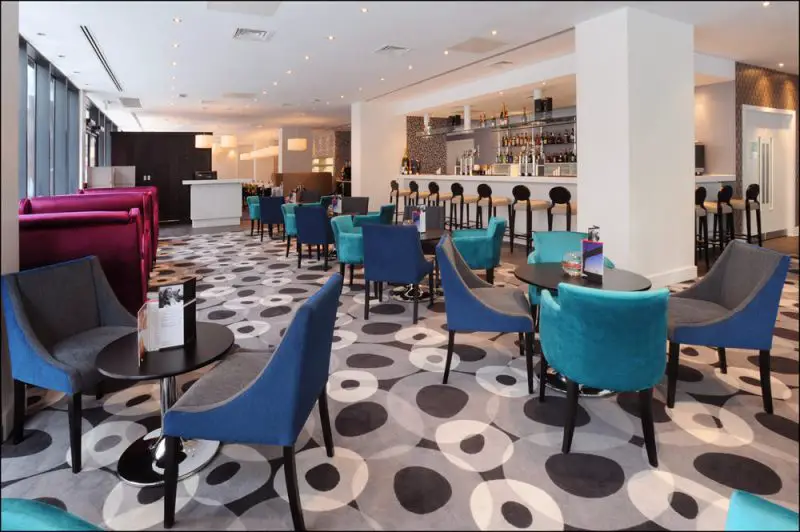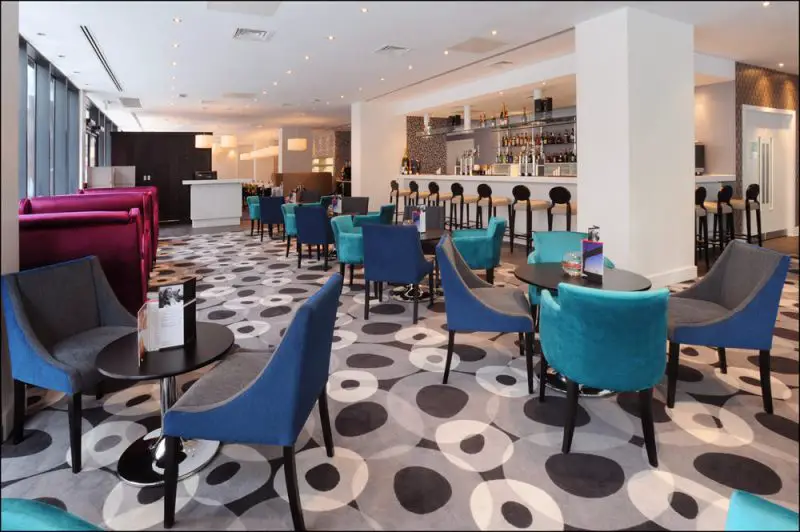 I sampled their festive menu which will be available from 1st to 24th December. The three course lunch is £27.50 and half price for under 12s. Dinner is £33 and half price for under 12s.
They will also be running a other festive menus on Christmas Eve, Christmas Day, Boxing Day and New Year's Eve. As well as a festive afternoon tea.
I was also fortunate to be dining with some of my favourite local bloggers – Chloe, Katie Jane and Rachel. I couldn't have chosen better company for my festive meal.
Starter
Salad of chicory, candied hazelnuts, fresh pear and vintage stilton (v)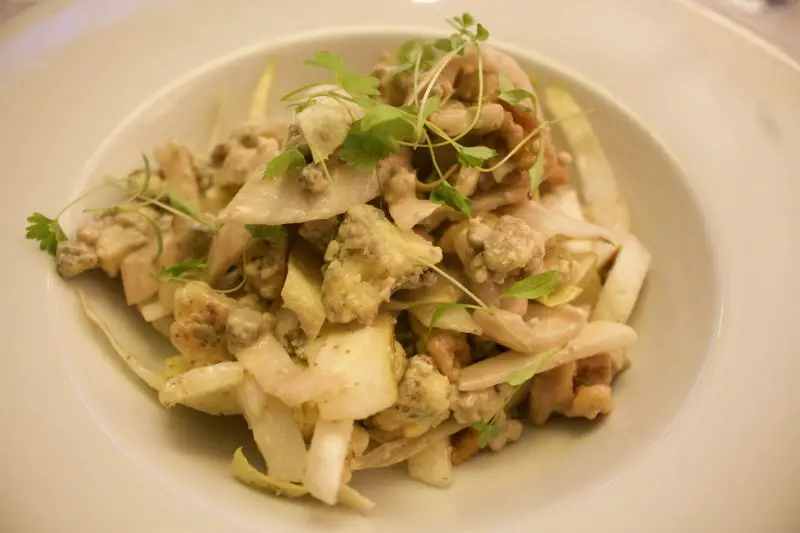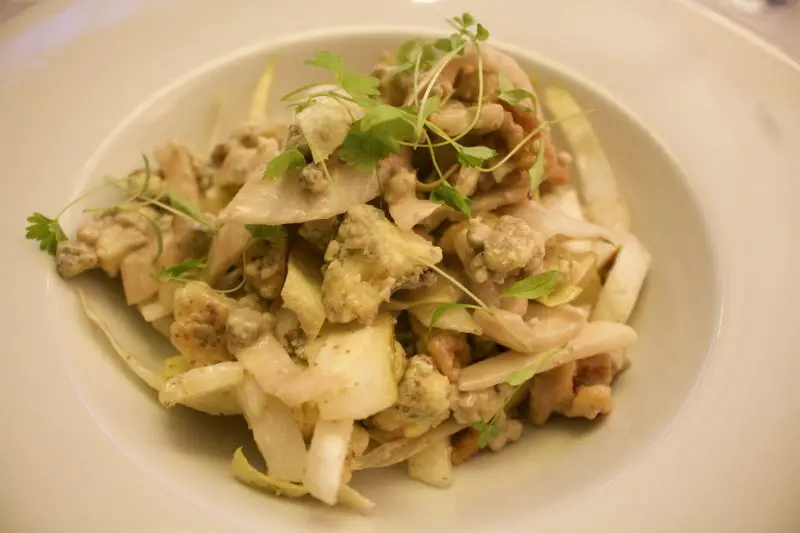 As I knew I would be trying all three courses I thought I would choose a light course to start so that I would still have room for the next two courses. I was trying to be 'good' but little did I know that whilst a salad, this is not a light choice. At all.
When it was presented to me, I discovered that Marco Pierre White serve very generous portions. This was further cemented over the rest of the meal. I rarely leave any food but I couldn't finish any of the courses during this meal.
Looking at the starter, eyes wide, I said 'I could eat just this and be full'. I had assumed there would be a little stilton, like a garnish but I'd be surprised if a whole block hadn't been used. This was a salad in the way that a potato salad is a 'salad' or the way Americans call things salads.
It was delicious though. I kept trying to stop eating it as I knew I needed to leave room but I kept going back for more. It was one of those situations where I couldn't stop myself until the waiter came and physically removed the dish. I wish I had asked for the leftovers to take home actually. The flavours complemented each other superbly. I normally don't like walnuts but in this they were perfect. Such a lot of great textures in the dish too with the crunchy chicory and walnuts and the softer pear and stilton. A brilliant dish but this isn't a calorie light option for the waist conscious!
Main
Traditional turkey roast with all the trimmings, bread sauce, cranberry and roasting juices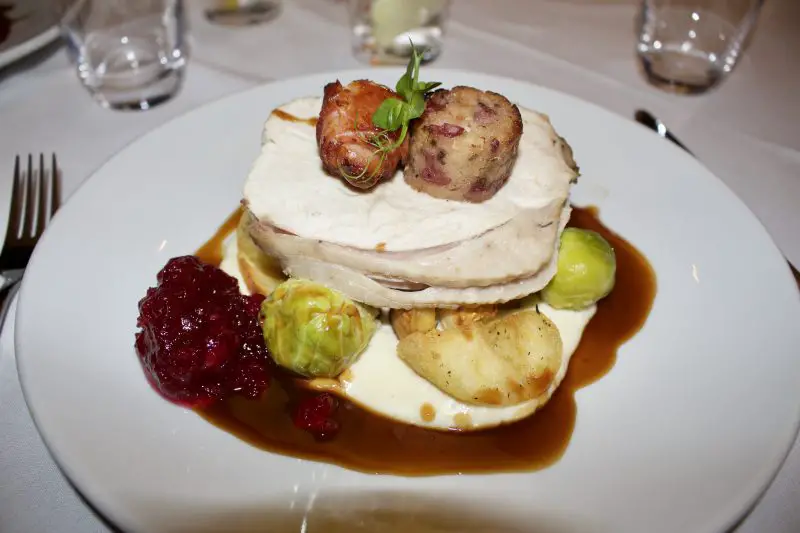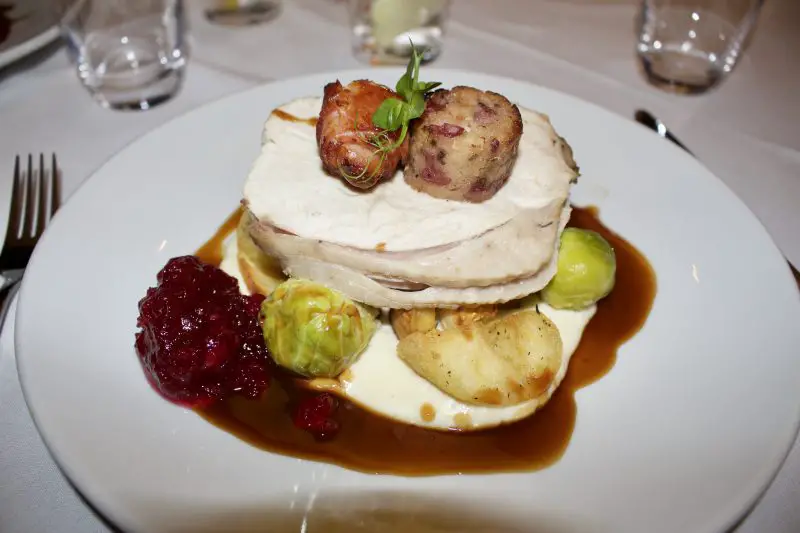 Another superb dish and this got me SUPER excited about Christmas. Whilst we were eating this we couldn't help all talking about what Christmas is like for us and what we would all be doing this year. I loved hearing about how the other bloggers spent their Christmas days.
Now, we never normally have bread sauce on our Christmas dinner but this has convinced me for the need for it. It was so rich and tasty. We had to ask what it was as we couldn't figure it out but now I need it in my life.
My only criticism was that the brussel sprouts were a little undercooked and very hard. Other than that, everything was perfect with tender, succulent turkey.
Again, I couldn't eat it all but this time I asked for the leftovers to take home. They happily obliged and I used the turkey the next day to make a beautiful salad. I love leftovers!
Dessert
Black cherry and sherry trifle Wally Ladd (v)

I do love a trifle but you rarely see them on restaurant menus so as soon as I saw this choice I knew I had to order it. I'm so pleased I did. This is totally my kind of dessert.
Creamy, fruity and boozy. It's the best dessert I've eaten in a long time and I'd definitely order it again. Rich and surprisingly filling. The fruit mix packed a strong sherry punch actually but complemented the heavy cream really well. If this would have transported well home, I would have taken my leftovers of this too!
We then finished our meal off with a cup of tea that came with a small brownie square. I didn't drink any alcohol (very unlike me) as I was fighting the start of a cold so didn't want to give it any help to take hold!
Scores on the doors
Venue: 7/10
Location: 8/10
Value: 8/10
Food: 9/10
Toilets: 9/10
Overall: 8.2/10
I loved my first visit to Marco Pierre White Newcastle and am already looking forward to returning (and sampling some of their booze too). This Christmas menu is really special and definitely worth a visit in December.
If you liked this post you might like my review of Kielder Winter Wonderland with a weekend lodge stay. 
Disclaimer: Big thanks to Marco Pierre White who gave me my meal in exchange for this honest review. Apologies for the poorer quality photos, the lighting in the restaurant isn't very bright (and I'm still learning how to use my DSLR).