If you live in the North East of England and have kids, no doubt you will know about Kielder Winter Wonderland. It's one of those things that we had been meaning to do for years but something had always gotten in the way. Either that they sell out super fast, that it felt too far away, the ages of our kids wasn't right or that it felt too expensive. My son turns 10 in December though so I decided it was now or never. My friend Sam over at North East Family Fun gave me a heads up that tickets were going on sale and I booked both our tickets and a lodge for the opening weekend on November 20 2021. Given we had waited so long, we thought we would go all out and make a whole weekend of it for an autumn/winter mini-break. We booked August 2021 and excitedly waited until it was time, 'praying' that we would be fortunate enough that Covid wouldn't spoil it for us and thankfully were lucky enough to get to make it. We've just found out we were extra lucky for the weekend we booked too as last weekend it got cancelled due to Storm Arwen sadly.
Kielder Winter Wonderland prices
Kielder Winter Wonderland is a unique, outdoor theatrical event held in the stunning forest and lakeside setting of the award-winning Kielder Water & Forest Park in Northumberland. Families enjoy a full day experience of activities and surprises to delight the children with the anticipation of Christmas.
Ticket prices for Kielder Winter Wonderland start from £29.50 per person. If your child is under 2, the ticket price is £5. A £5 booking fee applies.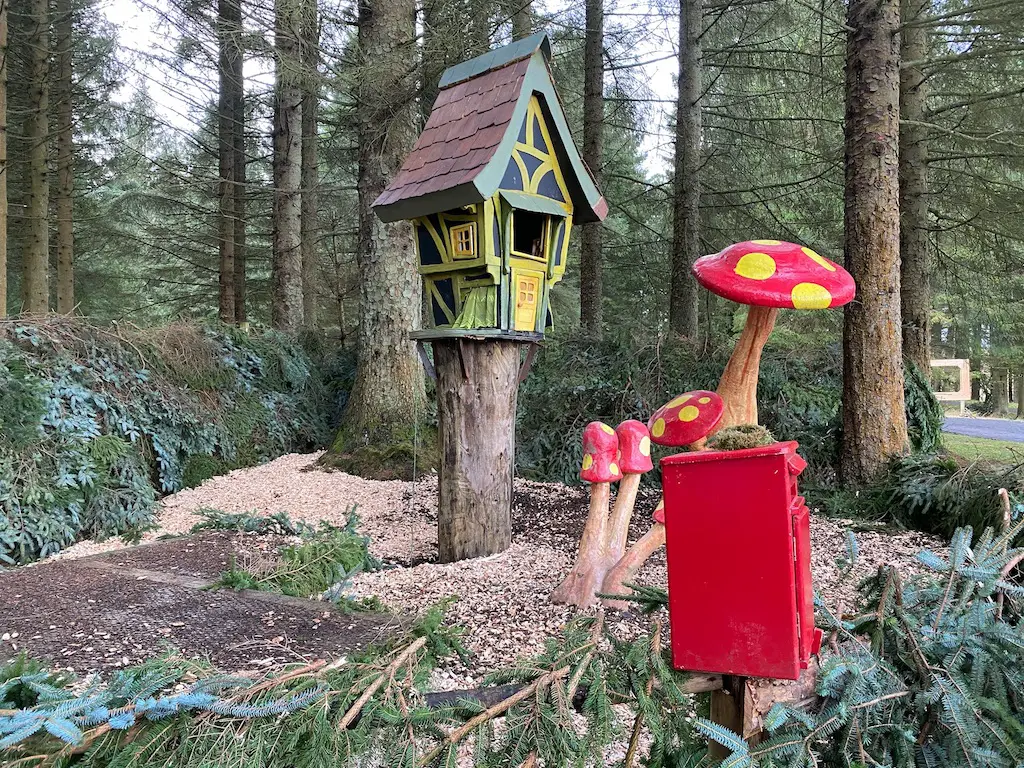 Opening weekend at Kielder Winter Wonderland
We booked Kielder Winter Wonderland for the opening weekend of Friday 19th November. There was a real buzz about the site on the Friday night when we arrived as the event launched. We didn't expect this but on the day before we went, we got an email to say that the day we arrived was a special Christmas themed evening as they welcomed Father Christmas onto the site. Snow tubing was open 5-6 pm. At 6 pm everyone went outside to wait for Father Christmas to arrive. There was (slightly awkward) Christmas carolling whilst we waited and then Santa arrived with Mrs Claus and some elves in a carriage being pulled by a real reindeer with the biggest antlers I'd ever seen.
After Father Christmas had arrived we went inside the 'Nordic Tipis' to make some Christingles and there was mulled wine, hot orange juice and mince pies. I'm not sure if they usually have this on a Friday night for those staying in the lodges or whether it was just opening night but it certainly felt like we were getting more for our money.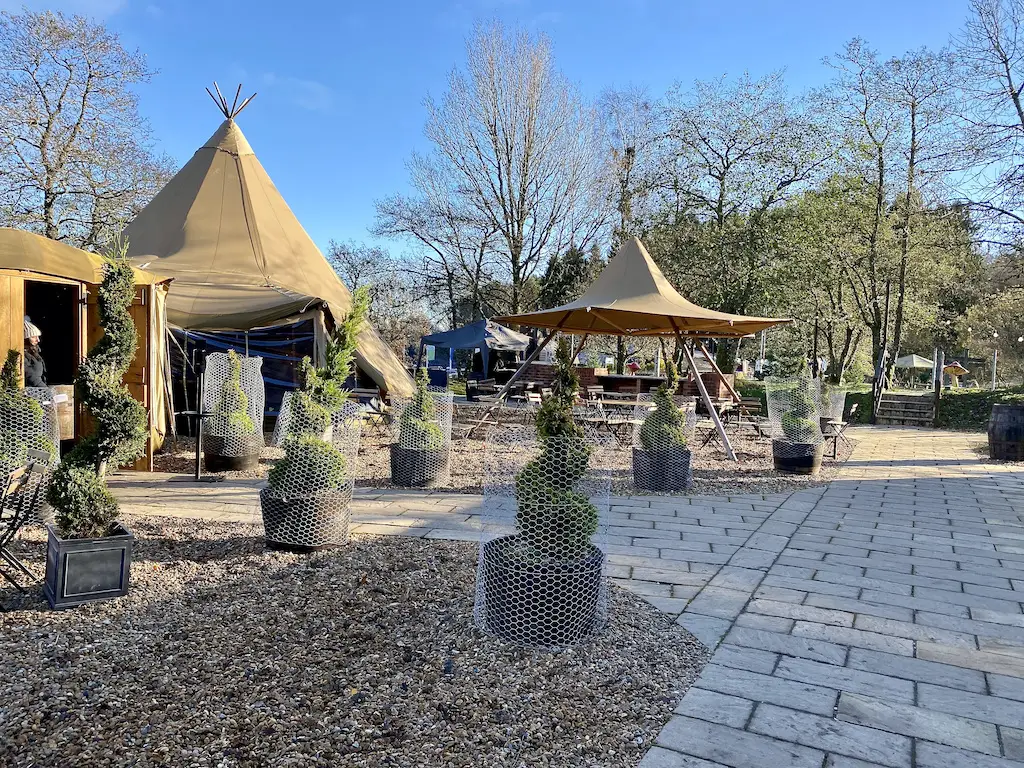 That's actually one of the big reasons why I would recommend getting a lodge and staying the weekend. There is a lot to do on-site and your schedule is jam-packed if you are going for just one day. However, when staying the weekend you can still access a lot of the activities that aren't performance sessions where you have a designated time. For example, you can see the owls, the reindeers and go snow tubing at any time throughout your stay, not just on your ticket day so you get much better value for money and don't feel quite as rushed trying to fit it all in.
Staying at the Landal Kielder Waterside and the lodges at Kielder Winter Wonderland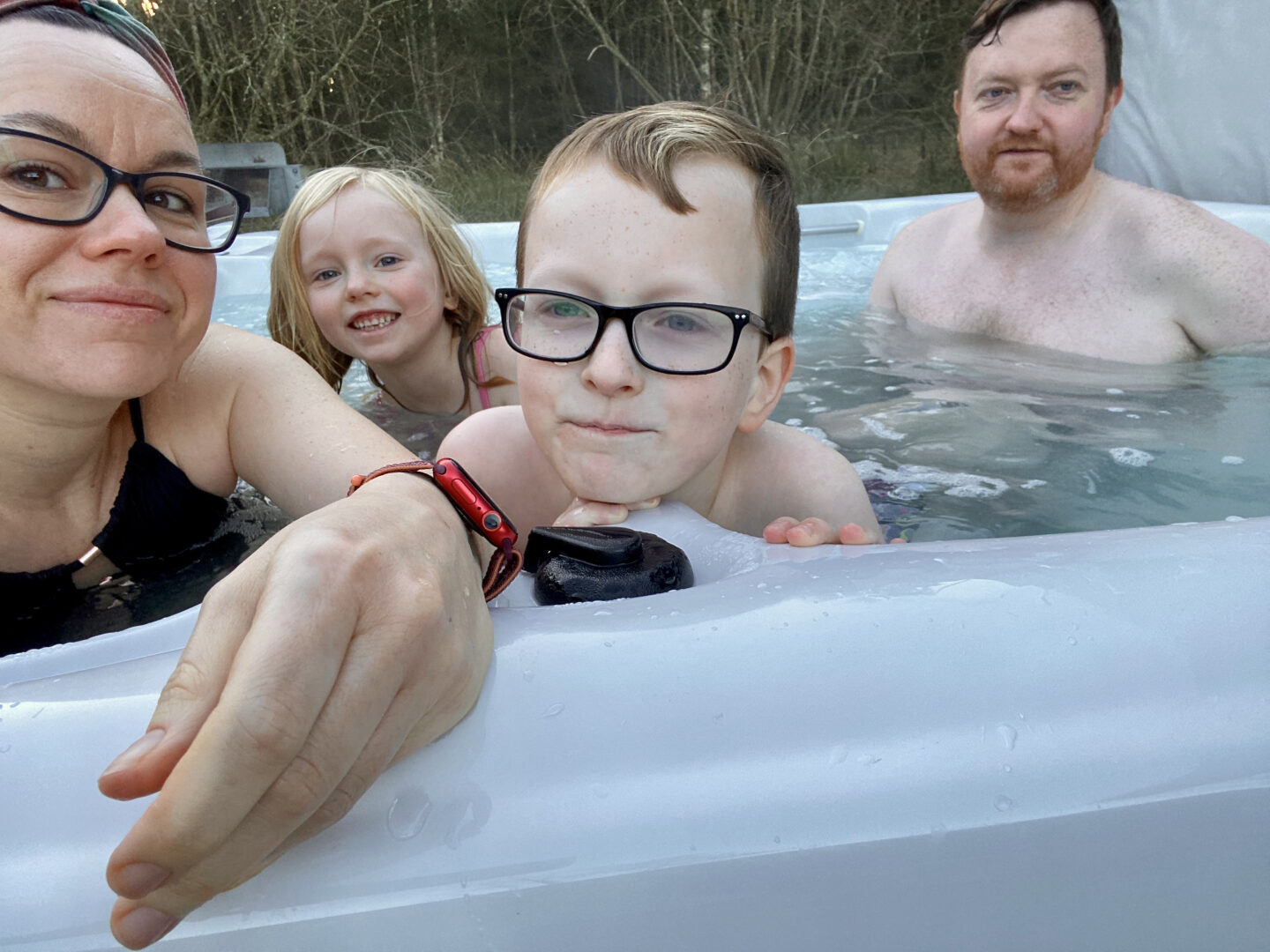 The lodges book up fast during the weekends that Kielder Winter Wonderland is on so if you want to stay then you need to book fast. We booked a Cheviot Spa Lodge that slept 6 and had a hot tub. We booked for 2 nights and paid £716 which included some extra Covid insurance. Our check-in was Friday at 4 pm and check out was Sunday at 9 am. However, when we got there my parents tried to extend the booking an additional night and were told that we had actually already paid until Monday at 9 am as you pay for a 3-night booking regardless on the weekends. That was a big bonus however it would have been much better if that had been clear when we booked. All of our documentation reiterated that we needed to check out on Sunday. If I had known I would have booked the Monday off work to make the most of it. At least my parents got to enjoy the extra night though.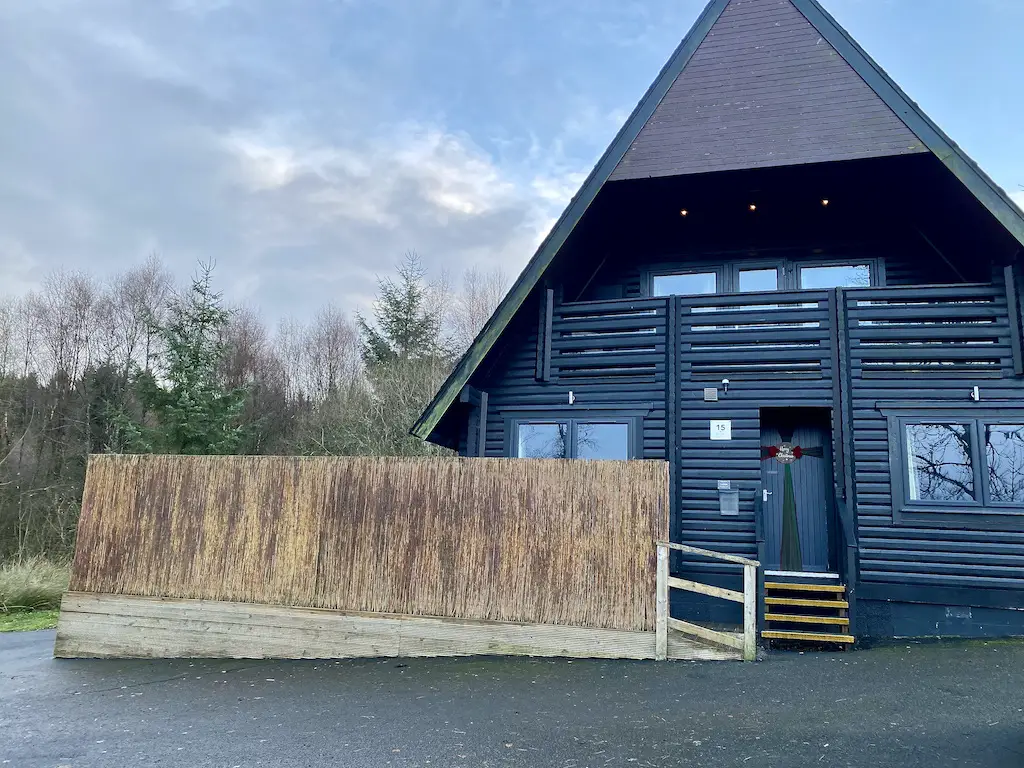 Kielder is a dark skies area so it's absolutely perfect for an evening of stargazing whilst in the hot tub – what a treat! That was one of the highlights of the trip for me and I'd recommend getting a hot tub lodge for that reason.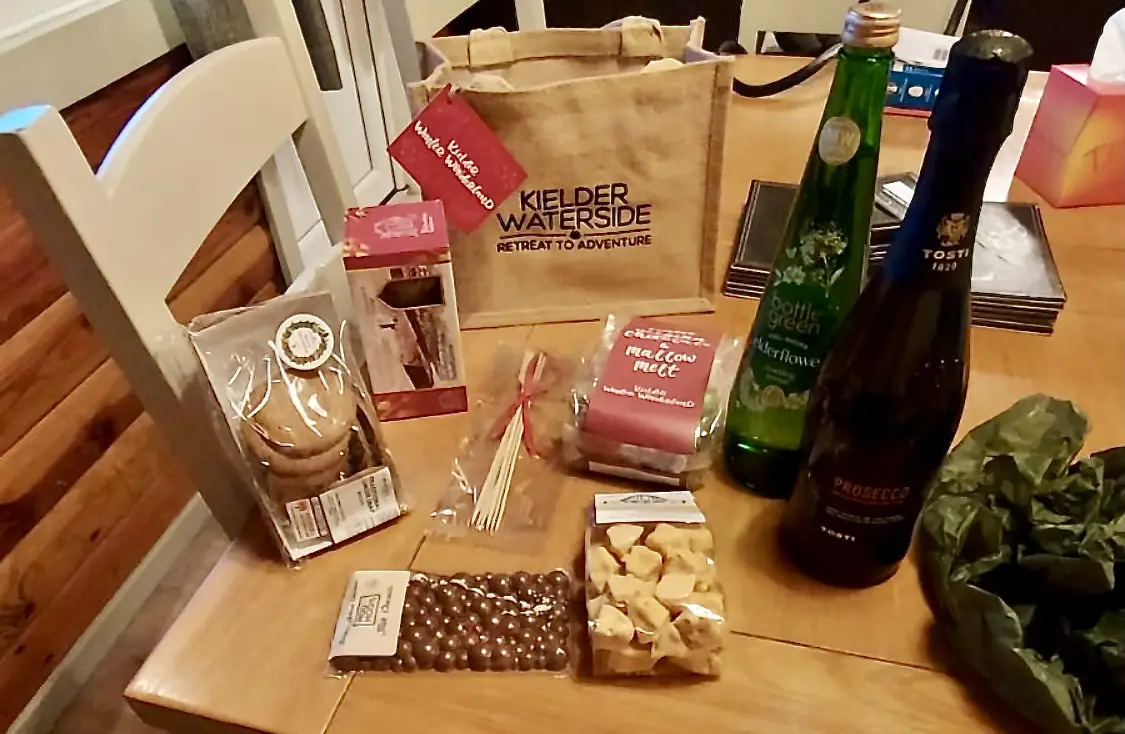 We received a lovely welcome bag on arrival with prosecco, elderflower sparkling pressé, chocolate, marshmallow toasting kit, delicious Northumberland chocolate orange cookies, ginger biscuits and cinder toffee. That was a really lovely unexpected treat and made our stay all the more special. They also provided a Christmas tree in the lounge and our door was wrapped up with a big festive red and green bow. It truly felt like kicking off the festive season in style.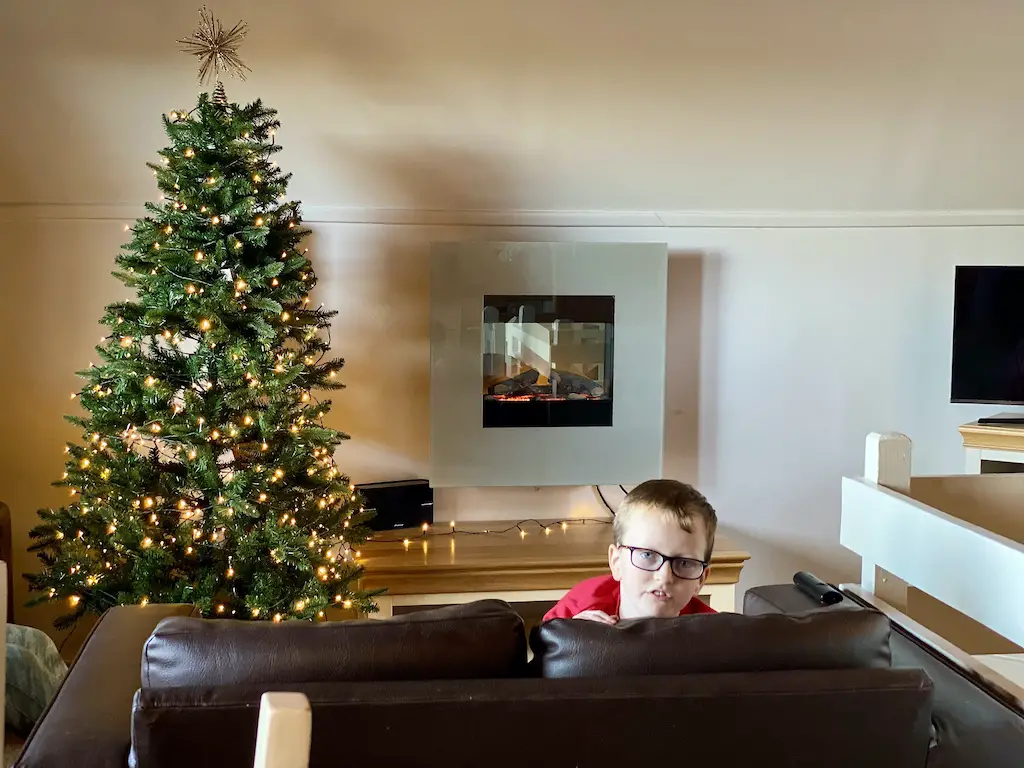 As for the lodge itself, we had everything we wanted. It was clean and tidy. They hadn't supplied our spa slippers so we had to remind them for those but they brought them straight away. All the staff were very helpful and accomodating. The shower was good and the hairdryer was nice and powerful. My mam said she had an enjoyable whirlpool bath and that it was very powerful and bubbly. The beds were comfortable. We had a gorgeous view over the site and the Northumberland hills from our balcony. We could see for miles into the distance and see some of the reservoir which looked so pretty in the low winter sun.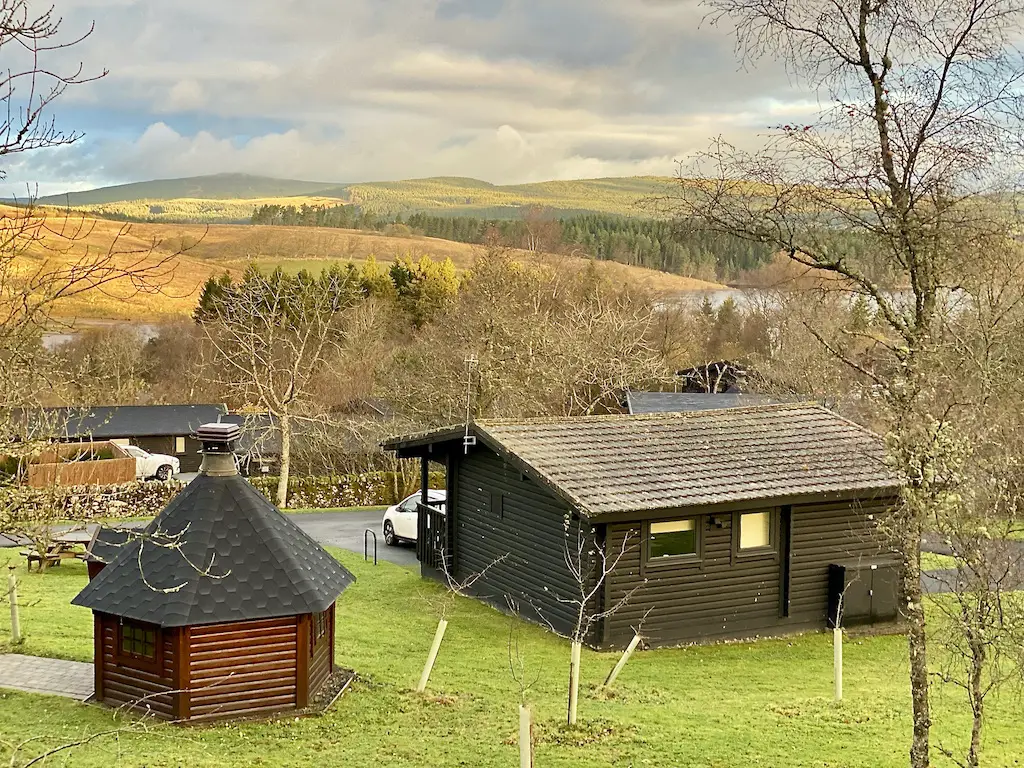 Staying at Landal Kielder Waterside also meant you could take advantage of the site facilities, such as the gym and the swimming pool/sauna. You have to book these in advance at the moment and we booked the swimming pool for the last slot of the day. There is no charge for this and we had the whole pool to ourselves.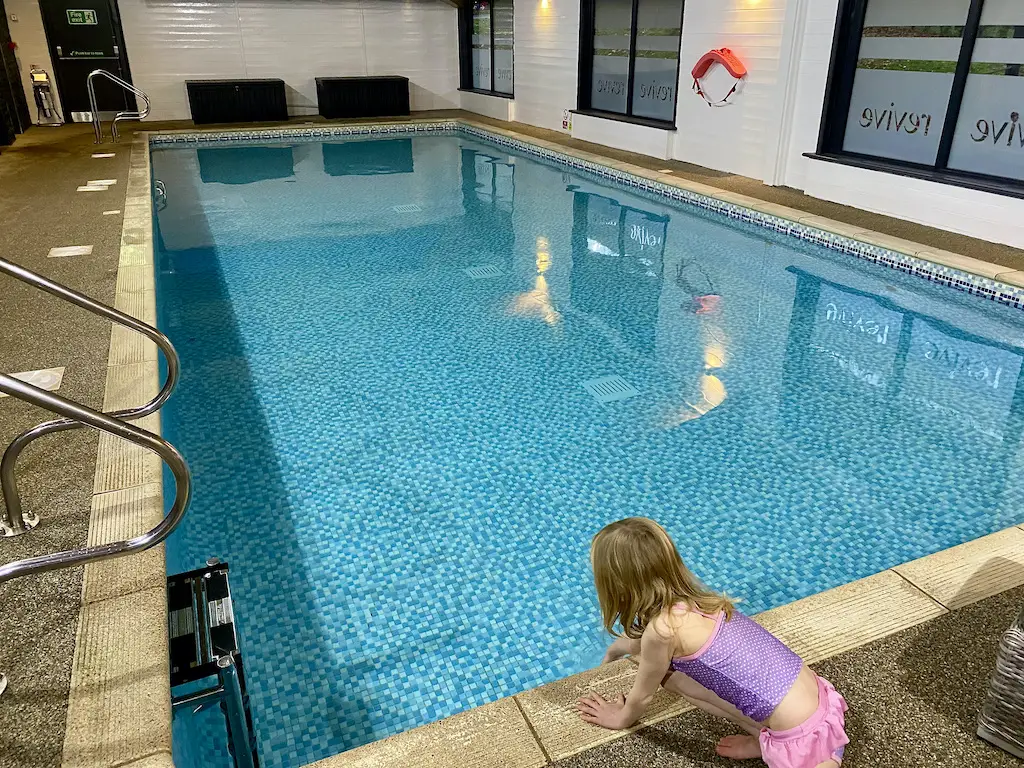 There are several adventure playgrounds on the site. Amongst the lodges, there is a big gaming hut that residents can use. There were also smaller play parks next to the lodges. Although it was only a 5-minute walk for us down to the site itself (this was down a bank though so bear that in mind if members of your party have mobility issues).
There is a lovely restaurant overlooking the reservoir at Landal Kielder Waterside. It has a soft play area inside and outside there are giant jumping pillows for the kids and a beautiful view of the lake. We saw the most beautiful full moon shining on the lake one night that took your breath away (the photo in no way does it justice).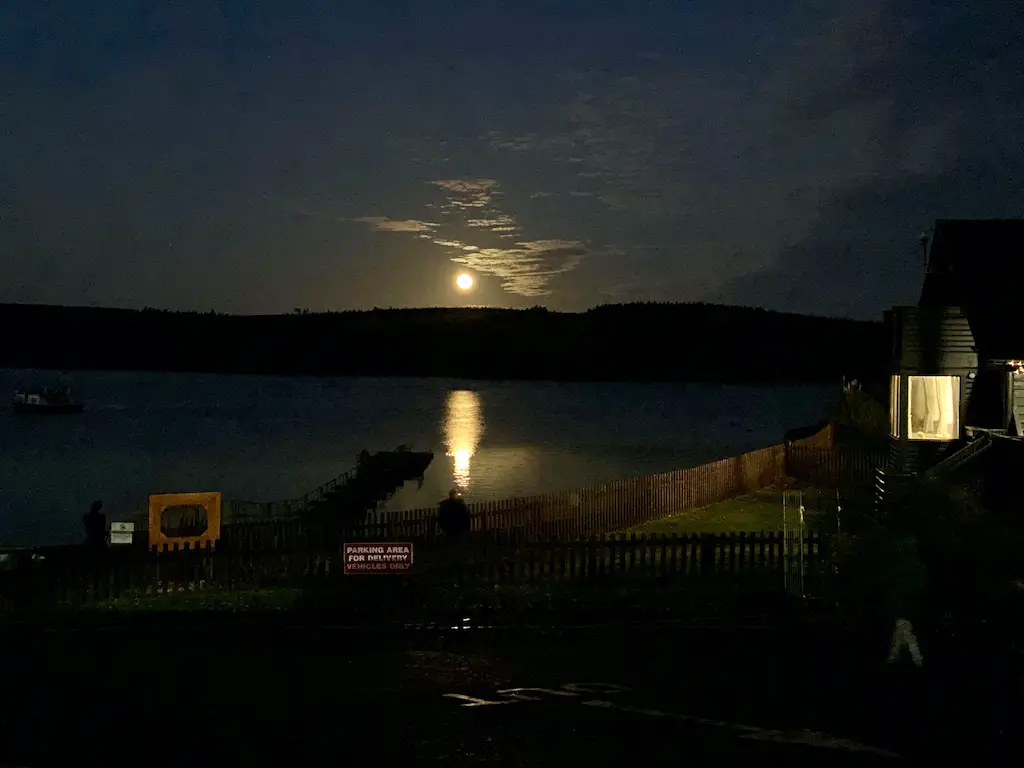 I wouldn't hesitate in staying on-site at Landal Kielder Waterside again. In fact, I hope we do.
Kielder Winter Wonderland experience
On our second day, staying on the site itself meant we could get out to the event nice and early at 9 am. You receive an email from Kielder Winter Wonderland and our schedule was jam-packed. We had:
10.10am Elves' workshop and Father Christmas
Noon The Beavers
12.40pm Christmas Theatre
1.50pm Mrs Christmas
As you can see, we didn't have much time for lunch and by the time we had queued at the food vans it was time to go to the next performance – I should have taken sandwiches.
Elves workshop
Before our first activity of the Elves' workshop, this was the only time of day that our names were taken. We went into the Elves' workshop and there was a short performance where the kids had to wake up a sleeping elf who then needed their help to make some Christmas toys as they had gotten behind. The kids were shown how to make a wooden Christmas tree pencil holder that was very cute and simple for them to do. They got to keep what they had made (and didn't question that this didn't contribute to the elves getting back on schedule lol).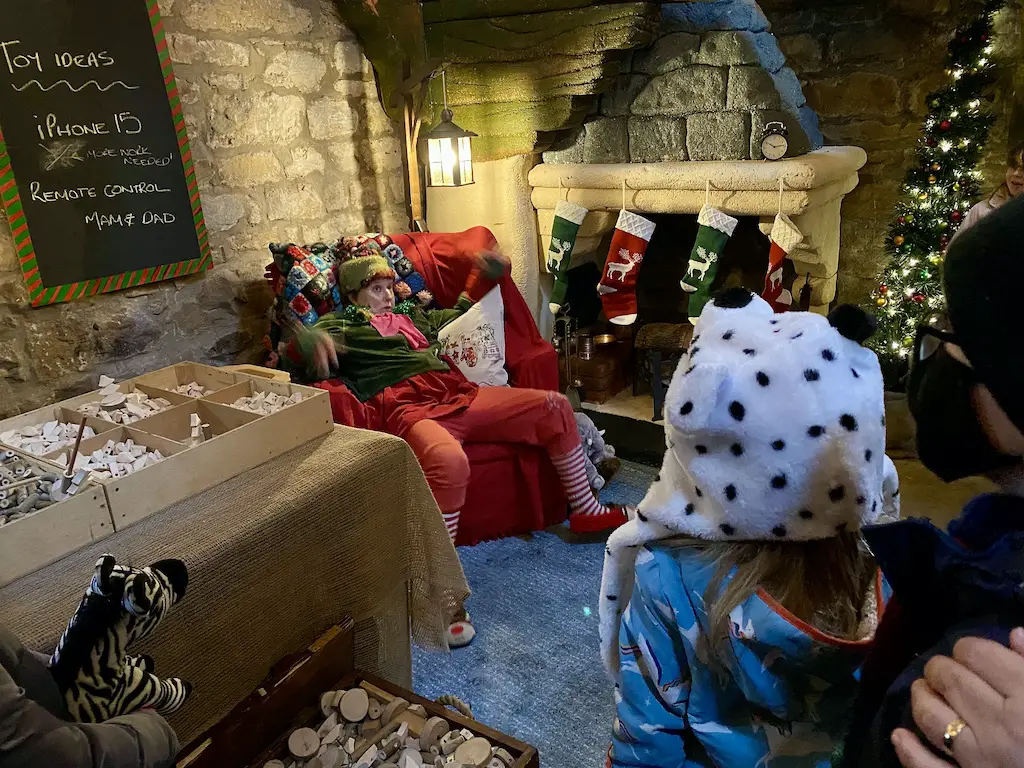 After the kids had made their toy, an elf met us outside to walk us up to Father Christmas. This was a short walk through the forest. It was uphill and muddy so if you have people with mobility issues in your group make sure to choose the more accessible/flatter route.
Partway on the walk to see Father Christmas we came upon a cuckoo clock and a short performance where we were singing and dancing to the 12 days of Christmas to get the clock to light up and start Christmas.
Santa at Kielder Winter Wonderland
After this, it was in to see Father Christmas. Father Christmas was in a warm wooden lodge with a real fire. The kids see them in their group (there were about 30 kids and parents in our group). Santa addressed each child with a fact about them and told them they were on the nice list. I wasn't a huge fan of the group Santa clause experience. I felt it took the magic away a little bit and it was awkward at times. I prefer it when the kids get to see Santa one on one. If you have a shy child they might not feel comfortable speaking to Santa in front of all the other people. The Santa was lovely but he wasn't the best. I think he was struggling to read the list and he called my son Ariel instead of Arlo bless him. It was a nice experience though.
At the end, he gave all the children an ornate wooden key and a Kielder Winter Wonderland glass bauble in a presentation box. We walked back down to the site and the children got to take their keys to the Tipi Toy Emporium where they were stamped and they got to use them to open the magic door into a magical room full of stuffed toys and Santa's sleigh. The children enjoyed choosing their teddies and they were good quality toys.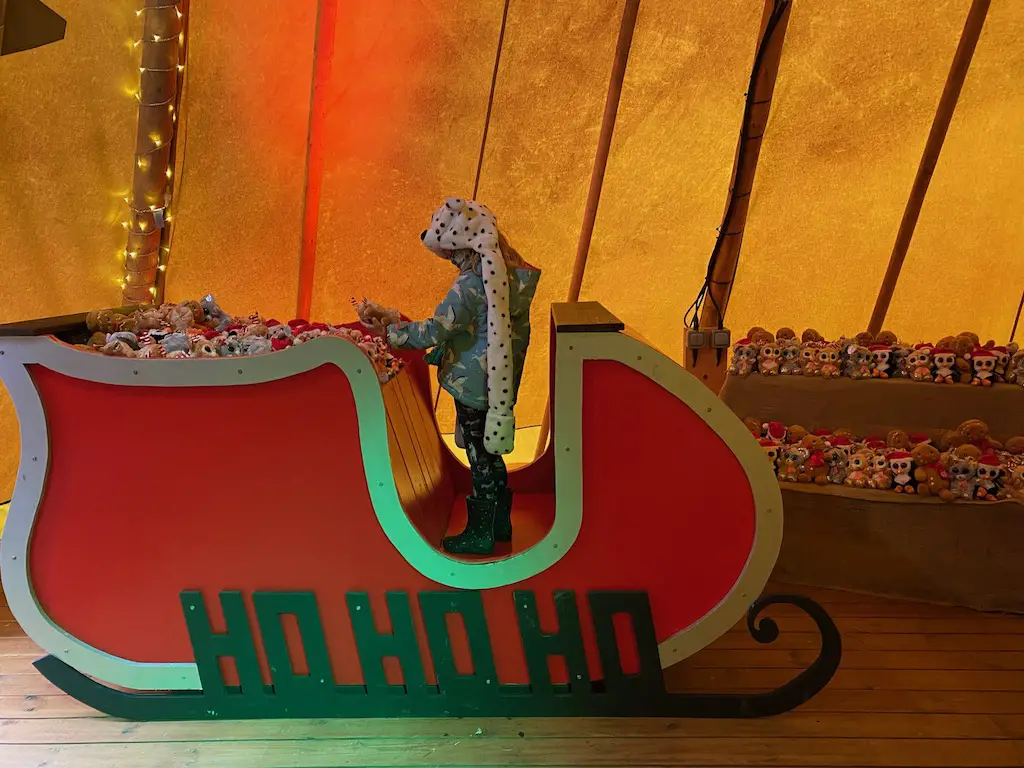 The Beavers
Our next session was to see the Beavers which was an interactive performance inside a large marquee. There were some hay bales around the edges of the tent but mostly you were sat on the floor of wood shavings/bark type stuff which was a little uncomfortable and I got a spelk! Worth bearing in mind if you've got anyone in your party with mobility issues. The kids got to make a little car tree decoration in the shape of a card and hang it on a tree in the tent. They also got to take them home with them, cue chaos as they all forgot where they hung them!
The performance had a nice theme to it about loved ones and the kids enjoyed it.
Christmas theatre
We went straight from the Beavers performance into the Christmas theatre next door. This was also inside a marquee next door to the Beavers but it was a traditional set up with hay bales for everyone to sit on. Children sat at the front and parents at the back which meant the children were able to see which was good but meant we couldn't see our children which unsettled them and us.
The performance itself had a man doing narration and playing a whole host of instruments live which was great. It was quite panto-ish in places and the kids thought it was really fun.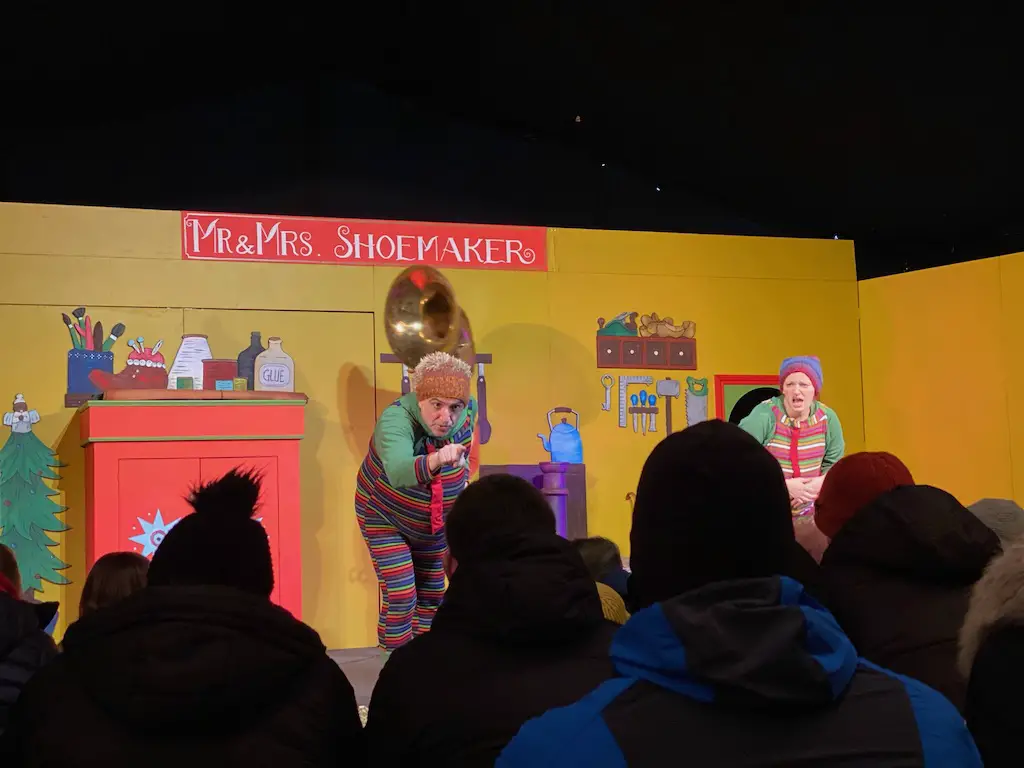 Mrs Christmas
The next scheduled activity was probably my favourite one. That was with Mrs Christmas and involved live theatre at 2 different locations across the forest. Each had a beautiful set and the performers were excellent. It really was beautiful against the backdrop of the forest.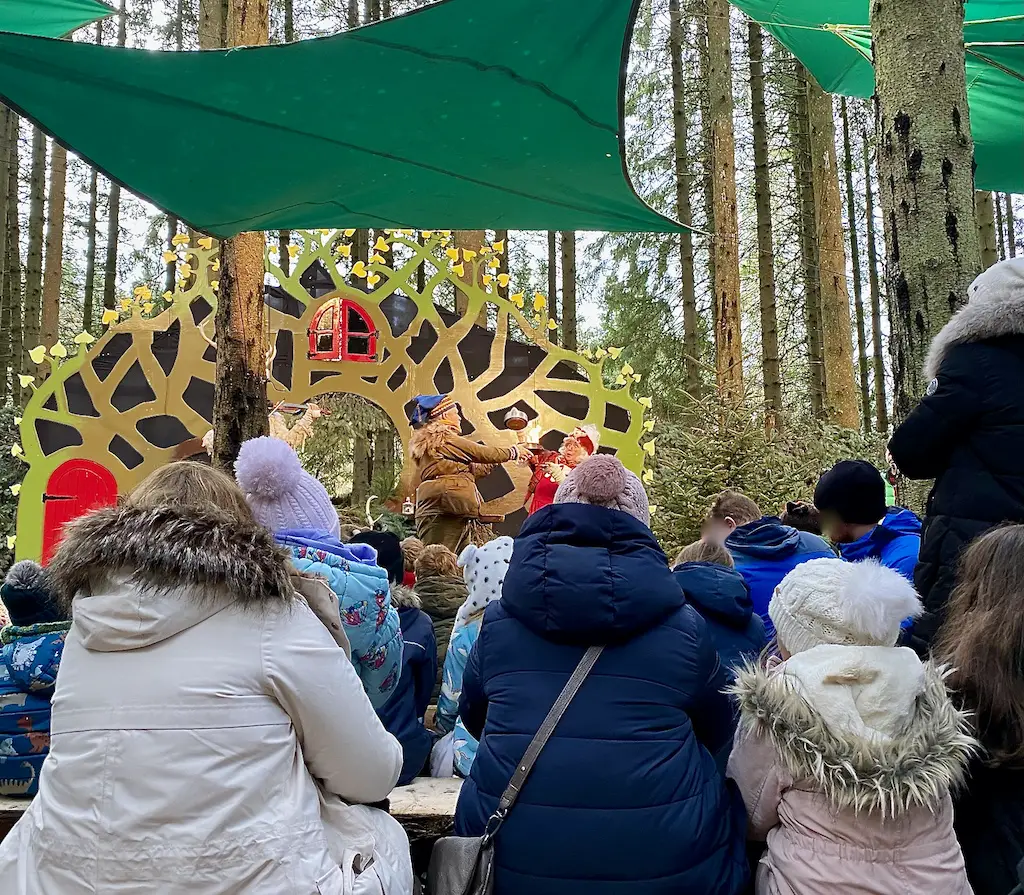 Other Kielder Winter Wonderland activities
Snow tubing
In between the scheduled activities, we managed to have a go at 'Snow tubing' where you walk up some steps and get into an inflatable rubber ring and go down a step white slide. This was included in the price of your ticket and once you have queued you get 3 goes each. Little kids can go down on parents' laps or parents can go down alone too! There were always queues for it but they went down quickly.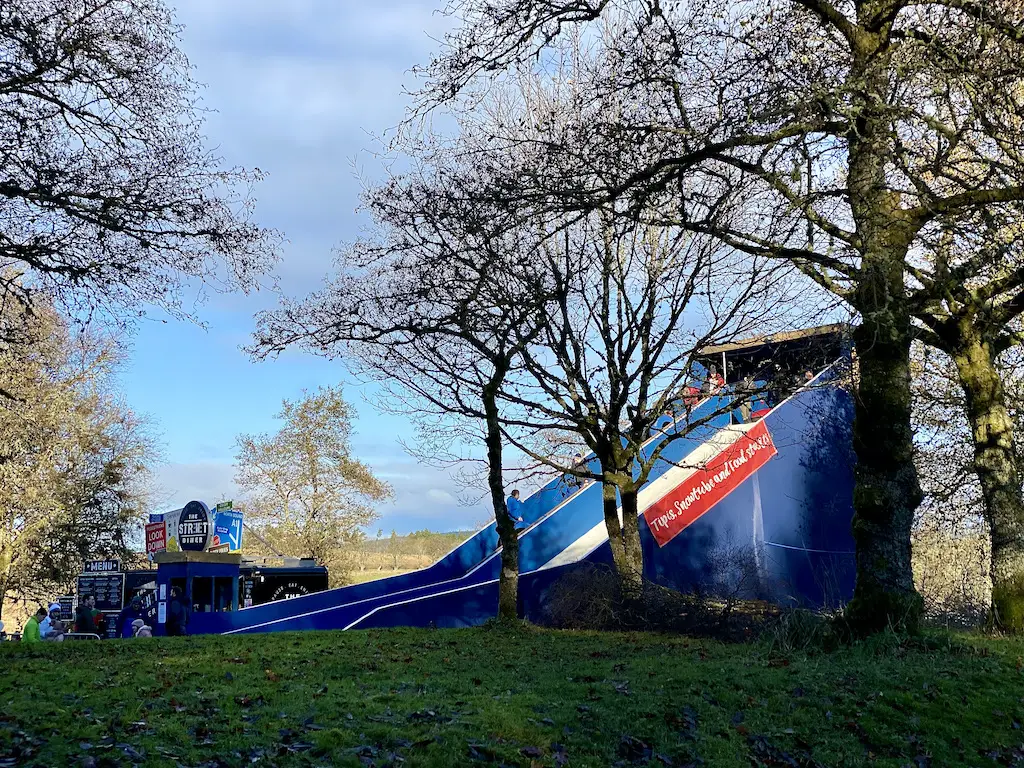 Snowy owls
The Birds of Prey Centre on site is fully open during the visit so you can visit for free. It usually costs £23 for a family ticket so that feels like a bargain. We went twice during our weekend as Lena loves the owls. It is billed as being a 'Snowy Owl and friends' experience. However, there was only one snowy owl and it was actually quite hidden at the top of the site during our visits. The handlers had other owls out for the children to pet though and were fantastic with the kids teaching them about the owls and letting them stroke them for a while to my daughter's delight.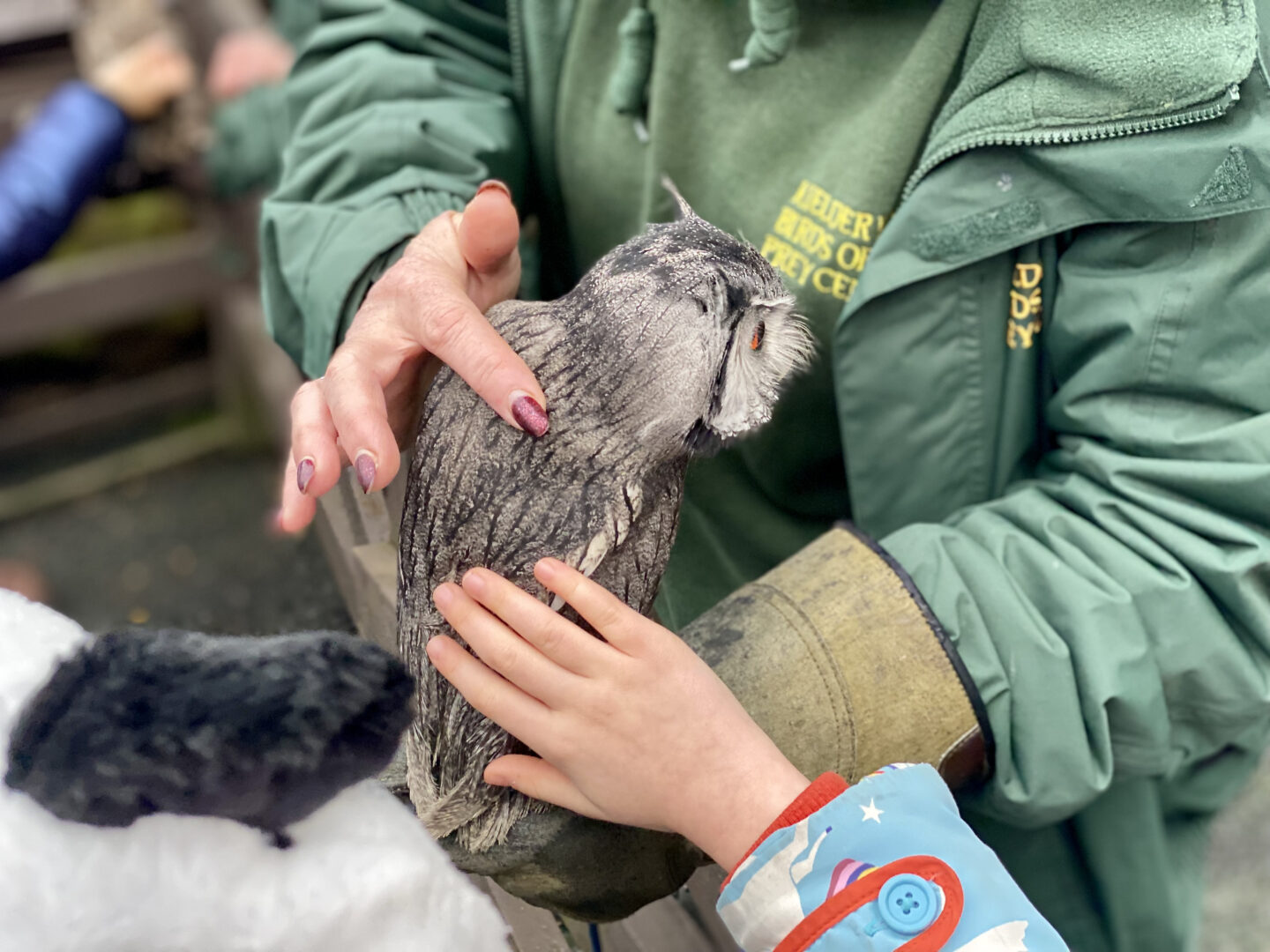 Reindeers
There is a small pen within the forest next to the main site that has reindeers in throughout. There are dispensers on the fence that you can put £1 in and get reindeer feed from to feed them. It was wonderful getting to watch them drink from the stream and walk around or sleep. Though I do have concerns about reindeers at Christmas events. The reindeer with the biggest antlers did have a part that was broken with raw flesh poking out but I didn't know if that is normal for reindeers?! They were beautiful reindeers with a whole range of antlers. We went to watch them numerous times during our stay. They were quite wary and I think quite full from everyone buying feed all the time.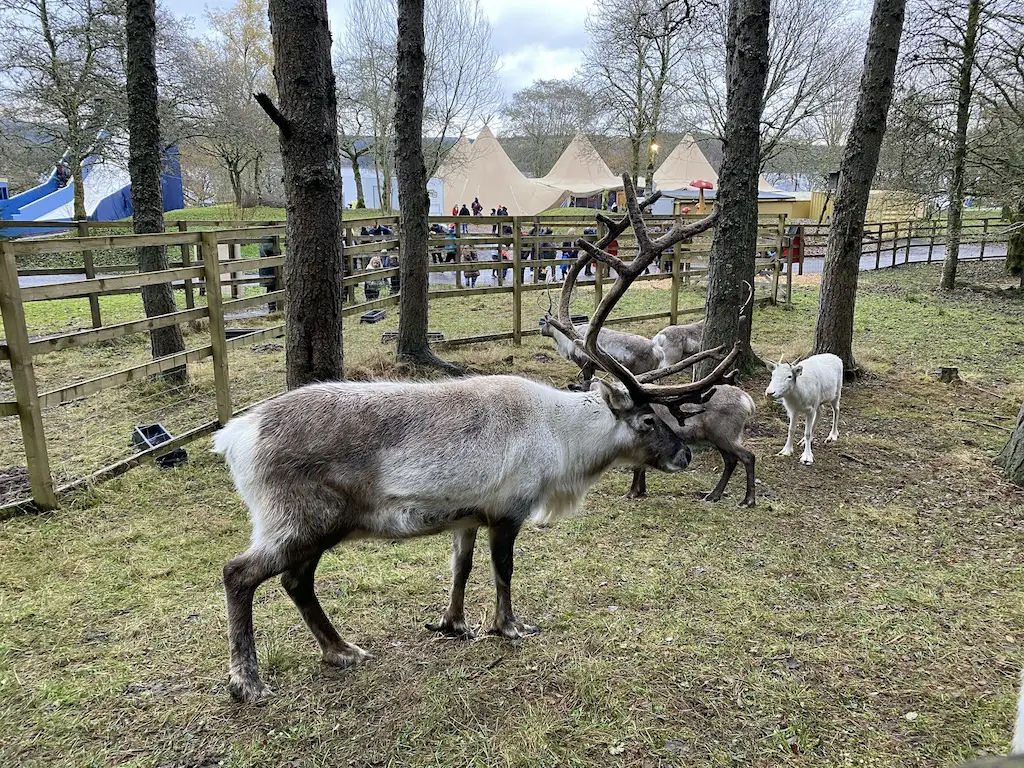 Free Christmas tree cuttings
Something that Kielder Winter Wonderland did that I thought was a really nice touch was they had little Christmas tree cuttings from the forest potted in cardboard holders for everyone to take home. They have a QR code on the back that when you scan it at home it shows you a video of how to care for it and grow your own tree from it. I thought it was a perfect keepsake of the weekend.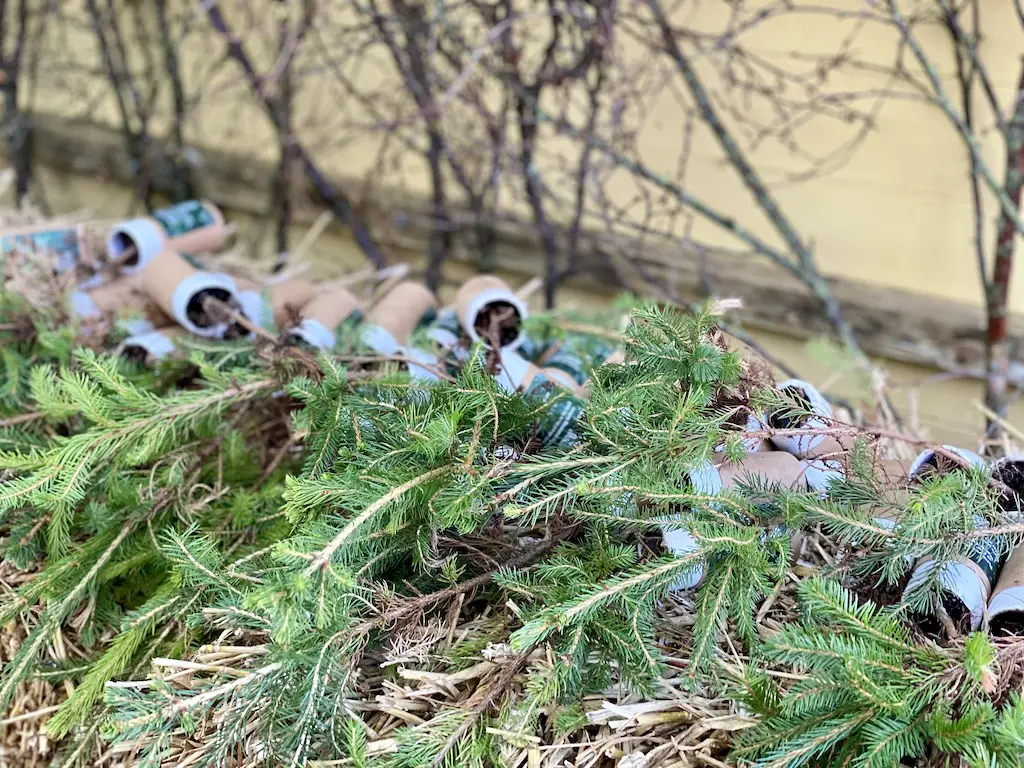 Facilities at Kielder Winter Wonderland
There were ample toilets at the event. We didn't have to queue once and they were kept nice and clean which must have been quite a challenge in the muddy weather we had. They were also stocked with extra bits and bobs you might need like tampons, deodorant etc. There were portable toilets dotted around the site so you were never too far away from toilets though some of those did have steps up to them so you may have had further to go if steps are an access problem for you.
There is a small but well-stocked gift shop at reception which had lots of lovely Christmas wares whilst we were there. I bought a lovely new Christmas cup and my daughter got a snow polar bear stuffed toy that she adores.
Food and drink at Kielder Winter Wonderland
As well as the main restaurant complex at Landal Kielder Waterside there were also a fair few pop up food trucks at Kielder Winter Wonderland. There were a few vans selling burgers, hot dogs, sausages, bacon butties, hot sandwiches and loaded fries. There was a Dinky Donut van selling fresh hot mini doughnuts. Kielder Castle and Cafe van sold burgers, hot dogs and fish and chips after 4pm on a Friday. They were also selling woodfired pizzas on site. Prices ranged with some vans being cheaper than others – you could get burgers between £3.50-£7. The Lakeland Meats stall was the most affordable.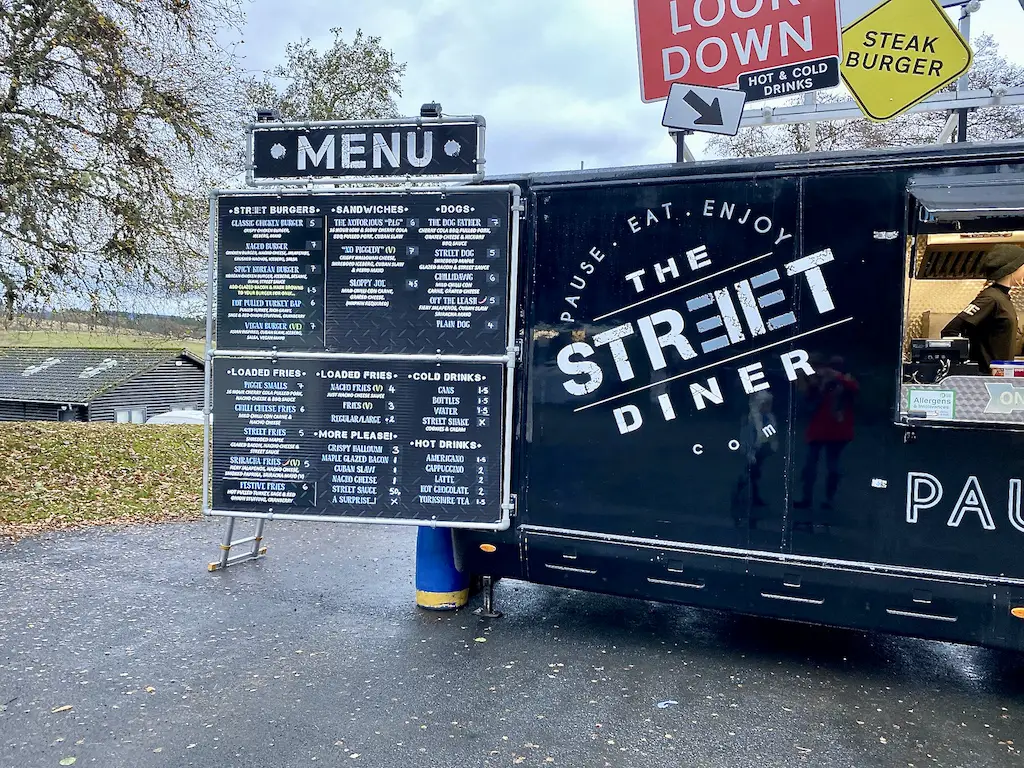 There was seating both in the tipis and outside on benches and you could easily bring your own packed lunch too.
We ate at the on-site restaurant, the Forest Bar and Kitchen on the first night. We didn't book and expected it to be packed but actually, it was pleasantly quiet. We got a range of things from pizzas to pies in our group and everyone enjoyed their food. We enjoyed the pizzas so much that the next night we ordered takeaway pizzas from there to enjoy back at the lodge.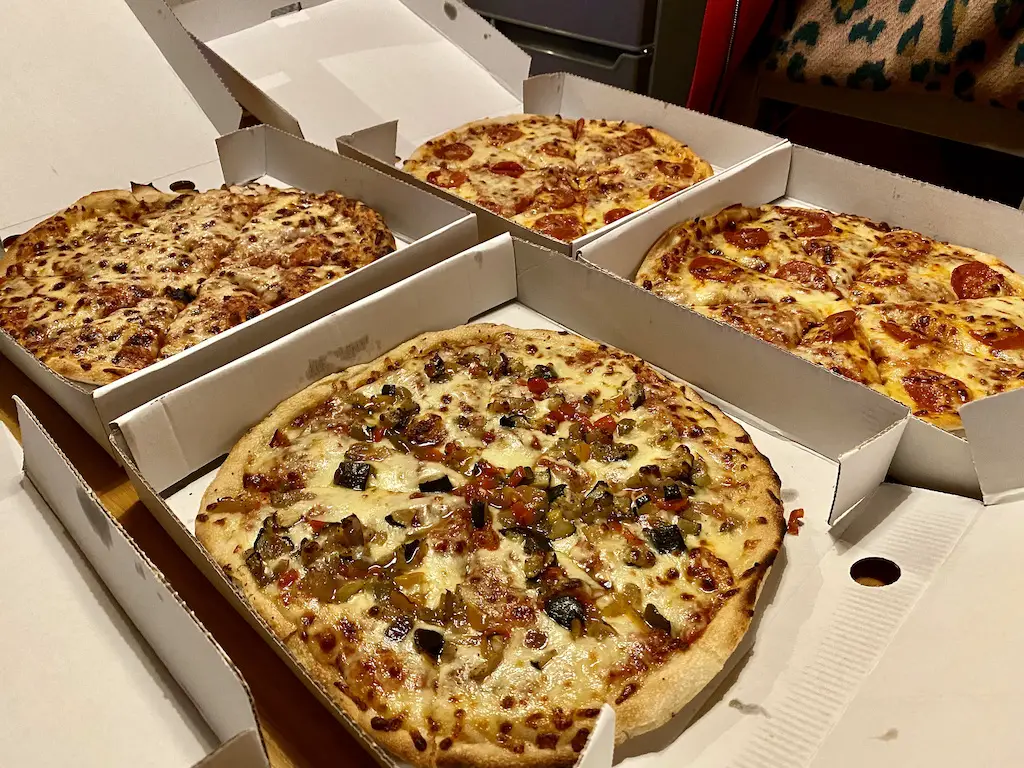 On the main day we were at Kielder Winter Wonderland we bought a sausage sandwich, bacon butty and a double burger from Lakeland Meats and had some dinky donuts. All the food we ate during our stay was nice.
On our way home we stopped off at the nearby Pheasant Inn a 5-minute drive down the road which was one of the best Sunday lunches out I've had in a long while. The lady who initially served us was a bit grumpy but then a gentleman took over who was much more personable. There were open fires which were delightful on an icy cold day. The dinner was fantastic and I'm still drooling over the gravy. We'll definitely head back next time we visit the area. A proper English pub experience.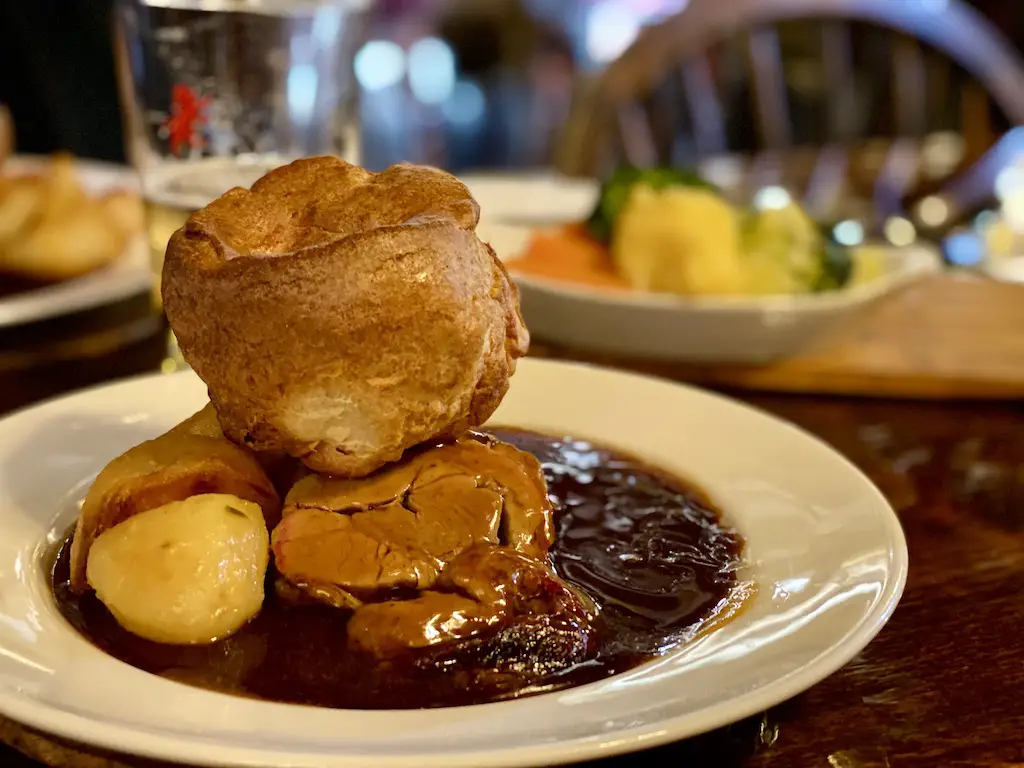 Kielder Winter Winderland and Covid
Kielder Winter Wonderland had lots of covid safety measures in place such as hand sanitiser. The swimming pool and gyms have to be pre-booked so that they aren't used by too many people at once. The site is Visit England Good to Go accredited.
Most of the event was outdoors. It was very busy though so don't anticipate you can social distance much on site. If you are (understandably) cautious, take your face coverings as the Beavers, Christmas theatre and Father Christmas are indoors with a lot of people – most of whom didn't wear face coverings so there is an increased risk there.
What ages are best for Kielder Winter Wonderland?
Kielder Winter Wonderland is a children's experience ideally suited for children between three and ten years of age. Children under the age of three can still participate in all of the activities but will need some help from grown-ups on the snow tube and in the Elves Workshop. The recommended ages are a guide only, children under 3 will still enjoy the experience and be able to participate in activities. Our son turns 10 in December and I'd say he was on the cusp of outgrowing it. He enjoyed it but not as much as my 6-year-old who got more out of it. I think year 1 to year 4 will be the ideal ages.
Tips for visiting Kielder Winter Wonderland
Kielder is a dark skies area and as such has minimal lighting on site. It is extremely dark so take torches for getting round the site at night.
Also, you might want to try and arrive before dark as the roads leading to Landal Kielder Waterside have no streetlighting at all. They are winding, small country roads that feel quite trecherous in the dark.
Evene though we weren't forecast rain during our visit, there was drizzle and some of the walk ways are very muddy. Take appropriate footwear – wellies, winter/walking boots etc.
As you are by the massive reservoir, it feels colder than it is elsewhere nearby. Take layers and wrap warm. We had scarves, hats, gloves, coats and we were still cold at times. Waterproofs are a good shout too.
Consider packing your own lunch as we found the queues for food were so long we nearly missed our next slot.
They have an event date that is perfect for anyone who would benefit from a more relaxed performance environment, including those with an autism spectrum condition or learning disabilities. We were around on that day as we left from our stay and it did seem a lot more chilled out. I saw staff helping children and giving them lots of support. I saw the Lakeland Meat stall staff with a bucket blowing bubbles for older children who they were adressing by name. It looked like the staff were really going the extra mile and it was lovely to see. There were also a lot more people wearing face coverings this day.
Probably best for kids aged 3-10.
Kielder Winter Wonderland summary
We had a lovely experience at Kielder Winter Wonderland, made even better by extending the stay to a weekend on-site. Due to the expense and the surprise element, it's likely to be something that you only do once with your kids so time it as best you can for them to be at the best ages for it. It is expensive but we felt it provided good value for money and I'm sure we all have made some memories that we will treasure for years to come.
If you have any further questions pop them in the comments on here or social media and I'll do my best to answer.
If you found this post useful you might also like:
If you have enjoyed this post or found it useful, here are some quick and easy ways that you can support Nomipalony or say thanks:
Share this post with your friends  
Pop over to my Amazon Storefront to see what products I have been buying and loving from there recently, including my health and fitness products list.
Sign up to my mailing list 
Women can join my feminist Facebook group – the Nomipalony Freehouse