We recently did a once in a lifetime holiday of 2 weeks in Orlando to visit the Disney World and Universal theme parks. In this post, I'm going to tell you all about our trip, including how much it cost, how much we spent and what it was on, our top tips and our 14 day Orlando itinerary.
Orlando itinerary 14 days
For our 14 days in Orlando we had 14 day Disney World tickets and 14 day Universal tickets so we were able to spread our days across the 2 weeks.
Of course if your tickets are limited to shorter periods then you might want to clump the park days together more evenly.
What we had planned was this:
| | | | | | | | |
| --- | --- | --- | --- | --- | --- | --- | --- |
| Week/Day | Sunday | Monday | Tuesday | Wednesday | Thursday | Friday | Saturday |
| Week 1 | Magic Kingdom | Universal Volcano Bay waterpark | Non park day | Epcot | Animal Kingdom with park hop to Magic Kingdom | Universal Islands of Adventure | Non park day |
| Week 2 | Non park day | Typhoon Lagoon waterpark and Disney Springs | Hollywood Studios | Universal Studios | Non park day | Magic Kingdom plus park hop | Travel day |
However what we actually did was this:
| | | | | | | | |
| --- | --- | --- | --- | --- | --- | --- | --- |
| Week/Day | Sunday | Monday | Tuesday | Wednesday | Thursday | Friday | Saturday |
| Week 1 | Magic Kingdom | Typhoon Lagoon waterpark | Non park day – Denny's breakfast, pool at villa, dinner at Disney Springs (T-Rex) | Epcot | Animal Kingdom with park hop to Magic Kingdom to see Fireworks | Universal – both parks | Non park day – Ponderosa breakfast buffet,Target, onsite waterpark, pool party in the villa |
| Week 2 | Rest in day and into Universal at 4pm, both parks till close | Universal Volcano Bay waterpark, chill evening and early night | Hollywood Studios and out for Italian restaurant in evening | Universal – both parks | Rest in day and Universal both parks 4pm till close | Animal Kingdom and on site restaurant in evening | Travel day |
Read on for details about each of these days.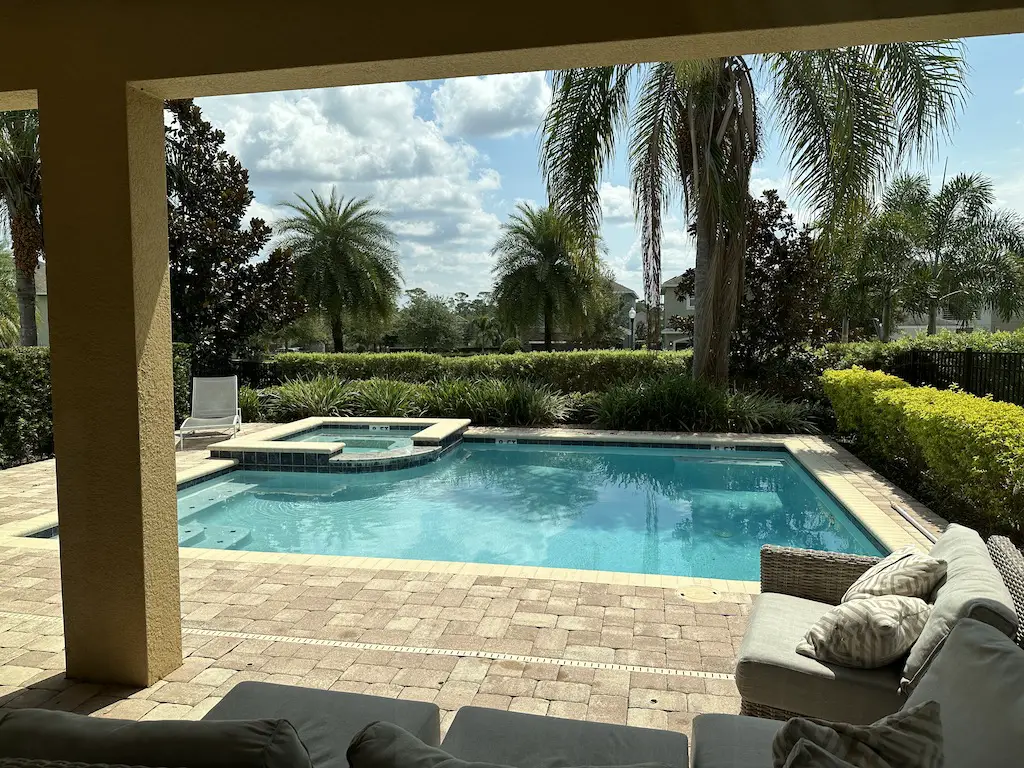 14 day Orlando itinerary planning
As you can see we largely stuck to our plans. I had done a lot of research after all but we did deviate a little. Largely that we wanted more time in Universal than we expected.
Everyone told us you would only need a day per Universal park but with the queues in peak season for us we didn't get to go on everything we were hoping to. We also had Genie Plus every day at Disney World meaning we could achieve more quicker there.
What I will say is you need to do your research for the dates and days that you are going. So many things affect your experience in the parks. You have to take into account how busy that park is projected to be each day and whether there are any special events on our holidays that will effect the parks.
For example, for one of our days, Mickey's Not So Scary Halloween Party was due to be on at Magic Kingdom on the night. This meant the park would be much quieter in the day but you'd need to leave for the evening unless you had special tickets.
There are lots of websites with crowd calendar calculators and tools showing which are the best days to visit which parks and they use park data to determine this.
The ones I found helpful were Thrill Data (amazing park data), WD Prep School and Undercover Tourist.
14 day Orlando itinerary – diary entries
Here is a detailed breakdown of what each day of our 14 day Orlando itinerary looked like in practice.
Day 1 Magic Kingdom diary entry
Our first day in Orlando, Florida! We hit up Magic Kingdom at Disney World at about 8am and stayed till around 5. I walked about 18,000 steps. It was very hot and very humid! 37 degrees at one point.
We had a great day though, got on lots of rides, our favourite being Tron (which we booked via the virtual queue at 7am.
Unfortunately when our time came for this it was earlier than we expected. This had us racing across the park in the peak heat so we didn't miss it. That was a low point it would have been best to avoid so plan for those virtual queues carefully – don't try to squeeze too much in before hand.
We had some tough points where people were struggling with the heat but overall it was more manageable than I had feared, even after just 4 hours of sleep and a 2am start!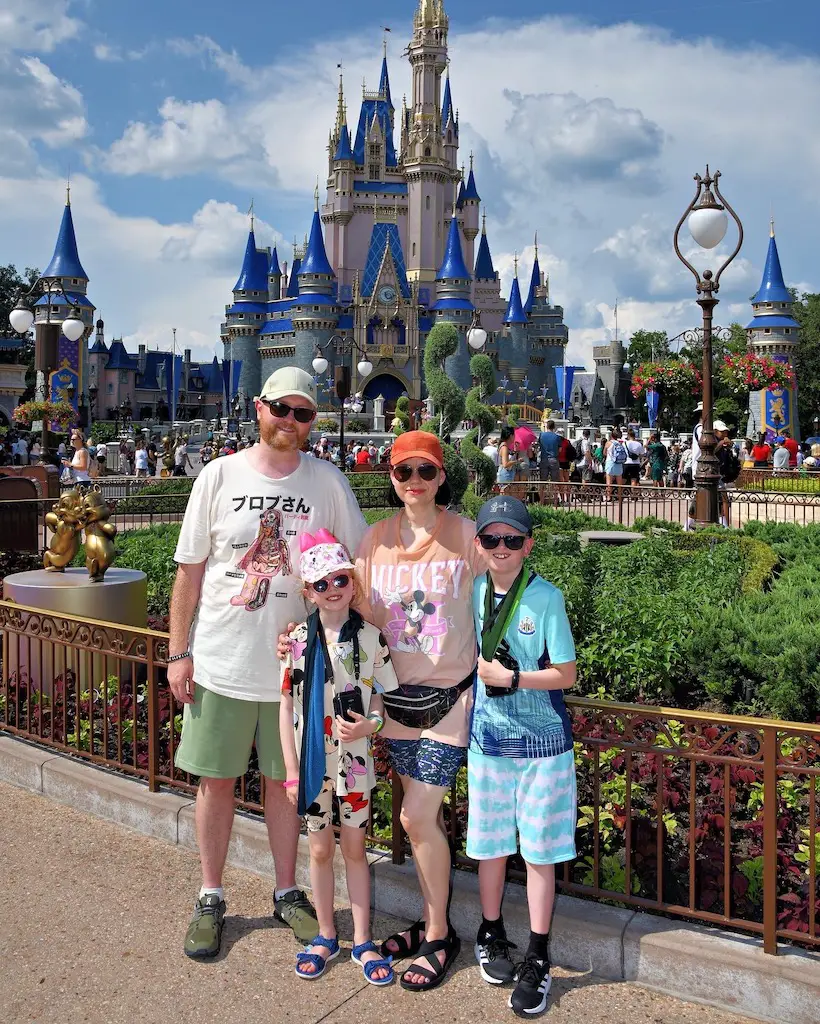 Day 2 Typhoon Lagoon diary entry
We got to Disney World's Typhoon Lagoon waterpark for 9.45am. It opens at 10am and we were easily able to get sun loungers in a lovely shaded area (follow the path around to the right and it's near Typhoon Tilly and Hammerhead Freds bars).
It was nice and quiet on opening and we were able to go on the rides without queues. Even later the queues were rarely longer than 10 minutes.
We all liked the family raft rides we got to experience together the best – Miss Adventure Falls being our favourite. Our least favourite was the lazy river that was so busy it wasn't relaxing!
Sadly a storm shut down the park at around 2.30pm and we had a hairy drive home in super heavy rain, thunder and lightning.
We jumped straight in the shower and then later headed to TGI Fridays in Kissimmee for dinner and back home for drinks where we were greeted by 2 lizards in the house. This freaked my 8 year old out so she fell asleep in our laps whilst the grown ups had some drinks.
All in all a great day and hopefully one that they'll remember as adults!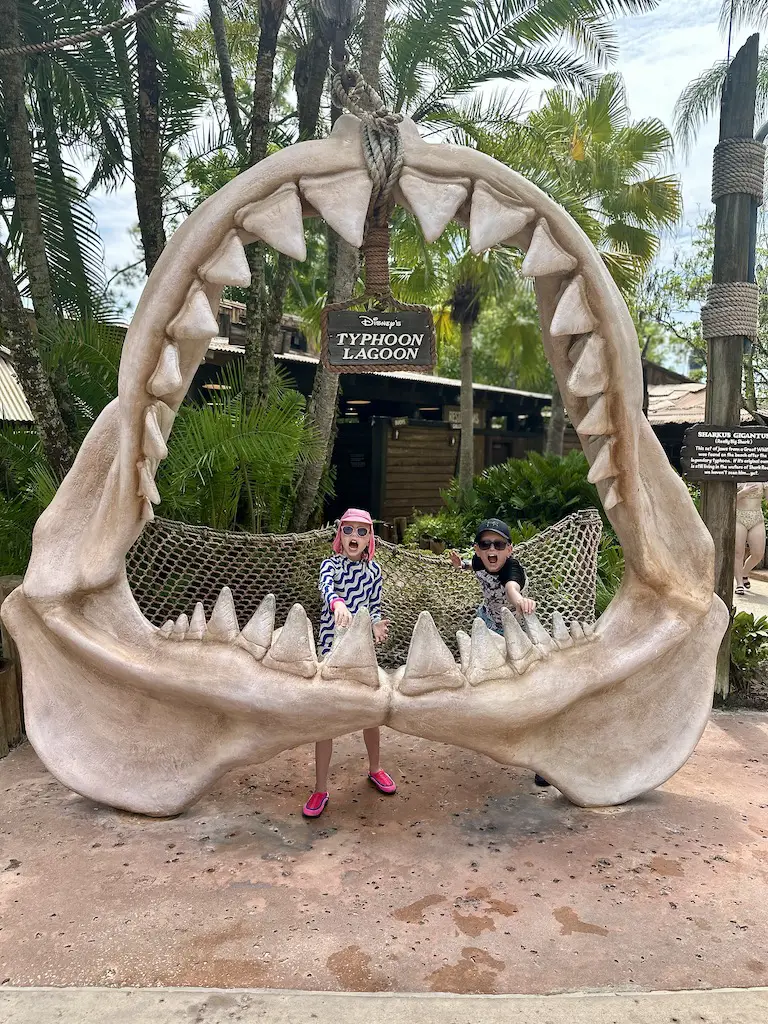 Day 3 – non park day and Disney Springs diary entry
We'd planned this as a 'non park day' so went to Denny's in Kissimmee for breakfast. Then we hit up some gift shops for some tat.
We went back to the villa and had some pool time and a nap.
On the evening we went to Disney Springs (Disney World's shopping and restaurant area). We had dinner at the dino themed T Rex restaurant. This was expensive but fun and the food was nice. See my tips at the bottom for how to save money at Landry restaurants!
I really liked Disney Springs at sunset. There were a few live bands playing and a nice atmosphere. Hopefully we'll head back again before the trip is over.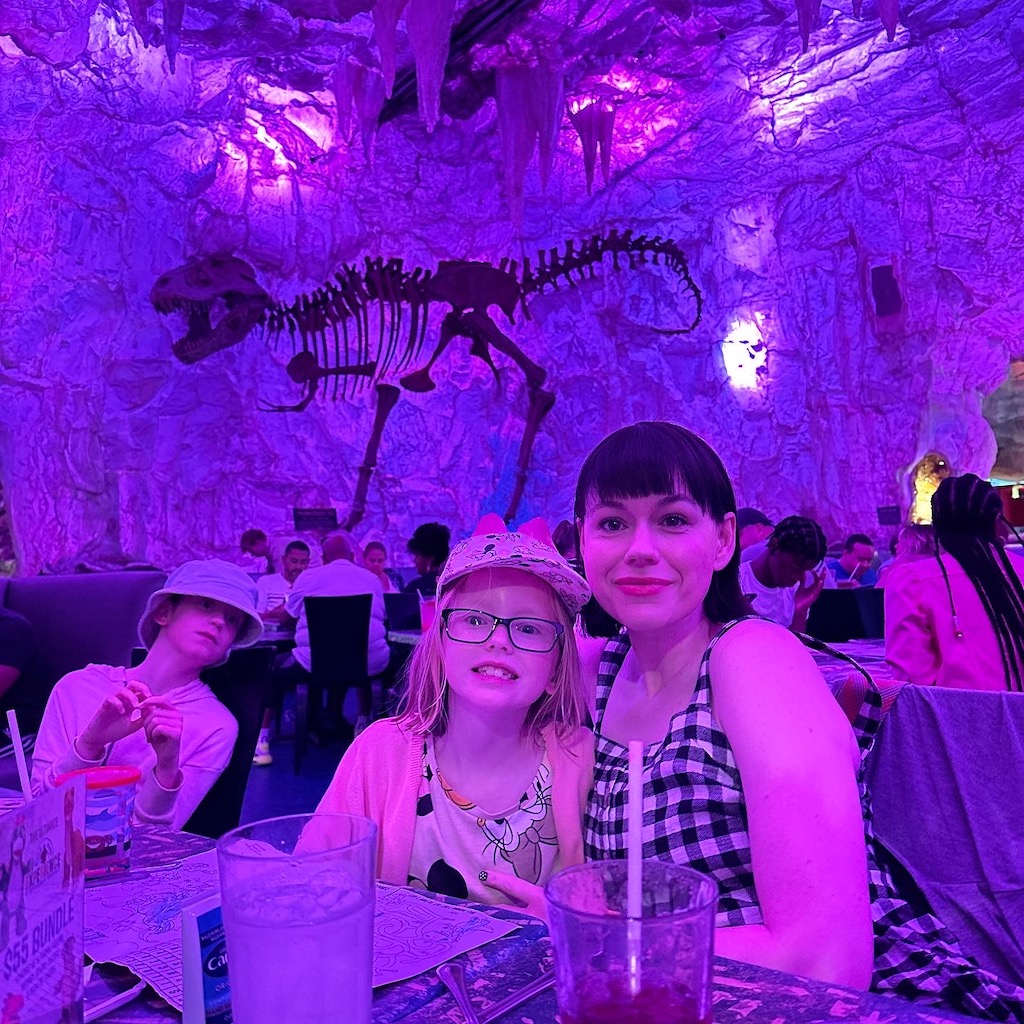 Day 4 Disney World's Epcot diary entry
Another scorcher of a day that ended in a storm.
Highlights were: the Guardians of the Galaxy Cosmic Rewind, perhaps the most enjoyable rollercoaster we've ever been on. It actually broke down on our ride after queuing for over an hour so they let us ride again so we got to experience 2 of the 4 songs they use. It was awesome.
We also had our best pizza ever at the Via Napoli restaurant in 'Italy'. We got a 1/2 metre mezzo metro pizza for 4 of us as a half and half of cheese and tomato and Quattro Formaggi. V expensive but so worth it – they import all the ingredients from Naples – even the water. We got a pitcher of beer too which after scorching heat that had us fractious went down like nectar.
We also loved Remy's Ratatouille Adventure, an immersive 3D ride that had Papa Ginge grinning like the Cheshire Cat saying 'this is excellent' throughout.
An unexpected highlight was Club Cool Coca Cola shop that allowed you to sample cokes from around the world for free. This is near the entrance/exit.
We finished up here on the way out and the kids loved trying them all and which they thought were the best and the worst. Like the internet told me before I went, Beverly was by far my worst!
There was loads of stuff in Epcot we didn't get to try. This is definitely a park that warrants more than one day.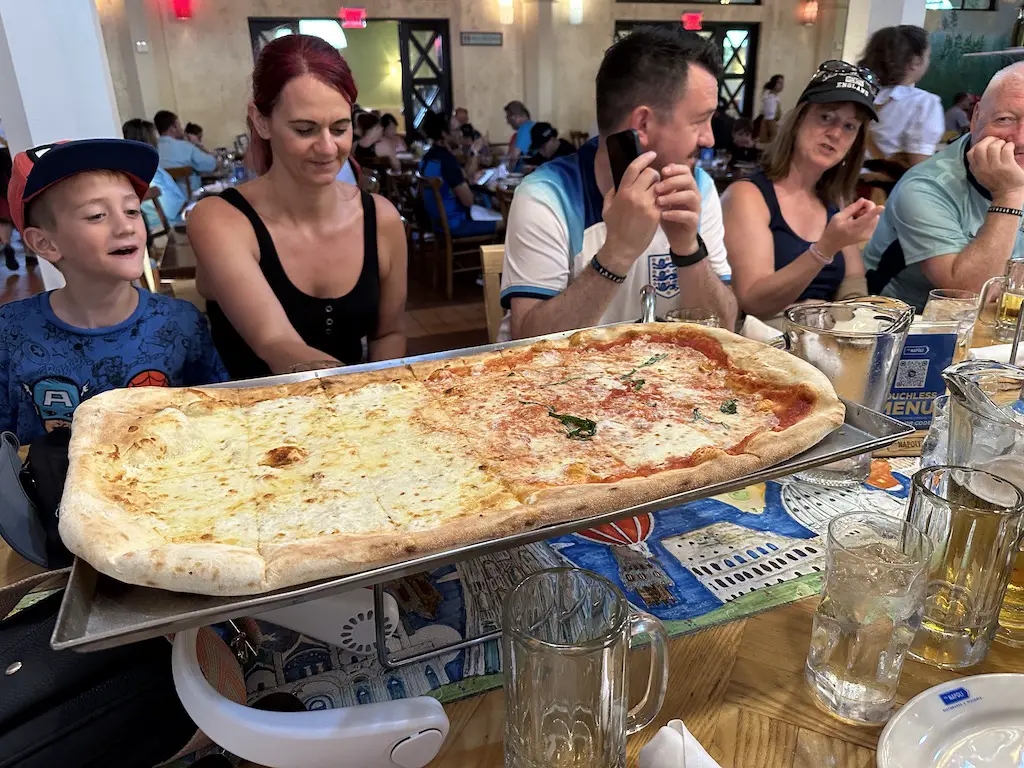 Day 5 Disney World's Animal Kingdom diary entry
We did a later start and had lunch at the villa. We then headed in later so we could do a 'park hop' (this makes it sound effortless and it's actually not lol) to Magic Kingdom to see the fireworks at the end of the day.
We loved Animal Kingdom, we had a rainy day which we much prefer to the intense heat so it made it more enjoyable.
We loved Pandora and the Avatar rides and lots of our party really enjoyed Expedition Everest.
We also loved Kilimanjaro Safaris where we got to enjoy a giraffe with the zoomies.
Our Genie Plus came in so handy at this park despite the internet saying it wouldn't be worth it, we used it a lot.
Then we had dinner at the Rainforest Cafe at the entrance before driving over to Magic Kingdom for 9pm to see the fireworks at 9.20.
We then got on Seven Dwarves Mine Train with a short wait before leaving the park at 10.30 and entering an epic queue for the monorail to leave. My 11 year old says he's still traumatised from it and that the fireworks were not worth the queue!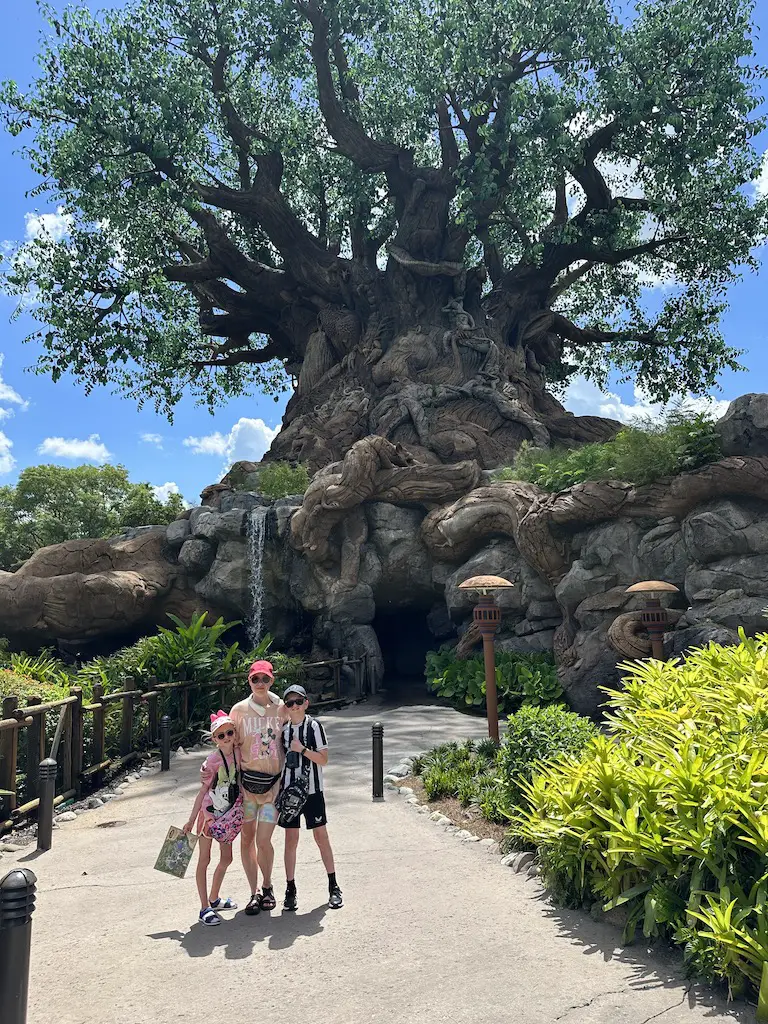 Day 6 Universal diary entry
Another scorcher of the day that ended in rain storms.
We hit up the Wizarding World of Harry Potter – we mostly focussed on Hogsmeade. We tried to get on Hagrid's Motorcycle ride but it was off most the day due to the weather. My tip is go on this when it's up and running as it goes down a lot. We didn't make it on this visit.
We enjoyed frozen Butterbeer – much better than the regular Butterbeer. Harry Potter and the Forbidden journey was lot of fun. Then we had an impromptu lunch in the Three Broomsticks which was decent value (comparatively the prices here are mind blowingly extortionate).
We rode the Hogwarts Express both ways and saw the night bus and had a fun conversation with Dre Head.
We also managed some old school rides like Men in Black and ET. We took part in the Ollivanders Wand Experience twice. My son was 'chosen' and I think it made the trip for him. It was genuinely quite magical. My daughter was gutted not to be chosen though so bear that in mind if you have a few kids! Also the wands are a staggering $67 but they do magic tricks at around 40 locations across the parks.
We finished the day with the Flight of the Hippogrith (V short coaster for littler ones). It was a fun day but as you can see with how few rides we got on for a full day it was quite tough for queues and weather.
It would be great to stay at a Universal hotel with fast passes to reduce the queuing here and the travel time it takes to get in and out. It probably takes about 20 minutes just to get from parking through security and walk up City Walk to the two Universal parks too.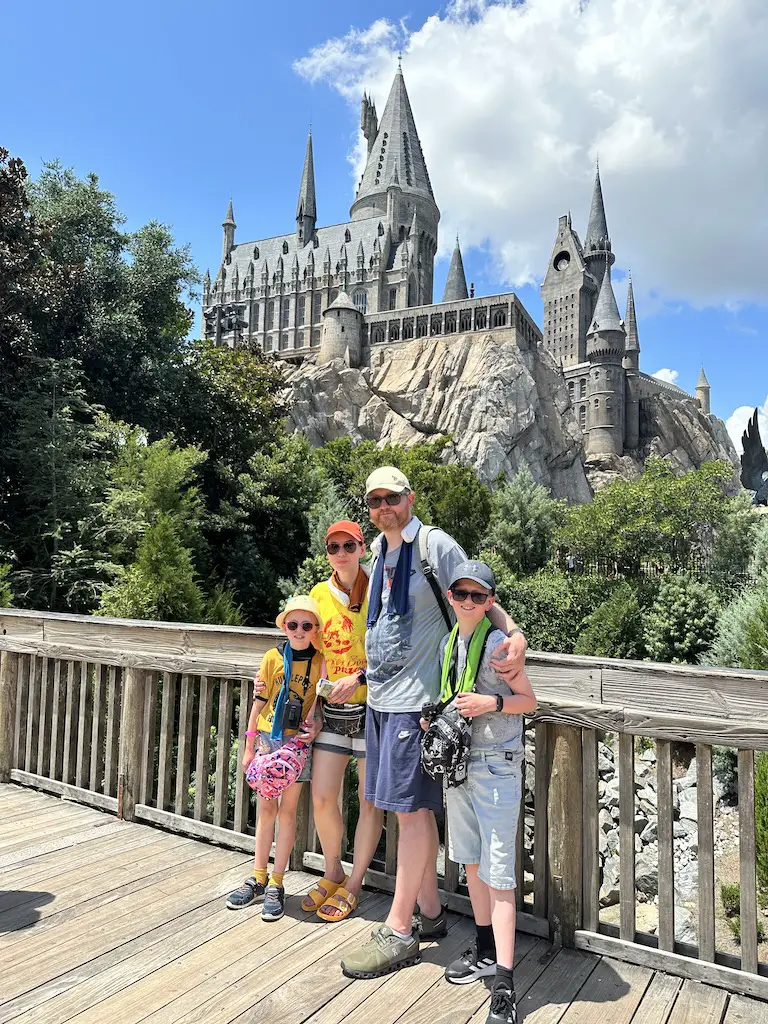 Day 7 – 'non park day' diary entry
We went to the Ponderosa buffet for brunch. I tried grits and American biscuits and gravy for the first time, I liked them.
Then we went to the gift shop next to/inside the Ponderosa. And then on to Target where we admired their cereal aisles and spent too much on groceries.
Everything cost so much! The very cheapest frozen pizza was $3.99. Boxes of cereal were a similar price. It made us feel slightly better about the prices back home (for a minute).
My tip is pop to Home Bargains or B&M etc before you go and pack snacks with you to take. Then it will also leave room in your case on the return for souvenirs.
After that we popped to our resort pool area – it had a big pool, water slides and a bar. Sadly a storm came in and shut it down before we got to try them out so we ended up in the bar. I tried a beer flight of some local beers. By time the storm had passed, their pool had shut so we went back to our own villa for our own pool party which was lots of fun.
My sister in law helped teach my daughter how to dive. My daughter and niece started making their own stop motion video with their new toys. They continued to add to this video throughout the holiday. We ordered pizza (only $7 a pizza and canny), booze and snacks from the local 7-eleven. A really fun 'rest' day, ready for more parks the next day.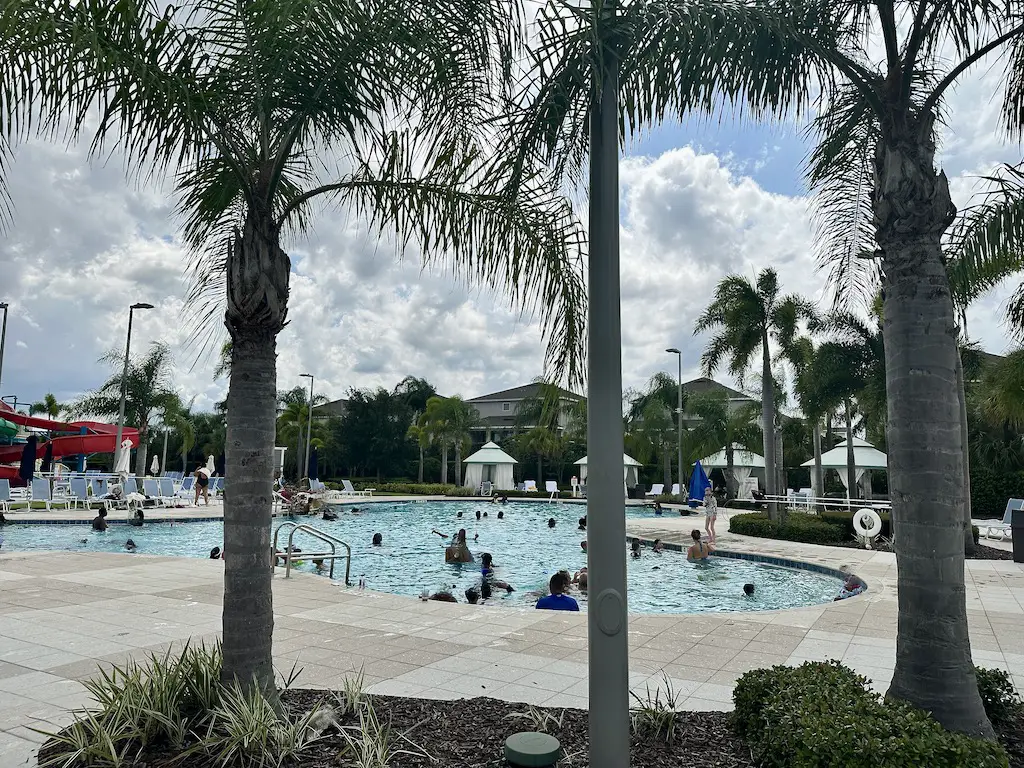 Day 8 – Universal diary entry
This was meant to be a 'rest' day but by the afternoon we were too restless so headed back into Universal around 4pm.
This time we were just a family of 4 instead of our larger group of 10 so we could really focus on the Harry Potter areas.
We ate at Mythos which is rated as an exceptional theme park restaurant. It was definitely fancier but it was more expensive and my mahi special was $33 (before taxes and tip) and was actually quite small. The bill came to over $100 and that was without drinks.
We finally got on Hagrid's Magical Creatures Motorbike Adventure which really is a fantastic rollercoaster (it's the most expensive ever made). Sadly, it broke down right at the end for us. At our next visit we told guest services about this and they gave us fast pass tickets to ride it again so that was worthwhile doing.
We went on the Hogwarts Express again and also rode Escape from Gringotts which was really fun and the Gringott's bank theming was excellent.
We also got to explore Diagon Alley for the first time which blew us away. It's by far the best theming at any of the theme parks. I could have spent hours there. The prices in the shops are eye watering though and definitely more than at home.
The dragon on Gringotts bank breathes fire every 10 minutes and it's quite a thing to witness and feel (so hot, even from far back). We hopped on Revenge of the Mummy on the way out which had even more fire and left after closing.
So much for a rest day, we did another 13,000 steps.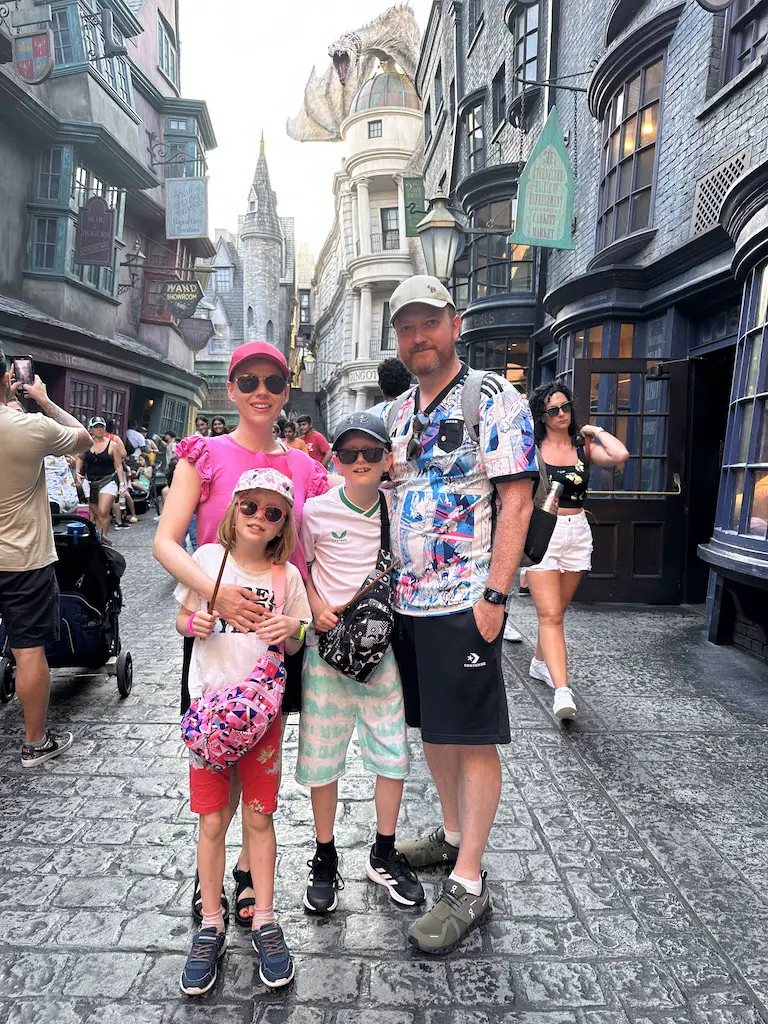 Day 9 Universal's Volcano Bay waterpark diary entry
We found Volcano Bay a much busier and larger waterpark than Typhoon Lagoon. Also you can't drive there and park. You have to park at the Universal car parks and then get a free shuttle bus over there. These run frequently and are easy to hop on and off, They do get busy though and you may have to stand.
Again we focussed on the ring type rides that we could all go on as a family. The Volcano Bay theming was impressive, their wave pool was very gentle compared to Typhoon Lagoon.
Everyone was tired around 4pm so we came home, showered and then we babysat all 4 kids so everyone else could go out and we ate leftovers and had a much needed early night.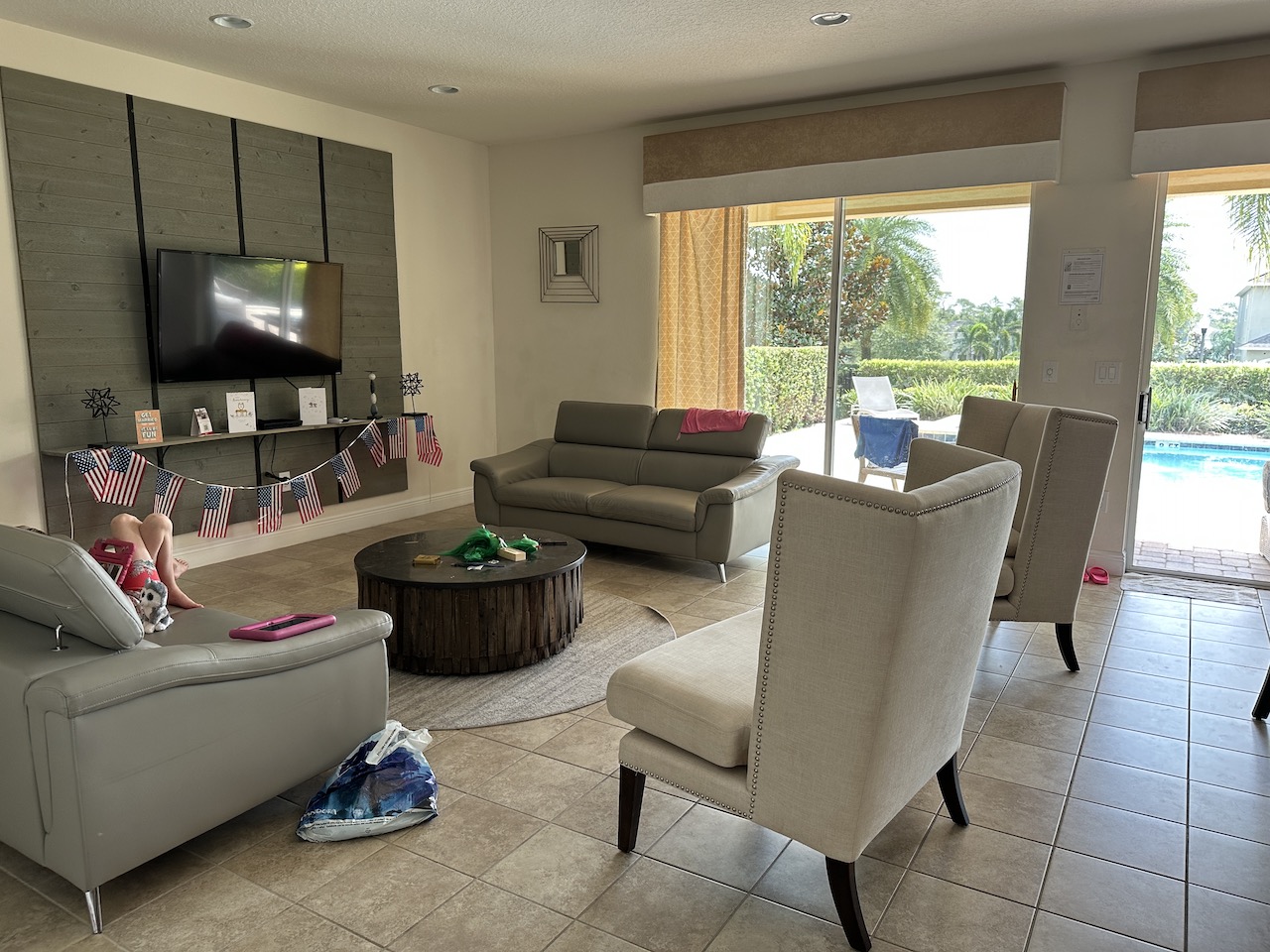 Day 10 Disney World's Hollywood Studios diary entry
This was the day that Florida broke a 36 year record for heat and our little pale British bodies nearly died! Truly exceptional heat to be walking around a theme park all day.
Highlights – all of Galaxy's Edge and all the Star Wars rides but especially Rise of the Resistance which felt like you were in the plot. Such a huge production. So many Storm Troopers!
We did classics like Tower of Terror and the Indiana Jones stunt show which was nostalgic for members of our group who came in the 90s.
We rode slinky dog dash which I felt was overrated but a good coaster for younger kids. Rock n Rollercoaster was fast but not as smooth and enjoyable as the newer coasters like Tron and Guardians.
Low lights – The heat was 'feels like' 46c this day and it really did and we all struggled a lot. We were hoping to stay for the Fantasmic show at 9.30pm but we quit at 5pm as we were done in. We even went to a lightning McQueen show none of us cared about just to get out of the sun!
We ate lunch at Docking Bay 7 Food and Cargo which was fantastic theming and the food was nice. What was pictured here (plus two beers not pictured) cost $85.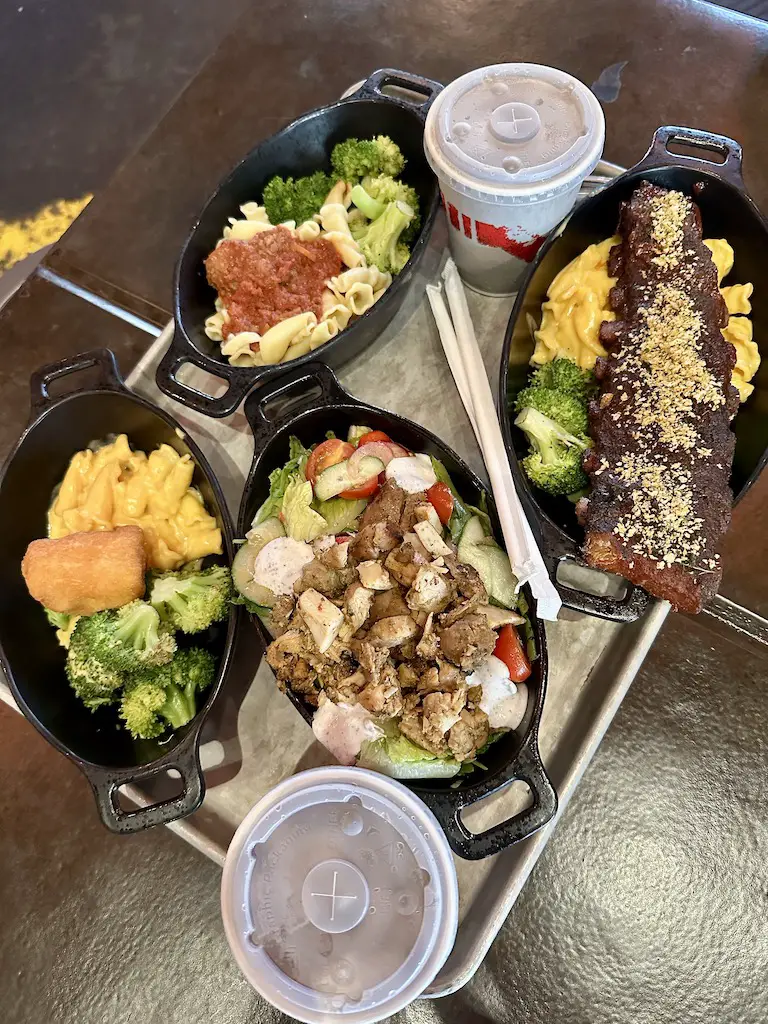 You can take your own food to all the parks but there's nowhere indoors to eat it so you end up saying just take all my money to get some seating, air-con and a cold drink.
On the evening the grandparents offered to babysit the kids (as they were about to leave for a few days to visit Nashville) so the 4 parents could go out.
We went to Little Italy restaurant and Mulligans Irish Bar in Celebration but to be honest I was not my best self as I was pretty tired and just wanted to go to bed!
Day 11 Universal diary entry
We had a slow start as we were all a bit traumatised from the intense sun the day before and couldn't face a park until the afternoon. We went to Universal around 4pm.
Top tip – take your $30 parking receipt to the cinema on the way in, buy two tickets to a matinee film costing $20.50 and they'll reimburse you your $30 parking ticket in cash.
On this trip to Universal we did the Minions and Despicable Me rides. The new Villain-Con Minion Blast ride that has just opened was a bit of a let down but Dispicable Me Minion Mayhem was good 3d simulated fun.
We spent time in Springfield, went to Moe's Bar and had (an extortionately priced) pint and cokes for the kids (about $40 for that round – you also have to tip 20% for drinks).
At this point our daughter realised she had left her $67 Harry Potter wand somewhere. Papa Ginge ran heroically and sweatily across the park and found it by pure chance with a staff member who had just found it somewhere else. What a relief.
After his well earned pint we went to the Animal Actors show where real life animal actors performed tricks for us. This was such a surprise hit, we went for my daughter but we all loved it. It was very sweet and amusing and we vowed to train our dog Gizmo better when we got home.
Papa Ginge got to meet a fun dancing Bumblebee transformer.
We went back to Diagon Alley (what can we say, we love it) and enjoyed a performance from Celestina Warbeck and the Banshees. My daughter bought an Buckbeak stuffy (she is laughing in the face of our no more stuffies ban at this point).
We had dinner at The Leaky Cauldron which was more chilled than the Three Broomsticks/Hogs Head with more spacing around the tables. However, we didn't think the food was as good and the kids portions either were or seemed smaller.
The kids continue to laugh at Americans thinking they are doing British food but putting grapes on fish and chips. We remortgaged our house for yet more Butterbeer (the kids second of the trip) but they'd already got sick of it and only managed half this time.
I had wondered many times before going whether the Butterbeer was the same as the Butterbeer at the UK Warner Bros Studio Tour. The regular Butterbeer is but the frozen Butterbeer is much nicer.
We got on a few more rides, hit up some gift shops, were shocked at a $71 cheap plastic bauble and finished off the day at closing at 16,500 steps.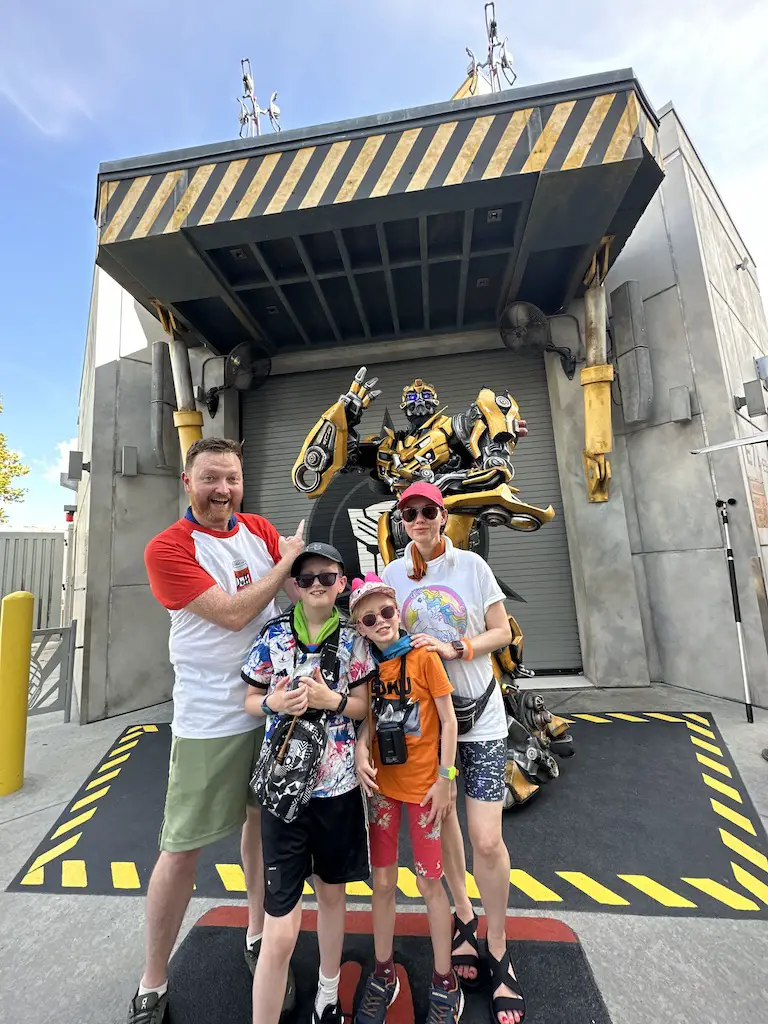 Day 12 – Universal diary entry
We did 4pm till close at the Universal parks again to avoid the worst of the heat.
First we went to the Vineland Premium Outlets. The outlets are heavily discounted but because the US is so much more expensive than the UK right now we found the discounts just put stuff in line with our prices largely.
My son bought a top from the Puma shop. I bought some workout leggings and sports bra from the Adidas shop but we didn't find any major bargains.
We went to the discount Disney shop which was my idea of hell. It was like black Friday sales or on a Saturday Primark near Christmas. The stuff there was mostly 2022 stuff but was much cheaper than in the parks.
Then despite my insistence that it was a terrible idea, the children forced us to go to McDonald's because they fell prey to the marketing that it was the 'biggest McDonald's in the world' when actually what it said was 'biggest entertainment McDonald's in the world'
Our food had so many mistakes we wasted over an hour before we could get it sorted. There were people without shoes, people with dogs, so busy. I was mad we could have tried so many cool places in America I've seen on tv and wanted to try but the kids made me pay twice as much for worse quality McDonald's than we can get back home!
Once at Universal, we made the mistake of going on Popeye and Bluto's Bilge Rat Barges first and not putting on ponchos first! It warned you get wet but so did Jurassic Park River Adventure but we were barely splashed on that so we didn't take it seriously and let me tell you, we were drenched. It's so hot you don't really care but be warned!
We made it on to lots of rides we hadn't like the Hulk. We were all sad that we couldn't get on Velocicoaster, that's probably our biggest regret – we were in the queue, my son got scared and changed his mind and we left then we missed out.
We went back to Hogsmeade and went on Forbidden Journey again which really is a good ride. We did the meet a raptor experience, Kong and 18,000 steps more.
We were really sad to say goodbye to Universal when we left. I'd say as a family we preferred the Universal parks as we are big Harry Potter fans. As such, we disagree with the people who reckon you can do Universal in 2 days. I think you need at least 4 minimum.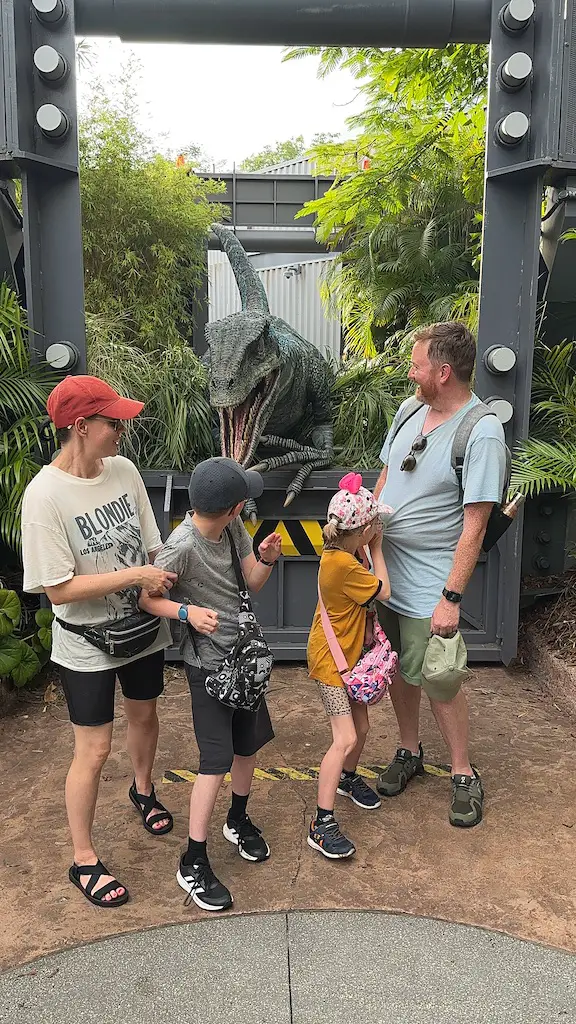 Day 13 – Animal Kingdom diary entry
Our final full day of Orlando! We had planned to go back to Magic Kingdom as it was Mickey's Not So Scary Halloween party on the night and we had been told it was much quieter in the day.
However we felt we'd 'done' Magic Kingdom and the two Disney parks we felt we had most left to do was Animal Kingdom and Epcot. So we planned to do Animal Kingdom and the park hop to Epcot but actually we spent so long at Animal Kingdom we never made it to Epcot.
We visited the Dino area of the park we didn't make it to on day one, going on the Dinosaur ride. This area is cute for preschoolers. There's a good covered outdoor picnic table area right outside where the Dinosaur ride exits that's good to know about.
We also visited more of the zoo areas of the park seeing the tigers and going on the Gorilla Falls trek.
We spent more time back at Pandora (watch the films with your kids before you go if they've not seen it for you all to truly appreciate it). We went back on Flight of Passage with only a 20 minute queue, back on Na'vi River even quicker using genie plus.
We used our Landry Card to get quick seating at Yak and Yeti which was our second favourite meal of the trip. My husband enjoyed their pad Thai and I loved their dragon roll sushi bowl. This was definitely a place we could have shared the food, the portions were finally the massive American portions we'd heard of.
My 8 year old completed the Wilderness Explorers challenge where you learn about animals from many cast members and then collect stickers for a prize at the end. Spoiler alert – she was fuming to discover the prize at the end was just a slightly bigger sticker.
My daughter bought her 3rd pterodactyl costume. Not sure how many a girl needs, apparently many. It broke before the day was out!
We saw lots of characters and then home, showered and out to our Encore Resort at Reunion resort restaurant for a last night celebratory meal and as a thanks to Grandad for so generously paying for so much of the holiday.
A bonus was a raccoon pooped in our pool the night before so the resort gave us $100 credit off our meal and the food was great.
It was a great end to a fantastic holiday. Many memories were made and we all have a new understanding of what hot really feels like!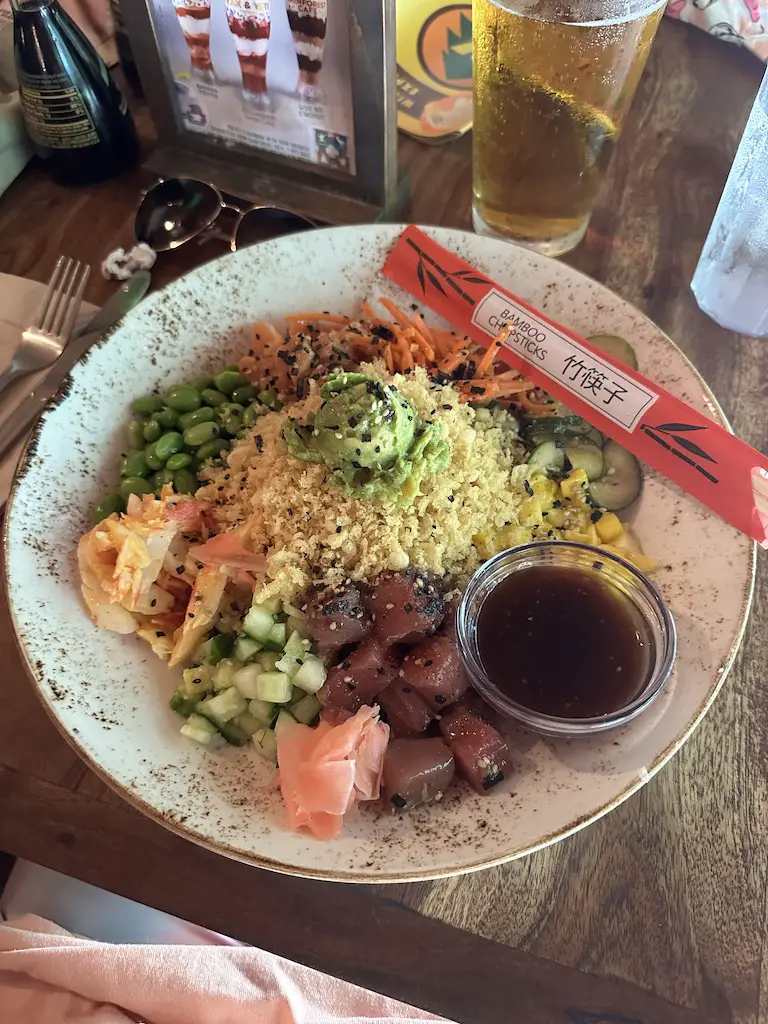 How much spending money for 2 weeks in Orlando?
Here is a rough breakdown of our Orlando holiday spending for 2 weeks from 19 July 2023 to 12 August 23 staying at Encore Resort at Reunion in Kissimee as a family of 4 with 2 adults, an 11 year old and an 8 year old.
Approximately £9,800 for our part of the villa, 2 weeks of Disney World tickets with Genie Plus and Memory Maker, 6 seater car hire, flights from Newcastle to Melbourne for 4. (We will forever be grateful to my Father in Law for kindly paying for this part of this once in a lifetime trip.)
£1865.48 spending (food, drinks, parking, fuel, souvenirs)
£1,300 14 day ticket to all Universal parks
Total: £12,965.48
There are some things missed off here like the cost of the ESTAs, booking our plane seats and all the things we bought to go like aqua shoes, rash tops, sun cream, clothes and shoes etc. On the run up to the holiday it felt like we were constantly buying things we felt we might need!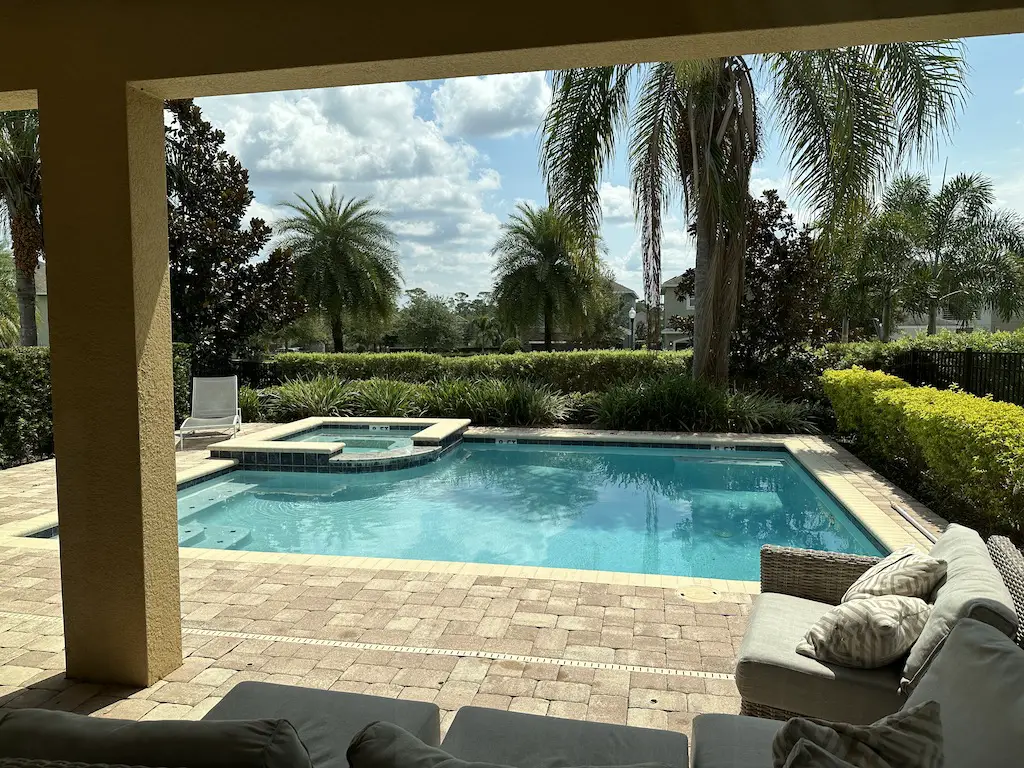 How many days for Disney World and Universal?
We did 5 days at Universal (not all full days) and I think one more would have allowed us to finish off the last rides we missed. I could easily do a week at Universal to be honest. I wouldn't do less than 4 days if you are doing Volcano Bay too. If you are just doing Universal Islands of Adventure and Universal Studios then I'd say 3 days minimum ideally.
For Disney World in an ideal world you would have 2 days per park but we were probably the opposite of most people and would say 1 for Magic Kingdom (we found Magic Kingdom was more geared towards toddlers and younger kids), 1 for Hollywood Studios and then 2 for Animal Kingdom and Epcot. I wish we had got to go back to Epcot on an evening. It all depends on the time of year, how busy it is, the weather, the age of your kids etc. You want one visit each park minimum. I expect if you stay on site you could more easily do one park per day by taking a break in the middle of the day back at the hotel and then back into the park for the evening.
The truth is though there is so much to do, see, experience, eat and drink at these parks you could do them so so many times over. That's why people end up going back year after year. You have to accept that you aren't going to be able to do it all.
13 Orlando tips for Disney World and Universal
Stay on site for at least part of the holiday. Getting to use the early/late access hours means avoiding queues for the most popular rides. Certain Universal hotels give you express passes for rides you can use all day either side of your stay. That's absolutely worth it. We also wasted way too much time driving in and getting in and out of the parks. If I did it again I'd maybe do half of the first week at Disney, then a week off site and the last half at Universal again. Or vice Versa. You can use Tesco clubcard points for some of the Universal hotels. 
Avoid summer if possible – it's way too hot and busy and the storms shut down the parks and rides frequently. Early September has the shortest wait times based on park data, followed by May, then April. Go January, it's quieter, cooler and rarely storms but its still hotter than a British summer for the most part!
Use an e-sim like Airalo for roaming. Much cheaper than most networks. Use my Airalo referral code Mark7104 for $3 credit.
It's probably cheaper to use Uber/lyft than to hire a car at the current prices and pay the parks extortionate parking prices ($25 Disney, $30 Universal).
For Universal parking, when you first go in, take your parking ticket to the Cineplex (you have to walk past it to get to the parks). Buy 2 tickets to a showing before 6pm and they will reimburse your parking ticket. The cinema tickets are $20.50 and they give you $30 cash back. This saves you $9.50 per trip, meaning parking costs $20,50 instead of $30. I'm kicking myself we didn't do it for the first two trips as we thought it would be a hassle but it was so quick and simple.
Cooling towels are an essential if going in summer. We found these more effective than the neck fans though used both and were still melting. We used these ones from Amazon (affiliate link).
Aqua shoes really help in the water parks. Some members of our party who didn't have them got blisters on their toes from the heat. We used these ones from Amazon (affiliate link). I'd also recommend rash tops for the water parks to help prevent burning. We would recommend high neck, long sleeve, light coloured ones like this one from Amazon (affiliate link).
Always check your receipts in restaurants carefully. We paid a 53% and 48% tip by accident, annoyingly! If you do get overcharged send the restaurant an email to query.
We found Genie Plus worth it but you have to be strategic about it and have a plan for what rides run out of slots first. This means that sometimes you end up rushing around the park a little more than you like.
Landry card – sign up for this online for $25. You then get a $25 signing bonus to use. If you put your date of birth during your visit you get $25 birthday bonus. You can't use this offer with the other though. Then you can use this at Rainforest Cafe and T Rex cafe at Disney Springs. Rainforest Cafe and Yak and Yeti restaurant at Animal Kingdom. And Bubba Gump at Universal's City Walk. It gets you priority seating so you don't have to reserve. As a walk up you get bumped in the queue even ahead of those with reservations. The restaurants are expensive but the $25 off probably brings it in line with the other restaurants. Then eating at T rex and Rainforest cafe gave us another $25. So in total we used $75 in discounts. You can use that in the restaurants or in the gift shops. We also got a special Landry person to check on us during our meals. 
Double wall insulated bottles (affiliate link) filled with ice and water will keep your drink cool all day. We had taken plastic bottles because they were lighter but our kids had double wall insulated and their water bottles still had ice in at the end of the day but ours were warm within an hour.
Universal has several rides where you have to put everything in a locker. These are free but if you need a large locker then it's $2 per ride. It's better if you can take smaller bags that can fit in. For most rides they'll let you keep a bumbag (affiliate link) on rather than using the lockers so if you can do that. Our backpack (affiliate link) did fit in the lockers but only at a squash and if it wasn't overfilled. 
Familiarise yourself with the My Disney Experience app before going as you use it for everything there. Also on the weeks running up to your trip, use it to check ride times for the rides you most want to do. Then when you are there you'll have a better idea of what a decent queue time is. You don't want to waste 2 hours queuing for a ride that is often just 5 minutes if you time it better.
Our favourite rides:
Guardians of the Galaxy
Hagrids magical creatures motorbike
Avatar Flight of Passage 
Harry Potter and the forbidden journey 
Escape from Gringotts 
Tron
Hulk
Rise of the Resistance 
Na'vi River journey 
Expedition Everest 
Our least favourite rides:
Villain con minion blast – still in rehearsal but lots of issues to fix, mobile log in didn't work, aim of the guns way off and too slow to track, guns too heavy
ET 
It's a small world
Peter Pans Flight
Kali Rapids 
Seven Dwarves Mine Train
Slinky Dog Dash 
Rock n rollercoaster – good coaster but uncomfortable 
Jungle Cruise 
Test Track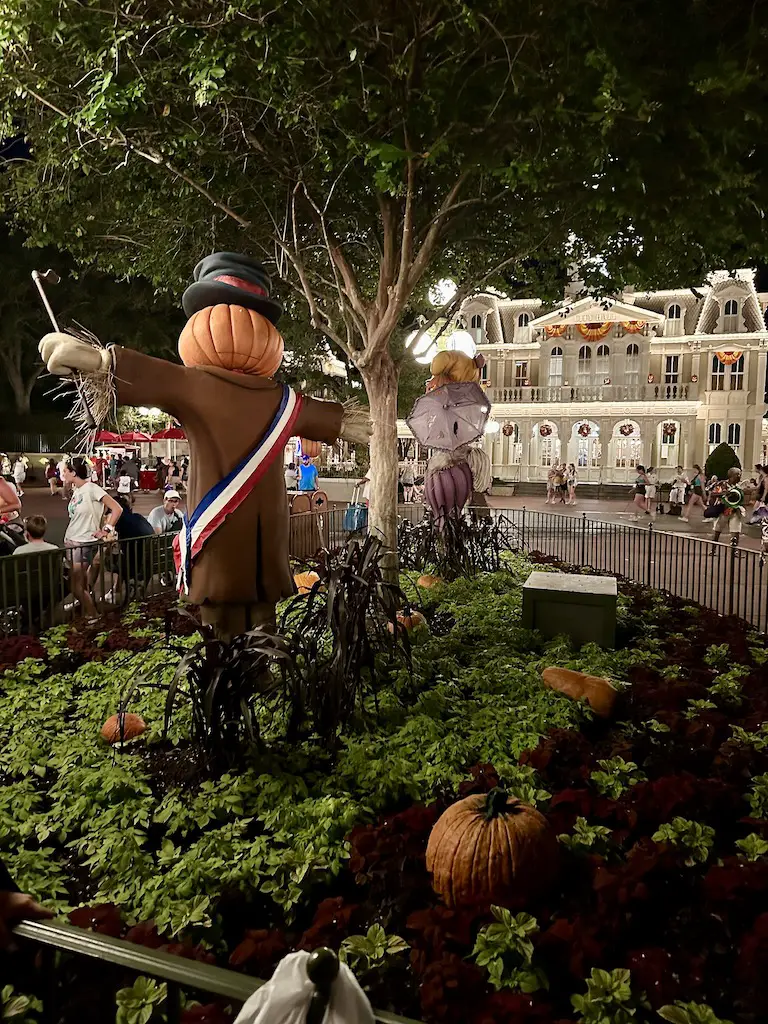 If you liked this post you might also find Encore at Reunion Resort Orlando review helpful - this is a full review of where we stayed nearby Disney World and Universal. 
If you have enjoyed this post or found it useful, here are some quick and easy ways that you can support Nomipalony or say thanks:
Share this post with your friends  
Pop over to my Amazon Storefront to see what products I have been buying and loving from there recently, including my health and fitness products list.
Sign up to my mailing list 
Women can join my feminist Facebook group – the Nomipalony Freehouse
Disclaimer: This post contains affiliate links. If you purchase through an affiliate link you will not be charged any more for your purchase, but I will receive a small fee for referring you. As an Amazon Associate, I earn from qualifying purchases. For my full disclosure policy, please see my about page.