This summer we we fortunate enough to stay at the Encore at Reunion Resort Orlando (affiliate link) for 2 weeks. We booked through Tui and stayed in a 5 bedroom villa as an extended family group of 10 (6 adults, 4 children). Our holiday was largely to visit the nearby Disney World and Universal theme parks. In this post I'll share our real experience of our stay and what you might be able to expect from Encore at Reunion Resort Orlando.
Head to the end of this post for a full video villa/resort tour if you prefer video content!
For more details about our trip to Orlando, including what we spent, our top tips then see our Our 14 day Orlando itinerary, this also includes a 14 day diary of our holiday.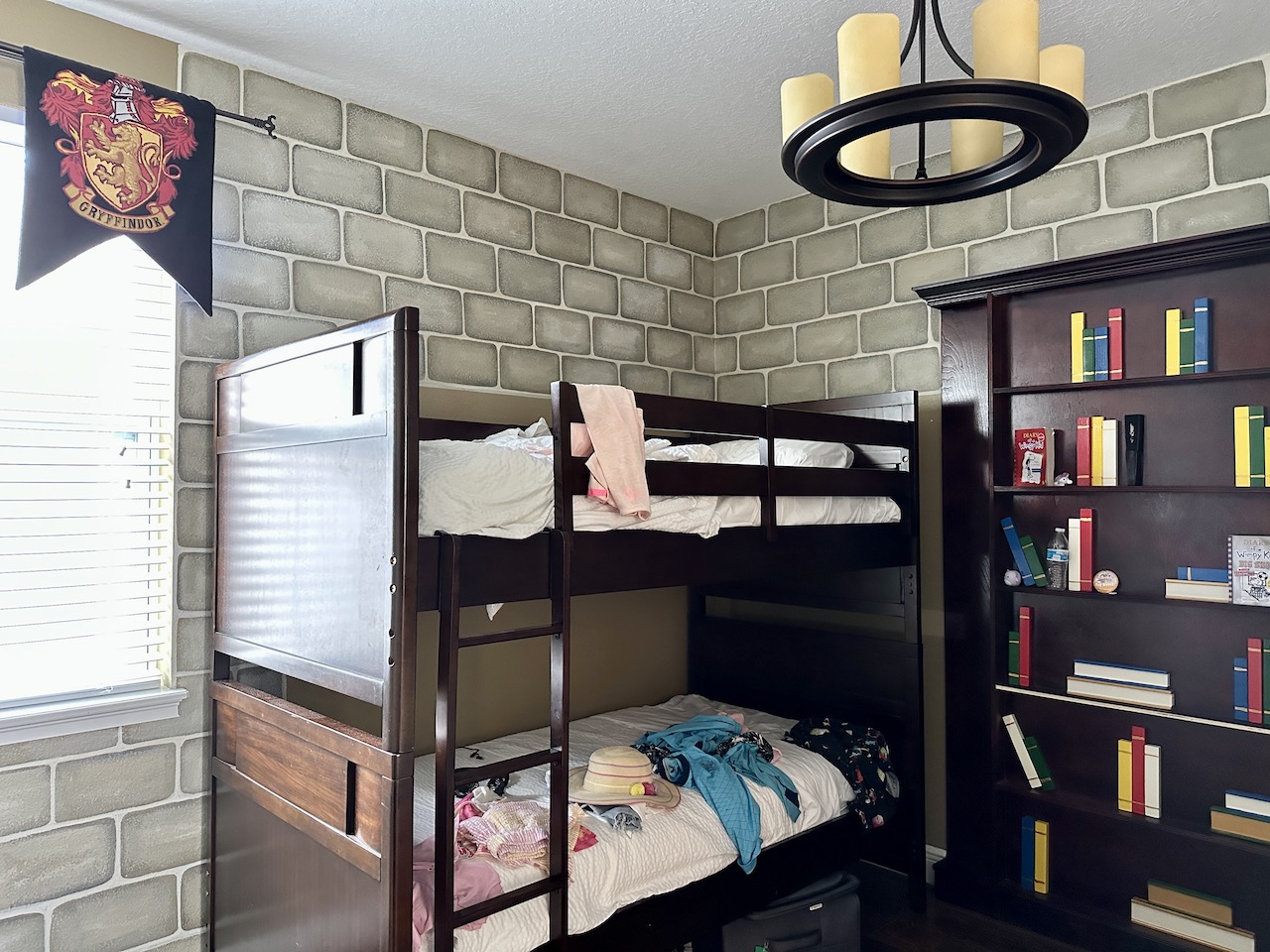 Transfer from Melbourne airport to Encore Resort at Reunion
We had hired 2 cars as part of our TUI package. It was relatively simple to collect them. Melbourne is a small airport and once you have collected your luggage and gone through passport control you come out into an area where there is seating, exceptionally clean toilets and an ample and comfortable seating area. This meant some of our party could freshen up and sit with the kids whilst others went to the desk to sort out the cars.
Beware of the upselling – they asked us if we wanted to pay extra for inbuilt Sat Nav and we said no as we could use our phones but actually both the cars we got had it anyway and its not like they could have removed it so they were going to charge us for something they had anyway. Once we had sorted the paperwork and got the keys it was a short walk to the car park to the cars and we found them easily.
The drive from the airport took us close to 2 hours. The website says 90 minutes but we hit a pretty heavy storm and at times couldn't see the car in front as the rain was so heavy so that slowed us down.
Also beware that this route is full of annoying toll booths that you can't really avoid. Many are cash only and only accept exact change so try and have some dollars in various coin configurations if possible. Quite tough when just arriving from the airport! You could also check if your hire car company is part of any toll booth payment schemes that might make it easier.
Reunion resort Orlando villas
Encore Resort at Reunion (affiliate link) is a 963 acre site with around 850 4-13 bedroom villas.
The site is massive, so big in fact there is a highway down the middle of it. If you are not on the side where the waterpark, reception and amenities are then you have to cross a busy highway to get there.
Don't worry though, there is a proper crossing for the road. It did feel a little daunting at first though.
I would suggest requesting if you want a property near the amenities, however I emailed to request this and no one responded to my email.
The site has lots of amenities such as its own waterpark, pool bar and restaurant, sports facilities, a gym, arcade, playground and a small onsite shop.
They also have a bunch of services including meal delivery, a free shuttle bus to many of the popular theme parks, spa services and rentals.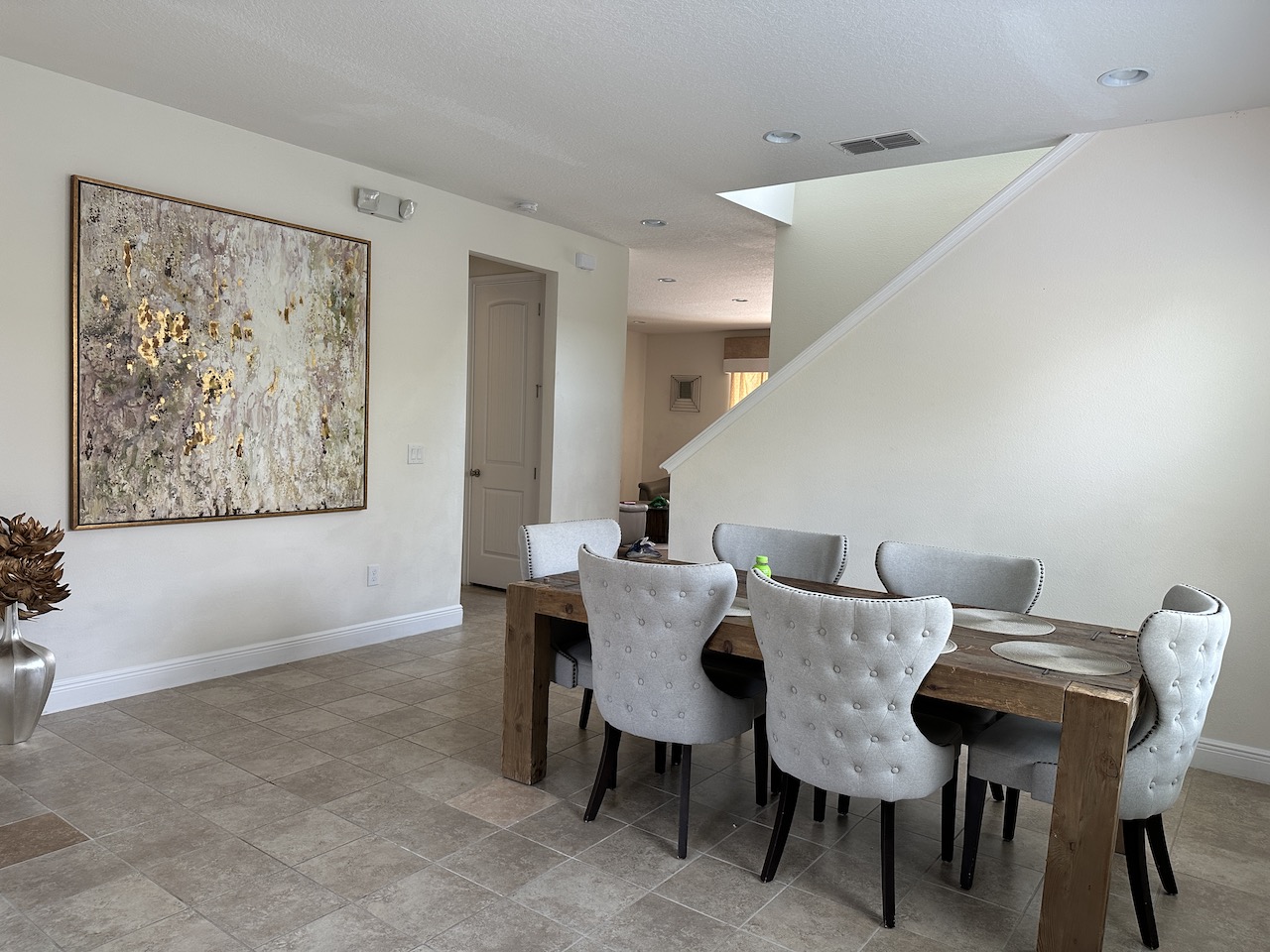 Encore Resort at Reunion 5 bedroom villa
We stayed in a 5 bedroom villa at 191 Pendant. We had booked through Tui in England and unfortunately had no idea which Villa we would get prior to arriving. It was a nice surprise when we arrived but personally I prefer to have more of an idea of what to expect, especially when sorting out sleeping arrangements with children.
The resort has car barriers at the entrance and you need to show a QR code to get in and out which wasn't the slickest process but ok once you had the hang of it. We saw security patrolling the site frequently and it felt very safe. In fact, we had Amazon parcels delivered and left on our doorstep several times during our stay and they weren't touched.
Upon arrival we discovered we had a big double driveway ample enough for the 2 huge cars we had rented and a big double garage (we never parked in this but probably should have to help keep the cars cool and help us not get wet in those huge downpours they have constantly in August).
I know that some of the villas have games rooms and my Father in Law was a little disappointed that ours didn't have one but we did have a Harry Potter themed bedroom which the kids were thrilled by.
The villa was HUGE. With 10 of us staying in it I thought we might be on top of each other but there was ample room and we really enjoyed the space together.
The majority of the time spent was in the large open plan living room and kitchen area where we tended to congregate eating and drinking.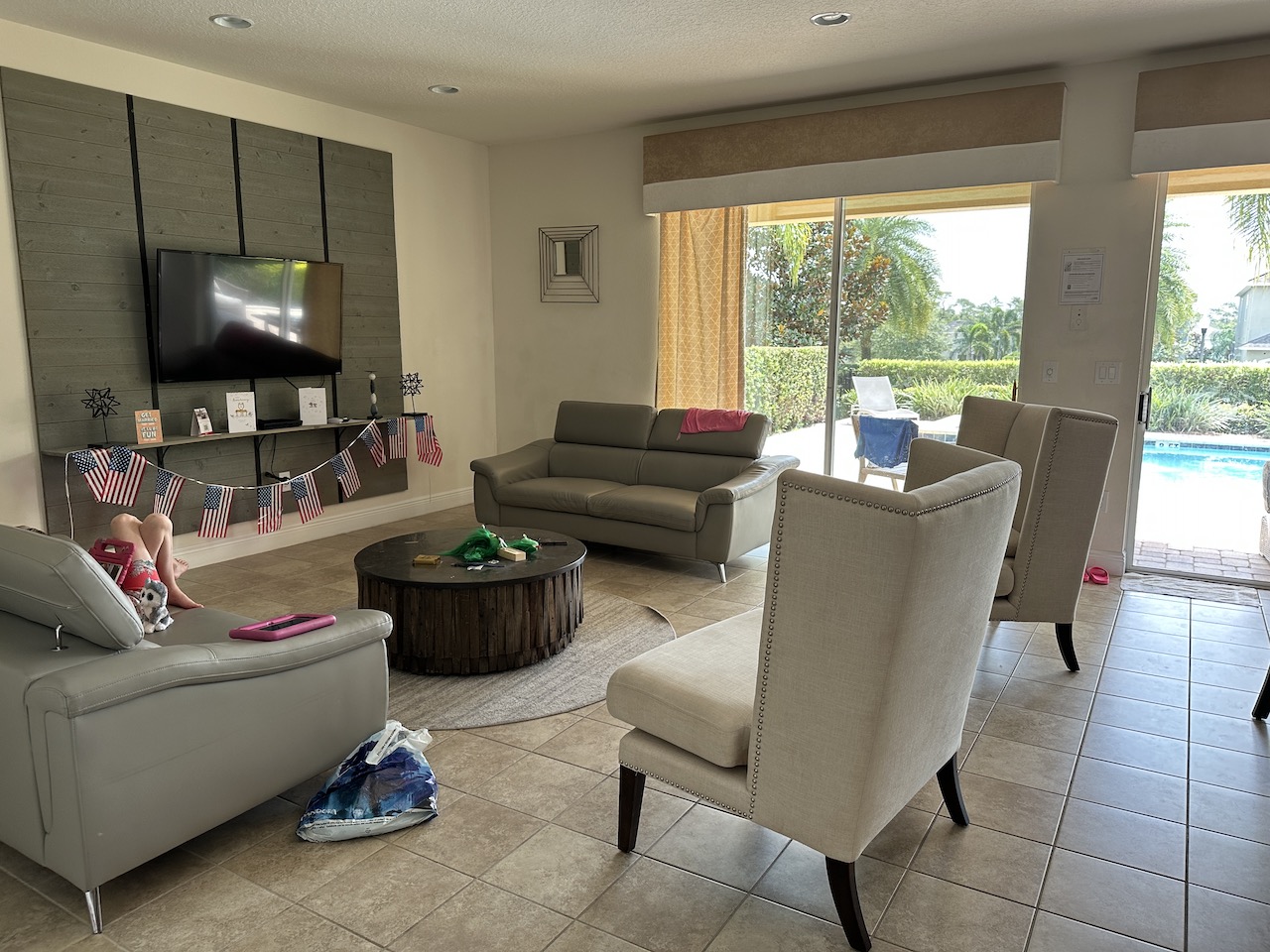 Off to the right of the kitchen was a large pantry area and it was quite hard coming back to my tiny kitchen at home with little storage! There was all the equipment you needed. It even had a blender and a percolator for proper coffee.
The large fridge had a filtered water dispenser with ice which tasted great so we didn't have to spend money on water bottles.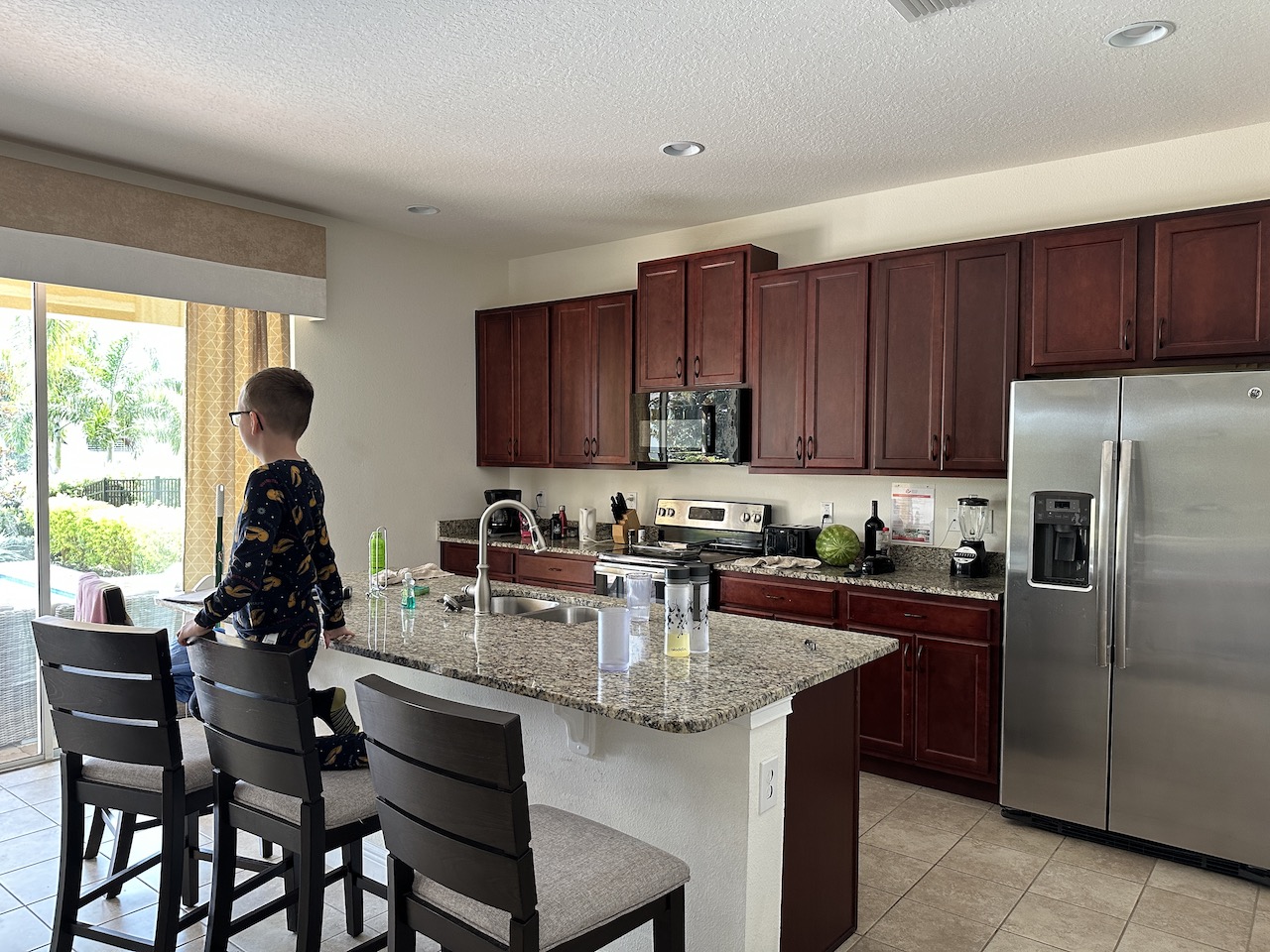 There were 4 bedrooms with king sized beds and then one bedroom that was Harry Potter themed and had 2 bunk beds. Not all of the bunks had full length sides on so the kids were nervous to sleep in one of them. The theming in the room was fab though.
All the bedrooms were a good size and had en-suites except for the ground floor room which had a bathroom just outside of it. This was the only toilet on the ground floor though so it did end up being used by anyone who didn't want to walk upstairs to their own bathrooms.
There was ample storage in all of the bedrooms and extra storage in the corridors. One thing we felt was missing was a simple clothes airer to hang wet clothes and towels on. There were some rails in cupboards but an airer would have been more helpful and would have allowed us to put it out in the sun in the day.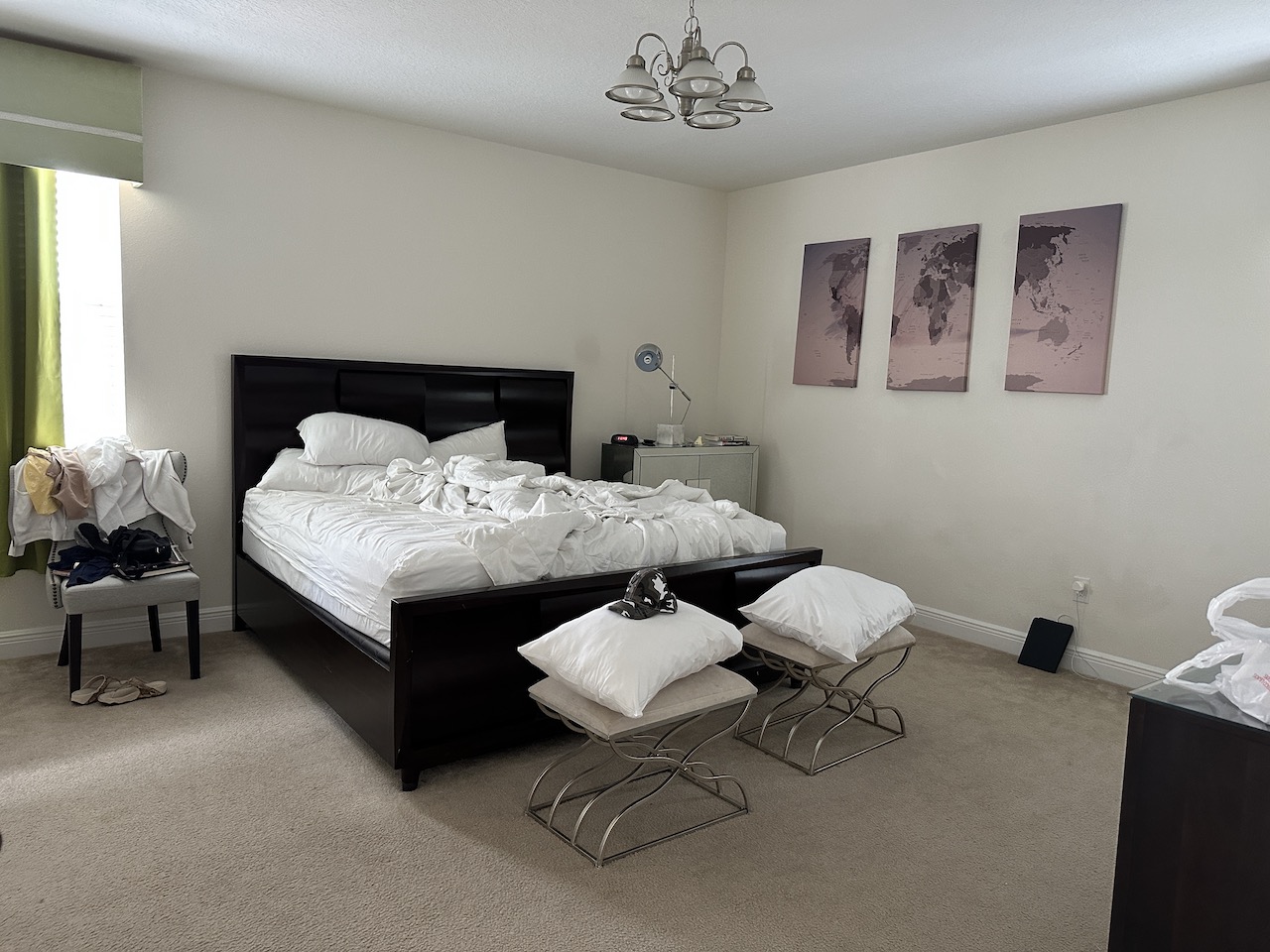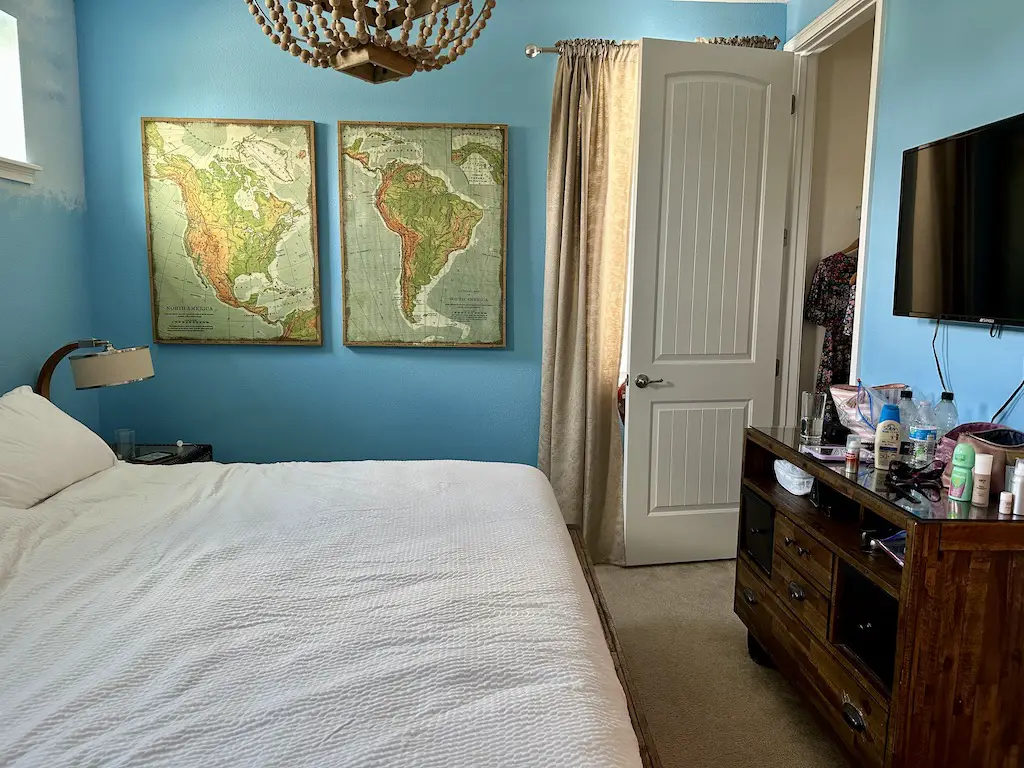 One thing we weren't expecting the Encore resort at Reunion 5 bedroom villa to have was a dedicated laundry room! Oh how I wish I had such a thing at home. There was a top loading washing machine, a front loading tumble dryer, a washing basket, iron and ironing board.
We were able to easily do several loads of washing whilst there. One issue was the tumble dryer did cause some random staining on several items if clothing and we never figured out how or why so perhaps watch out for that.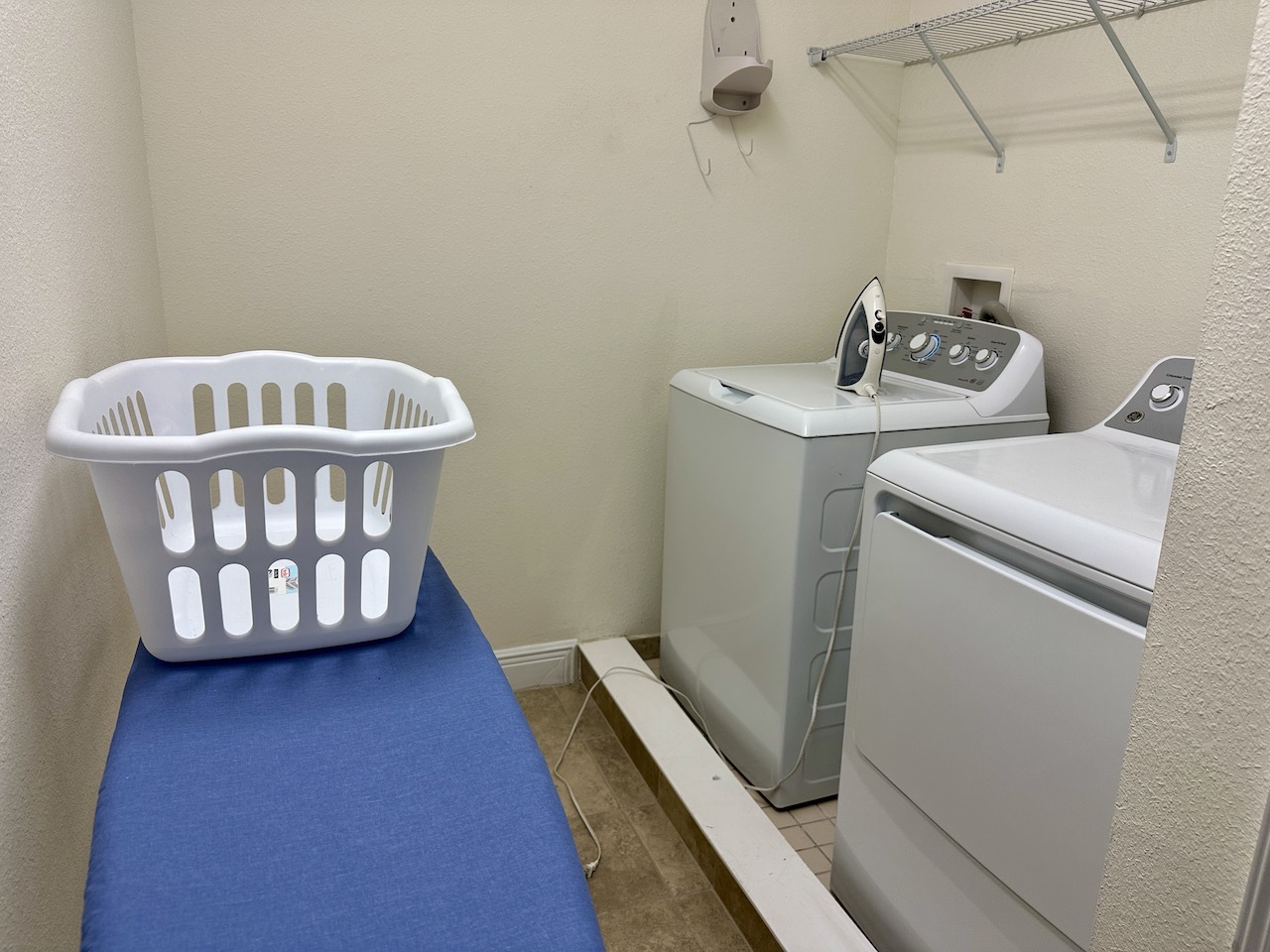 I was pleasantly surprised to discover the Encore Resort at Reunion 5 bedroom villa pool (affiliate link) was much larger than I was expecting. It was big enough to do short lengths in even and had a nice jacuzzi area. There was also a dining table and chairs, a lounge seating area and a BBQ on the patio.
We had a couple of really fun pool parties out there during our stay and the kids enjoyed spending hours playing in the pool during downtime from the theme parks. I loved watching my Sister in Law who used to be a lifeguard and is now a teacher help teach my daughter to dive. The pool got some shade in the afternoon which made it a great place to come back to after being in a theme park. You didn't feel overlooked at all.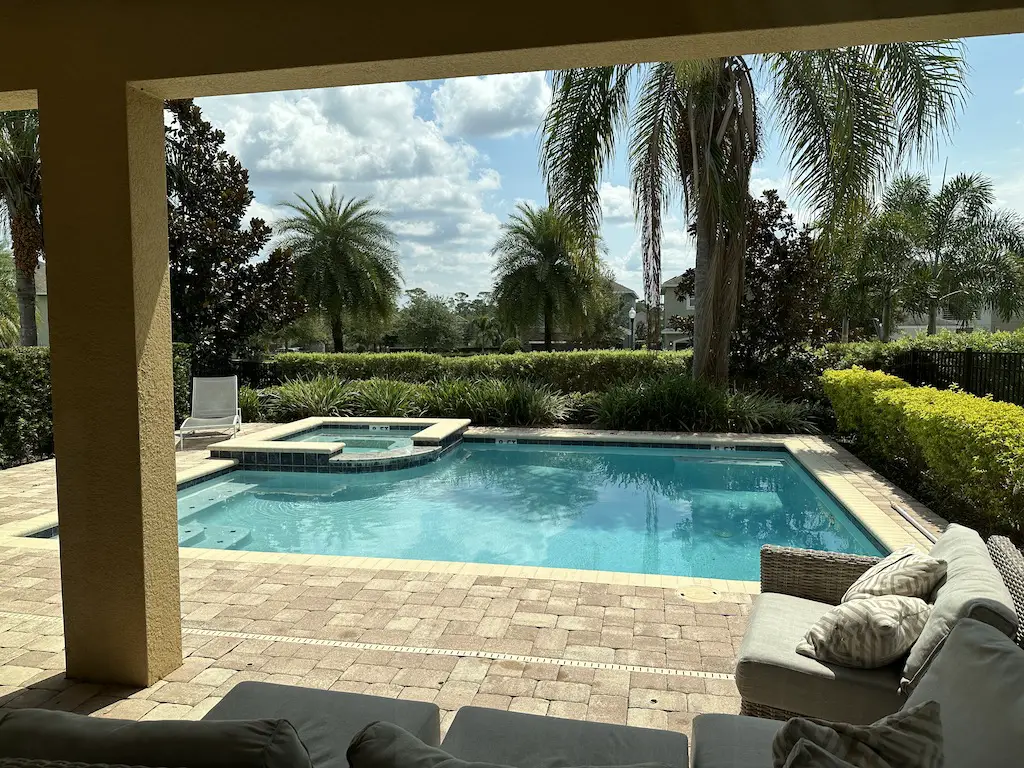 The only annoying thing about the pool area was a safety feature where the doors alarm if you aren't holding a button in which of course everyone kept forgetting to do. It wasn't a major issue though and meant the doors didn't get left open letting the heat in or kids got in the pool without you knowing.
I had heard that the site could be a bit of a party site with loud guests without consideration and we didn't find that to be the case at all. It felt very peaceful to us. The only slight annoyance we had once was when a neighbour left their patio door open so their alarm was going off for a long time.
Where could Encore Resort at Reunion improve?
Probably the only thing that I think Encore Resort at Reunion could improve on with regards to our villa (and from what it sounds like many of the villas) was an issue with the bedroom doors locking on their own.
Twice a door got locked and we couldn't get in. Once was the kids bedroom and once the main bedroom bathroom door. The staff who came out to fix this said it can be if kids have turned the lock wrong or if someone has shut the door too hard and the lock has moved.
The staff came out to fix it both times but once it took a few hours and the other time not until late in the next day. It was a simple tool to unlock them that they could have left but they should really resolve the issue going forward. Just be mindful of it during your stay just in case.
Oh and one other thing is that racoons kept pooping in our pool. At first we didn't actually realise what it was being from a country that doesn't have racoons so we easily could have gone in contaminated water. One time though the racoons had done such a good job that there was no doubting it.
We called reception and they were great about it, sadly by time the pool people had been out to clean it and then let the chemicals do their work it meant the pool was out of action our last 2 days. Reception kindly gave us a $100 goodwill gesture though that we could use at the onsite bar or restaurant and we were able to have a lovely family meal with it so it all worked out well.
Encore resort at Reunion waterpark
One facility we sadly didn't make the most of was the Encore Resort at Reunion waterpark. To be honest we were just out and about at the theme parks most of the time.
The onsite facilities were fantastic though and I wish we could have used them more. We probably would have had we been placed nearer the waterpark but with a 10ish minute walk there over a motorway it was a little less convenient.
We did get to use the waterpark once but as were were there in peak storm season there was a threat of a storm so we were unable to use the slides.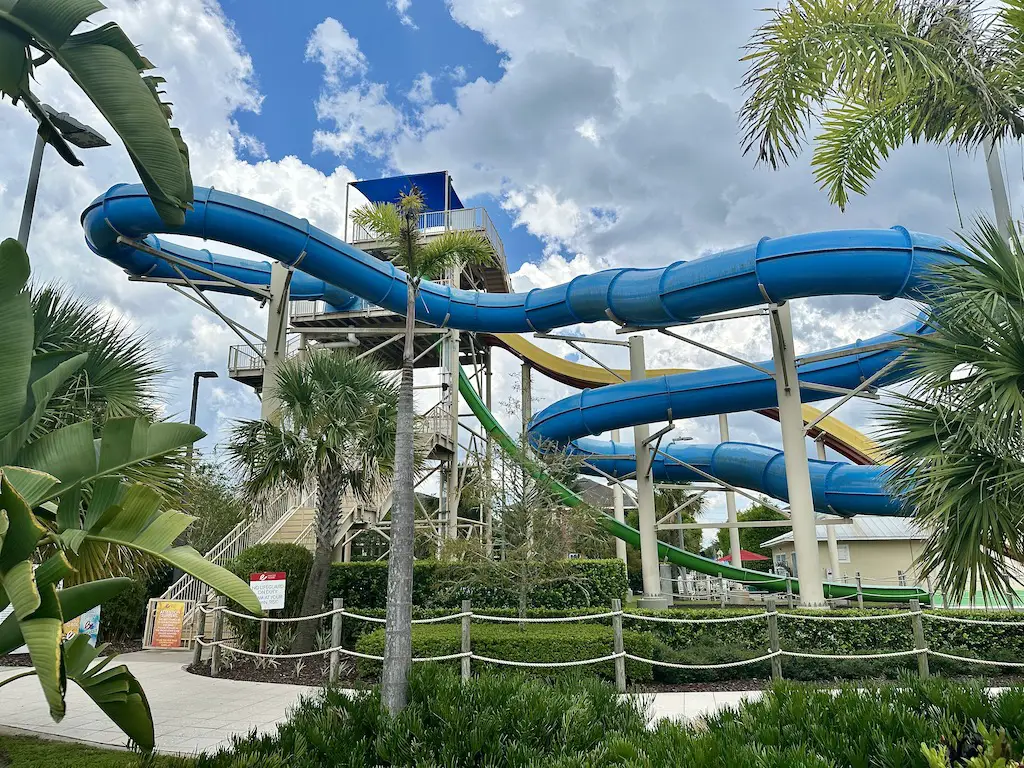 Reunion resort pools
We briefly used the pool on that day but again as there was a threat of a storm they actually closed the pool after we had been there for about ten minutes and it didn't reopen that day (even though no storm actually arrived).
You can get towels for free at the pool area and you just return them when you leave.
Instead we dried off and went up to the onsite bar – not a bad compromise!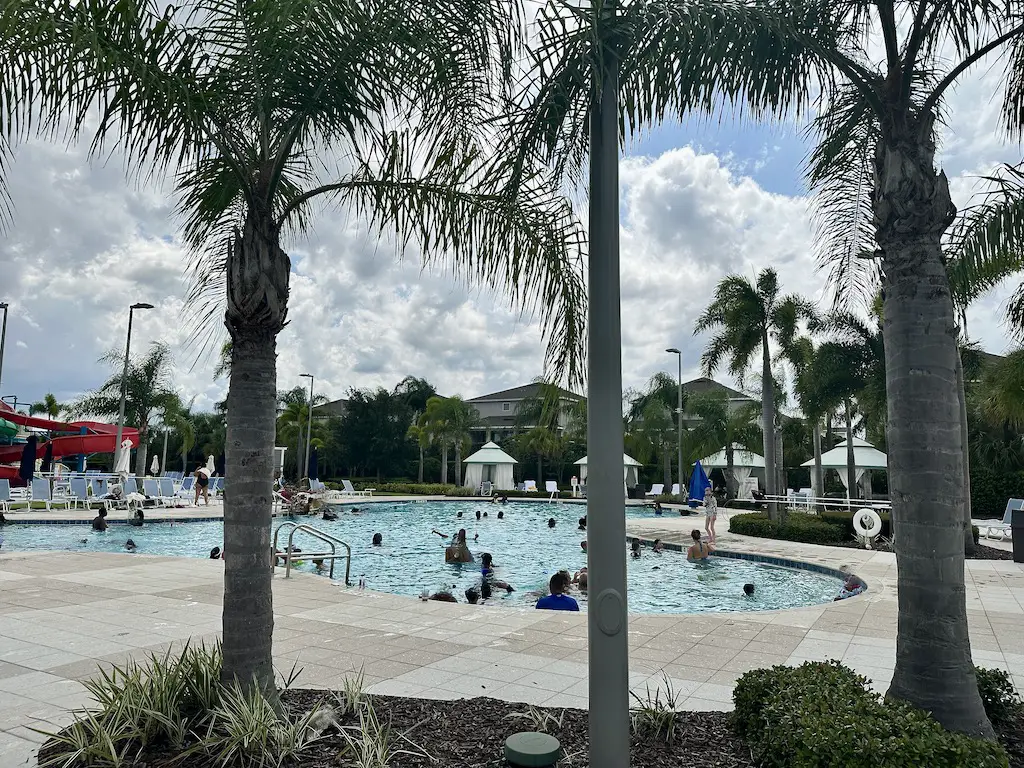 Reunion resort map
Here's a photograph of the Reunion resort map that we were given when we checked in which will give you some idea of the scope of the site. You can see how we were on the side of the resort across the motorway.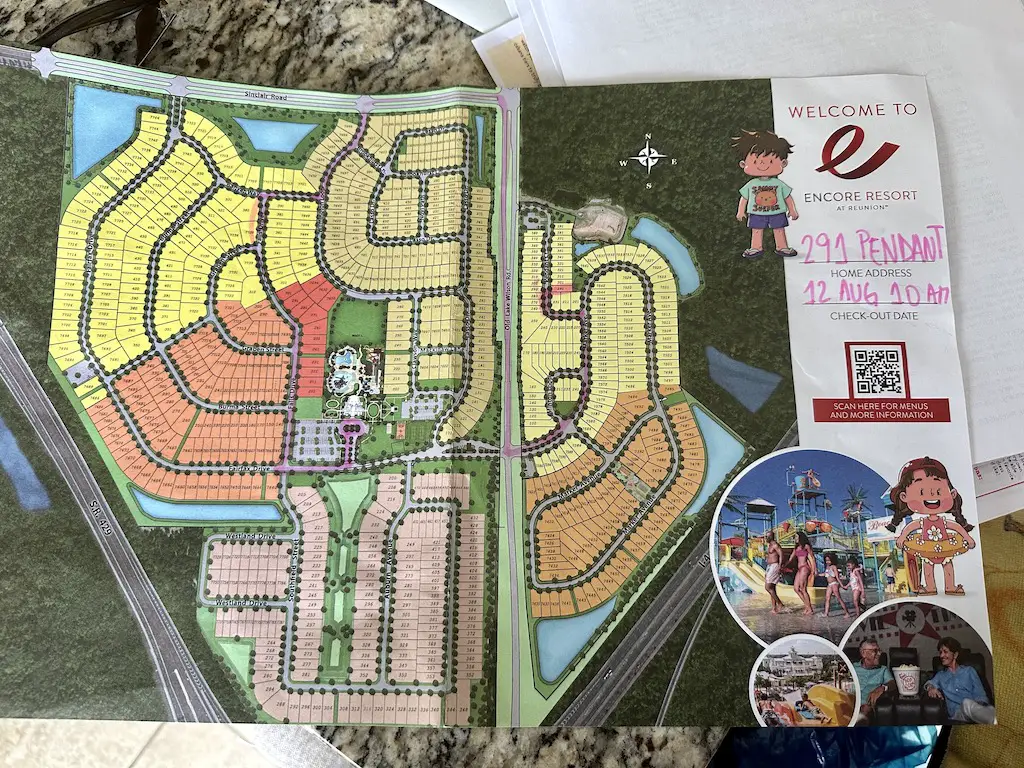 Encore Resort at Reunion to DisneyWorld – how far is Encore resort to Disney World
How far Encore Resort to Disney World is does very much depend on what time of day you are going, how much traffic there is and what individual park you are going to but I'd say the quickest we had was around 10 minutes or even less to Animal Kingdom, Magic Kingdom was usually around the 15 minute mark.
I'd say 10-20 minutes is a good ballpark for how long it takes from Encore Resort at Reunion to DisneyWorld.
Encore Resort at Reunion to Universal
Encore resort at Reunion to Universal often took us around 40ish minutes. The website tells you 25 minutes but we probably only achieved that once during our two week stay.
We often found that traffic was congested on this route and it definitely felt more of a chew on than getting to and from DisneyWorld.
It's doable but that 40 minutes feels longer after a full day in the parks in that Floridian heat!
Encore Resort amenities
There are so many useful Encore Resort amenities and again because we were at the theme parks so much we didn't make as much use out of them as we could have sadly.
The on site shop was small but had most your essentials as well as gifts and even clothing and food items. During our stay Grab and Go was open 7.30am to 6.30pm.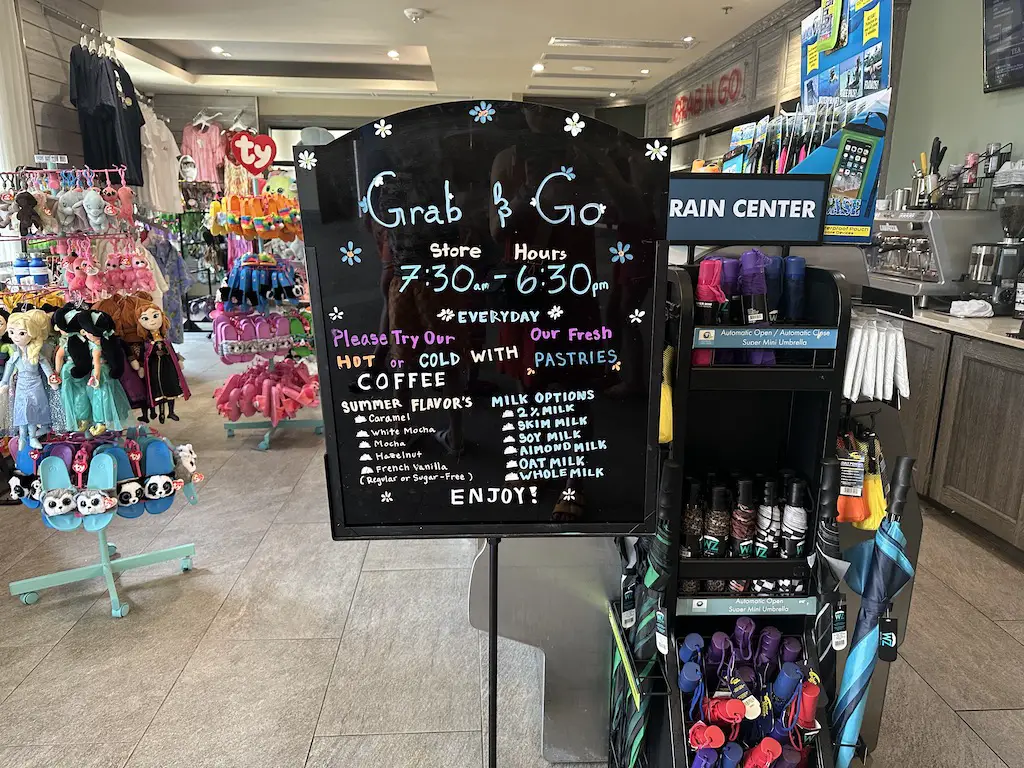 I had full intentions of using the on site gym but because of the time it took us to get from the villa to the on site amenities I just did the few workouts I did in the villa as we were so busy.
Encore Club at Reunion
We really enjoyed the Encore Club at Reunion bar area. There were big flatscreen TVs showing sport and it was very light and airy with a modern design. The bar overlooks the pool area.
One day I enjoyed a beer flight there were I got to sample some local Floridian beers.
There is a small arcade downstairs that our kids played at whilst the adults had a chat and drink.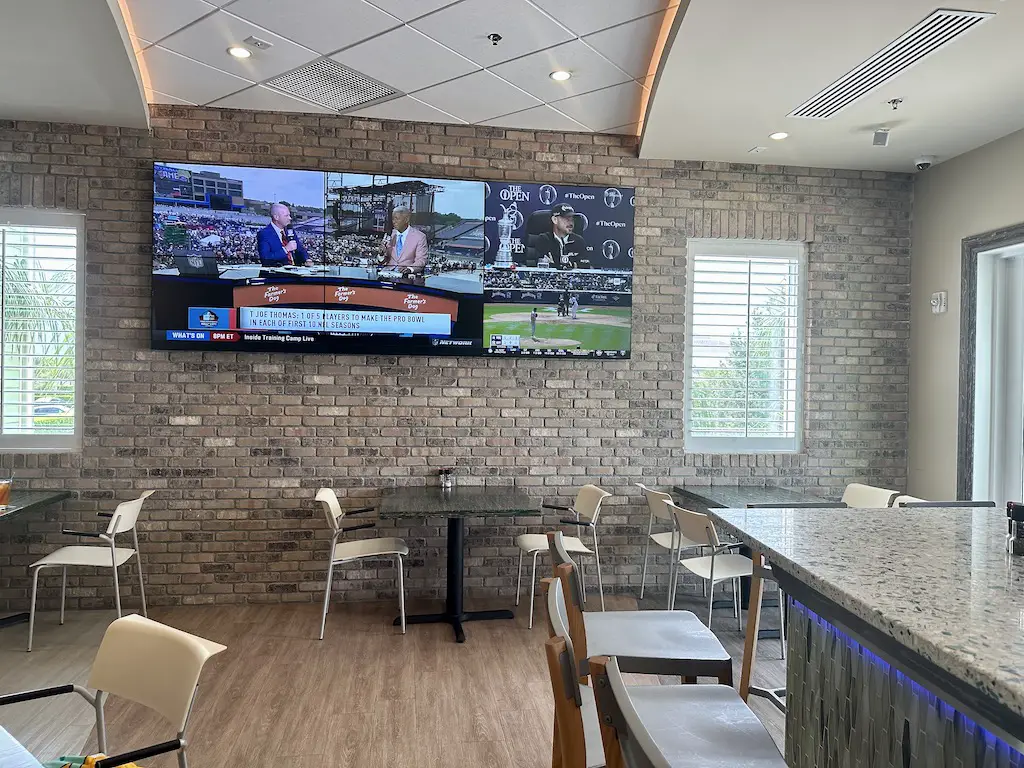 Reunion Resort restaurants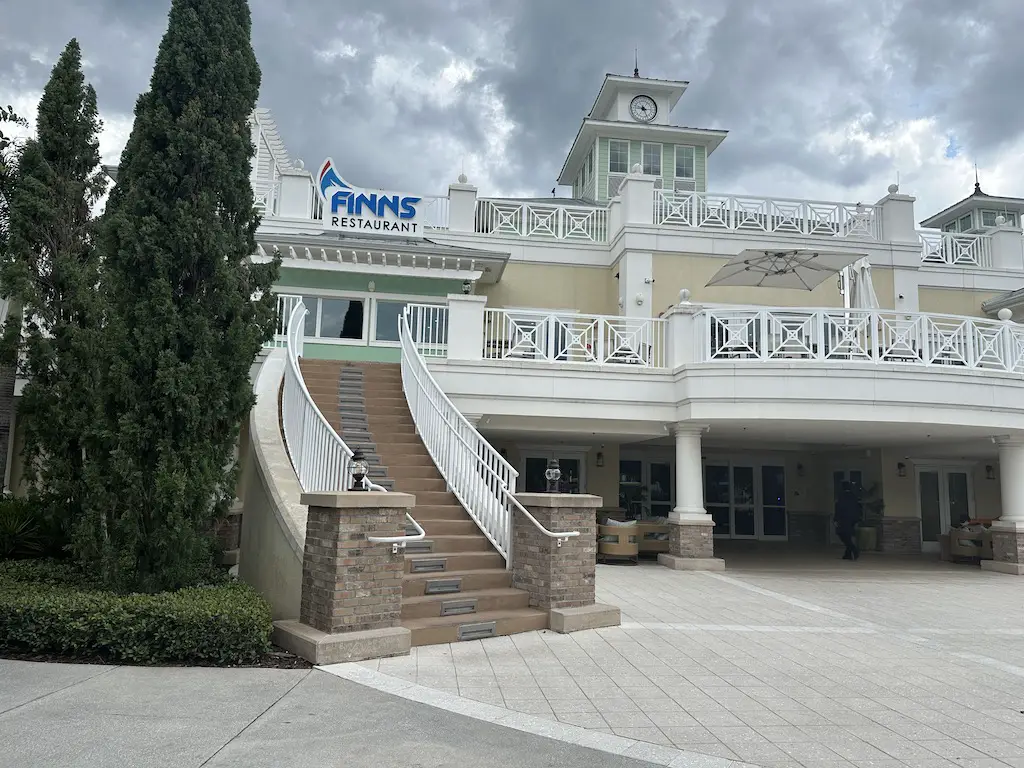 In the same room as the bar but on the opposite side was the onsite restaurant Finns which we ate at once on our very last night but then kicked ourselves as the food was really great.
The food was up there in the top 3 of the best food we ate on the trip (in case you were wondering mine went Via Napoli pizza at Epcot, Yak and Yeti at Animal Kingdom and the Finn's Restaurant).
During our meal everyone loved their food and this photo doesn't do it justice as I actually forgot to take photos so this is a screen grab from our YouTube review video (which I'll link in this post once its live).
Their potatoes and chips were incredible and all the food was cooked perfectly with lots of favour.
If you are staying on site don't miss out on this restaurant and certainly don't waste time driving to inferior restaurants elsewhere at the end of a tired day when you can just pop here. I believe they do some of the food items for takeaway to the villas too.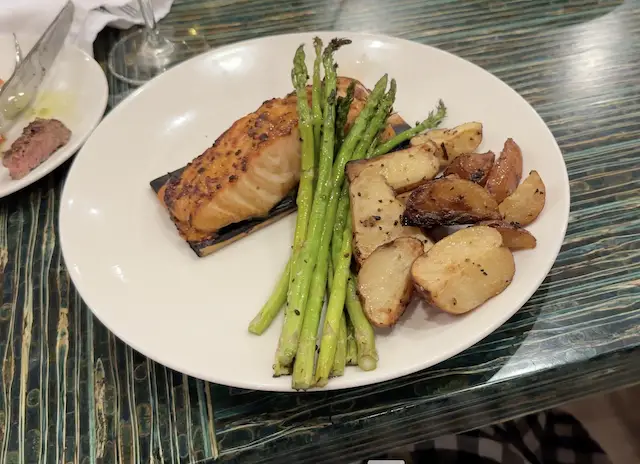 Reunion Resort shuttle bus service
The Reunion Resort shuttle bus service was something we expected to use heavily prior to our trip as its free and by using it you can avoid the expensive theme park charges but actually we didn't end up using it at all.
There are a few reasons we didn't end using it. The main reason was the times it goes and returns are quite limited as you can see here on the shuttle schedule. The times just often didn't link up with what we wanted to do.
Also as you can see on the shuttle schedule, staff told us we had to pre-book the shuttle the day before we the onsite concierge. Often it was really hard to get through on the number and sometimes when you rang it was already fully booked. As I've mentioned, it was a 10-15 minute walk over a motorway to the reception area at the Club House so if you couldn't get through on the phone it wasn't as easy as just popping to reception quickly.
However, over half way through our trip, the concierge told us that you didn't have to book the day before and that there is a simple way to book online which was so much easier. I don't know why anyone didn't tell us that before, we would probably have used the service if that had been the case.
FAQs
When people ask me questions I'll put the answers here so everyone can see them. If you have a question, please put it in the comments.
Did the Encore at Reunion 5 bedroom villa have towels?
Yes there were towels provided in the villa though there weren't loads so expect to wash and dry them.
Did the Encore at Reunion 5 bedroom villa have USB plugs
There were some USB plugs but not in every room.
Did the Reunion Resort villa have a kettle
The villa did have an electric kettle but it was hidden away in a cupboard so look carefully as it took us a few days before we found ours and I was cursing making tea in a microwave!
Would we go back and stay at Encore Resort at Reunion again?
If were choosing an offsite location for Disney World we would absolutely go back to Encore Resort at Reunion again.
BOOK NOW: You can book a villa at Encore Resort at Reunion at Booking.com (affiliate link).
Video tour of Encore Resort at Reunion
If you liked this post you might also like:
If you have enjoyed this post or found it useful, here are some quick and easy ways that you can support Nomipalony or say thanks:
Share this post with your friends  
Pop over to my Amazon Storefront to see what products I have been buying and loving from there recently, including my health and fitness products list.
Sign up to my mailing list 
Women can join my feminist Facebook group – the Nomipalony Freehouse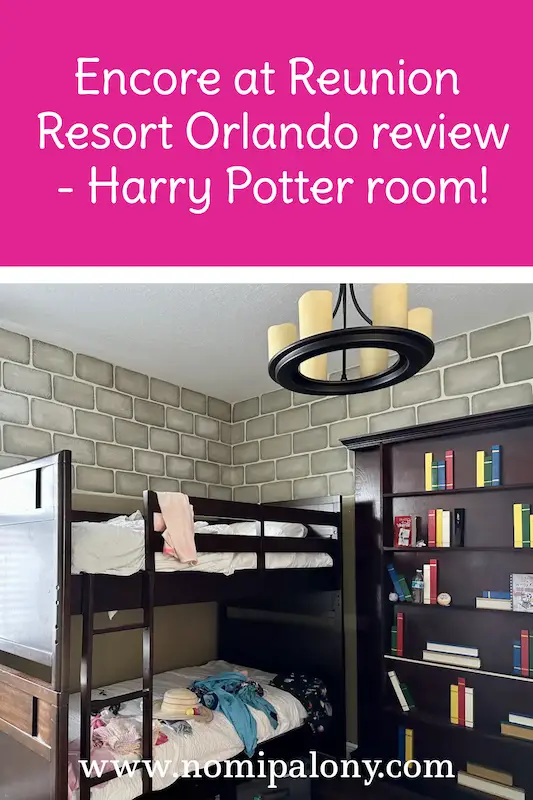 Disclaimer: This post contains affiliate links. If you purchase through an affiliate link you will not be charged any more for your purchase, but I will receive a small fee for referring you. As an Amazon Associate, I earn from qualifying purchases. For my full disclosure policy, please see my about page.