We flew 3rd November and returned 5th November to visit Berlin in 2 days. As I've discovered that 48 hours is barely enough time to scratch the surface in Berlin, I thought I would share our 2 day itinerary for Berlin. This post also includes where we went, where we stayed, what we ate and our top tips for an excellent Berlin in 2 days itinerary. This also shares what we spent and how we did it for under €200. You can also watch a vlog of our weekend below.
FYI our flights cost around £60 per person return (affiliate link) from Newcastle to Berlin.
2 day itinerary Berlin summary table
| | |
| --- | --- |
| Day 1 | Day 2 |
| Arrival and collect Welcome Cards, travel | Potsdamer Platz |
| Organic Currywurst from a stall | Tiergarten, Brandenburg Gate/Reichstag/Unter der Linder, Museum Island, Berliner Dom |
| Shopping at the KaDeWE and Kudamm | TV Tower – must pre book |
| Dinner at Haveli (affordable but tasty Indian Restaurant) | Kreuzberg – Burgermeister burgers and cafes/bars |
2 day itinerary Berlin – travel
We had booked flights (affiliate link) from Newcastle to Berlin Schönefeld with Easy Jet. Unfortunately, our flight was delayed around an hour. There were issues with the plane, we got a different plane and the overhead lockers were full. It was a bit chaotic to be honest.
Schönefeld Airport
Then when we arrived at Berlin Schönefeld, there was no one staffing the security desks on disembarking the shuttle bus. An entire plane of people waited for around 30 minutes before anyone even turned up. Then one man turned up and the queue started to move, then another turned up but it was VERY slow. All in all we ended up getting into Berlin several hours after we should have which on a 48 hour trip, does make a big difference. It also meant we got there at rush hour which was a pain. It definitely could have been worse though so I'm not going to complain. There isn't much at the exiting end of Berlin Schönefeld aiport other than a small shop and the usual  – toilets, car hire and reception desks.
Welcome Cards
We headed over to the Transport Information Desk to collect our Welcome Cards. We had pre-booked 2 ABC Welcome Cards that would allow us to travel on all public transport anywhere in Berlin for our trip. This cost €21 per person and was fantastic value for money.
You simply take the confirmation to the desk at the airport and they give you your 'cards' (more like a paper ticket). The card needs validation once, the first time you go to use it. This is done easily at the machines in all the stations.
It's very easy to get around Berlin on public transport and we definitely got value out of our passes. It also made it much easier for us not having to purchase new tickets all the time and navigating that system. We could just jump on and off trains whenever we fancied.
The other great thing about the Welcome Card is that it gives you discounts off many local attractions across Berlin (some 50% off). It's worth checking which you are planning to visit and see if it will get you discounts that makes it worth your while. If you are planning on visiting some of the attractions that you can get discounts for, it could mean even if you aren't planning to travel with it, it's worth getting anyway. We didn't use it for discounts in the end and I still think it was good value and would get it again.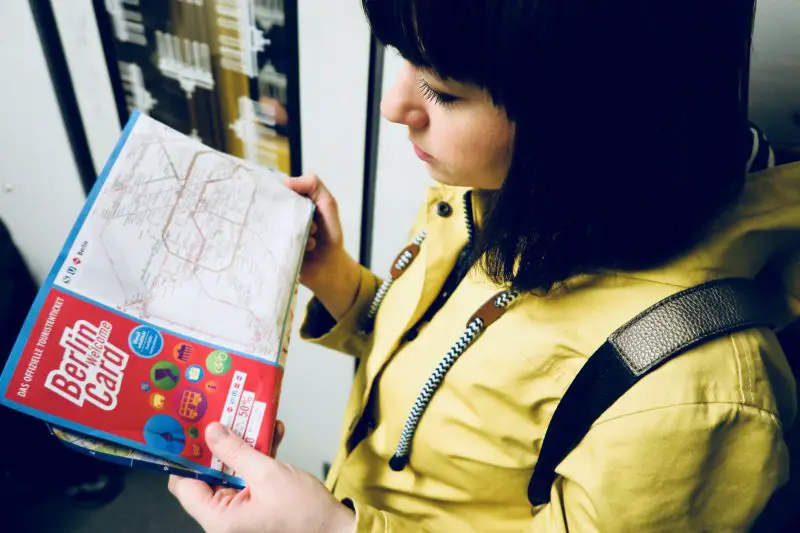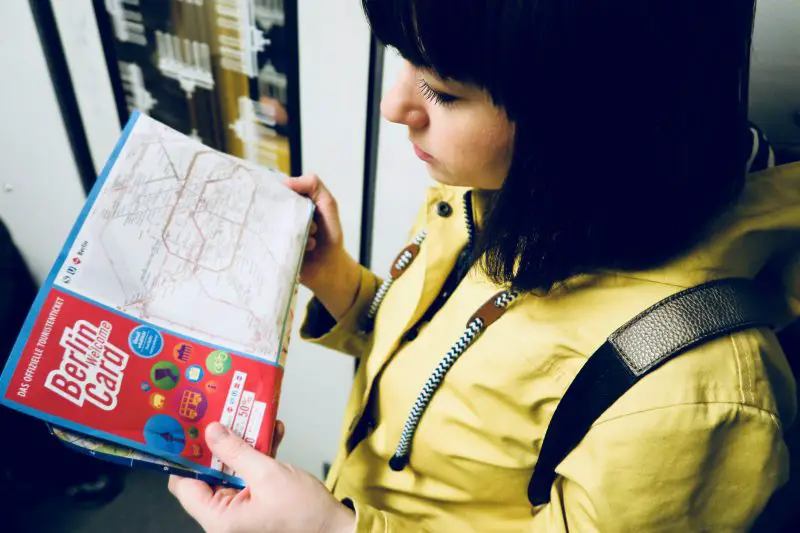 I should have got the train to our hotel but after the delays and with it being my partner's birthday we decided to get a cab. We hadn't had chance to orient ourselves so felt a little overwhelmed at the thought of trying to navigate ourselves from the airport to city centre in the dark. The next train was 30 minutes away and would have taken 54 minutes with a walk on the other end to get to our hotel on Nürnberger Strasse, central Berlin. We decided to throw caution to the wind and jump in the cab. This set us back around €45. In hindsight, it would have been easy to get the train and we did this when we returned to the airport.
Weekend in Berlin where to stay
We stayed at the mid-range Crowne Plaza Berlin City Centre. The hotel was perfectly located in the centre of Berlin near several train stations and right in the middle of the shopping district. We would thoroughly recommend the hotel and you can read my Crowne Plaza Berlin City Centre review here.
Things to do in Berlin in 2 days
We were going to pop to the shops at the KaDeWe (second largest department store in Europe after Harrods) and Kudamm (huge designer shopping street) on the Friday afternoon but as we arrived so much later we needed to go straight out for dinner. We freshened up. I had to express breastmilk after a day apart from my nursling. While I was doing that we looked on Trip Advisor to see what restaurants near to us were recommended.
It was my partner's birthday so he got to choose and he fancied an Indian restaurant. Haveli was number 11 of all the restaurants in Berlin and was only a 15 minute walk away so we used his phone to navigate and set on our way. Haveli is a small relaxed Indian restaurant. It seemed like a family service and they were very welcoming and spoke English well (despite my attempts to speak German).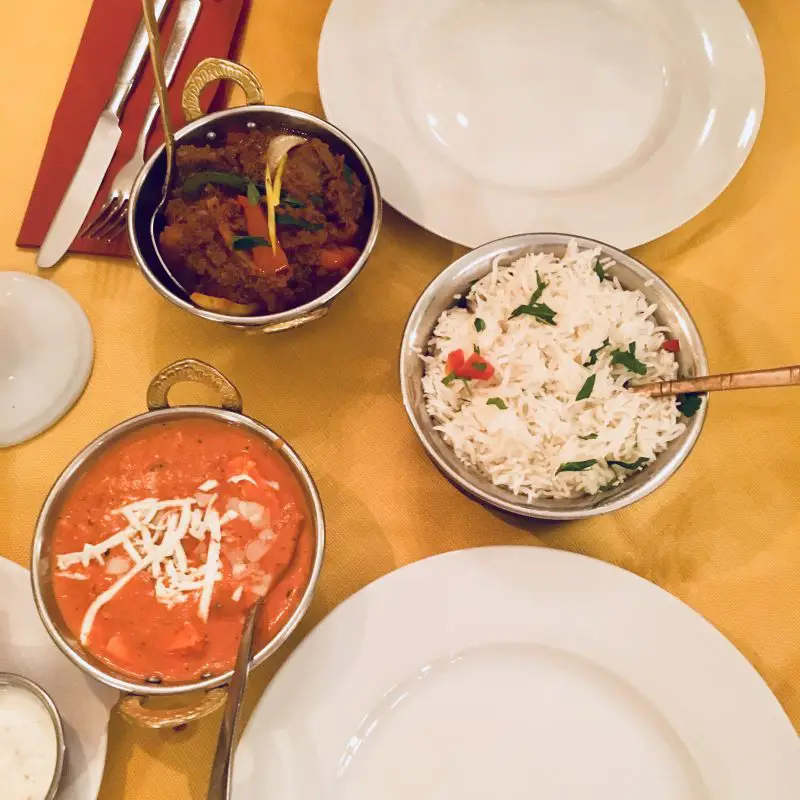 I ordered a mild paneer curry with nuts and raisins. Papa Ginge ordered a lamb bhuna. We had rice and garlic naan to share. It was all perfectly cooked and really tasty. Their poppadoms sucked. They were very small, seeded and seemed a little burnt. The restaurant could have benefitted from some music too. Other than that, we rated the restaurant highly. Our total bill was modest – I can't remember exactly how much but I think it may have been around €30.
After our dinner, and with the help of our mobile data and google maps we strolled back to our hotel and had an early night. We were a bit pooped from travelling, eating and drinking and wanted to get up early on the Saturday and make the most of Berlin.
A weekend in Berlin itinerary – must see in Berlin in 2 days
We got up and went down for the ample hotel breakfast. After filling our tummies and returning to our room, we got ready and planned out our day. We figured we would get the train to Potsdamer Platz and then walk along all the tourist attractions to the TV tower and then head to Kreuzberg for late afternoon/evening drinks.
Potsdamer Platz
We got the train from Wittenberg Platz to Potsdamer Platz – which was super easy. Potsdamer Platz is an important public square and traffic intersection in the centre of Berlin, about 1 km south of the Brandenburg Gate and the Reichstag (German Parliament Building), and close to the southeast corner of the Tiergarten park.
Winter weekend in Berlin – Berlin Christmas markets
Once at Potsdamer Platz we saw there was a Winter garden set up with stalls selling food and drinks and a giant toboggan sled. Papa Ginge decided we needed to have a beer in one of the huts (beer €5) which was fun.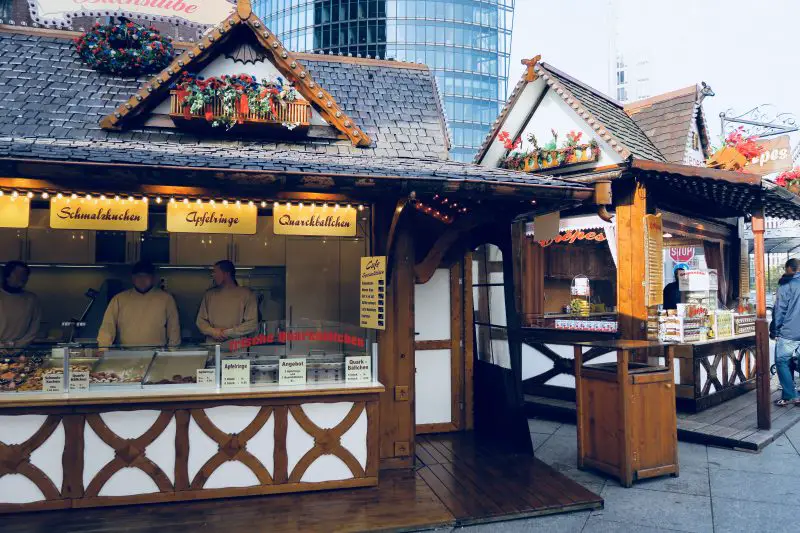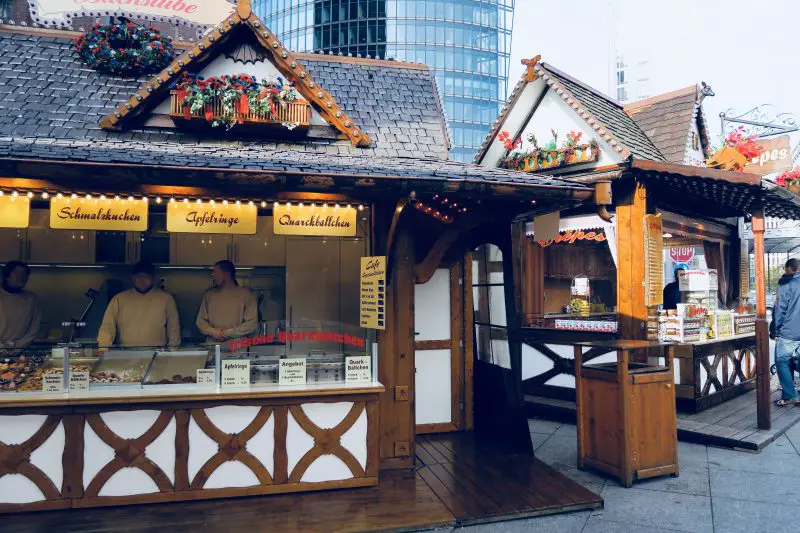 Afterwards he insisted we go to the Legoland Discovery Centre which I protested about as I don't want to go to a kids place without my kids. It didn't matter anyway as they turned away the weirdo adults who tried to get into a kids Legoland without their kids. We were embarrassed but it gave us a giggle.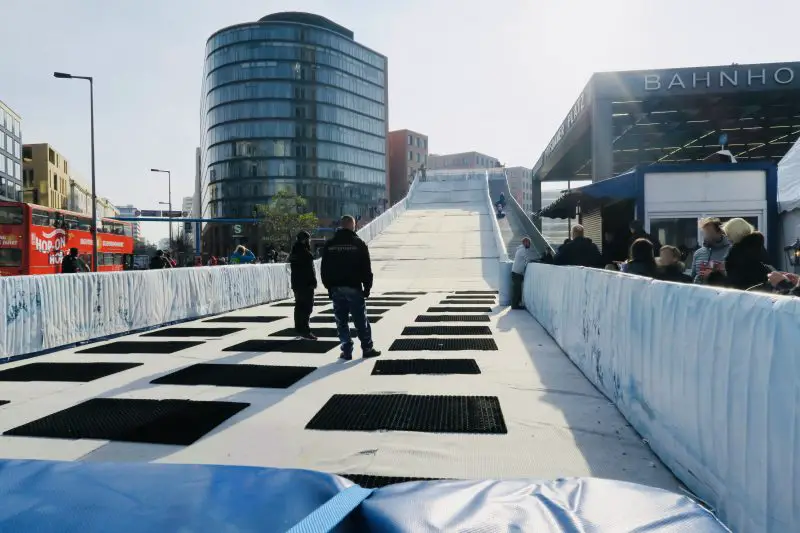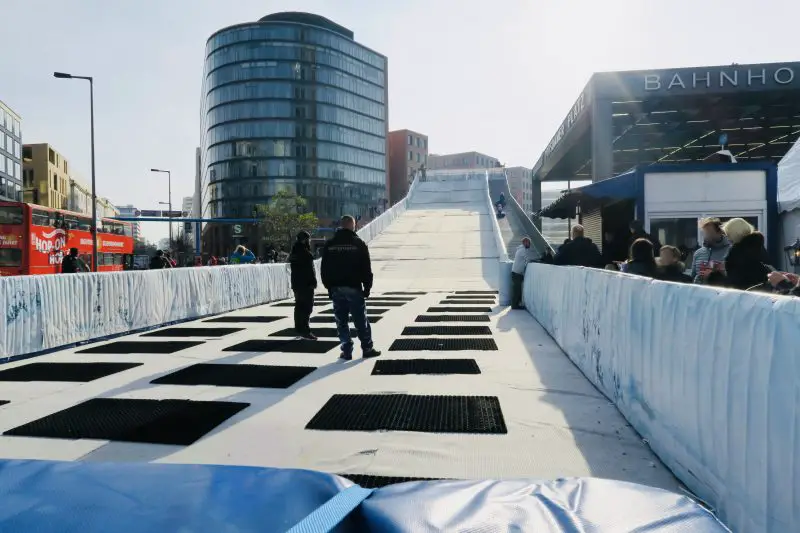 Brandenburg Gate/Reichstag/Unter Der linden/Museum Island/Berliner Dom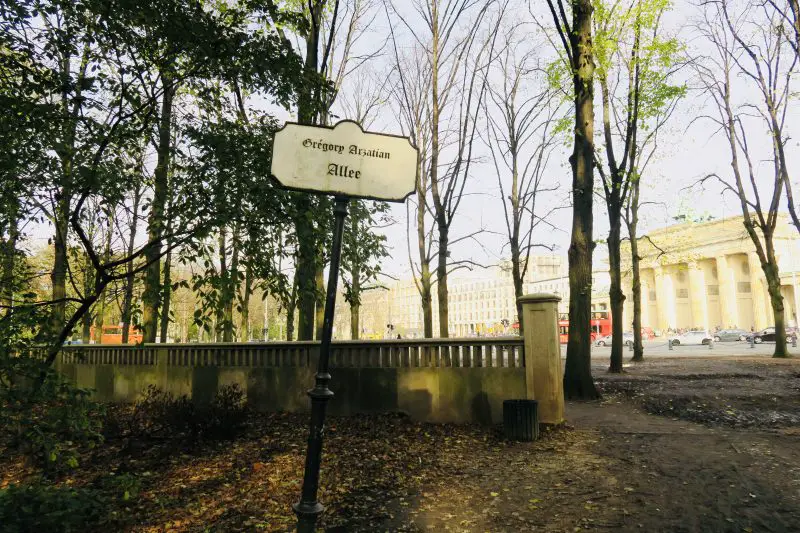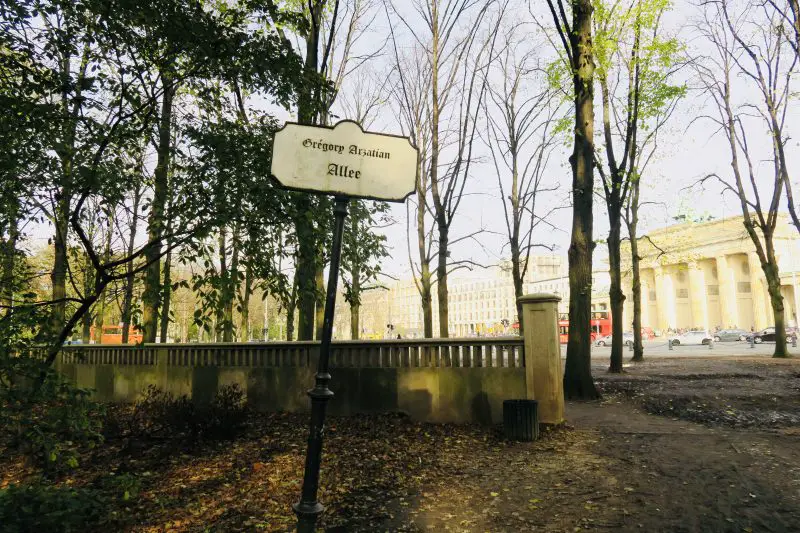 Then we walked through Tiergarten (huge park) to Brandenburg Gate (one of the best known landmarks in Berlin, 18th century neoclassical monument built of the site of the former city gate) and the Reichstag (parliament building). We spent some time looking at the holocaust memorials around there which was very sobering.
We were going to look around the Reichstag but the queues were big and we didn't feel we had the time to do it justice anyway so we walked down Unter Den Linden to museum island, Berliner Dom (cathedral) and the TV tower. Unter den Linden ("under the linden trees") is a boulevard in the central Mitte district of Berlin, Running from the City Palace to Brandenburg Gate. The avenue links numerous Berlin sights and landmarks. We really wanted to maximise what we could see as we knew we were short on time. It was nice walking the route and having a look at our surroundings. We didn't go in any of the museums but that would have been a great way to spend a day had we more time.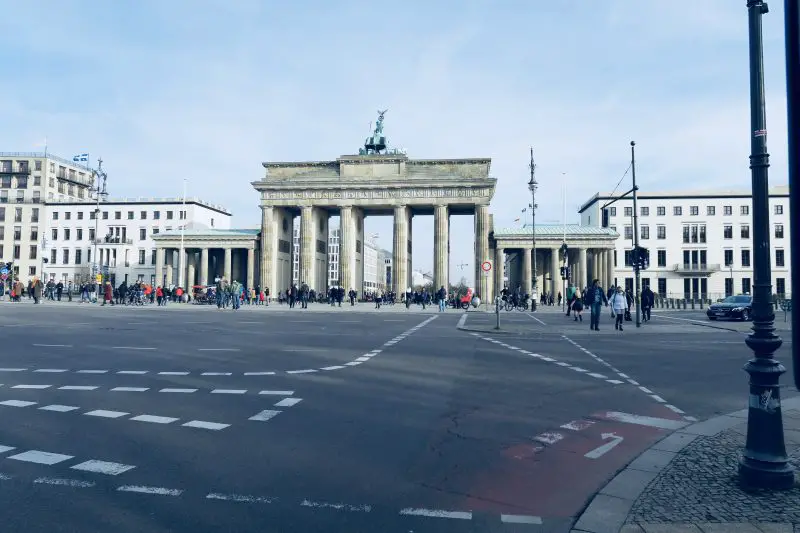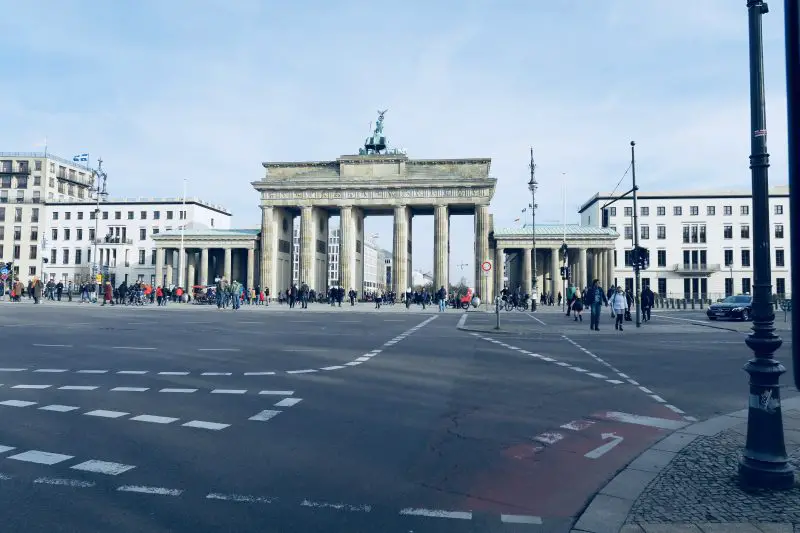 TV Tower – don't forget to pre-book!
The Fernsehturm is a television tower in central Berlin. Close to Alexanderplatz in Berlin-Mitte, the tower was constructed between 1965 and 1969 by the government of the German Democratic Republic. It was intended as both a symbol of communist power and of Berlin. It remains the latter today, as it is easily visible throughout the central and some suburban districts of Berlin. With its height of 368 metres (including antenna) it is the tallest structure in Germany, and the second tallest structure in the European Union.
Unfortunately, when we finally got to the TV Tower, it was a 2.5-3 hour wait. This was so disappointing. If you want to go up the TV Tower to look out over Berlin or eat in the restaurant I would recommend pre-booking for sure. It was one of the main things we wanted to do but we missed out on it.
Kreuzberg
At this point we were hungry after all the walking so decided to head to Kreuzberg which was on our hit list after hearing that it was Berlin's Shoreditch.
We had heard lots about how good Burgermeister was and Papa Ginge, a big burger lover, wanted to try this the most out of everything in Berlin (eye roll).
Kreuzberg has emerged from its history as one of the poorest quarters in Berlin in the late 1970s, during which it was an isolated section of West Berlin to one of Berlin's cultural centers in the middle of the now reunified city, known around the world for its alternative scene and counterculture.
I'm all about the counterculture so it was the area I wanted to see the most. I have to say, Kreuzberg was my favourite part of the trip.
We jumped on the Underground u8 from Alexander Platz to Kottbusser Tor then got the u1 to Schlesisches Tor to head to Burgermeister. 
Burgermeister – best burgers ever
Burgermeister is a burger bar in an old public toilet under the train tracks on a traffic island. Sounds a bit shit (pun intended) but it's well worth a visit. We hung around the area most the evening and I didn't once see it without a big queue (mostly Berliners too). We queued for about an hour. I was bloody freezing. By time I got our food I was shivering so hard I was struggling to eat it.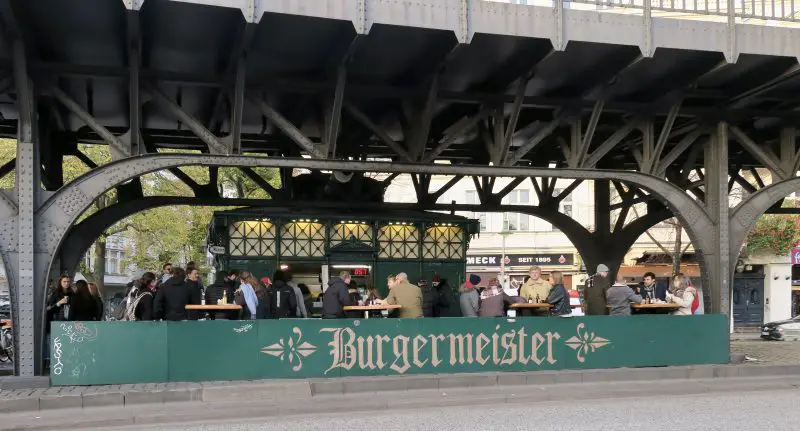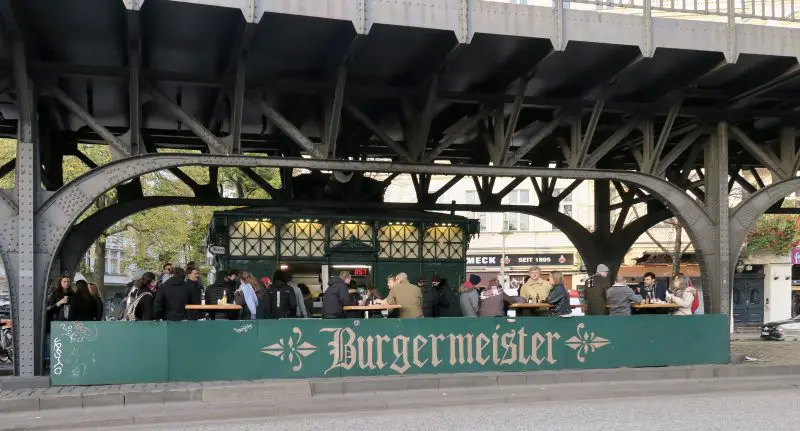 I was ready to hate it. Berlin is known for all it's innovative one and two starred Michelin restaurants and I wanted to try one of those. I did not want to freeze for an hour on a traffic intersection in a European city in November.
However, I'm so pleased I did (don't tell Papa Ginge). I got a Haus Meister €4.90 which was a cheese burger with a portobello mushroom. It was hands down the best burger I've ever had and remembering it has my mouth watering. Papa Ginge got the Meisterburger €4.90. We both got Beers €2 each. We shared some cheese fries €3.10. Our total bill was €16.90. Bargain!
You order and pay and then get a number and wait for your order. You get your Beers right away so everyone stands around drinking, waiting for tables. Lots of the Berliners bring beer with them or pop to the local bars and get some for the queue itself! There aren't enough tables so people share with strangers, as soon as a space is free, people jump in it. There aren't even chairs! Just a metal pole structure on each side of the table that you can lean on or try to sit on. Perhaps not the place to go if you have a disability or are pregnant etc.
I don't know if it all tasted so good because of the wait but it was marvellous! The cheesy chips were excellent, we were fighting over them and I would definitely order a portion each if we ever return. The burger was so succulent. The outside of the patty was crispy and caramelised but the inside was so juicy and moist. The combo of sauces were sublime.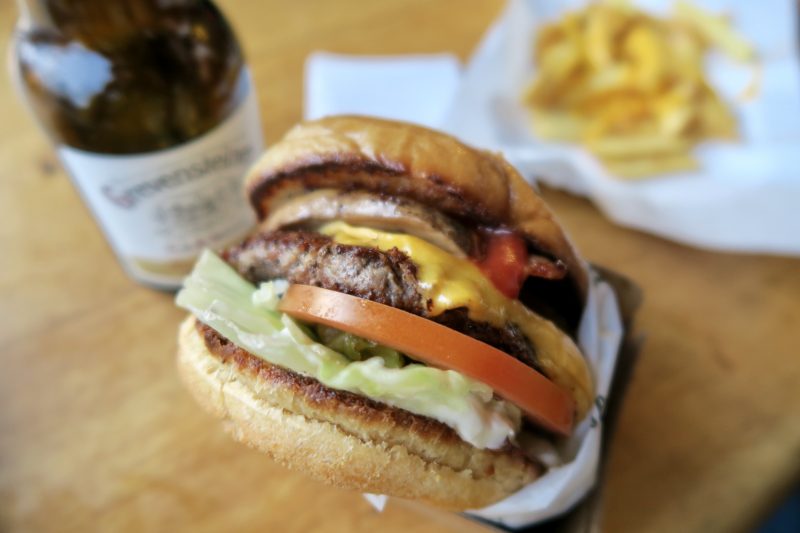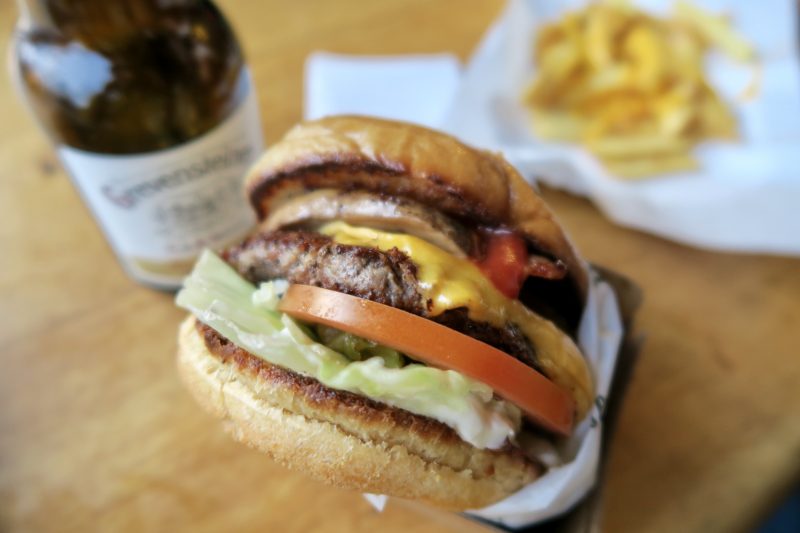 Papa Ginge wanted to go queue again for a second! It really seemed like a Berlin/Kreuzberg institution and I'm so pleased I went. Even standing in the queue you were exposed to so much Berlin culture and diversity. The atmosphere queuing and eating is jovial. It reminded me of the kebab shop at the end of a night out or a festival. If we return, which I'm sure we will some day. I will definitely head back. If you are visiting, I recommend you do the same.
2 nights in Berlin – where to go in Berlin at night
Tante Emma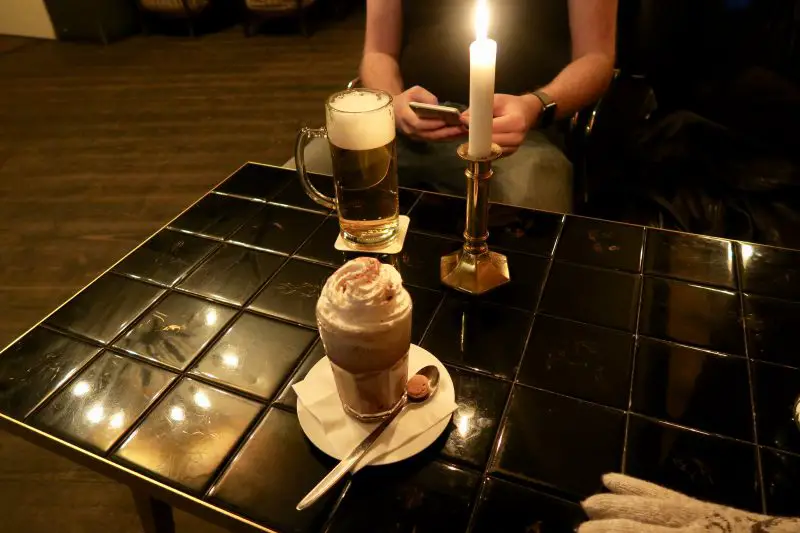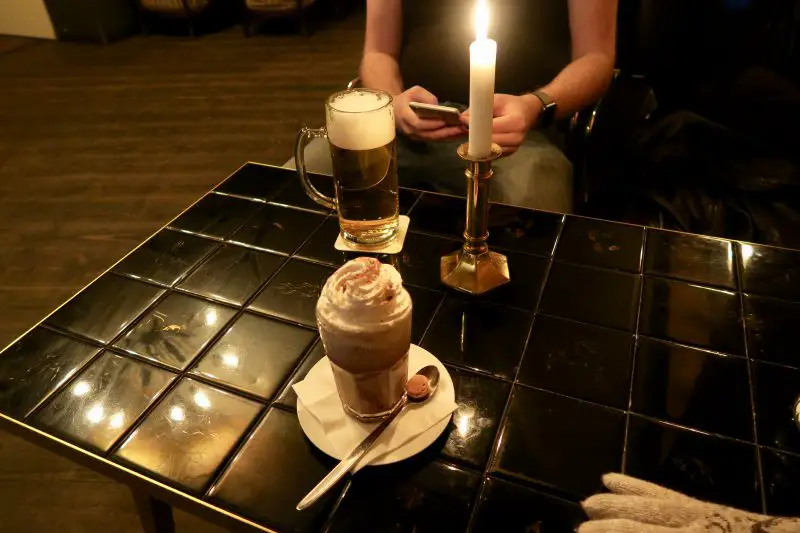 By this point we were freezing so we wanted to warm up. We popped across the road to Tante Emma. An edgy cafe with, shall we say 'industrial' toilets. It was nice and warm though which is just what we needed. Papa Ginge ordered a beer and I ordered a rum hot chocolate as I needed to warm up with a hot drink but didn't want to get behind Papa Ginge. If he's drunk and I'm not he irritates me (you know how it is)! My hot chocolate was one of the strongest drinks I've ever drunk. Wow, it put hairs on my chest. It was lovely though.
While we warmed up and had our drinks I googled where to go next. I was on the hunt for some good indie/rock bars. We don't get to go out out much with two little kids and I had no time for crap music killing my vibe.
Zur Fetten Ecke
We decided to walk along the road and go to an apparently notorious gay bar called Barbie Deinhof. This was closed though so we went next door to Zur Fetten Ecke. This was a cosy, chilled out pub with decent folksy/indie tunes opposite the notorious Berlin rock club, Lido. It was VERY smoky. Being British post smoking ban, it's hard to adjust to all the smoke in bars again (my jacket stunk on the return trip). If you are a smoker, you are laughing though. We had a lovely sofa seat in Zur Fetten Ecke and didn't want to move but wanted to check out more bars so went next door to Barbie Deinhof.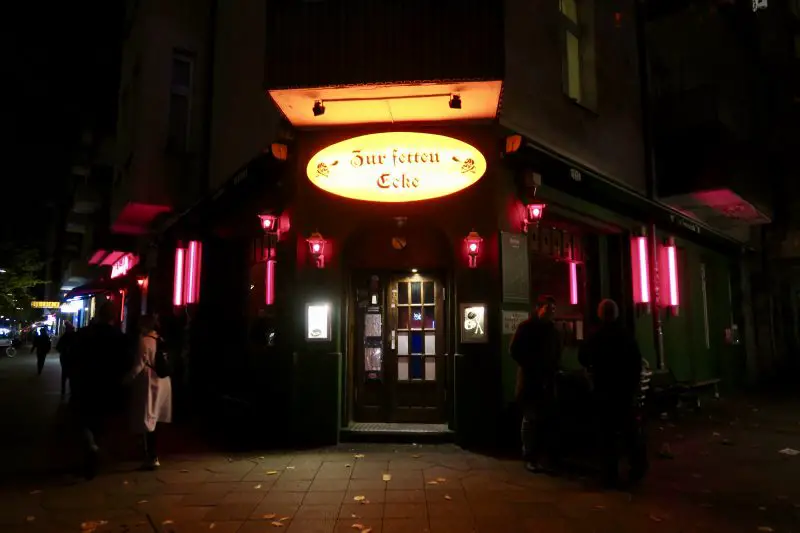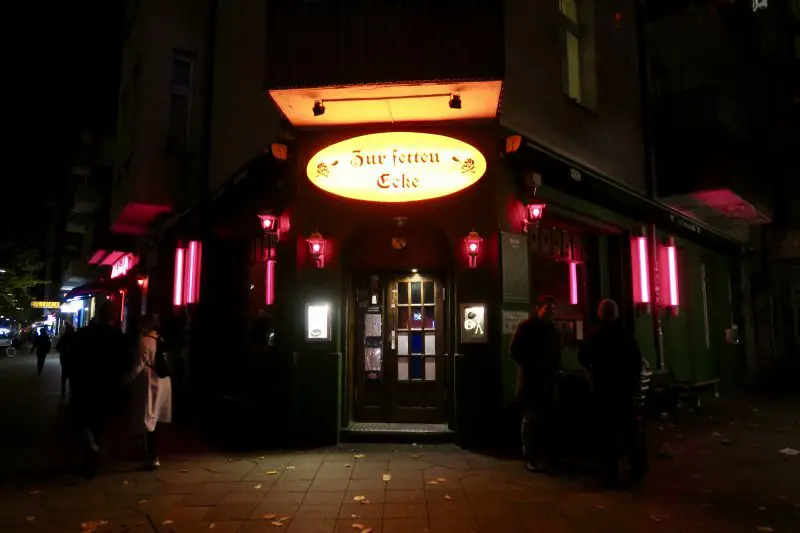 Barbie Deinhof
More 'industrial' toilets here. I loved that it was so inclusive with gay/feminist stuff up on the walls. We were there too early so it was dead but I bet when it's busy it's a rad crowd and cool vibe. We had our drink here and decided to get the train back to Kotti (Kotbusser Tor) to head to a rock bar there called Franken that we had read was cool.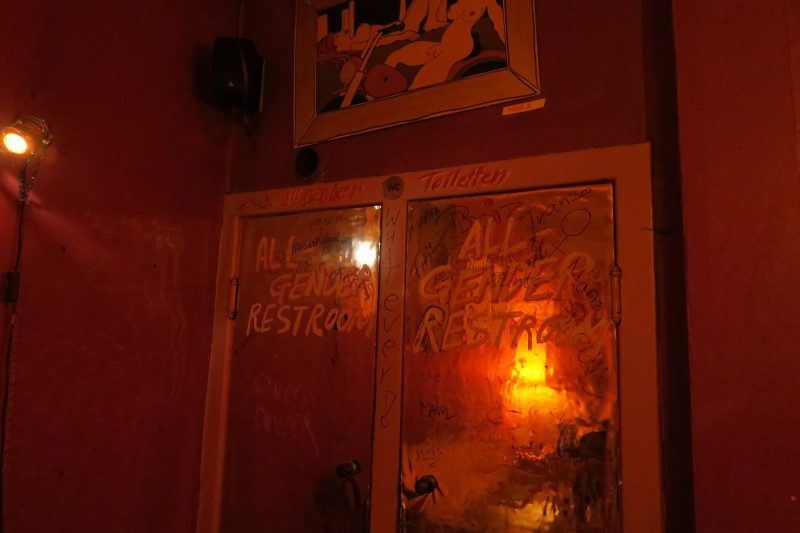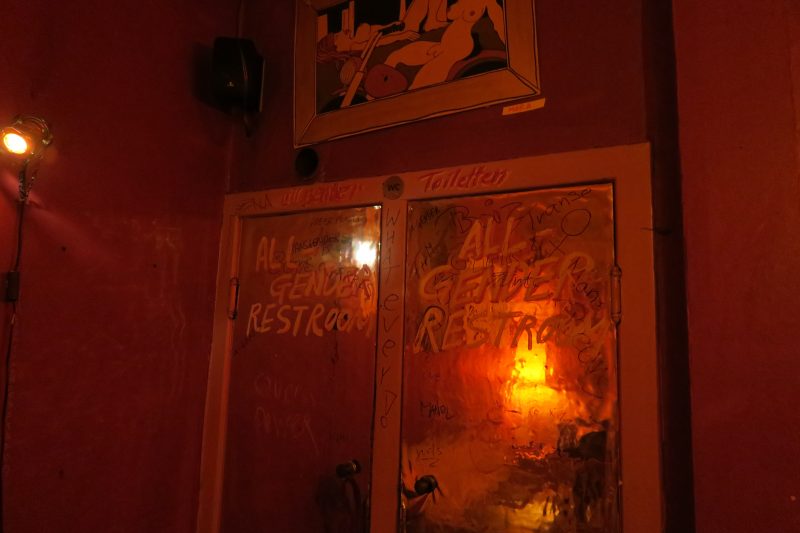 Franken
Franken was your classic edgy rock bar. The kind of bar you could imagine the sons of anarchy drinking at. A stein (pint) of german beer was €3 each. I moved on to halves while Papa G had pints.
I didn't recognise any of the songs but it was all good music, to the heavier end of rock. The bar was very busy and there was one woman staffing the bar and collecting glasses and she didn't bust a sweat, legend.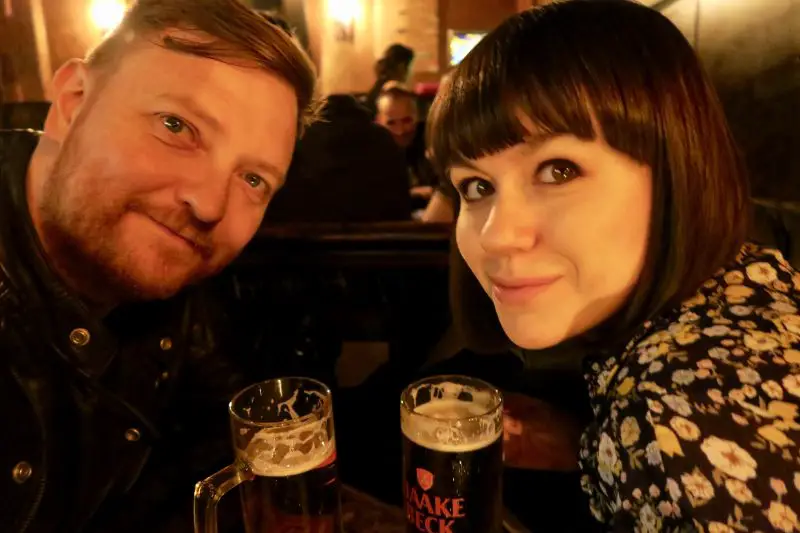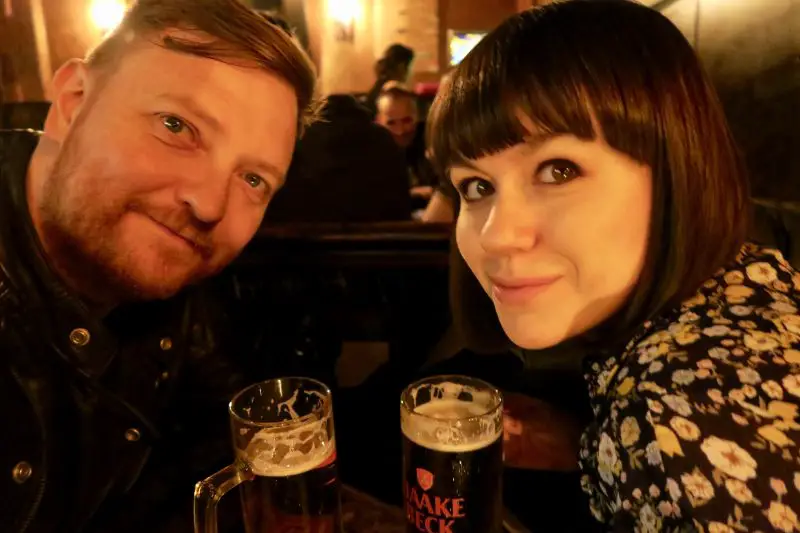 Unfortunately, I hadn't expressed milk since the morning and we were starting to worry I might get blocked ducts if I pushed it any further so we decided to head back after a few.
Currywurst
We jumped on the train back to Wittenberg Platz with ideas to hit up the organic Curry Wurst stall opposite the station (these are everywhere). I'm not a fan of curry so I thought I wouldn't like this. I was so wrong. We shared an organic curry wurst and chips (and bottle of water) for €8. It was sooooo good. I can see why it's a thing. We contemplated going back out for more when back at the hotel. Another thing I'll get again if we return to Berlin.
2 day itinerary Berlin – where to go in Berlin on Sunday
On Sunday we had to head back to the airport for 10.30am so we didn't have a lot of time. Our hotel was right next to the KaDeWe and Kudamm so we had planned to have a quick look around after breakfast and buy the kids something.
Unfortunately, I had forgotten shops are closed in Germany on a Sunday. I'm so annoyed at myself that we had booked a hotel right in the middle of the shopping district and it's the one place we didn't make the most of. I guess at least we got to see it – we just didn't go inside the shops. My bank balance is grateful anyway!
We decided to get the train back to the airport as we had a little more time and wanted to get to the airport early. It was an easy journey. There are some half decent gift shops at the airport (toys, booze, food, make up – the usual) but it's not massive. It was pretty busy too. I would get to the airport early though (especially if you have trouble standing), we were sent through to boarding at 12.25 for 13.40 flight and there was not enough seating for everyone so many people had to stand for a long time. Heading back to Newcastle from Berlin Schönefeld was better than coming out and we actually landed 30 minutes earlier than expected which was nice.
2 day itinerary Berlin cost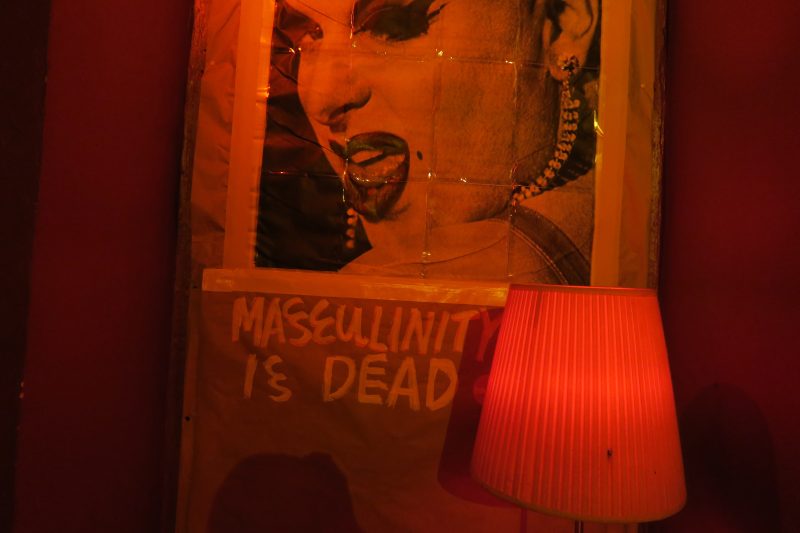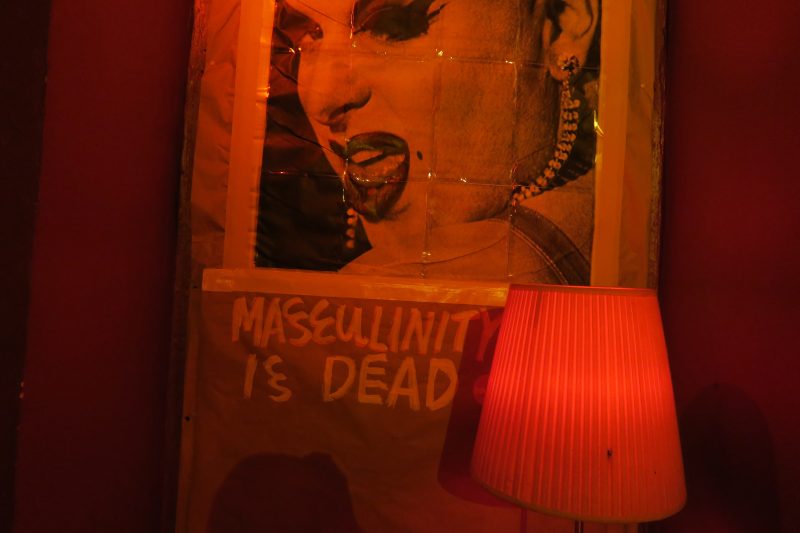 We spent around €200 in total during our weekend.
Is 2 days Berlin enough?
And just like that, our weekend in Berlin (affiliate link) was over in the blink of an eye. It was a brilliant city and we had a blast. Though it is worth going for a weekend, 48 hours isn't enough to even scratch the surface, a week would have been much better. I'd love to return one day. Although it's still got some going if it wants to steal first place in our hearts above our much beloved Prague.
My top tips would be to remember shops are closed on a Sunday, get a welcome card for travel, pre-book the attractions you would like to visit and definitely make an itinerary of what you want to do and where you want to go – it's too huge not to plan your days out.
Have you been to Berlin? Where do you recommend? Let me know in the comments.
If you liked this post you might also like:
If you have enjoyed this post or found it useful, here are some quick and easy ways that you can support Nomipalony or say thanks:
Share this post with your friends  
Pop over to my Amazon Storefront to see what products I have been buying and loving from there recently, including my health and fitness products list.
Sign up to my mailing list 
Women can join my feminist Facebook group – the Nomipalony Freehouse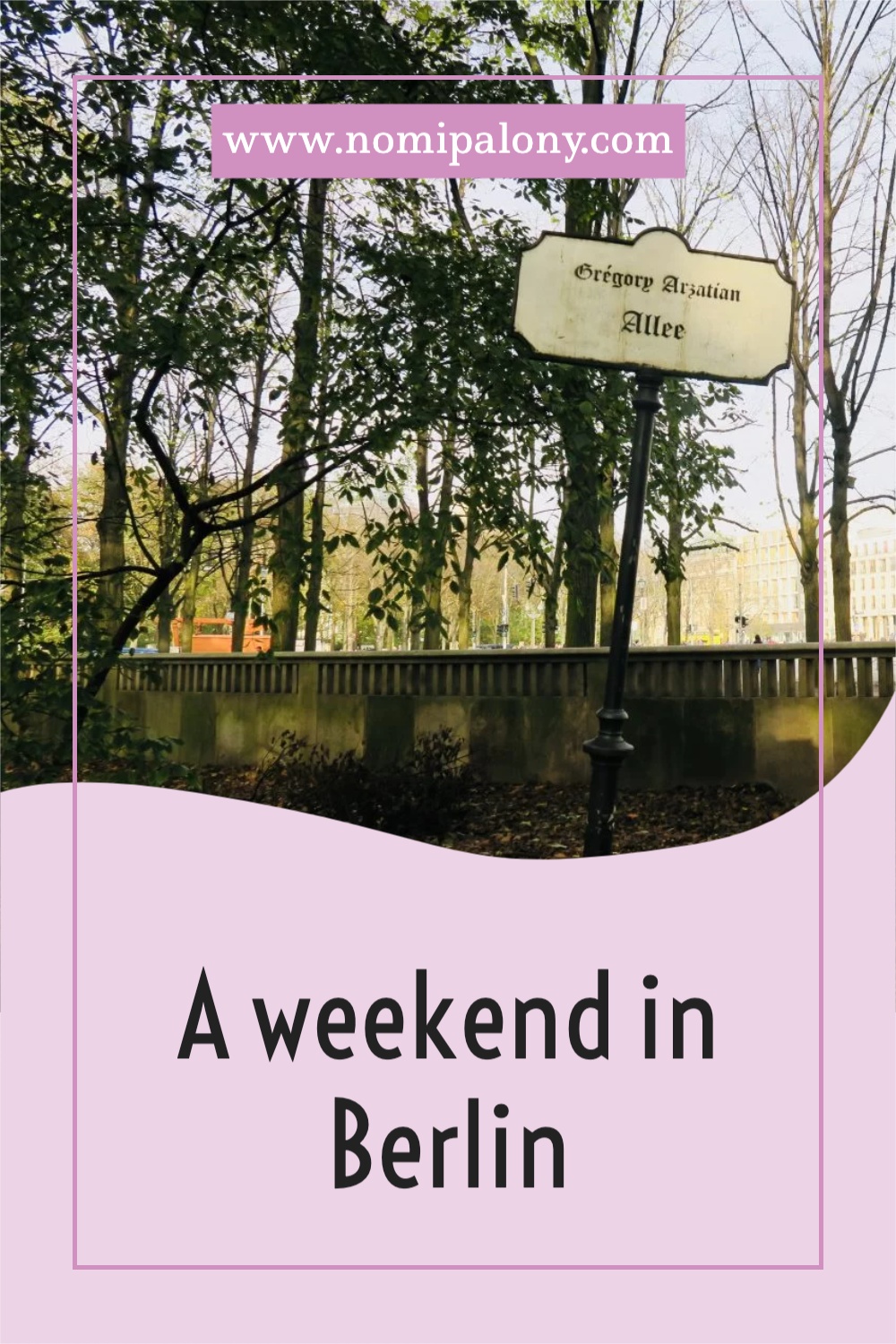 Disclaimer: This is post contains some gifted items. This post also contains affiliate links. If you buy an item through an affiliate link you won't pay any more for that item but I will receive a small referral fee. As an Amazon Associate, I earn from qualifying purchases. For my full disclosure please see my about page.
Please note, this post was written in 2017 but has been updated September 2023.