Viraltag review – offer for bloggers
If you aren't a brand or a blogger then you may want to skip this post (and go check out a different one). If you are a blogger though then this post is for you.
Viraltag is a social media marketing tool that lets you schedule your social media content. They currently have an offer on for bloggers where you can get 6 months access to Viraltag in exchange for an honest review on their blog. On the 'blogger plan', after the 6 months access, the service then costs $9 a month afterwards (for 3 social profiles).
14 day free trial
I've just taken part in their free 14 day trial and have enjoyed the service enough to be writing this review in exchange for the 6 months access. You don't have to add bank details to get the 14 days free trial. It's not one of those annoying sign up with your payment info and then forget to cancel later situations, so its worth checking out the free trial if you are curious.
Primarily, what I was interested in was a twitter scheduler. I'm happy with using the native Facebook scheduler for Facebook and Tailwind for Pinterest. I personally don't really see the point in the 3rd party schedulers for Instagram as they don't actually post for you and you can save drafts in Instagram so I just do that in there. Perhaps I'm missing a trick there though, please tell me if that's the case in the comments.
What I liked about Viraltag
My favourite feature of Viraltag is the 'evergreen content' option. To add content to this section, you simply check a box that says 'evergreen' and it will add it to your evergreen 'pool'. Any posts you add in this section will be automatically posted to your social accounts whenever there is an empty slot in your posting schedule. Helpfully, there is an option where you can set it to not repeat the same evergreen post more than once in a set number of days. I currently have mine set to not repeat more than once in 7 days. This is the feature that makes Viraltag worth it for me as the precise reason I want a scheduler is to circulate my evergreen posts on twitter when I'm not online.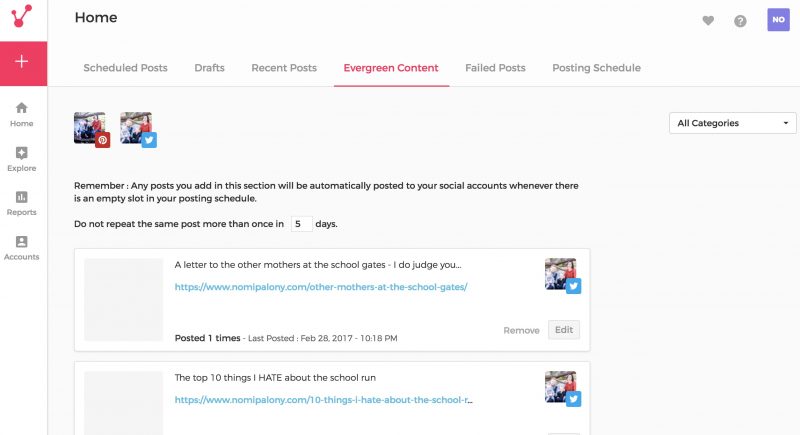 The functionality of the site is really user-friendly. It's intuitive so I didn't struggle to learn how to use it, it was just obvious.
The popular images feature is great if you are struggling for content as you can easily add to you stream from there. This feature is especially useful for Pinterest and actually might have me replacing my Tailwind account for it. It shows you popular content, then gives you the option to add to any of your boards (including group boards) and you can schedule or post right away.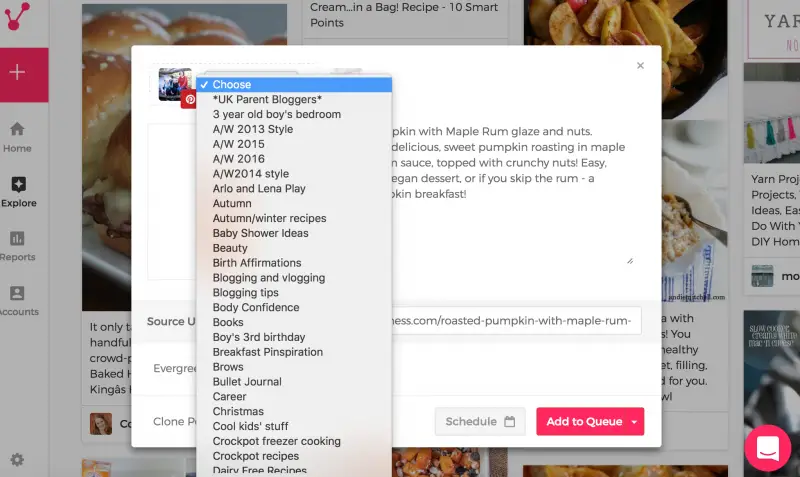 Where I think Viraltag can improve
What Viraltag doesn't have yet is a smart phone app for Twitter like their competitor Buffer. They do have an app for Instagram but not Twitter, and that's what I'm interested in. I do a lot of work on my phone and can't always access a laptop, so this is essential for me. However, I asked them over on Twitter and they said they are working on the app for Twitter and are looking at that launching in March so I'm watching for that with bated breath.
I've heard that Social Oomph has an option where you can easily set a post to go out at X amount of frequency 'forever', So for example, I could schedule an evergreen post to go out once a day forever and then never have to touch it again. Viraltag doesn't have this option, which in my opinion would be a good option to include. It does have an option where evergreen content will post out whenever there is a gap in your twitter content which does fill that gap though.
My recommendation
I recommend you give Viraltag a go on the free 14 day trial and see what you make of it. You've got nothing to lose and you might just discover a new scheduler that's great value for bloggers. If you join through the link above, you will get a $15 credit to your account too.
Disclaimer: This post contains affiliate links for Viraltag. If you join through this link you will get a $15 credit and I will get 20% monthly commission. I've written this honest review to access 6 months of Viral Tag for no cost.