We just got back from a great meal at the Grainger Street Zapatista. My friend Alex has been telling me to go to Zapatista for ages and now I could kick myself for having not gone sooner.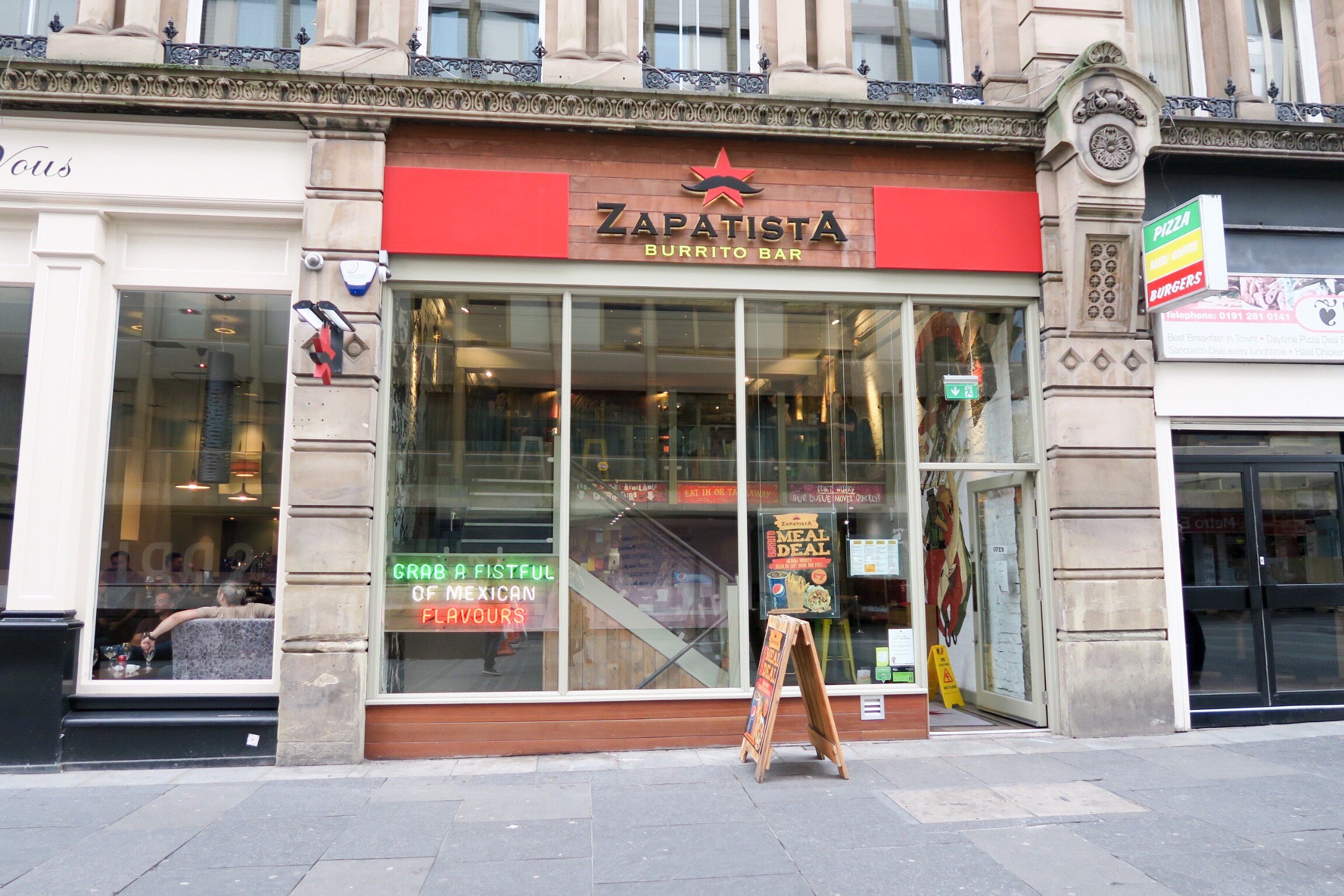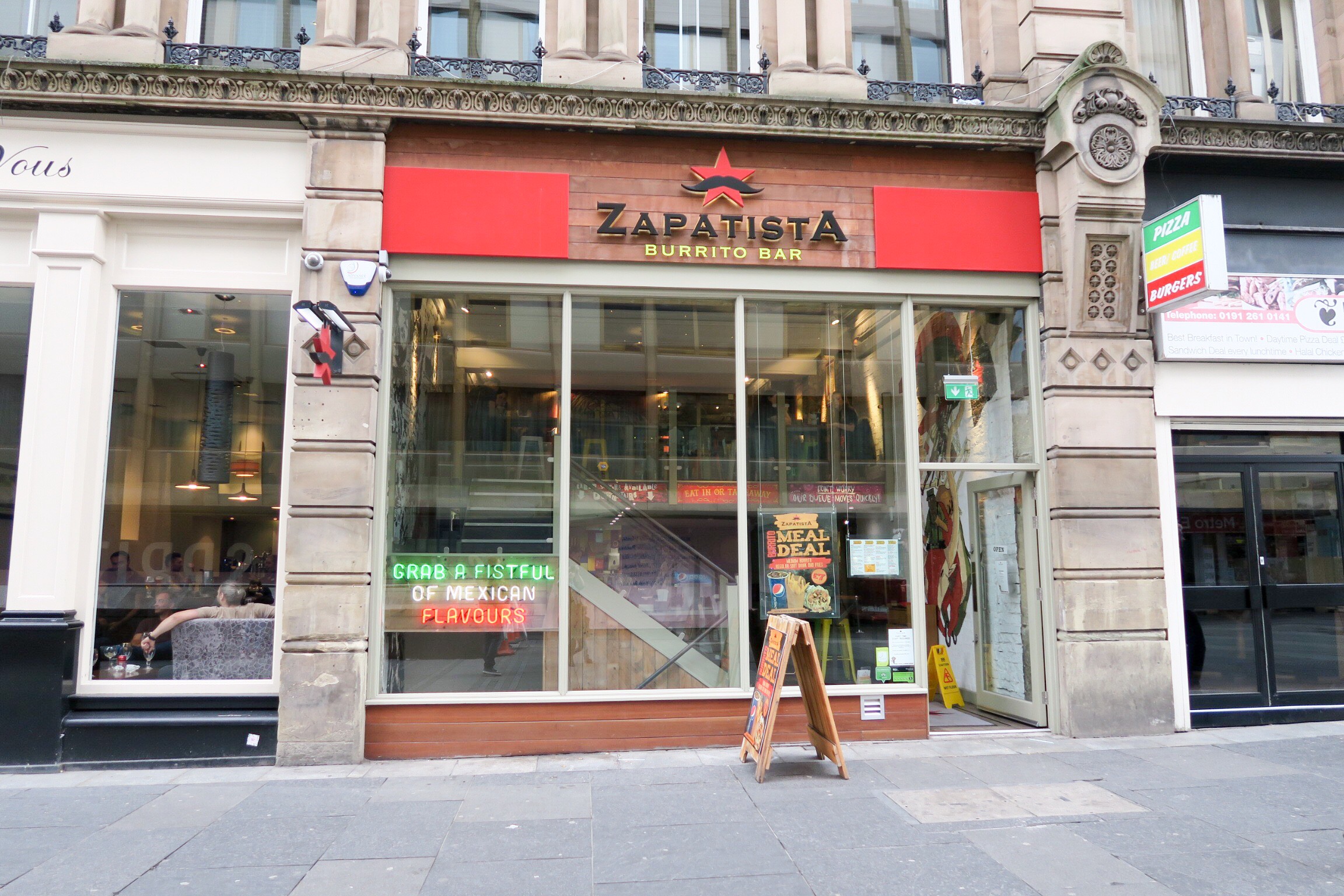 Zapatista is Newcastle's first dedicated Mexican inspired burrito bar. They have two restaurants in Newcastle, Grainger Street opposite Central Station and Ridley Place near Haymarket. Two prime positions, wherever you are in the Toon, you're not going to be far away from one of them.
We checked out Grainger Street. We parked behind Central Station, opposite Royal Mail, parking is 90p an hour there and its less than 5 minutes walk away.
You can get food to eat in or take out but we wanted to eat in. You order and pay at the counter, which is actually nice when you have small kids as there is no waiting around for the bill at the end when the kids have begun to behave like feral beasts and you need to bounce.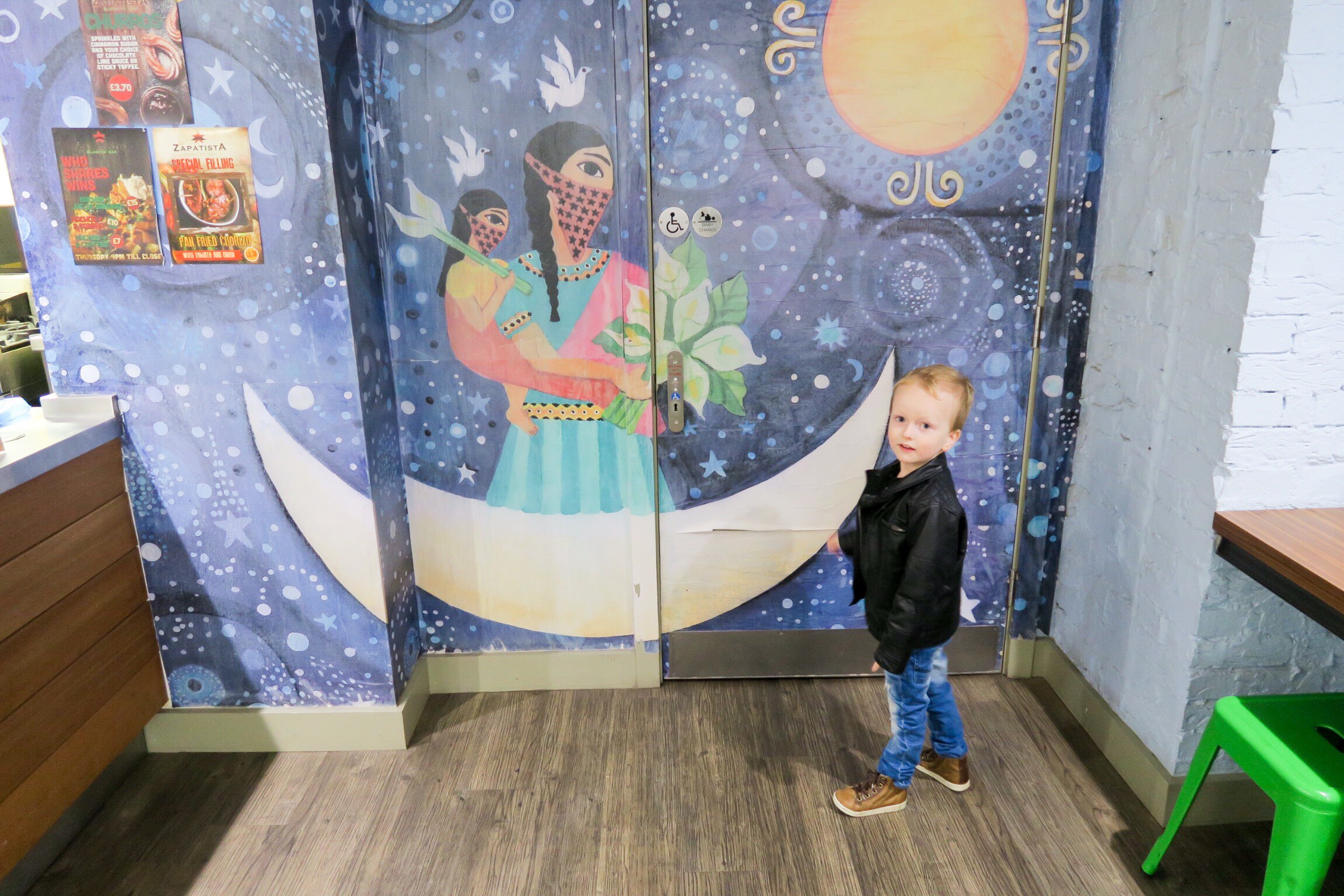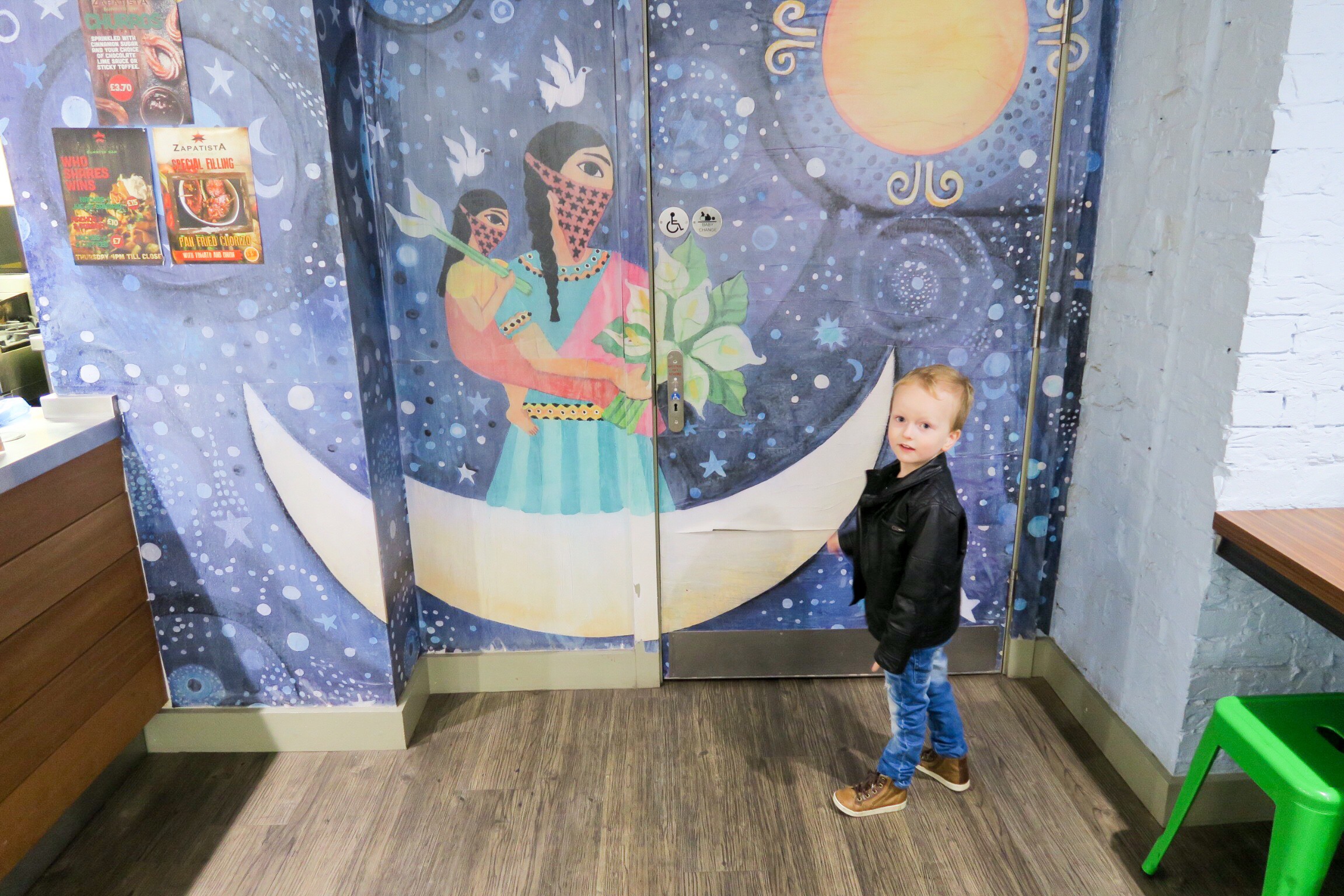 The staff were really helpful and accommodating, they were happy to put the dairy bits on the side of our meal so we could share with Arlo who is allergic to cow's milk proteins.
We ordered:
Kids meal deal for Arlo £2.90 – shredded pork tacos which came with rice, a few tortilla chips and guacamole, plus a carton of OJ
Kids meal deal for Lena £2.90 – shredded pork tortilla wrap with rice, cheese and tortilla chips on the side, plus a carton of OJ
Me: Special burrito £5.10 – butternut squash, halloumi and chickpeas, plus a bottle of San Miguel (£3.20)
Papa Ginge: meal deal £7 – shredded beef burrito, fries and coke.
Dessert for all of us to share: 4 churros with a pot of chocolate dip and a pot of toffee dip (£3.70)
Total – £24.80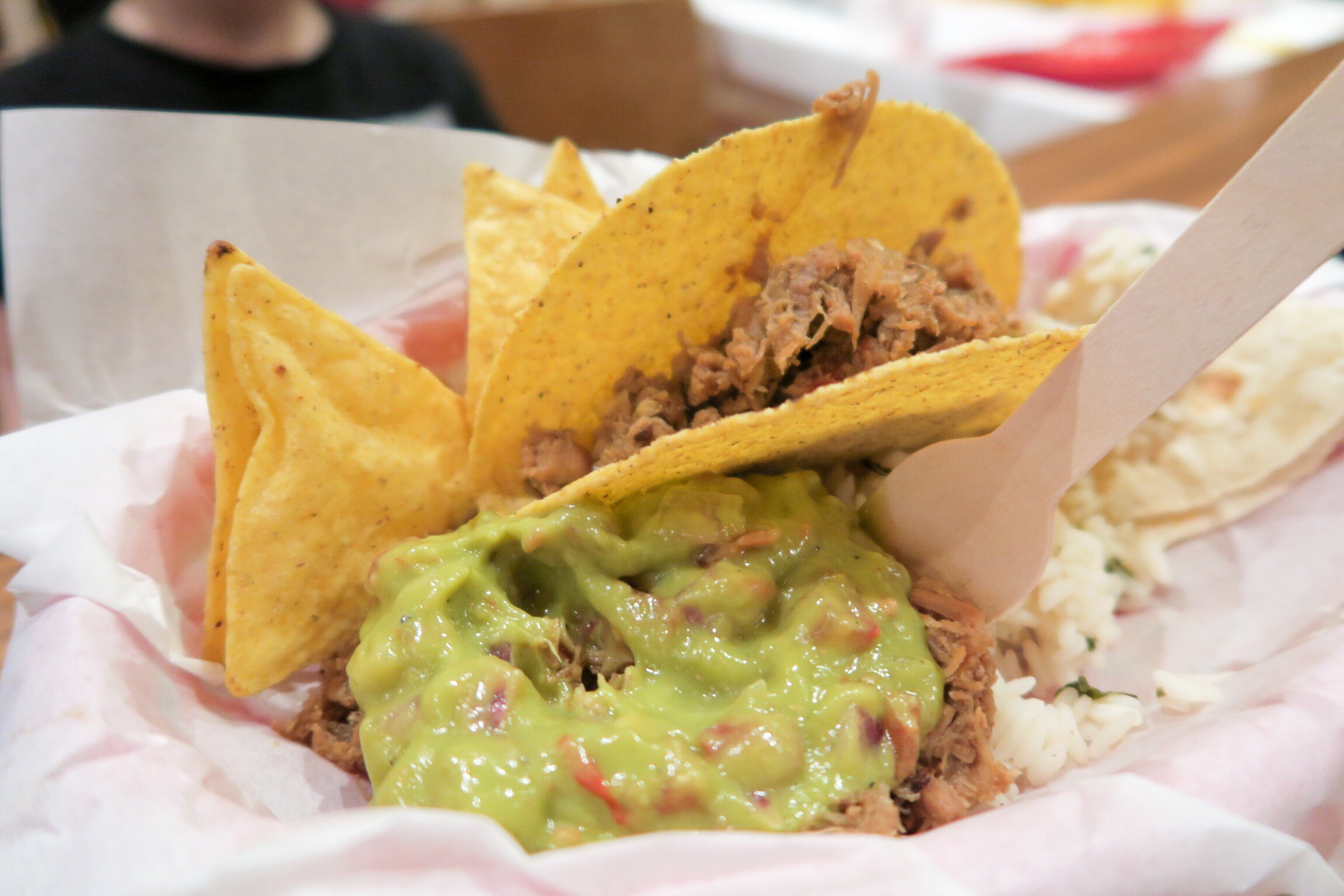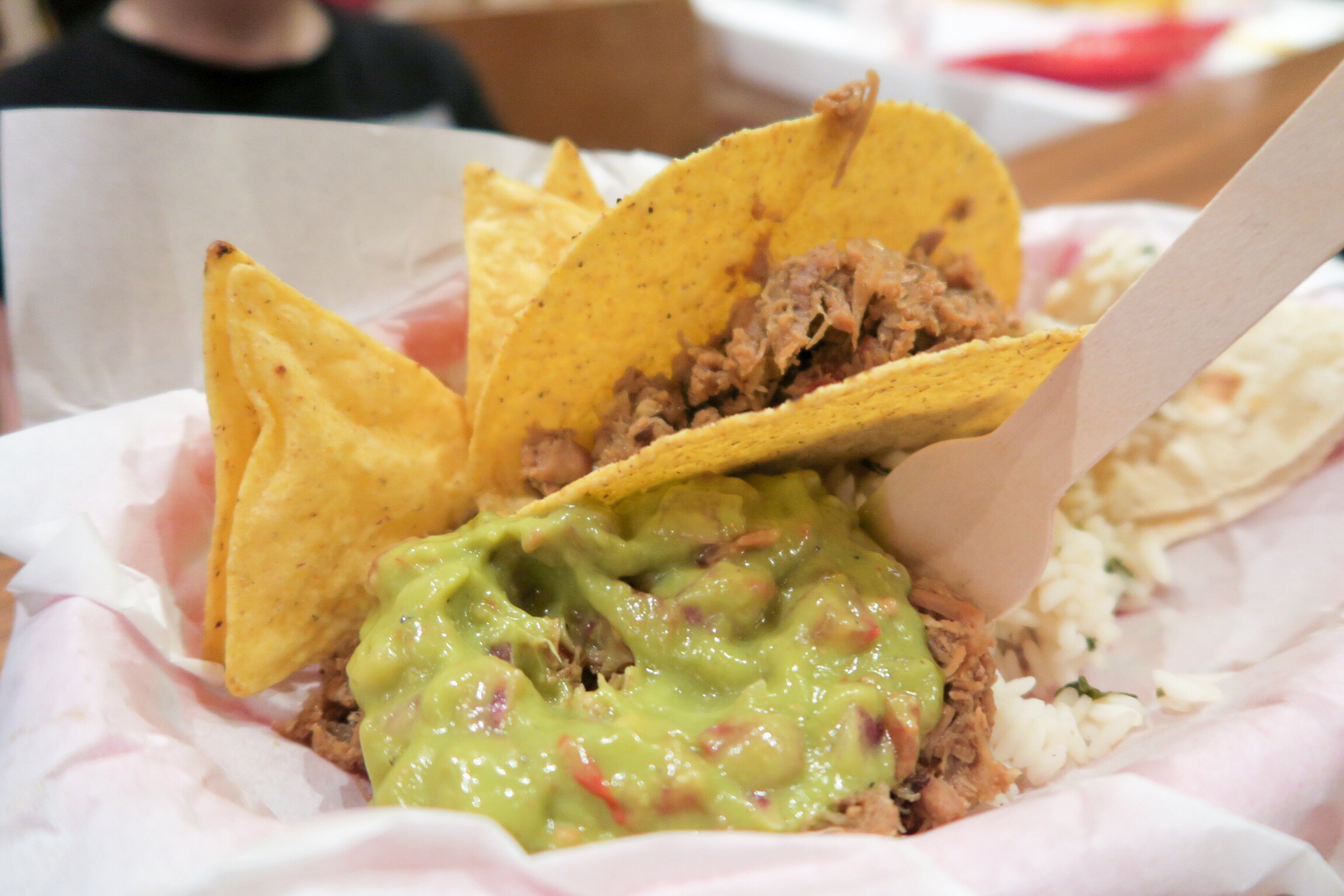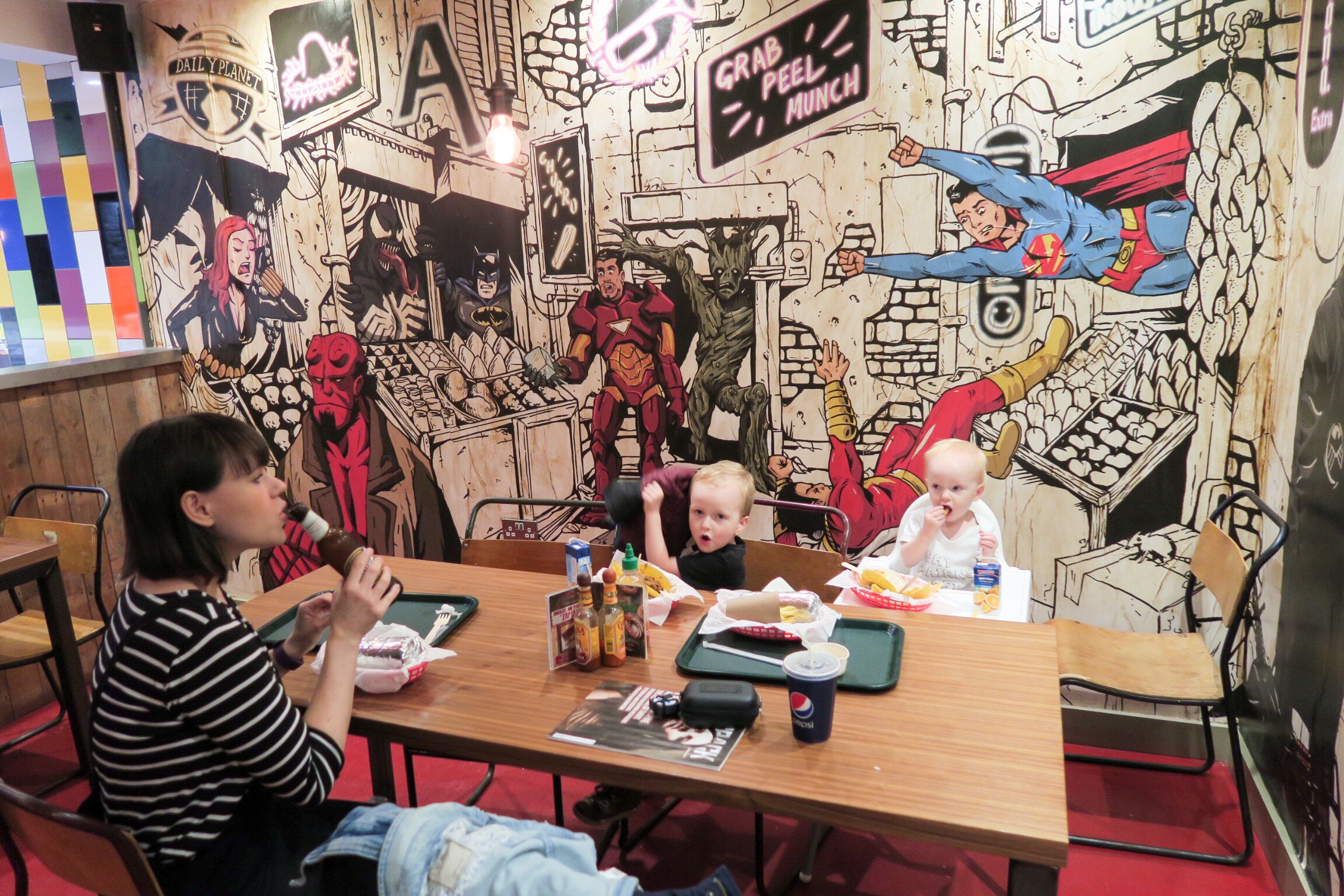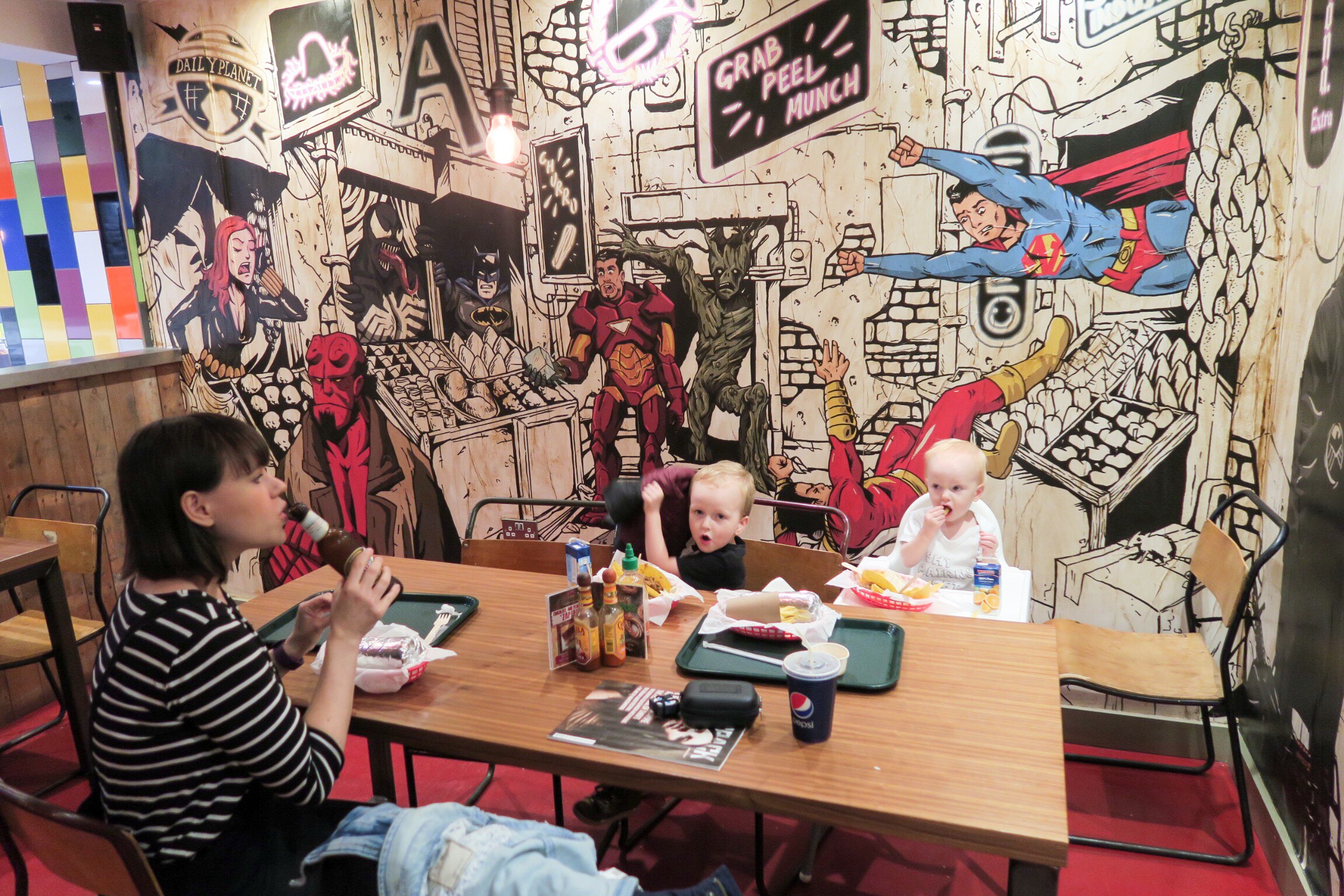 All the food was made fresh to order in front of us and we were able to pick and choose what we wanted and add stuff on the side. They have seating both up and downstairs but we chose downstairs as I had heard they had really cool super hero mural and knew Arlo would love that and he did. He spent the whole meal pointing out the characters on the walls.
I loved the decor and style of the whole restaurant. The walls had great murals and paintings and even the ceiling had fab artwork. It creates a cool, chilled and fun vibe. It's perfect for taking the kids to but it would also work for catching up with friends or even going for food on a night out. They sell alcohol – beer, cider, wine, tequila – even Mexican sangria and margaritas! I'd even go there to work, they have free wifi and it's really chilled. Lena was loving the Latin music and was dancing away as she ate her tacos – it was pretty adorable.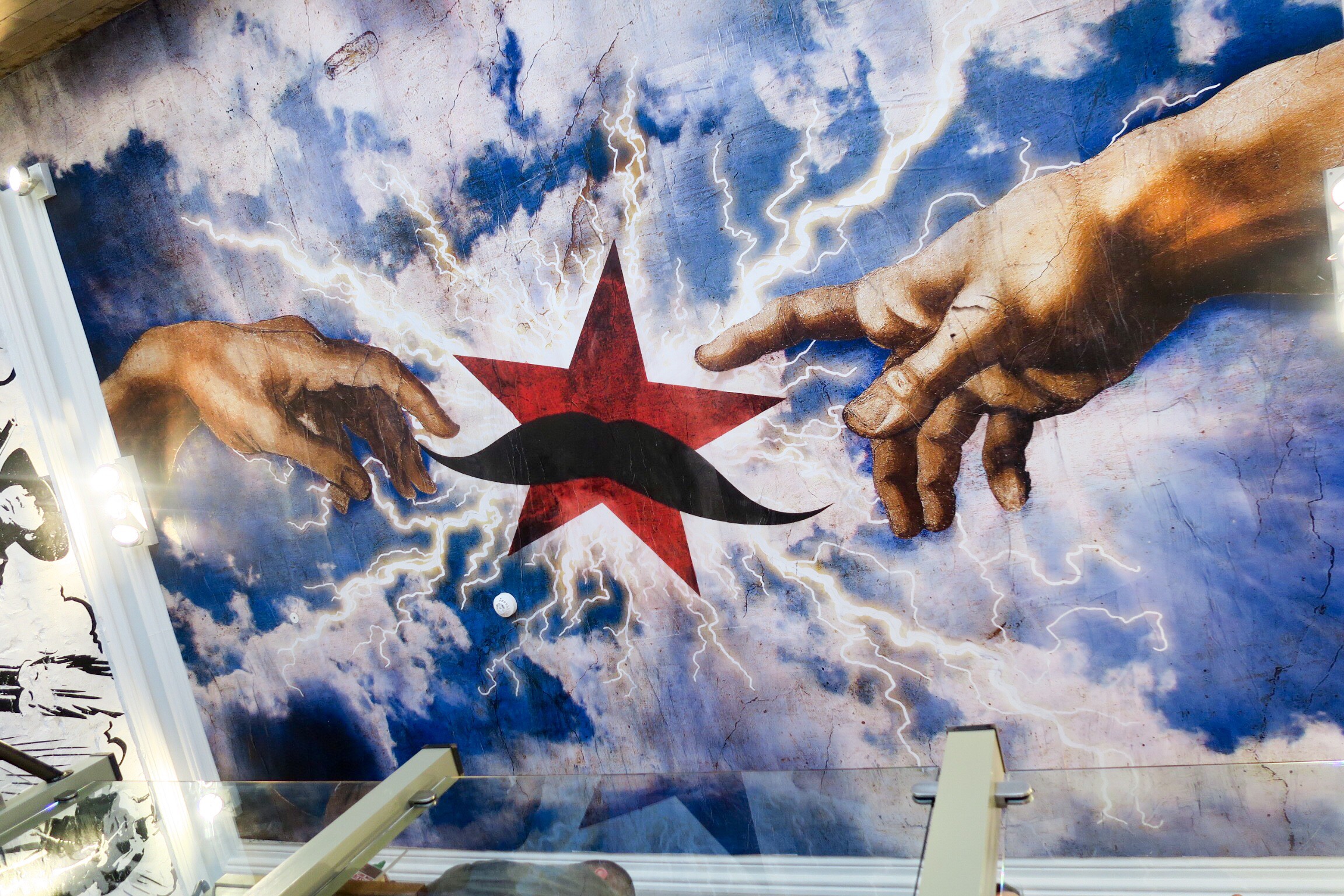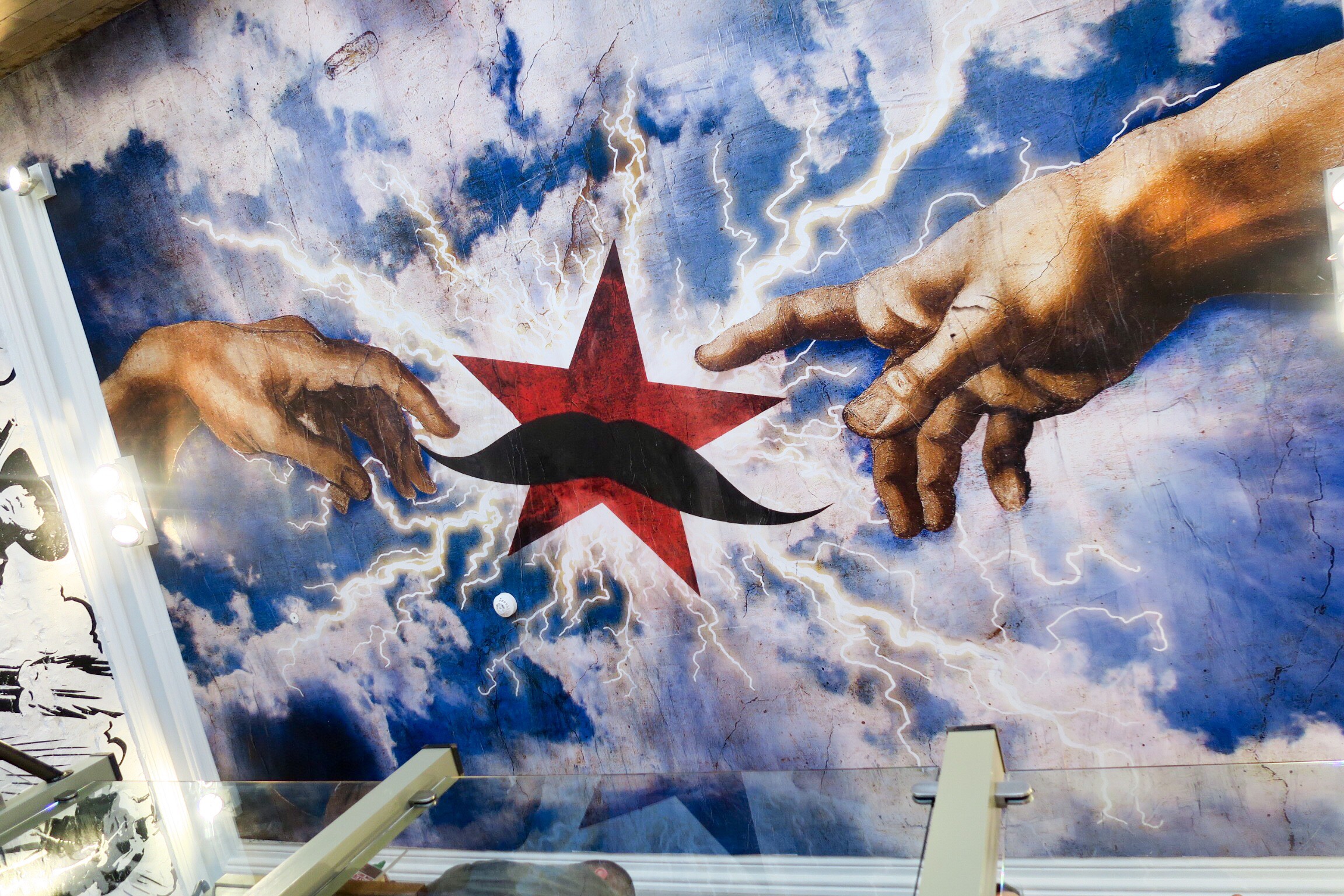 Lately we've been having such a hassle with Lena in restaurants, she's just at that age where she doesn't want to sit in a high chair and wants to roam like a hungry tiger. When we did the Thaikhun review recently she was a total pain, she cried if we sat her down, only happy going for walks and we had to take turns eating our food so one of us could take her out the restaurant so we didn't disturb the other diners.
Zapatista on the other hand was perfect, we had our food before sitting down so she had it straight in front of her when we put her in the high chair, it wasn't too hot so she could dig straight in. She enjoyed the novelty of the different presentations of the food and made a really good job of using the wooden forks.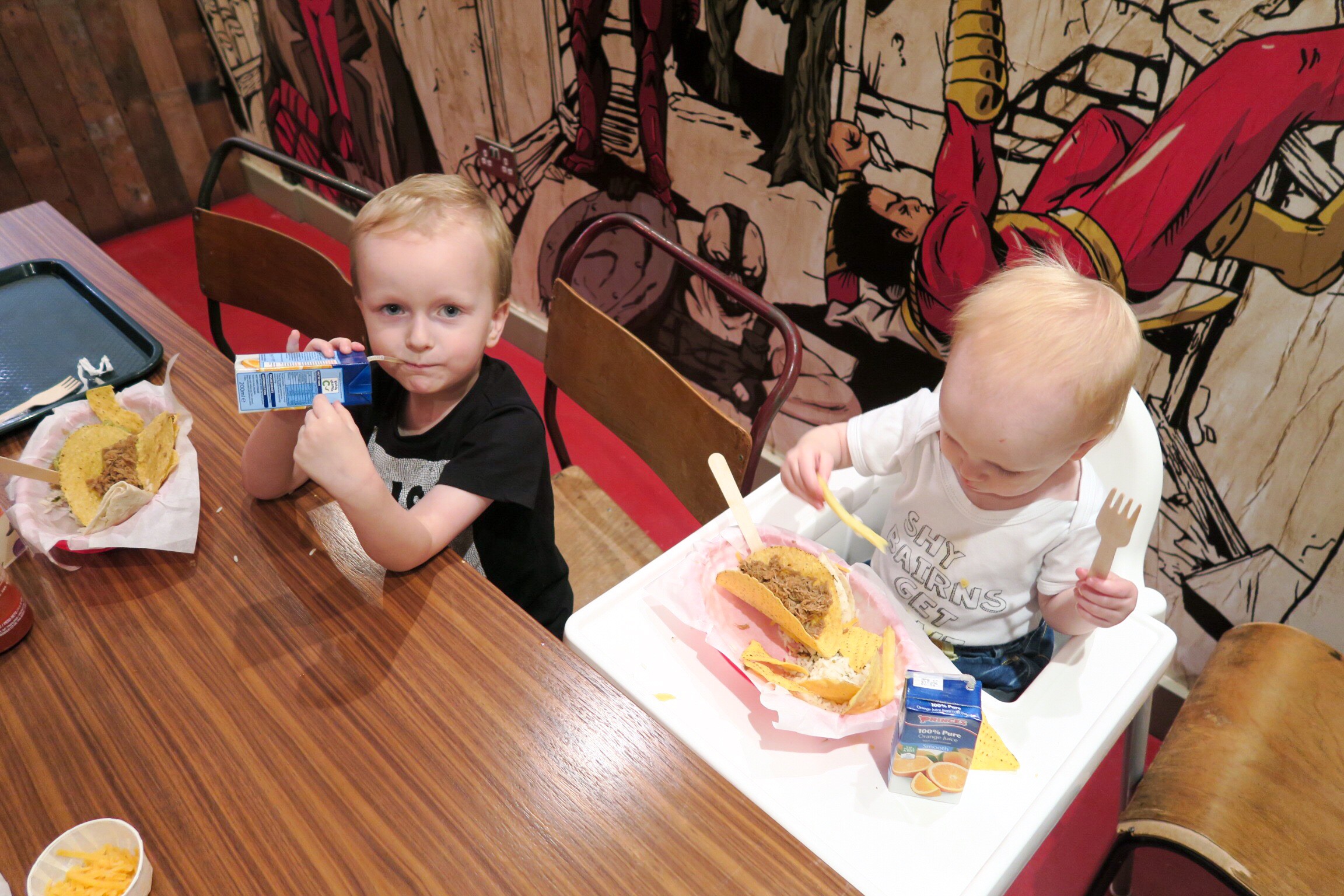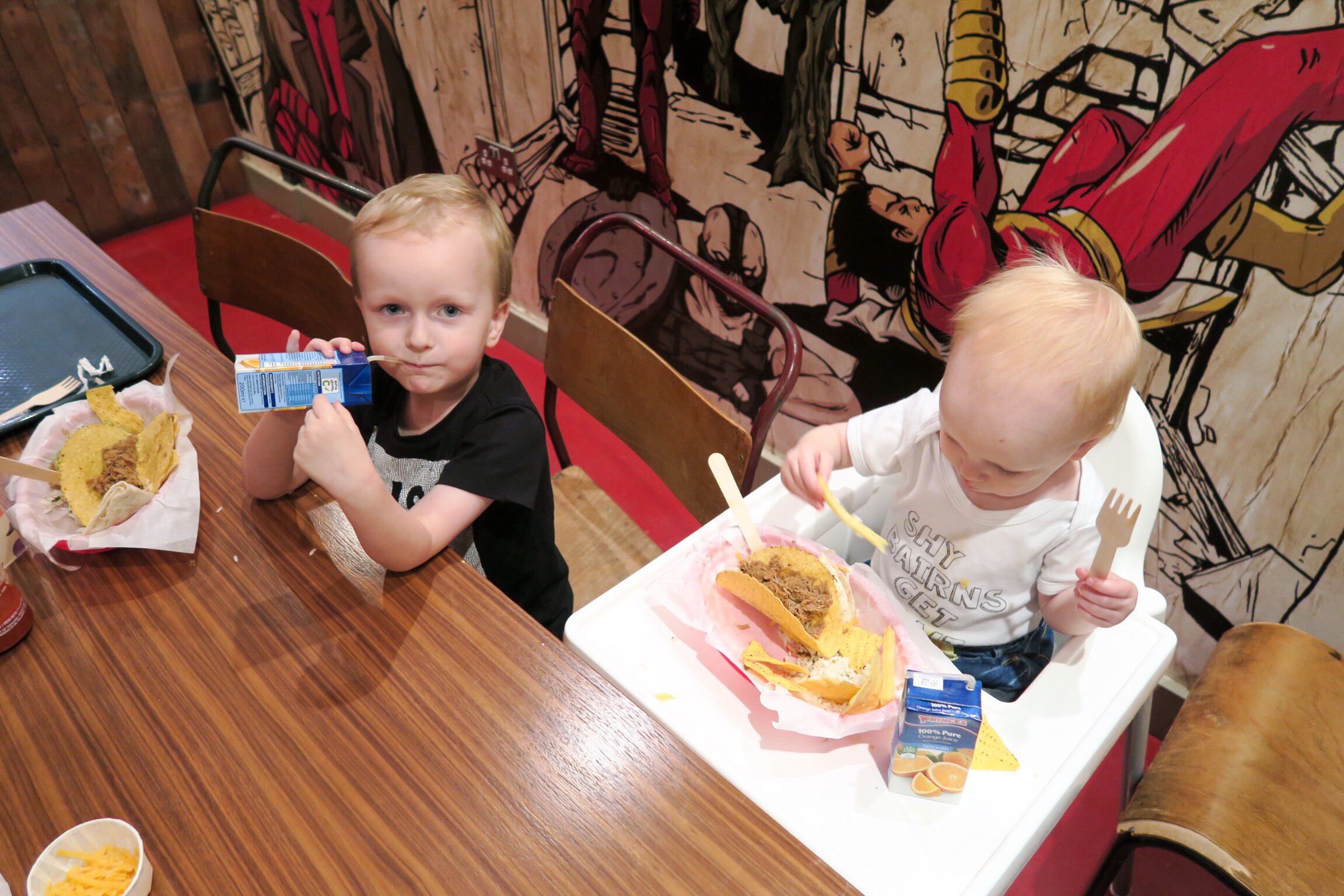 Both the kids really seemed to enjoy the food. The portions were big (and my kids are very little) so we asked for boxes for their leftovers which were provided happily. They are now in the fridge and will easily do lunch for the kids tomorrow.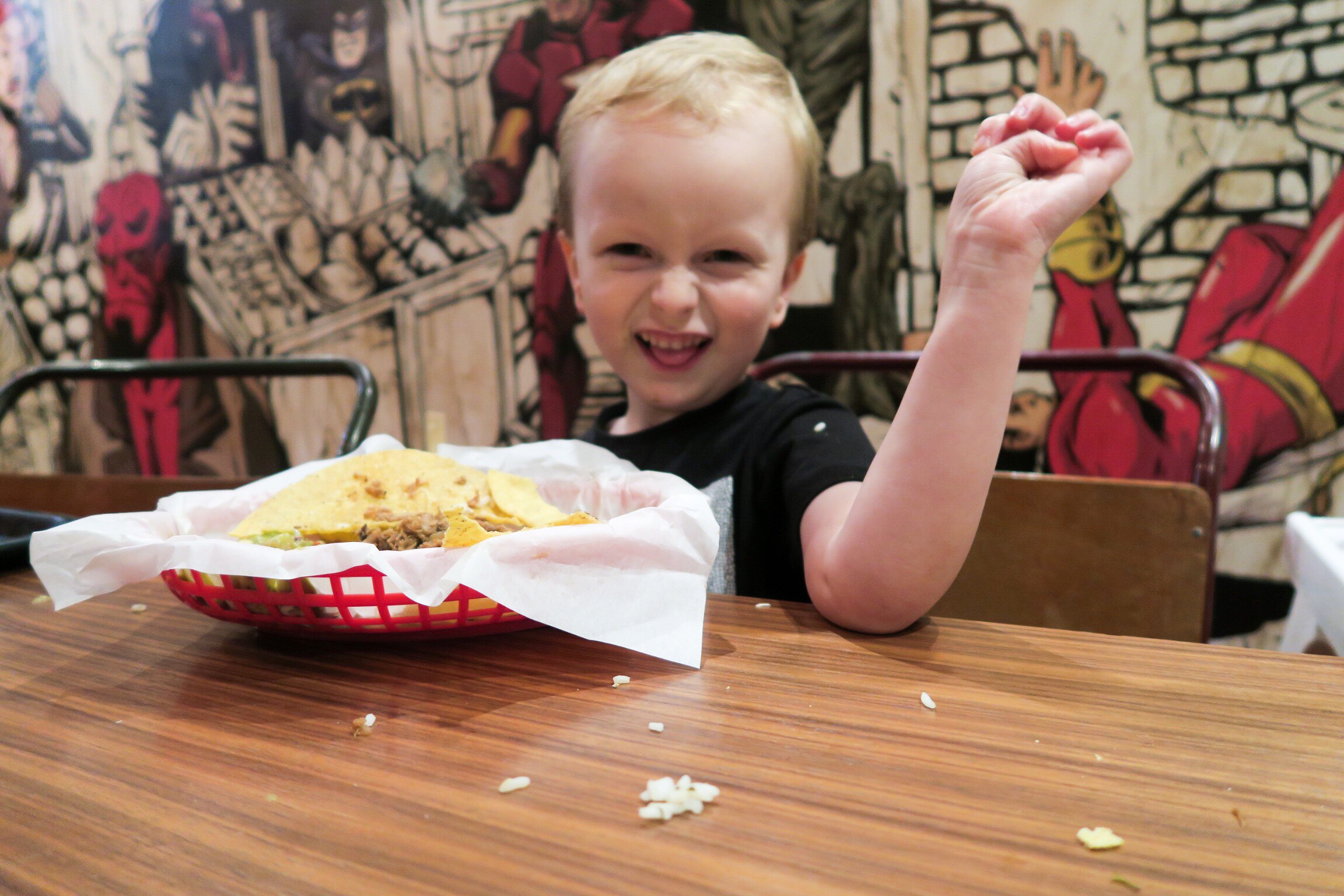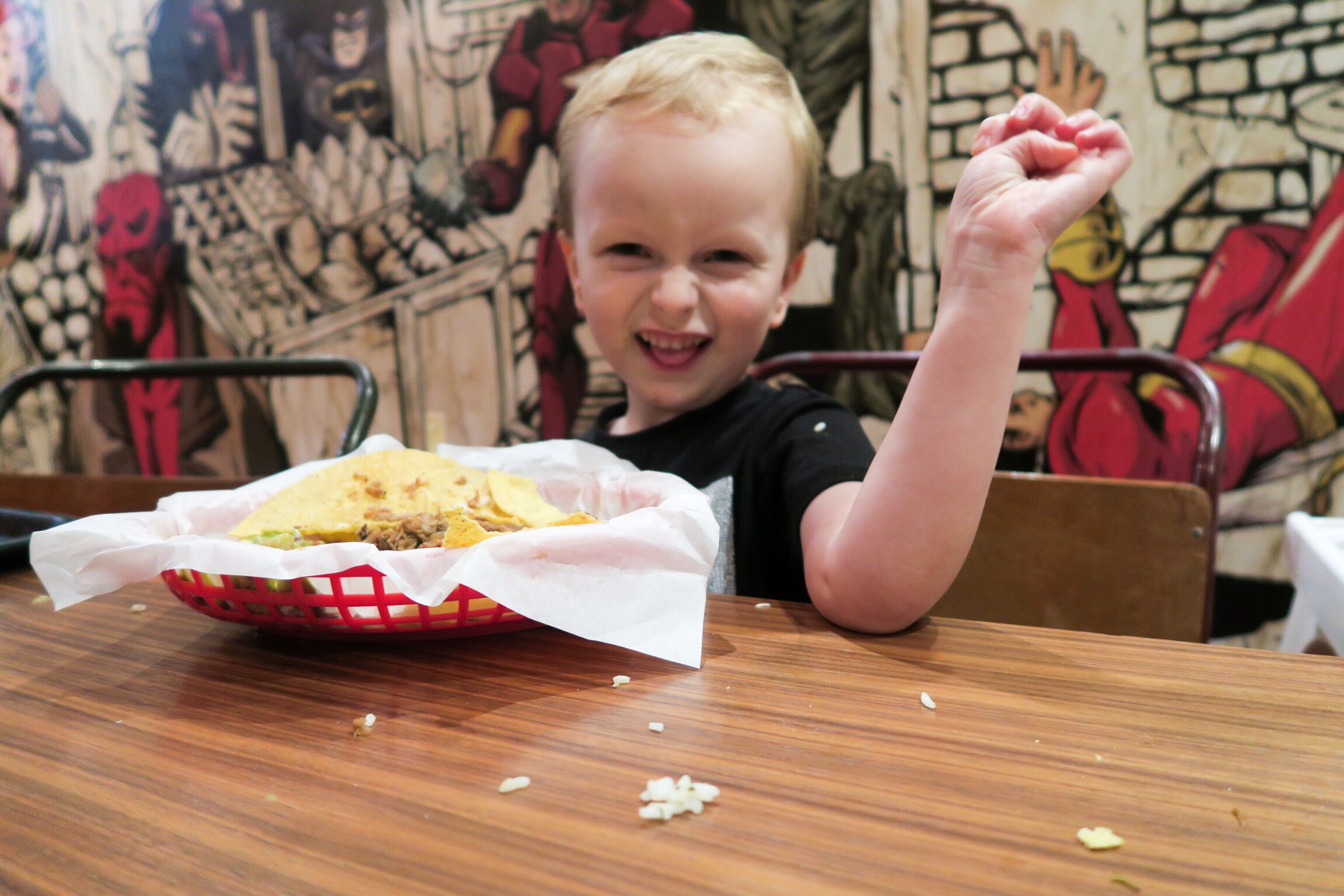 Papa Ginge and I both chose burritos but there are also fajitas, tacos, nachos, quesidillas, chilli and salad bowls to choose from. I'm a wimp when it comes to spices so went for mild everything. Papa Ginge loves spicy food so he went spicy and despite this, we both were satisfied by the heat levels in our burritos and really enjoyed our fillings. It's not often that happens as usually I'm complaining it's too hot or Mark is saying he had no heat.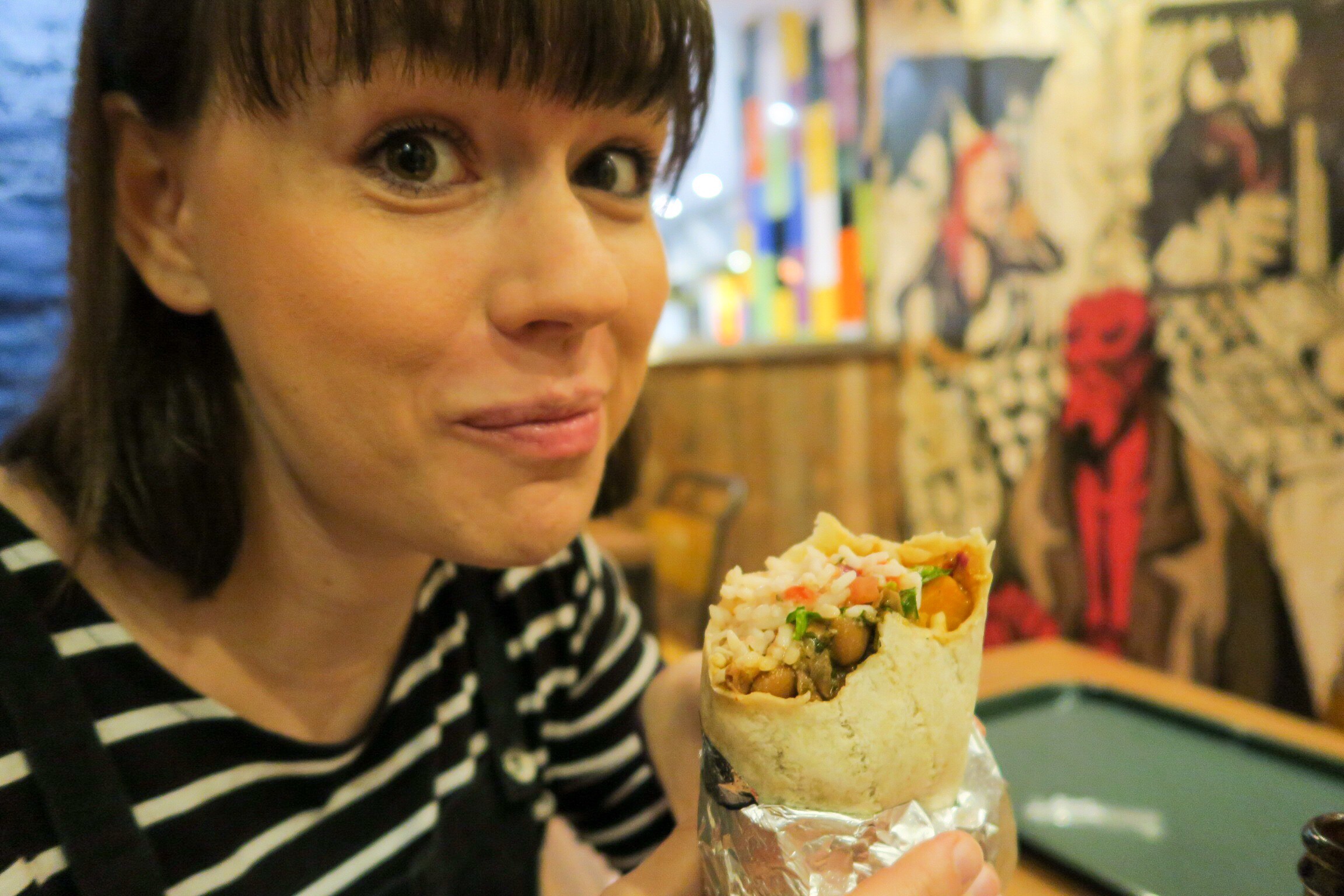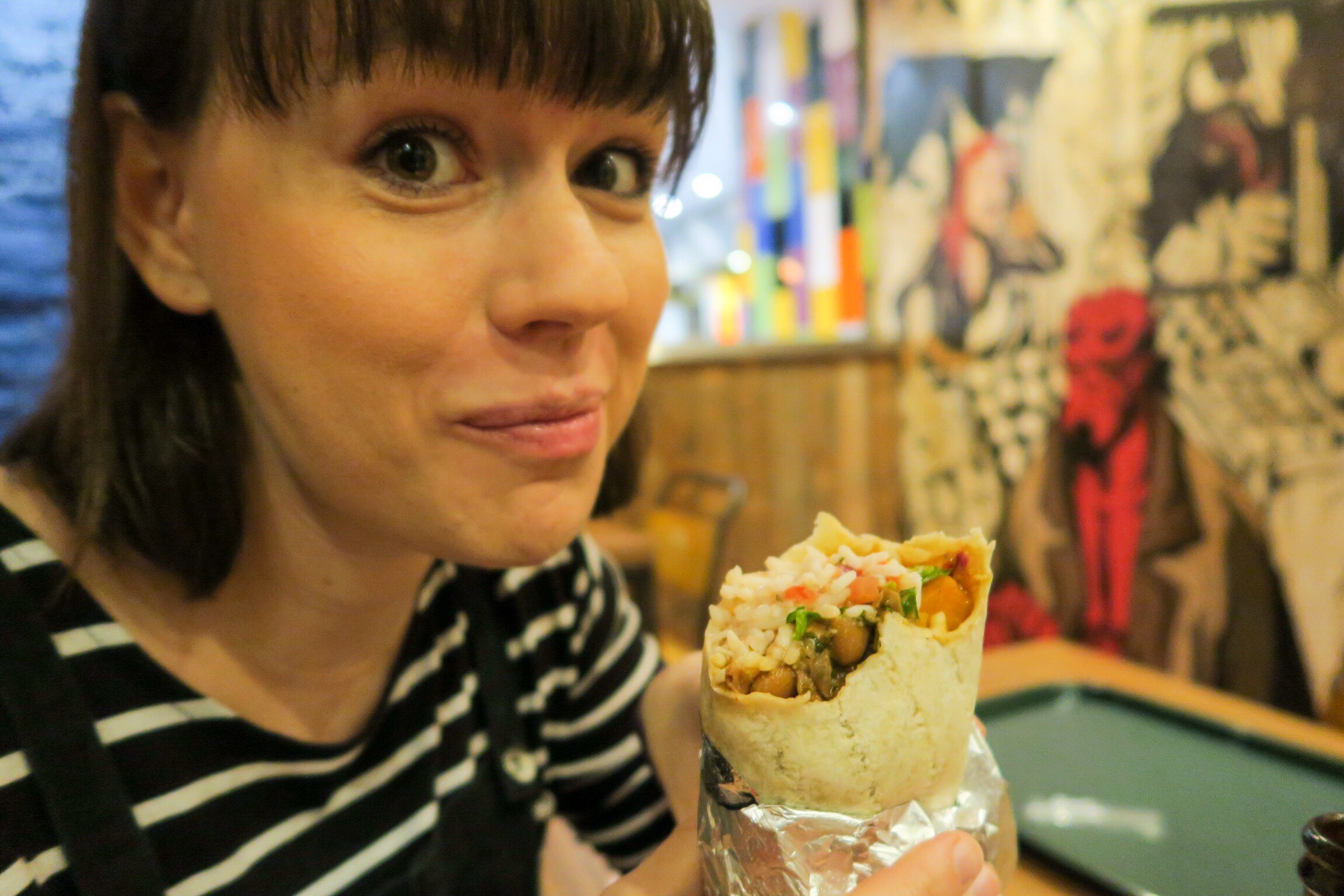 The food was fresh, tasty, hearty food – even the fries were perfectly crispy. For pudding we got the churros which were really yummy and felt quite naughty. We tried both the chocolate and toffee dip but were both fighting over the toffee dip. It was really tasty.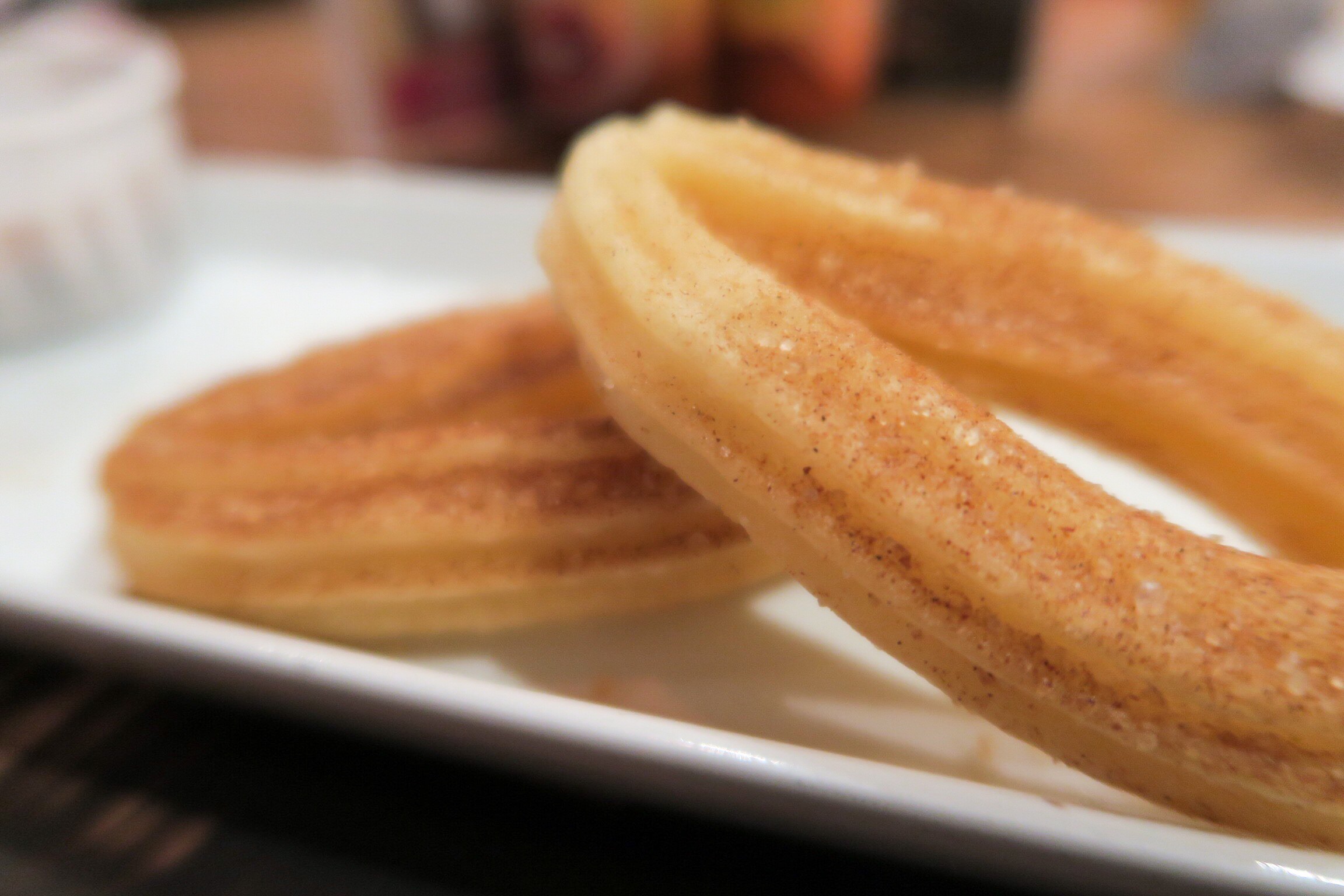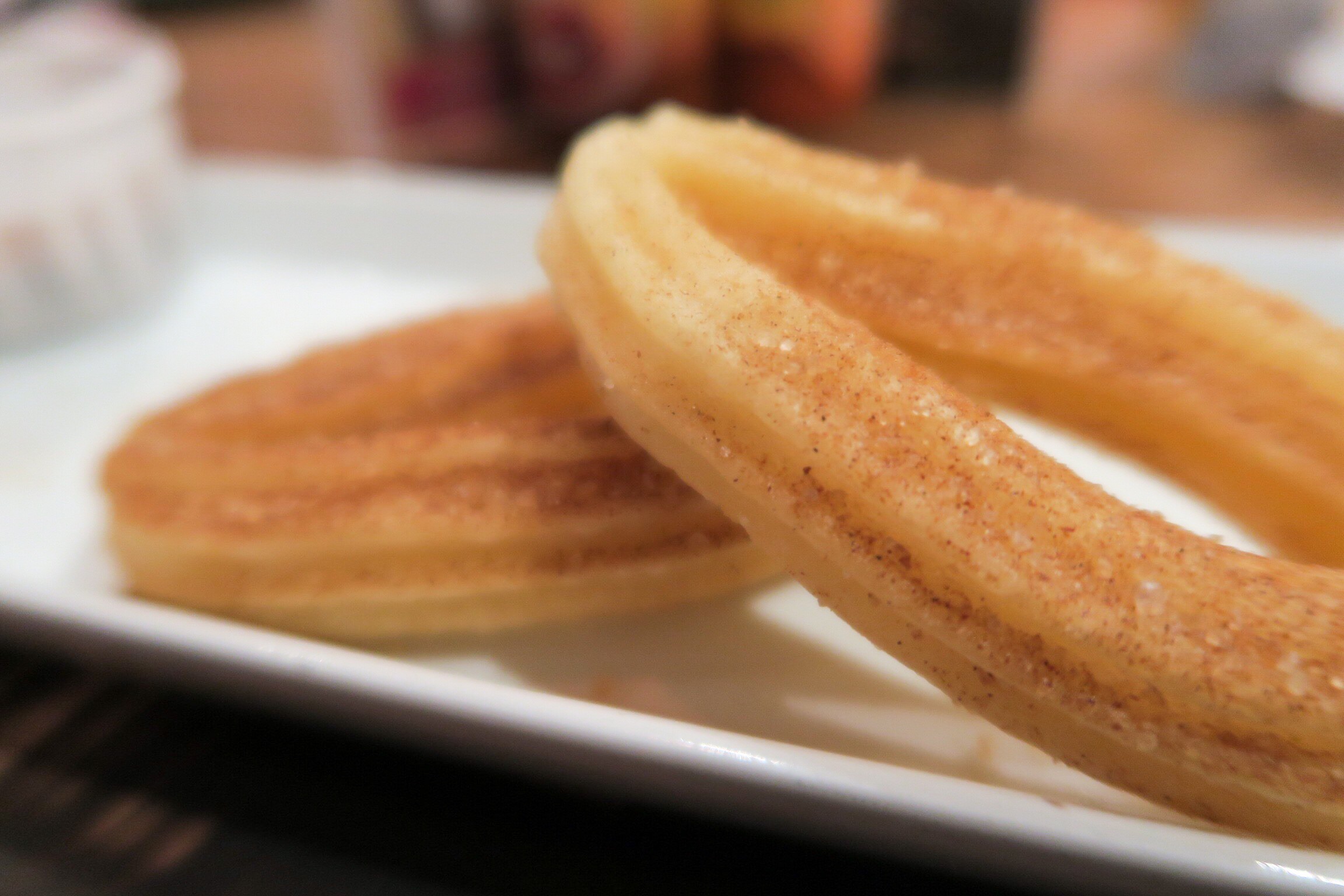 The only downside of our visit was when we asked the staff if the churros were dairy free for Arlo, they couldn't tell us which was disappointing. We passed that on though and they are going to make sure it doesn't happen again. Otherwise, they dealt with our allergy requests really well.
All in all we had a great experience at Zapatista, we thoroughly recommend it and we will definitely be going back again ourselves. I just love it when I find a new favourite in the Toon that I know I can recommend to friends and go back to time and time again.
If you have enjoyed this review then please follow me on facebook, twitter or Instagram for more like it!
Disclaimer: Big thank you to Zapatista for inviting us down. Our meals were complimentary in exchange for this honest review.