When I was a kid the Metro Centre had the courtyard for eating. I remember jacket potatoes and Chinese food, and maybe a Burger King? If you haven't been since then you wouldn't recognise the restaurant quarter or Qube as it's known now. It's recently had a bunch of new restaurants added to it and it now has some really decent options for eating out when going shopping or to the cinema.
One of the new restaurants is Thaikhun, a chain restaurant from the owners of Chaophraya Thai Restaurant group. It's meant to be like an authentic Thai street food experience. Visually it's pretty impressive, it looks really great and there is a lot to look at around you while you are in there. Our 4 year old had LOTS of questions about all the decor as they are apt to do.
They had invited us down to try their new kids menu. It's £5.95 for 3 courses plus a drink and there is a decent amount of choice. Unfortunately the lighting is quite dark in the restaurant so it's difficult to get good photos.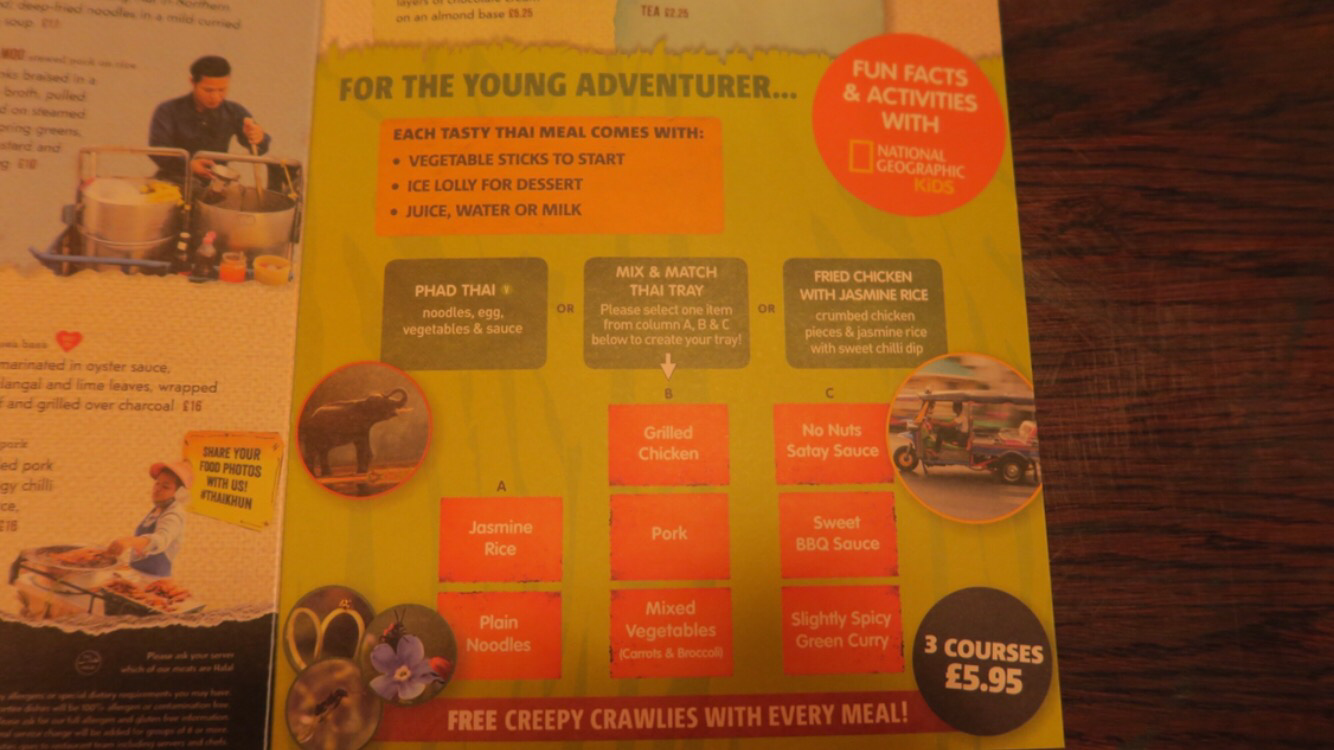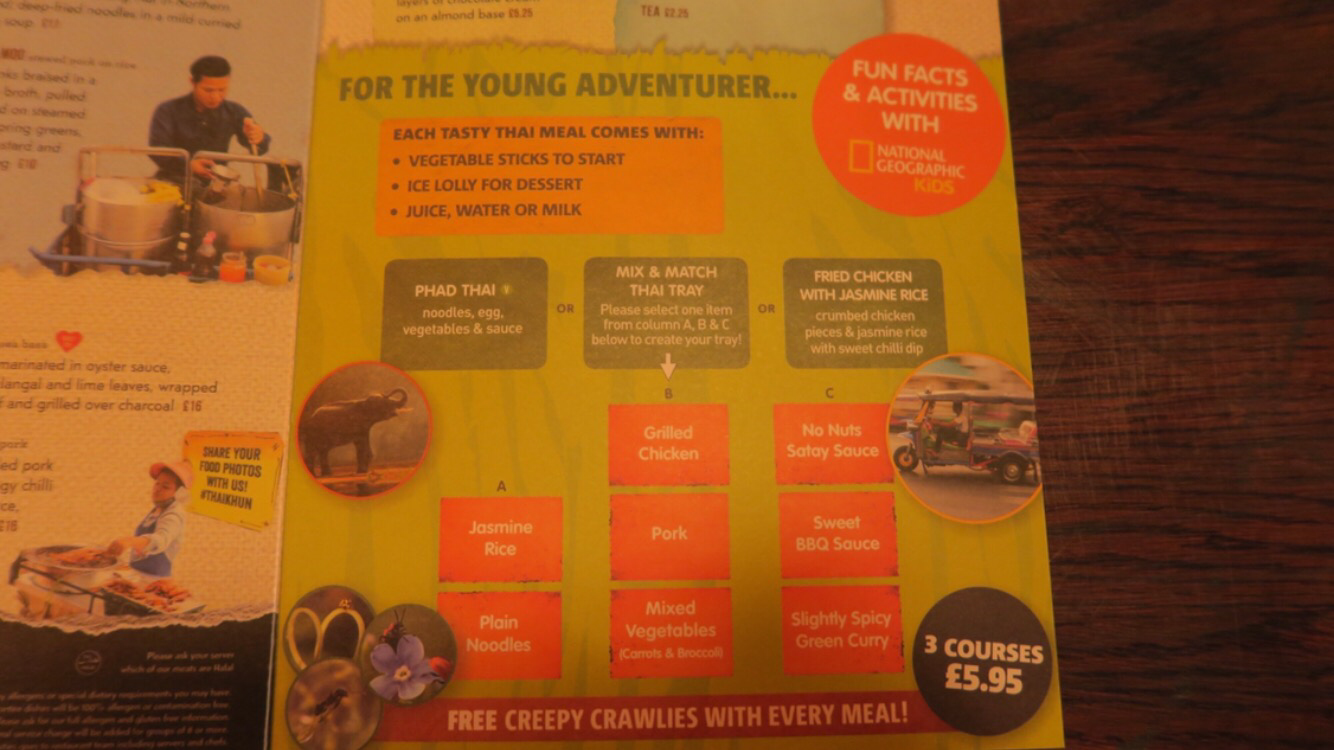 The kids got juices – Lena loved her first ever juice which was lychee juice. This kid has tried so much stuff in her mere 18 months on this planet! Arlo is fussier and got an OJ.
They came in really cute no spill animal beakers that the kids both adored.
The starters for the kids was crudités but neither of mine were interested in those. It would be an improvement if they had a second option on the starter for the kids, for example the spring rolls would have been better received by my kids.
While we were waiting for the mains the kids got a National Geographic activity sheet with crayons which was helpful for keeping them entertained while we were waiting.
Then we were also given a pot of edible bugs! They really grossed me out but the kids LOVED them. I struggle to get Arlo to eat his meals but he couldn't get enough of them. Go figure. Vegetables gross, worms not gross. Little kids eh?! We had a moment where Lena got fussy so I brought her onto my lap and she upended the bug pot on me and covered me in meal worms. It was so gross and I'm shuddering writing this. Watch our upcoming vlog on Sunday to see that!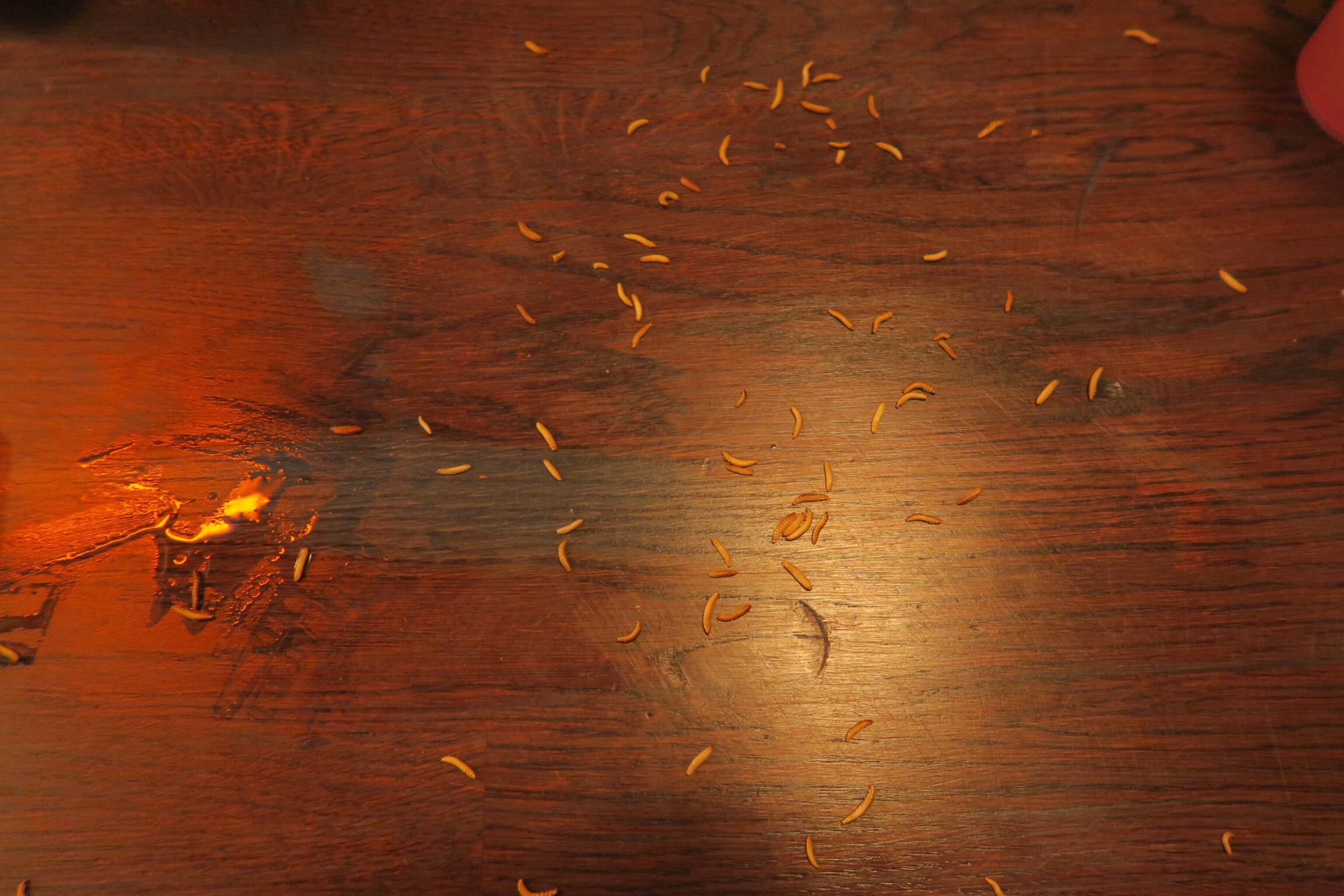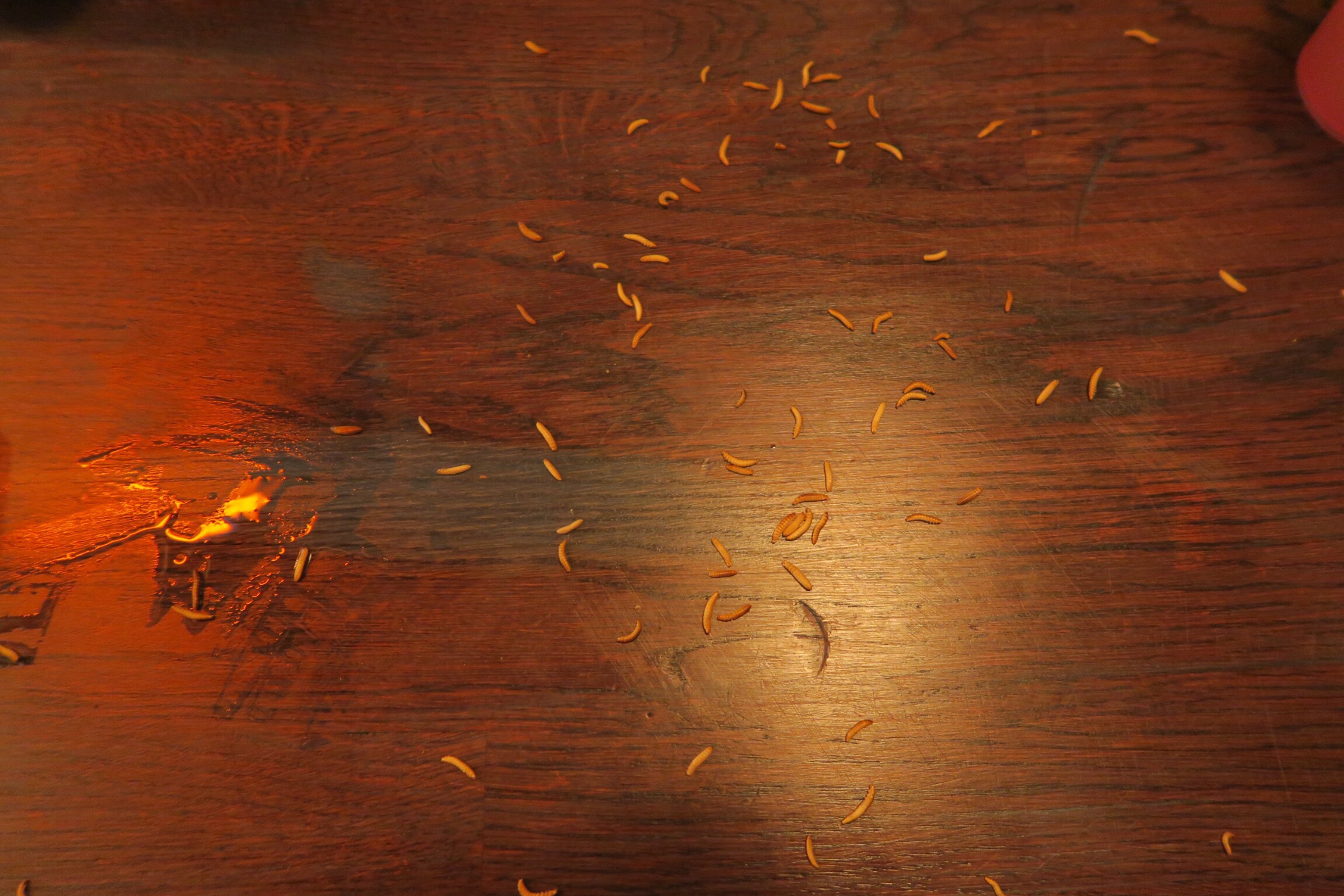 For the kids mains we chose the mix and match Thai tray with noodles and pork with a satay sauce, and the fried chicken with jasmine rice and sweet chilli sauce. Then we let the kids share. The sauces come in a pot on the side which is awesome as they can choose how much sauce they want, or if they want it at all. Both mine left the sauces annoyingly, hence why it's so great on the side.
The kids' mains come on those old school dinner type trays which works well. I loved how they were plastic with plastic cutlery so my little one couldn't smash them as she's a thrower (although, sustainable bamboo would be more in keeping with the design and better for the environment). I think it's a great option for a kids meal, and they certainly approved.
Us grown ups got some alcoholic drinks. I got a tasty (and strong!) coconut mojito and Papa Ginge got a simple refreshing Singha beer. Then we shared the sukumvit 38 platter (£16 for 2 people sharing) – a taster platter of night street food market Sukumvit 38 in Bangkok. We really enjoyed this, it had Thai fish cakes, chicken spring rolls, honey pork and steamed vegetable dumplings. The honey pork was succulent and sweet. I loved the steamed dumplings too and the dipping sauce they came with. I found the starter pretty filling.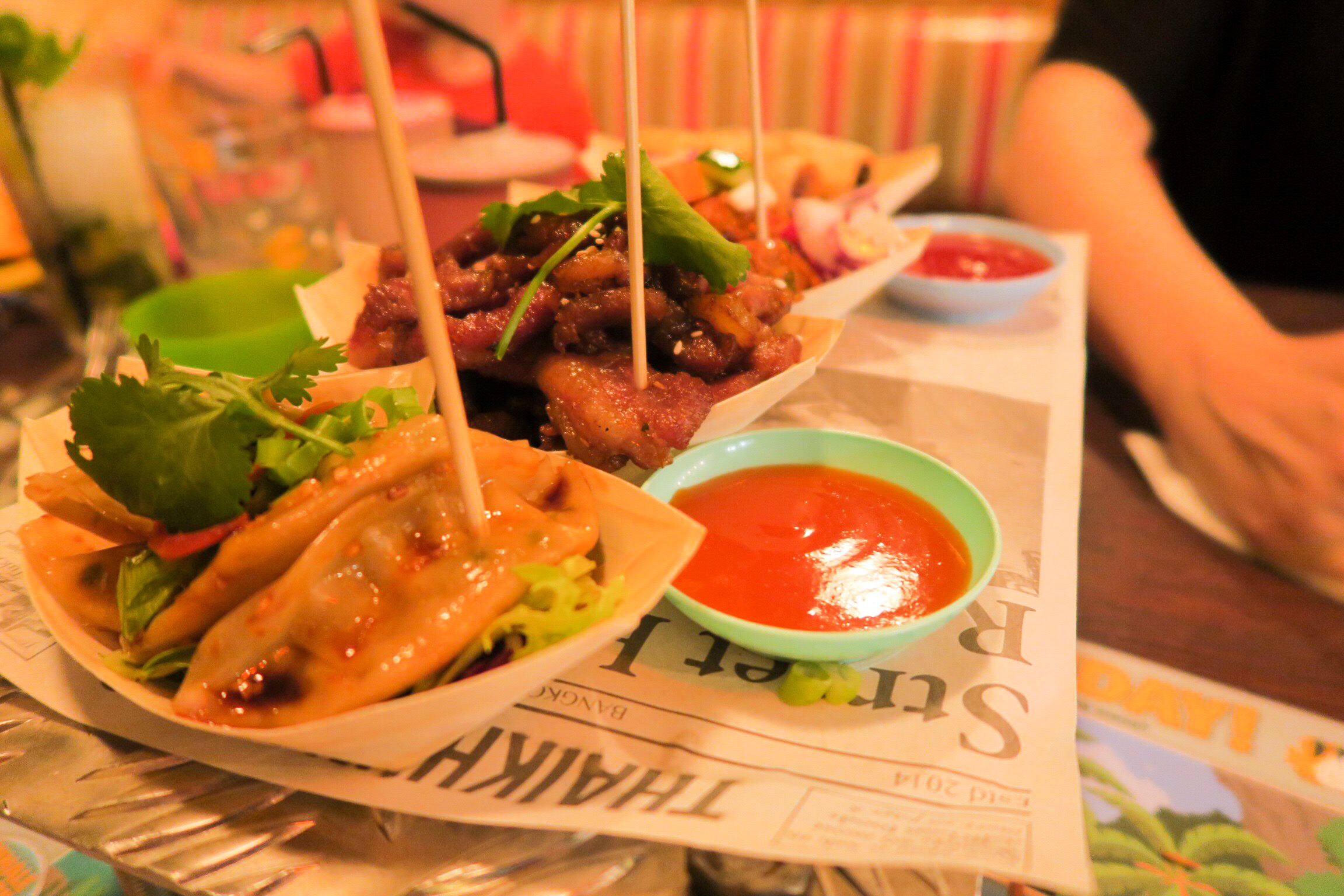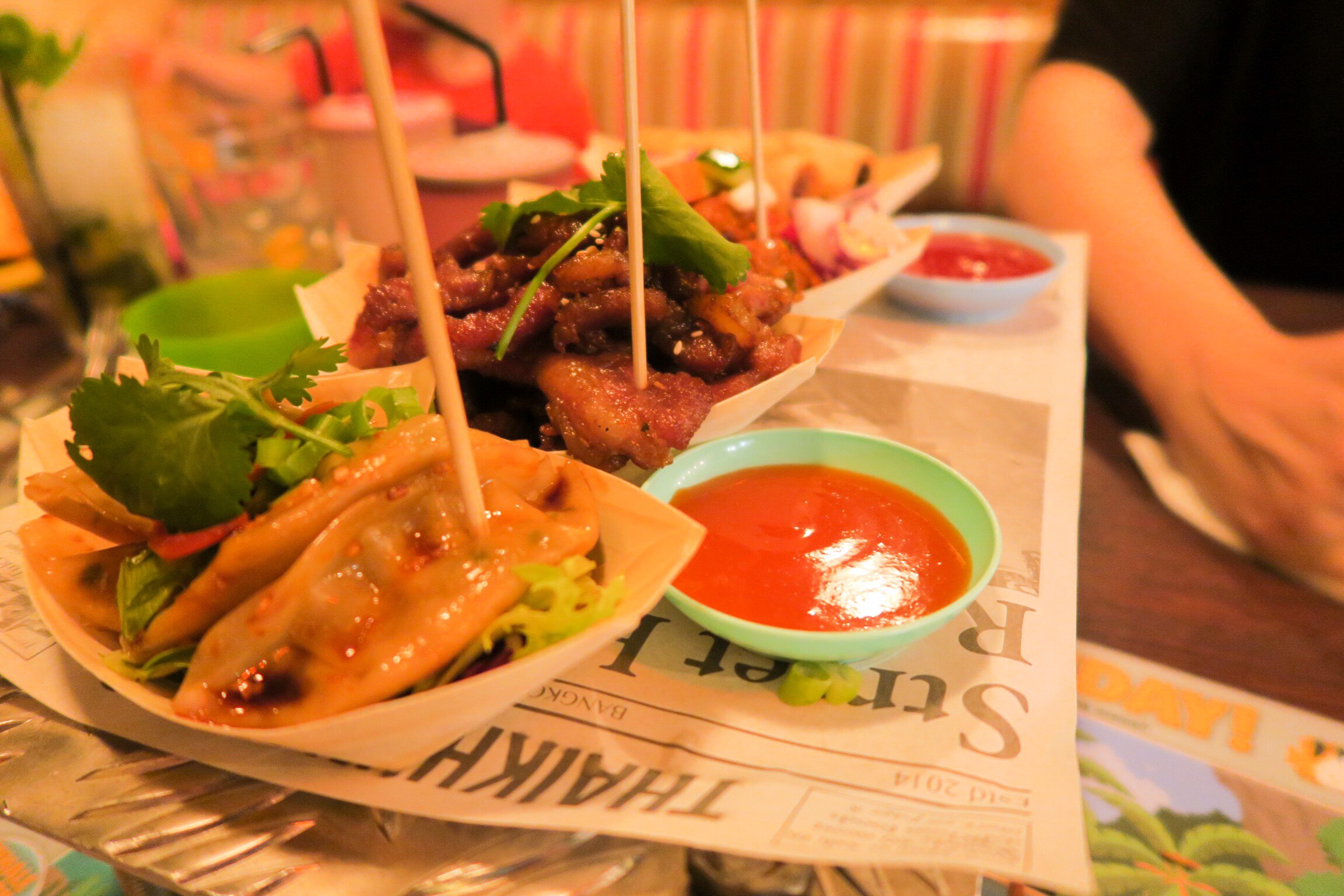 I chose the pla tod yum mamuang for my main (£14). This was a seabass mango salad. It was ok. I wasn't a huge fan to be honest. I felt it was too heavy on the fish sauce, it was overpoweringly stinky. I'm not very knowledgeable on authentic Thai food so maybe this is what they try to do? Excuse my ignorance if that's the case. It wasn't my cup of tea though. I do like fish sauce in dishes, nor am I fussy about smells but this stunk to high heavens! It was a bit sickly to me. I think this is personal preference though as there was nothing technically wrong with the dish, it was cooked perfectly well.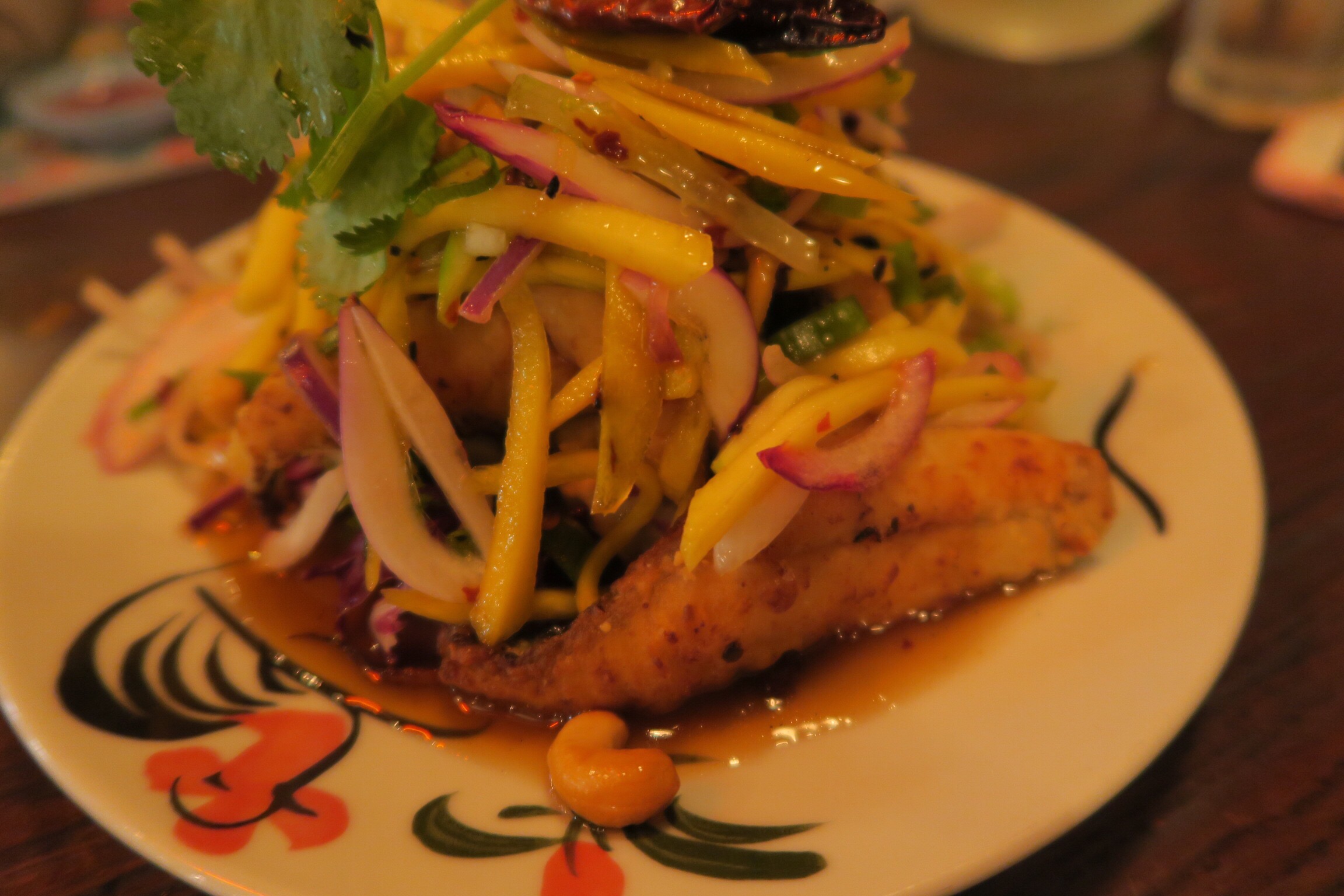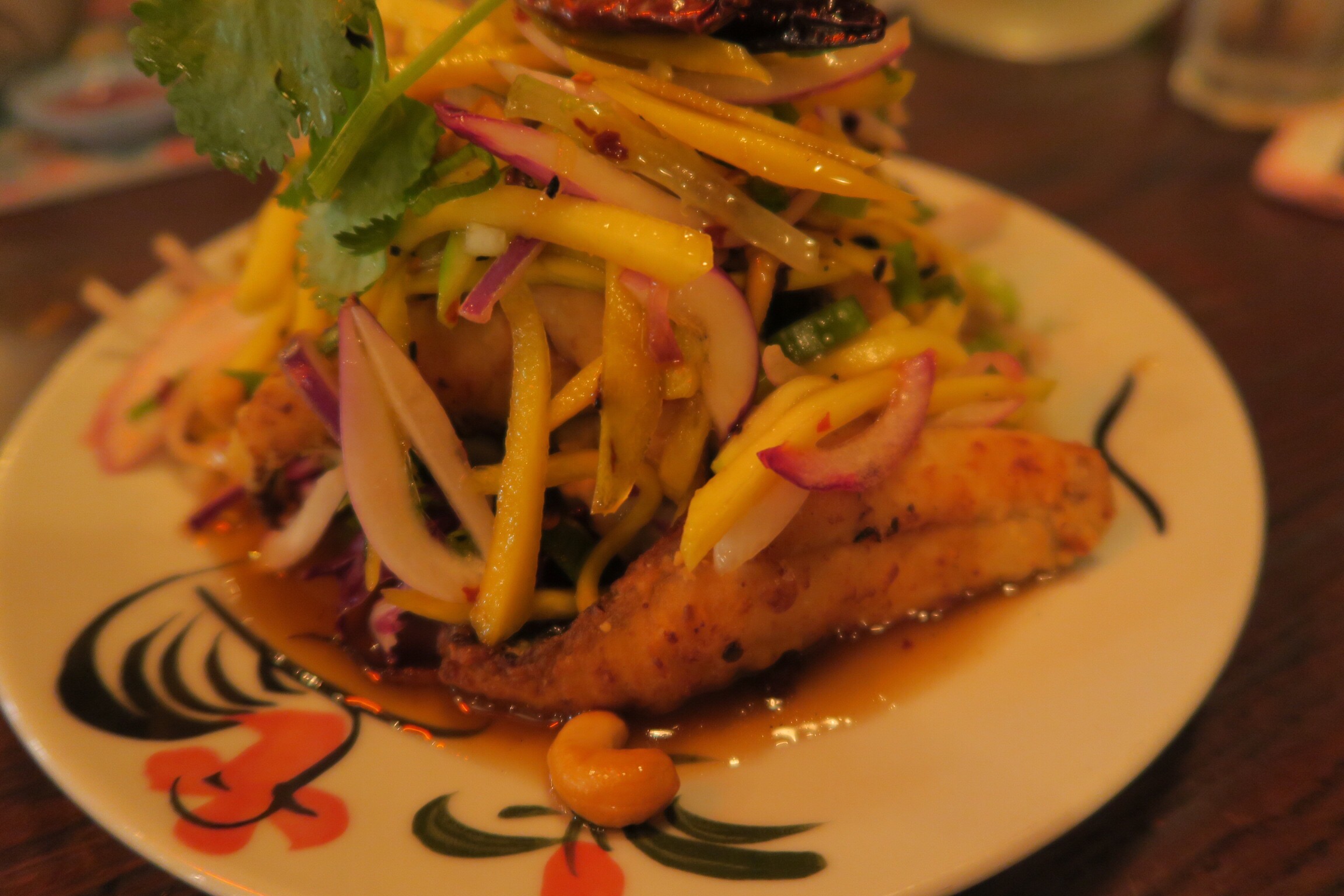 Papa Ginge ordered the duck massaman curry (£12.50) which was good. I got 'grass is greener' food envy. His was much better than mine.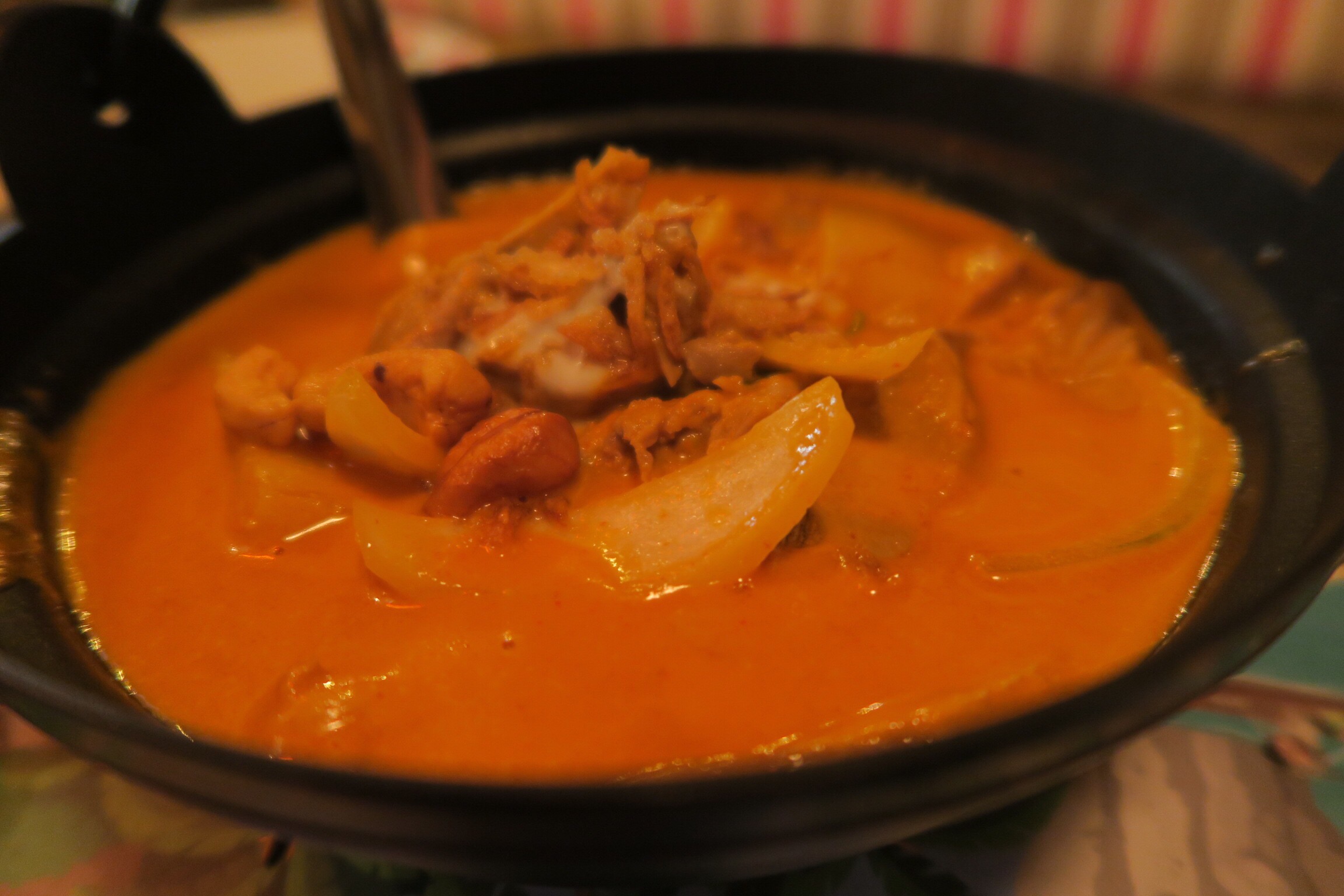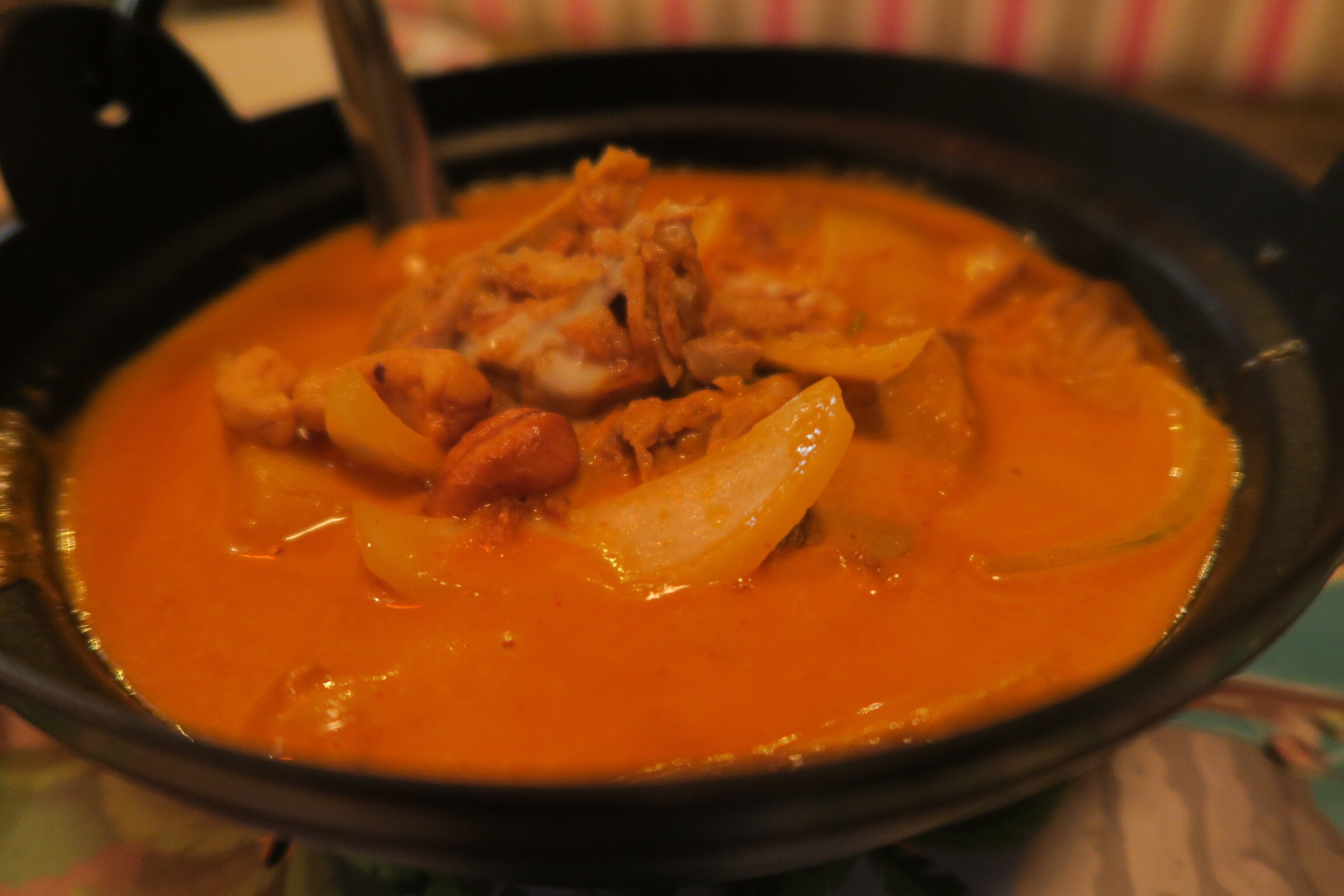 We were so stuffed, that I left half my main, so we didn't order desserts. Lena got a mini milk as part of the kids meal deal and as Arlo is allergic to milk, the staff gave him some mango sorbet. They were great with his allergy all round and very accommodating and thorough in double checking stuff.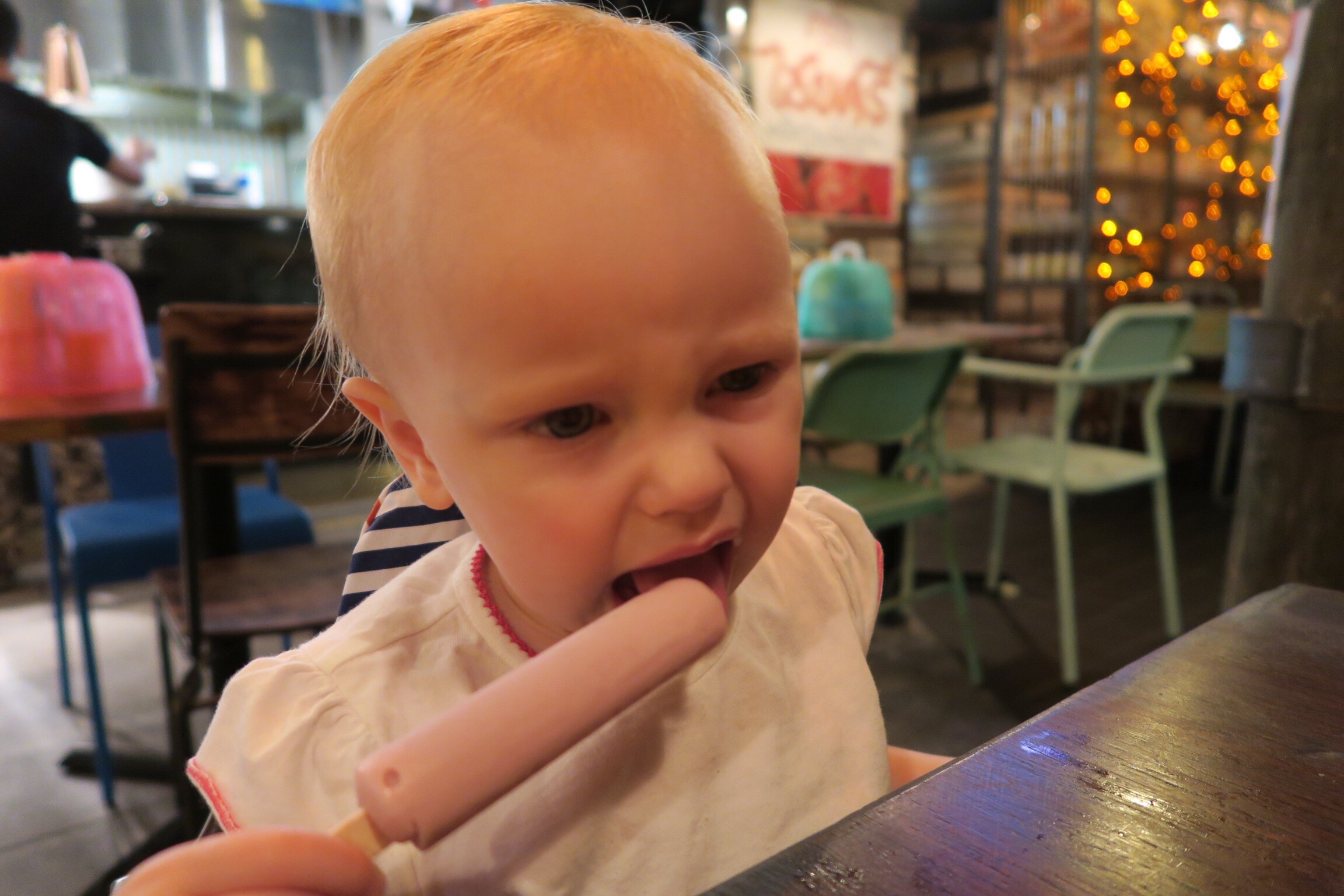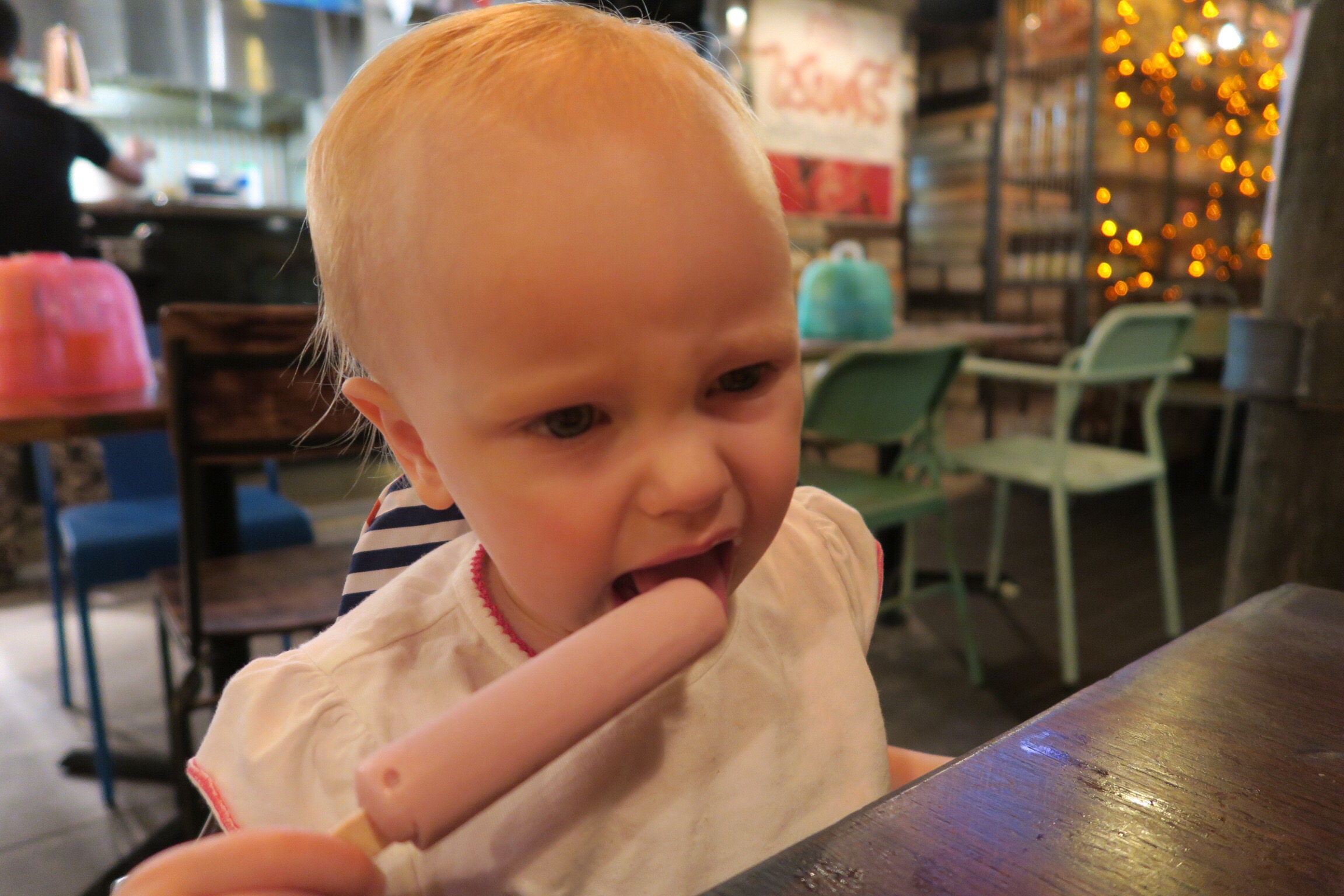 Things we liked
Edible bugs were different and fun (and gross)
Kids meals good value and wide choices
Service was good
Dealt with allergies well
Things that could be better
Adult meals and drinks could be bette value. Overall bill was £65.38. When I asked Papa Ginge to guess what the bill was he guessed £45. We did order some of the more expensive items though so you could do a visit much cheaper than this.
Another option for the kids' starters would be good.
Overall scores:
Food – 7
Value – 6
Service – 7.5
Venue – 8
Location – 8
Toilets – 7
Total – 7.25 out of 10
If you have enjoyed this local restaurant review then I would love it if you would follow me on Facebook, Twitter or Instagram so you don't miss another one.
Disclaimer – our meals were complimentary in exchange for our honest review. Thank you to Thaikhun for inviting us down and being gracious hosts.