The global Covid-19 pandemic of 2020 has unexpectedly changed the lives of most people until they are unrecognisable. Everyone's much looked forward to plans have had to be cancelled. No one knows what is around the corner and we live in a state of unsettled anxiety about what is coming. Whilst most of the narrative seems to be that everyone is eager to get back to normality, I'm not sure I feel that way entirely. Sure there are plenty of things I miss about my old pre-coronavirus pandemic life and I want Covid-19 banished but there is also a fair amount of things that I don't miss and am dreading returning to. There are things about this new way of life that I don't want to lose and that I want to try and hold onto. I guess as a result of all this, I have changed and I'm not sure that the new me can return to things as they were.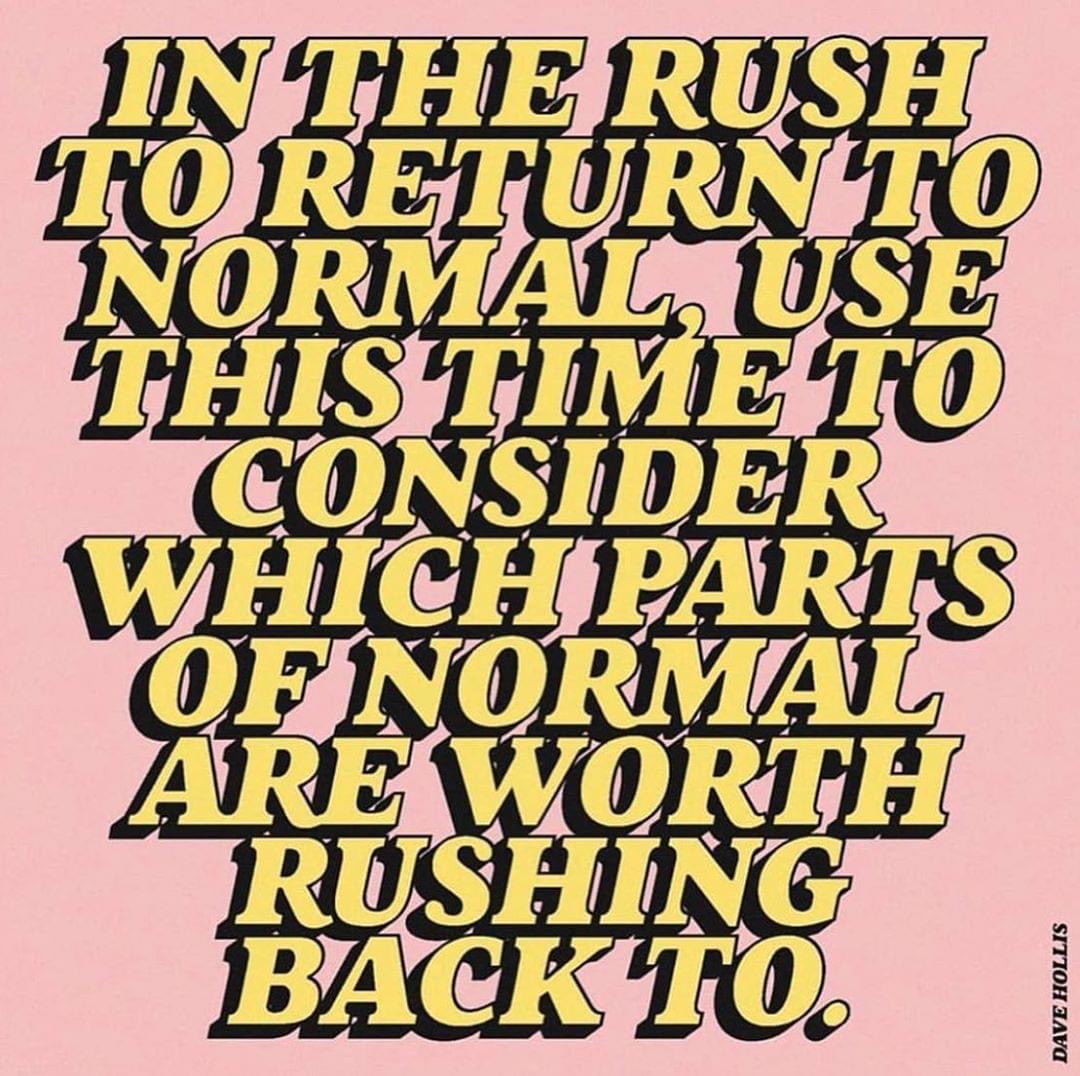 Our new normal and recognising our privilege
Firstly, before I continue discussing this I want to acknowledge my privilege. I recognise that it is my privilege that allows me to not be desperate to return to the status quo. I find it galling at the moment when many people have a whinge without acknowledging their privilege.
We are both classed as key workers through the Covid-19 pandemic but currently, we both get to work from in the comfort and safety of our home. It's a huge privilege to not have to go out onto the frontline working right now, putting ourselves, our families and others at risk.
It is challenging to work from home around two children but we are benefitting from both of us being able to work from home so we can share the load. We can try and schedule our teleconferences and video calls around one another where possible so while one of us needs to go in another room for silence the other can take a lead and vice versa. This is much more manageable and less stressful for us to work in this way, than say, a single parent working from home full time on their own juggling multiple kids or anyone who has to go out on the frontline.
Because we are financially privileged (we are not rich by any stretch but we don't overly worry about money per se in the way that I have in my past) we both would actually prefer to be furloughed with the 80% protection. It has been stressful working around the kids and when we both work I feel like they are neglected to a shit ton of screen time (I've given up trying to 'homeschool' on my workdays, it's just too stressful for us all) that makes me feel guilty. My employer has also made it clear that I can be redeployed into ANY job at any time (including front line roles) which is a source of anxiety for me that I could do without on top of the general global pandemic worries.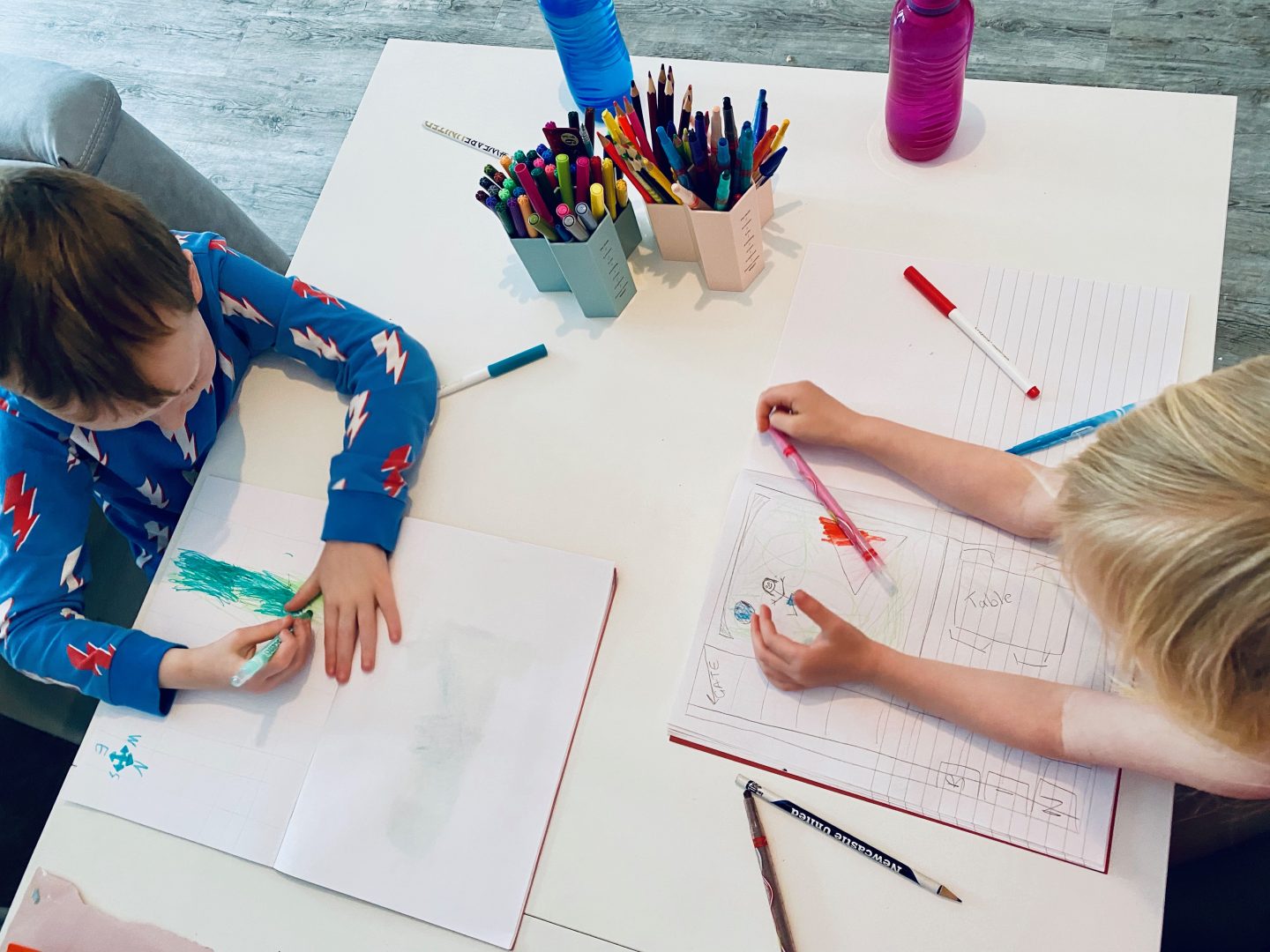 Self-employment income protection gaps
The other privilege we have comes from the way I structure my employment. I work in my local government role as a job share 18.5 hours a week and then I top up my income through this business (thank you sincerely for your support for enabling me to do this). This means I'm not working from home around the kids full time and I really feel for anyone who is, especially single parents who are trying to juggle it all on their own.
We have it easy in comparison. We can survive on Papa Ginge's income and my part-time PAYE job. As key workers, we don't expect to be furloughed (though who knows what is round the corner). Which is just as well as there is very little advertising happening at the moment so this business is currently making no money.
I've probably been making about 65% of my income through my PAYE job and 35% through my business the past couple of years. To qualify for the 80% payment through the Government self-employed scheme you have to be earning 50% or more of your income through self-employment. So despite paying taxes on all my earnings through my business for the past 4 years, I will get no money from the government at all for the self-employed part of my earnings. If I was to be furloughed in addition to this that would put my real income down to 52% of that which it was pre lockdown. But thankfully we should be ok, it's a privilege that I'm not overly worried about this side of things. I'm just thankful that I hadn't gone full-time freelance already as then we would be pretty stressed about money right now.
What we don't miss about life 'before'
So there is a mixture there but generally, we are pretty privileged throughout all this and this post comes from a place of privilege when I say, while there are things that we, of course, miss from the 'time before' Coronavirus, there is a lot about the new way of life that we actually prefer. Papa Ginge and I have both discussed how in some ways, we don't want this new way of life to end for us. (Please note I am not saying I want the pandemic to continue! Of course, I want Covid-19 to do one ASAP, don't @ me.)
Yes, I don't want the anxiety over what my job is going to be on a daily basis as I'm asked to do any other duties in local government, yes I don't want to fear for the health of myself and family members. No, I don't want to continue to see people struggle and die. I miss being able to go out. I miss seeing my friends and family. I miss going to restaurants and travelling. I miss having something to look forward to in the diary. I miss not constantly washing my hands. I miss the world not feeling like it's falling apart on a daily basis. I miss there not constantly being 'breaking news' 24/7 and it always being more dread and terror.
But I don't miss the days feeling way too hectic and tiring. I don't miss us only really seeing Papa Ginge on a weekend. I don't miss my diary being full to the brim with things for me to do and places for me to go. I absolutely do not miss the school runs, the morning rush and the 'dodge the dog shit' assault course.
We are enjoying the increase in quality family time. Papa Ginge is still working full time but it's from home. He normally commutes an hour each way so we are getting to see him an extra 2 hours a day plus lunch breaks. We are gardening together, baking together and playing together a lot more. I feel more connected to my children again, as I did before they started school. 'Homeschooling' is a pain but its a pleasure to watching my kids learn and seeing them progress. I've never given out so many high fives.
Everyone in my house seems more relaxed and content. We like this slower pace of life. We are finally getting through our household to-do list – we've painted, we've created an 'office' area, we've made many home improvements that have been on our list for YEARS that we could never get around to. As we are still working and have kids we are still busy and don't have any time to get bored like perhaps someone without kids who is furloughed might but we aren't exhaustingly, overwhelmingly busy like we were before which is a revelation for us.
It has also made me realise that one thing that increased the stress and how busy our lives were was the blog/my business. Most brands don't want to advertise right now so my inbox is a lot quieter. With the kids being home now that schools are closed but me needing to do my local government job 18.5 hours a week I've chosen (privilege again) to try and not do any blog/business work during the day as I normally would. They already get 'palmed off' to screen time when I'm doing my other job so 3 days a week I try to focus on them instead of my business. I feel a lot more relaxed, not as stressed, more content. I'm focussing on them instead of my never-ending to-do list. I don't feel full to the brim with exhaustion and overwhelm. I don't feel guilty when I'm not working. Before lockdown, I always felt guilty any time I wasn't working on my business. Then guilty for neglecting the kids if I was. It makes me question just how I want to run things when life returns to normal. I'll be giving that some serious thought over the coming weeks.
Papa Ginge and I both prefer working from home. No commutes mean more of a lie-in and more time seeing the kids around our working days. The days we both work we left the house at 7am and didn't get back till 6.30/7pm. That's hard on the kids. We all dread those days.
It's hard-working around the kids but I don't miss them when I'm at work now. I don't wonder what they are doing and worry about whether they are ok. I get kisses and cuddles and pictures and poems that breaks up the monotony of my often boring job. Frankly, a lot of this is work-related for us.
I hope that the pandemic is the wake-up call that this country needs into allowing people to work much more flexibly. This week Germany have announced they will make working from home a legal right after this. Germany seems to have handled a lot of this well. However, here, I fear our capitalist culture is going to want to go right back to how things were. I know it's going to be up to me to consider how I can take these elements that I prefer from this weird lockdown life and try and continue them when life returns to normal again.
I absolutely need to stop scheduling so much in our diaries. If something doesn't excite me or isn't absolutely necessary then in future it can frankly get in the bin. I want to try and increase the amount that Papa Ginge and I work from home and flexibly. I need to re-think my business and how I manage it. I want to try and use this time and learning about the world in crisis to reflect on what I really want for myself and my family in the future. Especially when it comes to the way I'm working.
I don't have the answers yet but I know in my gut I need to figure out how to protect the wholesome parts of the new normal. I guess all of this shows that our life was far from perfect before. It's like when you'd rather go to a funeral or a hospital appointment than go to work you know it's time to find a new job, well this pandemic has shown us that it's time for a lifestyle change. It's figuring out how to do that that's going to be the hard part.
I'd love to hear your thoughts, what has been your experience of the pandemic so far. Is there anything you aren't looking forward to returning to? Is there anything about lockdown life that you'd like to maintain? Any tips for not just returning to how it was? I'd love to hear from you in the comments.