On Christmas Eve-Eve Arlo turned 5. Half a decade felt like quite the milestone so we had to celebrate with a proper birthday party.
If you read my glowing review of Role Play in Hebburn, you might remember that when we visited it back in the summer I was so taken with it, I booked it there and then for Arlo's birthday party. I'm so pleased that I did.
Birthday party packages
We booked the picnic basket food package that costs £8 a child weekdays (or £10 on weekends/school holidays). We had 9 children attending plus parents and family members (you only pay for the children). There is also an afternoon tea party option that is £2 more but given we had a big birthday cake we didn't feel we needed further sweet treats. The price per head option doesn't give you exclusive access to the main play area. Once you go through to the main party room for food though it would just be your party in there for the last 30 minutes.
We booked out the whole venue, and if you can afford to do it, I would definitely recommend doing that. It makes for a more relaxed party and it makes it feel extra special. It costs £150 on weekdays, £200 weekends and holidays to do this and provide your own catering.
Alternatively if you have 16 or more children attending the party Role Play will make it exclusive included in the price per head. So for 16 kids you could have a fully catered exclusive use party for £128 on a weekday for their picnic basket option which I think is pretty good value. Obviously this price increases on a weekend and for the afternoon tea option.
The play session
Like I mentioned in my previous review, my favourite thing about Role Play is that it's all child-proofed and contained. You aren't constantly chasing after your children to stop them from killing themselves like at soft play venues. You can actually talk to the other adults and have a cup of tea.
We booked the party for 9.30am (other options included 11.30am, 1.30pm or 3.30pm). The kids got a play session in the main play room 9.30am-11am and then at 11am we went through to the party room for the party food and cake.
The play session is a good length of time. All our children had a blast dressing up and chasing each other around. There is a cafe and tables/chairs so most the adults ordered hot drinks and snacks. Juice was put out for the kids for whenever they wanted it.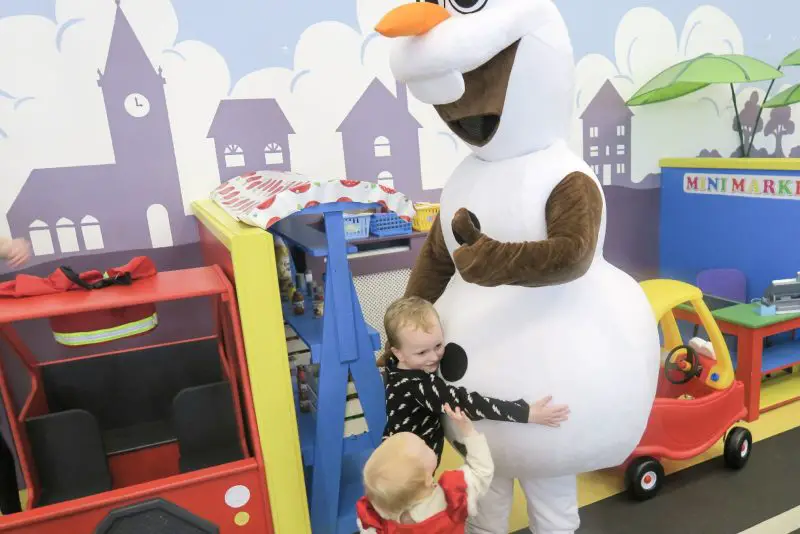 Character visit
Towards the end of the 90 minute session Role Play had arranged a visit from Olaf which I think was the highlight of the party for most the kids. My one year old was ecstatic and kept climbing into Olaf's arms. It made the party and I would encourage you to do it if you have a party there – they have other character options too. They currently charge £25 for a character visit.
After Olaf left, some of the staff started singing a song to signal it was story time. All the kids were gathered to the 'picnic area' under the tree for a short story which had them engrossed, then it was time to head through to the party room.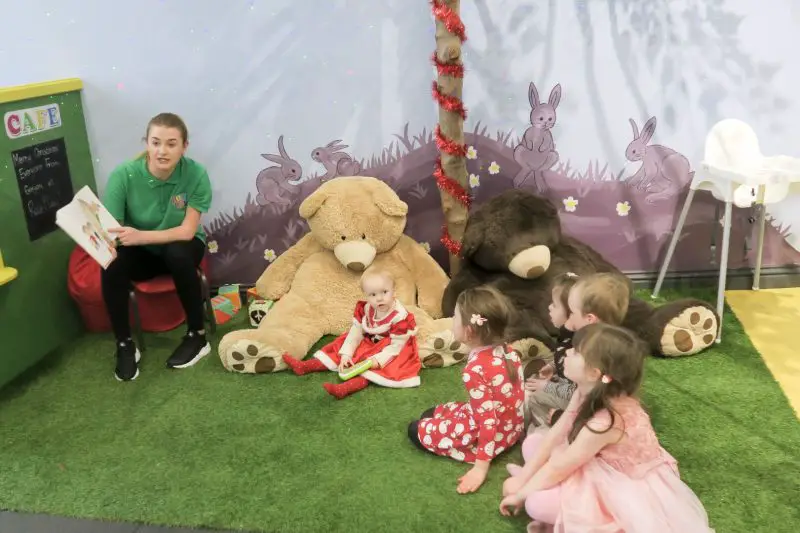 The party room and food
When we went through to the party room I was really impressed with the set up. It looked great. The room is perfectly size for a kids'party and the food was nicely presented in picnic baskets.
Arlo wanted Thomas and Friends theme, so we had asked them to put out thomas tablecloths, plates, cups and napkins that we got from Party Bags and Supplies too but it would have looked great just as it was.
It was helpful that the food wasn't all put on the kids plates as this prevented the kids from going straight to the naughtier options first. We were able to put out the sandwiches (ham, jam) first and let all the kids stop eating those before we moved on to the fruit (apples, bananas). Once they had eaten their sandwiches and fruits they then were offered jelly, crisps and gingerbread men.
The kids were able to choose whether they wanted something or not so they actually ate what they chose and there was less waste. While the kids ate, nursery rhymes and children's songs played in the background.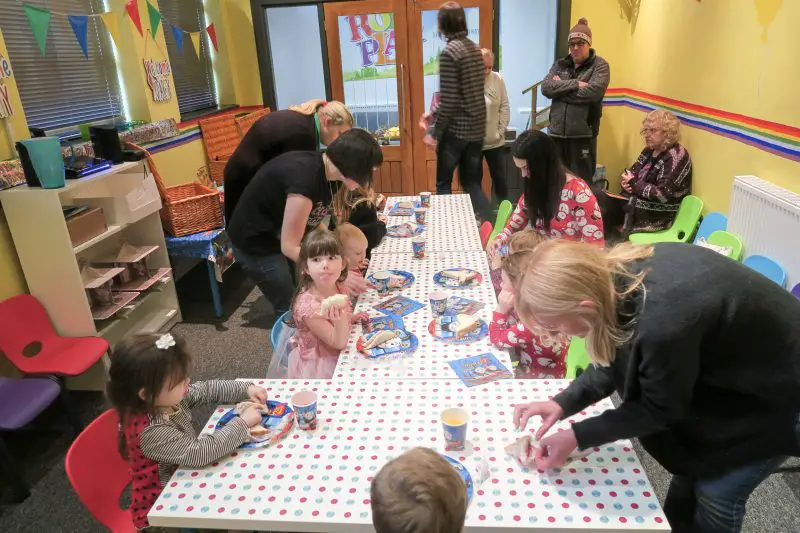 You might have read here previously that Arlo is allergic to dairy products. What I loved about Role Play is that (at my request) they made all the party food dairy free so that Arlo didn't have to be different to everyone else for a change. It was his party and for once he got to be normal and eat what everyone else did – and he got to eat the cake which he rarely gets to at birthday parties. It also meant that as parents, we didn't have to spend the time watching him like a hawk incase he ate the wrong food, or a kid who had dairy touched him.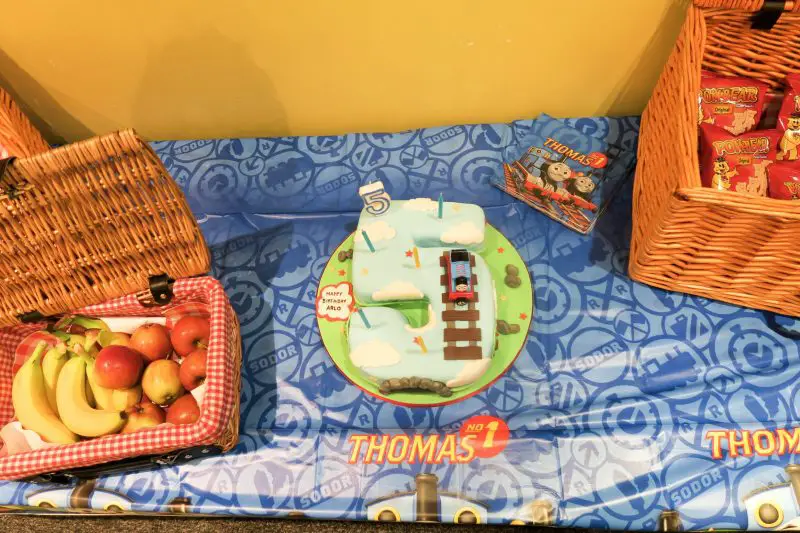 The birthday cake
Once the kids finished eating, we did the birthday cake. Arlo really wanted a Thomas the Tank engine cake but due to his allergy we couldn't pick up a cheap one from the supermarket so we ordered one from Truly Crumbtious, Darlington.
They made us this amazing dairy free Thomas cake for £35. It looked fab and was delicious too. No one could tell it was dairy free. I would highly recommend them. We've had a gluten free/dairy free cake from them too which was just as nice.
We were in the party room just over half an hour which was perfect.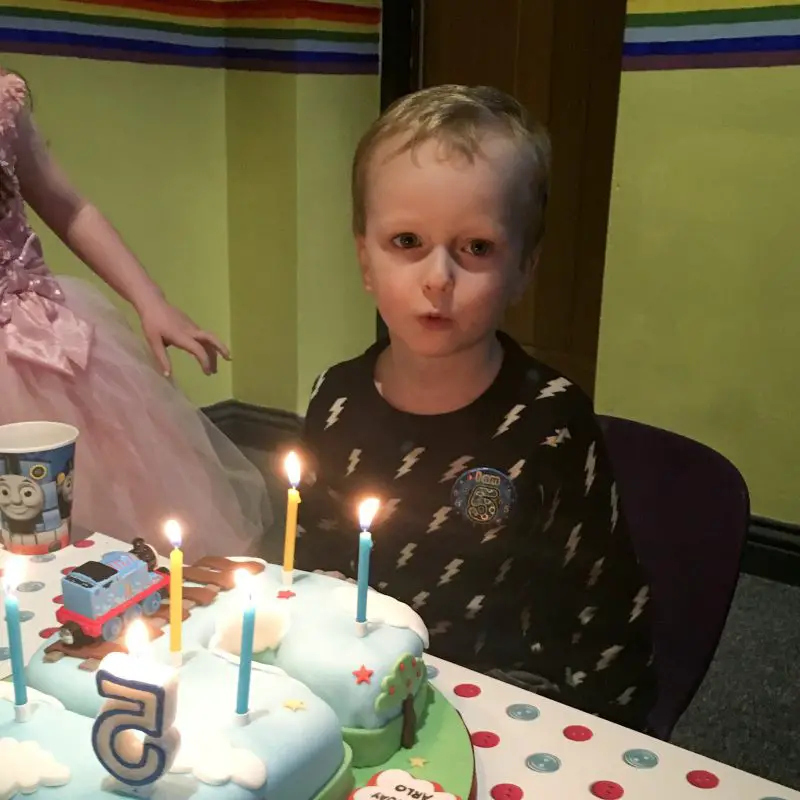 The party bags
To finish our Thomas theme I handed out some Thomas the Tank engine party bags. Although party bags are pretty easy to make yourself, Arlo's birthday is so close to Christmas I wanted to make things as easy for us as possible so ordered pre-filled party bags from Party Bags and Supplies.
The bags contained some Thomas train tickets, a whistle (sorry parents), some stickers, a Thomas spinner and Thomas prism viewer. They cost £1.50 a bag which I thought was quite reasonable. It's worth checking them out if you want to avoid the hassle of making your own – they have a large range of different character options too.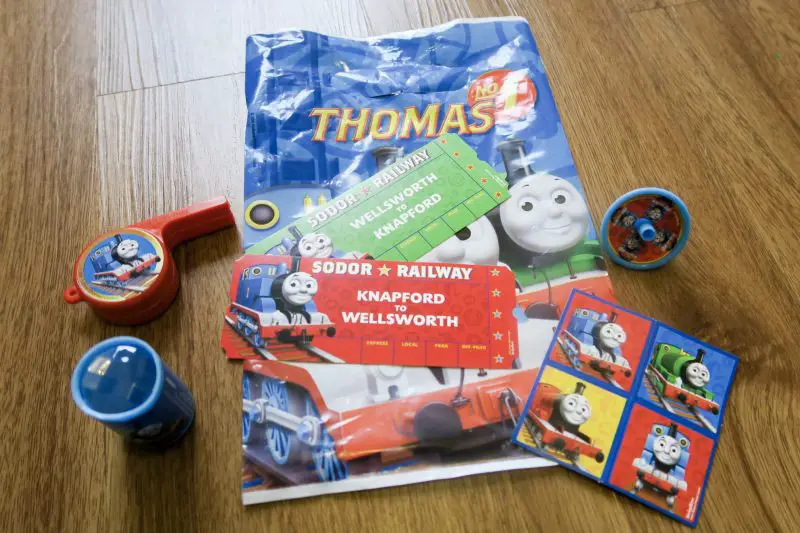 Summary
Throughout the party the staff at Role Play were fantastic. Nothing was a bother for them. They went the extra mile from to how they constantly cleared and tidied, to how the staff interacted with the kids.
Several of the party guest remarked how calm and relaxed the party was which is obviously not something often said about a 5 year old's birthday party! That's why I booked the party at Role Play though, because I had a feeling that's the kind of party we could have there. Where the kids could play safely without constant assistance, where the parents got a break and a cup of tea and where the staff took everything off our hands. I would book another kids party there in a heartbeat. Thank you to all our party guests who helped make Arlo's day so special.
If you want to see footage of the party to see it for yourselves then do check out our family vlog of Arlo's birthday below.
Disclaimer: Thank you to Role Play, who kindly gave us a discount on our party in exchange for this honest review. Thank you to Party Bags and Supplies who provided our Thomas and Friends party supplies for inclusion in this post.