Guilty confession time, up until last weekend, I had never watched a film at Tyneside Cinema. I'd been there for meetings, I've eaten in the cafe several times but I hadn't actually watched a film. I think, like many people, I had a preconception that Tyneside Cinema was for posher, older people who wanted to watch middle class artsy films. I'm sure middle class middle aged people do enjoy watching some artsy films there but the cinema has more to offer than that. As we found out at the weekend, it's pretty great for families and in today's blog post, I'm going to tell you why and all about our experience of going along to their Willy Wonka and the Chocolate Factory Eat-A-Long screening.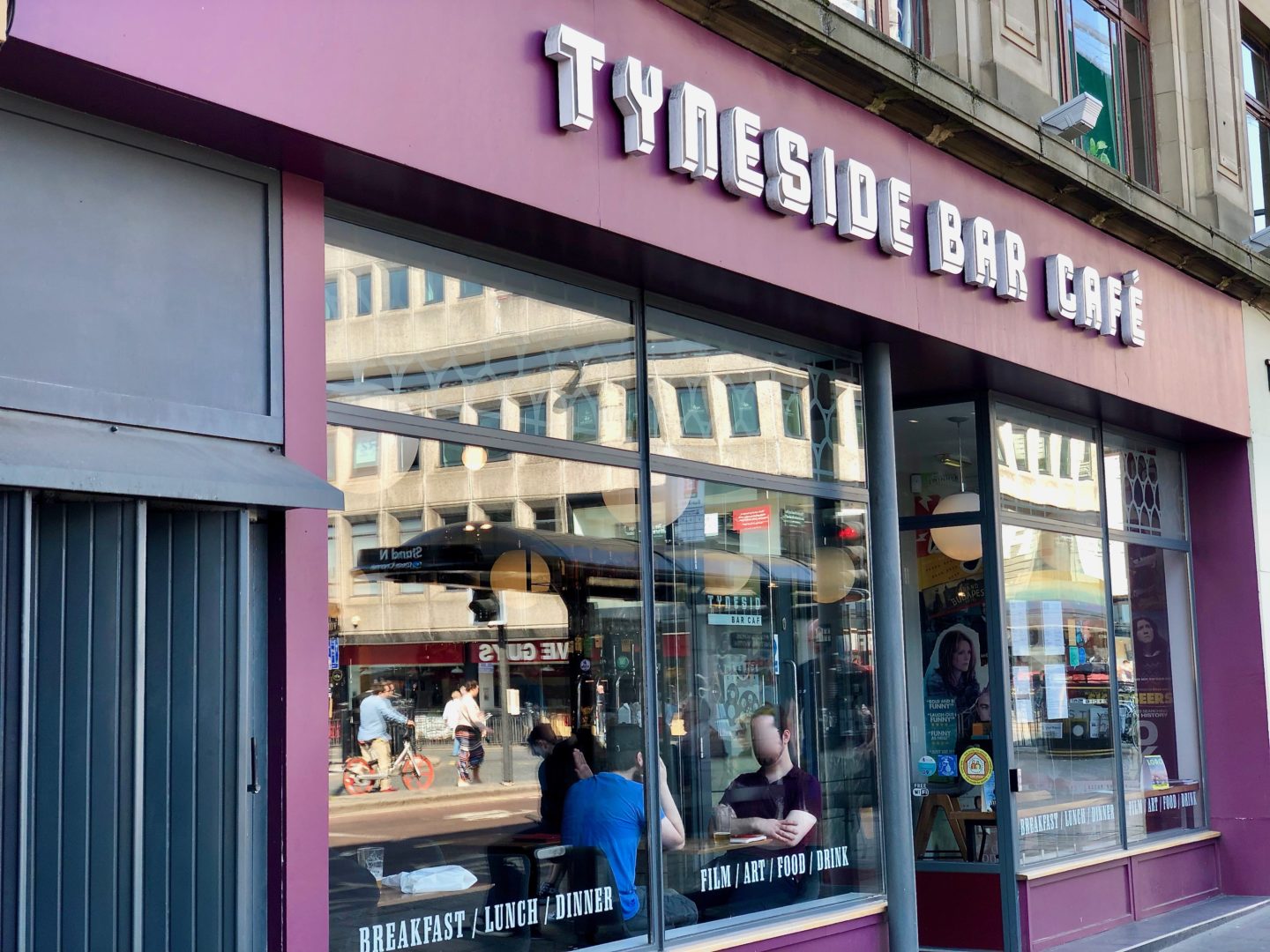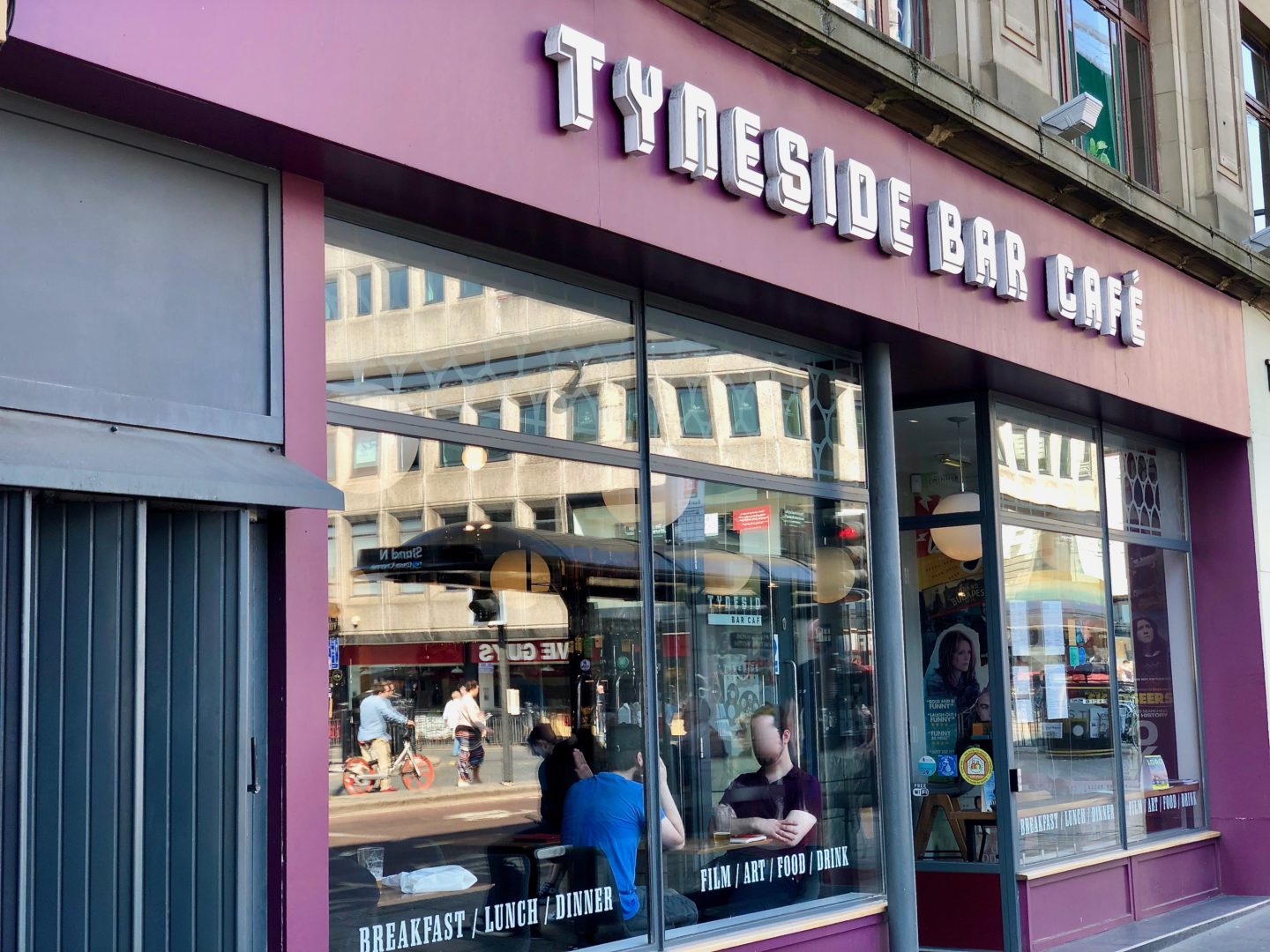 Heading into the film
Upon arrival at Tyneside Cinema reception we were told to go up to the Roxy cinema room on the third floor. There were toilets right opposite the room – perfect for those little bladders which will inevitably need a wee right at the crucial moments of the film. There is also a large cafe in the room next to the cinema so you can buy drinks (importantly, including alcoholic beverages) and food. Not that you would need them for this screening as we got a lot of treats in a special box of goodies!
How did the Eat-A-Long work?
Lots of families were standing in the foyer ready to go in (the showing was very nearly sold out, I could only see six free seats) and the Tyneside Cinema had several staff members to help guests on the door.
Each person was given a chocolate milkshake and a cardboard box with surprise treats to eat along as the film played and then directed to their seats. Inside the box, each treat was individually wrapped and had a number on it (as did the milkshake).
There was a TV screen to the side of the cinema screen. At key points during the film the TV and would come on displaying a number which you had to find in your box and eat. It was all very exciting. It added real suspense to the film – one I had seen many times before as a child. Awaiting the treats made you watch the film more carefully.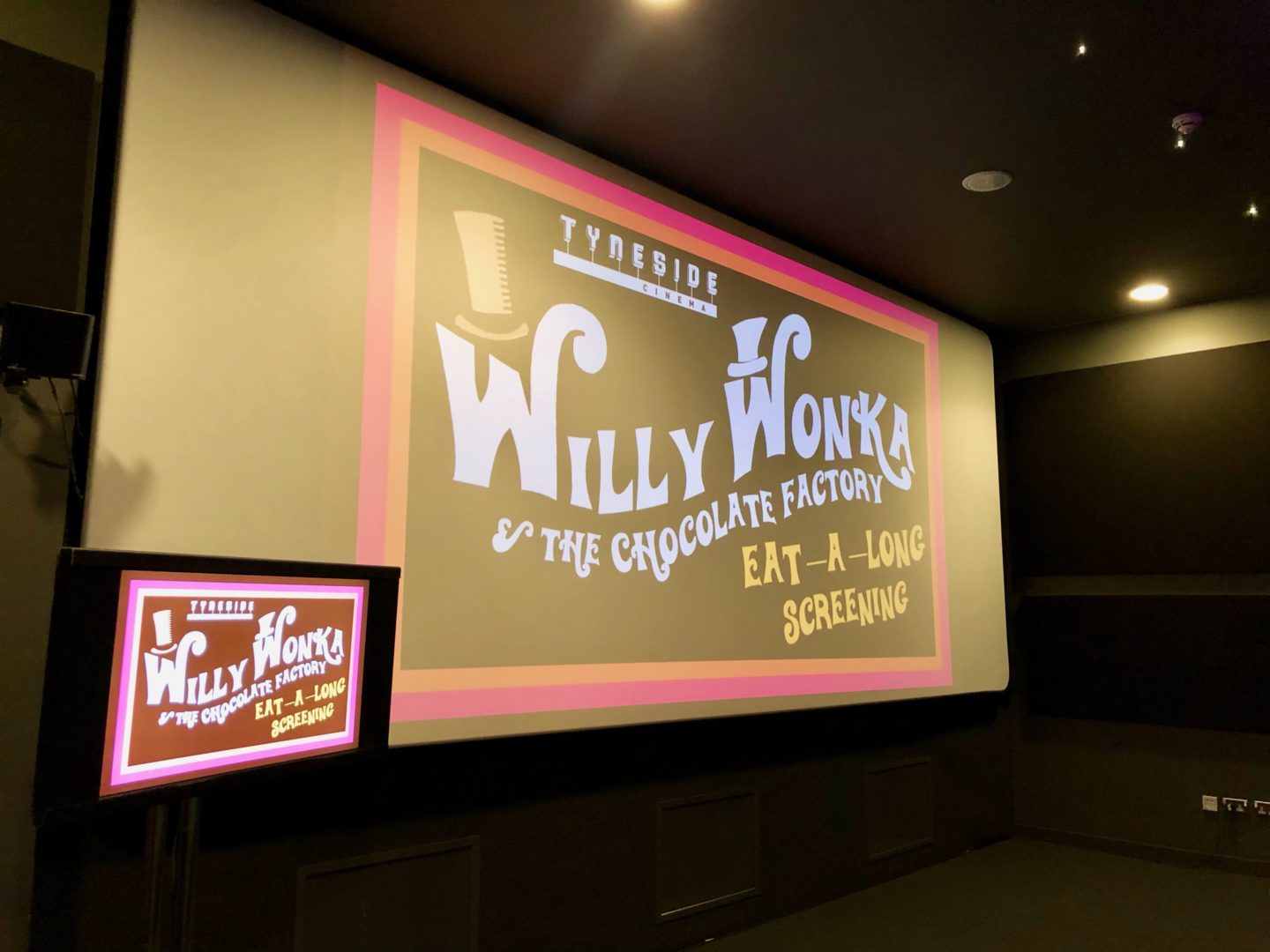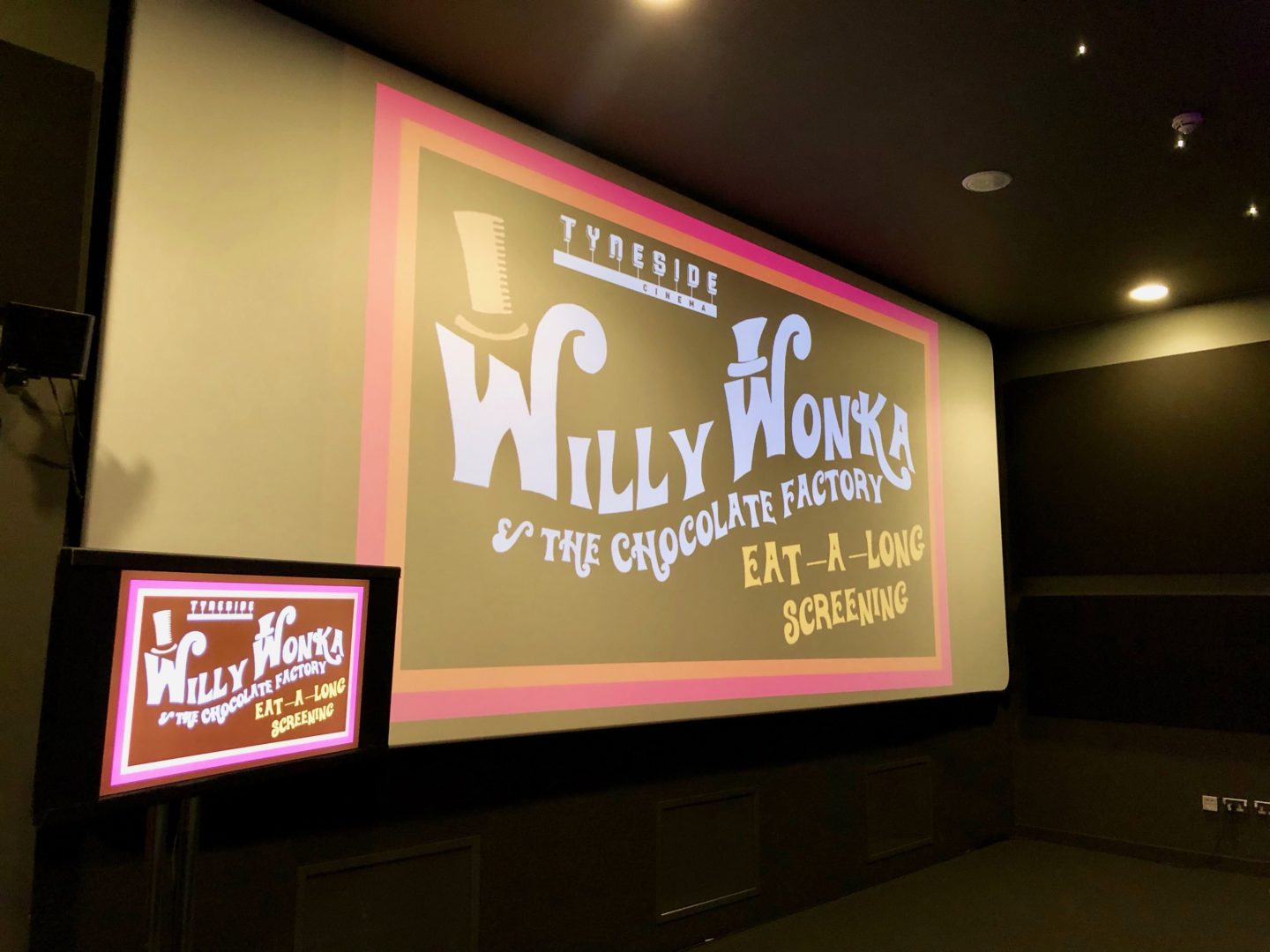 Willy Wonka and the Chocolate Factory – the film itself
One of the reasons we wanted to go along to the screening was the kids recently watched and loved Charlie and the Chocolate factory, the 2005 Tim Burton remake of the 1971 classic. They have watched it several times over the past few months and I knew they would love this.
I hadn't watched the original as an adult but there is a reason the old version has 7.8 on IMdB and the 2005 version only has 6.6 – and it's not just because of Johnny Depp. I had forgotten just how amazing Gene Wilder was in this. Just incredible, he made me realise that it's not often we see actors that good these days. It's just a brilliant film, loads better than the remake which is frankly quite terrible. Now I'm a mother though I'm pretty annoyed that grandad was in the bed for twenty years while the mam was doing everything and then Charlie finds the ticket and bam, he's up and dancing etc. I'd have been well narked if I was her.
I was a bit worried that the kids might revolt when they realised the film was old and not the version they enjoyed but after watching it they both agreed that it was better. I can't think of a more perfect film for an eat-a-long screening and I'm so pleased Tyneside Cinema chose the original version.
What's in the box? Spoilers below
If you didn't sing that heading Cbeebies style then I know you don't have kids! I was very curious as to what would be in the box. Largely because I have a 4 and 7 year old and we were going to the noon screening so I didn't know if I should feed them lunch beforehand or not. In the end I took sandwiches to give to them right before they dived into the treats. Papa Ginge and I didn't eat though and didn't need to because there was more than enough in the box to sustain us right through to dinner time. In fact, I felt a little sick after eating so much sugar (which speaks to my greed really).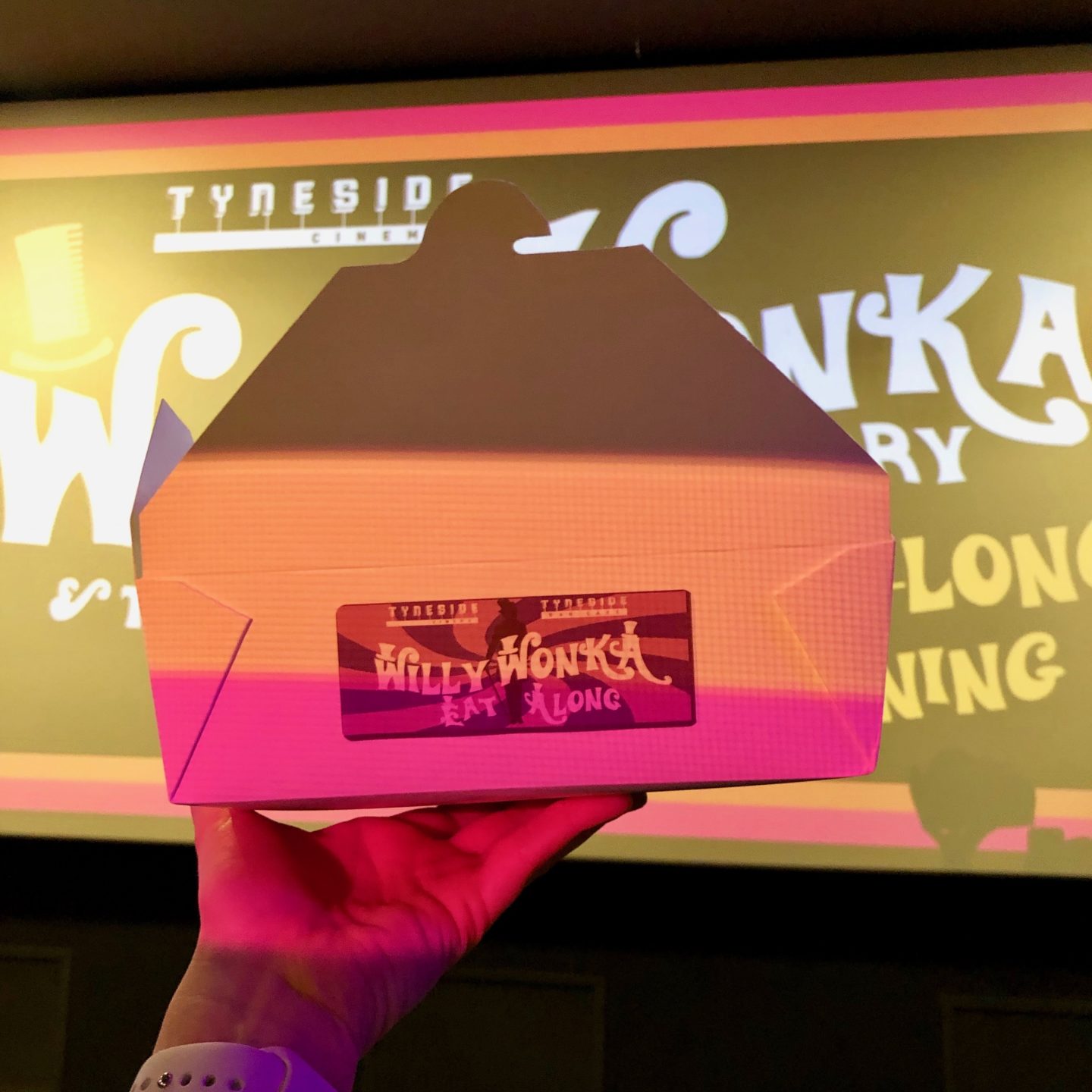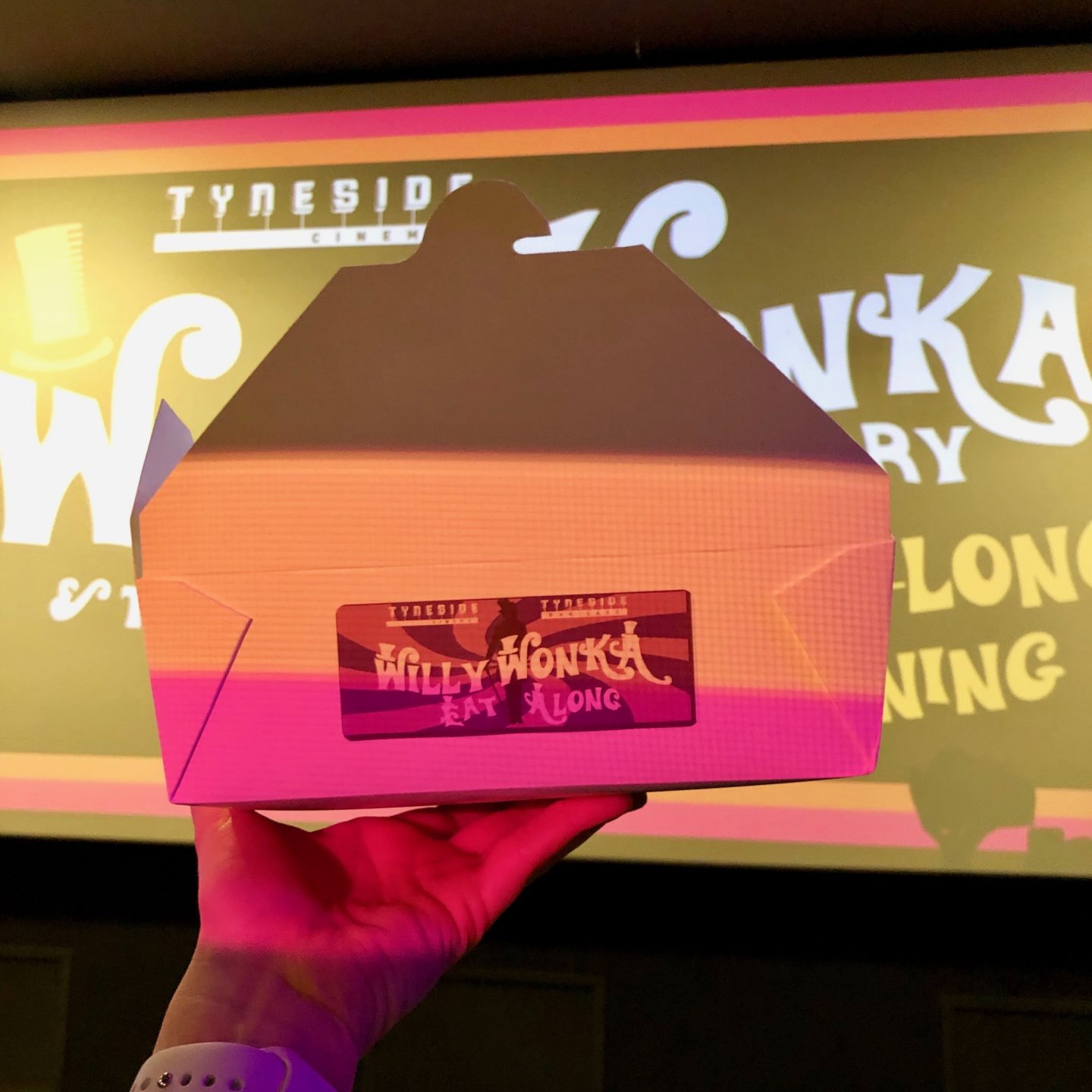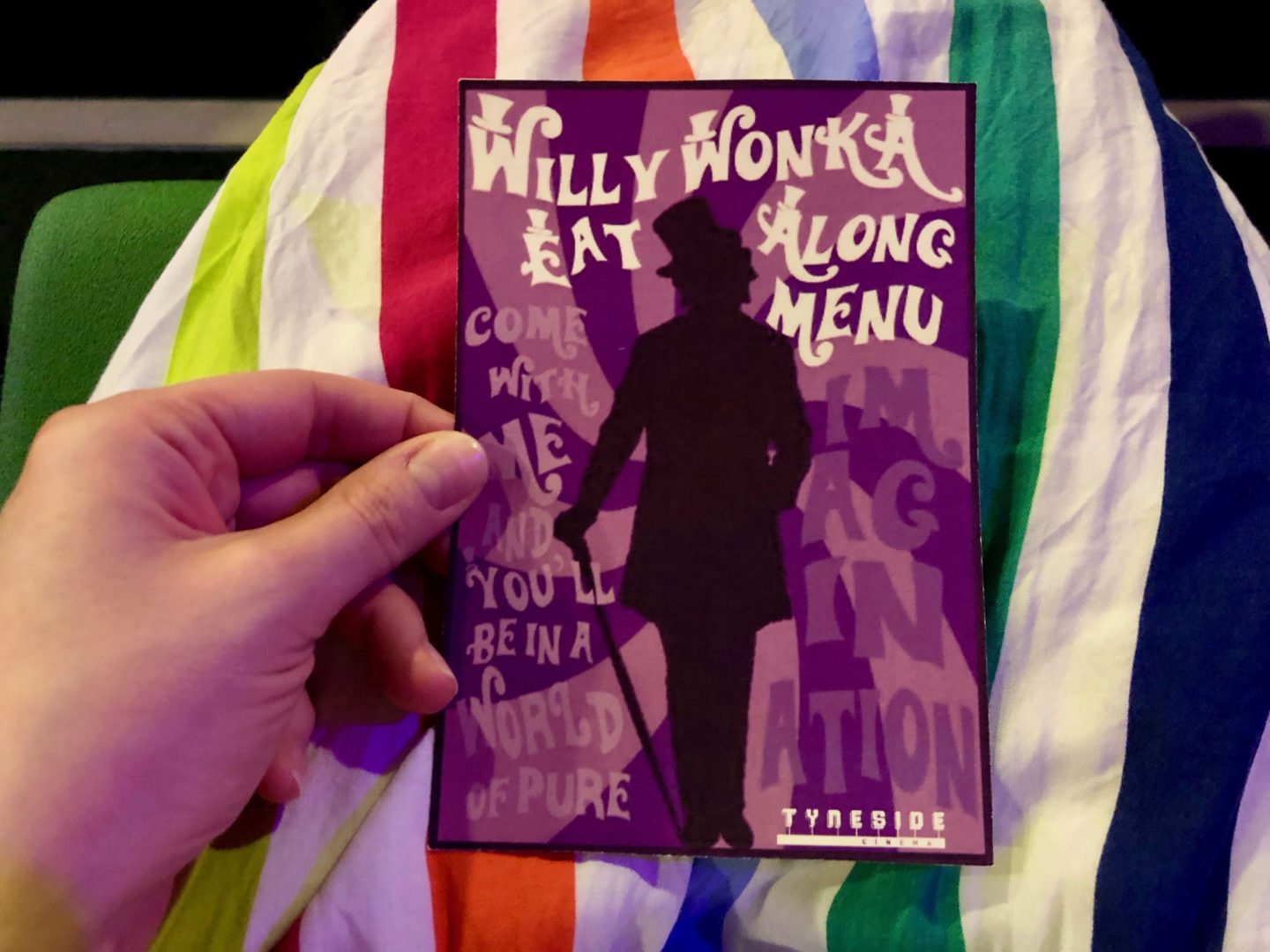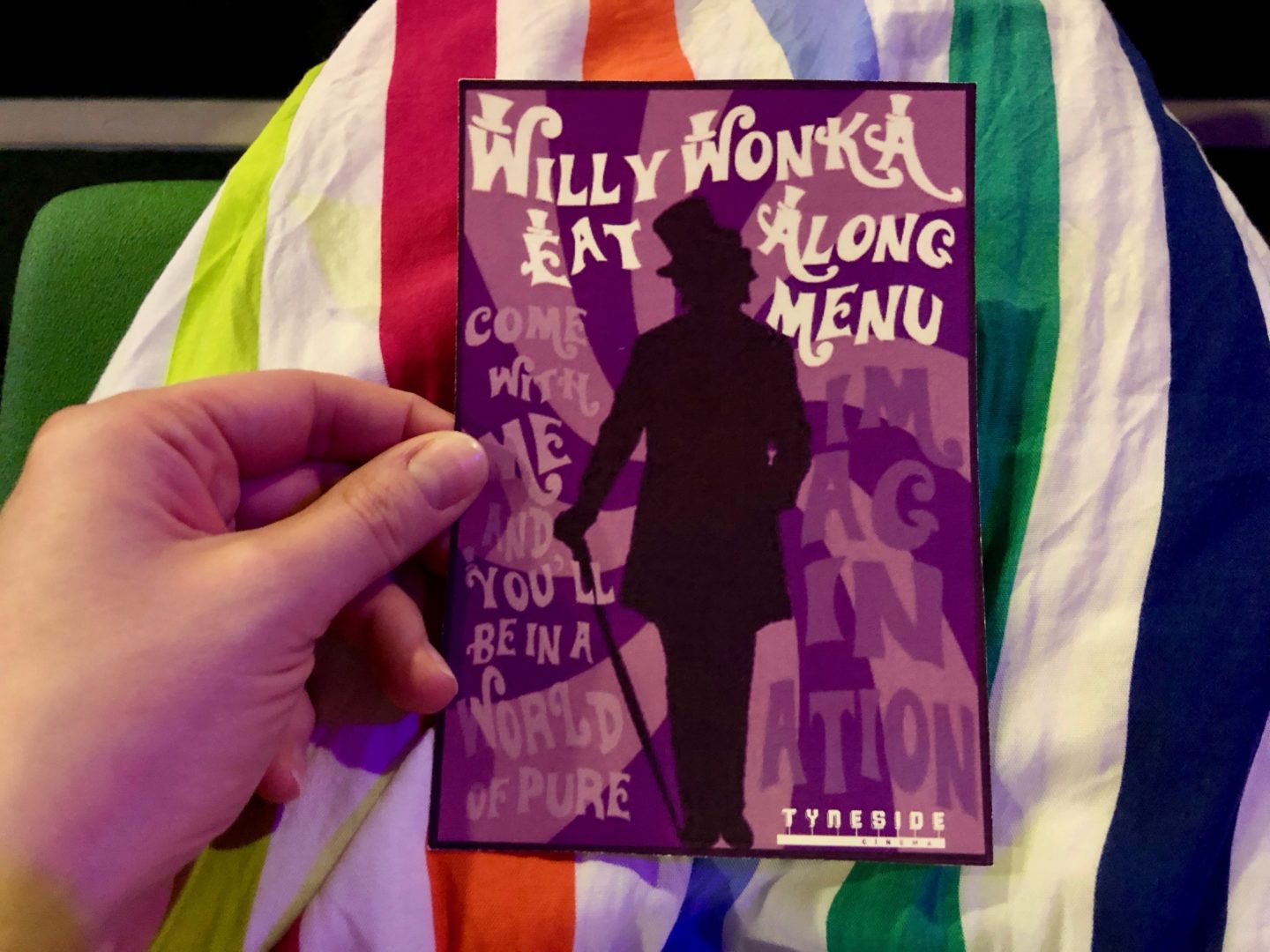 Number one flashed up near the start of the film when the children were all in the sweet shop during the song and of course it was a pick 'n' mix. It was perfect, you felt like you were part of the story. It was also cool that everyone in the room was rustling and eating at the same time (I suffer from misophonia and it made it much more tolerable for me).
When Violet Beauregarde was introduced it was time for a bubblegum flavoured Macaron which was very unusual but delicious. My 4 year old did turn her nose up at it though which she does to anything that looks unusual to her.
Next up was a Wonka bar when Charlie found his golden ticket. I was hoping it would look just like the Wonka bar but it was a very think, rich slab of rocky road with an edible Wonka sticker on it. I really should have only eaten half or less of this but greedy guts that I am, I ate it all and then felt a bit sick! If you are reading this before you go, I'd eat a bit and save the rest for later.
When Augustus Gloop fell into the chocolate river it was time for the chocolate milk.
Then when Violet Beauregarde ate the three course dinner chewing gum we got a small muffin type cake with blueberry and cream filling which was my favourite treat of the box.
Finally, when Charlie and his grandad steal the drink and float up to the ceiling fan and have to burp to come back down we got a 'fizzy burping sweet' which was a flying saucer.
I tend to not eat much sugar usually so I think I ate more sugar than I normally eat in a week in one sitting, it is definitely a lot but so fun for a treat. This would make a perfect way to celebrate a special occasion like a birthday.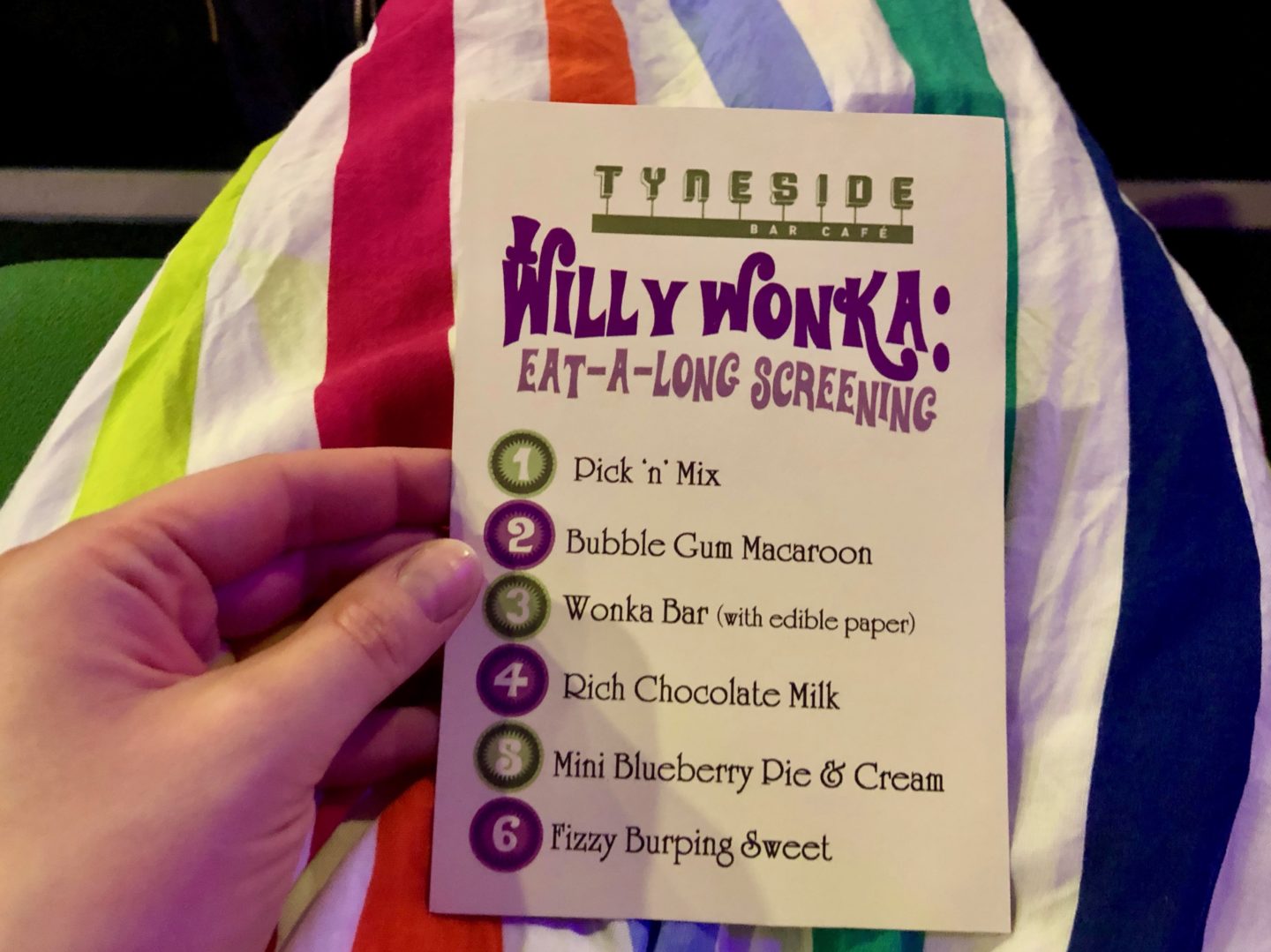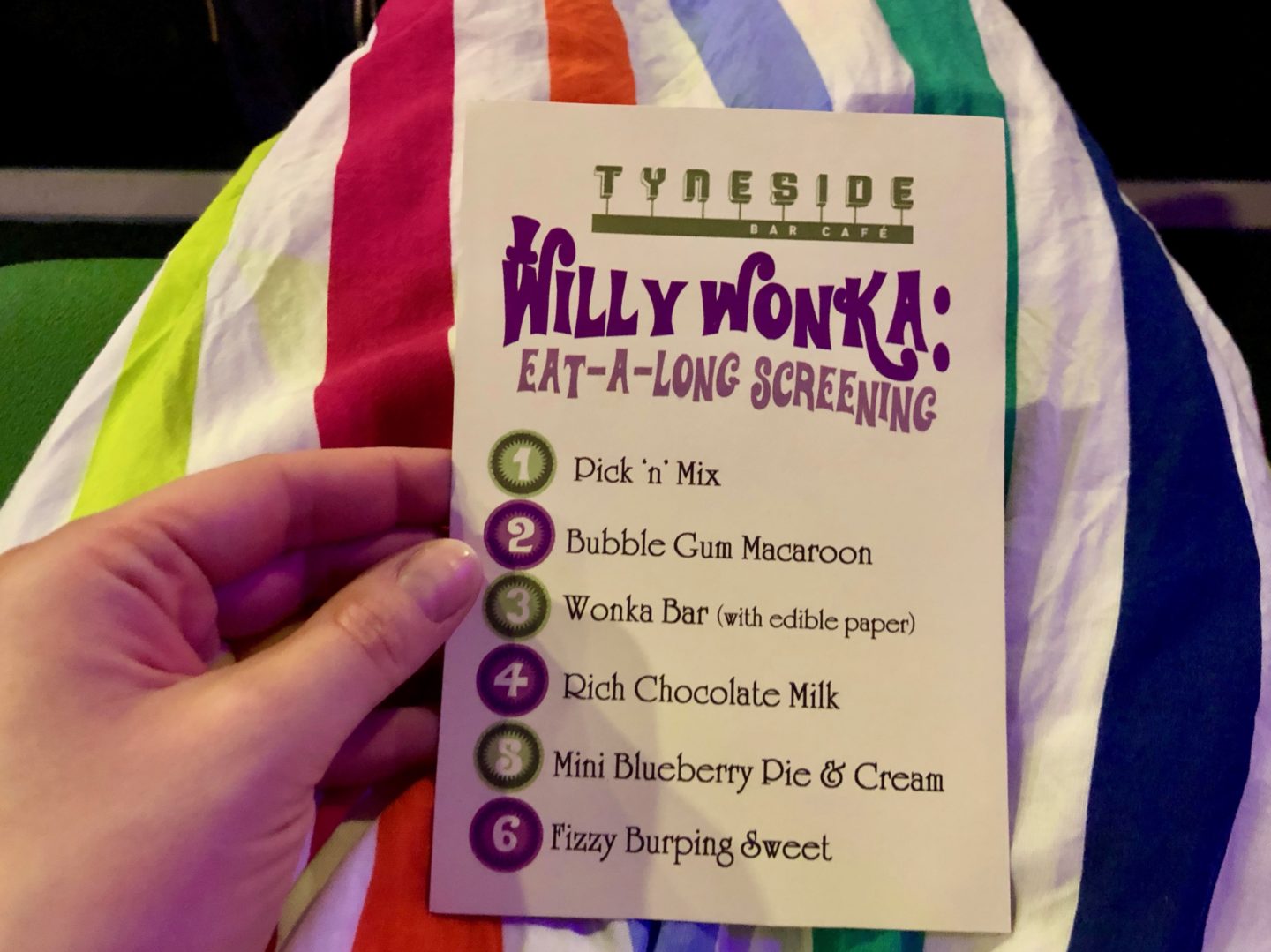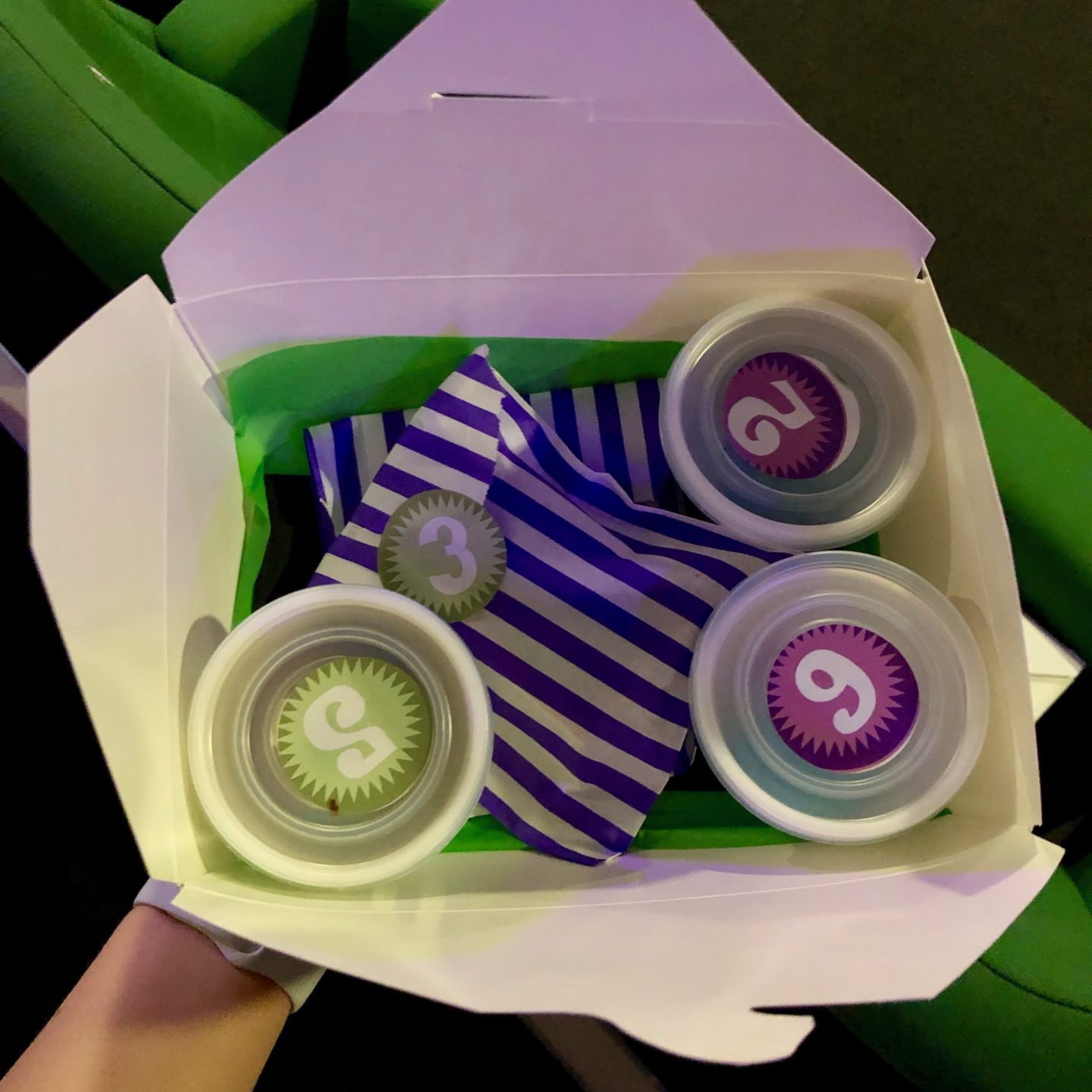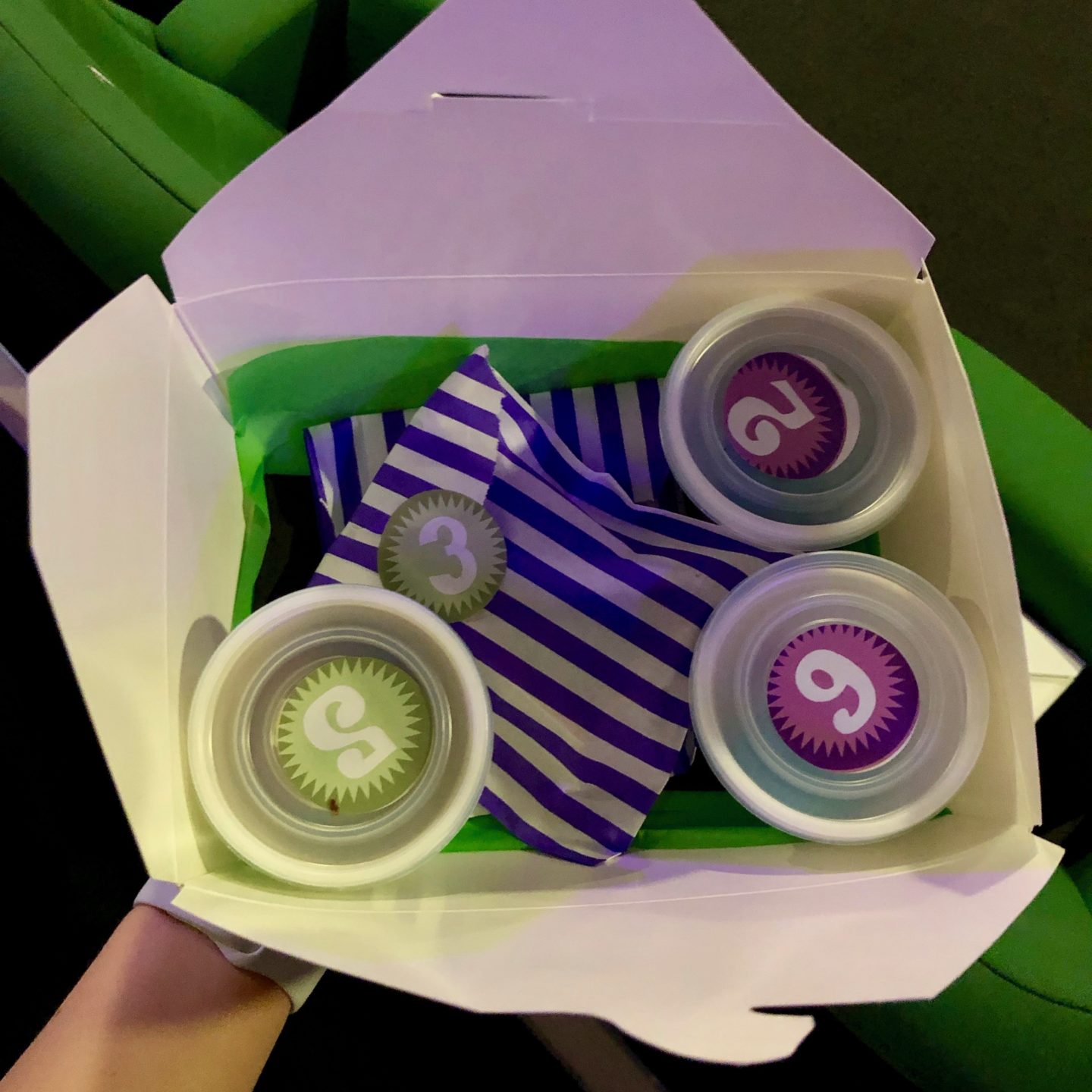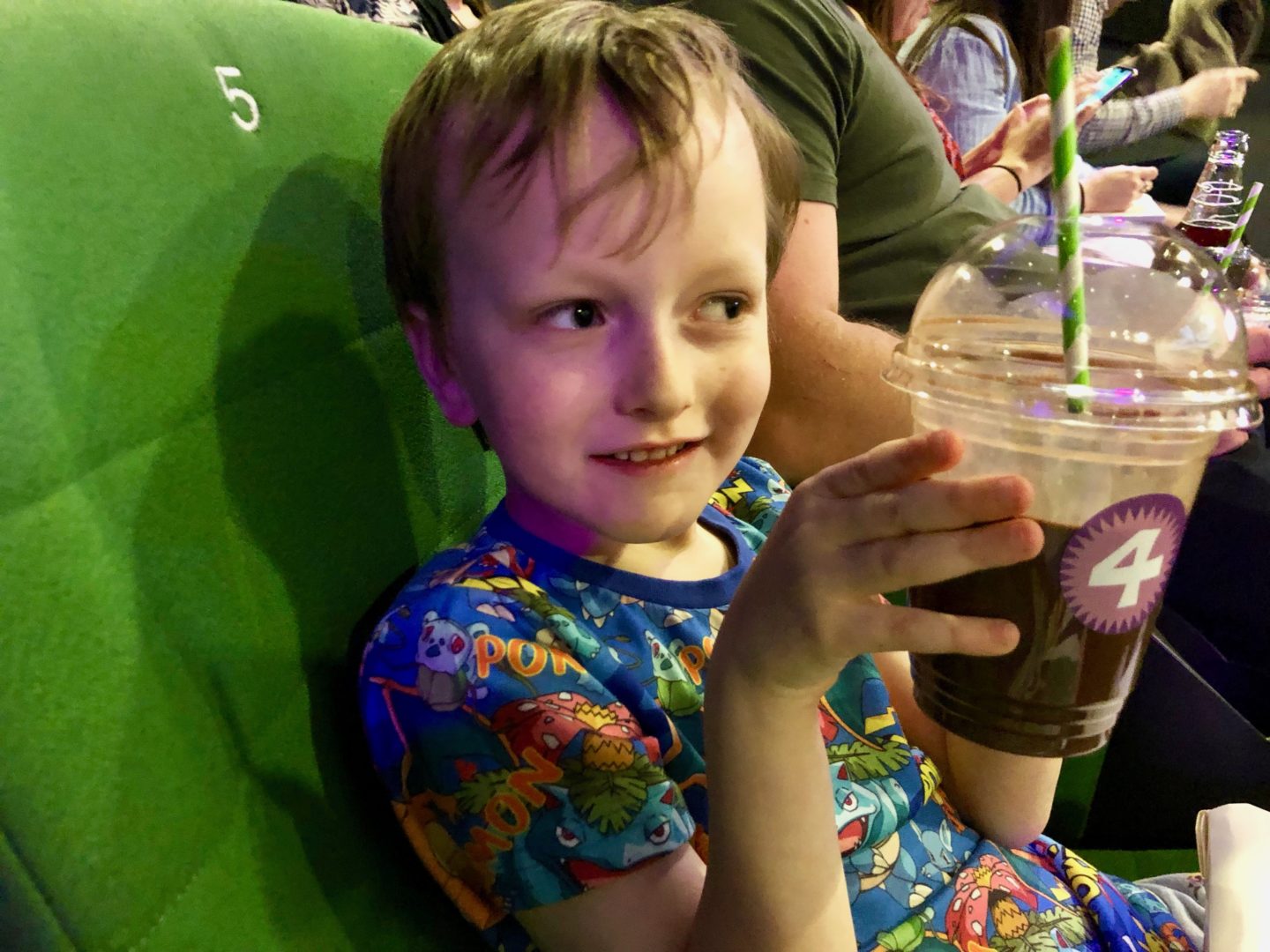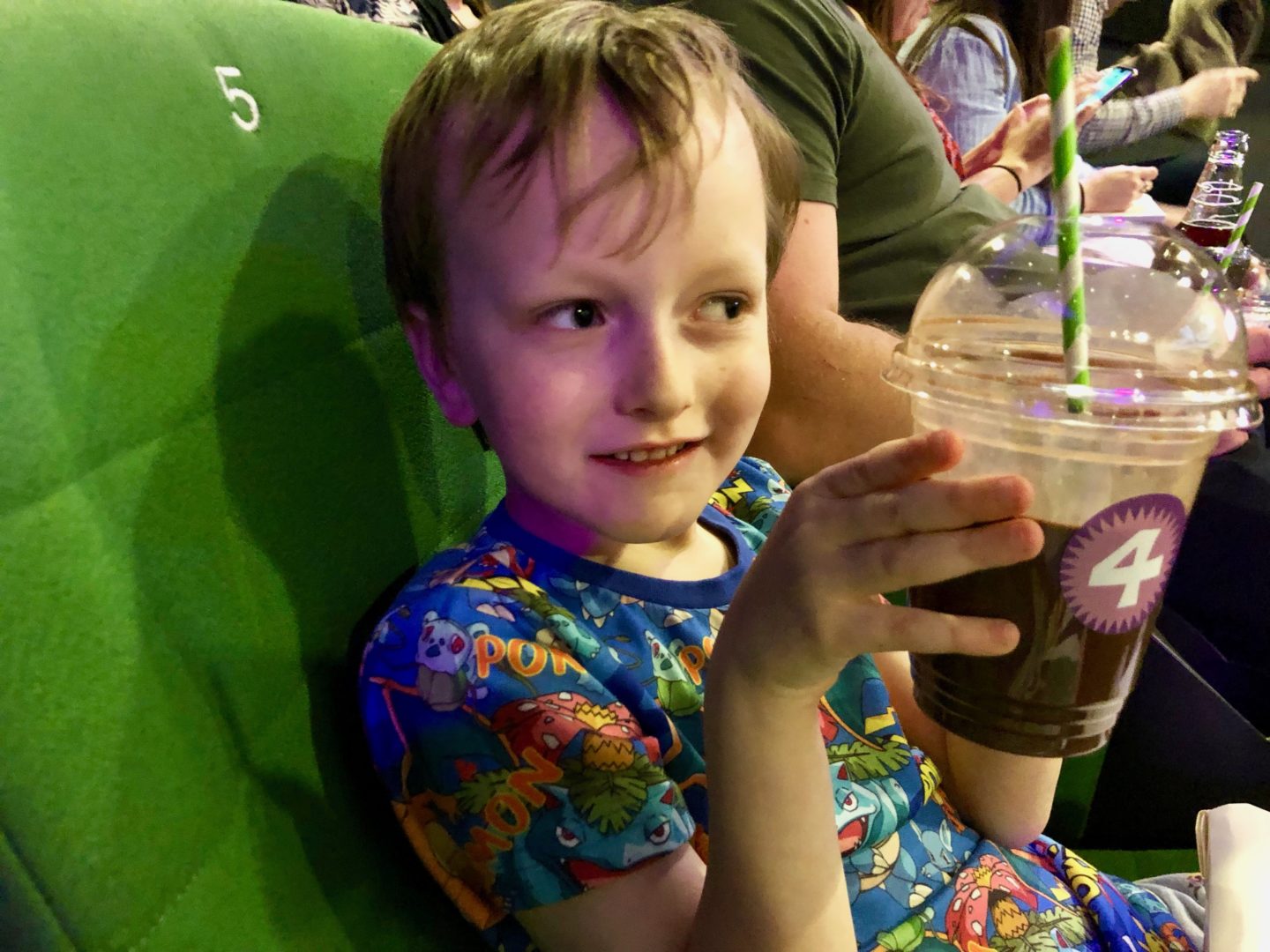 Oompa Loompa introduction
One of the things that helped make the film feel extra special for the children was the film was specially introduced by a staff member dressed as an Oompa Loompa. The kids thought this was great and my four year old kept asking where she had gone throughout the film. Such a simple thing for them to do that had a big impact. It also helped everyone understand how the eat-a-long would work.
We loved our interactive film experience with Tyneside Cinema. It was innovative, exciting and memorable. It transformed the cinema experience into something so much more and I love that we got to experience it together as a family.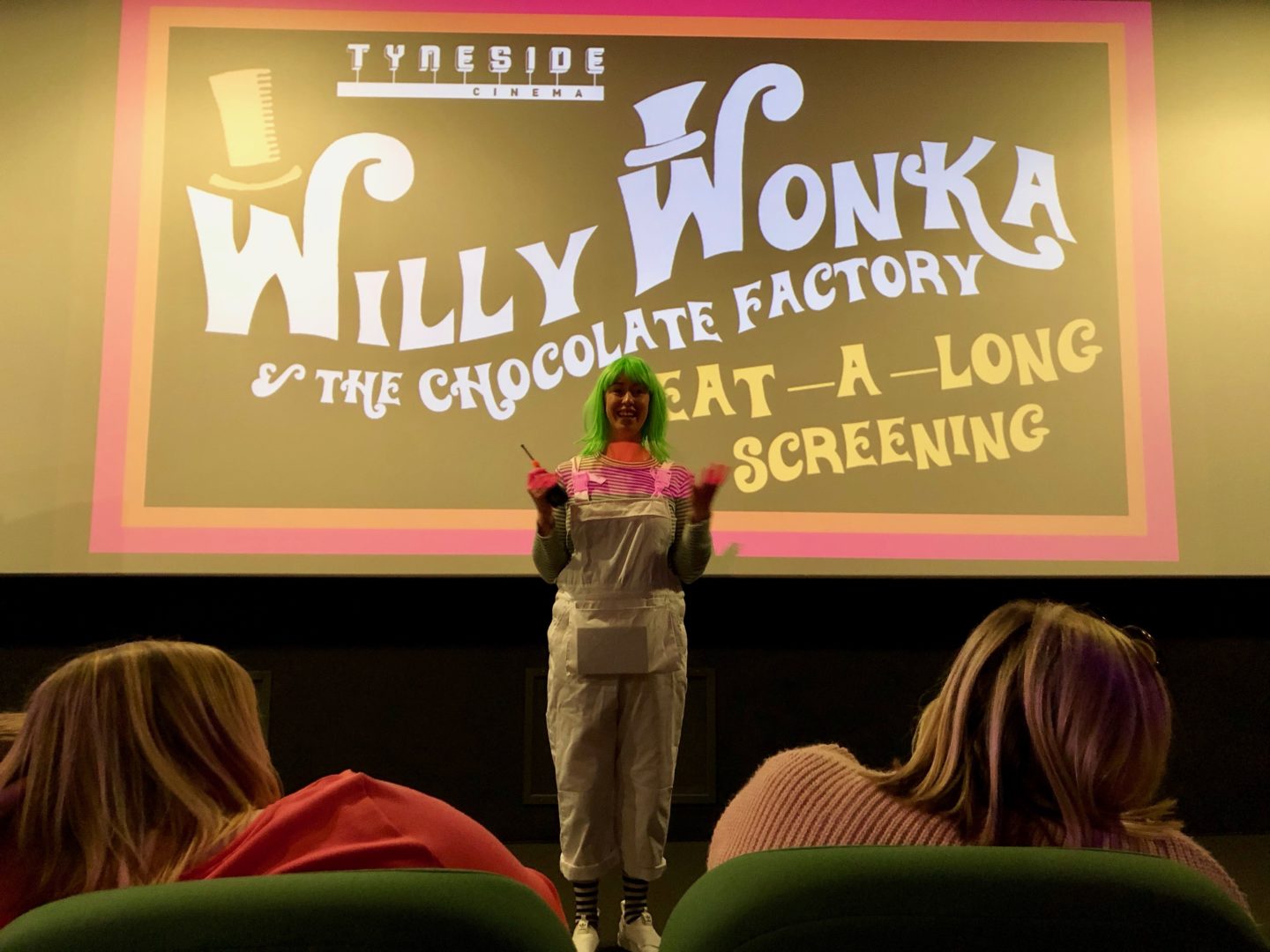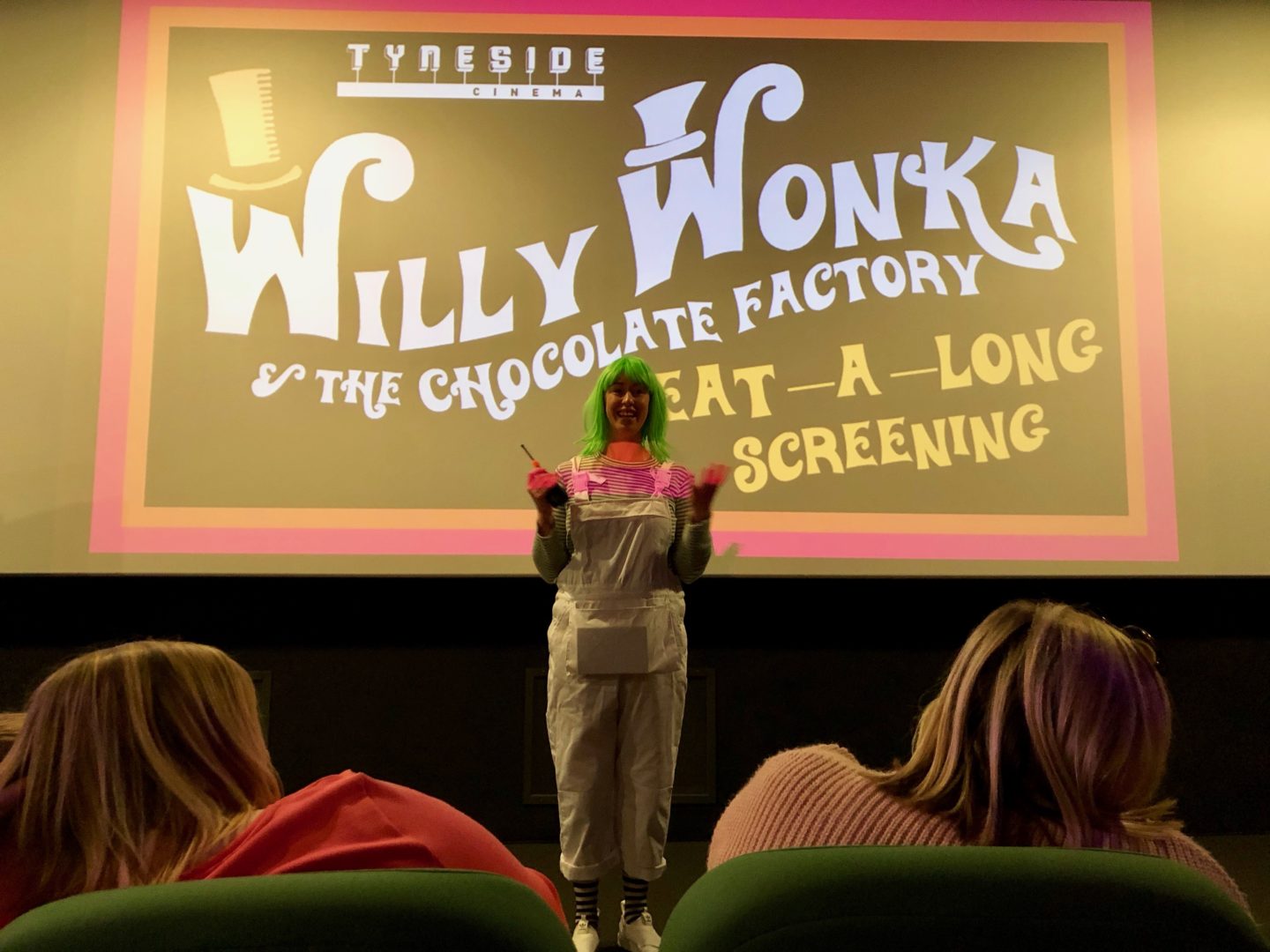 What else can Tyneside Cinema offer families?
As well as offering interactive and innovative family screenings, Tyneside Cinema also has lots of other family offers. For those with babies under two, Tyneside Cinema's Bringing In Baby (BIB) screenings, shows some of the best new film releases, screened with the lights up a touch and the sound down a little. Screenings are every other Thursday at 11:30, with some shows on Sundays too, so all the family can come along. Tickets are £9.75/£7.75 concessions for each adult attending. Babies are free. 
Then Tyneside Cinema hosts the 'Egg and Soldiers Club' every Tuesday and Thursday from 10:30 during the summer holidays. The Egg and Soldier Club has tasty food, fresh juices and milkshakes and toys and games – plus they have family-friendly cartoons screening for free on their big screen every Tuesday and Thursday all through the summer. You can get a Kids Meal Deal including one Main Dish, one dessert and one drink for £7.95 from their Children's Menu. It will be a perfect summer holiday activity for those gloomy days.
Finally, if you are looking for somewhere unique to host your child's birthday party then Tyneside Cinema is a great option. Children's parties at Tyneside Cinema last 3 hours and cost £13.50 per child. This includes: Exclusive reception room for food & party games, film screening in the luxurious Digital Lounge, popcorn and juice for each child, cinema ticket-style party invites for all guests, a personalised on-screen birthday message and a dedicated party host.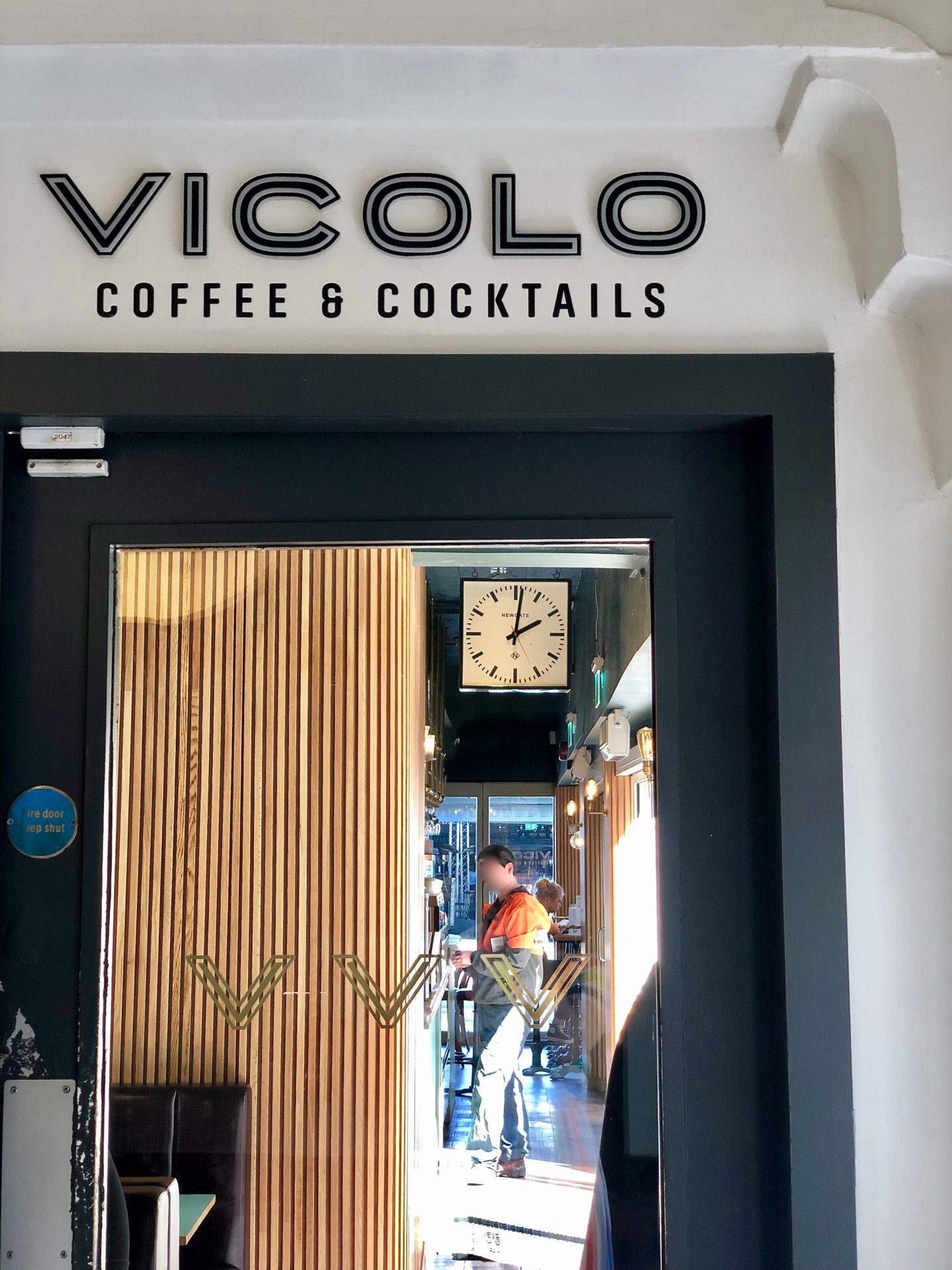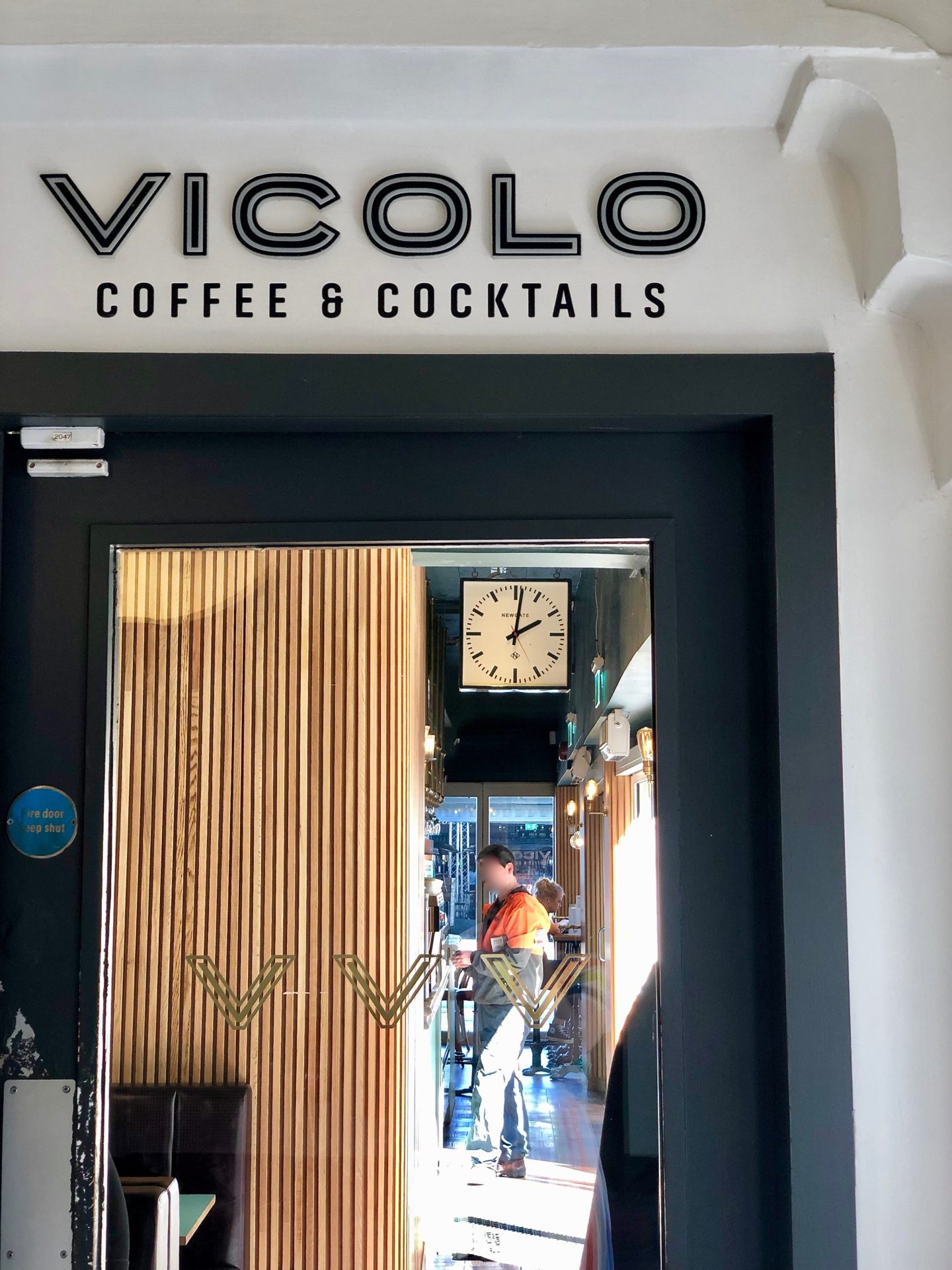 Tyneside Cinema is in a beautiful Art Deco style building, the seats were much comfier and the toilets were immeasurably cleaner and nicer than 'normal' cinemas – none of that cinema toilet smell there! It shows some unique and progressive films that many other cinemas don't in interactive and thoughtful ways.
It really is well worth considering next time you are looking for something indoors and chilled to occupy your children. We loved the 'eat-a-long' screening and will definitely be back for the Egg and Soldier Club in the summer holidays!
Disclaimer: This is an advertorial review for Tyneside Cinema. For my full Disclosure Policy please see my about page.