When I lived at home with my parents, we pretty much only ever went on camping holidays and we were never without pet dogs. Here is everything you need to know about choosing the best tent for camping with dogs along with our best picks of what is on the market right now.
Are tents good for dogs?
Just like humans, some dogs will love tents and others might not – you won't know until you try. But, as long as the tent has adequate ventilation, tents are suitable for dogs.
It is advisable to do a dry run in your garden with your dog before taking them camping for the first time. Ideally do some training with them so you all know what to expect when camping.
Please note, just like with cars, you should never leave your dog alone zipped up in a tent. Tents can get very hot in the day and it's easy for your dog to over heat.
They will also need access to a water bowl just like at home so you are going to want that in a place they can't spill it over the tent.
How to choose the best tent for camping with dogs
You will want to make sure that your tent is well ventilated (but most will be given humans are also sleeping in them).
You will want something robust so that doggy nails do not puncture the fabric.
Taking a tent carpet (like the one below) would be a good idea to protect the floor of your tent (plus it makes it nice and cosy).
You might want to consider how many windows the tent has depending on whether you dog likes to look out of them or whether they bark more when they do.
Consider how many tent cords the tent has if your dogs is prone to tripping over or chewing them. The same goes for whether the doorway has a 'lip' or not as this can be a tripping hazard.
Have a think about how many rooms and what porch the tent has. Do you want your dog in your inner bedroom (maybe not if it's a rainy camping trip!), the main living area or the porch?
The number one thing I look for in a tent for camping with dogs is the size of the tent – personally I think bigger is better when it comes to camping with your dog. Tents that have a porch that is separate to the living area but still covered and zipped can be a good choice for dogs.
Best tent for camping with dogs
Best small poled tent for camping with dogs
The Coleman Rocky Mountain 5 Plus Family Tent is a great option as it's a solid tent, has a large living area and it doesn't have a 'lip' for exiting meaning less trips for you and your pooch.
It also blocks out 99% of daylight meaning the tent can be up to 5 degrees cooler in the day.
The tent isn't massive so your dog should settle well knowing you are close.
It weighs 15.9KG.
Best small air tent for camping with dogs
The Alfa Inflatable Air Tent is a great small option if you have to pitch away from your car as it weighs only 10.47KG.
It has a separate living area where your dog can sleep at night. It has a 5000mm hydrostatic head so you'll be well protected in a downpour.
Best affordable tent for camping with dogs
Regatta Karuna Vis-a-Via 6 berth tent
The Regatta Karuna Vis-a-Vis 6 berth tent (affiliate link) is a great option for camping with dogs. It has a large living area and then 2 bedrooms at either end of the tent.
If there are 4 or less of you, you could even keep one of the bedroom areas for the dog(s).
It is a really affordable price and is a robust tent with a 5000mm hydrostatic head and a 10,000mm sewn in groundsheet.
I like how this tent is dark so blocks the light for sleeping and retains the heat well on a night.
You can see our full review of this tent here and buy it from Amazon (affiliate link).
Best large air tents for camping with dogs
This Outwell Green Pinedale 6PA Prime Air 6 Man 3 Room Tunnel Tent (affiliate link) is a great option for camping with your dog.
It has a separate living area to the bedrooms and a separate porch. But what makes this a fantastic tent for camping with dogs is the recessed area in the 'living room' which you could set up as the dogs area with a dog bed so you aren't tripping over the dog.
It has a 4000mm hydrostatic head and many windows and ventilation options. It weighs 35.24KG.
Another great option with a recessed area is the OLPRO Home 5 berth tent. We have this one and think it's a great choice for camping with your dog.
It's super spacious and has a covered and zippable porch area (with a groundsheet). This means you have 3 options for where your dog sleeps – in the bedroom with you, in the living room or in the porch.
It even has a window area of the tent that is set back from the rest of the tent. I think it's mean to be used as a 'kitchen' but it would also work for a dog crate.
The only downside of this tent is it weighs 40kg so it would only be suitable for camping next to your car.
You can read our full review of this tent here – OLPRO tents review – OLPRO Home 5 berth family air tent and 10% discount. Or watch our YouTube review below:
Buy the OLPRO Home tent here (affiliate link).
Best large poled tent for camping with dogs
The Vango Aether 600XL tent (affiliate link) is a great option for taking you dog camping.
It has a living area separate to the bedrooms and then a porch area that has doors that open fully but no lip for kids or dogs to trip on when going outside.
The Vango Aether tent has lots of windows if you have a curious guard dog who likes to stand watch. It weighs 21.6KG and has a built in groundsheet.
Fresh airflow is also a key feature as both the living room doors have mesh panels which increase the airflow, whilst keeping the bugs out.
Do dogs sleep well in tents?
This might depend on the nature of your dog and of course where you are camping/what's nearby and the noises. I'm afraid it's a bit of a suck it and see scenario.
You might want to consider getting a sleeping mat for your dog. This will help keep your dog off the ground and warm.
It will also help your dog to understand where their place is in the tent.
This one below is portable, washable and durable.
If they are used to sleeping in a crate at home and you have room for one in your car/tent then that's a great way to help them sleep when camping.
You could also consider a pop up or small tent that can perform the same function that you can put up inside your tent or porch like these…
Best separate outside small tent for camping with dogs
Finally, some of you might prefer to keep your dog in a separate tent outside of your tent.
This may especially be the case in bad weather where your dog gets muddy, wet and stinky. When you are camping you often don't have the facilities to be able to wash and dry them properly but you may not want all that muck getting in your big expensive tent.
These are all great options if you want your dog to camp in a separate tent to you.
Our verdict on the best tent for dog owners UK
Which is the best tent of these depends on your needs but assuming you are a family and you can pitch next to your car, my choice would be the OLPRO Home air tent (affiliate link) or the Outwell Green Pinedale air tent (affiliate link).
Both are big and heavy but have bags of room and crucially that recessed area that's perfect for a crate or dog mat.
If you liked this post you might also like
If you have enjoyed this post or found it useful, here are some quick and easy ways that you can support Nomipalony or say thanks: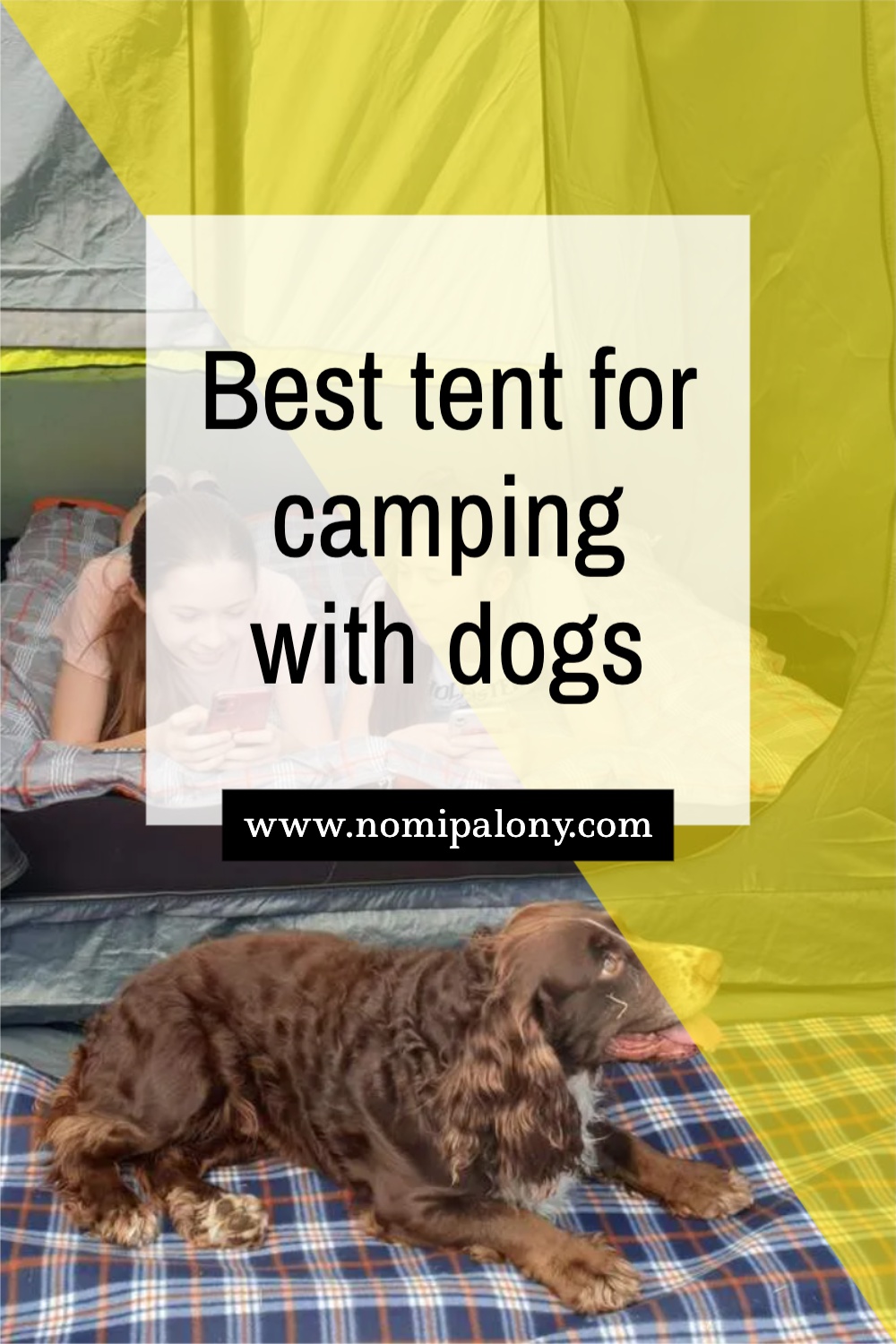 Disclaimer: This post contains affiliate links. If you purchase through an affiliate link you will not be charged any more for your purchase, but I will receive a small fee for referring you. As an Amazon Associate, I earn from qualifying purchases. For my full disclosure policy, please see my about page.