For 2022 we were in the privileged position of being ambassadors for the inaugural Little Lindi Festival at Lambton Park, Chester-le-Street in North East England. This meant that we got to go down for the weekend to experience it. This blog post is a full Little Lindi Festival review from a family of 4 with a 10 and 7 year old. There is also a video at the bottom of this post for those of you who prefer to see what it's like rather than read about it.
If you are taking your kids to a festival be sure to check out my post on festival trolleys for kids. 
Little Lindi Festival review 2022
Little Lindi camping
The campsite was hands down the quietest campsite I've ever stayed at. And I'm not just talking festival camp sites! Everyone was really respectful and there was a nice vibe.
We were camped close to the toilets which were kept clean.
There was plenty of room for everyone. It filled up fast on the Friday so we were initially worried our friends wouldn't be able to get pitched near us but actually at the back of the site there was free space until the end.
One thing I didn't like about the campsite was it was full of animal poo. It was really difficult to avoid it. If you had very young ones you really had to watch them with it too.
There were also lots of nettles in some areas so wear covered shoes to pitch in.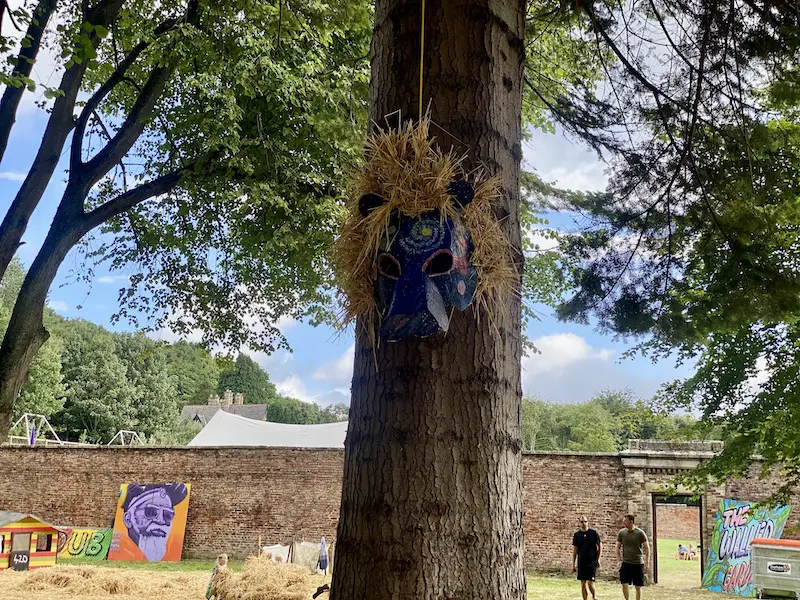 How far was the campsite from the car park at Little Lindi?
This depends on where in the car park you were parked and where in campsite you pitched but I'd say it was a 10 minute walk (perhaps 5 to 15 depending on if you were the shortest distance to longest). This obviously feels a lot longer when you are carrying all your camping gear!
Something that made it much harder was the ground in the car park was very uneven. It had been ground up by tractors or vans (I assume). There were big rivets that you could easily twist your ankle in.
We were pulling a wagon and the wheels kept getting stuck in the delves in the mud from the tracks. It made it much harder graft.
The ground in the campsite was much easier to navigate than the car park was thankfully.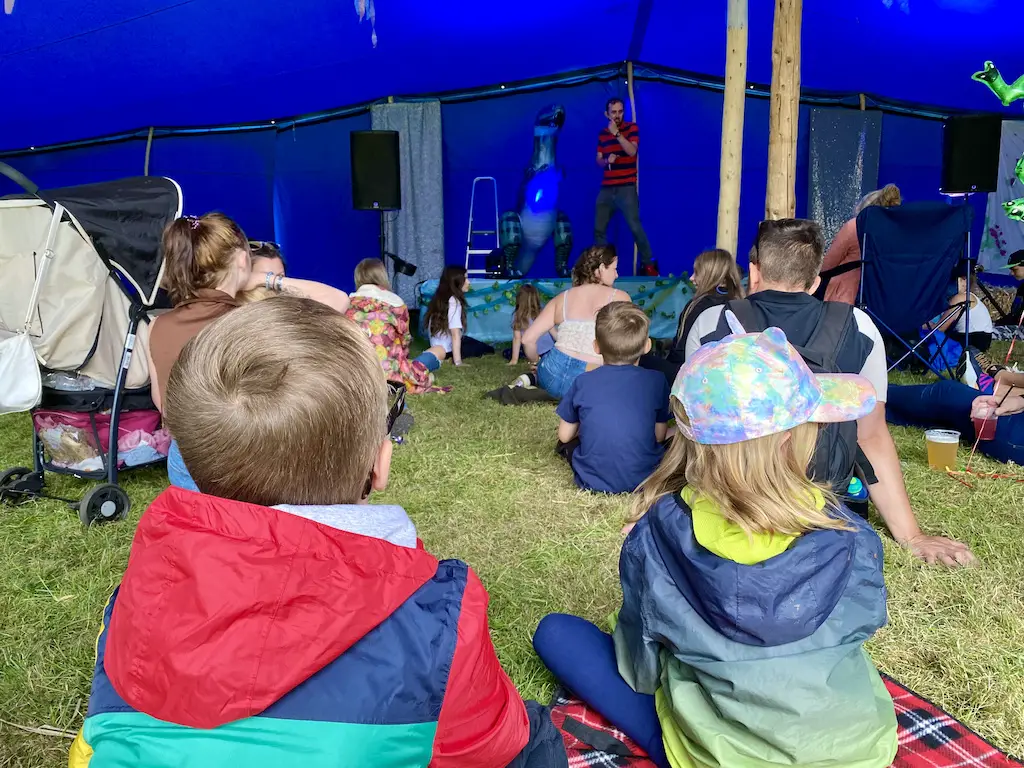 Little Lindi toilets
We thought Little Lindi did a great job with the toilets. There was adequate provision, you never had to walk too far to get to some toilets and they were kept clean with hand sanitiser and toilet paper. I didn't have to queue for toilets all weekend.
We did have a 'posh toilet' pass which undeniably helped. It was nice to use as those toilets had proper sinks with running water for washing your hands.
Even without that though the toilets were pretty decent for a festival.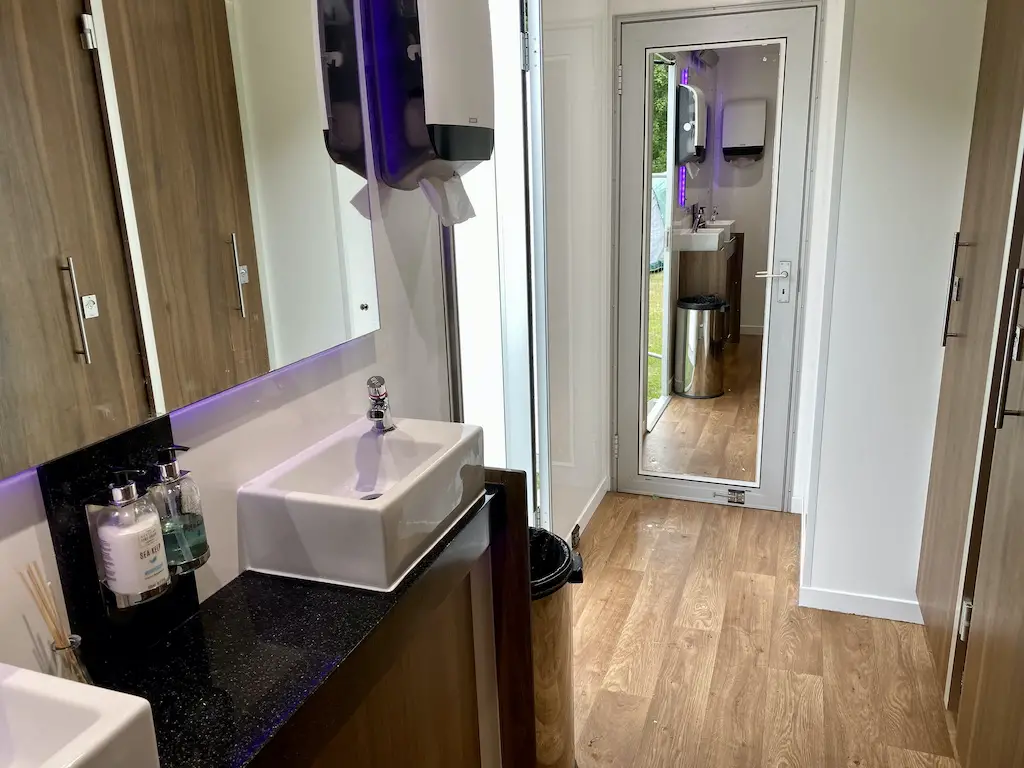 Little Lindi food options
There were lots of food options at Little Lindi, both in the main arena The Hive and in the Walk of Love.
Some of the food vendors included Fat Hippo burgers and fries, Grey's Kitchen waffles and milkshakes, Birria Bella tacos nachos and fries, pizzas, ice creams, churros, doughnuts, cacao and more!
We enjoyed burgers and fries from Fat Hippo, churros, ice creams and doughnuts over the weekend. Everything we had was tasty and prices were generally in line with standard festival prices.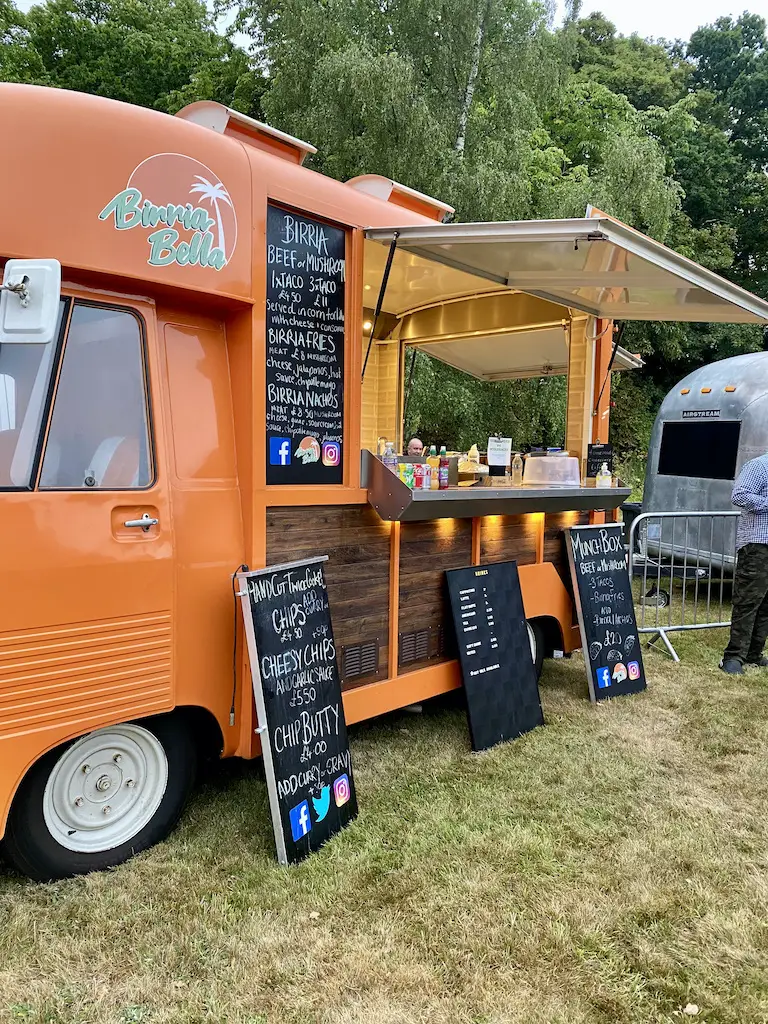 Even though it seemed like there was adequate provision, there were often long queues for food though. I think they could do with some additional food vendors next time surprisingly.
I really liked that you were allowed to take your own food everywhere though as it really helped to keep costs down.
It also wasn't far to walk back to the tent so we did that for pot noodles and a cuppa a couple of times.
I never had to queue at the bars for drinks.
Little Lindi activities
There were tonnes of activities to do at Little Lindi. You can read about them in my previous blog post here – Little Lindi Festival (5 reasons to get tickets).
Our favourite activities were the Circus Central sessions. Lena loved an aerial acrobatics session. I personally got a lot out of a handstand session aimed at 14s and upwards.
The kids enjoyed a foraged cooking session where they learned how to start a fire and forage some food in the woods to cook on it.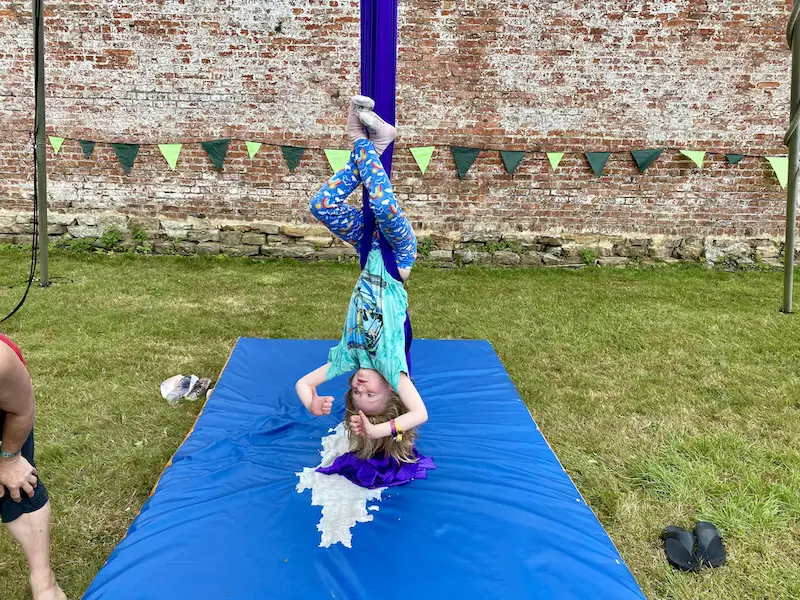 Little Lindi Festival 2022 – what we spent
Friday: 
£3 x2 helter skelter
£5 x2 bounce ride
£10.50 2 beers
£6 churros
£7 balloon 
Total: £39.50
Saturday
£3 carousel swings 
4 x ice creams £12 
£15 jumping castles
£6 toy story ride
£1 lollies
£33 fat hippo burger and chips for all
£2 Coke
£72 total 
Sunday
£17 donuts, latte, tea, 2 slushies 
£25 30 minute massage for Nyomi
£5.50 beer
Total – 47.50
Total spending for the weekend was £159.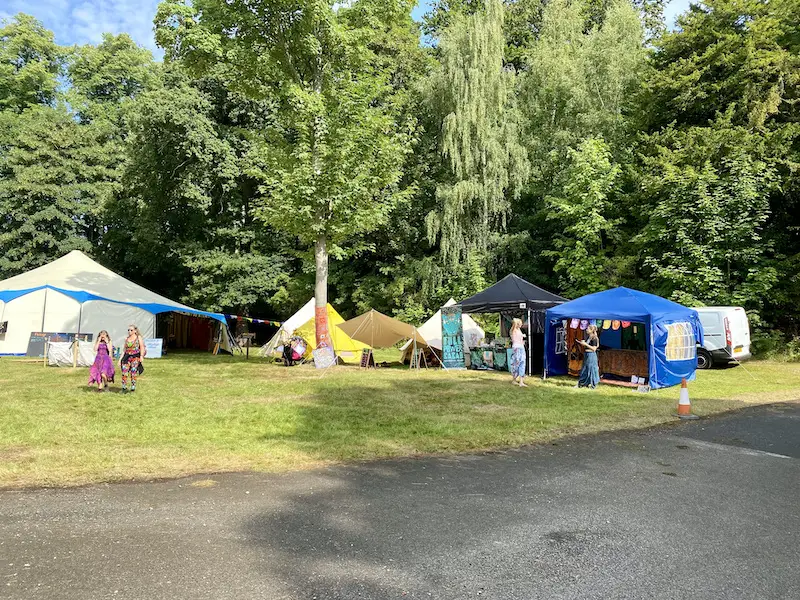 Little Lindi value for money
Festivals are never cheap but we felt like Little Lindi Festival provided good value for money for its size and the activities on offer.
Little Lindi highlights
Our highlights were the Circus Central sessions.
We had a nice evening eating street food on a wooden picnic table with our friends and listening to Reet Good Craic perform Fleetwood Mac songs.
One of the best parts for us was going with friends and being able to catch up together whilst our kids played together.
One of my personal highlights was a massage I paid for. It was by Nat from Temple of the Stars and cost £35 for 30 mins and was amazing.
The therapists book up quickly at festivals so if you want to book in for a massage I'd do so as early as you can. I booked mine Friday night and paid a £5 deposit to secure my slot.
I booked it for Sunday afternoon knowing that my back and shoulders would welcome it after a couple of nights sleeping in a field and I was correct. My only regret was not booking the hour.
Apparently Nat works out of the Grainger Market sometimes so I'll be definitely booking back with her again soon.
I'd also like to commend the team on dealing with handing out wristbands in the car park so there wasn't any additional queuing once in the festival. It worked much better than festivals where you park and then have to queue with all of your gear to get in.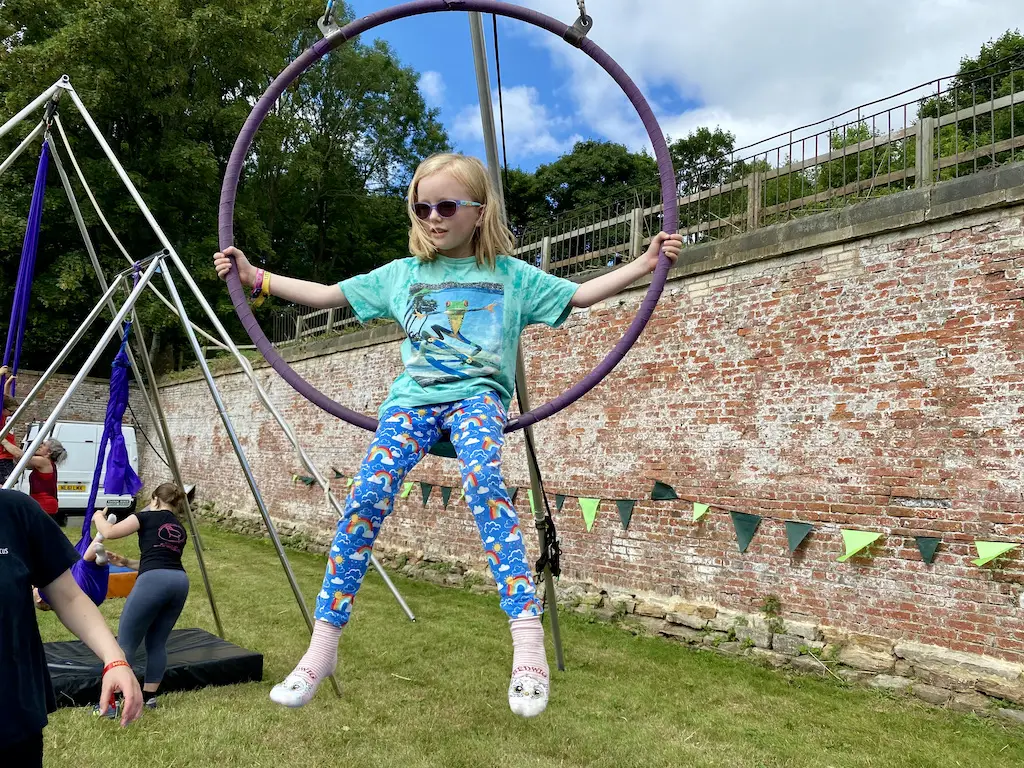 How much walking at Little Lindi Festival?
There was a fair amount of walking at Little Lindi festival, including up and down a hill to get from one part of the arena to the other.
My Apple Watch tells me that Friday I walked 13,186 steps, Saturday 14,906 steps and Sunday 15,652 steps to put it into some context.
They did have a 'land train' ferrying people around the site but we were never able to get on one as there were always queues for them and they didn't come frequently enough for it to be worth the wait.
Little Lindi – where they can improve for next time?
The biggest issue we faced was the uneven ground on the field coming into the campsite from tractor grooves and all of the livestock faeces in the camping field.
The queues for food were quite long so some more food vendors would be good.
I know Little Lindi had struggled to get volunteers this year so didn't have the staff numbers they would have liked but some more staff around to direct people and answer questions would have been good.
My kids really loved the fairground rides but this is where we spent the bulk of our money and personally I'm not a fan of lots of additional costs once in a festival.
When we went to Just So Festival which is a similar festival, they didn't have additional rides like this and I think I preferred that.
I think when you have the fairground rides the kids just keep begging to go on those and neglect some of the other (more wholesome free) activities on offer that was included in the tickets.
Personally I think I'd rather see the rides included within the ticket price or not have them/as many. My kids will kill me for saying this and call me a party pooper!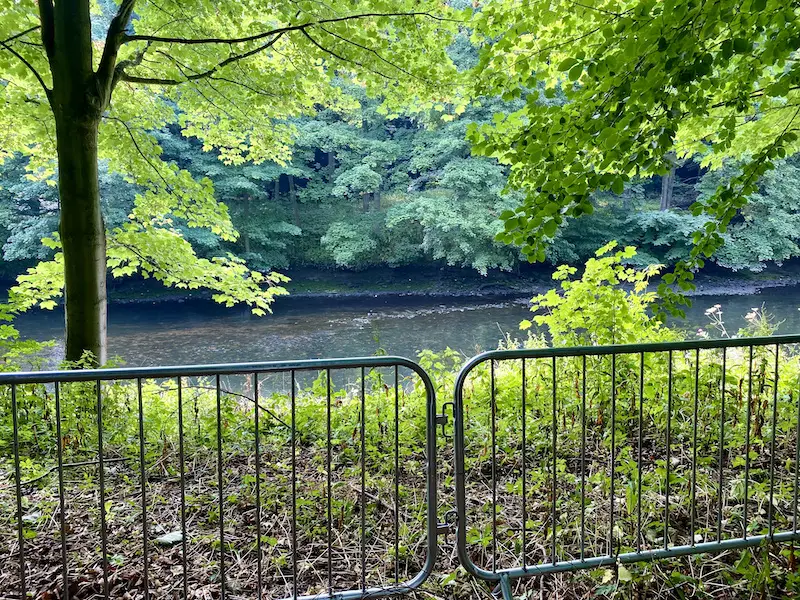 Little Lindi Festival – what ages was it best for?
We think our 10 year old was on the cusp of being too old for the festival. He had fun but not as much as our 7 year old.
He was looking forward to the sports sessions from David Lloyd but it seemed to be cancelled on the Saturday as it was crossed out on the wooden board.
On Sunday we heard it was back on but didn't seem to be where the sign was pointing to and we were never able to find it which was a shame.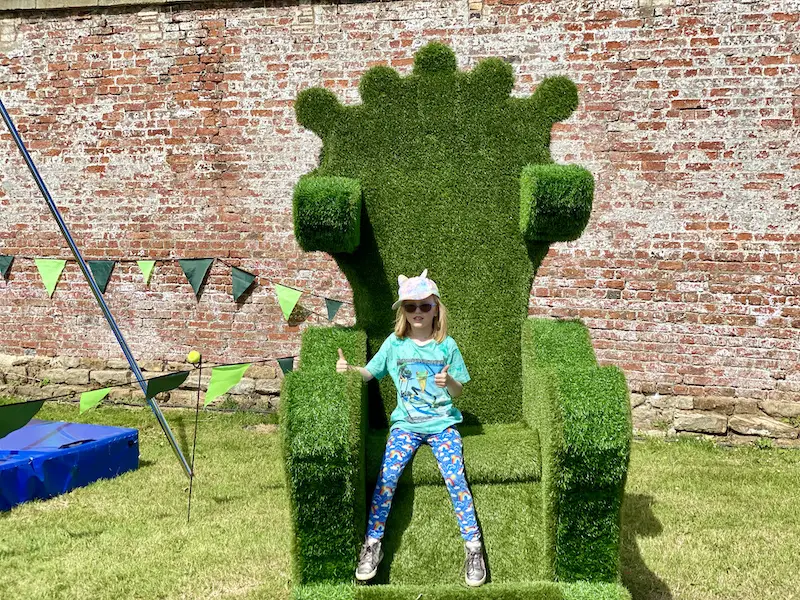 Our friends took their 2 year old and felt she was a little young but I think that's mostly because they were at the age where they just wanted to roam freely. Our other friend's 2 year old did still seem to get a lot out of it.
Personally I would say that it would be best for ages 3-8. Primary school aged kids will probably get the most out of it. Year 6 you are probably pushing it though!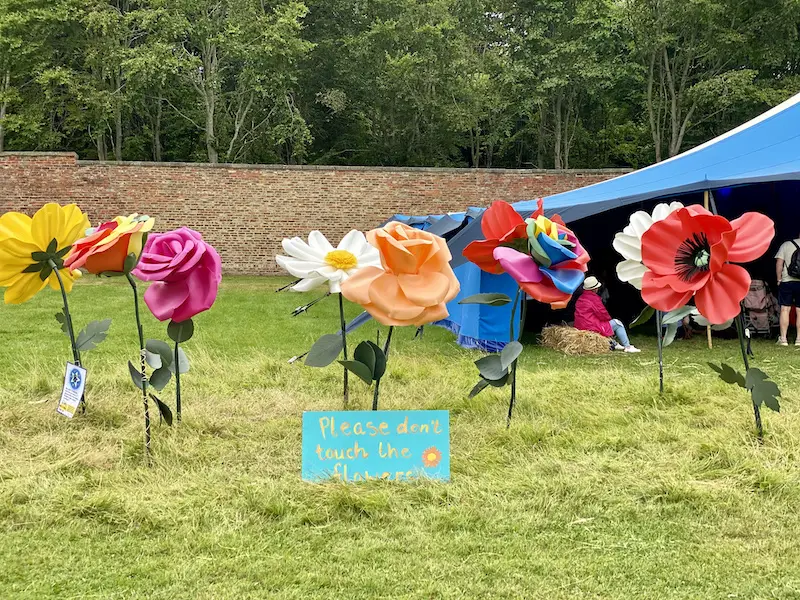 Little Lindi Festival 2022 review video
Check out this video of our weekend at Little Lindi Festival 2022.
Little Lindi Festival review – would we recommend it?
If you have children 3-10 then we would wholeheartedly recommend Little Lindi Festival. I think it's a wonderful addition to the North East and it had a really strong inaugural year.
I can't wait to see them build on it year on year and wish the team every success going forward!
If you liked this post you might also like:
If you have enjoyed this post or found it useful, here are some quick and easy ways that you can support Nomipalony or say thanks:
Share this post with your friends  
Pop over to my Amazon Storefront to see what products I have been buying and loving from there recently, including my health and fitness products list.
Sign up to my mailing list 
Women can join my feminist Facebook group – the Nomipalony Freehouse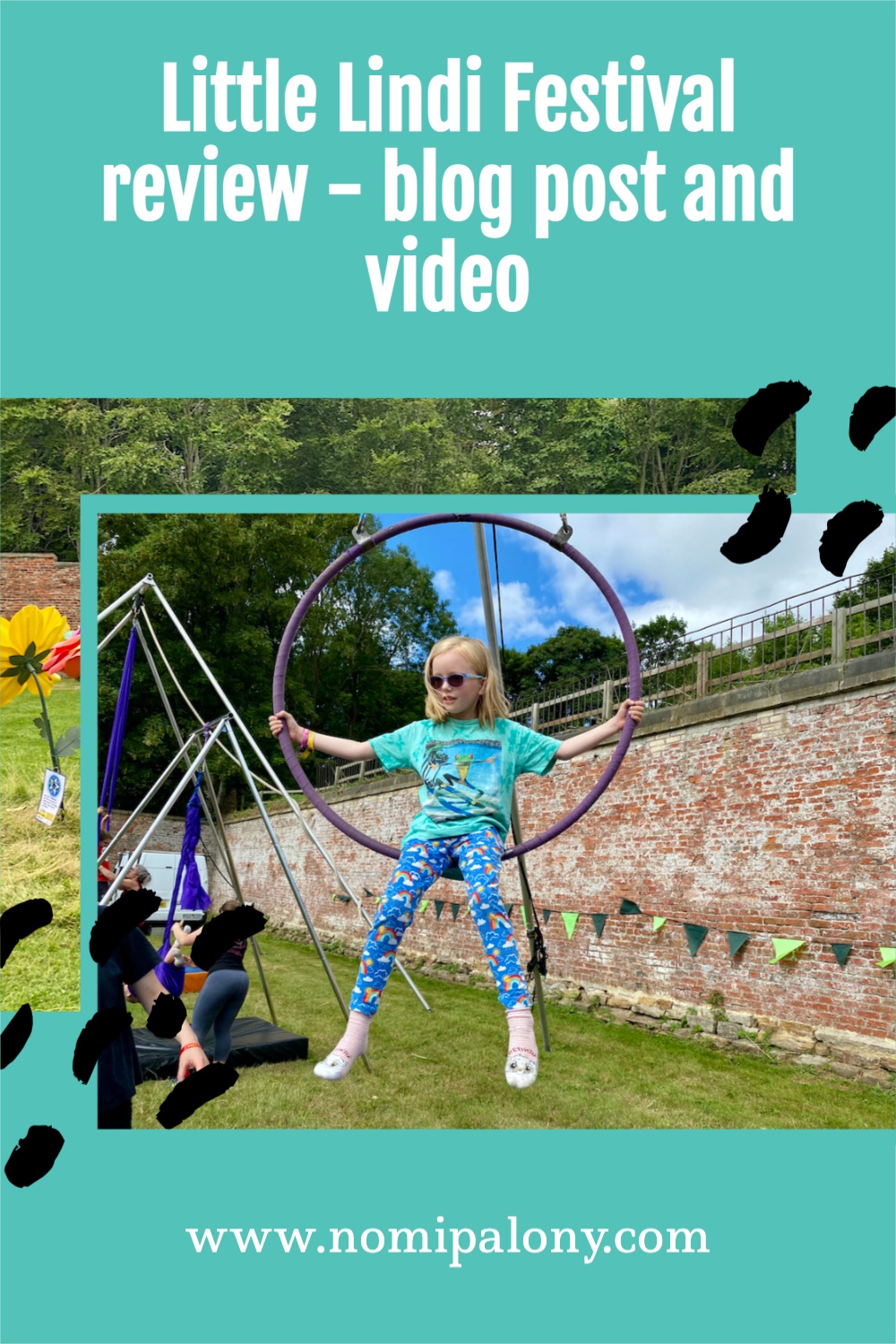 Disclosure: This is a sponsored advertorial post. For my full disclosure policy please see my about page.