I don't know what it says about me but I get VERY excited about tents. We peruse camping shop websites and look at tent floor plans like we browse RightMove looking at the floor plans of the houses we can't afford. I LOVE a good tent. Our last tent was the Regatta Vis-a-Vis (affiliate link) 6 man poled tent which we previously reviewed on YouTube here. However, whenever we struggled with our poles and saw other families putting up their air tents we always said, one day, we will upgrade to an air tent. So we were thrilled when UK based brand OLPRO asked us to be brand ambassadors for them and invited us to review their OLPRO Home 5 berth family air tent (affiliate link). This is our OLPRO tents blog review, but if you prefer to see a video review of the OLPRO tent, then check out our YouTube review of the OLPRO Home tent here:
Scroll to the bottom of this review for our 10% discount code.
About OLPRO tents
OLPRO was established in 2011, in the Malvern Hills in Worcestershire. They have been designing and producing top quality camping and camper van equipment ever since. Created by camping experts for 'people who want to stand out'.
Everything ordered from OLPRO is Free Delivery in the UK, no matter how big or how small and they have a generous 30 day returns policy as well as a 2-year warranty. (Our tent actually had 2 tiny holes in it when it arrived which they told me had never happened on this tent before but they are providing a replacement, which they would do for any customer. It was easy enough to patch up regardless though.)
OLPRO also offer a loan and go scheme where you can rent a selection of their tents.
The folks at OLPRO have give me a code for my readers that will give you 10% off OLPRO products, including this fabulous tent (affiliate link). Simply enter the code NYOMI10 to get your 10% off.
About the OLPRO Home 5 berth family air tent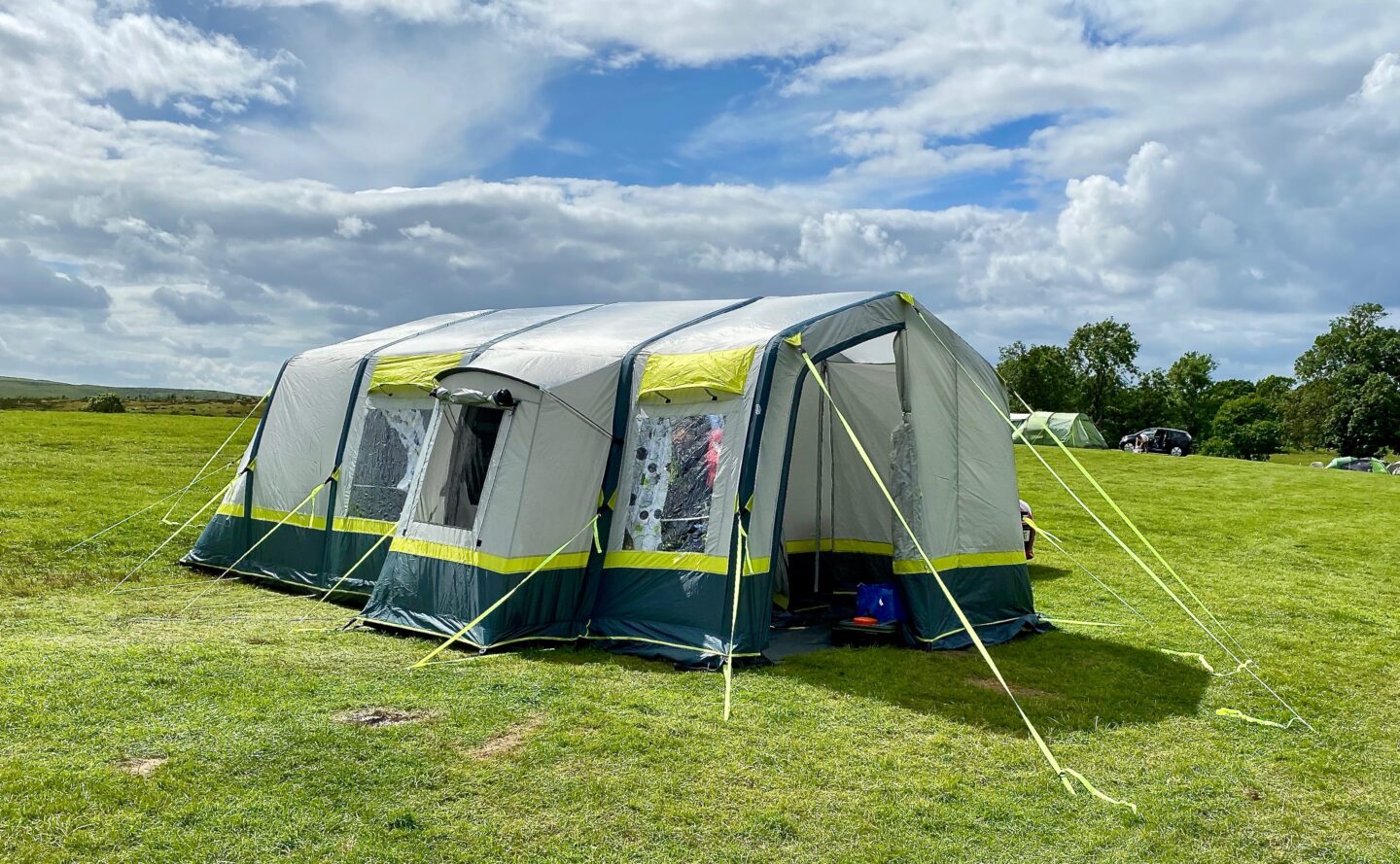 This award-winning tent (affiliate link) includes a 5 berth inner tent with room for air beds, a kitchen annex with ventilation and a large porch with a partitioned space for a camping toilet. The Home also comes with a Carpet for the living area of the tent.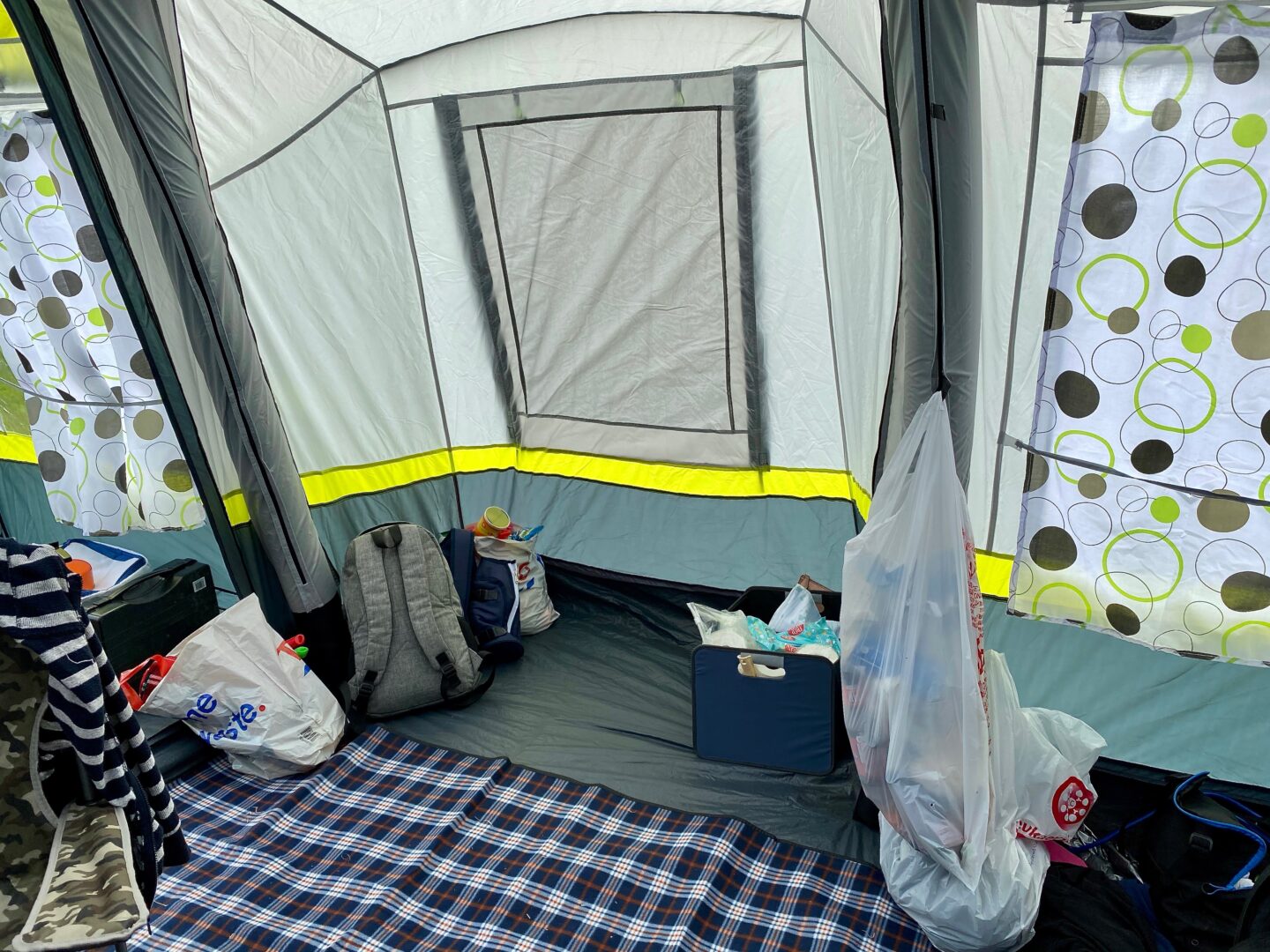 The OLPRO Home has a large open living space and has 4 large windows with curtains to give the tent a light and open feel. The inflatable beams make pitching this tent much quicker and simpler to pitch than a poled tent.
The Tent includes a 5 Berth bedroom inner tent with a removable divider, a zip-able doors and fly mesh.
The tent has 'storm bars' and a 5,000mm hydrostatic head. It has an integral groundsheet.
Positives about the OLPRO Home 5 berth family air tent
Size
The biggest plus about the OLPRO home tent is that it is so spacious. It has tonnes of headroom that you could be 6ft 5 and still stand up with room to spare. We weren't on top of each other as much in this tent as we were the last. Having a porch is a game-changer, especially one with some tarp flooring. It's so much easier to jump in the porch and get your shoes off there instead of dragging loads of dirt and mess into the tent.
Well designed with home comforts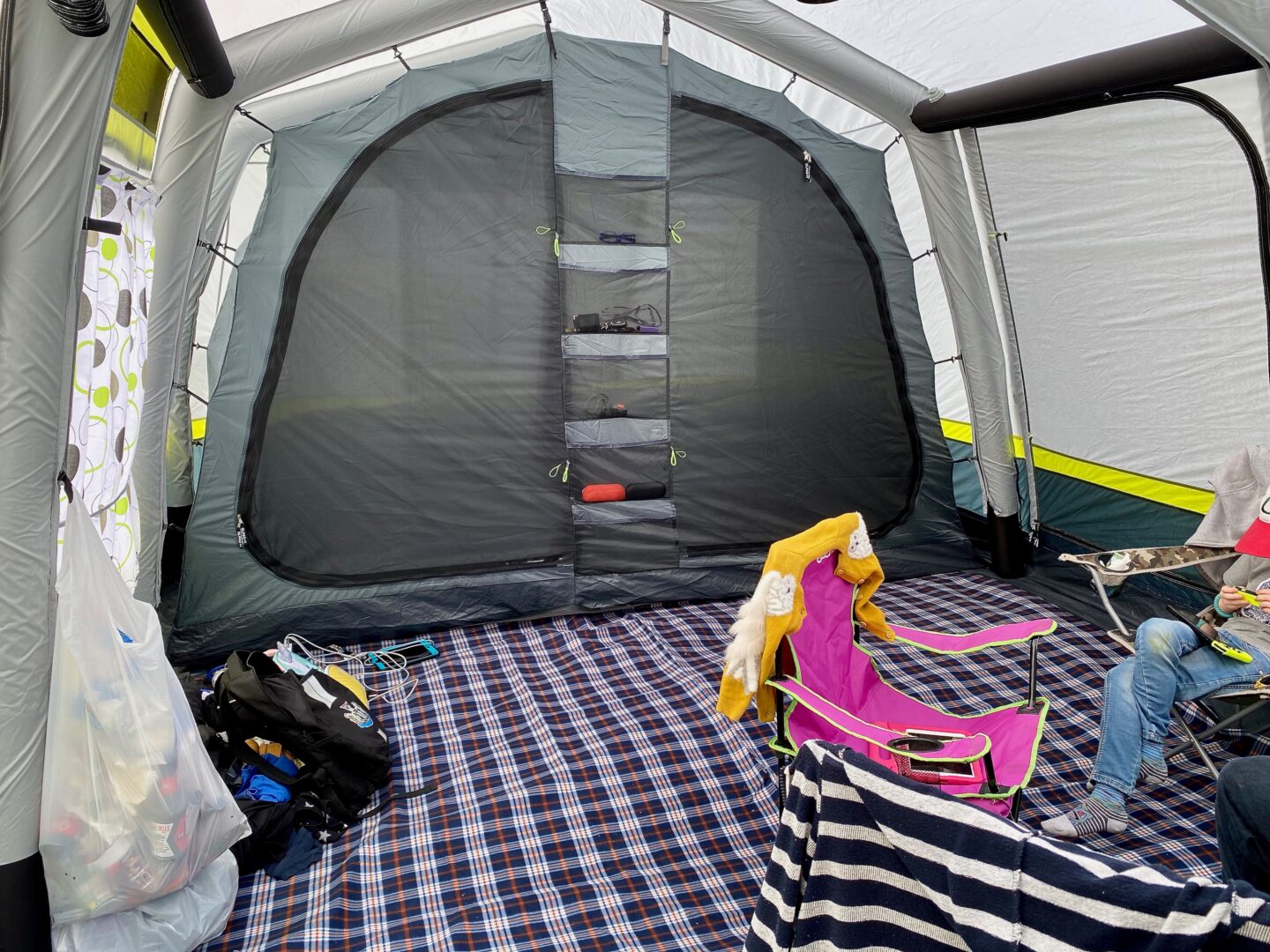 You can tell the OLPRO Home has been designed by people who actually camp. The layout works really well for a family. There are lots of handy pockets for storage around the tent, helping you to stay tidy and organised.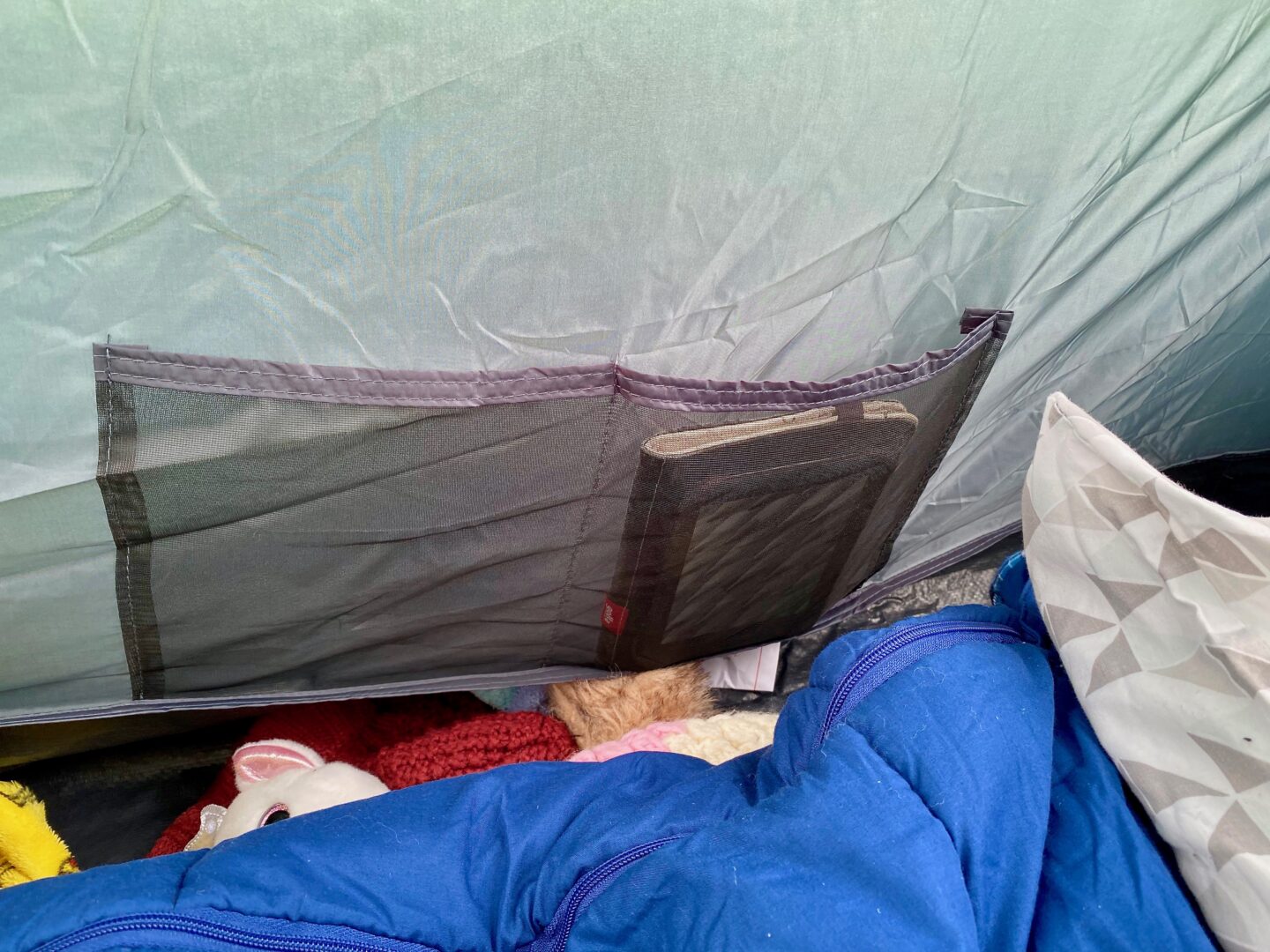 I also loved the little 'kitchen annex' that you could zip up to hide out of view. These little features just gave us so much more space.
We also loved that the porch had the toilet area separate so we could have a bit of dignity for once (whatever shred of dignity remains for me since having kids).
There are little features, like real curtains that help the tent feel a level above the tents we've had in the past. I've never had a tent with such comfort before, where I felt like I could have camped in it for a week easily.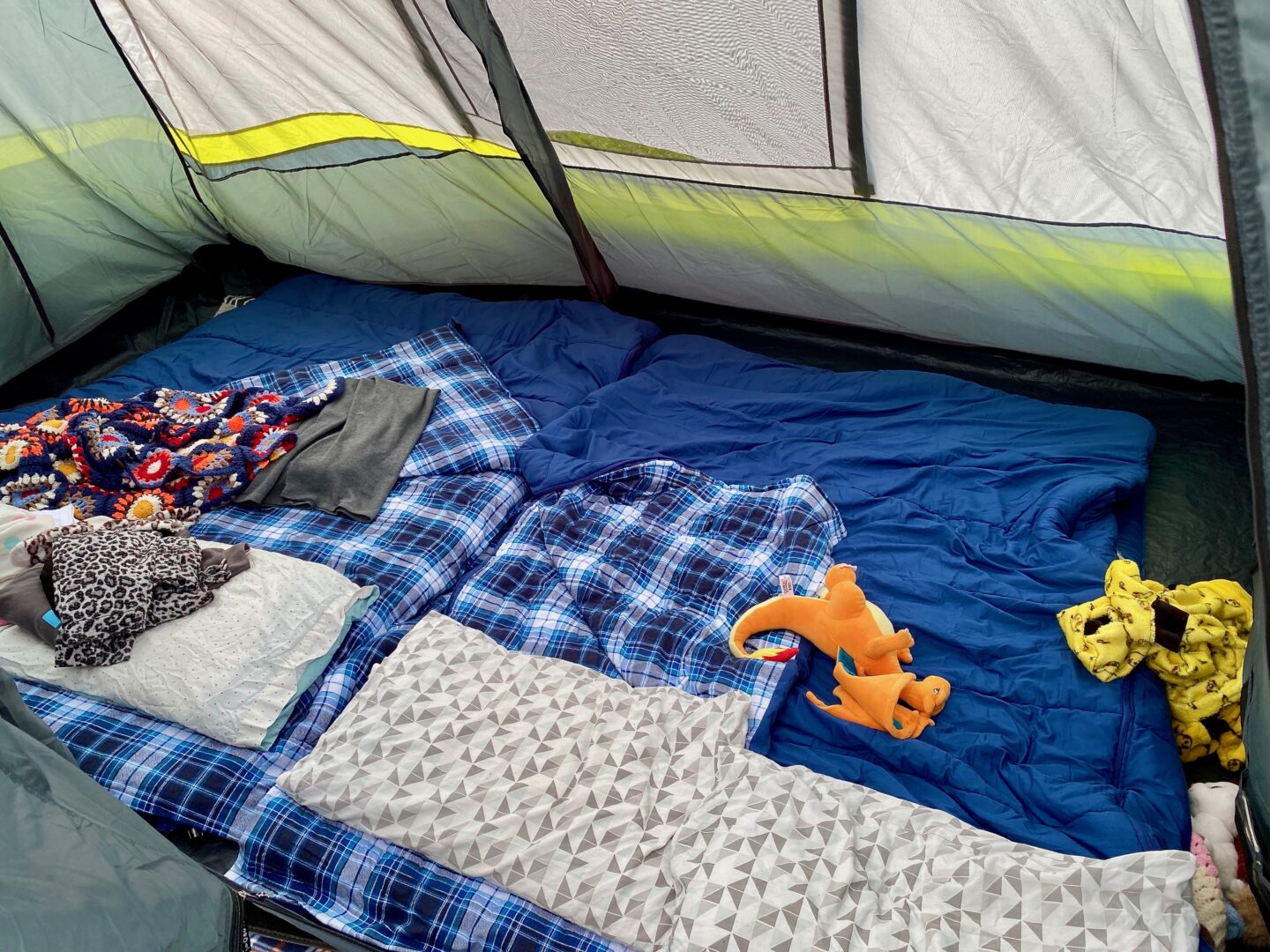 It was our first time having a tent carpet and we loved it. It made it so much warmer and cosier. I don't think I could go back to not having one now.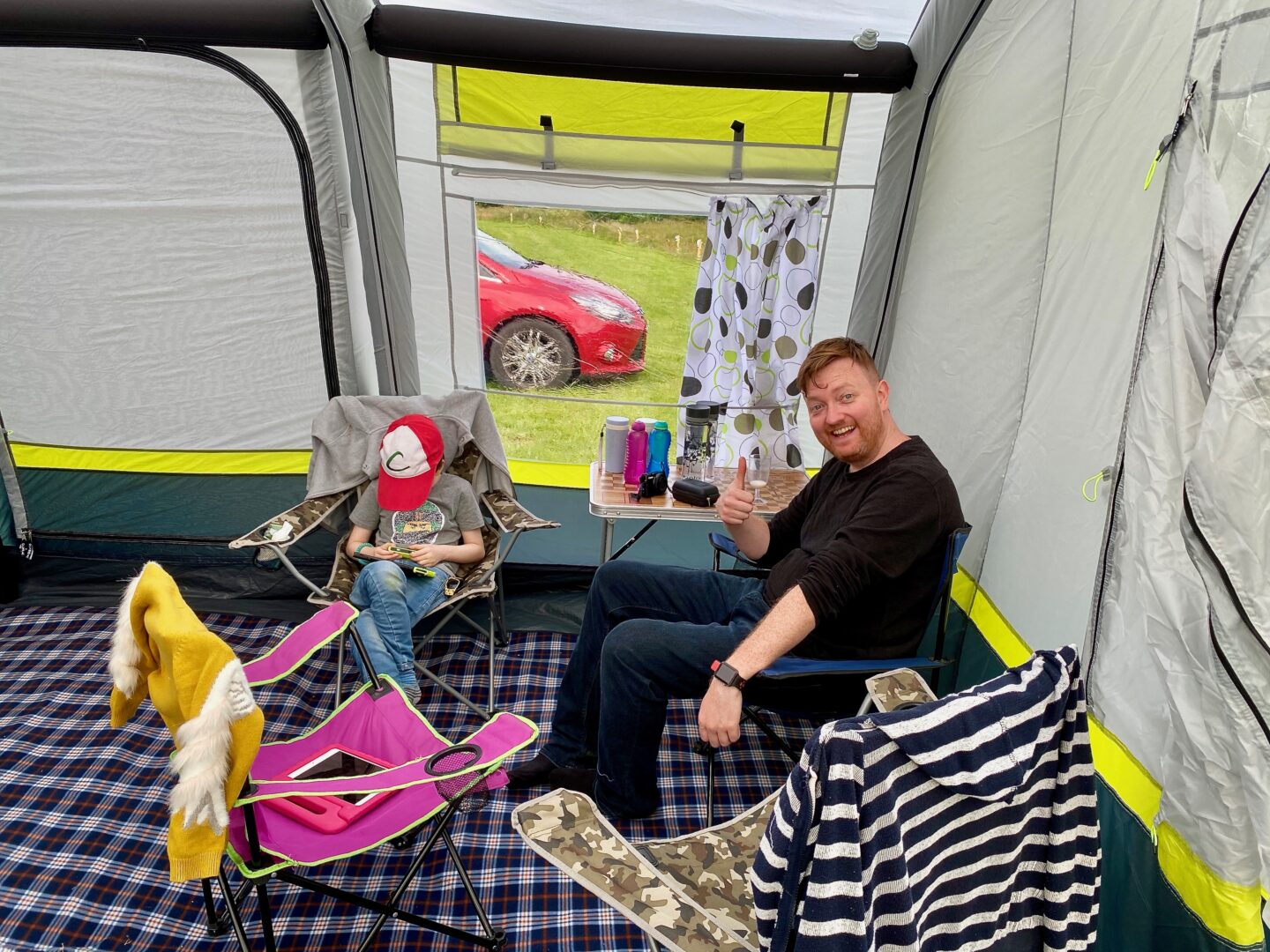 This tent is the perfect tent for longer camping trips where you can really make a home away from home.
One person can erect it
Another big pro of this tent is that one person could erect this tent on their own. With our last poled tent, it was a two-person job. Someone had to be pulling the tent poles through one end while someone else was pushing from the other end. Then someone needed to hold the poles upright while the tent was positioned. With the OLPRO Home, it's simple to inflate the air beams on your own. The tent comes with a manual pump that only takes a few goes to inflate a beam. Whilst it is quicker to have one person inflating the storm bars whilst the other is pegging in, it is totally possible to get this tent up on your own.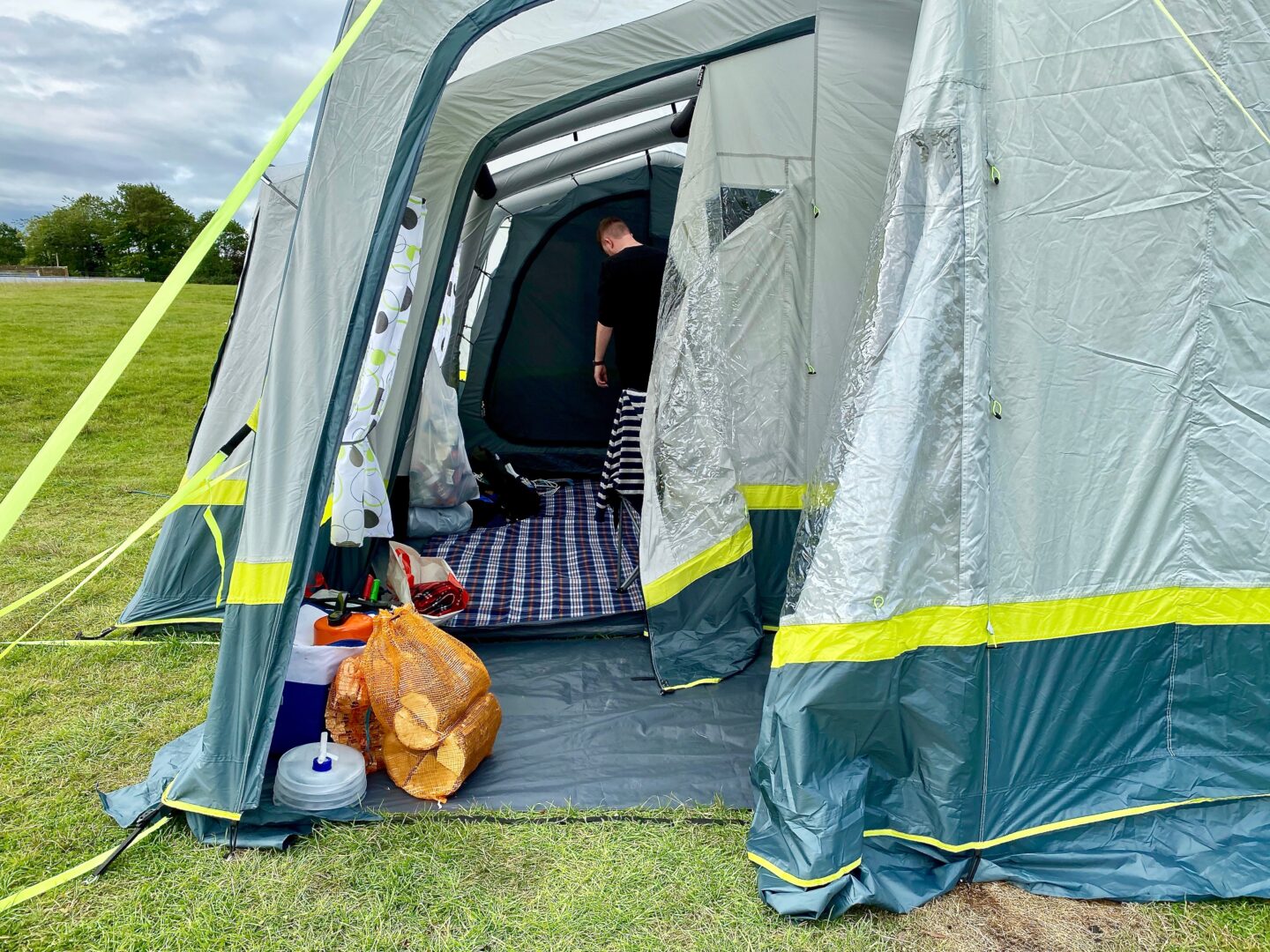 Drawbacks about the OLPRO Home 5 berth family air tent
The biggest pro of the tent is also the biggest drawback – as the tent is so big, it also takes up a lot of room in the car and it's 40kg. Our previous tent was 22kg so it's a significant increase for us. We have a Ford Focus and a roof rack and it made it more difficult for us to fit all our gear in the car. Our last tent all fit into one bag. This one fits into one large bag and one smaller bag (we show you the bags in the YouTube video).
I'm not sure how we will get on with this tent when it comes to taking it to festivals. It's too heavy to carry any distance and frankly, I think it might buckle our current trolly. It's something we'll have to look into when festivals happen again!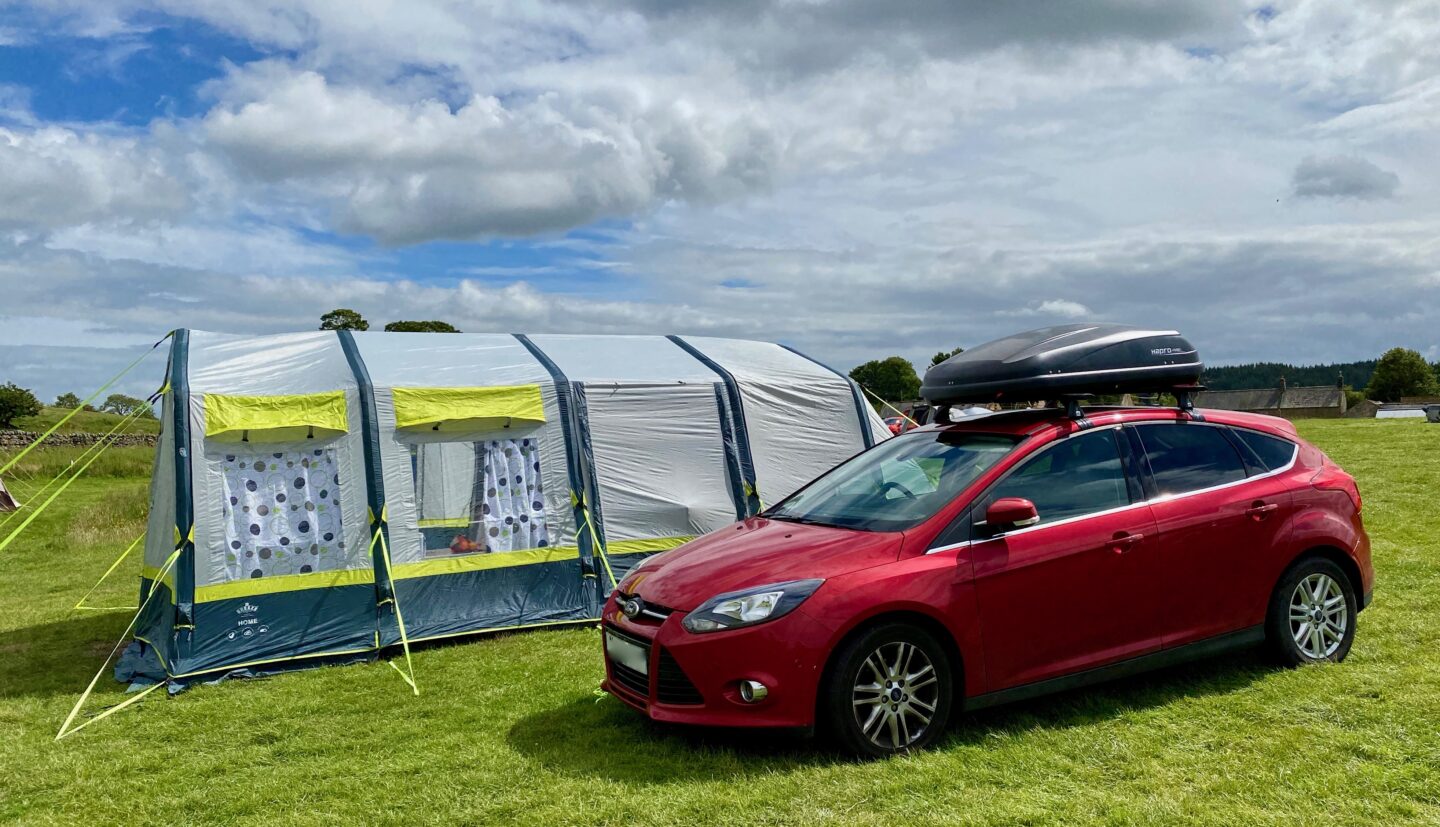 The height of the tent is great for tall people but if you are smaller, perhaps consider taking a folding step for putting the tent up. I wouldn't have been able to reach to fit the storm bars on by myself (I'm 5ft 3ins).
Now, bear with me because this really is nitpicking. The guy ropes for this tent are thick, adjustable and excellent quality. They seem really robust and I'm sure we'll be thankful for them in a storm. I can't see them snapping! However, if you are sensitive to noise (I have misophonia), they can be a little louder than regular guy ropes when blowing in high winds. Nothing major though. I'm as noise sensitive as they come and it wouldn't put me off the tent.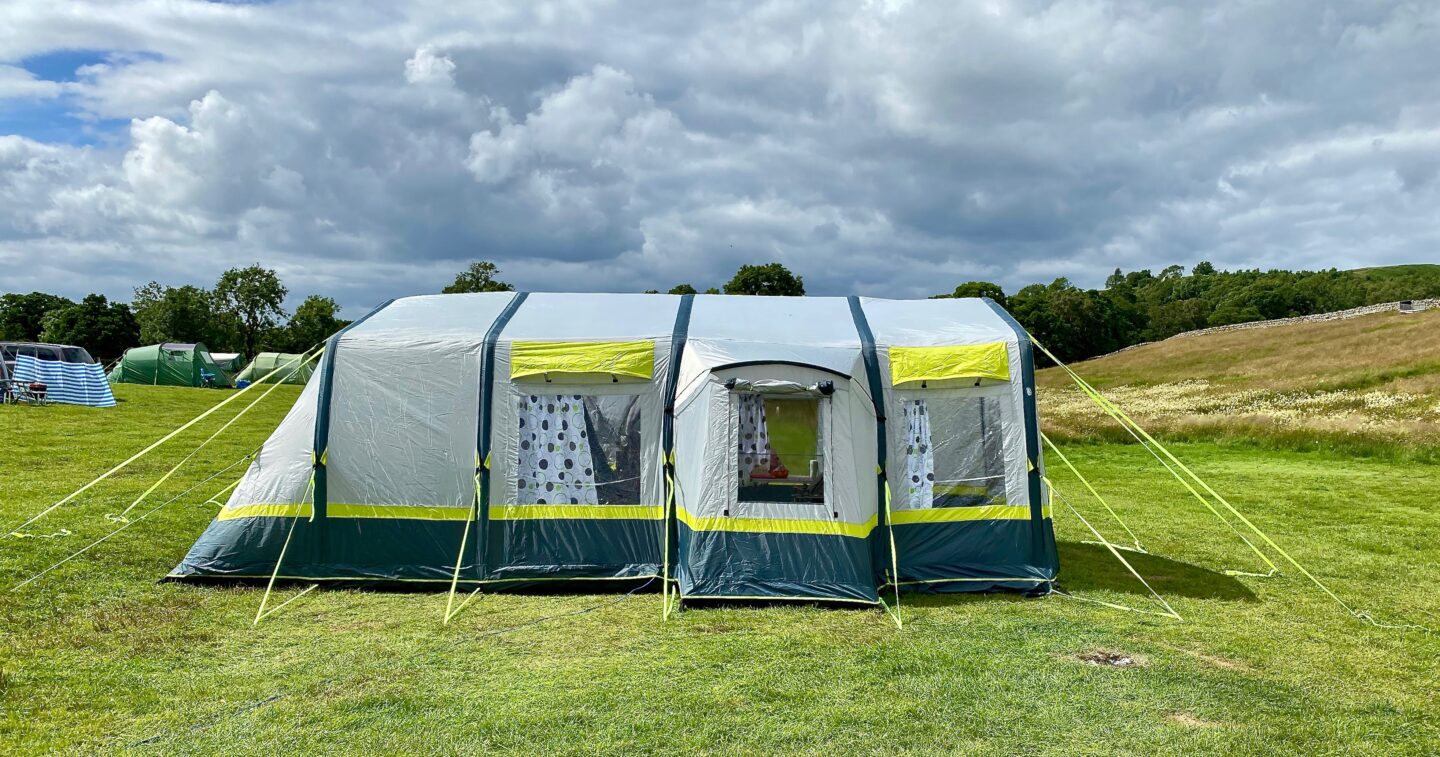 Summary of the OLPRO Home 5 berth family air tent
The OLPRO Home tent is great value for money compared to equivalent tents of the same quality and specifications. It's perfect for families who are camping on a campsite next to their car for longer durations.
It's perhaps not the right tent for you if you are wanting to take it anywhere you'd have to carry it any distance (for example, wild camping) due to its size and weight.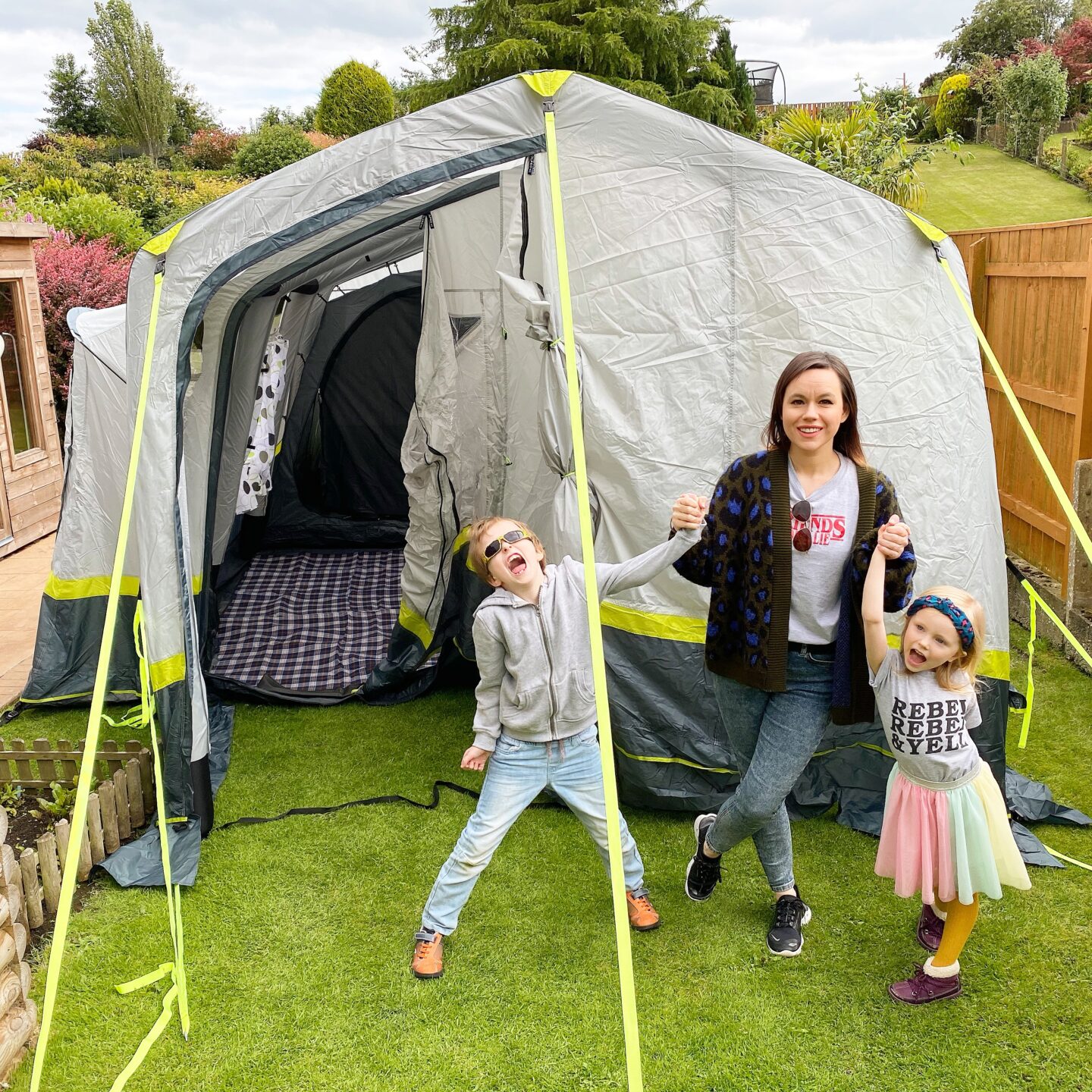 The OLPRO home is spacious and the layout is very well designed so that you aren't tripping over one another. I can see why the tent was commended for the best glamping tent in the Camping Magazine, Editor's Choice Award 2019. The OLPRO Home is more than just bog-standard camping, it's almost glamping.
Buy OLPRO tents here and get a 10% discount
Big thanks to OLPRO tents for having us as Brand Ambassadors this year and giving us this beauty to review! We are proud to work with OLPRO and think they are a real camping brand to watch.
Don't forget you can buy the OLPRO Home tent here (affiliate link) with 10% off with the code NYOMI10. That will get you the OLPRO Home tent for a bargain £764 at its current price (it's currently £900 at Argos) and that includes the luxurious carpet and footprint.
If you liked this review you might like:
You can read our review of our OLPRO tent that we love and you can buy the OLPRO Home tent here (ad/affiliate link) with 10% off with the code NYOMI10.
What's your favourite tent on the market? Let me know in the comments!
If you have enjoyed this post or found it useful, here are some quick and easy ways that you can support Nomipalony or say thanks:
Disclaimer: This is post contains some gifted items. This post also contains affiliate links. If you buy an item through an affiliate link you won't pay any more for that item but I will receive a small referral fee. As an Amazon Associate, I earn from qualifying purchases. For my full disclosure please see my about page.