More of us are choosing to do our yoga classes from home than ever before, due to this, you may want to choose a different yoga mat than you would use in the studio or on hard floors. I've been doing yoga at home on carpeted floors for 4 years now and have tried out a bunch of different mats. Here's the best yoga mats for carpet on the market this year.
Yoga mats for carpet
Our top pick yoga mat for carpet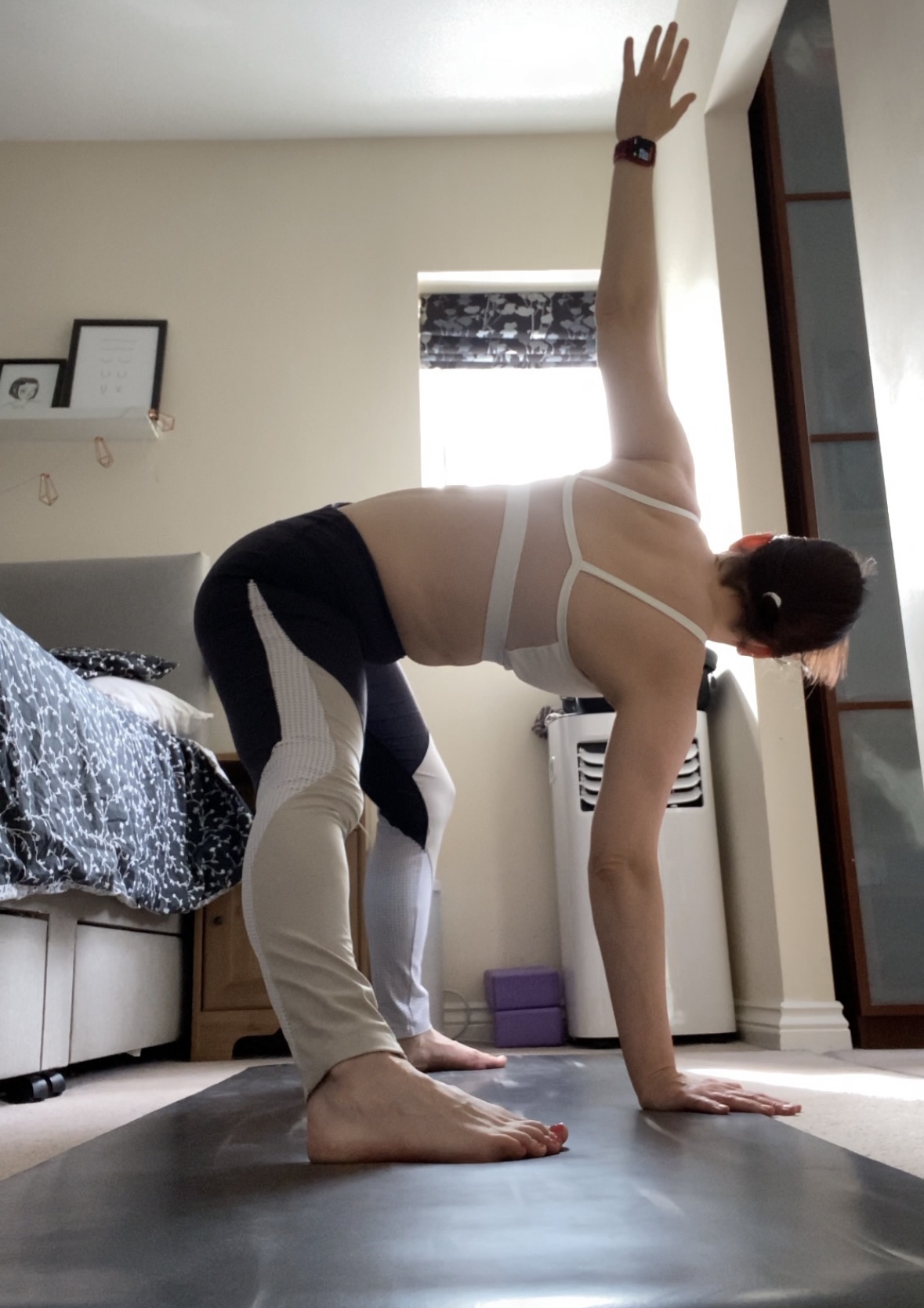 I've used my OG Lululemon yoga mat (affiliate link) on carpet at home for years without any issues. This mat has a natural FSC certified rubber base with a little extra cushion.
It has a 5mm thickness so its a great mat if you struggle with pressure on your knees.
This is also a really sticky mat and has really helped me with my poses as once a hand or foot is down it doesn't budge or slide.
I've been using this mat for a couple of years, indoors, outdoors and its holding up really well. A great all rounder but perhaps too heavy for travelling with at 2.38KG.
Also should be avoided if you have a rubber or latex allergy.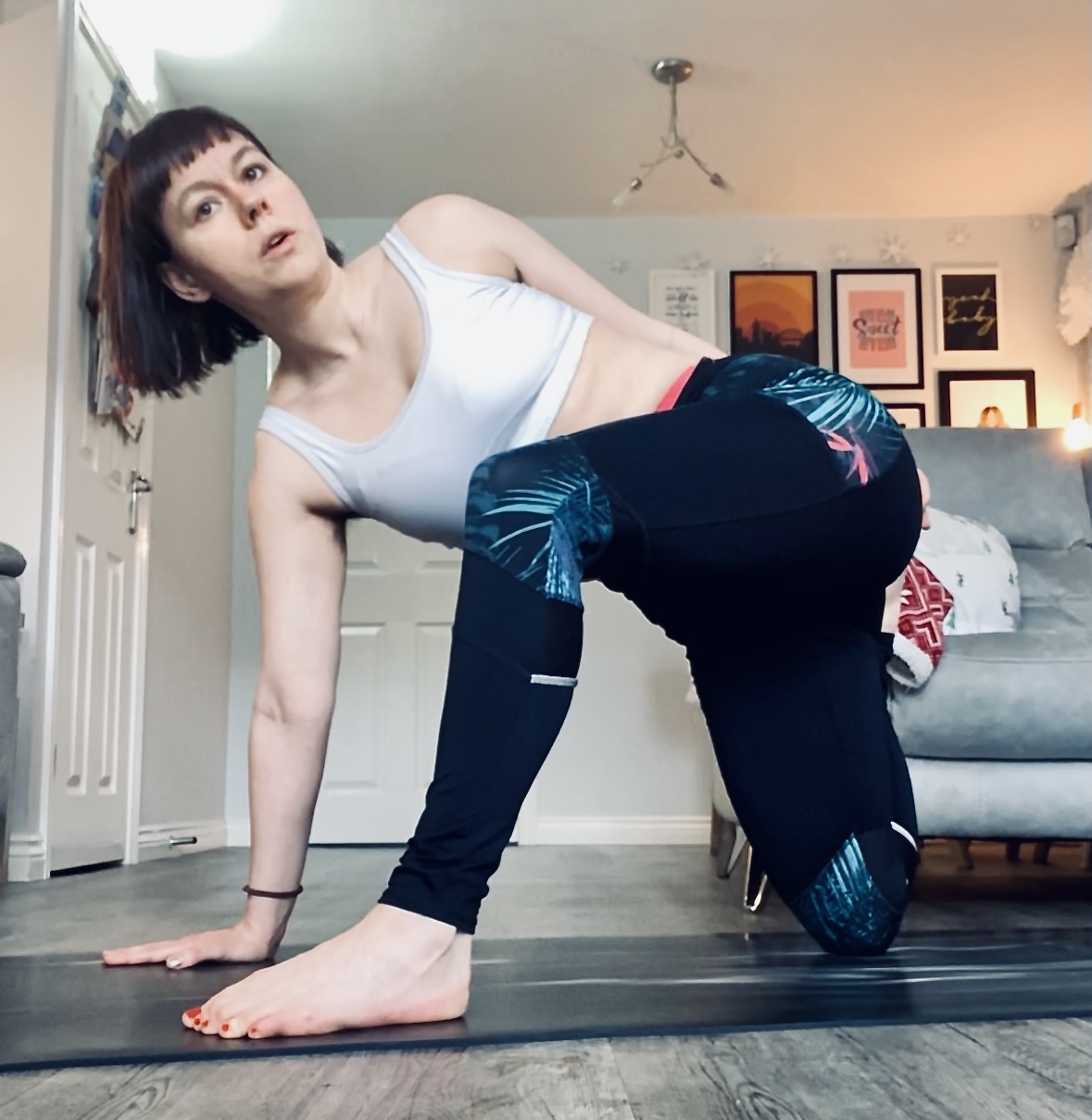 Best value for money yoga mat for carpet
If your budget is a little tight then this Basaho Cork Yoga Mat (affiliate link) might be a good option for you. The reviews of this mat are really good with people praising how non slip and sticky it is. Though beware, if you want a lighter mat then this isn't the one as reviewers comment on how heavy it is.
100% natural cork upper, sourced sustainably in Portugal.
Natural rubber underside for extra cushioning and grip.
Cork has natural grip which increases with moisture. More sweat equals more grip.
The natural tree rubber underside comes from sustainable sources and is free from synthetic nasties like PVC and TPE.
Self-cleaning, antibacterial cork for easy upkeep and freshness.
Free from toxic PVC/TPE/Plasticizers. 100% biodegradable.
Includes strap.
Plastic free packaging.
183cm x 61cm. 5mm thick
Best travel yoga mats for carpet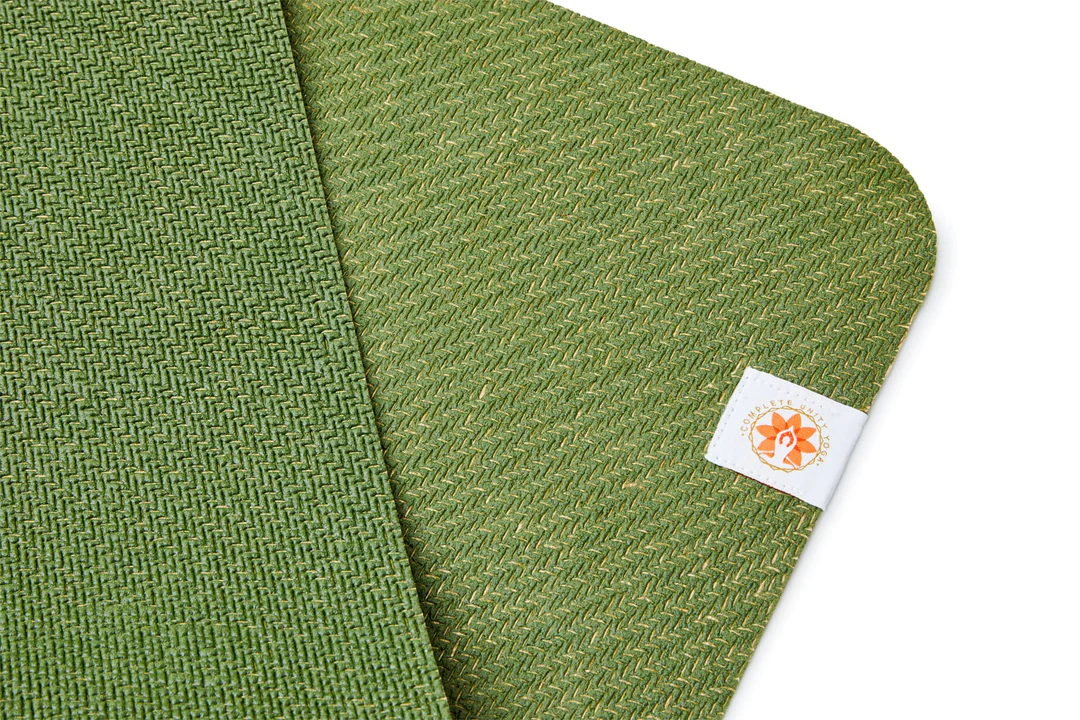 This popular high quality sustainable non-slip yoga mat (affiliate link) will give you the peace of mind of doing yoga without slipping. Thickness 4mm and weighs 2.6kg.
Eco-friendly made from sustainably harvested natural tree rubber & natural jute fibres 
Incredible grip 
Non-toxic (plastic-free, PU-free, BPA-free, TPE-free, PVC-free and free from microfibre) 
Cushioned 4mm of cushioning, comfort and durability to protect your joints
Ethically made using a zero-waste manufacturing process. A vegan friendly & eco-friendly yoga mat.
Zero plastic packaging packaged beautifully in FSC certified craft paper.
Liforme recently sent me their Liforme Rainbow Hope travel mat (affiliate link) and I've been using it on my carpet in my bedroom for the last few months and it has been great.
It's really stunning. It's the prettiest yoga mat I've ever seen.
It comes in it's own perfectly formed travel bag that makes it perfect for taking on your trips or just to your local yoga studio.
It features the Liforme signature alignment system (markings on the mat to help guide you in your poses). Has a great non-slip surface and durable, non-toxic and eco-friendly ink. 
The Liforme rainbow hope travel mat is planet concious too as it is biodegradable, non-toxic, and PVC-free. Perfect for any eco warrior. You can buy direct at Liforme here (affiliate link).
2mm thickness and 1.6kg weight. This one is my favourite travel mat by far – and it's been all the way to Amsterdam with me as a test!
What's more, Liforme recently become the first British yoga company to earn B Corp Certification after achieving one of the best Impact Assessment scores of all time in its sector – B Corp status is only awarded to companies with high standards of social and environmental impact.
Best thick yoga mat for carpet
Loved by Yoga teachers the world over is the Manduka Pro 6mm yoga mat (affiliate link).
An ultra-dense and spacious performance grip yoga mat that has unmatched comfort and cushioning. Designed for performance and durability, the PRO is backed by Manduka's promise that it won't peel, flake or fade for life.
This one is a great choice if you have a latex allergy as it is latex free and non toxic.
It's performance grip finish improves over time.
Best stylish yoga mat for carpet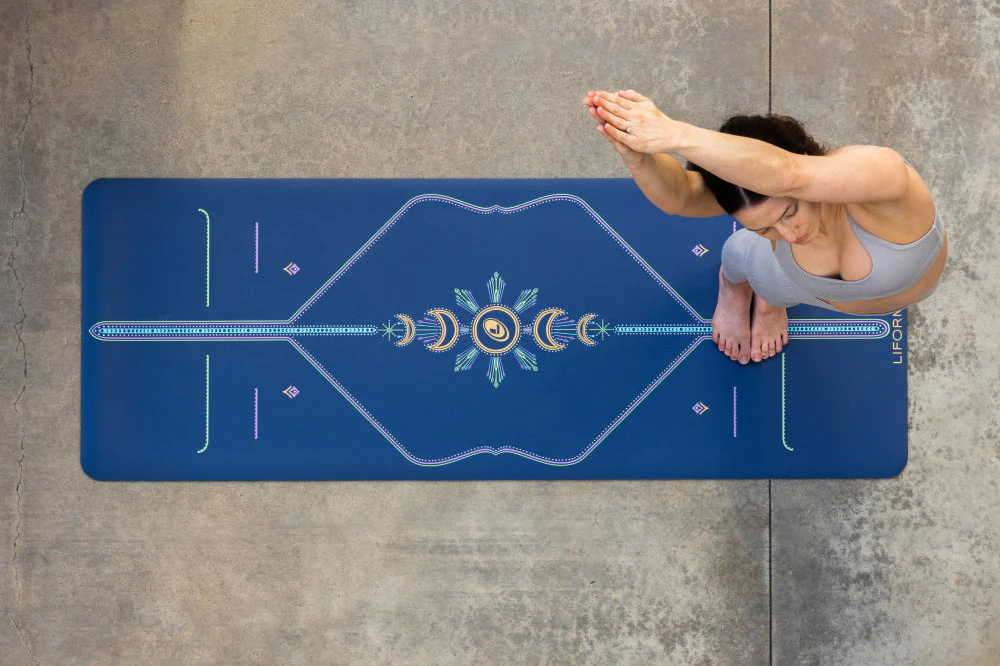 Liforme have just released a beautiful special edition, Cosmic Moon mat (affiliate link) with warrior-like grip and planet-friendly design and featuring its trailblazing, Alignment System and unique, patented waterproof barrier.
The new mat will be available from Liforme (affiliate link) in full size for £140 and a complimentary bag is included with every mat.  
Liforme has never faltered in its mission to improve not just its unique and groundbreaking products, but its impact on the planet, by pushing boundaries, being eco-friendly, ethical  and socially just. To date, they have planted more than 200,000 trees with TreeNation and donated over $650,000 to  charity partners including WWF, GLAAD, Friends of the Earth  and RSPCA.  
Best ethical yoga mat for carpet
It's not one I've personally tried but some people rave about the Yogasana cotton yoga mats (affiliate link) for carpet.
Yogasana offer a 15 YEAR warranty. You can also practice on the mat and if you aren't happy you can return it.
Yogasana mats are hand-made in the region of India where yoga began. For every mat purchased they donate $5 to provide pencils, pens, paper, and other school supplies to help the education of the children of our workers in India.
Frequently asked questions about yoga mats for carpet
Can yoga mat be used on carpet?
You can use yoga mats on carpet. Depending on the thickness of the carpet and the type of mat you are using, it can be more 'wiggly' making balance poses more challenging.
After using a yoga mat on carpet you may find you have improved your balance when you return to a yoga mat on hardwood flooring.
Some people find using a yoga mat on carpets can make their wrists sore. Others find it helps their wrists. It just depends on the individual, their carpet and the mat they choose.
What is the best yoga mat thickness for carpet?
You might find that you can get away with a thinner yoga mat on carpet as there will be a bit more cushioning for your knees. However, if you choose a mat that is too think it may be more prone to bunching up and moving on the carpet.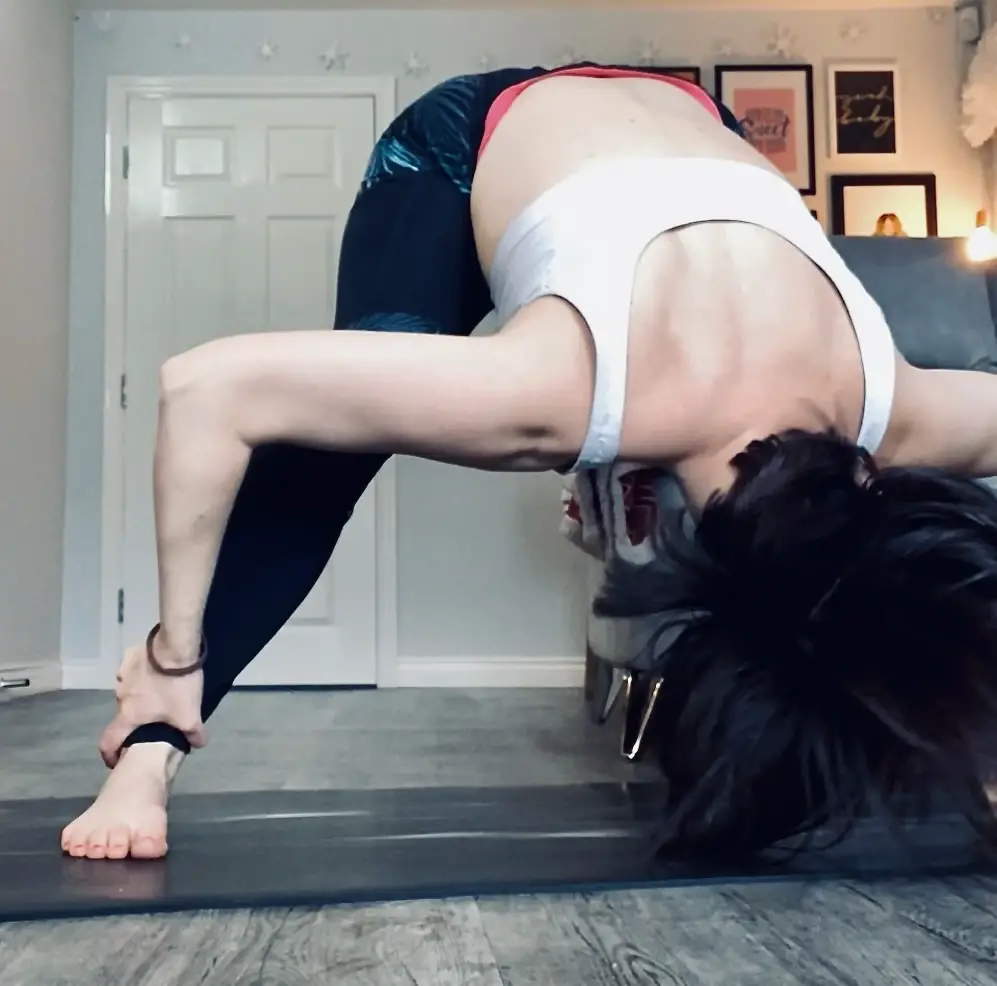 How do you get a yoga mat to stay on the carpet?
To get a yoga mat to stay on the carpet you can choose a yoga mat from my list below that are the right thickness, have a grippy bottom side and isn't prone to sliding and bunching.
If you already have a yoga mat that isn't gripping the carpet you could try some affordable rug grippers or anti-slip rug underlay like these below (affiliate links):
I hope you enjoyed this post. If you have any other questions drop them in the comments and I'll do my best to answer them.
In the meantime, you might also find these posts helpful: Yoga for office workers
If you have enjoyed this post or found it useful, here are some quick and easy ways that you can support Nomipalony or say thanks:
Share this post with your friends  
Pop over to my Amazon Storefront to see what products I have been buying and loving from there recently, including my health and fitness products list.
Sign up to my mailing list 
Women can join my feminist Facebook group – the Nomipalony Freehouse
Disclaimer: This post contains affiliate links. If you purchase through an affiliate link you will not be charged any more for your purchase, but I will receive a small fee for referring you. As an Amazon Associate, I earn from qualifying purchases. For my full disclosure policy, please see my about page.