I've worked in office jobs since I graduated University a decade ago but I never realised how bad it was for you to sit behind a desk all day until I got pregnant, and then subsequently began working part-time. During my pregnancies my pelvis and back and even my coccyx bone ached when having to sit at a desk for long periods – so much so that my employer had to order me new office chairs. In this article I'm going to give you some great tips for yoga for office workers.
Yoga for office workers
Now that I'm part-time I'm much more active on my days home with the kids than I am on my 'work' days. My Fitbit tells me that I do at least triple the number of steps on my days 'off' and sometimes considerably more than that (despite my full time colleagues telling me that my days not at work are my days off).
Because of this, now when I'm at work I feel so uncomfortable sitting at my desk for long periods. I notice it in my neck and hips especially. I'm still breastfeeding so I know I still have more of the Relaxin hormone in my joints than usual, so I wonder if that is part of it.
Regardless, pregnancy and childbirth has definitely left its mark on the resilience of my body for sure. Just a month or so ago I was seeing a chiropractor because I had a sore neck from the office/bedsharing etc. Preventative self-care can save you a lot of time, discomfort and expense!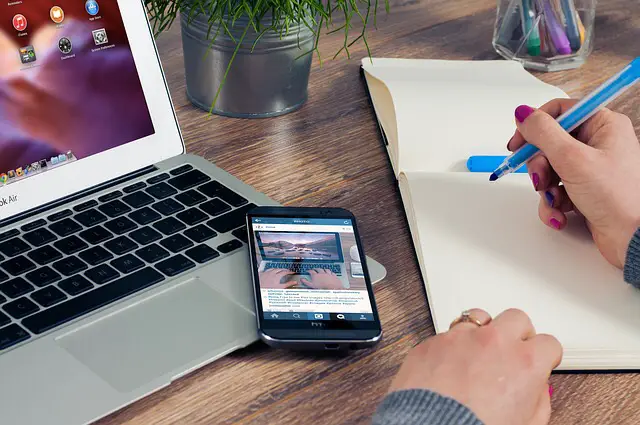 I'm always trying to find ways to move more at work. Much to my colleagues' frustration, I eshew tea club because I like to get up and go to the kitchen for my own drinks so that it's an opportunity to get up and move.
I'm currently using my lunch breaks to express breastmilk so I'm not getting an opportunity to get out of the office and go for a walk on my lunch break unfortunately. I am lucky to live close to my place of work that I can walk my commute, so most of the time I do make the effort to do that, even if it means I arrive slightly bedraggled I figure it's the least I can do when I'm mostly sitting on my bum for ten hours!
Also, it might sound a bit mad but sometimes when I go to the loo I do 10-15 squats or wall-leaning press-ups. It takes ten seconds and it does make a difference, you can feel it the next day and as it's just incorporated into my day I don't need to find the time to do them (and therefore not do them at all).
I'm a huge fan of yoga as you might have noticed if you read my post about trying out the Happy Yoga class in Newcastle but between the kids, working, blogging and vlogging, I just don't have the time to make it a regular thing unfortunately so I was over the moon to see this office yoga infographic the other day.
Yoga for officer workers infographic – seated yoga sequence


It's such an easy way to incorporate a healthy practice into your day. I have it printed out and stuck at my work desk now so I can do these 5 minute office yoga moves at regular intervals throughout my work day. I'm even trying to persuade my colleagues to join me but funnily enough they are less enthusiastic about joining me with office yoga than they usually are about joining me with eating cake!
I encourage you to print out a copy and keep it on your desk too (or you can simply pin the image above if you are on Pinterest). They are super easy to do and really will make a difference to your flexibility and comfort. What's more important than your health?!
Don't worry if you are clueless about yoga, Furniture at Work have made this great, short YouTube video showing how you can use the positions in the infographic.
What do you do to stay comfortable in the office? I'd love to hear your tips so let me know in the comments!
If you liked this post about yoga for office workers then you might also like Best yoga mats for carpet and Best tried and tested yoga mats for sweaty hands.
If you have enjoyed this post or found it useful, here are some quick and easy ways that you can support Nomipalony or say thanks:
Share this post with your friends  
Pop over to my Amazon Storefront to see what products I have been buying and loving from there recently, including my health and fitness products list.
Sign up to my mailing list 
Women can join my feminist Facebook group – the Nomipalony Freehouse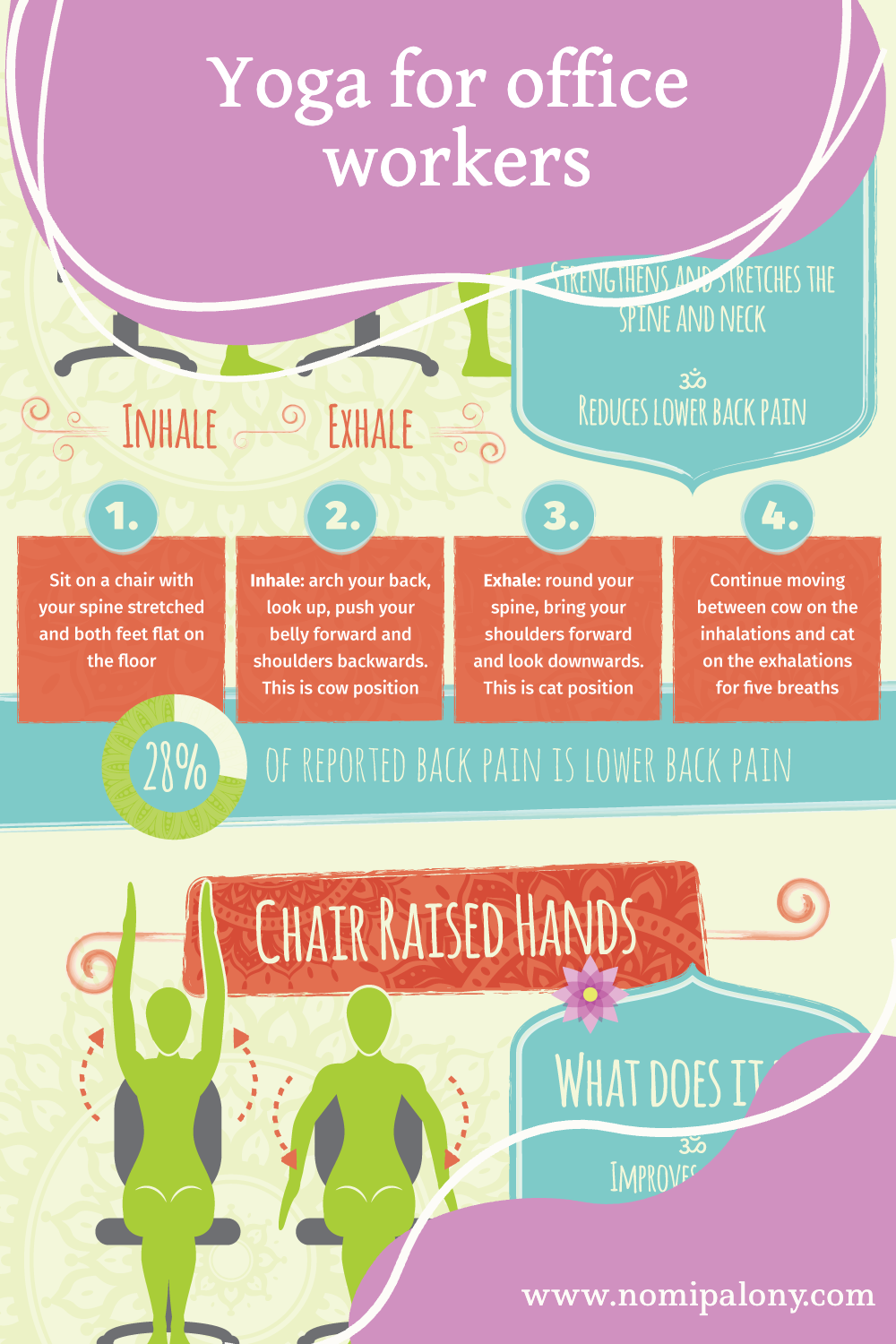 Disclaimer: this post was sponsored by Furniture at Work. It was written in October 2019 and last updated July 2023.