I've spent the last 6 months or so trying out the Evlo Fitness app. In this Evlo Fitness review I'm going to share how I've found it, what's good, what's not so good, what equipment you need and what the cost is and more.
What is Evlo Fitness?
Evlo Fitness is a fitness membership programme accessible via an app or their website.
The philosophy of Evlo is all about building a strong and defined body with less wear and tear on your joints. The programme is designed and led by Dr Shannon Ritchey a qualified Doctor of Physical Therapy (DPT) and Personal Trainer (PT).
Uniquely, all of Evlo's workouts are designed by qualified physical therapists (or physiotherapists here in the UK). They use their knowledge and physics to create the most effective (and safe) moves to target your muscles, based on science and biomechanics. 
They do this by calculating the force and load to the targeted muscles and joints to work out which moves will get you the most bang for your buck. Let me tell you, it's incredibly effective.
As long time readers know, I'm a Centr app Founding Member and am a big fan of theirs, having followed their programme for 3 years. However, I was getting injuries a bit too frequently.
When I came across Evlo and was intrigued by their philosophy. Could I be doing less aggressive and tiring workouts but get better results? I saw an add for a one off one month free trial for Black Friday (November 2021) and thought I would give it a go and I have to say, I really liked it.
I ended up following it entirely for the month free trial and then after the trial ended I have followed their free week and other occasional free workouts for non paying members. Sadly the subscription fee is just too expensive for me otherwise.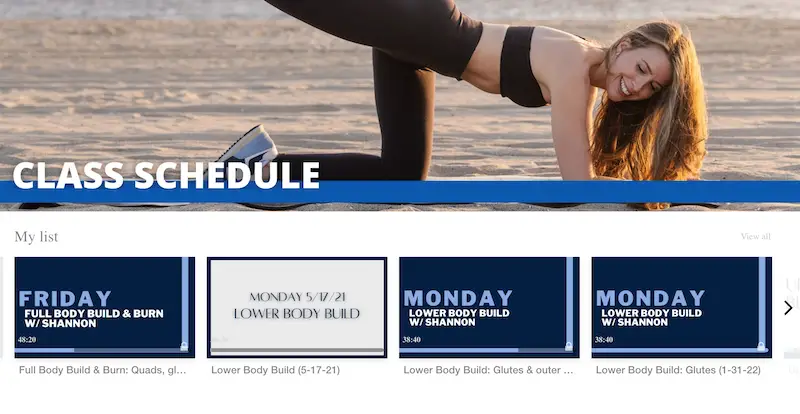 Evlo exercise
On Evlo Fitness there are a variety of different types of workouts – you will get new weight lifting, Pilates, yoga sculpt, and cardio sessions weekly.
You can attend a live class nearly every day of the week but all classes are recorded, with 200+ past classes to choose from. 
There is also a library of classes to improve range of motion and stability.
Evlo workout
A typical Evlo workout will have a long warm up and cool down that focuses on small mobility and breath work.
Their signature 'build and burn' work out then focuses on a few select body parts with slow and controlled dumbbell movements designed to hypertrophy the muscles.
Evlo has a focus on using internal resistance by really focussing on your mind muscle connection to ensure optimal effectiveness of every rep.
A lot of the movements go very slow on the eccentric (lowering) phase of the exercise to burn out the muscles.
Exercises are chosen using physics and biomechanics to work the muscles in the most effective way. They are designed with mechanics, the exercise curve and early phase loading in mind so you are working smart.
For example, instead of tricep kick backs, Evlo chooses skull crushers for triceps as they work the triceps more effectively due to the positioning of the muscles and gravity.
Evlo states most their workouts are around 30 minutes but I found the ones I did were more often around 40-45 minutes. These do include longer warm ups and cool downs though.
My results on Evlo fitness
I really noticed a difference in my arms and my glutes on Evlo. One of the things I dislike about many workout programmes (like Centr) are they are often really HIIT workout heavy and really squat heavy.
My pelvis is all out of whack after having 2 kids and squats never feel great for me. Plus, with my body shape they work my quads more than my glutes and it was making me really quad dominant and my glutes were not strong.
Evlo rarely does squats and much more often does step ups, bulgarian split squats and glider slides all of which I find to be much more effective at targeting the glutes.
In addition, most of the Evlo work is with single sides and I've found that so helpful in addressing imbalances in my body, in particular my glutes.
Evlo made me realise that a lot of the Centr workouts feel tough and are great for my cardiovascular system but they were tiring me as a whole, rather than fatiguing individual muscles to the extent that they will actually grow.
The workouts are mostly very gentle as well. There is very little jumping around or anything high impact. Often I didn't even need to shower after these workouts but the targeted muscles were cooked! I didn't need to programme my workouts around hair washing day!
I did find that my max VO2 level fell during Evlo, I went from 34.4 when I started to 32.6. Since adding in more cardio/HIIT workouts again it's back up to 34.9. When I was doing Centr exclusively and 6 days a week my max VO2 was 41.
Personally I feel like Evlo is a little too light on the cardio for me but Centr is too heavy. Now I mix and match the two – some Evlo muscle building workouts mixed with some Centr HIIT, pilates and Yoga. I find that is quite a nice balance for me and I don't get bored.
Something I really love about Evlo is that the trainers are physical therapists and are teaching you as you train. Telling you which muscles the exercise is working, how to feel it more, how to get the best positioning etc. I love to know why I'm doing what I'm doing.
I've learned a lot more from the Evlo workouts than from other trainers who are just shouting 'keep it going' at me. The trainers are also pointing out which muscles are working and why. I've learned the names of so many muscles I didn't even know about.
For example, Evlo has taught me about the parasympathetic nervous system, early and late phase loading, exercise curves and arthrokinetic feedback. All things I had not learned from 3 years following Centr.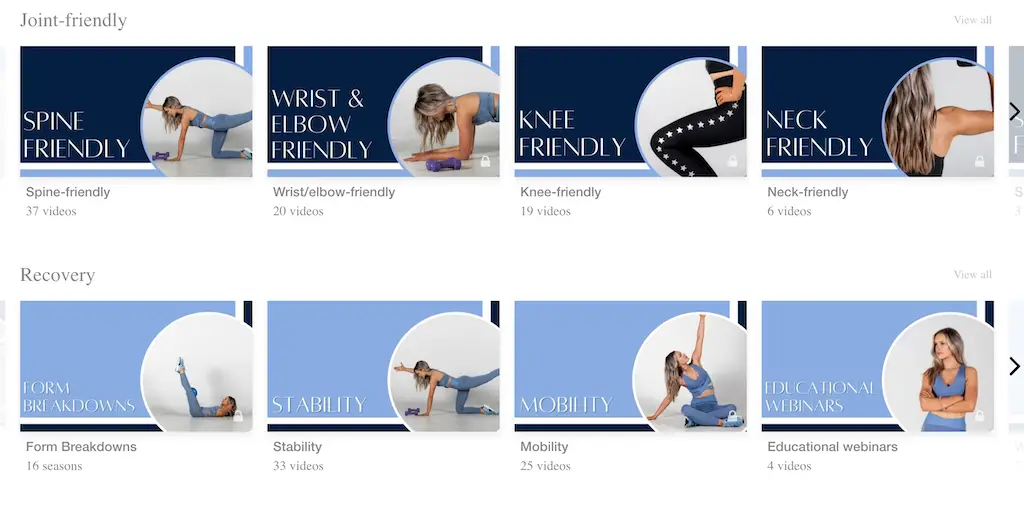 Evlo warm ups and cool downs
One of my absolute favourite things about Evlo is the warm ups and cool downs. I truly hate warm ups that feel like you are jumping straight into the workout – for example by jumping! Centr is often guilty of this. Like what am I warming up to if jumping jacks and running with high knees is in my warm up!
Evlo warm ups always include some diaphragmatic breathing and mobility work which at 38, post 2 kids my body really needs. They always finish with savassanah which previously I had only done with yoga. But why should it only be kept for yoga?! It's such a wonderful way to end a workout.
Evlo Fitness reset week
Evlo's whole philosophy is that rest is just as important as work in allowing your muscles to recover and grow. They really practice what they preach and have recently introduced a week long reset week every 12 weeks.
During this week they have different classes where you work on gentle recovery and meditation and daily walks.
If you want to keep doing your normal workouts you can but if you feel you need the week for recovery then it's a really cool way to give yourself a break. I like that the teachers do it at the same time.
Evlo Fitness cost
The biggest downside of Evlo for me is the cost. It's the most expensive fitness app I've seen which is prohibitive for me.
The cost is a little confusing. If I go to subscribe via my apple app then it's currently £49.99 a month in the UK. However if I go to sign up via the website it's £41.03 for a month or £438.92 for the year. That works out at £36.58 per month.
If you are in the US it's $55.99 per month or $599 a year.
I think one of the reasons the price is so high is because Evlo is offering live workouts every day. Personally I'd rather have the cost cheaper and not have the workouts live.
As I'm in England, I could rarely actually do the live workouts anyway due to the time differences. Actually, often it meant I couldn't access that day's workout as it wasn't available yet so I'd have to do a different workout from the library.
For this, I prefer Centr who have all the workouts in the app pre-recorded. Then some occasional fun workouts live on Instagram every now and again.
Personally I just can't justify the cost. Centr in comparison costs £7.83 per month (annual) up to £22.99 if billed monthly. If you are American it's $29.99 a month or $10 a month if you take out a full year.
Centr has a whole library of nutritious recipes in it too whereas Evlo doesn't have any recipes. Evlo does have some videos offering general nutrition advice which is helpful but I missed the recipes options, especially considering the cost.
In truth, whilst I love Evlo's philosophy and find the workouts very effective. I just can't justify spending that amount of money on a fitness app when there are much cheaper, also effective options on the market.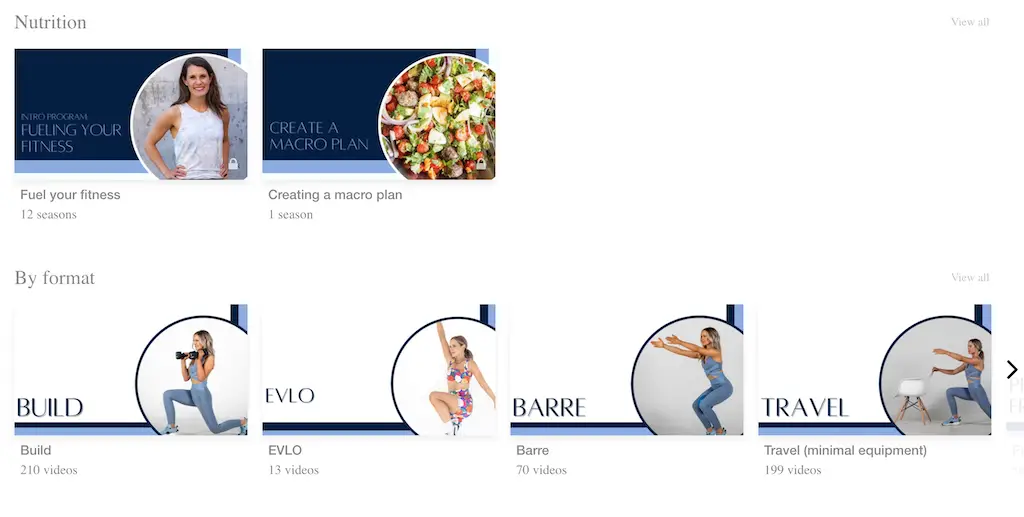 Evlo Fitness free week and Evlo Fitness free classes
Thankfully Dr Shannon Ritchey is mindful that her programme is expensive so she keeps a free week accessible for those who can't afford to pay. You can access a sample week for free and Shannon does occasionally change it so you don't get bored either.
So what I do is I dip in and out of that free week and any other occasional free classes she adds on there. For example, they did a class for the Evlo birthday that they made accessible to all.
Now this certainly isn't as good or effective as having access to the whole programme. In particular, there are a number of joint mobility assessment videos that are fantastic and you won't have access to on free but it's still a great option if you can't afford the full programme.
It's also a great way to try Evlo out before you commit to purchasing the programme.
At the moment they have a 14 day free trial option on and on rare occasions (like Black Friday or Mother's day) I've seen them extend it to a month which is so worth looking out for.
Evlo fitness equipment
You don't need much equipment for Evlo. All the workouts on Evlo Fitness at do-able at home with some basic equipment.
You will definitely need a range of dumbbells for Evlo Fitness – ranging from light to heavy. A chair that you can step up and down from or lean on is essential (or a step up bench if you have one, mine is linked below).
You will need some resistance bands and ideally some sliders (though you could use magazines or kitchen towels as a sub). I have a 9 inch pilates ball that is used for the ab exercises – though again you could sub with pillows.
Below I've linked some of the products I used for Evlo.
Evlo Fitness community
Evlo has a comments section in the app. Only paid members can comment but all members can see them. There is also a private Facebook group for Evlo members which currently has 583 members at the time of writing this (May 2022).
Evlo Fitness Instagram
Evlo Fitness has an Instagram page that posts helpful educational videos regularly. You can also follow Dr Shannon Ritchey who has a really informative page too. They also have Tik Tok.
Evlo schedule builder
Using the Evlo schedule builder, you can answer a few questions and know which Evlo classes to take each week. This will vary depending on your goals and how often you want to workout, for example 3 times a week or 5.
Evlo Fitness Podcast
Dr Shannon Ritchey who runs Evlo has a fantastic podcast that I really recommend. It is called Fit Body, Happy Joints and is what it says on the tin (tbh this is probably what Evlo should have been called too if you ask me). It's really educational and Shannon doesn't mess about with ads or long intros etc. It's straight down to business and I've learned a tonne from listening to it.
Evlo Fitness YouTube
Evlo fitness does have a YouTube channel but it isn't updated very often. The last update was 6 months ago.
Shannon Ritchey also has a YouTube channel but again that hasn't had a video for the past 6 months.
The content on these YouTube channels is similar to what is in the app though so it's another place for some free content. Their focus is on Instagram and the podcast.
Summary of Evlo fitness
I think Evlo fitness is a fantastic programme, especially for ageing women. It's focussed on building muscle and strength in a smart but gentle way with minimal equipment requirements. However it is on the pricier side of fitness apps so do the free sessions to see if you like it before committing.
If you liked this post you might also like:
If you have enjoyed this post or found it useful, here are some quick and easy ways that you can support Nomipalony or say thanks: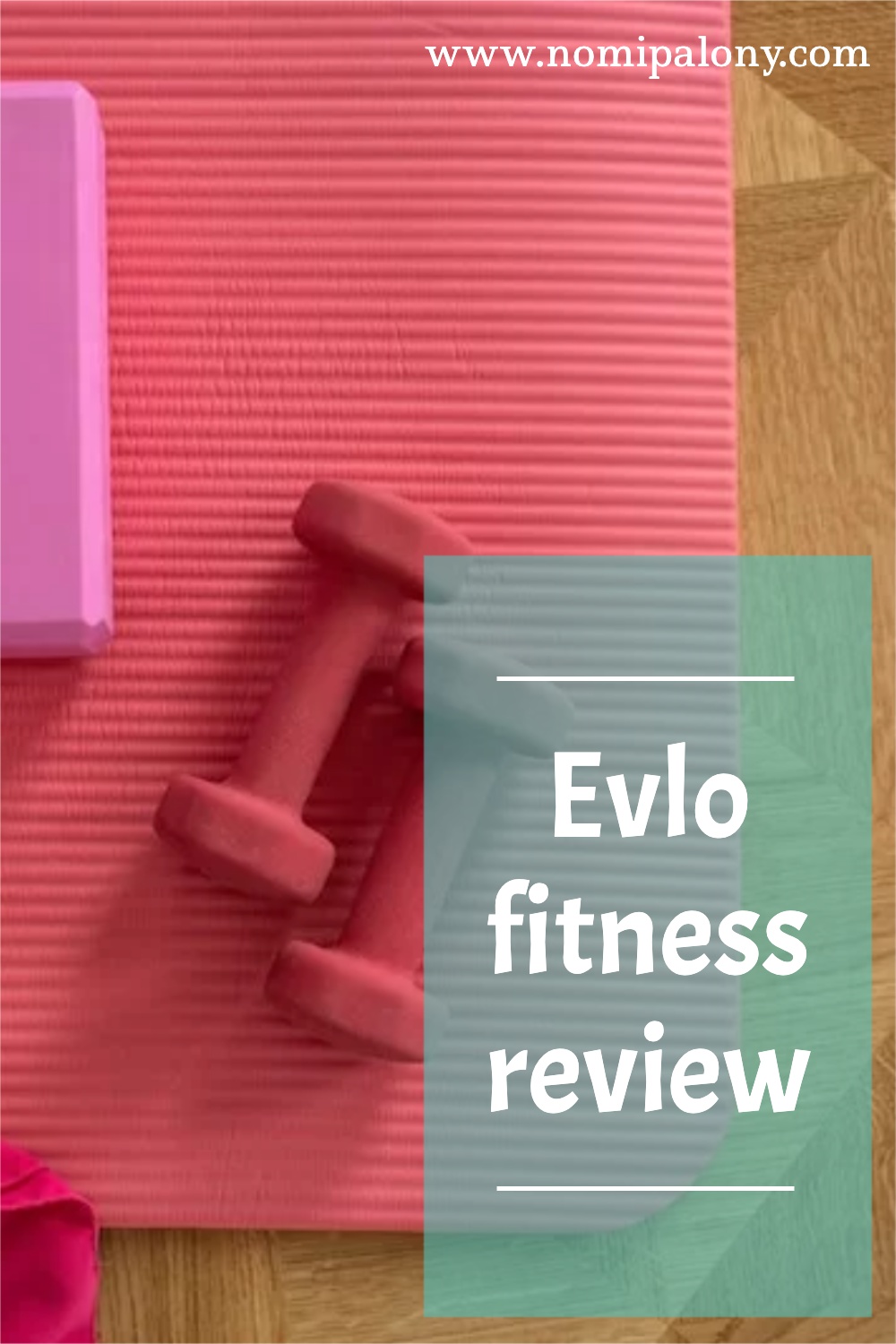 Disclaimer: This post contains clearly marked affiliate links. If you purchase through an affiliate link you will not be charged any more for your purchase, but I will receive a small fee for referring you. As an Amazon Associate, I earn from qualifying purchases. For my full disclosure policy, please see my about page.