We made the move to owning a fully electric car in January 2021. We are constantly asked about what it's really like owning an electric car. People even stop us in car parks and when we are charging it to ask about it! I thought I would put all of our experience into a blog post and video so those of you who are interested in the reality of owning an electric car can find out the truth about electric car pros and cons. The blog post was co-authored by the one and only Papa Ginge who is also a major part of the video. I'm a feminist BUT he takes the lead on the car. So shoot me.
Electric car pros and cons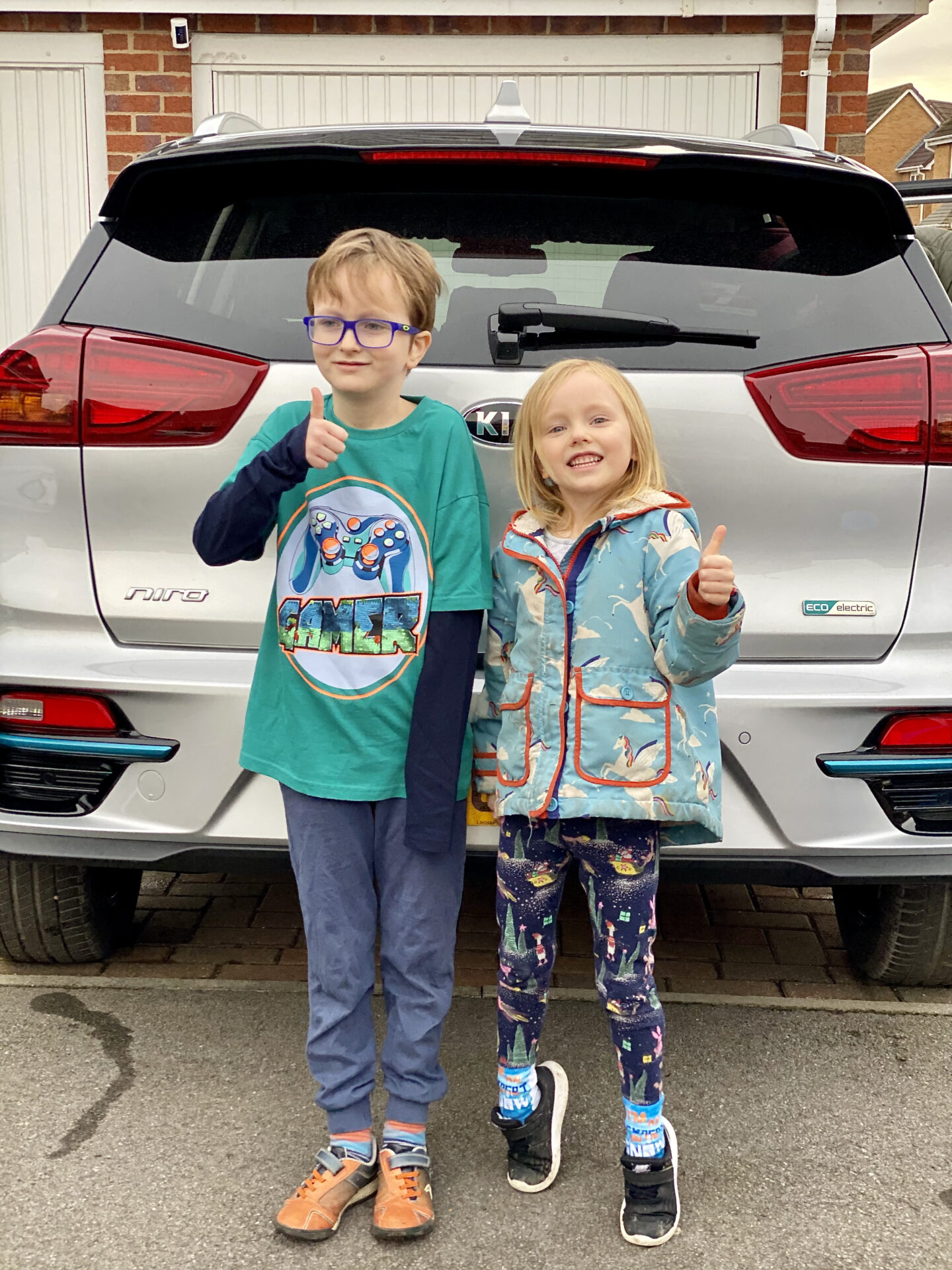 What electric car do we own and what does it cost?
I'll get straight into the juicy stuff for those of you as nosey as I am. First, we test drove an Audi E-tron for a weekend (you can read my post all about the audi e-Tron and what our first impressions of driving an electric vehicle was here). Sadly, we couldn't afford an Audi e-Tron. After a lot of research, we decided to go with the Kia e-Niro.
I work in local government so can access the public sector car lease salary sacrifice scheme through work. This makes leasing a car more affordable as it comes off my salary before my tax. It includes all the costs – like tax, MOT, insurance and servicing. We have the car on a 3 year lease and it costs around £318 per month after the tax savings.
The only downside of this method for me is that it means I would have to pay a financial penalty to hand the car back early. This means I feel a bit tied to my job. I'm also paying less into my pension. As a part-time worker that's a serious concern of mine (as I've written about before in my posts about the pension pay gap). Otherwise, it's a great scheme and has enabled us to get a car that might have been out of our price range.
Electric car pros and cons – charging
Charging seems to be what people are most interested in. Without a doubt this is our biggest pro – we basically have no 'fuel' costs at all now. We use free chargers almost all of the time so rarely have to pay for charging the car. If we were to charge the car at home it would cost me £11 for a full charge (268 miles) using our Ohme charger that cost 16.6p per kwh.
You can also get a charger installed at your home with Go Zero (affiliate link) who at the time of writing are charging £799 for their best home electric vehicle charger.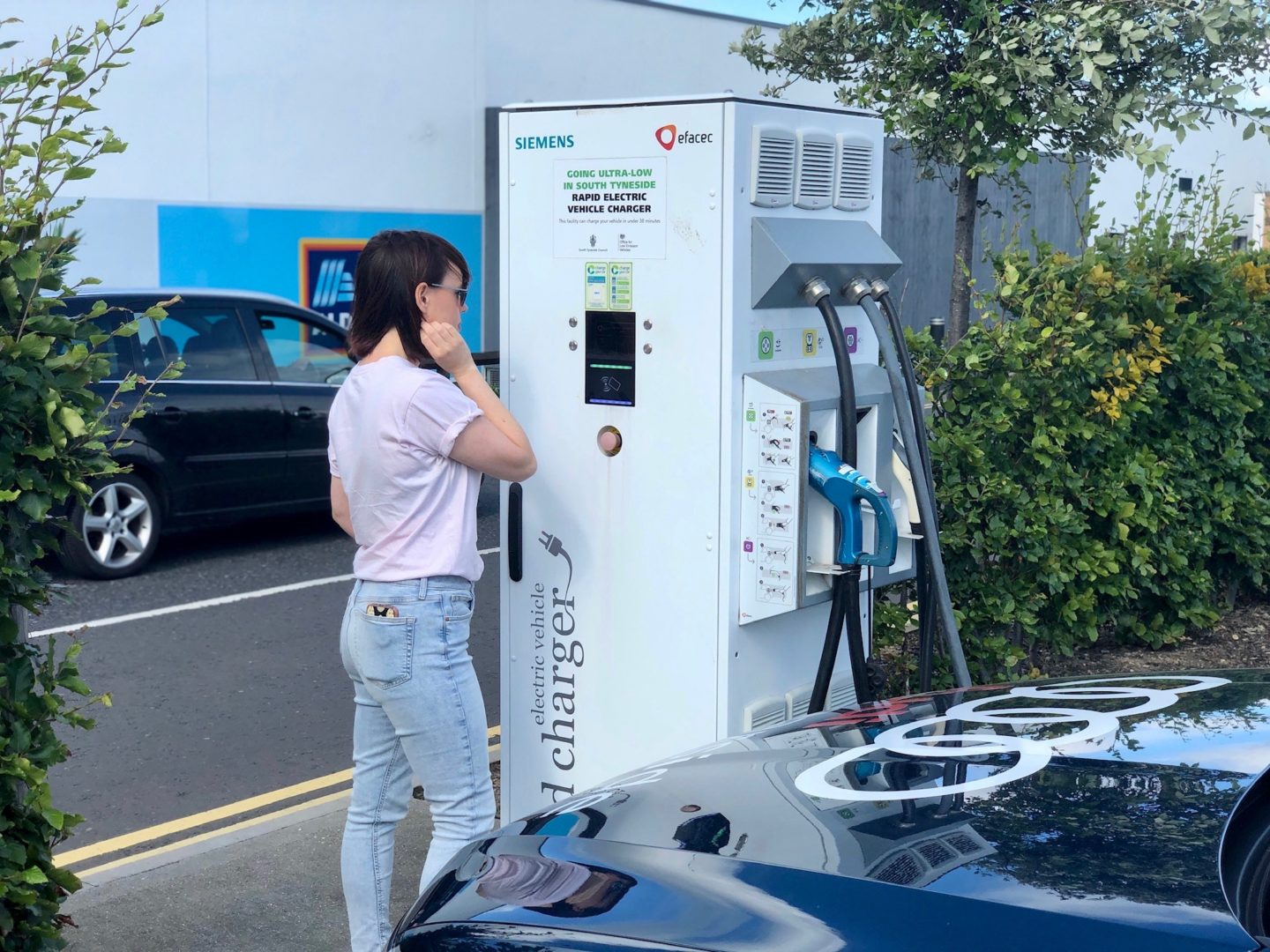 Pros of charging an electric car
The best thing about having an electric vehicle is that at present, you can mostly charge it for free. I can count on one hand how many times we have charged our car at home as opposed to a free public charger.
One of the things you need to understand about an electric car is that they charge to 80% very quickly. Often in around 40 mins when using a public 50kw fast charger. It's the last 20% that takes the extra time. Given our car has a range of 260 miles, 80% is 208 miles which I'm sure you agree is generally plenty. So we find that when we pop to town to go to the post office or grab something from the supermarket we can pop it on charge and in the time that takes it's enough to keep it topped up for what we need. There are electric chargers at both of our workplaces though we are both mostly working from home at the moment.
We recently took the car on its first longer trip from South Tyneside to our holiday to Angus Scotland which was 210 miles. We charged the car in the town before we went so it had a full charge. Then when we got to our holiday home, we simply plugged it into the mains and fully charged the car. Bargain. We have also taken the car on several camping trips where we had an electric pitch and were able to charge the car for free at our camping spot.
Often you will get somewhere with a busy car park and the only free bays are the electric ones and you can charge for free which is such a benefit from being an early adopter.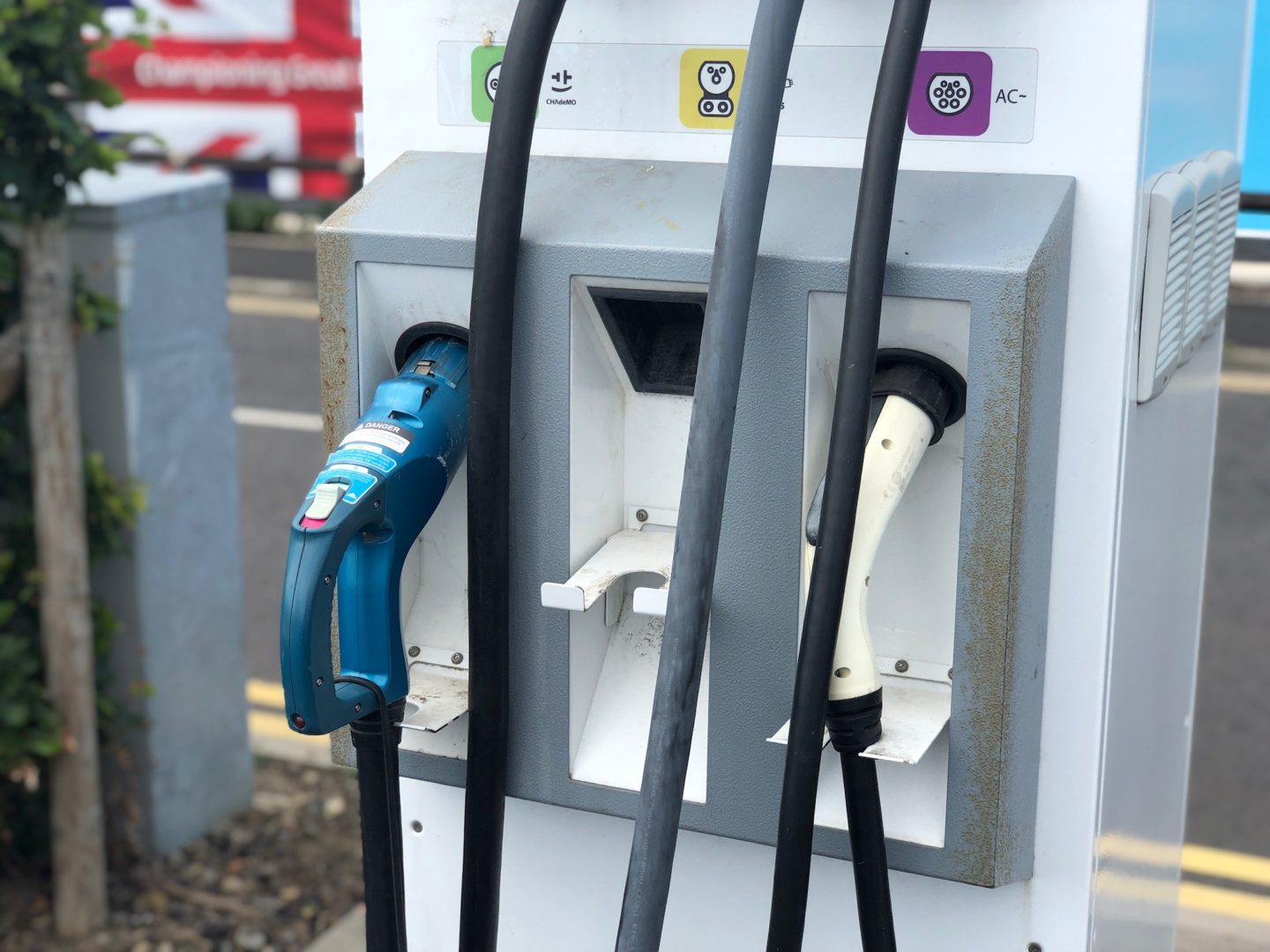 Cons of charging an electric car
Although charging the car is one of the biggest advantages of owning an electric car it's also where most of the cons come in. We've found that often you get to an electric charger and it's not working. You then have to report that to someone to be fixed but that won't happen whilst you are there.
We have learned to not leave it until we are desperate as you can't rely on them. Obviously, they can also already be in use as well (you can check if a charger is in use beforehand with certain charging networks like Charge Your Car who have an app). Largely the issue is they are not maintained as well as they should be.
Sometimes regular cars will be parked in the electric charging bays blocking you from using them. This is infuriating in the way that someone using a parent and child bay without a child is.
What is driving an electric car like?
Electric cars are incredibly powerful and fast, more than 'regular cars' when pulling away. If you are pulling away in an electric vehicle next to a petrol/diesel car you are going to leave them for dust. I had assumed electric cars would be slower and less powerful but it's the exact opposite. They are beasts!
Electric cars are automatic and therefore easier to drive. Someone asked me 'can it get up to speed quickly on slip roads?' Which really shows some of the misconceptions about electric vehicles. It doesn't get up to speed, it's at speed, you press that peddle and you BOLT off. You drive one of these and you'll suddenly realise how slow and sluggish regular cars are in comparison.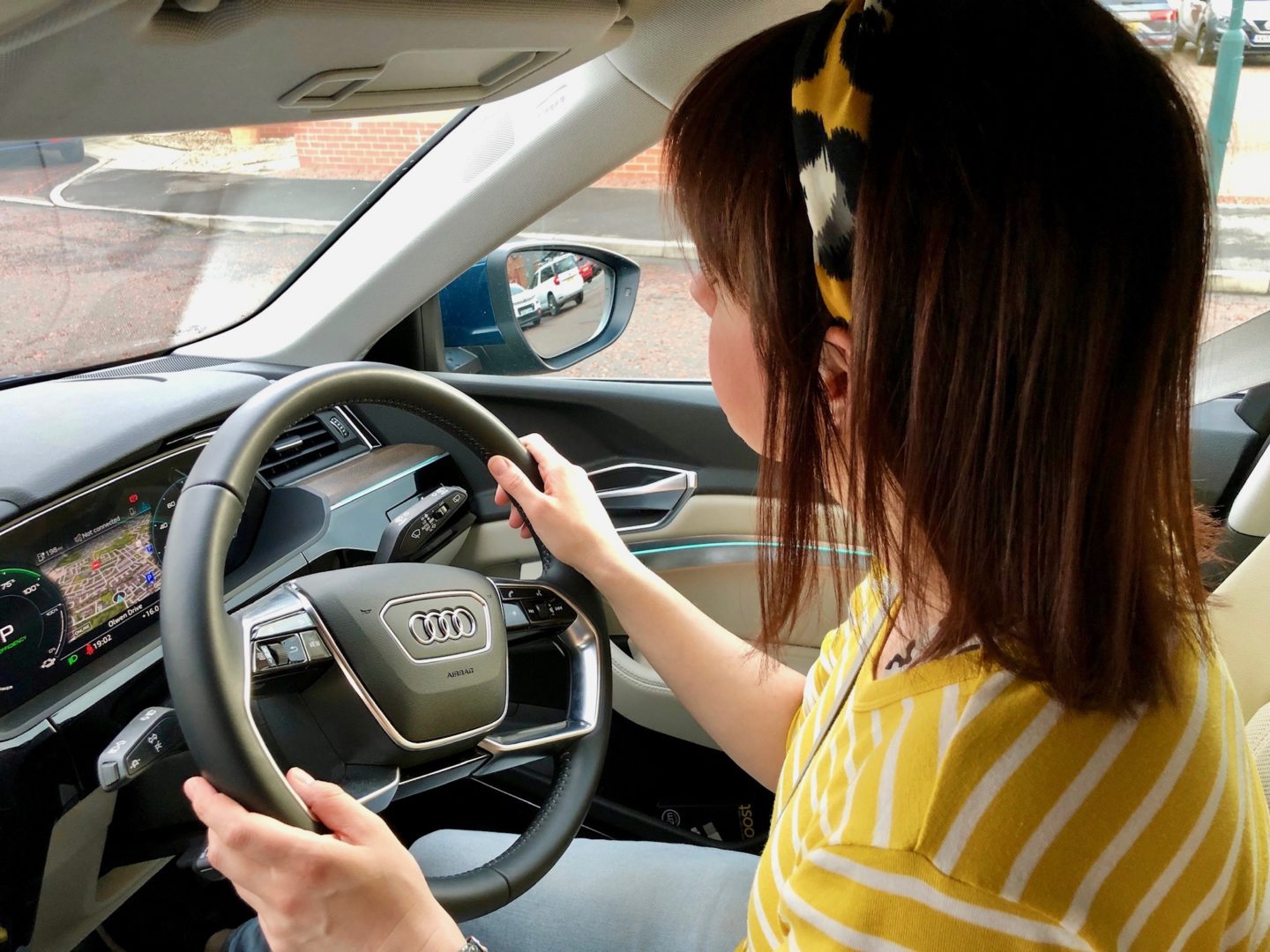 How long does the charge on an electric car last?
When I asked my followers on social media what questions they had about electric cars a lot of people were really concerned with how long the charge would last and whether they would be stressed about running out of charge. This is known as 'range anxiety'.
I think a lot of this is hang-ups from when electric vehicles first came onto the market and only lasted 30 miles or whatever. Now they have much bigger capacities than that. Like I said above, ours has a range of 260 miles. With real-world driving that's probably more like 230 miles in reality (just like traditional cars, it depends how you drive etc). You have to think about it like you would a traditional fuel car. You fill up/charge the 'tank' and then you keep an eye on your dashboard to fill up when you get low.
Apps and websites for electric charging points
Nowadays there are lots of apps and websites that tell you where your nearest charge points are and whether they are in use or available. In fact, our car and many others also have that integrated on your dash. I can press 'stations' on our touch screen panel and it brings up all the nearest stations we can charge at any time.
Personally, we use an app called PlugShare that is good at showing you charging points around you, what network they're part of and if there is a cost to use them. Like I say, I wouldn't let it get so low that you couldn't drive to another charge point if you needed to but other than that it's easy peasy.
Having an electric car just really changes the way you fuel your car because you are charging it almost every time you park somewhere. So if you go on a trip out, whilst there you will generally charge it and so you are always staying topped up. For example, the other day we had to drive from our home in South Tyneside to pick up my daughter's glasses from the opticians in Durham. We parked in Prince Bishops Multi-storey car park and put the car on charge. Their chargers are free for 2 hours and then £5 after that. We collected the glasses, went on a boat ride, grabbed lunch and then when we went back to the car we were fully charged and drove home. We've found it's rare we've gone anywhere without charging points so normally when we go out we come back with more charge than we left with!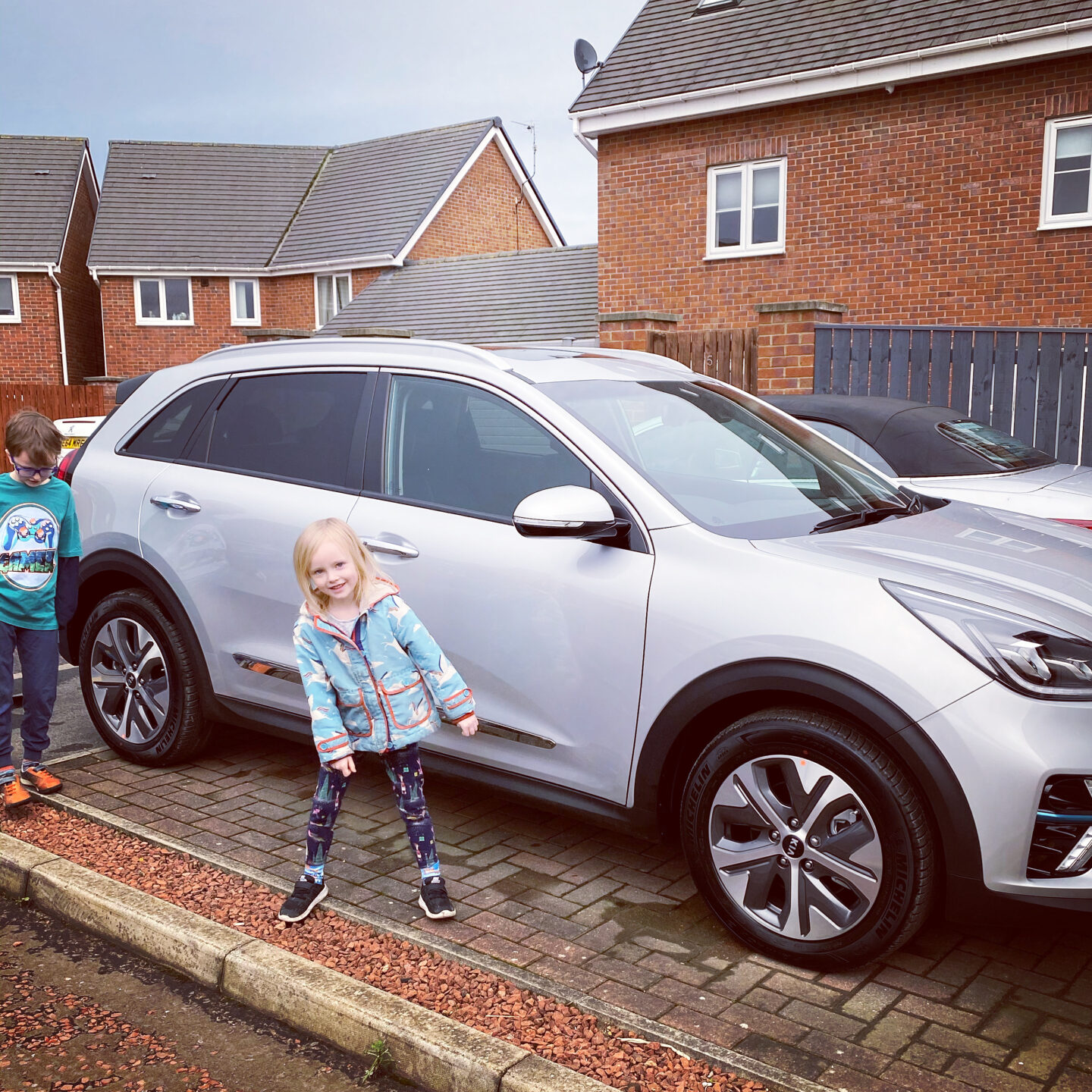 How much does it really cost to charge an electric car?
There were lots of questions about the cost of charging. I'd say at the moment we are almost at zero a month or slightly above – maybe £5-10 on the odd month.
What about longer journeys with an electric car?
Lots of people were concerned about longer journeys. Hopefully from reading this you can see that's not really an issue as they have quite a distance on them now. For journeys over 230 miles, you'd want to take a decent break anyway. I'd just plan a place to stop for lunch that has a decent charger and you'll probably get it back to 80% within about half an hour.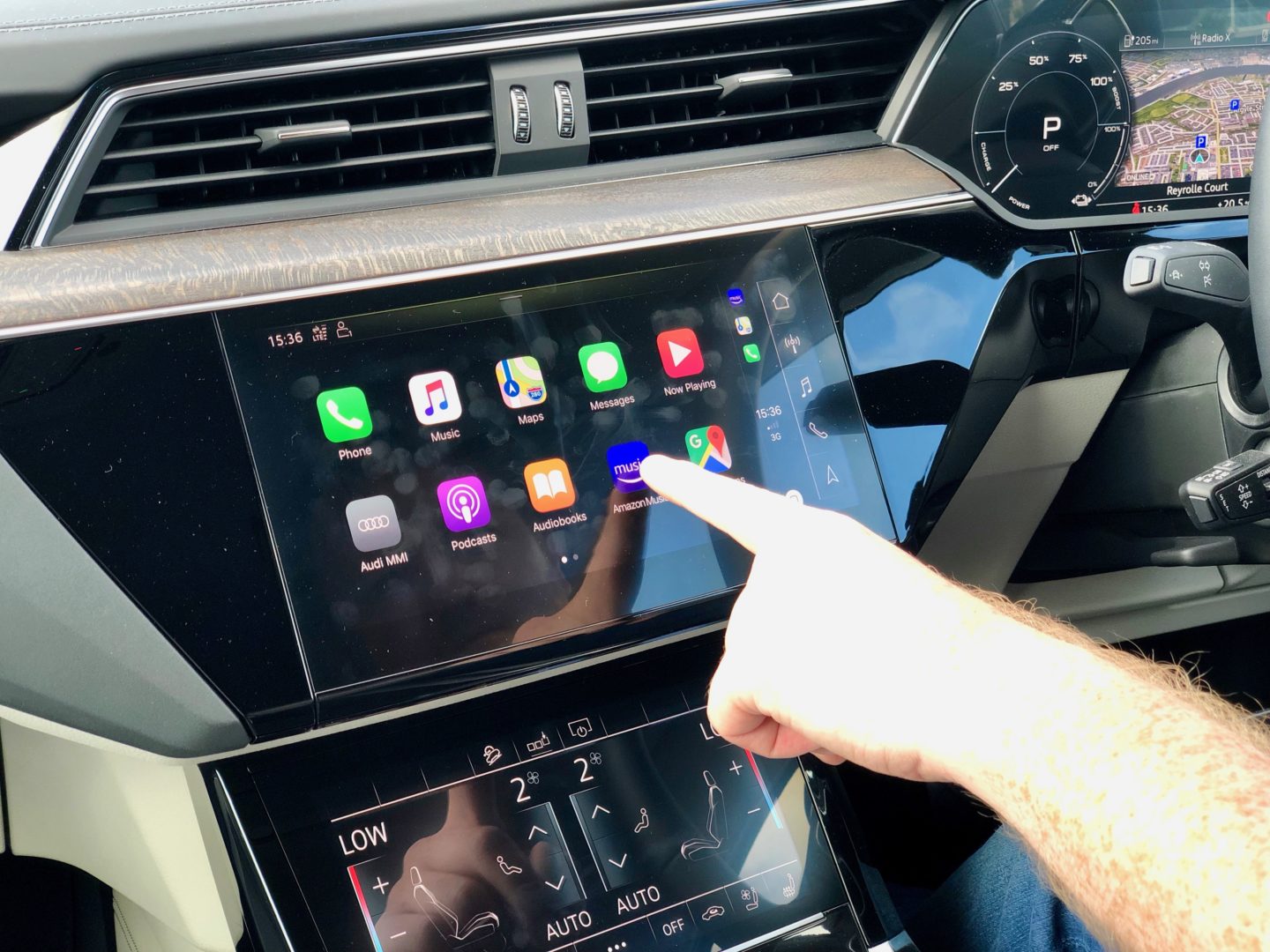 Do I need to install an EV charger at my home?
Lots of people wanted to know whether you would need to be able to charge it at home. For example, if you don't have a parking space at your house or a garage. Mark and I argued about whether or not to install these. We have found you can just use the free chargers easily for the time being so why pay to charge at home. We got one installed for emergencies but we don't use it often at all.
Getting an electric charging point installed at your house
There were lots of questions about how we found getting a charging point installed at home. Now, this was quite tricky for us as our garage isn't attached to our house. It's at the bottom of our garden and then around the corner. Our energy provider, Octopus Energy offers an EV charger installation service so we went through them.
On the application form, they ask you for details about your electricity supply. You can even attach a diagram which was helpful in our case to show the position of our garage. The next day we received a phone call telling us what remedial work would be required before we could start the install. For us this was upgrading the garage breaker from 32amps to 40amps, upgrading the cable that runs from the house to the garage to 6mm SWA cable and creating a spare way in the fuse board in the garage. If you're not electrically minded this probably sounds quite daunting but don't worry, most installations are straightforward and don't require any remedial work like this. Once we corrected all that, the cost for the installation was £569 which included a government grant of £350. Applying for the government grant was all handled by Octopus.
Energy tariffs for an electric car
Energy Tariffs can also be important if you plan to charge at home regularly. We switched to Octopus Energy because they have a tariff called Octopus Go, which charges just 5p per kwh between the hours of 00:30 to 04:30 every night which is super cheap! You may be imagining yourself having to get up in the middle of the night here to charge your car at these cheap rates but don't panic! All you have to do is simply plug your car in and tell your charge point what hours to charge between. You can even set charging times on the car itself in most cases. Pretty cool huh?!
If you're interested in joining Octopus, you can use our affiliate link here! This will gift you £50 off your bill once you join. We really like being with a greener energy provider, they've been great so far!
How do you charge at home if you only have street parking?
I'm not going to lie here, this will be tricky. You're unlikely to be able to get a charge point installed but if you can safely run an extension lead to your car you can plug it in using the regular wall socket lead that should have been supplied with the car. It will charge much slower using this but at least you can have some method of charging it. If you're in this situation consider if you would be able to charge your car at work? Are any public charging points nearby you could use? Having a home charger isn't essential, as I say, we've only used ours about 4 times.
My advice to someone wanting an electric vehicle
Lots of garages do longer test drives for free (for example, we did a weekend test drive of an Audi e-tron through Lookers – read that review here). I would try and do a test drive for a couple of days so you can really see how they feel. Or even just a test drive at all so you can realise how powerful they are and that many of your beliefs about electric cars are misconceptions. Also see what electric charging infrastructure there is near where you live and whether it's a realistic option for you. It might not be if you live really rurally for example.
Overall thoughts on electric car pros and cons
We love owning an electric car. It's so clearly the future. The Kia e-Niro is a fantastic car, the best car we've ever owned. It's better for the environment, it's so much more cost-efficient and it's easier to drive. We couldn't go back to a regular petrol or diesel car now. If you have access to some decent public chargers near where you live then we couldn't recommend it more!
Watch our YouTube video on electric car pros and cons
If you have enjoyed this post or found it useful, here are some quick and easy ways that you can support Nomipalony or say thanks:
Share this post with your friends  
Pop over to my Amazon Storefront to see what products I have been buying and loving from there recently, including my health and fitness products list.
Sign up to my mailing list 
Women can join my feminist Facebook group – the Nomipalony Freehouse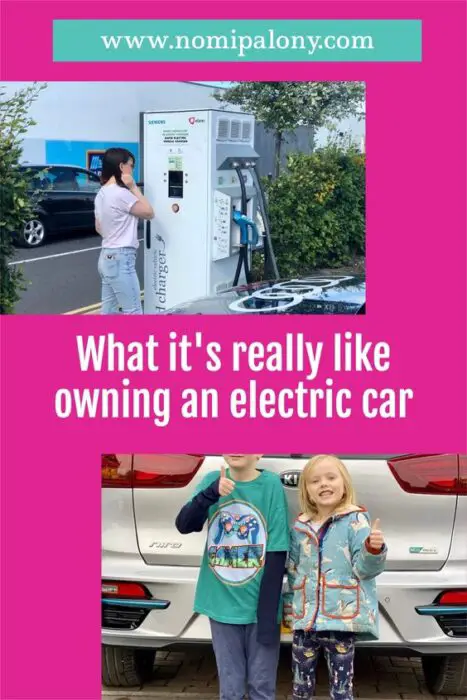 Disclaimer: This post contains affiliate links. If you purchase through an affiliate link you will not be charged any more for your purchase, but I will receive a small fee for referring you. As an Amazon Associate, I earn from qualifying purchases. For my full disclosure policy, please see my about page.